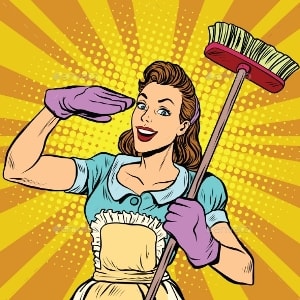 Did you ever wonder how long house cleaning takes?
Daily five-minute cleaning makes 61 hours a year or five and a half months of life of an average housewife. A half-hour cleaning the floor twice a week – 52 hours per year; a couple of hours for a weekly thorough cleaning – 104 hours. The total is eighteen months of life, to the minute, to the second are devoted to fight against dirt and disorder. Isn't it a bit too much? It is.
For many people, house cleaning is associated with a routine, tiresome and hard work. But there are simple house cleaning tips that can improve and facilitate the house cleaning process and most importantly – change your attitude towards cleaning.
In this article, we will try to collect the most comprehensive list of useful tips for house cleaning and regularly update it.
House Cleaning Tips and Tricks
[su_frame align="left"]
Click on links in the menu to go directly to the section you need.
[/su_frame]
Bedroom cleaning tips
[su_list icon="icon:check-square" icon_color="#ab3333″]
Start cleaning a room with a vacuum cleaner and only then dust. Otherwise it will get dusty again.
---
Spray antistatic on screens and back surfaces of appliances and TVs and wipe them with a special tablecloth. There will be half less dust on them in the future.
---
Bleaching pillowcases. Mix 1 cup of washing powder, 1 cup of pounded dishwasher cleaner, 1 cup of bleaching powder, ½ cup of borax and add very hot water.
---
Cleaning a cupboard. Mix 1 spoon of vegetable oil and 2 tablespoons of baking soda. Use a brush or cloth to clean a cupboard.
---
Microfiber sofas. A white toothbrush and a little of alcohol will help to remove stains from a sofa. Add a little soda to remove odor.
---
To easily clean up any longitudinal grate, including blinds, simply wrap a butter knife with a cloth and safely move it between slots, thus cleaning up from dust
---
Hook-and-loop fastener will help to easily clean a lampshade from dust
---
If your child (or friend) threw up on the sofa, make a spread of water and baking soda, apply it on the spot and leave to dry. When it is dry, simply vacuum the spot. There will be no stains, nor odor. This method also works great with urine on the carpet
[/su_list]
Kitchen cleaning tips
[su_list icon="icon:check-square" icon_color="#ab3333″]
Activated carbon will save you from additional cleaning and ventilation of a refrigerator. It absorbs all smells and a freezer compartment will be "fresh".


---

Before cleaning the kitchen, apply an oven cleaner to the stove surface to remove old stains while you are busy with cleaning utensils and counter tops.


---

Do not use the abrasive side of a sponge against stains, as it may damage the surface! Sponges with a green abrasive are better not to use in the kitchen at all. Use white or blue ones.


---

If your cooker hood is damaged by any chemical solution, you can visually hide the defect by wiping the damaged surface with vegetable oil.


---

Dishwashing detergents do not always remove tea and coffee plaque from cups, thus, cups become yellow instead of white. Usual baking soda can fix that! Apply a small amount of baking soda to the soft side of a sponge and wipe. They will look like new ones.


---

Not to damage a pan after cooking, do not pour cold water in it immediately. Of course, it is easy to clean it up then, but all food will be burnt later. So just wait for a pan to cool and only then fill it with water.


---

Stove grate. Fat on the stove grate can be removed with ammonia. Put the grate into a plastic bag and add 2-3 tablespoons of ammonia. Cleanse the grate after 12 hours.


---

Silverware is easy to clean with boiling water, aluminum foil and salt. Put all this in a sink or bowl and leave for 30 minutes. The tableware will shine!


---

You put a grease stain on the wallpaper? Just rub it with chalk, leave for it a few minutes to absorb the oil and gently wipe it with a damp cloth. This also works with fabric!


---

You love making cocktails, but hate cleaning a blender? This is in the past! Pour warm water into a blender and drip a little soap or detergent, then turn a blender on for a few seconds, then drain the water. Done!


---

To quickly and easily clean a grill grate, cut an onion in half and move it through the grate, holding it with pincers. Onions will not only clean a grate, but also give it a delicious flavor


---

To return the former shine to a burnt saucepan, fill it with water, add a cup of vinegar and put it on a slow fire. Then, turn off the stove and add two tablespoons of baking soda. Pour out the liquid and wipe the pan with a sponge


---

To quickly and easily clean a grinder and get rid it of odors, grind a tablespoon (or two) of white rice, pour it out and wipe the grinder with a cloth


---

Tired of dull spots on glasses? Just wipe them with a cloth moistened with vinegar


---

To quickly clean glassware, pour a little detergent in it, crumple a piece of foil and wipe it


---

Before cooking oily foods, drip vegetable oil on the oven and wipe it. After frying, all oil splashes can be easily removed by simple wiping


---

Dishwashers also should be cleaned. Put a cup of vinegar in the upper compartment of the dishwasher, pour baking soda on its bottom and run it. You will not only clean the inside of the dishwasher, but also enjoy watching an entertaining thing.


---

To quickly clean a coffee maker, mix equal parts of vinegar and water and pour it in. Turn on the cooking cycle, when half ready, turn it off and repeat the process again. When you are done with boiling vinegar, run two cycles with clean water


---

To clean an electric grill without effort, turn it off after cooking and put wet paper towels on one side while it is hot. The steam from wet towels softens leftovers and you can easily remove them by simply wiping a grill


---

To disinfect a kitchen sponge, heat it in the microwave for 2 minutes, this will kill 99% of microbes
[/su_list]
Bathroom cleaning tips
[su_list icon="icon:check-square" icon_color="#ab3333″]
Cleaning up the whole bathroom before going to work is impossible, but you can fill the detergent in the toilet and clean it with a brush in the evening.


---

Faucet or showerhead. Vinegar will help to clean a faucet or showerhead from limescale. It usually takes no more than 20 minutes. If the limescale didn't disappear, wrap a showerhead into a plastic bag with vinegar and leave it for an hour. Then, rinse it thoroughly.


---

Bathroom mold. Take cotton wool and make balls of it, about 1 centimeter in diameter. Wet them with bleaching agent, put on the mold and leave for a night. In the morning, remove mold residues with an old toothbrush.


---

To easily remove soap plaque from a shower door, spray it with cooking spray, wait for 5 minutes and remove the plaque with soap and water.


---

To remove the plaque from the bath, cut a grapefruit in half and sprinkle salt on the half of it, which you will use for cleaning. For greater effect, pour salt into the bath. Rub dirty places with a salted grapefruit and enjoy the purity and flavor


---

To avoid mold and mildew, apply any cleaning agent with antibacterial effect to tiles joints every month.


---

As a preventive measure, periodically pour a bucket of hot water into the toilet, this will prevent clogging of the drain pipe.


---

When washing bath curtains, add a few towels in the washing machine, they will act as a soft brush and help to remove dirt.


---

To get rid of mold on the shower doors, use a usual chlorine or hydrogen peroxide bleach.
[/su_list]
Carpet cleaning tips
[su_list icon="icon:check-square" icon_color="#ab3333″]
To quickly clean the hair of your four-legged friend, just wipe a carpet or other surface with a rubber palette-knife or a window cleaning tool. Of course, if you do not have a handheld vacuum cleaner for pet hair.


---

Tired of stains on the carpet? Mix 2 parts of water and 1 part of vinegar, wet a cloth in this liquid, put it on the stain and iron, better with steam. If the stain did not disappear, repeat the procedure. But better get a carpet cleaner 🙂


---

If you have gum stuck to your carpet, the key is to freeze it. Rub ice cubes on the gum until it is frozen then use a spoon or a spatula to lift it up. The opposite works for dry wax that might drip from candles. Put a piece of cloth on the wax and use a hot iron to melt it a little bit. It should be easy to remove now.


---

You might end up with some pet accidents on your rugs that will leave a stubborn stain and a terrible smell. You must use a special cleaner to remove these stains. Follow the instructions to get rid of the odour. If you want to save some money then use hydrogen peroxide. Hydrogen peroxide will remove even blood stains. Just rub it on the stain and use paper towels to blot the dampness. Next, mix some baking soda with some water to form a cleansing solution. This will remove all the odour and will make your carpet as good as new.


---

Give your carpet a deep cleaning every now and then. Use a cleaning detergent injected under pressure into the carpet using water-jet nozzles. You can use a steam cleaner to kill germs and bacteria. The heat will remove grease and dirt and will loosen up tough stains.
[/su_list]
 Window cleaning tips
[su_list icon="icon:check-square" icon_color="#ab3333″]
Always start cleaning your windows from outside and from the top. The outsides of your windows are subject to bird droppings and tough stains. Use a mineral cleaner or a mixture of vinegar and water to remove those tough stains. Let this sit for 15 minutes before proceeding with the regular cleaning.


---

You can also use a cleaner that contains oxalic acid to rub off tough stains before you begin your regular cleaning.


---

Now you can proceed to clean the insides of your windows. Remove the curtains and wash them according to the manufacturer's instructions. Vacuum around the edges instead of dusting them to prevent the spreading of dust. Put a towel or a rag under the window before your start wiping it.


---

Apply a window cleaner or a mixture made from water and dish soap to clean the glass. Dip a clean sponge into the mixture or spray it directly then use a squeegee to remove the cleaning solution.


---

Rub your windows dry completely before you proceed to a new window. Always replace the rubber blade on your squeegee to avoid marks and streaks.
[/su_list]
Microwave cleaning tips
[su_list icon="icon:check-square" icon_color="#ab3333″]
Use white vinegar to remove dried gunk. Put a glass of white vinegar in the microwave and let it work for 5 minutes. The vapour from the vinegar will loosen the tough stains.


---

You can also use lemon juice to remove the grease and stuck food particles. It will work perfectly to soften those tough stains. Just put some in a bowl and let your microwave work for 5 minutes and everything should come off. You can also cut a lemon in 2 halves and put them face down in a plate with a table spoon of water. Let the microwave run for 3minutes. Now that the lemon is soft and squishy you can use it as a sponge to clean off the walls of the microwave then use paper towels to remove all the residue.


---

You can use a bowl filled with dish soap and water to clean the hard stains on the insides of your microwave. Set the microwave to work for 3 minutes. The steam from the dish soap will loosen up the dried gunk. Use a damp sponge to wipe everything clean.


---

Always make sure that your microwave is completely dry and clean before you use it. If it smells like detergent or like a window cleaner use a wet rag or cloth to remove all the solution. Leave the door open so that it can completely dry before switching it on.
[/su_list]
General cleaning tips
[su_list icon="icon:check-square" icon_color="#ab3333″]
If some places should be disinfected and deep cleaned first, start with them. Apply a cleaner and then do other things. Be sure to wait until they start to act (from 1 to 5 minutes).


---

For cleaning hard-to-reach places – corners, notches, grooves in the plumbing, containers and household appliances, use a toothbrush.


---

Do not wipe surfaces in chaotic or circular moves not to leave stains. The best way is horizontal or vertical moves. If the surface has a complex structure, wipe it along its structure.


---

You can save a lot of time by replacing a usual cloth with microfiber.


---

For more rational use of a dust-cloth, fold it four times before using. Thus, you get as much as four working sides for longer use and save time.


---

If you have just renovated your apartment: to get rid of white construction dust on the floor, wash the floor with a mix of water and vinegar (2 tablespoons of vinegar per 1 liter of water) first and only then wash it with a floor cleaner. You will have a pure clean floor surface.


---

Restoring the table. Mix ½ cup of vinegar with ½ cup of olive oil, soak a cloth in the mixture and rub into the wood. Scratches will disappear completely and the surface will look like new one.


---

Iron.
[/su_list]
[su_note note_color="#f2d5a0″ text_color="#333333″ radius="0″]
Cover an ironing board with paper and sprinkle a little salt on it.
Set the iron temperature to the maximum (the Steam function should be turned off and no water in the iron).
Move a hot iron upon salt. All dirt from the iron bottom will quickly and easily go off.
[/su_note]
[su_list icon="icon:check-square" icon_color="#ab3333″]
---
Every housewife knows that cleaning in a small "pigsty" is easier than in a large, seemingly not dirty room. Thus, it is better to have things (objects) attracting dirt concentrated in one place. For example, a trash can, outdoor shoe racks, bicycles, baby sleds and a toolbox can perfectly fit in a corridor corner.


---

Another time and energy-consuming object is houseplants. Flowers in pots are pleasing to the eye and soothe the soul any time of the year, but there is plenty of fuss with them too: watering, cutting, feeding. Their leaves occasionally fall, soil suddenly pours out from pots, they get inhabited with some crawling and flying insects. If flowers are scattered in different rooms, taking care of them turns into a burden. But try to group them by arranging a micro greenhouse in some pretty corner. You will immediately feel how much easier taking care of them is.


---

Refuse completely from these hard-to-clean items:
[/su_list]
[su_note note_color="#f2d5a0″ text_color="#333333″ radius="0″]
[su_list icon="icon:times-circle" icon_color="#f01313″]
soft woods, such as pine or spruce;
any wood without topcoat;
paper wallpapers;
velveteen, velvet;
plain too light or too dark fabrics;
not water-resistant paint;
embossed or porous table top materials;
light colored carpets;
long nap carpets;
mats made from natural fibers (wool and cotton);
carpets with a volume texture or embossed patterns;
chrome-plated surfaces of the tableware, household appliances, sanitary ware;
shaped handles made of brass and copper;
carved wooden decorations on furniture, walls, windows;
glass doors and cabinet doors;
shower cabins;
blinds;
mosquito net;
crystal chandeliers;
fabric lampshades;
bed canopies;
decorative pillows;
embroidered napkins and tablecloths;
ornate, carved furniture;
stucco ceilings.
[/su_list]
[/su_note]
[su_list icon="icon:check-square" icon_color="#ab3333″]
---
The American Carpet and Rug institute has calculated that 80 percent of dirt is taken in with shoes. There is nothing easier than reducing time for cleaning through dirt: just put a good mat at the door. A good mat is not a cut of the old carpet, not a faded hemp mat and not a rubber mat with blurry 'Welcome!' letters. A proper door mat should be rigid, made of polyolefin or nylon fibers with a rubber or vinyl base. Such mats are electrified by friction and draw dust like a magnet. Just as quickly they absorb dirt and are vacuumed easier than any other mat. The mat length should be no less than four steps. A properly selected mat saves 200 man-hours per year at cleaning, that a week holiday at the sea! This is not a bluff – smart scientists made accurate calculations.


---

Keep all cleaners in one place. Then you won't have to search for a bottle or cloth for hours in irritation.


---

Clean a ceiling fan with a pillowcase. Just put it on a blade and gently swipe back and forth. All dust will be in the pillowcase and not in your hair.


---

Removing traces of lipstick is not easy as it soils. Spray the hair spray on the lipstick, wait for 10 minutes and rinse. Simple and easy!


---

The general principle of house cleaning – clean from top to bottom.


---

The more often you clean – the easier and faster the cleaning.


---

Before dry and wet cleaning, clean up the mess and put all things in place. Thus, other cleaning steps will take less time.


---

The main rule of a thorough cleaning of a house, consisting of several floors, is a strict sequence of cleaning the rooms. Start from upper floors and only then move to lower floors.
[/su_list]
[su_frame align="left" class="relatedposts"]
Related Articles:
[/su_frame]