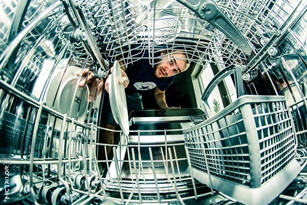 Don't you just LOVE washing dishes by hand? We're sure it's one of your favorite things to do. Just kidding. Numerous studies have all shown that hand washing is not an effective way to clean dishes. Hand washing is not only a waste of water, but also doesn't get dishes as clean and can waste your valuable time. When push comes to shove almost everyone would chose a dishwasher over doing the job by hand. The best dishwashers can get the job done in an efficient manner, but many people don't have room for one. So then what? Are you stuck washing dishes by hand? No, you're not! Thankfully, portable and countertop dishwashers exist for those that simply don't have the room in their smaller apartment or home for a full size dishwasher. If you're sick and tired of washing dishes, but don't have the room for a full dishwasher, here is a list of the best dishwashers 2017.
Best Dishwashers 2017
When you are looking at the best rated dishwashers and trying to decide what the appropriate one is to buy, you need to consider many different factors. Hose length, types of wash settings and capacity are all important specs to look at. Below you will find a chart detailing how the six best dishwashers 2017 measure up against each other over a variety of specifications.


---
SPT SD-2201S – Easiest Countertop Dishwasher to Load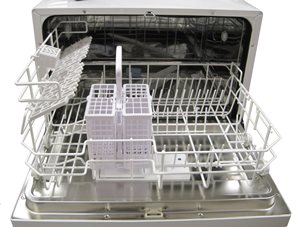 This countertop dishwasher comes in silver with the dimensions 21.6 x 19.7 x 17.2 inches. With the quick connect options it is easy to hook up to any faucet. As long as it fits on your countertop, you will easily be able to hook up this dishwasher. The 60" hose and 65" power cord also gives you some leeway on where you place it on your counters.
While it says there is room for 6 place settings, most udders report only being able to comfortably fit 4 full place settings on the rack. However, it also comes with a cutlery basket that definitely helps clear up some space. It comes with 5 cycles and a solo rinse option so there is a setting to match whatever cleaning level you are in need of.
This dishwasher boasts the best cleaning power of any of the countertop units that you will find on the list. Unfortunately, this cleaning power does not come without loud noise. The SPT Countertop Dishwasher SD-2201S can be loud when running a heavy-duty cleaning cycle.
| | |
| --- | --- |
| Pros | Cons |
| Easy to clean | You cannot let food dry on place settings or it will not come off in the dishwasher |
| Very informative manufacturer's manual | The length of the cycles in long for a compact model (1.5 – 2 hours for a normal cycle) |
| Beeps to let you know that the cleaning cycle is complete | Doesn't fit tall items very well |
| Extremely easy to hook up to kitchen faucet | Is on the louder end of the spectrum |
| Energy Star certified | |
Conclusion
While this countertop dishwasher isn't going to clean of dried on lasagna, with a little pre-cleaning, it can get the job done. Tackling most dish cleaning jobs with ease, this SPT SD-2201W is a great option for smaller apartments. It has longer cleaning cycles, but it gets the job done thoroughly as a result.
Buy SPT Countertop Dishwasher SD-2201S
---
Magic Chef MCSCD6W3 – Best Dishwasher for Location Options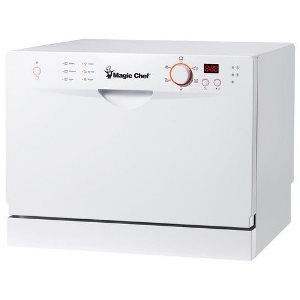 This Magic Chef MCSCD6W3 6 Place Setting Countertop Dishwasher is just as the name describes, MAGIC. For an affordable price, you can stop washing dishes for good! This unit can house 6 place settings in it and has 5 different preset cleaning programs to get them good and clean for you.
The dishwasher has a 70" inlet hose, which means that it can be placed on a counter top almost 6 feet away from your sink. That is great for kitchens with split counters where there isn't enough room right next to the sink. It also has a separate rinse aid and detergent dispenser so you can gain a bit of cleaning power that most smaller dishwashers don't have.
The drawback with this unit is that it does not have the ability to heat water. It relies solely on the temperature of the tap water coming out of the faucet. This hinders it's ability to clean as hotter water will always have more cleaning potential. There is also no dry cycle so you will need to either towel or air-dry the dishes that run through it.
| | |
| --- | --- |
| Pros | Cons |
| 70" inlet house | You must have very hot water, since this unit does not heat water very well |
| Has a separate detergent and rinse aid dispenser | There is no dry cycle, you must towel dry or air dry dishes |
| There are 5 different wash programs with a quick wash | |
| Sleek stainless steel interior | |
Conclusion
This a great countertop dishwasher for those looking for maneuverability. With long hoses, you can change its location to fit your kitchen. However, it lacks the cleaning power of a unit with hot water heating capability. You will also have to towel dry dishes and that is not always ideal.
Buy Magic Chef 6 Place Setting Countertop Dishwasher
---
SPT SD-9252SS – Best Built-In Dishwasher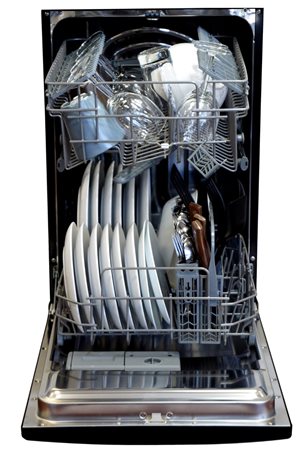 For the price of a countertop dishwasher, you can now purchase this Built-In Dishwasher from Sunpentown. With the dimensions of 22.1″ x 17.5″ x 32.2, this model will take up only a small section of cabinets. Its compact size makes it capable of fitting into a smaller kitchen, and will still provide cleaning power comparable to a full-size dishwasher.
This built-in can hold around 8 place settings and has adjustable ranks to accommodate larger or odd-sized dishes, pots or pans. The 6 different cleaning cycles will also let you select the appropriate one for the cleaning job you need done. This can save you energy and money. It is also quieter to operate than most smaller models and is Energy Efficient. With its sleek stainless steel body you can rest assured that it is corrosion and rust proof and will look great in your kitchen.
Though it does a good job cleaning, this unit does not have the ability to heat water. It also can be difficult to install and many users reported that they needed to find a contractor to install the unit. The fittings were not compatible with many faucets and kitchens. There is also no heated drying cycle and cheaper models have this feature.
| | |
| --- | --- |
| Pros | Cons |
| Can hold up to 8 place settings | Does not have a setting to dry dishes |
| Has 2 pull out dish racks that are adjustable | The different settings can be a bit difficult to figure out and takes some learning |
| 6 different wash programs with a time delay feature stretching from 1 to 24 hours | The manual is difficult to follow and the print is very small |
| Very quiet operation at 55 dBa | Must have hot tap water as this unit does not heat water |
| Energy Star certified | |
Conclusion
If you consider the specs carefully and are sure that this model will fit in the area you are thinking, it could be a good addition to your kitchen. It is well suited for small apartments, but be aware that there can be some difficultly installing it. If you are able to install it though, this dishwasher will do a nice job cleaning your dishes and has a large capacity.
Buy SPT SD-9252SS Built-In Dishwasher
---
SPT SD-9241SS – Best Portable Dishwasher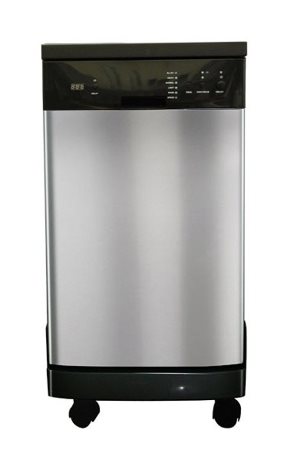 This stainless steel portable dishwasher is simply the best portable dishwasher on the market. It stands at 36-inches tall and 18 inches wide, making it the perfect size for a small apartment or a house with a small kitchen. This dishwasher is on wheels and will not need to sit on a countertop. By having a portable dishwasher you can save on counterpace that is likely already lacking in a small kitchen or apartment.
This dishwasher is packed full of positives, such as the fact that is Energy Star rated and has a 1 to 24 hour time delay. The time delay is a great feature since you can program the cleaning cycle to begin after everyone has gone to bed. It is also very quiet compared to other models so if you choose to start the dishwashing before everyone has retired to bed, it won't produce an overbearing noise. The interface is easy-to-use and there are six preset cycles to choose from. That means whatever the cleaning job you need done, the SPT SD-9241SS portable dishwasher can get the job done.
One drawback with this portable dishwasher is the lack of heated dry cycle. This means you will have to hand dry them, or let them air dry. It also has a shorter connecting hose, so there is limited range. This model is also the most expensive on the list, but it does a great job for what you pay.
| | |
| --- | --- |
| Pros | Cons |
| Energy Star efficient | The larger rollaway unit might not fit in smaller kitchens or apartments |
| Time delay feature for 1 to 24 hours | The faucet connection hose is shorter |
| The upper rack is adjustable to accommodate different plates, cups or bowls | The unit does not have a heated dry cycle |
| Adds counterspace to your kitchen | The most expensive model on the list |
| Stylish and sleek stainless steel | |
| Includes a faucet adaptor for simple and quick connection | |
Conclusion
Overall, this is the best portable dishwasher on the market. With a heftier price tag, some buyers may be deterred, but this dishwasher gets the cleaning job done. If you don't mind drying a few water spots off your dishes and have the space for a portable dishwasher, this is the one for you.
Buy SPT SD-9241SS Portable Dishwasher
---
Koldfront – Best Dishwasher Capacity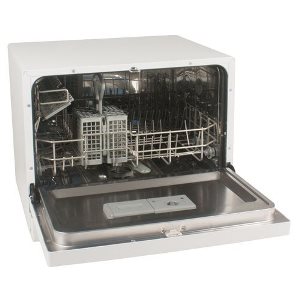 This six place setting countertop dishwasher by Koldfront is a great model for a small price. The unit comes with a cup shelf, dish rack and cutlery basket. It can hold dishes that are more than 10.5 inches in diameter. The racks are not adjustable though, so you are limited in how/what you load into it.
With 6 different wash cycles you can get proper dish cleaning for the level of food on your plates. This dishwasher does require a bit of pre-cleaning for super sticky foods though. If you let foods dry, they might not come off during the cleaning cycle. Running this dishwasher right after a meal is your best bet. It is not Energy Star rated, but the dishwasher is still energy efficient and uses 61% less energy than dishwashers in its class. It will use an average of 3.8 gallons of water during a normal wash cycle and has the capability to heat water to 149 degrees F. This does provide it stronger cleaning power than models without heated water ability.
This unit can also be a bit loud, though it is comparable with other models on the market in the same category. You will need to clean the unit as there is no stainless steel interior. Also, some users have reported that the dishwasher can be awkward to load at times.
| | |
| --- | --- |
| Pros | Cons |
| Has 5-foot hoses to increase location options | Uses more water than other models |
| Heats water up to 149 degrees Fahrenheit | Can be difficult to load |
| More energy efficient than other models, using only 200kWh per year | Does not remove solid foods stuck on plates or silverware very well |
| | You will need to regularly clean this unit |
Conclusion
If you are looking for a white countertop dishwasher to take the hassle of cleaning dishes out of your life then definitely consider this countertop dishwasher. It has the ability to heat water and give your dishes a thorough clean and is energy efficient to save you water. For a low price, you can stop hand-washing dishes today!
Buy Koldfront Countertop Dishwasher
---
EdgeStar – Easiest Countertop Dishwasher to Clean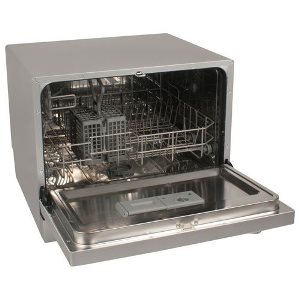 At just 17 inches tall, the EdgeStar 6 Place Setting Countertop Portable Dishwasher still packs a punch. Its small size allows it to fit under most cabinets, which will give you a bit more counter space. It comes standard with six place settings and like most models in its class has a plate rack, cup space and cutlery basket.
This countertop dishwasher has the ability to heat water to 149 degrees F. That gives it a strong cleaning power. It also has a sleek stainless steel appearance and an easy-to-use LED display. It operates at a noise level consistent with other countertop dishwashers, but only uses 3.5 gallons for a normal wash cycle. It also has a child lock function so children cannot open the dishwasher while it is running. The stainless steel interior also makes this countertop dishwasher easy to clean. You will have to clean it less often and it is simple to wipe down. If you don't want to wash your dishes, chances are that you don't want to wash your dishwasher either.
As good as this dishwasher is at cleaning, it has some drawbacks. You cannot always fit six place settings due to a smaller, awkward interior. It can also be difficult to install because it does not come with adaptors needed to make it compatible with various types and sizes of faucets. There is also no heated dry so you will need to towel or hand-dry them.
| | |
| --- | --- |
| Pros | Cons |
| Has a stainless steel interior, which makes it easier to clean | It is quite small inside and cannot always fit 6 place settings |
| Operates with a –medium-quiet noise level | Will only fit dinnerware that is less than 9" wide |
| Comes with a 5-foot connector hose | Does not come with adaptors to fit various size faucets |
| Looks sleek with stainless steel and an LED display | Does not come with a dryer feature and you will need to towel dry or air dry |
| Has a child lock function so you won't need to worry about the safety of small children | |
Conclusion
The EdgeStar 6 Place Setting Countertop Portable Dishwasher does a good job cleaning dishes. That fact is not debated. However, there are units with similar or more features for a cheaper price. Still, if you are looking for a stainless steel look and are willing to pay more, this is a great countertop dishwasher.
Buy EdgeStar 6 Place Setting Countertop Portable Dishwasher
---
The Result: Editor's Choice
After analyzing the many different dishwashers, we have chosen the best dishwasher 2017 in our opinion. The best portable dishwasher is by far the SPT SD-9241SS Portable Dishwasher. This unit is Energy Star rated and comes with a variety of impressive features. It heats water to upwards of 149F and has several cleaning cycles to match to the cleaning job needed. It also has an adjustable rack to accommodate larger items, a timer delay and a sleek stainless steel appliance. This is great for lofts or modern apartments that currently lack a dishwasher. In terms of a countertop dishwasher, it was a tight race between the SPT SD-2201S, and the Koldfront 6 Place Setting Countertop Dishwasher. Based on ease of use and loading though, the SPT SD-2201S edged out the competition to claim the top spot. It's hard to beat the low price, cleaning power, and capacity that is offered by this unit. For those unable to fit a full-sized or portable dishwasher, the SPT SD-2201S Countertop Dishwasher is the best you can hope for.
---
Dishwasher Buyer's Guide
When analyzing the best dishwashers, there are several different features to consider. You will want to look at the capacity of the dishwasher, the size of it, the added features, such as child lock, time delay and dry cycle, as well as the connection type. Portable and countertop dishwashers have unique features and the following aspects are things you will want to consider:
1) Portable vs. Countertop vs. Built-In
A portable dishwasher is often on wheels and can be rolled into a corner when not in use. A counter top dishwasher sits on your counter top. Decide which model works best for your family. A built-in dishwasher goes underneath the counter, flush against the cabinets. It does not take up counter space, but you will need to hard-plumb it and you will lose some cabinet space.
2) Capacity
This tells you how many place settings can fit into the portable dishwasher. If it is just you and one other person in an apartment then a six place setting dishwasher might be enough. However, if you are a family of four you might want an eight place setting dishwasher.
3) Size
This goes hand in hand with whether you get a portable or countertop dishwasher. You will want to measure the space under your cabinets when choosing a countertop dishwasher. You won't want to order it and not have it fit underneath.
4) Cleaning Power
The power a dishwasher has to clean your dishes is important to look at. A portable/countertop dishwasher already has less cleaning power than a full-sized dishwasher does, so be aware of how well they clean. Some can get off dried food and others will require a bit of prewashing.
5) Hot Water Heating
Some dishwashers have the ability to heat water while others do not. Dishwashers without the ability to heat water rely solely on the temperature that can be achieved through the hot water coming into the unit. A dishwasher with the ability to heat water to 149 degrees F will have more cleaning power than a dishwasher using 70 degree F tap water.
6) Dryer Cycle
The best dishwashers will have a heated dryer cycle that leaves the dishes nice and dry after washing them. This isn't a common feature on smaller dishwashers, but if you find one with it, it's a huge benefit. It will save you time from air or hand-drying your dishes.
7) Cleaning settings
Dishwashers all have different types of cleaning settings. There are quick rinse cycles, normal wash cycles and heavy-duty cycles. The variety of cleaning settings/cycles that a dishwasher has is something to consider.
8) Noise Level
If you are looking to buy a portable or countertop dishwasher, chances are that you live in a smaller space. This makes noise level important.
9) Connection Type
When buying a dishwasher you want to look at how it will connect to your faucet. Some only connect to "standard" faucets so you may need to purchase an adaptor. Some come with adaptors. Some have "quick connectors" that will make it very simple to operate.
10) Power Cord & Hose Length
It is important to look at the hose and power cord length. The longer these are, the more location options you have for your dishwasher. 5 feet for a hose is about the standard length.
11) Time Delay
A time delay feature gives you the opportunity to delay the start of the wash. This is nice if you have company over and don't want to start a noisy dishwasher right after dinner. You can program it to start after everyone has gone to bed.
12) Child Lock
Some dishwashers have child locks so that you don't have to worry about children opening them mid-cycle. This is important if you have small children, especially if they can reach the counters.