Are there kids in your life who love to cook? Some kids can't get enough of cooking shows like Master Chef Junior and can't wait to get their hands (and clothes and kitchen) dirty! If this sounds about right, then finding the perfect apron can make a great gift for your little chef. Or maybe its time you want to introduce your kids to the valuable life skill that is cooking. Whatever the case may be, cooking is a wonderful way to spend quality time with an important little one, teach them how to make delicious healthy meals, and give them a sense of confidence and achievement. Plus, getting your kid involved in cooking can challenge picky eaters by encouraging them to be more adventurous with food.
Learning that cleaning up is an inevitable part of cooking is important for all kids, however when cooking with kids, the mess might be a bit larger than you're used to. A cooking apron can help protect their clothes from their whisking, chopping, and tasting, while also teaching them the importance of cleaning up. A cooking apron is an essential for any young chef in training – and will help you not worry as much about mess along the way! Less worry means more fun, so read on to see our top picks to keep your tiny choppers, bakers, and makers cooking in style.
7 Best Kids Cooking Aprons
These aprons are sure to be at the top of your mini baker, slicer, and dicer's wish list at any time of year. Not only will they protect your little one's clothes, you can find aprons in a variety of colors and patterns to express their personal style while they exercise their creativity in the kitchen!
1. Tessa's Kitchen Kids – Child's Chef Hat Apron Set for Chefs in Training
Check Lowest Price and Reviews

Does your mini baker dream of working in a busy kitchen, like a professional chef? Tessa's Kitchen Kids Apron Set and Baking Wear Kit is perfect for your chef in training! Founded by a mother-daughter team who wanted to spend more time together, Tessa's Kitchen Club was created out of their shared love for cooking. Each apron and chef hat is made with breathable and comfortable polycotton material and features a secure, adjustable professional cap so you don't have to worry about loose elastic. Tessa's Kitchen kids sets are slip-proof, which is perfect for bending, leaning and reaching for the most fun and energetic of kitchens.
Tessa's Kitchen apron and chef hat sets come in fun, bright colors to keep your little chef clean while they work on their latest dish. This set is professional looking, and perfect for cooking competitions, classroom activities, culinary events or even Halloween costumes, dress up time, or themed birthday parties! Choose from 8 colors to customize your look!
2. Williams Sonoma Kids Apron
Check Lowest Price and Reviews 
Is your kid a Harry Potter super fan? What about a fan of Star Wars or bunnies? Williams Sonoma Kids Aprons are ideal for the mini chef that has a flair for style! There is an Embroidered Bunny Kids Apron which makes cooking more fun, especially when your kitchen companion is a small, fluffy pet that fits right in your pocket! Made with soft linen, this tailored apron is embroidered with a cute gray bunny. It's completed with a couple of roomy pockets and an adjustable Velcro neck strap. If bunnies aren't your child's thing, Williams Sonoma has a variety of styles and designs to choose from. For Star Wars fans who want their cooking to be out of this world, they offer this cool, futuristic Star Wars R2D2 apron! Your little cooking buddy will recognize the beloved Star Wars character for its signature shape and details, which are created using colorful felt appliques and embroidery on sturdy cotton. This R2D2 apron will inspire all kinds with intergalactic fun in the kitchen!
3. Hedley and Bennett
Check Lowest Price and Reviews
If the little chef in your life is going to grow up to be a professional chef one day, they're going to need their own professional Hedley and Bennett apron! Hedley and Bennett aprons are seen on TV with chefs on the big cooking shows. Favored by top chefs around the world, Hedley and Bennet is also known for their kid sized aprons. Plus, they offer adorable matching parent-and-kid aprons – meaning you now have a reason to buy yourself a new apron, right?
They offer a variety of styles and colors. They're designed for little helpers aged 4 to 8, but are just as durable as full-sized aprons. These cute little aprons are ready for arts and crafts and adventures in and out of the kitchen!
If your mini baker is more into the minimalistic style, there are aprons for you in this brand. They're basically a mini version of their best selling full-sized apron! Made with durable denim and woven with splashes of colorful polyester yarn, your child is sure to love their new apron. Many of their aprons are an environmentally-minded chef's dream – the yarn is made from recycled bottles and they're designed specifically so no fabric goes to waste. The dark colored aprons also hide stains well, making them ideal for chefs in training!
4. Mu Kitchen Kids Apron
Check Lowest Price and Reviews 
Mu Kitchen Kids Aprons come in a bunch of bright and colorful styles to make helping in the kitchen even more fun! The Mu Kitchen apron is made with soft, breathable cotton and completed with cheerful accents and patterns. Protect your little sous-chef in the kitchen with this adorable apron. For a more personalized and comfortable fit, the apron straps can be tied tighter or looser, and the aprons come in a variety of styles.
Made with durable, 100% cotton means this set will hold up to and withstand many washings without losing the color your mini master chef loves. Plus, you don't have to shop around – the Mu Kitchen Kids Aprons are available on Amazon and you can purchase a sets with an apron, hat, and mit at Target!
5. Buy Aprons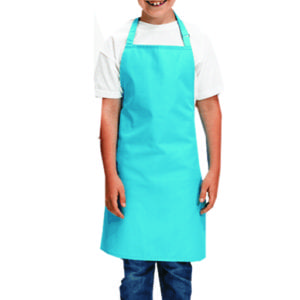 Check Lowest Price and Reviews
Buy Aprons is the online destination for everything aprons! They offer a large selection of affordable, high quality aprons for chefs and arts and crafters alike. These aprons will keep your little chefs from wearing their work, while looking stylish and fashion-forward. Buy Aprons has a wide range of kids aprons to choose from, all with adjustable self-tie fabric straps on the neck and waists. Their Classic Bib Apron is designed with your little one in mind – the durable twill fabric will protect their clothes from their latest masterpiece while still feeling comfortable so they can move freely and create. Buy Aprons uses high quality threads and trims, and offers sixteen basic colors so you can customize your look. They also offer a range of sizes for aspiring chefs aged 3 to 11.
6. Need Aprons, Inc.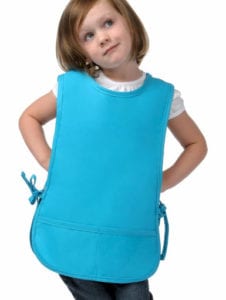 Check Lowest Price and Reviews
If you're looking for a simple, budget friendly apron for the little chef in your life, look no further. Need Aprons is a great, affordable site that offers many different kids apron forms for arts and crafts as well as cooking. This is a great option if you're just trying to get your little one to join you in the kitchen and don't want to invest in a higher quality (and pricier!) apron just yet. They offer both kids waist aprons, which cover the body from the waist down, and kids bib aprons, which cover the upper part of the body as well.
These aprons have adjustable fabric straps that are tied at the back, although some styles have shoulder straps that criss-cross behind the back and attach at the waistband. This design makes it even easier to put on the kids bib aprons and may even be considered more comfortable by your mini chef in the making.
7. Pottery Barn Stylish Aprons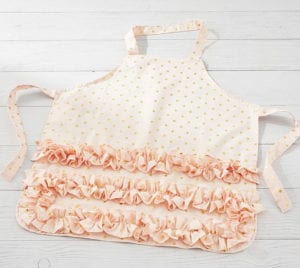 Check Lowest Price and Reviews
Kids aprons may not be the first thing that pops into your mind when you think of Pottery Barn, however they do have a small selection of very cute aprons for the future master chefs of the world. Pottery Barn offers this very cute, stylish apron called the Pottery Barn Ruffle Apron. The best part? It's trimmed with ruffles and shiny metallic dots. This chic, Instagram-worthy apron will guard against splatters and spills in the kitchen, while keeping your kid looking fabulous. It's made from 100% cotton and features three tiers of ruffles with some shiny, metallic detailing. It also features a Velcro necktie closure to make it easy for your little one to take it on and off. The fibres of the yarn used are treated individually with environmentally safe dyes before being woven into the apron. Despite it's high quality, environmentally friendly components, this apron is still machine washable for easy cleaning. Pottery Barn also has this super cute Pink Ruffle Gingham Apron. Cooking with a kid can be messy, but having an fun apron that they actually want to wear can keep your little one's clothing safe. This one is designed for easy and off, plus you can personalize it with a special message or your chef's name.
These are the top picks to please the tiny bakers, choppers, and ice cream makers in your life. Cooking with kids can be messy, but we hope that having a fun apron that they're excited to put on will help the mess stay off their clothes, if nothing else! To make sure your kids learn the value of cooking, try having your little chef help out with more than just sweets. For some healthy snack ideas if your kid is already interested in learning to cook, check out these ten snacks your kids can make.
If you know your little one wants to learn how to cook but you don't know where to start, there are tones of resources online to help you teach your kids to cook, like this website called Kids Cook Real Food! This is an online resource to help your kids learn how to cook real food in the kitchen. Not only that, but the information is given to you to use at home in little bite-size pieces which means you don't have to stress.
Now that you've read all about the best cooking aprons for your kids, choose one and get in the kitchen! Children love to help you out, and cooking with them can be a great way to not only build life skills but have fun as well!