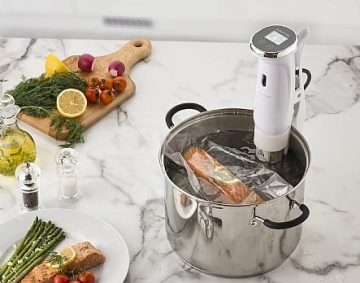 Perfection doesn't exist. Well, maybe not in human beings, but some machines and appliances are very close to that. Take for example sous vide water oven or an immersion circulator.
While ago, cooking food to perfection EVERY SINGLE time was hardly possible. However, with sous vide cooking, this became an option.
Sous vide cooking means under vacuum. It's a technique of putting food in vacuum sealed pouches and submerging the pouches in a container of water. Then, the pouches cook for hours or until the perfect result is achieved.
Whether you've heard about this cooking method before or are completely new to sous vide cooking, our article will be useful to you. We bring you buyer's guide and reviews because it's time to get the best sous vide machine and enjoy this marvelous cooking method!
Best Immersion Circulators Reviews
Immersion Circulators
Power
(watt)
Wi-Fi
Can you control it manually?
Anova Sous Vide Precision Cooker
900
Yes
Yes

Check Price

ChefSteps Joule Sous Vide
1100
Yes
No

Check Price

Gourmia GSV150 Sous Vide Precision Cooker
1200
Yes
Yes

Check Price

Monoprice Strata Sous Vide Immersion Cooker
800
No
Yes

Check Price
If you want to find the best sous vide cooker without researching for hours, just take a look at our reviews. Our list is miscellaneous so everyone can find the best immersion circulator for their needs. We present you four of these, so let's take a look.
Anova Sous Vide Precision Cooker
Thanks to the Anova Precision immersion circulator you'll enjoy perfectly cooked and finger-licking food every time. Without a doubt, this is the best precision cooker we've used.
The Anova Immersion Circulator has 900w of power. While this may sound insufficient, don't worry about that. This unit is definitely powerful and accurate. It will heat and circulate the water in the container, maintaining the same temperature so the food can be cooked evenly. With this unit, you'll discover a whole new world of cooking. You can try an array of sous vide recipes, from meats and fish to soups, sauces, desserts, and cocktails.
What we really love about this immersion circulator is the attaching mechanism of this unit. You can attach it to various pots and containers without worrying about falling off.
The next thing we love is the ease of use. You can either use it manually or connect it your phone. If you opt for the second way, you can browse through many recipes in the Anova Culinary app and see cooking directions. This is great as you won't have to do the guess work.
As for the downside, the Bluetooth connection is weak, so you probably won't want to use it. Also, the interface of the app isn't well-organized and could definitely use some improvement.
But, the good thing is that the screen is easy to read, so you'll see the temperature clearly.
Bottom Line
All in all, the Anova Precision Cooker is a simple, precise, and powerful unit. Connect it to your phone and cook without checking your food every so often. On the other hand, if you don't want to bother with the app or Bluetooth, you'll appreciate the onboard settings. The screen is easy to read, and the cooker is simple to use, so you'll set everything in seconds. Thanks to the attaching mechanism, the unit can be attached to pots and containers of different sizes and shapes. With all these remarkable features, it doesn't surprise us why this immersion circulator is used by many home chefs around the world.
Pros

Cons

Powerful
Accurate
Firmly attaches to various pots and containers
You can use it manually or connect it to your phone
The Anova Culinary app gives you cooking directions so you won't have to do guess work
The interface isn't well systematized
The Bluetooth connection is poor
Buy Anova Immersion Circulator
---
ChefSteps Joule Sous Vide
Coming from ChefSteps, the Joule is one of the best immersion circulators operated by a smartphone.
The first thing that amazes us is its compact design. Only 11 inches tall and weighing 1.3 pounds, this is so far the lightest and sleekest immersion circulator. You can store it in the drawer or pretty much anywhere else in your kitchen. Noticeably, this is a big plus, particularly if you have a tiny kitchen.
Despite its compact design, this unit has 1100 watts of power. Compared to its rivals, this one heats up the water much faster. What's more, the Joule consumes less energy, because it can function in a container that has only 1 ½ inches of water. But, keep in mind that this unit works only with 120 V outlets.
When it comes to the use, the Joule connects to your smartphone, via Bluetooth or Wi-Fi. The Joule app was such a help to us. It practically did all the thinking for us, telling us for how long the food had to cook, and at what temperature.
If you're a beginner, you'll find this app extremely useful. Also, the Wi-Fi connection is perfect when you're out and about. You can be sure that your food will come out perfect even if you're not at home.
While the Joule may sound like a dream-come-true device, it's not perfect. In fact, we were annoyed by its Wi-Fi connection that kept breaking all the time.
Likewise, we didn't like the fact that this device cannot be controlled manually. That is such a shame because this unit has great features.
Many people prefer simplicity and onboard controls over an app. And that's exactly the reason why those people won't opt for this unit.
Bottom Line
The ChefSteps Joule immersion circulator is a compact but powerful. It works with Android or iPhone, and allows you to cook from anywhere. In addition, the unit gives perfect results, and you don't even have to think about the cooking process. The Joule app will help you pick the perfect temperature for the food, and will let you know when the food's done.
However, this unit doesn't have onboard controls which can definitely be a dealbreaker for some cooks.
Pros

Cons

Lightweight and small
Fits into the drawer
Heats up quickly
The Joule app is useful
Great for both beginners and experienced cooks
Can only be used via smartphone
The Wi-Fi connection tends to break
Only works with 120 V outlet
Buy ChefSteps Joule Immersion Circulator
---
Gourmia GSV150 Sous Vide Precision Cooker
The Gourmia GSV150 is slightly cheaper than the first two products on our list. There's no doubt that his unit does a great job when it comes to cooking food. But, the Gourmia GSV150 does have its flaws. Let's find out the good and the bad of this sous vide precision cooker.
With 1200w of power and precision to .1 degree, the immersion circulator delivers tasty and healthy results.
Additionally, it circulates about 2 gallons of water per one minute. This is how the consistency in temperature is achieved. We really loved the way the food was cooked. The steak was juicy and cooked to the right doneness while the veggies were crisp and flavorful.
The GSV150 features the clip that can be attached to a number of different pots and containers. This is perfect for both big and small households as you can always cook the food depending on your needs. Some days you'll need to prepare a big lunch for the whole family. For that, you can use your biggest pot or container. Other days you might want to prepare only 1, or 2 servings of your favorite meal.
The GSV150 has onboard controls which are responsive and easy to use.
But, this unit can also be connected to your phone via Wi-Fi. However, the Wi-Fi connection easily interrupts, so you won't be able to control this unit remotely. You can call the technical support though, as they're helpful and patient. But there's still no guarantees that the Wi-Fi will function properly as it's more a hit and miss feature.
Bottom Line
Overall, the GSV150 is a great choice if you don't care about the Wi-Fi feature and want to save some money. If you plan to be at home every time you cook sous vide, this unit might be just the perfect one for you.
Pros

Cons

Precise to 0.1 degree
1200w of power
Maintains the ideal temperature
The food is cooked to perfection
The clip works great as it attaches to pots and containers of different sizes
Onboard controls are responsive and simple to use
Ideal for a single person as well as for a big family
The Wi-Fi feature doesn't work as intended
Buy Gourmia GSV150 Sous Vide Precision Cooker
---
Monoprice Strata Sous Vide Immersion Cooker
The Strata Immersion Cooker is the most affordable device on our list. With a low price range, it's clear that this unit offers less than above-mentioned models. Yet, this immersion circulator is reliable and worthy. It's a great choice if you're buying your very first sous vide precision cooker.
The first thing we like about this unit is the precision. At first, we were cynical about the quality and performance of the Strata, but we decided to give it a try. When we tried the food, we were happy.
During testing, the temperature slightly varied, but only to 0.5 degree Celsius, which isn't a big deal. We cooked chicken breasts and some veggies. The results were top-notch! The meat was juicy and tender, and veggies were delicious.
Another thing we appreciate is a LED screen that is easy to read and responsive. You will set the temperature and time quickly. You can also start or pause cooking with the touch of a button. The unit doesn't have Wi-Fi feature or Bluetooth, but that's not surprising when you think about the price. So, you'll have to check the food more often but that's okay.
Lastly, this unit is surprisingly well-built. The housing is sturdy and so is the adjustable clamp. It is bigger than the Anova and Joule though.
Bottom Line
The Strata Immersion Cooker is the best sous vide precision cooker if you're just starting with sous vide cooking or don't plan to use an immersion cooker too often. It's precise, simple and easy to use.
This immersion circulator may come without fancy features, but it surely knows how to cook your food. And that's actually the most important, right?
Pros

Cons

Precise
Delivers great results
Comes with the adjustable clamp
Easy to use
Simple
Inexpensive
Great for the first-time users
Doesn't have Bluetooth or Wi-Fi
Larger than other models
---
Best Sous Vide Cookers Reviews
| Sous Vide Cookers | Capacity | Power | Transparent body | |
| --- | --- | --- | --- | --- |
| Tribest Sousvant SV-101 | 12 quarts | 1000 W | The carafe and lid are transparent | Check Price |
| Sous Vide Supreme Water Oven | 11.2 liters of water | 110 V | No | Check Price |
| Gourmia GSV900 Water Oven | 10 quarts | 110 V | No, but the lid has a see-through window | Check Price |
| Oliso 60001000 Sous Vide Cooking System | 11 quarts | 1500 W | No | Check Price |
Not everyone wants to bother with an immersion cooker and different water containers. If you're one of those people, you'd want to take a look at our self-contained sous vide machines reviews.
Tribest Sousvant SV-101 Complete Sous Vide Circulator
The Tribest Sousvant SV-101 is our top pick for the "self-contained sous vide machines" category. This unit is impressive, with all its great features and transparent carafe. If you're a seasoned home chef and want to replace your old sous vide machine, this is the way to go.
We pretty much loved everything about this unit. The design is just amazing. The unit is large, holding 12 quarts of water. However, with a sleek design, this sous vide machine will take up less space than its competitors.
Thanks to a transparent carafe, you'll be able to check the food without opening the unit and losing heat. Besides, having this water oven in your kitchen will definitely look fancy.
We even were captivated by the cooking process because you can see everything, so we just stood there and watched for some time. It was pretty cool. You'll see that for yourself if you buy this model.
Another thing we loved about the carafe is that you can remove it and wash it under running water. Obviously, this is a big advantage, because cleanup is super-fast and easy.
Not only does this sous vide machine look great but it also works great. A powerful 1000w circulation system heats up water quickly and keeps the desired temperature. Also, the water temperature will be even, so there won't be hot and cold spots.
With user-friendly controls, getting perfectly cooked food can be done every time.  Oh, and the built-in safety indicator will let you know if the power supply has been broken up and the food isn't safe to eat. This feature is especially beneficial if you have kids.
The last thing we found impressive is energy efficient operation. Namely, the unit doesn't have minimum/maximum fill levels. That way, you won't have to fill the water all the way up to cook only one bag with chicken breasts. So, you can add just enough water to cook the food you need which means less energy consumption.
The thing we didn't like about this unit was the noise it made when operating.
Bottom Line
Taking into account the impressive features and sous vide cooker reviews, the Tribest Sousvant SV-101 offers the best value for the money provided. Hence, this unit is the number one, in our opinion. It really has all a sous vide chef could ask for – a high-level performance, practical design, user-friendly controls and reasonable price.
Pros

Cons

Looks great
Practical and easy to clean thanks to a transparent carafe
Reasonably priced
Takes up less space because of a sleek design
Energy efficient operation
Holds 12 quarts of water
User-friendly controls
Built-in safety indicator
Noisy
Buy Tribest Sousvant SV-101 Complete Sous Vide Circulator
---
Sous Vide Supreme Water Oven
Every chef has heard of the famous SousVide Supreme Water Oven. This award-winning water oven provides a high-quality performance due to its design. The food cooked in this unit guarantees an unparalleled taste and texture. Once you try this unit, you'll fall in love with sous vide cooking.
The Supreme water oven heats up quickly, and constantly maintains the wanted temperature.  During testing, we checked the temperature. It really was precise, varying only to 1 degree Fahrenheit / 0.5 degrees Celsius.
As for the capacity, the Supreme holds up to 11.2 liters of water. The water is heated evenly; hence the food is cooked uniformly as well. This is great if you're cooking many vacuum bags at the same time because you want consistent temperature all over the oven.
You also get a universal rack for fast and easy organization of food pouches. And the lid serves as a tray for transferring food pouches to the countertop.
Furthermore, this unit is energy efficient thanks to the stainless steel lid that preserves steam, and double-wall insulation.
The unit works silently so you won't get distracted by it while doing house chores or are simply relaxing while waiting for lunch.
The best part about this water oven is that you don't have to supervise food every half an hour. Simply set everything and come back after a couple of hours. Yup, it's just that easy. However, if you insist on checking the food, you'll appreciate a cool-touch exterior that will let you lift the lid without burning your hands.
On the downsides, this unit comes with a short cord, so you'll probably want to buy a longer one. Also, the water oven is large, taking up much space on the countertop.
Bottom Line
All in all, the Sous Vide Supreme Water Oven is ideal for the whole family, as it has a big capacity. It can cook up to 20 pouches of food at the same time. In addition, this unit is quiet, precise and energy efficient. If you're looking for a high-quality unit this might be your best sous vide machine.
Pros

Cons

Precise temperature control
Silent operation
Includes the universal rack
Energy-efficient
Heats up quickly
Set-and-forget design
Short cord
Large
Buy Sous Vide Supreme Water Oven
---
Gourmia GSV900 Sous Vide Water Oven
The Gourmia GSV900 Water Oven is a great choice if you've just started cooking sous vide. It's affordable and gets the job done.
This unit has 10 qt. capacity which is perfect for small families, students, and seniors. It comes with a rack so you can cook up to 12 pouches of food simultaneously, making your lunch in one go. Also, the rack ensures the pouches are nicely organized and don't lie on top of each other.
The body and base are made of stainless steel which ensures durability. However, we noticed during testing that the coating of the base scratches easily. So you'd want to be cautious if you want to use this water oven for a long time.
The water oven is insulated, so the food will be cooked to perfection. In addition, the water temperature is controlled and maintained by the Active Control Thermostat. You can cook steaks, pork ribs, chicken breasts, veggies, and many more delicious dishes. The best part about sous vide cooking is that the food retains all the nutrients, hence it tastes extraordinary. The same goes for this unit. Your dishes will be just right every time.
The controls are placed on top of the water oven, so set up is a breeze. Also, the screen is easy to read thanks to blue color.
Moreover, the water oven comes with a lid that prevents water evaporation. This is great as you won't have to add water when cooking for an extended period. What we loved about the lid is a see-through window. Thanks to it, overseeing the cooking process is convenient.
Bottom Line
The Gourmia GSV900 Water Oven is cheap, being an ideal choice for students, small families, seniors and those on a budget. This unit is precise and cooks food to excellence. The rack holds up to 12 cooking bags so your meal will be ready in one go. With simple onboard controls, choosing the right temperature and time won't be complicated, even if you've never before used sous vide water oven. So, if you're looking for an affordable water oven that delivers great results, you're going to love this one.
Pros

Cons

Affordable
Great for small families, students, and seniors
Easy to use thanks to onboard controls
The cooked food is flavorful and perfect
Quiet
The rack holds up to 12 pouches of food
The base scratches easily
Small capacity
Buy Gourmia GSV900 Sous Vide Water Oven
---
Oliso 60001000 Sous Vide Cooking System
If you're an avid home chef who enjoys using all cooking methods, then the Oliso Induction Sous Vide Cooking System is just the thing you need.
This cooking system consists of a smart induction hub and smart top water bath. Use an induction hub when you want to cook in a traditional way. On the other hand, when you want to cook sous vide, just add a smart top to the base and voila – you now have real sous vide machine. Isn't that amazing?
Like every model we've reviewed today, this one also ensures a consistent and exact temperature. Moreover, the induction points the heat right to the water bath or cookware to ensure even cooking.
This unit heats up rapidly thanks to 1500w of power. In addition, the temperature range goes up to 288°C / 550°F which cannot be said for other models on our list.
As for the controls, they are clear and accurate. There are 10 adjustable power levels, countdown timer, and temperature control – and all of these make cooking much easier.
The water bath is insulated so rest assured that the food will be as perfectly cooked as with any other model on our list. You can cook a variety of food, from soups and broths to veggies, fruits, infusions, and meats. There are no limits!
Being such a versatile cooking system, this unit takes up a bunch of space. So, if the space in your kitchen is very limited, you probably don't want this unit in there.
Even though this cooking system is the most expensive on our list, you'll save money, as you won't have to buy a water container, sous vide machine and induction separately. Hence, this unit will definitely pay off in the long run.
Bottom Line
The Oliso 60001000 Sous Vide Cooking System is the most versatile sous vide machine on the market. Investing in such a great machine will certainly pay off, as you can cook all kinds of sous vide and traditional meals.
Pros

Cons

Versatile
Precise and even cooking
Controls are accurate and easy to use
Removable water bath
Temperature range goes up to 288°C / 550°F
Large footprint
Expensive
Buy Oliso Sous Vide Cooking System
---
Conclusion
Well, that's it. We hope that our sous vide machine reviews and buyer's guide encouraged you to invest in the best Sous vide machine and dedicate to this cutting-edge cooking method. Without a doubt, you'll enjoy trying out hundreds of sous vide recipes. And here are some of simple and delicious recipes to boost your inspiration and get you in the mood for cooking. Let's sous vide!
Sous Vide Buyer's Guide
An Immersion Circulator or Water Oven?
Before we move on to sous vide reviews and guide, let us explain to you the difference between the sous vide machines. Namely, there are an immersion circulator and water oven. You can choose either one, depending on what you need.
An immersion circulator is practical and easy to use. You can attach it to a stainless steel pot or water container. It heats the water in the pot/container and circulates it in order to keep the optimal temperature all the time.
An immersion circulator looks like a hand mixer, so it doesn't take up much space and you can store it anywhere. Also, this gives you the possibility to carry it with you and cook sous vide wherever you want.
While this unit is cheaper than sous vide water oven, it's a much better choice because of the obvious reasons. So, we suggest you invest in a high-quality immersion circulator and enjoy simple and hassle-free cooking.
On the other hand, there is a water oven. It comes with a water bath and looks like a rice machine. So, this unit takes up quite a space on the countertop. It works similar to an immersion circulator, so it heats the water and maintains the same temperature for hours.
It's much more expensive than an immersion circulator but if you want to have all-in-one sous vide machine, this is what you need.
Choosing the Best Sous Vide Machine
Nowadays, sous vide machines come with all the bells and whistles.
But, don't let these fancy features fool you because the power of a sous vide machine lies in basic features such as temperature precision and stability, safety, and versatility. Naturally, if one of these factors is missing, the machine won't deliver consistent and accurate results, which means no sous vide for you.
So, if you've found the unit with abovementioned features, then you can move on and look for some handy features – a large water capacity and timer being one of them.
That being said, we wrote an easy-to-understand buyer's guide for you so we hope that you'll learn what features to focus on when buying this unit. Let's read on.
One of the biggest advantages of sous vide cooking is the temperature precision. Unlike other cooking methods, this one allows you to cook your meals to perfection. This is achieved through a sous vide machine's ability to keep the desired temperature stable.
In sous vide cooking the difference between 2-3 degrees (Celsius or Fahrenheit) could lead to an under- or overcooked meal. Because of that, you want a machine that will be set to just the right temperature and keep it that way for hours.
If you want to go with a water oven, make sure it comes with a water level indicator. Meaning, when the water in a bath (also known as a container or oven) gets too low, the machine should shut down right away. If you tend to leave your house often while your food is cooking, then this feature is just more important.
Another handy feature is a lid. So, if possible, buy a machine with a lid, because it will prevent the water from evaporating.
Are you a passionate cook who enjoys experimenting with all kinds of recipes? Or, are you one of those people that stick to the same meal plan for years (boring)?
Depending on your needs and means, you can only buy a sous vide machine OR a versatile sous vide machine that will give you more convenience.
For example, there are sous vide machines that come with an induction cooker, so you can also sear the meat right away. Or some of these come with a slow cooker if you're a fan of that cooking method as well. Talk about convenience!
Other features to look to get the best Sous Vide Machine
Some people cook more, some less. That's why you need to take the capacity into account. So, how many sous vide cooking pouches the unit can hold?
Another thing to check is the water capacity. If you opted for a sous vide water oven, check how much water it can hold. As for an immersion circulator, see how much water it requires work properly.
Depending on the type of foods you want to cook, your sous vide machine should have a greater temperature range, about 200 degrees Fahrenheit.
Some sous vide machines can make irritating noise. While some people won't have a problem with a noisy machine, some certainly will. So, this is another feature to think about. Luckily, the best models are usually the quietest ones.
Before buying a water oven, make sure to check its dimensions to see if it fits your countertop.
Clearly, this feature is a blessing. Thanks to it, you would be able to set up the machine and forget about the food for hours. The timer can really ease your mind because you won't have to think about the food all the time. If possible, consider getting a model with the timer.
It's pretty important to clearly see the temperature on the display. Unfortunately, some models don't come with an easy-to-read display, due to too bright or too dark colors. Just look for the one that it does come with a clear screen.
Believe it or not, some of these machines come with Wi-Fi or Bluetooth. That way, you can connect your phone to the sous vide machine and supervise the cooking process. Most people don't want to bother with this option. But, if this is something you'd be interested in, go for it.