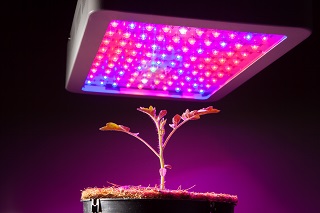 Snow, Frank Sinatra, hot chocolate, magic – the beauty of winter. Is there anyone that doesn't love this lovely season?  Well, we think there is – plants, seeds, and flowers. But, we can't blame them. It isn't like winter is their best time of the year. Or at least it hadn't been.
But, thanks to LED grow light, now it can be. This light is specifically designed to boost the growth of the plants. Thanks to that, you can start growing plants whenever you want and enjoy their presence all year round.
Still, indoor grow lights come in different shapes, sizes, and with various lights, so choosing the best one might be delicate.
That being said, we bring you 4 best LED grow lights 2018 to make that part much easier for you. Now, let's jump straight into the reviews so that you can buy what you need and start growing those plants as soon as possible.
4 Best Led Grow Lights Reviews
Dimgogo 1500W LED Grow Light
Our first choice is the Dimgogo LED Grow Light. This unit really makes a difference with its powerful design.
First of all, it has a triple-chip. Now, compared to a single and double chip, this one is much brighter. Meaning, it covers a bigger area and is more efficient (consuming only 268w power), hence saves your time and money.
In addition, this LED light has a full spectrum light. This light includes white, red, blue, UV and IR, therefore, it's similar to the actual sunlight. So, this LED light will give your plants and flowers just what they need to grow healthy and promptly. It also works great for all types of indoor plants and can be used for different stages – veg and blooming.
The cooling system consists of two cooling fans and heat sink that is placed in each light fixture. This makes the lights cool so they can work longer. Also, the unit operates quietly which was a great relief. We love plants, but we don't like noisy products.
When buying stuff like this, you surely don't want to buy some flimsy product that will break down easily. And that's what we loved about this product from the moment we saw it – a well-built design. The light is sturdy and reliable, which cannot be said for most of these units. You even get a 3-year warranty.
The last feature we appreciated was a straightforward installation. It took me less than 10 minutes to set up this unit.
Since here we're talking about full spectrum led grow lights, it's a no-brainer that these are pretty bright. Like, you-have-to-wear-sunglasses-every-time-you-are-near-this-unit bright. So, looking at the lights without having an eye protection is out of the question!
Conclusion
Overall, the Dimgogo LED Grow Light is a great choice if you have different types of plants, herbs, and flowers to grow. It's powerful but efficient. On top of all, this light is sturdy and comes with a warranty, being one of the best grow lights out there. Sure, you have to wear sunglasses every time you're checking the plants, but that shouldn't be a concern.
Pros

Cons

Energy Saver
Great for all kinds of plants and flowers
Great area coverage
Well-built design
You have to wear sunglasses/grow room glasses because the light is very bright
---
Nextrend 600W – Best LED Grow Light for VEG phase
If you want to start growing plants of different sizes, we suggest you try this product. The Nextrend LED Grow Light is adjustable, efficient, and features three switch modes. It's simple and easy to use, allowing you to completely enjoy the process of growing your plants.
The first thing we found useful about this unit was adjustability. The adjustable socket and strong hanging support line enable you to control the intensity of light and adjust the height. Thanks to that, you can use this unit for plants of different sizes.
The second great feature about the Nextrend LED Grow Light is the full spectrum light. Just like the previous product, this one also simulates the sunlight, meeting your plants' needs. Moreover, there are 120 LED chips and three switch modes – veg, bloom, and photoperiod. So, each mode simulates different colors and temperatures that will turn your plants into healthy and fast-growing ones.
The last thing worth mentioning is the design itself. An efficient fan, robust aluminum base, and a special pattern design all work together to improve heat dissipation and get the maximum out of this light. Because of that, the lifespan of LED lights is prolonged, counting 50 000 hours.
As for the downsides, this product doesn't have any major ones, except the lights are too bright (same as the first product on the list). But, that's nothing that a pair of sunglasses can't solve.
Conclusion
The Nextrend LED Grow Light is a great choice for all the stages as it features three switch modes – veg, bloom, and photoperiod. It's also adjustable, and easy to use, so you will be able to focus on your plants.
Pros

Cons

Three different modes – veg, bloom, and photoperiod
You can adjust the height
120 LED chips and 600 watts of power
50 000 hours lifespan
Brightness
---
VIPARSPECTRA 300W LED Grow Light
The VIPARSPECTRA LED light is on the cheaper side, so this is a great choice if you're on a budget or a beginner, yet want a good quality product.
This unit is best for the VEG phase, as the blue color dominates. So, even if it's advertised as full spectrum, we weren't convinced of that. However, bearing the price in mind, this unit works well.
Thanks to its blue light, your seedlings will grow into lovely and vigorous plants. But, keep in mind that for a Bloom phase, you need to buy an additional red LED grow light.
During testing, we perceived that the heat dissipation system is great since the lights stayed cool. This is important as you don't want the lights to emit the heat to the plants (that can cause burns). However, we also noticed that the fan is louder than with the previous LED lights.
Yet, compared to the first two products, this one offers 100 000 hours lifespan and consumes only 136 watts. These two reasons alone are enough to sweep you off your feet (the third would be the price).
The icing on the cake is the daisy chain feature. It's just amazing! You can use multiple lights at the same time without hustle.
Conclusion
The VIPARSPECTRA LED light may not be the best-LED light in terms of the performance and quality. But, we'd say this unit definitely deserves its place on "the best cheap led grow lights" list. It does what it's supposed to, and is great for the VEG phase. It also has an impressive lifespan of 100, 000 hours and comes with a 3-year local warranty. So, if you want a cheap and good unit, this is your best bet.
Pros

Cons

Best for VEG phase
The lights stay cool thanks to a great heat dissipation system
The lifespan of 100 000 hours
3-year local warranty
The fan is a bit loud
Blue color dominates
You need to buy the red LED light
Buy VIPARSPECTRA LED Grow Light
---
INKERSCOOP 12W LED Growth Light
Whether you have a greenhouse, or just want to start growing your favorite plants, the INKERSCOOP LED Growth Light can help you out.
This LED light looks different than the other models on this list. This is actually a LED light lamp with dual heads and 32 LED lights. This design has its own advantages, such as adjustability and ease of use.
The neck of the lamp is flexible, allowing you to choose the right angle for your plants as well as the coverage area. This is great if you plan to grow both short and tall plants. If you're worried about adjusting the neck of the lamp, relax. The heads are made of aluminum and feature high transmission lens, so you can touch this unit without burning your hands.
As mentioned, this unit is easy to use. Thanks to the adjustable timer, you can choose from three timer modes (3, 6 or 9 hours). Moreover, the USB interface ensures you connect the adapter or laptop in seconds. The lamp comes with a foam mat and features a rugged grip, hence it stays in place all the time.
The lamp doesn't have full spectrum lights, but it still has the most important ones – 22 red lights and 10 blue lights. Without a doubt, the lamp will boost the growth of your plants.
Finally, the INKERSCOOP LED Growth Light has low energy usage and fast cooling. Both of these have a positive impact on the unit's lifespan so it will last about 50 000 hours.
On the downside, the lamp doesn't have a large coverage area so keep that in mind.
Conclusion
As you can see, the INKERSCOOP LED Growth Light offers great features and the low price. It's easy to use, and it features a timer, so taking care of your delightful plants will be a breeze. Thanks to its compact design, red and blue lights, this unit could be a great addition to grow light kits.
Pros

Cons

Great for greenhouses and home use
Flexible and adjustable design
Easy to use
Features a timer
USB interface
Affordable
Lights aren't full spectrum
The coverage area is limited
---
Things to Consider When Buying Led Plant Lights
We believe that finding best led grow lights takes time and effort. Likewise, we agree with the saying "Knowledge is power". If you don't understand something, take time to do some research. That way, you'll learn something new, and won't get ripped off in the local store for not knowing what you need (we all know those salespeople that try to sell you the most expensive product even if it doesn't work well). That being said, here's a short buying guide to steer you in the right direction.
Of course, not all of your plants need the same amount of light and heat to develop. So, the first thing you want to check is the wattage of the LED light. Do you need a more powerful LED light, such as the first one on our list? Or, 300 watts will be perfect for your plants?
The second thing is to calculate how many LED lights you're going to need. So, how big or small your grow space is? This is unquestionably something to think about given the fact that it all starts with the power.  Here's an article that can help you with this.
As you probably already know, there is a variety of lights that your plants need. As mentioned, red and blue are the essential ones as they stimulate growth and give your plants energy. But, the best option is to buy a full spectrum light that also includes white, red, blue, UV and IR. All of these will greatly enhance the development of the plants.
Which LED grow light does your plant need?
There are different types of LED grow lights, so you need to know which one to choose. This depends on whether you want a LED light for vegging or blooming, or perhaps both.
Clearly, if you're starting seedlings you need a full spectrum LED light as it won't be long until they start to flourish. Look for the one with a VEG/BLOOM switch mode to make this process effortless.
On the other hand, maybe you only want a LED light for your flowers, to help them blossom. In that case, your plants need more red light, so you want to give them that.
The cooling system and heat sink determine the lifespan of LED lights. Hence, it's important that these parts are well-built and durable. Otherwise, the LED lights will easily overheat which leads to a much shorter lifespan.
The last thing to consider is the ease of use. Most LED grow lights are easy to install and even easier to use. However, it's still possible to find the more complicated ones, so be aware of that. We guess you don't want to spend too much time adjusting the LED lights every time you check your plants.
3 Biggest Mistakes You Want to Avoid With LED Grow Lights
Last but least, this section helps you understand the most common mistakes growers are making. By recognizing these mistakes, you're more likely not to make them.
1. Too little or too much light
The first mistake is related to how far or close the LED lights are positioned from the plants. If you place the lights far from the plants, they won't grow as fast as they're supposed to. On the other hand, if you set them too close, the lights might burn them. Ideally, the lights should be placed on the distance of 13-18 inches away.
2. Forgetting to turn on/off the LED lights
Forgetting to turn on/off LED lights is the second most common mistake. It's easy to overlook that when you have a hectic life and are going from place to place. But, while we may understand you, trust us, your plants won't. So, no excuses. Write a note if you must, just remember to turn the lights on/off.
3. Overwatering the plants
People who used other types of lights such as High-Pressure Sodium, Incandescent, and others know that these produce much heat and IR light, so watering the plants often is necessary. Nonetheless, LED lights to emit much less heat and don't produce IR light, so the plants need less frequent watering.
The Final Thoughts
Finding the best led grow lights for your dear plants is one of the crucial steps to growing healthy and rich plants. However, there's much more to this than just picking the right LED lights. That's why you should also take other factors into account; such as airflow, room temperature, nutrients, soil, and many more. But, once you learn all that, growing plants will be a rewarding and wonderful hobby! Good luck!