Best Heavy Duty Sewing Machine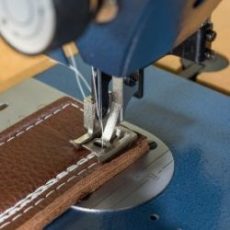 Heavy duty sewing machines are designed by keeping the professionals in mind. For customers who have to stitch heavier fabrics on a consistent basis, this is an ideal option on the industrial scale.
As compared to a regular sewing machine, purchasing the best heavy duty sewing machine is a different process. When it is going to be used on larger projects, it consists of a different construction as compared to its household counterpart. Moreover, it requires lesser maintenance with the passage of time as it can sustain rough usage.
So if you're looking for any such equipment, this is where our below mentioned guide – incorporating the reviews of the best heavy duty sewing machines – will help you out.
Best Heavy Duty Sewing Machine Reviews
SINGER 4411 Heavy Duty Sewing Machine
Coming from a trusted brand in the field of sewing machines, the SINGER 4411 can stitch almost everything which you throw at it. Starting from leather, it can sew a series of thicker fabrics including denim, satin and other such materials.
Featuring a stylish gray body, it is energized with patches of red and white throughout its exterior. With such a modest design, you can place it almost anywhere and it won't feel out of place.
The Singer 4411 is truly a heavy duty machine which can produce no less than 1100 stitches per minute. That makes it an ideal purchase for professional sewers who have to sew a number of clothes every day. Furthermore, there are 11 built-in stitches in this equipment as 6 of them are basic stitches and 4 can be used for decorative stitching. As per the last one, it is designed for button holes.
The Singer 4411 is really a heavy duty sewing machine which comes with a sturdy metal frame. It also has a stainless steel bed which makes it long-lasting product. Despite such heavy-duty construction, the overall weight of this equipment is no more than 14.5lbs. This isn't the thing which you normally see with other, heavy duty machines and that's what makes it one of the best sewing machines in today's market.
Customers can operate this machine with their feet as it has an adjustable foot pressure control. You just have to press or release it and the machine can sew any lightweight as well as heavyweight clothes. As per the top drop-in Bobbin, it is integrated with a cover which provides a clear view at all times. As a result, you can insert or remove it without any hindrance.
A number of dials have been provided on this machine which makes it easy to use. There are separate dials for needle position, stitch length, stitch width and stitch selection as you just have to rotate them to attain a perfect sew.  The manufacturer is offering this product on a whopping 25-year limited warranty which covers the machine head. As per the likes of Motors, stitches and other such electric components, there is a 2 years warranty on all these accessories.
One thing where this machine needs some kind of improvement is the quality of needles. In addition to the actual needle, others which are included in this purchase are of no use. These tend to break easily so you have to purchase a separate one for flawless stitching.
Conclusion
If you're looking for a leather sewing machine which can sew other fabrics as well, Singer 4411 is worth a shot. With a series of high-quality features, this machine is bound to last for years to come. And when it has a powerful motor, the fact that it can craft 1100 stitches per time makes it an extraordinary sewing machine.
Pros

Cons

Deals with almost all kinds of fabrics
Comes with a Long Power Cord
Stainless steel bedplate makes it a durable machine
Needles included aren't of the highest quality
Built-in stitches are on a lower side as compared to other heavy duty machines
---
Janome HD3000 Heavy Duty Sewing Machine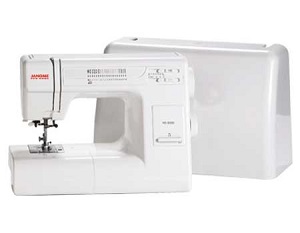 It might not be the most inexpensive option on the market but if you're looking for a real, heavy duty sewing machine, one which can stitch even the denser of fabrics, the Janome HD3000 is a top-quality model.
The Janome HD3000 comes preloaded with a series of hi-tech features. For the beginners, this machine has no less than 18 built-in stitches in its construction. Users can also choose from various stitch designs as a separate dial knob is provided for this purpose. You just have to rotate the knob and the machine will automatically switch itself to your desired stitch.
If you've used some kind of sewing machine in the past, there is no way you failed to struggle while putting the thread in the needle. But when this machine is designed for heavy-duty usage, where there is little time for any such obstruction, there is an easy-thread feature in the Janome HD3000. You just have to press the lever and the machine will automatically slide the thread through the needle's eye.
For the experienced sewers, who want to strengthen different stitches, there is an oversized reversed lever designed at the front portion of this sewing machine. The free arm feature of this machine makes it easy to sew all such areas, such as sleeves, cuffs and hems, which are otherwise considered as hard to reach.
The Janome HD3000 is enclosed in a heavy duty aluminum body which makes it easy to transport from one place to the other. Another useful feature in this machine is that once you leave the pedal, it stops stitching. So the sewers don't have to worry about extra stitches while dealing with the Janome HD3000.
Finally, so it is not the lightest machine which you can purchase. Moreover, it isn't too compact as well that might not bode well with some customers. But as far as its functionality is concerned, it gains top marks in the best sewing machine reviews.
Conclusion
The Janome HD3000 is a heavy duty sewing machine which is easy to operate. It can sew leather, quilt along with other thicker fabrics and when it has a stronger motor, you can perform a variety of tasks with this sewing machine.
Pros

Cons

Reversed stitch level makes it easy to reinforce stitches
18 built-in stitches provides a plethora of options
Easy to use with a superior construction
Weight might be an issue with some customers
Needs to be a bit more compact
---
Sailrite Heavy-Duty Ultrafeed® LS-1 – Best heavy duty sewing machine for leather and upholstery
The Sailrite Heavy Duty LS-1 is a heavy duty sewing machine designed to make sewing through leather, upholstery and other such fabrics look like a breeze. It might be an expensive model but when it comes to stitch through thicker materials, less expensive machines just cannot meet its performance. So even if you have to pay big bucks at the start, you'll get quality stitching with this sewing machine.
The LS-1 can sew through up to 10 layers of heavy canvas without any trouble. This is made possible with the Power Plus Balance wheel which is twice in size and power as compared to a traditional flywheel. The Power wheel works in accordance with the patented Posi-Pin clutching system which makes no mistake while transferring the power from the wheel to the needle. As compared to the regular compression clutch, it is devoid of any kind of slippage.
Included in this machine is a 3/8'' Foot lift. Basically, the presser can be raised up to this height from the ground which is particularly useful for sewing through thicker fabrics. The stitch length is fully adjustable as you're allowed to select up to 6mm for longer stitching.
This heavy duty machine runs on a powerful 110 VAC Motor and it can produce up to 500 stitches per minute.   An electronic foot control is provided to go through your stitching in an imperious manner. Sewers can attain variable speeds with the help of this construction which makes stitching easy on a consistent basis.
The Sailrite LS-1 comes with a limited 2 years warranty and the manufacturer is also provided an instructional DVD for the sake of customers. Once you make this purchase, you don't have to worry about spending additional money on purchasing a sewing table as the LS-1 comes with its own wooden base.
If you're interested in making this purchase, keep this thing in mind that this is a straight-stitch only machine. So it won't work well if you're looking to make some kind of zigzag patterns.
Conclusion
The Sailrite LS-1 has all the features which you might look for in a heavy duty sewing machine. Sturdy, Powerful with a compact construction, it works perfectly on almost any fabric. As per the other useful accessories, it includes the machine oil, a number of bobbins as well as needles with a sturdy wooden base (as already mentioned) so once it arrives at your doorstep, you're good to go.
Pros

Cons

Handles thick fabrics quite well
Can stitch in reverse as well
Strong motor with a powerful balance wheel
Restricted to straight-stitching
Power Cord isn't very long
---
SINGER 4423 – Extra-high speed sewing machine
The Singer 4423 Sewing Machine offers a great value for money. Featuring a heavy duty metal frame, this machine is equally useful for professional as well as newbie sewers. It believes in fast operation as in a single minute, it can produce up to 1100 stitches.
The 4423 is a portable sewing machine with a weight as low as just 14.5 pounds. For the ease of transportation, it has a compact construction which makes it an ideal machine for almost any workplace. You might be wondering that this machine, which is so lightweight, might struggle to produce consistent stitches. However, there is no such problem with this unit as with a stainless steel bed plate, sewers will enjoy a smooth fabric feeding at all times.
As compared to other, computerized machines, the Singer 4423 is fully mechanical so you don't have to think too much while working with it. For the ease of functionality, a number of dials have been designed on this machine as you can change the stitch length as well as design with the help of these dials.
One thing which we found quite impressive in this machine is its automatic needle threader. It works as a timesaver for a number of sewers as they can avoid all the hassle involving needle and the thread. For this purpose, they just have to push down on a lever and this mechanism will be automatically activated. It also has a drop in bobbin so you can start your job at the earnest.
It has a fully automatic 1-step button hole as you can produce stylish buttonholes without wasting any time. The design of this machine is quite similar to the other sewing machines from Singer as with a Gray Body, it has patches of white as well as bright red color throughout its exterior.
While sewing through multiple layers of thick fabrics, the Singer 4423 tends to struggle a bit. So sewers have to be a bit watchful while sewing through leathers and canvas. Other than that, you can purchase this beauty.
Conclusion
High quality, affordable and easy to use, the Singer 4411 is up there with some of the best sewing machines in today's market. It can produce 1100 stitches per minute as when there are a number of built-in stitches to choose from, the fact that it comes with a limited 25 years warranty makes it a worthwhile purchase.
Pros

Cons

Foot pedal makes it easy to operate
Automatic Needle Threader prevents the wastage of time
Lightweight machine with a robust exterior
Not ideal for fancy sewing
---
Brother ST371HD – Strong and tough sewing machine
The Brother ST371HD Sewing Machine is designed to perform a variety of sewing tasks. Featuring 37 built-in stitches, this machine can do anything ranging from zigzagging to blind hem, fancy to reinforcing stitches and finally, stretch sews. Furthermore, the button holes can be created in just one step so you won't have any problem while dealing with the button work.
When it comes to threading this machine, the manufacturer has provided an automatic needle threader. A lever is provided on the side of this machine and you just have to touch it. Afterward, the thread will automatically pass through the needle without any external help.
Another useful feature in this machine is it's easy to use stitch selector. The 37 different stitches are printed on the front of the ST371HD with a separate number allocated to each of them. For choosing any one of them, a dial has been integrated on the right side of this unit. Users just have to rotate the dial before stopping it at the specified number of their intended stitch.
Separate dials are provided to adjust the stitch length as well as the stitch's width in this machine. When maximum stitch length, which you can choose, is 7mm, the maximum stitch width is 4mm.
For controlling difficult fabrics while stitching, including leather, suede, and vinyl, the Brother ST371HD comes with a nonstick foot. It passes effortlessly over the fabric's surface thus ensuring an error-free feeding. Moreover, a total of 6 different foot designs are provided in this purchase as depending on your stitch design, you can attach any one of them.
This heavy duty sewing machine comes with a bright LED light that is directed towards the stitching table. The light has an unmatchable lifespan so you don't have to replace it for a number of years.
There is no product in this world which is perfect and same is the case with this one. This machine crafts button holes in just 1 step but when you use it, it won't stop at the final moment. So when it requires human assistance in this matter, there is always a margin of error.
Conclusion
One for the budget-conscious customers, the Brother ST371HD Sewing Machine provides a wide range of features in a very affordable price. When it has 37 built-in stitches, to perform a wide array of tasks, the fact that it contains an automatic needle threader saves you from worthless hassle. In addition, users will get other useful accessories, including needles, spool caps and an instructional DVD, on making this purchase.
Pros

Cons

Wide range of built-in options to choose from
Separate dials make it a convenient purchase
Drop-in top bobbin is jam resistant
Question marks about the 1-step button hole process
Plastic Outer shell
---
The Result: Editor's Choice
When it comes to the selection of the best heavy duty sewing machine, it varies. It varies depending on the choice of the customer, the budget which he or she is willing to spend and finally the features which they want to have in their ideal product. So when we've reviewed some of the best products in this category, you can choose any one of them as per your needs. All of them are of the highest quality so once you make this purchase, you don't have to go near another sewing machine.
If you're looking for a machine which can sew through layers of fabrics, there aren't much better products than the Sailrite Heavy-Duty Ultrafeed® LS-1. When it is tried and tested on 10 layers of canvas, a 3/8'' foot lift with a power plus balance wheel makes it a strong unit to perform the difficult tasks.
The SINGER 4423 Heavy Duty is unique in the sense that even when it is a lightweight machine, that hasn't got anything to do with its performance. When it comes preloaded with the automatic needle threader, a 1-step button hole mechanism and a bed plate made of stainless steel, this machine is bound to last through several years of rough usage.
[adinserter block="1″]
Heavy Duty Sewing Machine Buyer's Guide
When it comes to purchasing the sewing machine, one has to consider a number of things; mechanical vs electronic machines, feed dogs, needle threader, drop-in bobbin, and warranty. So if you're out there in the market, in search for the heavy duty sewing machine, look for the below-mentioned features before making this purchase.
1. Mechanical vs Electronic
If you're still relatively new to this trait, there is no better option than a mechanical sewing machine to learn the art of sewing. When it is easy to operate, it doesn't require prior knowledge for a hassle-free operation. For the experienced users with a heavy workload, they should go for the most advanced option in the form of electronic machines.
2. Adjustable feed dogs
A device which is generally located on the bottom of this machine, adjustable feed dogs are helpful while dealing with heavier fabrics.
3. Automatic threader
A must-have feature in the heavy-duty equipment, the automatic threader pulls the threader right through the needle's eye. So you don't have to squint or waste time just for passing the thread through the needle.
4. Drop-in bobbin
As compared to the traditional sewing machines, in which users had to thread the bobbin in a buried compartment, the machines of today allow you the luxury of opening a panel before placing a bobbin in it.
5. Stitches per minute
The basic purpose of a heavy duty machine is to complete its work in an efficient manner. As a result, it is imperative for the sewing machine, which is to be used on larger projects, to have the ability of producing several hundred stitches per minute.
6. Lightweight
If you intend to travel frequently with this purchase, go for the one which is lightweight. Moreover, a lightweight sewing machine is easy to store which is a big plus for all such customers who will use this equipment once every now and then.
7. Size of the needle
For users who're going to perform a variety of tasks, it is recommended to select the needle size with utmost care. When a lighter fabric requires a different needle, you have to use separate needle while stitching through heavier fabrics.
8. Warranty
Once you've decided to purchase a particular machine, now is the time to check the warranty which the manufacturer is offering with this product. Nowadays, the warranty for electrical parts in no more than 2 years while frame warranty can go as high as up to 25 years. So have a look at the warranty which manufacturers are offering with their products and choose accordingly.