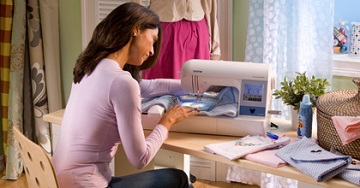 Gone are the days when people had to rely on handwork for embroidery. When it required a greater skill, one had to spend a considerable amount of time in this process.
Nowadays, thanks to the recent innovations in technology, super-fast embroidery machines have arrived in the market for completing difficult projects within no time.
If you're looking for the best embroidery machine, you've just landed at the right place. After going through a series of products, we've compiled this guide incorporating the top 5 best embroidery machines for every user.
Best Embroidery Machine Reviews
Brother PE770 5×7 – Best home embroidery machine in our opinion
The Brother PE770 is a versatile product which comes pre-loaded with a large number of design patterns. Boasting a stylish look, this machine won't feel out of touch in almost any kind of premises.
Moreover, it gives you full control over your embroidery project which makes it an ideal product for users with different skill-set.
Built-in memory
Featuring a built-in memory, the manufacturer has designed this unit with no less than 136 design patterns. It includes Floral, scrollwork and quilt patterns in addition to 10 different frame shapes along with 12 border styles. Furthermore, this machine has a USB-port which allows users to transfer any kind of designs right from their computer to this machine.
Spacious work area
Moving forward, the PE770 comes with quite a spacious embroidery field. This machine 5'' x 7'' work area so that you can perform all kinds of projects. One can easily use this space for working on jacket bags and other such accessories without any hindrance.
Ease of use
The PE770 is quite easy to use as the manufacturer has provided a high quality, LCD touch screen for the customer's convenience. With its help, you can edit designs or even preview them before actual stitching. For the customer's ease, there are several built-in tutorials in the LCD which makes it easy to use even for the newbies.
Other useful features
For saving a precious amount of time, it has an automatic needle threader. Unlike other, manual machines, you don't have to strain your eyes for passing the thread through the needle as this machine will do it for your convenience. Similarly, the automatic thread trimmer saves you from cutting the thread at the end of every design which is a great feature for customers looking to use it for bigger projects.
Finally, Brother is offering the PE770 with a limited 25-year warranty.
The overall weight of this unit is just under 27lbs. In contrast to other embroidery machine reviews, this isn't a lightweight product by any means. As a result, you might have to experience some trouble while taking it from one place to the other.
Conclusion
The Brother PE770 is one of the top-quality machines which you could purchase from today's market. Having no dearth of features, this machine holds a decent value for money. So even if you're a beginner, looking to make inroads in sewing, or even a professional sewer who has to perform big tasks, this embroidery machine is worth a shot.
Pros

Cons

Pretty straightforward usage
Large series of design patterns
Automatic needle threader
Weight might be an issue with some customers
---
Brother SE400 – Best affordable embroidery and sewing machine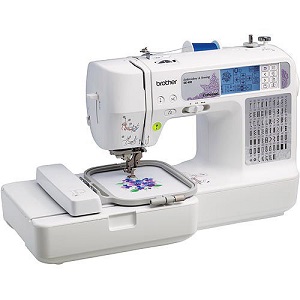 The Brother SE400 holds a decent combination of embroidery and sewing. When this is a computerized machine, you just have to select the design patterns and this unit will do the rest.
As a result, this is an ideal machine for professionals and amateur sewers alike.
Work area
At a time when a lot of embroidery machines offers an insufficient workspace, there is no such case with the Brother SE400. Having a 4''x4'' work area, this embroidery area is more than enough to perform a list of sewing tasks. Moreover, the workplace is well-lit so you can see everything with a crystal clear view.
Built-in stitches
The SE400 has no less than 67 built-in stitches. Including utility stitches, you can choose from quilting stitches, heirloom stitches as well as decorative stitches. It also has button hole stitching which can be applied with the press of a single button. Now what it does is that it makes it a versatile product as you can do different types of sewing without any hesitation.
Embroidery designs
When the Brother SE400 is a perfect combination of sewing and embroidery, it comes preloaded with 70-built in the embroidery design. It includes flowers, plants, and birds to name a few. As per the selection of these design patterns, you just have to choose any one of them as per your choice and this machine will guide you accordingly.
USB compatible
If you're not content with the built-in design patterns, you just have to download your favorite one from the one before transporting it onto this machine with the help of a USB Port.
LCD
Featuring a touch screen LCD, you can operate it either with your finger or even with the help of a touch pen which is provided with this purchase. You can scroll through different stitch patterns before selecting your favorite design with a single touch.
Other features
Ask any person, who has to deal with sewing machines on daily basis, and they'll tell you how frustrating it is to deal with the thread and needle. When it requires a considerable amount of time, one has to show patience as well. However, to save you from any such hassle, the automatic needle threader comes viable in the SE400.
Another thing which we found quite impressive in this unit that, despite the low price tag, it has automatic thread cutter which makes it a very useful product.
Even though the LCD screen is quite easy to use, one still has to do a great deal of scrolling before reaching to his favorite design pattern. With 67 built-in stitches, this is a problem which you have to face on a regular basis.
Conclusion
If you're looking for a suitable fusion of sewing and embroidery in one, single machine, have a look at the Brother SE400. Available at an affordable price, this unit has still got all the high-quality features which one could expect from a much expensive purchase.
Pros

Cons

Intuitive LCD makes it an easy to use machine
Boasts viable combo of sewing and embroidery
No issues with needle threading thanks to auto needle threader
Might get a bit confusing for beginners
---
Brother LB6800PRW – Top-quality embroidery machine
Another premium-quality product from this particular brand, the Brother LB6800PRW combines stylish exterior with super functionality. In comparison to other such products, this machine can be purchased at a suitable price range.
Furthermore, it is one of the very few machines, which both sews and embroiders, in today's market.
Work space
The Brother LB6800PRW consists of a 4'' x 4'' workspace. Even though this is not the embroidery machine with the largest hoop, the work area is still more than enough to accommodate a wide variety of designs. Moreover, the work area is well-lit which allows users to work with this machine even in a dark space.
Easy to use
One of the great things about this machine is its ease of use. When it comes preloaded with features like automatic needle threader and a convenient quick set bobbin, you can use this machine straight out of the box. For the first time users, there are built-in tutorials which help them to set up this machine in a super easy fashion. Combine it with the 7-point feed dog and you can use this machine even of wider fabrics.
USB connectivity
At a time when this machine comes with a staggering 120 frame combinations along with 70 built-in designs, not every user would want to use the same design over and over again. You might want to try something new as per your imagination and for exactly the same reason, the Brother LB6800PRW is USB-compatible.
LCD display
When the Brother LB6800PRW comes with a wide range of designs, the touch screen LCD makes it easy to choose your favorite one without wasting any time. With its help, you can choose stitches as well as design patterns as per your choice. It is a responsive LCD screen and when there are 5 different lettering fonts, you can choose the most viable font without any hindrance.
Portable
For making it easy to transport this machine, users will get a rolling carrying case on making this purchase. Unlike heavy bags, this one is quite lightweight for easy carry.
Warranty
As common with most of the Brother Products, this one comes with a 25-year limited warranty.
As already mentioned, the hoop area isn't quite big which might be a problem for someone working on a large project.
Conclusion
If you're a budget-conscious customer, who doesn't want to break the bank but still looking for a hi-fi machine in return, the Brother LB6800PRW is worth a shot. Incorporating a long list of features, this machine is extremely easy to master thanks to its LCD Screen. And when there is no shortage of built-in designs, you can even create your very own design with this product.
Pros

Cons

Responsive Touch Screen
Easy to edit & upload new designs from the computer
Easy to use
Work Area isn't very big
---
SINGER Futura XL-400 – Home embroidery machine with the largest hoop
Coming from a reputable brand in the field of sewing machines, the Singer Futura XL-400 is a great buy when it comes to performing large embroidery projects. When Singer has been in this business for more than 10 decades, this product has done full justice to its brand.
Stylish, high-performing and easy to use, customers will get a plethora of features with this particular unit.
Compact design
Weighing 23lbs, the Singer Futura XL-400 boasts a rather sleek look. It has a simple design incorporating white and gray so one can easily place it on the desk without any difficulty.
Stitches & embroidery designs
The Futura XL-400 comes with 30 built-in stitches which give you a wider margin of selection. It also includes a couple of 1-step buttonholes and all of them are designed are integrated on the machine's neck.
Coming towards the second function of this machine, it offers a whopping 125 design patterns which come built-in the XL-400. So when this is a quality stitching machine, customers will enjoy even more freedom when it comes to performing embroidery tasks with this unit.
USB cable
In order to connect the machine to your PC, the manufacturer has provided a USB Cable along with this purchase. You just have to connect it with XL-400, install the Software and BINGO! Now you just have to press a single button and this machine can craft any design as per your choice.
Drop and sew bobbin
With this machine, you don't have to waste time while picking up the bobbin thread as the Futura is more than capable of doing it for its valuable customers. Featuring Drop and Sew Bobbin, it makes sure that customers don't have to waste any time for switching one bobbin with the other.
Other features
Just like the majority of other products on this list, the XL-400 is designed with the Automatic Needle Threader. It also has the multi-hooping capability and when all of it is backed by the 25 years limited warranty, customers don't have to worry about anything regarding this purchase.
If you're an avid Mac user, this isn't the machine for you. The XL-400 isn't compatible with the Mac computers so keep this thing in mind before making this purchase.
Conclusion
When it comes to Singer, this is one of the most famous brands when it comes to developing sewing machines all around the globe. The Futura XL-400 is a high-quality product from this manufacturer which comes brimming with a series of features. In addition to its regular set of features, its multihooping ability makes it a perfect match for sewers who've to work on large embroidery projects.
Pros

Cons

Multihooping capability
6 LED lights to illuminate the workspace
Easy to connect with the computer
Extra large embroidery hoop
Incompatible with Mac
---
SINGER Futura XL-550 – Multihooping embroidery machine with the largest number of built-in sewing stitches
A valuable addition to the Futura line of machines, the Singer XL-550 has all the features to take your stitching to the next level. So even when you have to spend a decent amount of money upfront, this product is still good enough for a wide range of customers.
Sewing and embroidery machine
Since the XL-550 is a sewing and embroidery machine, it has a lot to offer to both sets of users. For the sewing purposes, one can take help from a staggering 215 built-in stitches from this product. Also included in this machine are 6 1-step buttonholes which are fully automatic along with 1 endless buttonhole. All these features are designed for just one purpose, to make sewing easy for the valuable customers.
As per the embroider point of view, the 125 design patterns combined with 3 different embroidery software's makes it a worthwhile purchase. With the help of these software's, you can make easy edits into your embroidery for crafting a flawless design.
For easy monogramming, there are 20 different fonts in this unit which makes it a versatile product. So even if you have to spend big money upfront, this machine saves you from spending extra money on sewing as well as an embroidery machine.
Well-lit workspace
For users who're interested in using this machine round the clock, the work area is well lit with the help of 6 bright LED lights. It provides you with a comfortable workplace as you don't have to worry about poor lighting conditions in your workspace.
Automatic thread cutter
Once you're done sewing, you can cut both the top as well as the bobbin thread by pressing a single button which is provided on the machine. Same is the case with the thread cutter which can be activated with the help of a lever.
Windows compatible
The XL-550 is compatible with a number of Windows OS including Windows 7, Windows XP, Windows Vista and Windows 8.1. For connecting this machine to your personal computer, all you need is a USB cable which is already included in this purchase.
Warranty
Just like the Futura XL-400, this machine is also backed by a limited 25 years warranty.
The Futura XL-550 isn't an ideal purchase when it comes to the budget-conscious customers. And even though there are a lot of built-in tutorials to guide the beginner users, this machine will still take a lot to master as far as a newbie is concerned.
Threading Singer Futura XL-550
Conclusion
With 215 built-in stitches, 115 design patterns, and a 25-year warranty, the Futura XL-450 is one of the best home embroidery machines. Featuring a useful combo of sewing and embroidery, you don't have to purchase any other machine – in the near future – after getting your hands on this beauty.
Pros

Cons

Multihooping capability
Threads itself
215 built-in stitches
Bigger hoops for larger projects
A bit complex for new users
---
The Result – Editor's Choice
When it comes to purchasing a new embroidery machine, today's market is flooded with a plethora of products. But if you're looking for the real deal, with a suitable fusion of price, durability and high-performance, one machine which performs extremely well on all such fronts is the Brother PE770 5×7 inch Embroidery Machine. Having an adequate workspace, the fact that it has a built-in memory along with a responsive touchscreen makes it a viable purchase for almost, any sewer.  Likewise, other hi-fi features including automatic needle threader along with auto thread trimmer save you a valuable amount of time while performing hectic embroidery tasks.
Embroidery Machine Buying Guide
When looking for a new embroidery machine, one has to look for a number of features in this purchase. Firstly, this product should be attuned with a large number of designs. It should be durable, for providing a good value for money, and it should be compatible with your PC so one can easily import newer designs.
1. Combination of Sewing and Embroidery
If you already own a sewing machine, you might be content with a simple embroidery machine. However, if you want to make the most of this purchase, consider going for the one which can handle both these tasks in an imperious manner. It is a budget-friendly option which comes handy for a consistent duration of time.
2. Built-in Designs
Even if you can connect it to a computer for downloading designs, the best embroidery machine should have a large number of built-in designs in its armory.
3. Large Embroidery Field
While looking for the best embroidery machine, you should go for the one which has a larger workspace. When it allows you to be more creative, it accommodates a wide range of fabrics without any hindrance.
4. User-friendly
A machine can have a truckload of features but it is of no use if you can't operate it without a considerable amount of knowledge. So while looking for certain features in this purchase, make sure it is easy to operate on a consistent basis.
5. Automatic Thread Cutter
If you're involved in commercial projects, the automatic thread cutter is a must-have feature in your home embroidery machine.
6. Connectivity
When some embroidery machines just rely on built-in designs, you should go for the one which can work on designs imported from the Internet. Nowadays, when some manufacturers allow connection with the computer, there are others which can also work with a single USB drive. In this way, you can import additional designs into your hat embroidery machine without any restriction.
7. Clear Display
The best home embroidery machine should have a clear display. With it helps you to read the instructions, it allows the users to have a clear understanding of the designs prior to actual work.
8. Responsive Touch Screen
For any computerized embroidery machine, it is imperative to have a responsive touchscreen. When it makes the best embroidery machine easy to operate, it saves the owner as well from unwanted frustration.
9. Durable
Since you're going to use this machine for a good few hours every day, it should have a sturdy construction to deal with such kind of usage.
10. Warranty
When this purchase involves a considerable investment, a decent warranty works as a safety net in your favor. Hence, while looking for other features in this acquisition, you should consult the manufacturer about the warranty of this machine.