Best Commercial Vacuum Cleaner 2019
I think you will agree with me that commercial vacuum cleaners are the top level in sucking up dirt in the house. Isn't it?
Yeah, these types of vacuum cleaners are designed primarily for professional cleaning, but it is no secret that many homeowners purchase commercial vacuums for cleaning their homes.
What you need is a vacuum cleaner that is durable, sturdy, and comes with a lot of rich features. You need a commercial vacuum cleaner that is rugged, dependable and built with the heavy user in mind. Not only will it clean up every nook and cranny of your apartment, but it will also do the job without a single flinch along the way.
Best Commercial Vacuum Cleaner Reviews
We've successfully reviewed some vacuum cleaners that have currently garnered a lot of positive reviews. So, from Oreck to Hoover, check out our TOP-5 commercial vacuums that can easily get the work done.
The first commercial vacuum cleaner on our list is the famous Oreck Commercial.
This particular machine is possibly the best commercial vacuum cleaner we have personally had the chance to use. And we're going to tell you why this particular brand seems to get the cake.
So, without any further Ado, let's take a look at the key features of this brand, and how they can be of benefit to you. You are also going to find out the Pros and Cons of this product.
So, shall we?
Firstly, I'd like you to know that Oreck Corporation is an American company that specializes in creating some of the best vacuum cleaners on the market. And they are quite popular for their impressive lineup of high-end vacuum cleaners.
The company had geared its resources and energy in creating vacuum cleaners that are suitable for all sorts of consumers.
The Oreck Commercial U2000RB2L-1 is appropriate for those in the hotel business, executive housekeepers, building service professionals, etc. The U2000RB2L cleaner comes with a very low profile design that is perfect for cleaning up baseboards, cabinets, under the desk and furniture.
The machine is lightweight, and it weighs just 9 pounds. You can easily push it around and carry it anywhere. The vacuum cleaner is not only lightweight, but it's also perfect for cleaning hard floors and carpets.
Thanks to its floor adjustment feature, it can change between laminate floor, and tile floor with a flick of the switch. The Upright cleaner can sparkly clean laminate and tile floors.
We often use this cleaner to clean the office. Our office had an Ultra-low pile carpet. And using this brand has been a serious breath of fresh air. The Oreck did a perfect job in cleaning this type of carpet.
The suction power of this bad boy is great. If you're probably wondering how is that possible, that's because the commercial vacuum cleaner can easily pick pine needles out of your carpet.
Other than that, Oreck offers a long cord that lets you travel the whole house and clean the floor efficiently. That means you don't have to plug and re-plug the cord constantly.
The special Endurolife belt system keeps the belt and motor from being damaged. That means, if you encounter any blockage in the brush roll that can burn or break the belt, the automatic shut-off saves the frustration. So you'd have to remove the obstacle and turn it back on and start running the machine without affecting the belt.
The LEED-Compliant Upright Vacuum Cleaner offers a bright non-marring bumper that lets you clean your furniture without causing damage to your flooring. Another great feature that allows you to replace a damaged cord without costly repairs is the pigtail cable. With this, you're not going to spend the extra cost of re-wiring.

Pros

Cons

It works perfectly on edge cleaning than any other upright commercial vacuum cleaners
The cleaner is lightweight, which means you can carry it anywhere with you
It features a thick long cord that allows you to walk through the whole house
The Upright Cleaner offers a dual speed setting for different floor types
Powerful, fast, light and easy to maintain machine
The vacuum cleaner isn't designed to work on high-pile carpet
Unlike most commercial vacuum cleaners, this one doesn't come with a hose attachment such as a crevice tool and a brush
Quite noisy
Buy Oreck Commercial On Amazon
---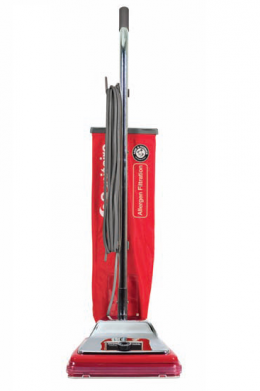 The next commercial vacuum cleaner on our list is the Sanitaire SC888K Commercial CRI Cleaner. Manufactured by Sanitaire, a great company known to produce high-quality vacuum cleaners that are powerful enough in cleaning carpets floors in large organizations.
Amidst, other competitors like Oreck, Hoover, and other Cleaning Machines, Sanitaire has been able to dominate the current vacuum cleaner market for almost 30 years. It has been producing outstanding products at an affordable price
And today, their traditional design still boasts optimum performance in a wide range of styles from bagged and bagless models.
Considering their dominance and expertise in the existing industry, Sanitaire has decided to release Sanitaire SC888K Commercial CRI cleaner which promises a lot of impressive features.
With that said, I'd like you to know that our review is apparently based on research and present findings on what this product has to offer. Needless to say, if there is any vacuum cleaner that can challenge the Sanitaire, it's the Oreck Commercial XL2100RHS Upright Vacuum.
Just like the Oreck, the Sanitaire is a basic and dependable vacuum cleaner that can efficiently clean carpet floors. The traditional single-motor design of this product is ideal for professional cleaning in the most extreme commercial environments.
The Sanitaire has a powerful suction that has no attachments. The power cord is pretty long and can easily travel from room to room without unplugging the cable. Thanks to the flat handle that lets you easily move the cleaner under furniture. It's incredibly easy to use and operate.
With all the good things aside, you'd have to bear it in mind that in the long run, you're going to be changing disposal bags when it is full. Also, you'd need to constantly change the belt as well as the brushes when old ones wear out.

Pros

Cons

The cord is long and durable
The cleaner has a powerful suction machine for carpet floors
It can easily go under furniture
The cleaner comes with a lightweight design and can clean tight corners
This product allows quick changes of bags, belts, filters, and cords
Pretty loud
You'd have to keep changing the disposal bag when it's full
You'd also need to replace the brush anytime it wears out
Unlike the Oreck, this machine can only vacuum carpet floors
Buy Sanitaire SC888K On Amazon
---
Next vacuum cleaner on our list is another one from Sanitaire. And this one is called the Sanitaire SC3683B Commercial Canister Vacuum Cleaner.
The canister is ideal for cleaning bare floors and low-high carpeted floors. It works perfectly on wood and carpet floors.
This commercial canister is lightweight, compact and features a 2-piece plastic wand that can clean awkward or tight corners in your house. The machine has a solid feel and comes in good quality. It has a retractable metal tube and an excellent hose as well as a stronger motor.
Compared to the SC888K, the SC3683B is well-built, simple to use and saves a lot of time. The proven design of the SC3683B features a long life 9 amp motor that can withstand more than 1000 hours of tough commercial cleaning.
The cleaner features a central head and three attachments to clean between your sofa cushions.
It has a long handle that is sturdy and does a pretty job in cleaning flat carpet floors. This beast can suck up massive amounts of dust and debris. You'd be super amazed how this thing can work miracles in cleaning your house.
In case you don't know, this cleaner features a shoulder strap on it that lets you safely use a ladder when you want to clean higher areas.
The vacuum cleaner can effectively suck up air, pet hair, small debris, and dirt. Just like the SC888K, this model also has a long cord that allows you to move around your house with ease. The floor nozzle converts quickly from carpets to hard floor cleaning with the flip of a button.
There is no doubt that the Sanitaire SC3683B is one of the best commercial cleaners out there. I just like the idea that you can adjust the suction using the slide on the handle. This is extremely useful when you are vacuuming around curtains and other fabrics.
Also, the crevice tool and the dusting brush store conveniently on the wand, making this device ideal for efficient detail cleaning. The vacuum cleaner features a filtration system which removes 95 percent of microscopic particles. You can wash, rinse and reuse the filter for 3 full years.
Well, if are wondering if this device has any drawback. The answer is that we've encountered some things we don't like about the machine.
One of the downsides is the on/off stiff button. I must say, it's not sturdy. It's made of cheap plastic that looks like the switch is going to break off. Though it features a long cord, it's not as long as what you get with the Oreck and Hoovers Vacuum cleaners. You'd also find out that the attachment carrier might be falling off during cleaning. Finally, the accessories are made of hard plastics and are quite cheap.
Although you may encounter these drawbacks, I don't think they are a deal breaker. The pros outweigh the cons. The Sanitaire SC3683B industrial vacuum cleaner is one of the best cleaners you can get on the market today.
Pros

Cons

The machine comes with high power and ability
Lightweight and it's easy to move around the stairs
The bags are easy to change, and they are inexpensive
HEPA filter
It works pretty well on different types of floors
Comes with attachments to clean your sofa cushion
The durable metal extended wands easily extend, cleaning into hard to reach areas

The machine produces noisy sounds when cleaning
The body is made of a cheap plastic material which means it is prone to scratches
The wand head comes with a poor choice of materials
Buy Sanitaire SC3683B On Amazon
---
We're taking a step away from Sanitaire, and we are going to be looking at the Hoover Commercial CH32008. Hoover has been in the game of producing high-end commercial vacuum cleaners for years now. They are part of the big guns in the industry that are well-known for their exceptional products.
Sadly, we can't allow big names to be a deciding factor on how great the machine works. That's why we've decided to review the Hoover Commercial CH32008 to see what the product tends to offer.
You may want to assume that they created this machine as a direct competition to other commercial vacuum cleaners on our list. Well, you may be right because this one is a competition.
Hoover Commercial CH32008 works perfectly on carpet floors and comes in an elegant and stylish design. Just like other vacuum cleaners, this one features a head, a crevice tool, and a dusting tool.
The head has two switches, one is for cleaning carpet floors, and the other is for cleaning hard floor surface. The Vac is affordable and extremely lightweight. In case you don't know, this brand has a huge HEPA bag that can take up to 8 pounds of dirt.
Not a single love has been lost for this brand as one of the quietest vacuum cleaners around. You can reduce the sound of the vacuum, with the same airflow coming out of it. The large fan on the motor allows you to slow it down to reduce the sound.
Do keep in mind that this commercial vacuum cleaner offers an extension cord that's 50-foot long. So, you can just plug it in one location, and move around the house without having to unplug the device. When you get underneath things, the cleaner will swivel all the way so that it can get under the furniture. When it comes to price, the CH32008 seems to be better than the competition.
But the Hush Tone Canister Vacuum doesn't exist without its flaw. The hose is not properly connected to the canister. Although, this may not affect your cleaning, sometimes, it slips out when carrying or moving it around. If there's anywhere the manufacturer will make an improvement, I think it would be here. An excellent design could solve this problem.

Pros

Cons

It features a powerful suction that is quiet and works great on hard floors
The cleaner is so easy to maneuver, and it can clean underneath furniture
The cord is long enough to allow you to move around the house without unplugging it
The head system and the attachments have a weak mounting system
The storage system of the cord is weak. You can't coil it on top of the lid
Buy Hoover Commercial CH32008 On Amazon
---
Hoover Commercial C1703 – Another High-End Commercial Vacuum
Finally, on our list is the Hoover Commercial C1703-900. There is no doubt that the Hover's series of vacuum cleaners are a benchmark for high-end commercial vacuum cleaners.
Most consumers are just simply in love with this product. This particular brand has managed to garner rave of positive reviews ever since it came out.
Now, when you compare this vacuum cleaner to the older brother, you'd notice a bit of difference between the two.
However, this does not in any way affect their performance and capabilities.  We discovered that Hoover Commercial C1703-900 comes with a lot of goodies as well as some minor downsides.
Below are some of the classy features that make the Windtunnel Vacuum cleaner an alluring machine to buy.
Just like its older brother, this vacuum cleaner is easy to operate. Once you plug in the power cord, step on the handle release and turn the power on, the machine starts working.
The Bagged Upright Vacuum has a convenient carry handle on the back with the weight of only 11.5 pounds. I just love the fact that this one has a built-in stair cleaning handle for vacuuming carpeted stairs.
The device has two control switches that allow you to turn the cleaner to either high for maximum suction power or low hush tone mode for quiet vacuum. The low tone setting is used for cleaning delicate rugs and hard floor surfaces.
The device comes with a soft grip ergonomic handle for long-term use. A Check Bag Indicator on the handle will let you know when the bag is full. On the front is a durable composite outer shell. There's an 11 cord self-sealing HEPA bag designed to prevent dirt puffs from escaping back into the room.
Apart from that, the Manual 4 position height adjustment will calibrate the nozzle to clean any type of carpet and hard floor surfaces effectively. It has a quick cord release for easy access. The quick cord change feature makes it easy to replace a quick power cord.
Another astounding thing about this product is that it offers edge groomers to clean baseboards and walls. The wrap around the bumper protects furniture scratches. It also has a long 35-foot extension cord to give you plenty of reach from a single outlet.
Sadly, much like the other commercial vacuum cleaners, we have seen on the list, this one has a few downsides as well.
The design is made of cheap plastic. So don't count this among those with a sturdier design. The bristles in the machine are created of a thin wire material which is coated with something like nylon. And the belt also is rather too tight to change.
However, these cons do not in any way change the fact that this machine is a top of the line vacuum cleaner. The pros clearly outweigh the cons. I'd recommend this cleaning tool for anyone looking for a great brand that can get the job done.

Pros

Cons

The cleaner is reliable and sucks up dirt incredibly well
The machine is lightweight, and it's easier to push around your house
The performance is superb and it's very easy to operate at any time
Cheap, well-built and powerful enough to clean carpets, tiles, and hardwoods
The power cord is long enough for you to clean the house
The carpet level adjustment switch is in an awkward position on the machine
The belt comes rather too tight. So you might find it a little bit hard to change
Buy Hoover Commercial C1703-900 On Amazon
---
Conclusion
So, these are apparently our TOP 5 list of the best commercial vacuum cleaners 2018. You'd agree with me that the market is already flooded with vacuum cleaners. Coming up with a roundup list was somewhat an uphill task.
So, based on our findings, the Oreck Commercial U2000RB2L-1 falls as our choice for the best commercial vacuum cleaner for hard floor surfaces. And this is because it has high suction power two-speed settings to work on the hard floor and even carpet surfaces. When it comes to cleaning hard floors, this beast seems to get the cake as the best commercial vacuum cleaner.
On the other hand, the Hoover CH32008 is our clear winner as the best cleaning machine for carpet floors. This device was created for that purpose. I like the fact that it comes with dual switches for cleaning deep carpet floor surfaces.
[adinserter block="1″]
---
How to Choose the Best Commercial Vacuum Cleaner
The market is already saturated with all kinds of vacuums. Getting the right one isn't going to be easy.
That is why it's a good idea you keep some certain factors in place before pressing the buy button. These factors will act as a guide in helping you choose the right cleaner for your home (or business).
Here are some tips to help you choose the best commercial vacuum cleaner for your needs.
The Types of Commercial Vacuum Cleaner
One of the very first things you should have in mind is the kind of cleaning machine you want to buy. We have three main types of vacuums on the market. We have the Upright, Canister and the Backpack.
The most common of this is the Upright cleaner. Most Upright commercial vacuums come with two motors compared to other vacuums. They are quieter and lightweight than other options. They cost less and can deep clean carpet pretty well.
The Canister commercial vacuum cleaner is usually connected to the power head of the device. They feature a long and flexible hose that can easily go under furniture.
One of their best selling features is their ability to maneuver on stairs. This type of machine is lighter and ideal for small spaces.
Just like its name, this vacuum cleaner is usually attached to the backpack. They come with a longer hose and a variety of cleaning attachments. They are portable and easy to carry around.
What Do You Need the Vacuum For?
The type of commercial vacuum cleaner you need depends on the type of floors you have. Are you going to use it for your carpet, or hard floors?
A vacuum cleaner that comes with rotator brushes won't do well on a hard surface floor. What about if you have both? Then, you have to go for a product that can work efficiently on both carpet and hard floors.
Also, if you want a commercial vacuum cleaner that can go under your furniture, then you may want to go for the one that has an extendable hose.
The Functionality and Power
The type of motor on a commercial vacuum cleaner goes a long way to determining how powerful it is. So, if you want the machine to carry out heavy-duty functions, then you need to go for a cleaner that has a powerful motor.
You have to consider the amount of space it's going to clean. Find out if the product is sturdy enough to take on much debris at a wider space capacity.
Noise Level of the vacuum
The truth is, some commercial vacuum cleaners work perfectly well in sucking up dirt. But one major flaw is that they are rather too noisy. If it has a value, you can find a great brand on the market that is quiet and still gets the job done.
Bagged VS Bagless
You may want to figure out whether the model you're going to buy is Bagged or Bagless. The Bagged model is environment-friendly, but you'll need to buy more bags often. On the other hand, the Bagless models come with a dirt cup feature that makes it easy to empty.
Weight
If you're going to be transporting your vacuum a lot by going up and down the stairs, you don't want to lug around with a heavy vacuum. A lightweight vacuum cleaner that is anywhere near 8 or 11 pounds would be an excellent choice for you.