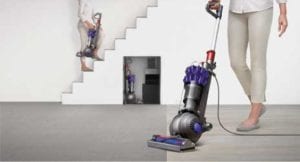 Until you need to vacuum in a hurry or have a seriously tough vacuuming job, you might not realize how important it is to have a versatile upright vacuum cleaner. When you really think about all of the dirt, dust, bacteria, and hair piling up in your carpets, you might think differently about getting a better upright vacuum.
Do you want to give all of the floors in your house a great, deep clean? We're sure that you want to keep your home dust, dander and allergen free.
That is why we compiled a list of the 7 best upright vacuum cleaners for you to review.
Best Upright Vacuum Reviews
* Suction Power is ranked on a scale of 1-5, with 5 being the most powerful suction and 1 being the least powerful
---
The Result: Editor's Choice
After lengthy research and analyzation of product specs, the results are in and we have chosen the best upright vacuum cleaner to buy. According to our research and analysis, the Shark Navigator Lift-Away Professional NV365E has claimed the title of best upright vacuum 2019.
This vac has all of the bells and the whistles that you should be looking for in a vacuum cleaner. With extremely strong suction power, great attachments to make tackling even light pet hair easy, you cannot go wrong with the Shark Navigator.
With a lift-away canister, the vacuum can also go from upright vacuum cleaner to a canister vacuum cleaner, and it has a very large dust canister that is extremely easy to empty.
Add those features to a whole litany of other advances, yet easy-to-use features, and you have a top of the line vacuum cleaner for a middle of the road price. It will be a great addition to your arsenal of cleaning machines, without putting too big of a dent in your wallet.
---
Kenmore Elite 31150 – Deep cleaning on the different surfaces
The Kenmore Elite 31150 upright vacuum is one of the best vacuum cleaners thanks to its deep cleaning performance and versatility.
Leaves nothing behind
Naturally, the performance is the first thing we want to cover. This unit has strong suction power – like the it-can-suck-everything-on-that floor power.
This is because of a mighty inducer motor that is 20% stronger than with other uprights. Perhaps that doesn't sound like much, but if you ask us, that 20 % makes a big difference.
Add to that the Power Flow technology and stiff bristles and this upright leaves nothing behind.
No more drive belt
One of the main concerns with upright vacuums is the drive belt. It tends to break easily so you have to replace it every once in a while.
However, Kenmore changed that. With this model, you won't have to struggle with a drive belt since the motor is placed inside the motorized brush.
Suitable for different surfaces
Now, let's move on to the next great thing about this vacuum cleaner. It is called versatility.
Kenmore 31150 upright vacuum can tackle different types of floors without losing the suction power and damaging your floors. Here's how.
You get 4 attachments:
Crevice tool
Combination upholstery/dust tool
Pet handi-mate (this is a mini-motorized brush)
Telescopic Wand
Besides, Kenmore 31150 has 5–position height adjustment.
Here are the surfaces this unit can take on.
Low-pile and high-pile carpets
If you're looking for a powerful upright vacuum to clean your carpets, this is the one to choose.
12 amps of suction power, 120 volts, and stiff bristles get deep into the carpet removing allergens, debris, and pesky pet hair.
Kenmore 31150 works perfectly on low-pile and high-pile carpets, so if you're a fan of both types, you'll love having this vac.
Bare floors – tiles and hardwood
However, this unit works well on bare floors too since you can disable the brush roll.
In addition, you get a mini-motorized brush to vacuum pet hair. Also, there's dirt sensor that turns on LED lights and helps you see all dust and particles.
Above-floor
Many of us vacuum furniture and upholstery. And the Kenmore Elite 31150 comes with a telescoping wand and hose to enable you that.
However, you'll probably find the hose difficult to control because it's too stiff.
HEPA filter traps allergens and dust
This is a bagged model which means you don't have to empty a bag. Simply, just throw it away when it's full. No fuss, no muss.
And let us not forget the HEPA filter. As you probably already know that this type of a filter is the best one. This is because the HEPA filter traps allergens, dust, and particles, so they won't come back to the air again.
Also, HEPA filtration is certified by the Asthma and Allergy Foundation of America. Meaning, it's great for sensitive people and those with allergies. You can finally take a deep breath after vacuuming your entire home!
Now, let's cover other downsides of the Kenmore Elite 31150.
The first one is the weight. With 21 pounds, this unit gets to be among the heaviest uprights on the market.
The next thing we don't like is that the cord has to be wrapped manually.
Still, the biggest disappointment is a 1-year warranty. This is just unacceptable. Most companies offer a minimum 5-year warranty.
Conclusion
The Kenmore Elite 31150 is a real beast, especially on carpets. But, this unit can handle bare floor as good as carpets. And with the hose and extension wand, you can clean hard to reach areas and furniture.
Without a doubt, debris, dust, allergens and pet hair will all be gone, leaving you to enjoy your clean home for at least one week.
However, this upright is heavy and comes with a pretty short warranty. So, if you think this one is worth it – go with it.
Pros

Cons

Great for sensitive people and those with allergies
Dirt sensor and LED light help you catch the tiniest particles
It's versatile thanks to the attachments
The height adjustment feature lets you adjust suction power to clean different surfaces
The cord isn't retractable
Heavy
The warranty is only 1 year long
Buy Kenmore Elite 31150 On Amazon
---
Hoover UH70120 – One of the Best Budget Upright Vacuum Cleaners
This is one of the best upright vacuums 2019 that you can get at an affordable price.
Though it is priced reasonably, this does mean that it does not come with all of the features that a more expensive upright vacuum would normally come with. Out of the box, it might not make the best impression because it does take a bit to assemble. It is certainly manageable and worth the 10 minutes that it will take because the vacuum offers strong suction power.
This vacuum cleaner does a good job at picking up debris such as breadcrumbs and onions off a linoleum floor. It does require more work when trying to pick up larger and heavier items like cereal and kitty litter because the vacuum tends to push them around a bit.
The good news is that this vacuum cleaner is on the quieter side and comes with a HEPA filter. So, you know you are getting a good clean.
It also comes with a retractable cord, which even higher end models on our list do not come with.
You can use this upright vacuum in many capacities because it comes with four attachments and includes onboard tool storage. With a 27-foot power cord and an 8-foot extendable hose, you can tackle the whole house.
Drawbacks are that the heavier weight of the vacuum cleaner makes it slightly more work to manage and that it is not great for pets.
However, overall this is a great budget option for anyone looking for a cheaper upright vacuum cleaner.
Conclusion
If you are looking for one of the best upright vacuums at an affordable price, you can't go wrong with the Hoover UH70120 upright vacuum cleaner. It comes with a variety of features that make it easy to use. The power cord is long and retractable, and the attachments are useful as well. If you do not have pets and mind that the hose connections are shorter, this is a quality upright vacuum cleaner for anyone on a budget.
| | |
| --- | --- |
| Pros | Cons |
| Has a long, 27-foot power cord | There is no swiveling head |
| The no-scuff bumper saves your furniture from dents and scuffs | You cannot turn off the brush roll, it just keeps going |
| Power cord is retractable | Pet hair often gets stuck in the filter and clogs it up |
| The crevice tool and extension wand are very useful | |
---
Oreck XL2100RHS – Best Upright Vacuum for Large Areas
This trusted American vacuum cleaner takes less than 5 minutes to assemble. This means the right out of the box you can begin cleaning. With the trust Oreck brand name, you know that you are getting a good cleaning machine, despite how old school it looks.
This corded and bagged upright vacuum is only 8 pounds, which we absolutely love. It is lightweight enough to move around and super easy to carry up the stairs.
It comes with a one-year commercial warranty, which is shorter than others that are offered.
With a 12" cleaning path width, this is a good upright vacuum cleaner for anyone looking to clean a large area. The suction power is strong enough to get most debris with only one pass, and with limited maneuverability.
One pass is all you'll want it to take you.
We'll be honest, this upright vacuum cleaner is not going to get into tight spaces. It packs a suction punch and that is about it. As simple as vacuums come, this is a plug and play unit. It comes with no attachments, no extension wand, or removable hose. There is no swivel head either, so unless you plan on moving a lot of furniture, this is really only a good option for rooms with large carpeted areas and little furniture.
However, the fingertip controls are a great way to save your back from bending over frequently to adjust cleaning settings. This is definitely a bonus.
Conclusion
The Oreck Commercial XL2100RHS is a powerful upright vacuum that weighs only 8 pounds. We loved the low profile design that allows it to clean under furniture well. But even with its lightweight design, it is very tough to maneuver. There is no swivel head and that means this vacuum is really only great for large areas that do not require a lot of maneuvering. It also is a bit louder than other vacuums, but at the price point, you won't find better suction power.
| | |
| --- | --- |
| Pros | Cons |
| It is only 8 pounds heavy, so it is easy to move around | This vacuum is much louder than others are |
| The low profile design allows it to get under furniture better than other models | It does not come with a hose or any attachments, which makes it less versatile |
| There are fingertip controls to save you from leaning over | The belts are not very long lasting and will need to be replaced |
| High-speed roller brush is great for a deep clean | |
---
---
BISSELL 9595A – Best Upright Vacuum for Quick Cleaning
This black and purple-corded vacuum is great for cleaning your home quickly. The one-pass technology actually comes as advertised.
The suction is strong enough that you will not need to vacuum over areas back and forth to pick up everything. That means that your cleaning time can actually be cut in half at times.
Though the cord is on the shorter end at 25 feet and is not retractable, there are other benefits. The tools that this upright vacuum cleaner comes with cannot be beaten. With it comes a Twist and Snap Hose, Crevice Tool, Brush/Upholstery Tool, and Extension Wand. It also comes with a Turbo Brush tool that can be used to clean stairs, upholstery, furniture and more.
The dirt tank is also very easy to empty and the filter is washable. This means that you won't waste money on bags or filters, so your only cost is the vacuum cleaner.
People have noted that the On/Off switch is in an awkward place and will require some maneuverability. If you can handle that and the fact that the cord takes some work to rewind, then this is a great low-priced upright vacuum cleaner for you.
Conclusion
This vacuum cleaner promises "one pass" cleaning, meaning that it only takes one pass to clean an area. It delivers on that promise. This Bissell makes it extremely easy to get a cleaning job done quickly. With lightweight construction and helpful brush tools, you can breeze through a cleaning quickly. This low priced upright vacuum cleaner is great for a quick clean, especially if you have unannounced company coming over soon. The longest part of your vacuuming routine might just be winding the cord back up since it, unfortunately, isn't retractable.
| | |
| --- | --- |
| Pros | Cons |
| Very lightweight construction | The filters are very flimsy |
| Has multi-level filtration to keep the air clean | No retractable cord |
| The brush tool works well and comes in handy | The hose is on the shorter end |
| | The On/Off Switch is in an awkward place |
---
Buying a compact stick vacuum, such as the Shark DuoClean Rocket, can be the best decision you made for your home.
This stick vacuum has the most important features of an upright, yet it's so easy to use. And of course, there's this great price which is only one more reason to give this vacuum cleaner a try.
Consistent and Deep Performance
Reliability is one of the most important features a vacuum cleaner should have, don't you agree? Well, this one has it.
The suction power is strong and it stays strong all the time, regardless of the surface it's vacuuming (hardwood or medium-pile carpet).
This model is corded, so it will clean your home without a break.
The DuoClean Technology means that this unit has a bristle brush that gives carpets a deep clean.
Next, there's an additional soft brush roll that handles hardwood and gives it a polished look. So, if you're worried about a vac scratching your floor, no reason for that with this gentle-vac.
Handles all kinds of debris
Apart from its gentle side, the Shark DuoClean Rocket collect all kinds of particles and debris – kitty litter, food, dust, and hair. And it has LED lights on the floor nozzle to make this task much easier for you.
Cleans tough-to-reach areas
Moreover, this stick vacuum collects mess under the bed, and in corners.
And if you want to take cleaning to the next level, just turn the vacuum cleaner into a hand vacuum and clean above-floor surfaces. We've told you this one is practical.
Superlight and easy to store
Speaking of that, Shark DuoClean Rocket vacuum cleaner weighs 7.6 pounds which is impressive for an upright. Because of its lightweight design, it is also easy to maneuver and control.
And once you've finished with the cleaning, you can use a wall mount storage hook (included) and keep this vac out of sight.
There's a brush roll garage that gives you quick access to the brush roll. So, you can clean this part without removing screws (as with similar models) which saves your time.
While all these features are great, there are some that aren't.
For example, the dirt cup is rather small (it empties easily though).
And, since the motor is placed on top of the vacuum, the handle is a tad heavy.
Finally, we think that this vac is a bit noisy.
Conclusion
All in all, the Shark DuoClean Rocket HV382 is worth having. It's the lightest unit on our list since it is a stick vacuum. It converts into a handheld vacuum for even more cleaning. The DuoClean Technology makes this unit capable of versatile cleaning. LED lights, different attachments, and affordable price are only more reasons that prove this one is hard to beat in the category of stick vacuums.
Pros

Cons

Super light
Swivels easily
Soft brushroll and bristle brush give deep and careful cleaning
Turns into a hand vacuum so you can do the above-floor cleaning
The dirt cup is small
The handle is a bit heavy
A little noisy
Buy Shark DuoClean Rocket On Amazon
---
This is the most versatile upright vacuum cleaner on the top 5 list.
If you want to talk about bells and whistles, this upright vacuum cleaner has them.
With a detachable canister, it can quickly become an easy-to-tote canister vacuum.
The versatility makes this a great option for cleaning stairs, tight closet spaces, and removing pet hair from crevices and upholstery. Seriously, with a 30-foot long cord and long hose, cleaning stairs is actually easy.
The HEPA filter on this upright vacuum also ensures that your home will be allergen free. With its unique anti-allergen sealing technology, you can rest assured that dust and particles are not escaping back into the air. If you have allergy sufferers in your home or pets, then this vacuum cleaner is a must-have.
You truly get a deep clean when you use the Shark Navigator Lift-Away Professional.
One drawback is that at 9.5 inches, it has the smallest cleaning path width on the list. However, it is lightweight and easy-to-maneuver enough that this doesn't pose a large problem.
You also don't lose suction when you switch to the wand tool, which makes it more valuable.
| | |
| --- | --- |
| | There is also a slightly cheaper model, the Shark Navigator Deluxe NV42. The main differences are that the NV42 does not come with HEPA filtration, there is no adjustable suction power, no attachments included, no brush shut off, no hose included and no reusable filters. So essentially, the Shark Navigator Deluxe NV42 comes with the same cleaning power and none of the fancy bells and whistles that the more expensive Navigator Lift-Away Professional comes with. |
Conclusion
The Shark Navigator Lift-Away Professional is an upright vacuum cleaner that is hard to beat. This is the simply one of the best upright vacuums for pet hair. With a HEPA filter, easy to maneuver swivel head, and easy-to-use lift-away canister, it's as if this vacuum was designed to tackle pet hair throughout your house. Though there is no onboard storage for tools, this being the quietest vacuum on our Top 5 list makes up for it. For a middle of the road price, you can't beat this upright vacuum cleaner when it comes to pets.
| | |
| --- | --- |
| Pros | Cons |
| The vacuum has a HEPA filter | There is no onboard storage for tools |
| A lift-away canister makes it easy to make pet cleanup easier | Not constructed well and it can tip over easily |
| The swivel head makes it easy to maneuver | |
Buy Shark Navigator NV356E On Amazon
---
Dyson is a very trusted name in the vacuum cleaner industry.
The Dyson Ball Multi Floor Upright Vacuum cleaner does not disappoint. Living up to the Dyson name, this is a great addition to your cleaning machine arsenal.
The bagless and easy to the empty machine is also just as easy to operate. The Dyson Ball technology makes using this vacuum cleaner a breeze.
It easily switches from carpet to hardwood and back with a self-adjusting cleaner. That means that you don't need to keep bending over to adjust cleaning settings.
It also comes with whole-machine HEPA filtration. So, you can be assured that you are getting a quality clean and that all bacteria and allergens remain trapped in the vacuum.
When emptying the canister, you can also rest assured that your home stays clean. The dust canister has a push-button release that allows for hygienic bin emptying. Customers love this feature because no one likes dust clouds floating through their home when they empty a vacuum canister.
| | |
| --- | --- |
| | If you are a Dyson lover and want a machine that can tackle pet messes, then you can also consider the Dyson DC65 Animal Complete Upright Vacuum Cleaner. This model is more expensive, but comes with extra attachments that are specifically designed for pet hair. The machine is engineered to pick up pet hair, and has a soft dusting brush and tangle-free turbine tool that make it easy to clean up after your furry friend. |
This vacuum doesn't come with a retractable cord, which should be a requirement at the lofty price point.
But if you can afford a Dyson, you won't regret the purchase.
Conclusion
The Dyson Ball Multi Floor Upright Vacuum simply cannot be beaten when it comes to the best upright vacuums for multi-surfaced homes. The Dyson Ball technology makes it extremely easy to maneuver and users have reported that it shifts between surface types seamlessly. With whole-machine HEPA filtration and radial root cyclone technology, whether you are trying to tackle dust bunnies on hardwood floors or deep clean your carpets, the Dyson Ball Multi Floor Upright Vacuum is perfect for the job. If you can afford the lofty price tag that comes with it, this Dyson is the real deal.
| | |
| --- | --- |
| Pros | Cons |
| It is bagless and easy to empty | It is the most expensive upright vacuum on the list |
| Has very strong suction due to the radial root cyclone technology | The cord does not automatically retract |
| Steers much easier than other vacuums due to the ball technology | |
| Has whole machine HEPA filtration | |
| There is a self-adjusting cleaner, which means less bending over | |
| 5 year warranty | |
Buy Dyson Ball Multi Floor Upright Vacuum On Amazon
---
Upright Vacuum Buyer's Guide
When considering what type of upright vacuum to purchase, you need to consider and understand several factors that go beyond price. While the budget is important, there are certain aspects of upright vacuum cleaners that you simply cannot ignore, like weight, suction power, canister capacity and cord length. Make sure that you are well versed in the product specs below before making your final upright vacuum purchase decision.
1. Suction Power
The point of a vacuum cleaner is to suck up all of the dust and dirt particles, as well as hair and debris. The stronger the suction power of a vacuum, the better job it will do of cleaning your carpets or hard surfaced floors. This can be hard to gage because most producers do not specify suction power and you need to know that more input power doesn't necessarily mean more suction power. This depends on several characteristics, such as the structure of the vacuum, the number of filters, fullness of the canister or bag, and the quality of assembly. As a rule, more suction power is better for vacuuming, but there are drawbacks. Cleaning with very strong suction over time can be bad for a carpet, and can also overload a vacuum. That is why it is best to choose a vacuum with adjustable suction power so you can use it according to the mess level and floor surface type.
2. Wattage
The input power of the motors in vacuum cleaners is measured in Watts. This does not take into consideration how efficient a motor is, the overall all design, or the number of fans a motor has, but it is a good way to analyze the power of the vacuum cleaner motor.
3. HEPA Filtration
HEPA Filters are great, especially for people with allergies or dust sensitivity. Having a HEPA filter means that more dust and dirt stays in your upright vacuum, and does not enter back into the air.
4. Bagged vs. Bagless
You want to consider whether you like bagged or bagless models better. Bagged vacuums require you to purchase bags frequently, but they generally make it easier to empty. Canister or bagless vacuums are great for avoiding extra costs, but they can be messy to empty.
5. Cord Length
When you are going to be vacuuming a large area, you will not want to stop vacuuming repeatedly to move when your vacuum is plugged in. Having a vacuum with a long cord will save you from this hassle.
6. Weight
A lighter vacuum cleaner makes it easy to move your upright vacuum cleaner around. This is particularly important if you have several floors in your home.
7. Retractable Cord
Having a retractable cord saves you time. No one likes winding a cord repeatedly after a long vacuuming session, so this feature helps.
8. Maneuverability
When working in tight spaces or in rooms with a lot of furniture, look for vacuums that have good maneuverability. This is where Dyson stands out with the "Dyson Ball" technology.
9. Dustbin Capacity
The larger a dustbin or dustbag, the less often you will need to change the bag or empty the canister. If you are planning to vacuum a large house, a large canister or bag capacity will definitely be handy.
10. Number and Types of Attachments
The more versatile a vacuum cleaner is the better. By having extra attachments, such as crevice tools, extension wands, and upholstery brushes, your vacuum cleaner can do a better cleaning job over more surfaces.
11. Warranty
This may not be a factor considered upfront, but it should be. Upright vacuum cleaners can be complex machines that are occasionally prone to break or malfunction. When looking at upright vacuum cleaners, it is a good idea to choose one with a longer warranty life.

[/vc_column_text][/vc_column][/vc_row]

[vc_row][vc_column][vc_column_text]