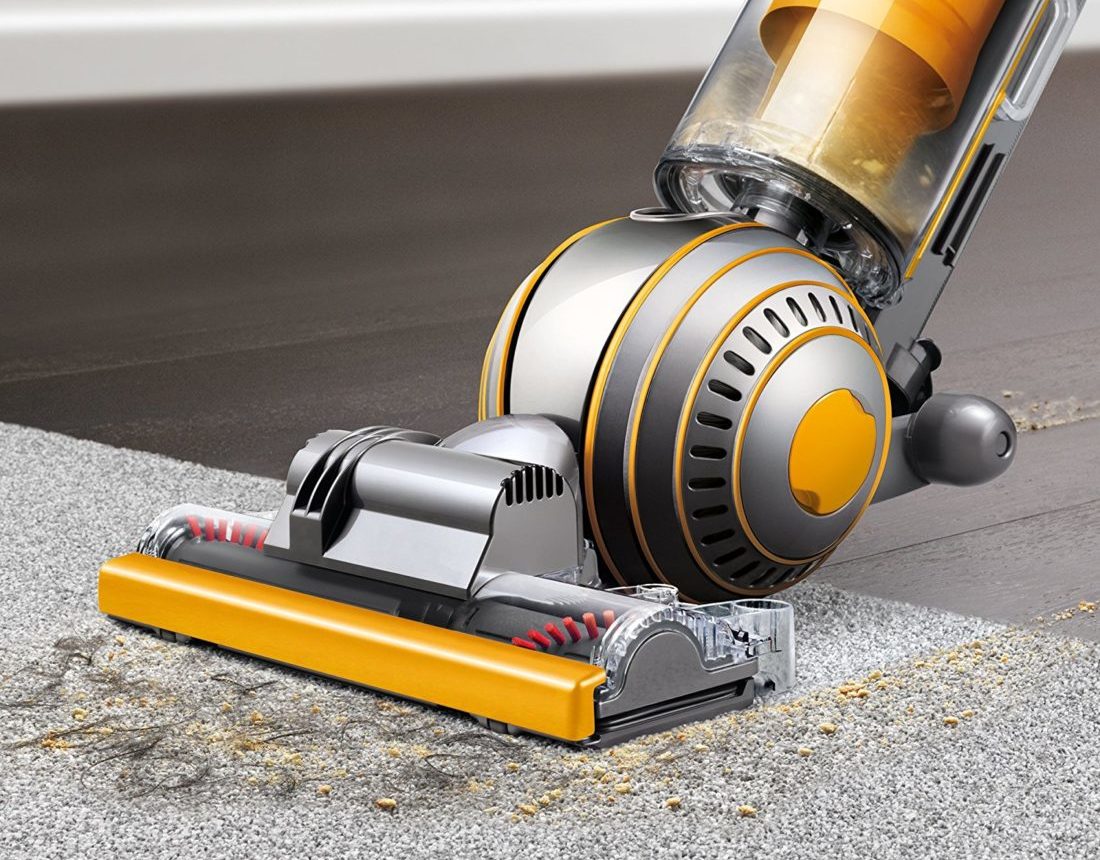 One of the most important cleaning tools that anyone needs whether they live in a house, an apartment, or in a student dorm, is a great vacuum. The best lightweight vacuums are great tools to clean carpets, hardwood floors, tile, and to reach up high or into corners to ensure that dust and debris are gone from your living space.
Today, vacuums come with many attachments and are advertised for their power. Depending on who you live with or where you live, a smaller and more lightweight vacuum may be better for you. Lightweight vacuums still have significant features such as motorized brushes, filtrations, swivel steering, attachments, and the ability to easily transition between a stick vacuum and handheld tool. Some of them are even cordless and rechargeable.  Here's a quick list of the tops ones on the market today:
No matter your lifestyle, you need a vacuum cleaner that is durable, sturdy, and most importantly, will actually clean your floors and will perform well. The best lightweight vacuum cleaners are dependable yet built with users in mind. These are the ones you should be looking for. They should clean every nook and cranny of your home or apartment and do the job every inch of the way.
Mistakes to Avoid When Purchasing Vacuum Cleaners
With all of the varieties of vacuum cleaners out there, it's easy to get confused and unfortunately easy to make mistakes as you're doing research and buying one. You will find the best lightweight vacuum cleaner for you, but keep in mind factors such as whether you have pets, whether you live in an apartment building, and how much storage you have.
Related: Central Home Vacuum System
No matter the factors however, there are mistakes that people often make that you should avoid to ensure you get the best product for your lifestyle. These are several of the most common mistakes people make when they are buying vacuum cleaners:
It is easy to associate the power of a vacuum with how well it may clean; many people assume the more power it has, the better it will perform. However, some cleaners can be deafeningly loud, so don't forget to look into the noise level.
Having a very loud vacuum can be especially detrimental if you live in an apartment complex and have to worry about being too loud for neighbors, or if you have pets or small children who are scared by loud noises. Luckily, there are many vacuums out there that are not noisy, and some are even nearly silent. 
Vacuums that are Not Suited for Allergies
If you're sensitive to dust, pollen, and other common allergens, you will have to buy a vacuum cleaner that contains a HEPA filter. These filters are certified and are able to remove 99.9% of all particles that are less than 0.3 microns. Most common allergens are less than 0.3 microns, and this ensures that the air you breathe is cleaner as you vacuum and afterward. Not all filters are the same, yet they all hold a promise of removing dust and allergens; so, check the filter of the vacuum you're interested in buying.
Vacuums that Make it Difficult to Clean Stairs
If you have stairs, whether they are carpeted or hardwood, it's best to get a canister vacuum, as these vacuums tend to be more versatile. With these vacuums, you can carry the canister on your back as you clean, which makes cleaning stairs much easier.
Related: Best Canister Vacuums
If you're not interested in canister vacuums, many of the best lightweight vacuum cleaners are able to convert into hand-held tools by simply removing parts of the vacuum. This makes it very easy to clean stairs as well as other areas that are hard to reach, including underneath furniture. If you have stairs, consider getting a smaller vacuum or a canister vacuum.
If you have a large, heavy vacuum that's tough to move around, this can make it more difficult to clean, especially if you have back problems or other health conditions where bending over or picking something up can be risky. Upright, lightweight vacuums help with these problems. In general, it is better to get lightweight vacuums that still have powerful suction.
Related: Best Commercial Vacuum Cleaner
Lightweight vacuums are better for children as well if you are teaching them to clean or giving them chores to do. Some lightweight vacuums can weigh as little as seven or eight pounds. That way, if they fall over, you don't need to be concerned about pets or children getting injured.
Vacuums that are Not Able to Remove Pet Hair
If you have pets, one of the most important things you'll need to consider as you're looking into vacuums is finding one that is great at removing pet hair. Pet hair can cause many vacuums to get stuck or clogged up easily, which means that your vacuum doesn't suction up as much dust and dirt as it should. You can research vacuums that have specialized rubber nozzles that attract hair, or vacuums that were made specifically to help with pet hair.
Related: Best Vacuum for Pet Hair
Vacuums that are Not Suited for Carpeted or Hard Floors
Many basic vacuums are suited for carpet, but not for hardwood floors and vice versa. Often, even a vacuum that can switch between the two can clean one better than the other. Some people resort to having two separate vacuums to combat this problem, but there are vacuums out there that will work well on both types of floors. Some have separate modes for cleaning carpet or hardwood. Many great lightweight vacuums, although small, come with the capacity to clean multiple surfaces; so when you're shopping, look for multi-surface tools.

The Benefits of Lightweight Vacuum Cleaners and Stick Vacuums
Although it may seem as if you are getting less power or less of a clean out of a smaller vacuum, lightweight vacuums may be the best choice for your household or apartment. Some lightweight vacuums are stick vacuums, which is the lightweight version of an upright vacuum cleaner. Most stick vacuums are ten pounds or less. Although these vacuums are not quite as powerful and may not come with as many attachments or accessories, they are simple to use and easy to store. Many of them also come with HEPA filters.
Related: Best Robot Vacuum
There are many benefits to purchasing stick and lighter vacuums. With these, cleaning is made easier and less burdensome, especially for children or for people who have medical issues. These are the main benefits of owning a lighter vacuum cleaner:
Cleaning tools that are small, lightweight, easily portable, and take up less space are definitely easier to use. They can be lifted up easily to clean areas other than the floor, can be lifted and carried easily up stairs, and have wands that give easy access to hard-to-reach places. They don't have complicated settings like some other larger vacuums.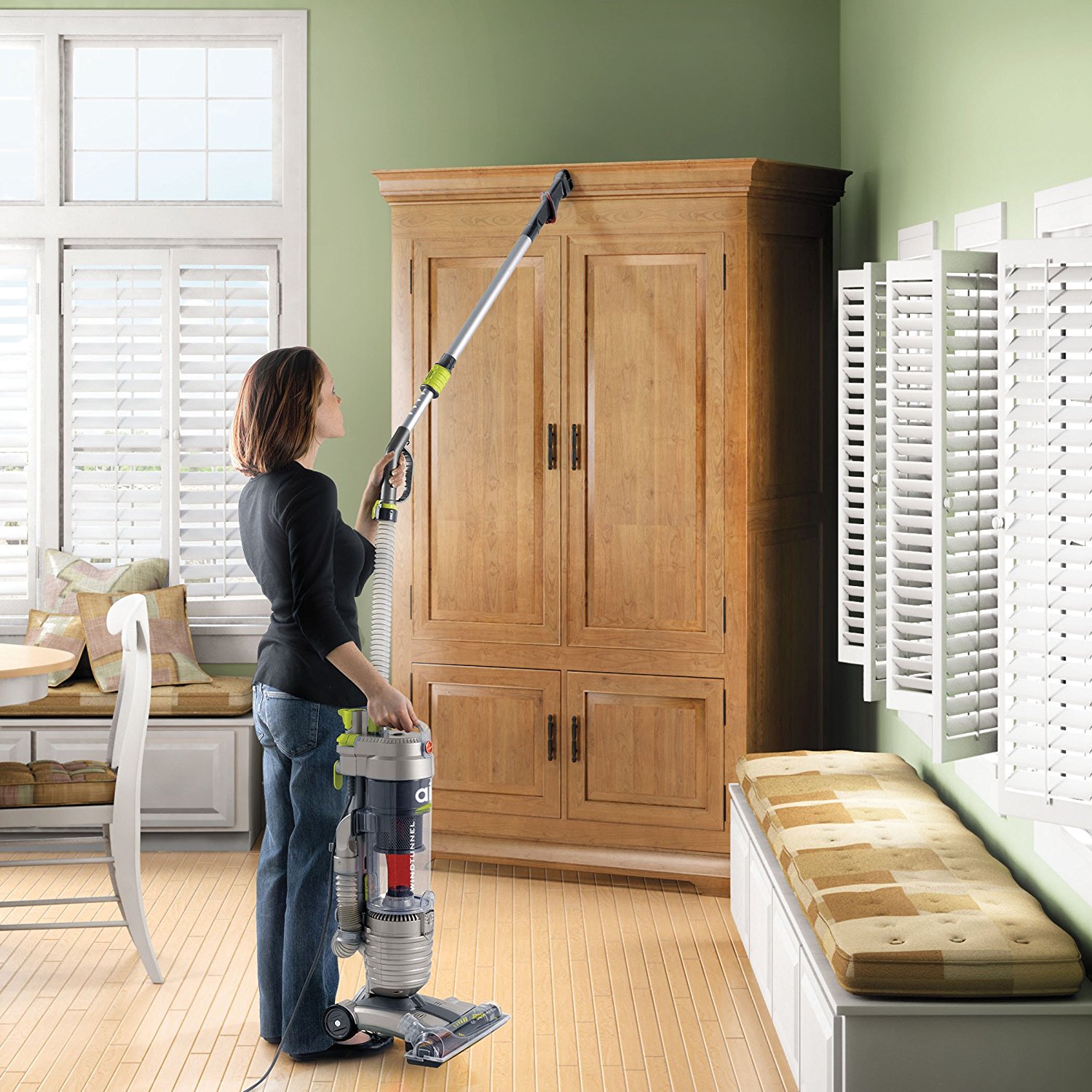 Emptying them is also easier; some models have attached containers that make emptying dirt and debris quick and efficient. For many people out there, this is one of the most important benefits of smaller vacuums. Stick vacuums especially can be incredibly easy to use due to the upright and lightweight design.
Many bigger vacuums are powerful, but they also come with powerful noise. Smaller vacuums that emit less noise are much more suitable for college dorms or apartments so you don't bother your neighbors. If you have pets that are afraid of vacuums or loud noises, smaller ones are beneficial especially for the sake of your beloved animal. With a smoother sound, these vacuums are also perfect for teaching children to do chores. Whether or not the manufacturer or seller of a small or stick vacuum lists the decibel level of the product, these vacuums tend to be much, much quieter than their larger counterparts.
Small vacuums take up very little space, and they can fit very easily into closets or even in cracks between cupboards or appliances. They can also fit underneath beds, in a corner, or on a shelf. Many smaller vacuums are even collapsible, and they do not have longer cords that can be tough to store. They will be less noticeable and very out of the way, yet within reach when you need them. Lighter vacuums are especially great for those who live in small apartments or houses where space is a concern.
Most smaller vacuums are much cheaper and more affordable than bigger or upright vacuums. This is especially important for students or for people who moved into a new home and are looking to save on costs. For those who are on tight budgets, small vacuums are perfect.
Since they are smaller and output less power, many smaller vacuums take up less power and less electricity to use. Many of them even have rechargeable batteries that can last from five to 30 minutes. This is very efficient in terms of saving on costs when it comes to your electricity bills, and is another way in which having a smaller vacuum may save you money.  
The Cons of Lightweight Vacuums
Even the best lightweight vacuum cleaners aren't perfect. Smaller vacuums are great cleaning tools for all kinds of people and all kinds of situations, but they do come with their negative aspects. Many people have complained that lightweight vacuums:
While it is true that smaller vacuums have less suction power than bigger ones, this doesn't mean that they will not be able to clean and don't have any suction power at all. Some bigger vacuums have almost too much power that can be unnecessary unless you're performing industrial cleaning, and their power does not compensate for their bulk or noise level. If you live in an apartment, dorm room, or smaller home, a lightweight vacuum will be perfectly fine for all of your cleaning needs.
Smaller vacuums are able to weigh less—and are able to cost less– typically because they are made from thinner plastic and less durable material. Given this, they do break more easily if they fall over, are pushed over, or stepped on. This is perhaps the most common complaint that comes with lightweight vacuums.
Not Enough Tools and Accessories
This depends on the specific vacuum you purchase, and as with anything, the more that is included with the vacuum, the more it is going to cost. You can very easily find many lightweight vacuums that come with filters and tools to extend reach, move from hardwood floor to carpet and to even become a compact, hand-held tool. Depending on your budget and your lifestyle, lightweight vacuums are also perfect if you aren't interested in, or really don't need, all the accessories and settings that come with larger vacuums.
The Best Lightweight Vacuum Cleaners
The following are eight of the best lightweight vacuum cleaners that became available in 2018. They have differing features and attachments and offer different tools. Depending on your needs, you can find the best one for your lifestyle.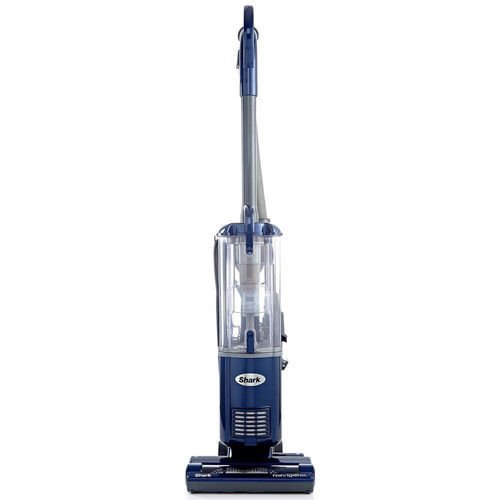 Features:
6 pounds
Multi-surface cleaning
Bagless dust cup
No maintenance costs
Never Lose Suction Technology
Manufactured by SharkNinja, this lightweight vacuum is a little more than 10 pounds and offers both carpet and bare floor cleaning. It won't cost anything to maintain and emptying dust and dirt is easy; you don't have to deal with a bag and just have to empty the dust cup. Although it is small, its Never Lose Suction Technology guarantees that its power will hold, and that you will be able to clean up all the dust and dirt within your household.
As a small yet powerful cleaning tool, this lightweight vacuum is perfect for small apartments or dorm rooms. It cleans very well, and can move from surface to surface easily and efficiently. 
Buy Shark Navigator Light Upright Vacuum
---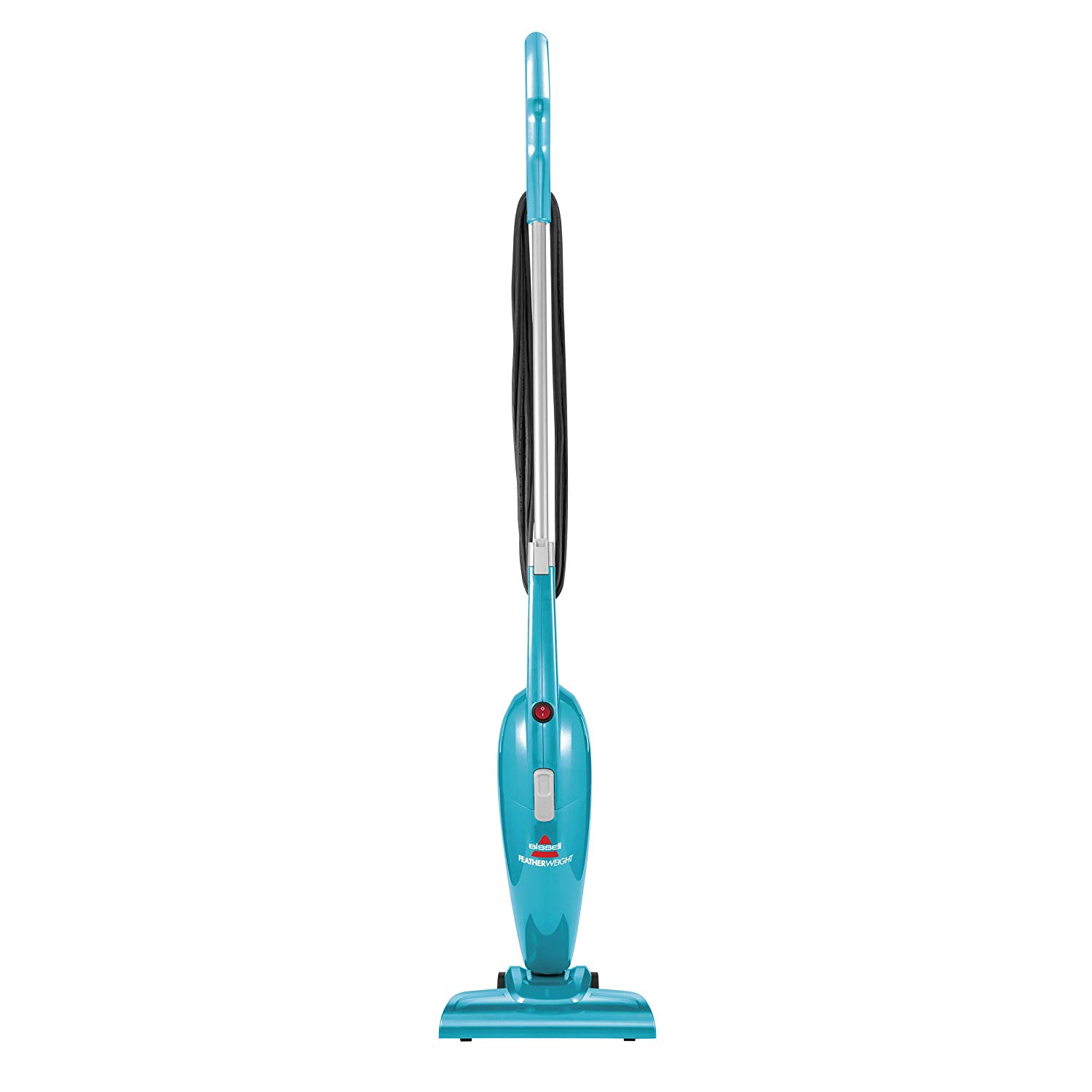 Features:
6 pounds
Converts from stick vacuum to hand vacuum; removable floor nozzle
2 amps Power Rating
Effective on both hard floors and carpets
Includes crevice tool and 15 ft power cord
Manufactured by Bissell, this vacuum is the most lightweight vacuum on the list. At just two and a half pounds, you can use this vacuum on the carpet, floor, and area rugs, then make it handheld to vacuum stairs and upholstery as well. Its ultra light weight makes it convenient for cleaning, yet it is still effective. It is easy to use and easy to store, perfect for a student or for someone living in an apartment.
Conversion from stick vacuum to hand vacuum is one of the best features of this product. It makes for easy and convenient storage, and allows you to easily vacuum upholstery, furniture, or even your car.  
Buy Bissell Featherweight Stick Lightweight Bagless Vacuum
---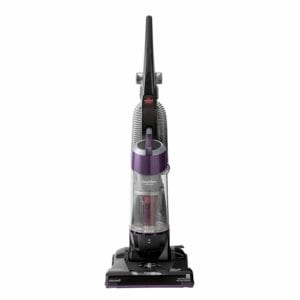 Features:
1 lbs
Cyclonic System for long-lasting, powerful suction
Easy Empty dirt tank and washable foam tank filter
Multi-level filter
TurboBrush tool for stairs, furniture and more 
Another lightweight vacuum by Bissell, this vacuum cleans fast and easily with powerful suction. Its Cyclonic System provides long-lasting suction that is very powerful despite its small size. Its innovative brush design brings you OnePass technology: it rotates down into the carpet, and gets you a cleaner initial pass, which means you have to work less to achieve a deep clean. The Easy Empty dirt tank and washable foam filter make maintenance very simple and provide faster and more effective cleaning, so your chores don't take all day.
Buy Bissell 9595A CleanView Bagless Vacuum with One Pass
---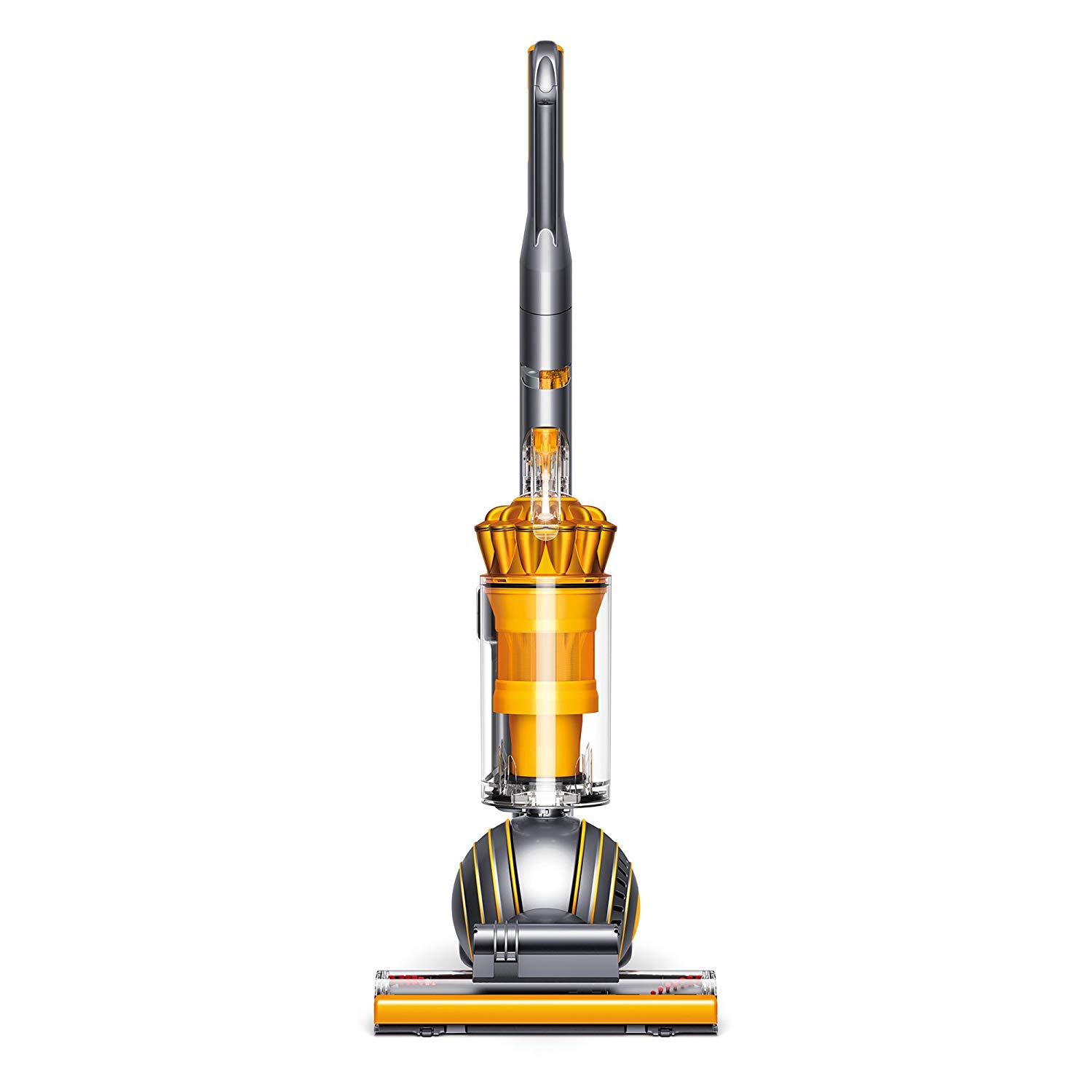 Features:
6 lbs
Unrivaled Dyson suction
Self-adjusting cleaner head
40 ft maximum reach
Cleans multiple surfaces
Instant-release wand
Empty bin with push of a single button
Manufactured by Dyson, this vacuum has root cyclone technology, which captures more microscopic dust than any other vacuum on the market. With an instant-release wand and long reaches, you can clean many places and multiple surfaces with this lightweight tool; it provides floor to ceiling cleaning in one smooth action. You can also easily and hygienically empty the dust bin with the simple push of a single button: no handling or touching required.  The self-adjusting cleaner head seals in suction across all floors.
With the Dyson Ball, this vacuum can also turn on a dime and is a lot more maneuverable than many other vacuums. You can instantly change direction with a subtle turn of your wrist. The vacuum also has a slimmer design and is ideal for any living space, whether it has carpet, tiles, or hardwood. This is also one of the lightweight vacuums that offers whole-machine HEPA filtration, which ensures that allergens and bacteria are trapped inside the machine rather than expelled back into the air. If you have allergies or sensitivity, this is the vacuum for you. 
Buy Dyson Ball Multi Floor 2 Upright Vacuum
---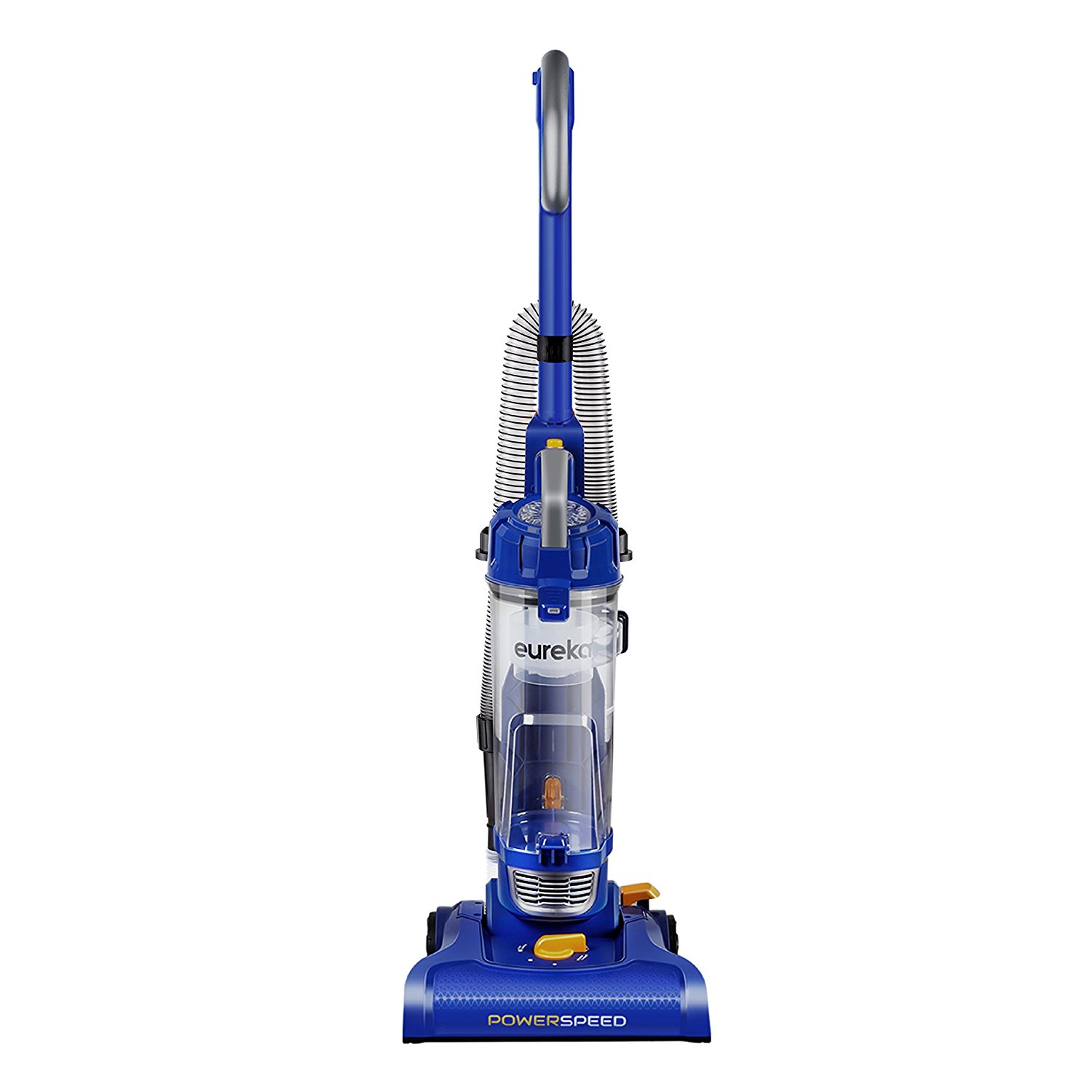 Features:
10 lbs
Quick-release handle for seven feet of extended reach
Deluxe Stretch Hose that extends to four times its length
6" wide nozzle for a wide cleaning path
Five height adjustment settings
All tools on board
Washable filter 
Manufactured by Eureka, this PowerSpeed all-floor vacuum with attachments allows you to clean your house efficiently and easily while not breaking the bank or requiring you to buy multiple vacuums. It can clean all types of floors with its adjustment settings. At just 10 pounds, you can easily carry it up and down stairs, yet it has a powerful motor and suction. You can clean hard-to-reach areas, clean upholstery in your car, and clean stairs. The extra large dust cup also holds more dirt and therefore requires less emptying.
With lightweight features, low maintenance, and easy assembling, this bagless vacuum is great for everyone, whether you live in a house or in a dorm. The attachments let you clean without breaking your budget, and you can vacuum efficiently and easily. 
Buy Eureka NEU182A PowerSpeed Lightweight Bagless Upright Vacuum Cleaner
---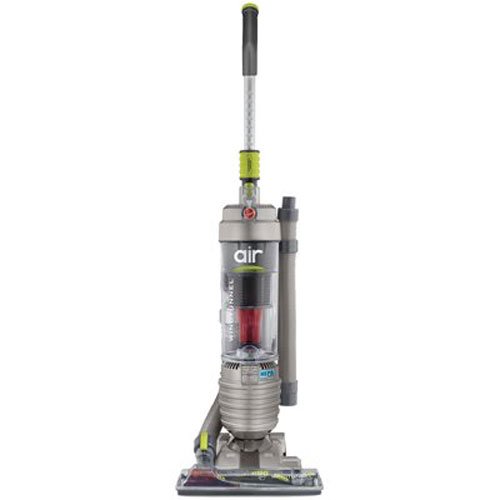 Features:
12 lbs
WindTunnel Technology
Quick Fit Hose
30 ft Power Cord
Deep Recline Handle
Multi-Floor Cleaning
Clear Nozzle with No Scuff Bumper
Manufactured by Hoover, this lightweight vacuum has excellent maneuverability and allows you to clean and carry it with ease. Its WindTunnel technology lifts and removes both surface debris and deep-down, embedded dirt. No matter what type of dirt you are trying to get rid of, this vacuum can handle it. The QuickFit Hose also releases the handle in one touch you so you can attach the hose for above-floor cleaning.
Hoover's unique clear nozzle that has a No Scuff Bumper protects furniture and baseboards, and helps you prevent any marks against your furniture and walls. Its deep recline handle is also unique; it reclines completely flat to help you clean underneath furniture. This is especially beneficial for people who have back problems or other medical issues, as it does not require you to bend over to clean or to move around furniture in order to get underneath. This vacuum has everything and all the power you need to tackle the debris and dirt within your home, especially with its Multi-Cyclonic, powerful filtration.
Buy Hoover WindTunnel Air Bagless Upright Corded Lightweight Vacuum Cleaner
---

Features:
8 lbs
Swivel steering
Large dust cup capacity at 2L
Washable filters
Ergonomic Handle
Suitable for both carpet and hard floors
Clear view nozzle window
2 in 1 crevice tool and small brush
Black+Decker has manufactured this ultra lightweight vacuum that makes for easy cleaning, handling, carrying, and storage. Its swivel steering provides ultimate maneuverability. It also has a low maintenance cost, with a large dust cup and filters that are washable, which also saves you money. You can empty the dust cup by simply pressing the release button. This tool is simple and easy to clean, and will help you clean hard to reach areas with its 2 in 1 crevice tool and small brush. It allows you to get underneath furniture and reach high up. Its compact size stores easily, but does not lack suction power.
The AIRSWIVEL series also offers the best value in its class. Unlike traditional vacuums which require two separate motors in order to accommodate swivel functionality, the patented AIRSWIVEL technology needs just one motor. This allows for maximum maneuverability, and this patented technology gives your vacuum the ability to clean around anything else that may be in your living space.
Buy Black+Decker AIRSWIVEL Ultra Light Weight Upright Vacuum Cleaner
---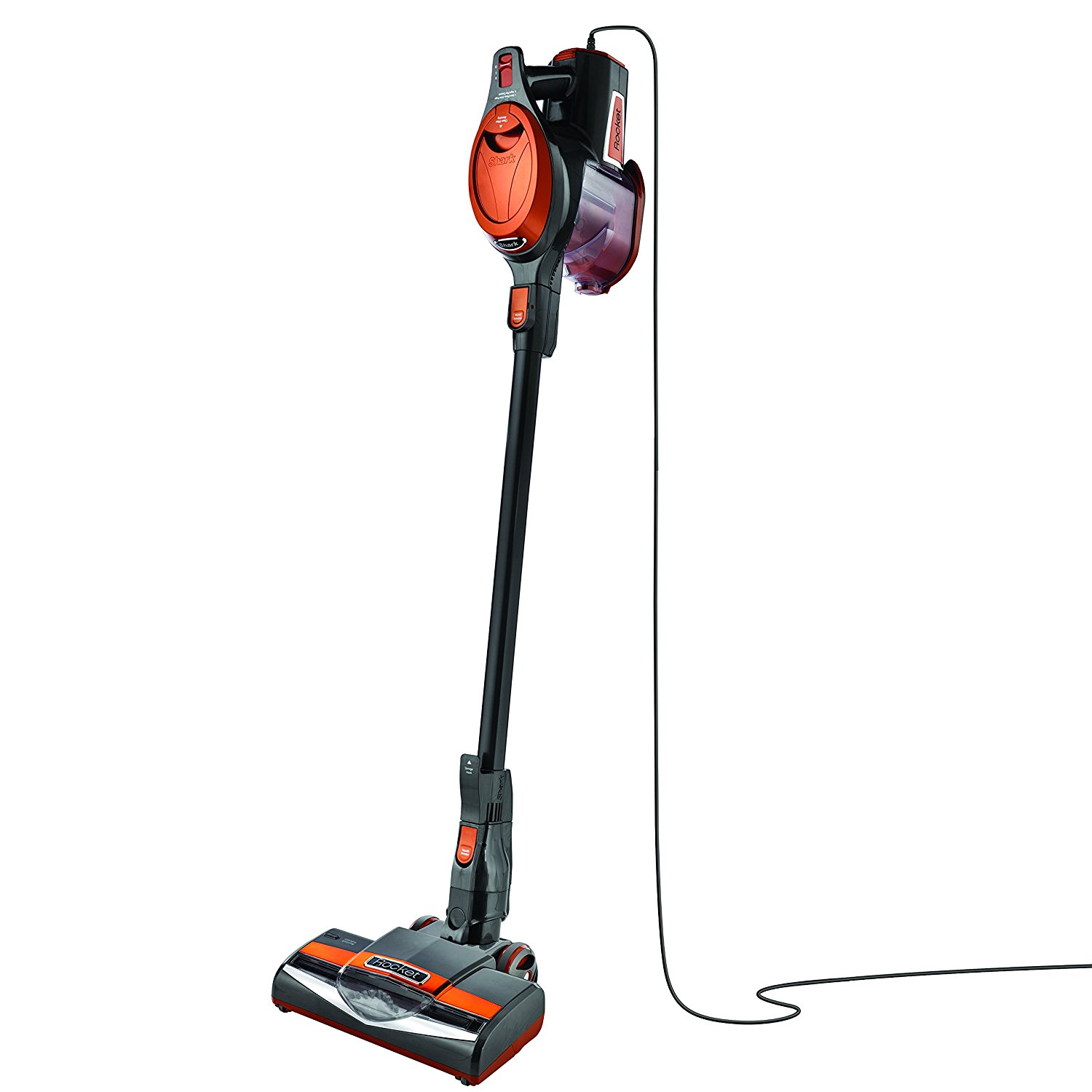 Features:
6 lbs
Swivel Steering
Car Detail Set
Dual Storage Options
Hard Floor and Carpet Cleaning
Manufactured by SharkNinja, this ultra-lightweight vacuum weighs in at under eight pounds and easily converts into a hand vacuum. This vacuum also comes with a Home and Car Detail Kit, making it easy to clean both your living space and your car. The kit also contains micro tools, which allow you to clean the tiniest of spaces, and fingertip controls make it easy to switch from hard floor to carpet. The micro tools are a unique feature that not many other products carry.
See Also: Best Shark Vacuums
The ultra-light vacuum also easily converts into a hand vacuum for versatile floor-to-ceiling cleaning. Its swivel steering makes for excellent control as you maneuver around furniture, and you can easily switch between carpet and hard floor. Its dual storage options also allow you the choice of fixing the hand vacuum to the bottom of the wand, or securing it to the wall mount, which makes storage even easier and more efficient.
Buy Shark Rocket Ultra-Light Corded Bagless Vacuum
---
Conclusion
When you need to clean your living space, the most important thing you need besides a broom and a mop is a vacuum. Vacuums easily and efficiently clean a multitude of surfaces including carpet, upholstery, and hard wood. You can use them on stairs, on tile, and to clean your car.
Deciding which vacuum is right for you can be a tough choice. Lightweight vacuums are best for a wide range of people, including people with small children, people with pets, those who live in apartments, students, and people who have back issues or other medical problems.
Though these smaller vacuums may not come with as many tools, are not as powerful, and break more easily than larger vacuums, there are many benefits to owning one. And for most people, the benefits outweigh the negative aspects. They are great for small storage and quick cleanups. Their reduced noise levels make them perfect for people who have pets that are afraid of vacuums or loud noises in general, and for people who have children. Teaching your child how to vacuum and giving them the chore of vacuuming is a great task to take on with smaller tools as well.
While the above eight products are among the best lightweight vacuum cleaners of 2018, take the time to conduct research and think carefully as you choose the best vacuum for you. They are great tools, and may last you for several years.