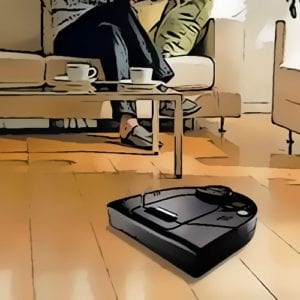 Does it always seem like your list of chores is never ending?
There's always something that needs to be done, whether it be cleaning the dishes, unloading the dishwasher, or doing countless loads of laundry. Somehow, vacuuming seems to get pushed behind other chores, understandably so. It's hard to look nice at work when you have no clean clothes. But the fact that you have pet hair on your carpets or sugar on your kitchen floor can be easily forgotten. That's where robot vacuums come into the picture. But before you find the best robot vacuum, you will need to look at several popular models to determine which one will meet your specific cleaning needs.
To help you make a successful purchase, we have compiled a list of the 7 best robot vacuums of 2018.
Robot Vacuum Reviews
---
iRobot Roomba 980 – Still the best robot vacuum
It's not like iRobot vacuums need introducing.
Once again, this company exceeded our expectations by delivering this model. If you want to be involved in the cleaning process as little as possible, the 980 has got you covered (or should we say your floors).
This model is currently one of the TOP robot vacuums on the market, so it cannot get much better than this.
Top-notch cleaning performance
The Roomba 980 is so clever that, in most cases, it won't need your help. We say in most cases because during testing we noticed this unit didn't react well when cleaning in the dark places, due to inadequate sensors' sensitivity. It would get confused and didn't want to come out so we had to help it. But in fairness, it should be noted that this is a common problem for the robot vacuum cleaners.
Other than that, this model didn't get stuck in places where most models did, such as under the table or chair.
We tested this unit on various surfaces, and we were impressed by its performance. This unit is worth every penny. It worked great on all surfaces, and thoroughly cleaned all nooks and crannies.
The reason why the 980 has a top-notch performance is that of its innovative features. The AeroForce Cleaning System ensures a strong suction power on different surfaces (such as tiles, linoleum, etc.).
Moreover, the Carpet Boost feature provides 10 times stronger suction power than a regular performance, making this unit great for both low-pile and high-pile carpets.
Also, the Roomba 980 comes with Tangle-free Extractors, so debris and hair jams won't be created. This is a nice bonus.
The last feature worth mentioning is the innovative navigation software iAdapt 2.0 with Visual Localization. These two work together so the Roomba 980 can map out the entire level of your home and clean every part of it.
Convenience on the go
The Roomba 980 is Wi-Fi compatible and works with the iRobot HOME App. You can connect it to your smartphone, or with Google Assistant and Alexa. Then, choose the cleaning mode you like and schedule cleaning. So, basically, all you need to do is to set up the Roomba 980 and let it do the rest. That being said, this is the most self-reliant robot vacuum on the market.
The battery lasts up to 120 minutes on a single charge, which is great. But when the battery empties, the Roomba 980 will go back to the charging dock and recharge. The best part is that, when it's done recharging, it will resume the cleaning process and won't stop until your whole place is cleaned. Not every model of the robot vacuum cleaner can boast of this feature.
Sturdy and stylish design
The design of this vac won't disappoint either. The Roomba 980 feels sturdy and its stylish look resembles the high price tag. With 3.6 inches of height, this unit isn't the smallest one, but it's still small enough to get into challenging areas of your home.
Conclusion
Overall, the Roomba 980 robot vacuum cleaner is one of the best on the market. With superior navigation and the advanced technical features, this unit is hard to beat. Though the price is lofty, its ability to clean carpets with the Carpet Boost sensor and lengthy clean time make this robot vacuum the best for carpets, and for cleaning an entire level.
Pros

Cons

Excellent cleaning power
Multi-Room Cleaning
Carpet Boost
Superior navigation skills with iAdapt 2.0 Navigation Technology
Recharge and Resume
HEPA filtration
Won't clean black carpets due to cliff sensors unless you install "bumpers"
Most expensive on the list, by far
Buy iRobot Roomba 980 On Amazon
---
Shark ION 750 – The first robot vacuum from the famous brand
I must admit after Dyson's unsuccessful experience with their first robot vacuum cleaner, I was a little skeptical when I heard that Shark decided to enter this market with their first model as well. But after testing the Shark ION 750, all my skepticism disappeared.
No, it does not feature any innovations, but this model has firmly taken its place in the mid-price range category.
Design and performance
Shark ION 750 has a nice design and typical for robot vacuums round form. I would like to note right away that its height is only 2.6 inches that can be an important factor when choosing a robotic vacuum cleaner. This makes the Shark ION 750 the thinnest robot vacuum among competitors.
But this fact has a negative point as well. Its dust bin is quite small. When we tested this model for cleaning pet hair and large debris (crumbs, etc.), the dust bin was full after 20-30 minutes of operation. But the Shark ION 750 robot vacuum does not report about this. Thus, if you need to vacuum pet hair, we recommend checking the dust bin at least once every 30 minutes.
The Shark ION 750 has three buttons:
CLEAN – starts the robot vacuum in a normal cleaning mode.
SPOT – activates the spot cleaning mode in spiral motion. It is intended for focused cleaning of the dirtiest areas.
DOCK – ends cleaning, returning the robot vacuum to the base.
Cleaning efficiency
Shark ION 750 has a three-stage cleaning system, similar to other robot vacuums. Two side brushes and a single motorized brush in the center allow capturing both pet hair and the smallest debris. This vacuum cleaner provides really good cleaning. This is especially true for hardwood floors. As for carpets, other models equipped with Power Boost function have the advantage here.
In this model Shark introduced Detangling Technology, which provides a self-cleaning of the motorized brush. This is another useful advantage of the Shark ION 750.
But still, there is a shortcoming in cleaning technology, which we will cover in the next section.
Navigation system
The navigation system includes standard infrared sensors that monitor walls, stairs and other objects. As for walls and stairs, sensors are good at detecting them. Maybe even too good.
While testing, Shark ION 750 often changed the trajectory, not reaching the walls at a distance of about 1-2 inches. Of course, this affected the quality of cleaning the edges. Perhaps this is not a significant drawback, considering the purpose of robot vacuums – keeping floors clean between regular cleanings with normal vacuum cleaners.
Things are different with other objects (nightstands, chairs, toys left on the floor, wires, etc.). This robot vacuum did not always managed to react to small objects and turned away only after contacting them. But we can say that the contact is very neat and the furniture will hardly be damaged.
The Shark ION 750 can also get stuck in a confined space or wires. Therefore, before you start cleaning, be sure to prepare the area and remove all items that can interfere with the robot vacuum.
Does the Shark ION 750 robot vacuum have a multi-room cleaning function?
I think no. It will certainly move from one room to another, as it moves according to a random pattern. But this is not the function that Roomba 980 has. On the other hand, do not forget about the price range where the Shark ION 750 is presented.
What else?
There were some difficulties with connecting to Wi-Fi, but nothing serious. The smartphone application is quite simple. You can give the same commands as with the buttons on the robot vacuum cleaner itself and set the cleaning schedule.
Amazon Alexa & Google Home compatible
BotBoundary Strip
With BotBoundary Strips, you can protect the areas that you want your robot vacuum to avoid. Virtual wall barriers of Roomba vacuums are more convenient, but this is my personal impression.
Conclusion
Shark ION 750 is an excellent choice for those who have mostly hardwood floors. This robot vacuum cleaner carefully picks up any debris, including pet hair. But pet owners may have to control the filling of the dust bin more often. In any case, the debut of Shark in the market of robot vacuums has been a success.
Pros

Cons

The thinnest among competitors
Thoroughly cleans hardwood floors
Detangling Technology
HEPA filter
Easy-Empty Dust Bin
Quiet
Does not resume operation after recharging
Small dust bin
Power Boost function would be useful on carpets
---
ILIFE A4s – Best affordable robot vacuum cleaner
You'll be wonderstruck if you decide to use this high-end vacuum cleaner.
Everything about the ILIFE A4s screams perfection and works wonderfully well in picking up dirt, pet hair, and debris.
The ILIFE A4s vacuum cleaner is notable for cleaning hard and small carpet floors.
Minimalist design
The robot comes with a minimalist design, sturdy construction and weighs 4.9 pounds with 3 inches height. It's finished in black and has a carry handle that enables you to transport it with ease.
The A4s features two side brushes and motorized bristles brush for deep cleaning. Unlike its brother the ILIFE V7, this brand doesn't have a squeegee sweeper for more agitation. Nevertheless, when it comes to suction power and high performance, the ILIFE A4s seems to be the clear winner.
Filtration system
The bin is located at the back and features a HEPA filtration system. It has three layers of filtration, which includes the main mesh filter, the cover and the HEPA filter underneath. If you are someone suffering from allergies, this would be a better option for you.
Ease to use
The ILIFE A4s is very simple to use. The quality of this machine is incredible. You'd be amazed at the amount of debris this vac can pick while cleaning your floors. You can set it on a regular clean, spot clean or simply create your own schedule.
Also, because of its manageable size, the unit shouldn't be much of an issue going underneath the most chairs and furniture. Unlike other robot vacuums that don't fit under furniture, the ILIFE A4s can easily go under furniture both in the living room, bedroom and in your kitchen.
Long battery life
Another outstanding quality of the ILIFE A4s is that it doesn't only feature a powerful suction; it also comes with a longer battery life. You can get more than an hour of cleaning time out of the battery.
The vac can easily find its way back to the dock when the battery begins to fade and charges itself within a few minutes before resuming its operation.
The ILIFE A4s beats the competition by featuring side brushes in picking dust and pet hair on the edges of your wall. The battery can last you for 100-120mins before recharging again.
Different modes of operation
Another beautiful thing is that all the sensors on this vacuum works perfectly well, and keeps it from clumsily bumping into obstacles on the way. Even though it does get stuck on obstacles, the robot vacuum can easily free itself and resume its cleaning operation.
ILIFE A4s comes with a remote. You can set this vacuum cleaner to clean your house anytime of the day using the remote control. With the remote, you can set the time for it to spring into action.
One unique feature we love so much is the spot cleaning feature. Using this feature will enable the machine to give an extra clean to that particular grubby part of the floor.
Apart from setting it to spot clean, the ILIFE A4s can also edge clean. If you have some Rubia carpets and you want it to be thoroughly cleaned, you can do that by pressing the max button on the remote.
One major concern about this device is that you'd need to go through the hassle of clearing the floor to make sure the paths are free from obstacles that would hinder its smooth operation.
Another possible gripe is that this vacuum doesn't seem to follow a certain pattern of cleaning; rather, it cleans the whole floor randomly. But while testing this robot vacuum, we did not find any obvious drawbacks to the random compilation of a cleaning path.
Conclusion
Although ILIFE A4s lacks some few features like status screen and Wi-Fi connection, and constant cleaning of the dust tank, all that does not in any way affect its cleaning performance.
The inclusion of fantastic features such as a HEPA filter, side brushes, compact design and other high-end features, make the ILIFE A4s robot vacuum cleaner a top level vacuum for an amazing price.
If you're looking for the best affordable robot vacuum cleaner that works wonderfully well, then the ILIFE A4s might just be what you're looking for.
Pros

Cons

Powerful suction with impressive battery life
Side brushes for cleaning side-edges of your wall
The battery life is amazing
Fast cleaning on different floor types
3-steps cleaning filtration system for thorough cleaning
The dust bin isn't as large as other robot vacuum cleaner
It doesn't offer any Wi-Fi connectivity
Small canister size
---
---
Eufy RoboVac 11 – The new robot vacuum cleaner from tech enthusiasts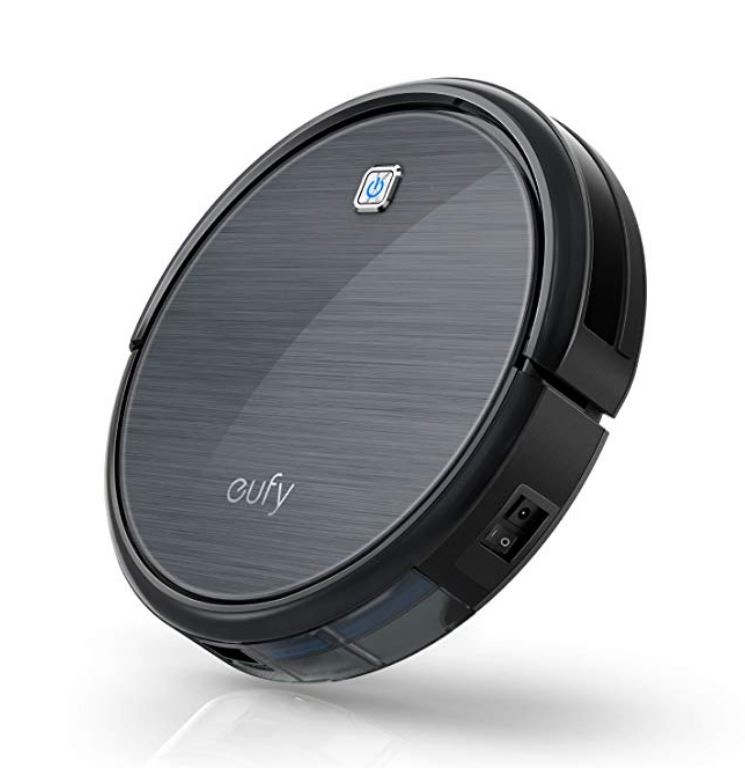 Eufy is a relatively new brand in robotic vacuum cleaners from the team, which has already successfully released a number of products related to smart technologies. It's too early to say that Eufy is a strong competitor to iRobot and ECOVACS, but definitely worth paying attention to this robot vacuum.
Speaking of Eufy RoboVac 11 in a nutshell, it does a very good job. But let's take a closer look at what this robot vacuum can offer.
Compact design
The RoboVac 11 has a standard circular shape, so there isn't much to say here.
This unit differs from similar models in terms of size. Being only 3.1 inches tall, and with 13 inches in diameter, this vac is one of the smallest robotic cleaners, so it will easily clean underneath the furniture. Because of its compact design, this model is a great choice for small apartments.
Cleaning performance
The RoboVac 11 performs well thanks to a powerful suction and 3-point cleaning system. It features a swivel wheel, 11 infrared sensors, 2 side brushes, and a main rolling brush so it easily picks up debris, dust, and pet hair.
Even the best robot vacuum cleaners today have problems with dark surfaces, as well as with high-pile carpets. Eufy RoboVac 11 was no exception. However, we were satisfied how it cleaned hardwood, tiles, low-pile carpets, and linoleum.
Dual Anti-collision system
Pressure-sensitive bumper, infrared sensors, and drop-sensing technology all work together to keep this unit away from falls and obstacles.
However, we noticed that this vac loves to get stuck in places where it shouldn't, such as under the chair, or in tight places. Like it has some sort of a panic attack when it enters a small area – it just gets confused and doesn't know how to continue with work.
To avoid this little guy getting stuck, please try to clear the room as much as possible, and don't forget to remove the cables.
Easy-to-use remote control
While Eufy robot vacuum doesn't have a smartphone capability, it's still easy to use. With versatile cleaning modes (Auto mode, Edge mode, Small room mode and Spot mode) and remote control, you can choose to start the desired cleaning mode whenever you want.
We had some difficulties with setting the schedule. But in the end, we programmed it and can say that it works.
Great battery life and the biggest drawback
The RoboVac 11 features a powerful Li-ion Battery. Thanks to that, this unit has a strong suction power for 1.5 hours.
When it comes to recharging, you can relax. Just like most robot vacuum cleaners, Eufy RoboVac 11 will also go back to the charging dock to recharge.
But, then we learn about the most significant drawback of this robot vacuum, in our opinion. After full charging, RoboVac 11 does not resume cleaning, so you must start it manually. And even after that, it does not continue cleaning from the place where it stopped but begins a new cleaning cycle.
However, when the battery completely empties, it will take about 6 hours to recharge, which is pretty long.
Conclusion
Despite the fact that Eufy RoboVac 11 does not have some of the newest features, we believe that this smart home assistant has taken a confident position in the average price range. After all, the most important thing is that it does an excellent job of what it is intended for – thoroughly cleans the floors.
Pros

Cons

Strong suction power
Good battery life
Low profile
Remote control
Does not resume cleaning after charging
It needs a thorough preparation of the area before cleaning
Does not have a smartphone capability
---
The INLife robot vacuum cleaner is one of those smart home additions that will let you clean smarter and not harder. This home gadget cleans up well on both carpet and hard surfaces. INLife vacuum does not only vacuums, but it also mops your floor to give it thorough and spotless clean.
That means you have the option to choose between dry and wet cleaning system. So if your house is mostly on hardwood or tiles, this will certainly be a wise choice.
Design
The design of INLife vacuum is smart. It has a height of 3.3 inches and weighs 4.9 pounds. Stylistically, the INLife doesn't stray too far from ILIFE existing designs. It has the same rounded look in the same powered button in the middle. One would assume that this company wants to maintain ILIFE minimalist design with sturdy construction.
Program cleaning modes
In case you don't know, the unit offers five program cleaning modes that you can choose from to give your home a deep cleaning. It comes with dual side brushes, which are perfect for picking up hairs, and debris in your house.
One unique feature of this device is that it offers a dust sensor that detects and directs the machine to dirty spots for deep cleaning. As you would expect from a high-end device, the unit offers side brushes for better coverage on hard to reach corners and walls.
This vacuum is very easy to operate. As earlier said INLife robot vacuum cleaner features a vacuuming and mopping cleaning system that sweeps off small liquid spills, paw prints, and grime.
The first thing you will notice about this unit is how it moves about in the room. It moves around the parameter room methodologically before vacuuming the center of the room.
Safe cleaning
The fact that it provides a drop sensing and anti-bump technology that allow INLife vacuum to clean your home safely and efficiently makes it a vacuum to be reckoned with. You will also notice that it will approach objects like a couch, a table or a wall very slowly and rarely bump into these objects.
Just like other high-end vacuum cleaners, the INLife robot can effectively clean underneath sofas and furniture. You can decide to use the remote or touch the screen on the cleaner to stop, start, or change to any mode of your choice.
This robot runs for about two hours on a full charge, which is one of the longest you can find around.  There's also a spot cleaning function that allows it to concentrate on one particular area. And when the time is up, it will return to the dock before it runs out of power.
One intriguing thing about this Vac is that it is very quiet, and allows you to continue with other activities with a relatively little disturbance.
However, just like most other robots vacuum cleaners, the INLife robovac does lack a larger dustbin tank. So, you have to empty it often when it needs to be cleared of debris.
Conclusion
Overall, everything about the INLife robot vacuum cleaner requires very little efforts and interaction from you. The cliff scent keeps the unit from taking a tumble down the stairs and notes every time it's near an edge.
It comes with all the features you'd want in a robot vacuum cleaner. The fact that it offers a vacuuming and mopping system makes it a big win over other devices.
Pros

Cons

Excellent suction power
It's very simple to operate
Offers five different modes for efficient cleaning
Works perfectly on multiple floor surfaces
High-quality and robust construction
Superb at avoiding obstacles
Avoided obstacles typically send the vac into a different direction
Not too strong on carpeted floors
Sometimes get stuck on objects
Buy INLife Robot Vacuum On Amazon
---
ECOVACS DEEBOT N79S
Here we have one of the most popular models of ECOVACS. Compared to its mate M80 Pro, this one doesn't come with a damp mopping function, but it does offer an impressive performance for the price.
So, if you're looking for a strong robot vacuum cleaner in the middle price range, this is the way to go.
What's new compared to DEEBOT N79?
ECOVACS N79S is an upgraded version of the popular N79 model. New features that have been added:
Max power suction mode – where necessary, you can increase suction power to 1000 pascals.
Alexa compatible – now you can control N79S with voice commands.
Systematic and thorough cleaning
Featuring a brushless motor, this cleaner has a better suction power and works faster than the models with a brushed motor.
In addition to that, it also comes with the V-shaped main brush. The brush is designed to ensure deep cleaning due to its ability to lift debris and dust.
So, this unit will thoroughly clean different kinds of surfaces, including tiles, low-pile carpets, and hardwood floors. But, it isn't designed for cleaning high-pile carpets, so keep that in mind.
With the SMART MOTION technology, ECOVACS N79S will clean the rooms of different sizes and shapes in several passes to bring the best results.
4 cleaning modes
Thanks to 4 cleaning modes, your home will be neat and shiny every time this vac cleans it. Choose from Auto mode, Single room mode, Edge mode, and Spot cleaning mode for the impeccable home every time. What each of these modes means, read a little further.
Safety comes first
When we tested this model, we especially liked the Stair Protection technology and Anti-collision sensors. This little guy is really smart! Namely, it can sense the danger of falling down the stairs, so it won't go in the wrong direction.
As for moving under and around the furniture, you don't have to worry about it. The ECOVACS N79S has soft cushion bumpers and anti-collision sensors thus it won't damage your furniture.
However, there's a slight concern about this model – sometimes it gets stuck underneath the bed, which can be frustrating.
Ease of use
Compatible with Alexa & Smart App makes this robot vacuum really easy to control. You can set the schedule via the smartphone and control N79S with voice commands.
Good battery life
This model has a good battery life, being able to clean for up to 100 minutes. The Lithium battery ensures consistent, efficient and quiet performance.
Clever charging
The DEEBOT N79S will finish its task like a real professional because it will recharge when needed. But, one thing to note is that you should clear the space around the charging dock. This will help your robotic buddy to find the charging dock without any hassle.
Conclusion
All in one, the DEEBOT N79S works like a charm on low-pile carpets, tiles, and hardwood floors, ensuring that dust and debris are gone. With a high suction power, this robot vacuum does an excellent job on any surfaces.
Pros

Cons

Ensures thorough cleaning of different surfaces
Alexa & Smartphone capability
Max power suction mode
Good battery life
Sometimes it tends to get stuck in an unprepared area or under furniture
Buy ECOVACS DEEBOT N79S On Amazon
---
We believe that today the ECOVACS is the first competitor to the iRobot on the robot vacuums market. DEEBOT M80 Pro is one of the most popular models among ECOVACS customers. This little beast works well both on carpet floors and on hardwood floors and tiles, handling all the dirt and pet hair.
If Roomba is a slightly expensive treat for you, but you want a high-tech robotic vacuum cleaner that will carefully maintain the cleanliness of your floors, be sure to pay attention to the DEEBOT M80 Pro.
Why did we include two DEEBOTs in our list?
The DEEBOT M80 Pro and DEEBOT N79S include the latest features that the best robotic vacuums now have. The biggest difference between these models is the mopping function, which the manufacturer added to the M80Pro. For those who mostly have hard floors at home, it may be a key factor in choosing a robot vacuum. So, let's take a closer look at this model.
Design
The ECOVACS DEEBOT M80 Pro comes with a low-profile design that fits under furniture and does a solid job of cleaning carpet floors. It offers advanced and premium features you can rarely see in other robot vacuums. The DEEBOT M80 is armed with a swifter main brush and two extra cleaning brushes for deeper and intensive cleaning.
Cleaning modes
The M80 Pro robot vacuum can work with 4 different cleaning modes. Depending on the floor type inside your house and the amount of dirt and debris, you can select any one of these modes for ensuring an efficient performance.
Auto cleaning – it comes handy if you want to have a general cleaning session on a daily basis.
Spot cleaning – it can be used if you're looking to clean a particular spot with a high concentration of dust or pet hair.
Edge cleaning – the robot moves along the edges and corners, cleaning them more carefully than with auto cleaning mode.
The intensive mode provides a power boost for better cleaning of carpets or heavily soiled places.
The 5-stage cleaning system includes sweeping, lifting, vacuuming, mopping, and drying which will help you clean your floors more thoroughly.
Suction power
The suction power is sufficient to pick up crumbs and pet hair on hard floors in one pass. For carpets, you can use both auto mode and intensive mode. DEEBOT M80 Pro cannot detect the type of floors to automatically adjust the suction power (which would be a significant advantage). Therefore, if you want more thorough cleaning of carpets, you must turn on the power boost yourself.
But keep in mind that the use of the intensive mode entails a reduction in the running time of the vacuum cleaner in one session.
Smart Motion Navigation
DEEBOT M80 Pro uses unique Smart Motion Navigation system with advanced sensors. This allows the device to successfully avoid furniture, detect stairs, cross door sills and climb inclines up to 15mm in height.
Just like other high-end devices, the DEEBOT M80 Pro can automatically dock and charge itself when the battery is down. During our tests, it seemed that the M80 Pro had some difficulties finding a charging station. But when we moved it to a more open place, there was no longer this issue. Therefore, it is desirable to place the charging station so that the robot vacuum doesn't have to overcome many obstacles on its way to it.
In general, for the M80 Pro navigation system, we give solid 4 stars out of 5.
Mopping feature
You can also use the DEEBOT M80 Pro as a wet and dry mop. Basically, it comes with a water reservoir which is attached to the bottom of this vacuum cleaner. Also present in this unit is a separate microfiber cloth which is provided on its front side. Depending on your preference, you can also detach the reservoir from the main body of this unit.
Once you turn on this feature, the reservoir soaks the cloth automatically. This cloth will then mop the underneath surface before drying it up in a single pass. As a result, you don't have to worry about slipping on a wet floor.
Wi-Fi connectivity
The ECOVACS DEEBOT M80 Pro features Wi-Fi connectivity for your convenience. You can control this vacuum cleaner from your smartphone, as all you've to do is to install the ECOVACS smartphone app. With the help of this application, which is available on both Android and iOS, you can make this unit to perform a number of different functions wirelessly.
First of all, the ECOVACS app allows you to start or schedule this unit from anywhere in the world. You can also schedule both daily as well as weekly vacuuming sessions, which means that even if you're away from your home for a long period, this vacuum cleaner will keep your house neat and clean.
Furthermore, this app also displays the cleaning status and you can select the type of floors that you want this vacuum cleaner to clean. If you have an extremely dirty floor, you can set this unit to work on a high-performance mode.
Lastly, the DEEBOT M80 Pro can also be operated with Amazon Alexa and when the manufacturer is also offering a remote control with this unit, it makes it quite a versatile vacuum cleaner.
The battery can last you for about two hours before it needs to be recharged. And one more thing. The M80 Pro works quietly enough so that it can be programmed for night cleaning, without fear for your sleep.
This model has a large 500 ml dust bin, so it will be an excellent choice for those homeowners who have large rooms.
ECOVACS DEEBOT M80 Pro vs iRobot Roomba 980
| Parameters | ECOVACS DEEBOT M80 Pro | iRobot Roomba 980 |
| --- | --- | --- |
| Battery Life | 110 min | 120 min |
| Charging Time | 240-300 min | 90-180 min |
| Smartphone Control | | |
| Alexa Control | | |
| Scheduling | | |
| Tangle-Free Extractors | | |
| Recharge and Resume | | |
| Weight | 9.7 lbs | 7.8 lbs |
| Height | 3.3" | 3.6" |
| Mopping Feature | | |
| Carrying Handle | | |
| Carpet Boost | | |
| Price range | | |
Conclusion
With a superb performance and support services, the ECOVACS DEEBOT M80 Pro robot vacuum cleaner has plenty to offer anyone who wants an extra help keeping their floors clean. So, if you want powerful high-tech cleaning device, this is the best robot vacuum today in the middle price range.
Pros

Cons

Offers a 5-stage cleaning system
Different cleaning modes to clean the most stubborn dirt
A Large dust tank that holds much debris
Side brushes and optional mopping system
Very quiet
Quite a long battery charging
Buy ECOVACS Deebot M80 Pro On Amazon
The 985 is one of the latest Roomba models that are currently available in the market. This model comes with a host of features that are sure to impress you. iRobot has paved the way for what robot vacuums should be like and this particular model is no exception. It comes with the following features:
Self-Charging
This model has a built-in sensor that detects when the battery is running low. It then automatically proceeds to its charging dock and starts recharging. Once it is done charging it will continue from where it left off, ensuring that you never have to intervene when it cleans.
Wi-Fi Connectivity
This particular model is also able to connect to the internet in order to interact with any smart home appliance that you may have. It can communicate with and take orders from Alexa or Google Home so that you can use those devices to order this robot to clean where you want it to.
Carpet Boost
The 985 also comes with carpet boost technology which makes sure that it doesn't slow down when it is cleaning carpet. In fact, it is more effective on the carpet and it ensures that your carpets are cleaner than ever when it is done with them.
Conclusion
This is a very powerful robot vacuum that has a lot of quality of life features that can make your life a lot easier. If you are looking for a robot that can handle strenuous work without any problems, then this vacuum is for you.
Pros

Cons

Carpet boost
Charge and resume feature
Wifi connectivity
Relatively short run time
High price
The i7 and the i9 are part of the next generation of Roombas and come with features that seem to be science fiction rather than reality. The i7 is one of the most heavily advertised of these models and there is a very good reason for it. It comes with a host of unprecedented features at a reasonable price which makes this Roomba one of the most alluring ones out there. Its features include:
Power-Lifting Suction
This model of Roomba has the most powerful suction up to date when compared to other Roombas. In fact, it has 10 times the power that the 600 series which is a huge deal. This immense suction power means that it is able to deal with tough cleaning hazards such as hair and fur with ease, making this a perfect vacuum for people with pets.
iAdapt 3.0 Technology
iAdapt is a patented technology that is installed with every Roomba. It allows the Roomba to navigate much more efficiently than it would normally be able to. It basically allows the robot to avoid hazards and stop itself from bumping into other objects such as furniture, pets, and even you!
Smart Mapping
This particular Roomba model comes equipped with smart mapping, a technology that allows it to make a map of your home in its memory banks. It then uses the map to navigate more effectively and ensure that it doesn't clean areas that it has already cleaned.
Conclusion
The i7 is one of the top of the line Roombas so it makes sense that it would come with all of these features. These features really make this model stand out from the rest and makes it so that this one becomes a must-buy for people that rely on robot vacuums heavily.
Pros

Cons

Smart Clean and navigation
Remote control
iAdapt 3.0
Extremely pricey
Remote only works when connected to Wifi
The S9+ is called the best robot vacuum in the world and rightly so. No other robot vacuum even comes close to the features that the Roomba has which makes this one stand out from the rest. It does have a high cost but that can be understood because it is a one of a kind vacuum. It comes with the following features:
Automatic Dirt Disposal
This robot vacuum has one of the most innovative features that you can find in robot vacuums. It comes with automatic dirt disposal which means that you won't have to empty out the bags yourself. The robot is truly autonomous because it doesn't need a single human interaction for it to function.
Imprint Technology
This vacuum can actually work in conjunction with the Braava Jet M6 so that one the Roomba is done the vacuuming, the Braava can then start mopping. This is one of the most amazing features because it means you can set up both robots to vacuum and mop and then just forget about it. They'll complete the task themselves.  
Conclusion
The S9+ is the best robot vacuum currently available. If you want to invest in a robot vacuum, then this is the vacuum to invest in. You won't be disappointed with the features that it has or the way it works. It may be a little pricey but it is definitely worth it.
Pros

Cons

Excellent features
Comes with warranty
Excellent customer service
Most expensive on the list
High charge time
The R1001AE is one of the best models that Shark has to offer. The amazing features, combined with the attractive price, makes it one of the most sought after robot vacuums in the market today. It comes with the following features:
Carpet Boost
This model is able to work great on the carpet which makes it a great selection if your home is mostly carpet. Your carpet will look cleaner than ever because of this vacuum.
Huge Dirt Storage
This robot vacuum can hold up to 30 days of dirt and dust at the same time which means you won't have to clean it out as often, thus saving you time and energy.
Conclusion
The R1001AE may not have the latest and most innovative features but it does have enough that it is one of the newest robot vacuums in the market. The price is the most striking feature as it is very affordable and with the features that it does have, it makes the R1001AE an incredibly attractive robot vacuum.
Pros

Cons

Attractive price
Great features
Short run time
Long charge time
---
The Result: Editor's Choice
After looking at how these vacuum cleaners stack up against each other, the results are in. With money as no object, the iRobot Roomba 980 is clearly the best robot vacuum 2018. With Carpet Boost, superior navigation, a lengthy cleaning time per charge and the ability to control it right from a Smart Phone, this vacuum is top of the line. This is clearly the top robot vacuum on the market, with a built-in camera and ability to clean an entire level, but the price can be a deterrent to some.
So, for that reason, we will also feature another automatic vacuum cleaner, the Ecovacs Deebot M80 Pro Robot Vacuum Cleaner. This little vacuum cleaner has the same cleaning time as the Roomba, is thinner so it can fit under more furniture and has great cleaning power on both carpets and hardwood floors. With perfect navigation and Wi-Fi connection, the Ecovacs Deebot M80 Pro is a great robot vacuum cleaner, for a fraction of the cost.
---
Robot Vacuum Cleaners Buyer's Guide
When you are buying a robot vacuum cleaner, there are many things to consider, such as charge time, scheduling capabilities, whether or not it can connect to your smartphone and obviously, how powerful of a vacuum it is. Here is a list of things to consider when examining the robot vacuums.
1. Scheduling Capabilities
Some people want to have their house vacuum every day, while others might want it once a week. Some people want their house to be vacuumed at night, while others want it during the day. A robot vacuum with the capability to have a specific time scheduled is definitely a must-have feature.
2. Multi-Room Navigation
You want to make sure that the vacuum you choose will not be confined to just one room. A robot vacuum cleaner should be able to navigate and clean an entire floor, unless there are steep drop-offs.
3. Self-Charging
When you release your robot vacuum to clean your house, chances are that it might not be able to do it on one charge. A self-charging robot vacuum is important to have. They are able to detect –on their own – when they are running low on battery and will actually go back to their docking station to recharge.
4. Charging Time
The length of time it takes a robot vacuum cleaner to charge is important. If you know how many charges it takes to clean your home and how long it takes to charge, you can estimate exactly how long your little vacuum needs to get the job done.
5. Cleaning Time per Charge
The length of time that your robot vacuum can run on one charge is key. The longer the cleaning time, the more of your house that gets cleaned before it heads back to its docking station.
6. Battery Type
The battery type will affect how long of a cleaning time the robot vacuum cleaner has. Lithium-Ion batteries will give you a longer clean time, often close to 2 hours, while a Ni-Mh battery will give you closer to an hour of cleaning time per charge.
7. Suction Power
Good suction power allows the robot vacuum to efficiently clean different floor surfaces (both hard floors and carpets). Thus, this is an important criterion for choosing a versatile vacuum cleaner.
8. HEPA Filtration
HEPA filters are special filters that can take harmful elements out of the air. Not all robot vacuums have HEPA filters and they are a healthier, more efficient option.
9. Carpet Boost
Some vacuums can distinguish between hard floor surfaces and carpet and will actually increase their suction power when on carpet to ensure a deeper clean.
10. Mopping Capabilities
Some robot vacuum cleaners also have the capability to "mop floors". If you want a vacuum that can do both, then you should know that going into the buying process.
11. Smart Phone Control
A few robot vacuums can be controlled by your smartphone, which is a unique feature and can be helpful if you make plans to have guests over when you're already at work and hadn't scheduled your robot vacuum to clean before you left.
How it works