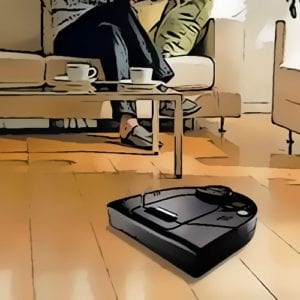 Does it always seem like your list of chores is never ending?
There's always something that needs to be done, whether it be cleaning the dishes, unloading the dishwasher, or doing countless loads of laundry. Somehow, vacuuming seems to get pushed behind other chores, understandably so. It's hard to look nice at work when you have no clean clothes. But the fact that you have pet hair on your carpets or sugar on your kitchen floor can be easily forgotten. That's where robot vacuum cleaners come into the picture. But before purchasing one, you will need to look at several of the best robot vacuums to determine which one will meet your specific cleaning needs.
To help you decide which robot vacuum cleaner is right for you, we compiled a list of the 5 best robot vacuums 2017.
Best Robot Vacuums 2017
Looking at many different features, including price, scheduling capability, suction power, cleaning time and wet mop accessibility, here is how these top 5 robot vacuums stack up against each other.


---
iRobot Roomba 980 – Best Robot Vacuum Cleaner for Carpets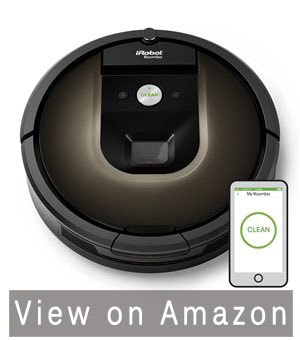 At 3.6" inches high, the new iRobot Roomba 980 is a sleek black automatic vacuum cleaner that definitely looks expensive. This is good considering that it carries a high price tag and can certainly set your wallet back a bit.
The good news about this little robotic beast is the list of advanced features.
This is the first Roomba to boast Wi-Fi and Smart Phone capability, an app that allows you to control settings, and a built in camera. So, you can see if your little vacuum gets stuck while you are away.
This model also has an advanced Lithium Ion battery that lasts up to two hours. With Carpet Boost technology, you can be sure that the HEPA filters will give your carpets a deep clean that other vacuums simply cannot provide.
With iAdapt 2.0 Navigation and Visual Localization, the new Roomba can map out and clean the entire level of your home.
If you are looking for a flaw in this little vacuum, Roomba still hasn't mastered the ability of cleaning a pitch-black room or a room with black carpets due to sensor issues. Although this is a problem with other vacuums as well, some users report frustrations with that.
The Carpet Boost mode can also be loud, but that is certainly overshadowed when most users run the robot vacuum while out of the house.
| | |
| --- | --- |
| | For those looking to save a little money, the iRobot Roomba 880 vacuuming robot will give you about the same cleaning power. The older model also has HEPA filtration, scheduling capabilities, automatic recharge and runs about the same weight. However, the older model does not have the long lasting Lithium ion battery, no entire level option, no built in camera or Wi-Fi/smart phone capabilities. The 880 also needs to be restarted manually after a charge, and with shorter active cleaning time than the 980, it will limit how much of your house can actually be cleaned automatically. Still, reviewers raved about the iRobot Roomba 880 when it came out, and if budget is a concern that could save you money. |
Conclusion
Overall, this vacuum cleaner is one of the best on the market. With superior navigation, and the advanced technical features, this robot vacuum is hard to beat. Though the price is lofty, its ability to clean carpets with the Carpet Boost sensor and lengthy clean time make this the best robot vacuum 2017 for carpets, and for cleaning an entire level.
Pros

Cons

Excellent cleaning power
Built in Camera
Smart Phone & Wi-Fi capability
Superior navigation skills allow it to clean faster
Two hours of cleaning time with new Lithium Ion battery
HEPA filtration
Won't clean black carpets due to cliff sensors unless you install "bumpers"
Most expensive on the list, by far
---
Neato Botvac D80 – Perfect Robot Vacuum for Pet Hair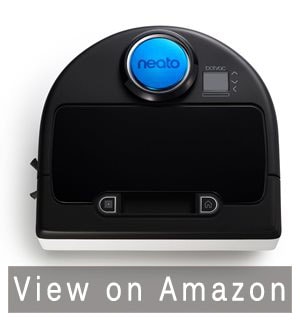 With an appearance that many have likened to an "ice cream sandwich," the Neato Botvac D80 Robot Vacuum might not wow you right out of the box. But if you have pets or allergies, you are going to want to give this one a chance.
Albeit it has an interesting appearance, its unique "D" shape and CornerClever technology actually allow it to get closer to walls and corners to clean, instead of constantly bumping around.
Perhaps a design flaw or perhaps just a misuse of technology, but there are many complaints out there about the navigation of the Neato Botvac D80. It utilizes lasers to map an area and users report that they are stuck easily and get hung up for lengthy periods of time trying to clean an area that they don't fit in. With a 90 to 120 minute clean time, spending 15 to 20 minutes trying to get under a dining room chair can be a colossal waste. Others have reported that they "prepare" their house to be vacuumed by moving things, but that kind of defeats the purpose of an automatic vacuum cleaner doesn't it?
In terms of cleaning power, there have been little complaints in that department. The SpinFlow Power Clean can pick up everything from dirt, crumbs, dust bunnies, and especially pet hair. The thing that makes this robot vacuum cleaner great for pet hair is that it has an extra-large dirt bin. We all know that pet hair is very light and fine and a small amount can take up a big area. So, this is definitely a feature that users will love.
Plus, it has Autocharge and resume, so the robot vacuum will locate the charger when the battery runs low and pick up cleaning where it left off after charging.

Conclusion
The Neato Botvac D80 is a capable robot vacuum cleaner for cleaning floor surfaces with no interaction from its owner. While it can clean other types, it is best for pet hair with a large tray and special SpinFlow Power Clean. Unfortunately, although the vacuum cleaner is automatic, it appears like the owner will still have the prepare their house for this to run to avoid wasting valuable cleaning time with the robot vacuum cleaner getting stuck under and around furniture. Although the "D" shape is great to allow closer cleaning to edges and corners, for this robot vacuum cleaner it seems like the navigation could be an issue.
Pros

Cons

Quieter and more efficient than prior models
The touch interface allows easy scheduling setup
The unique "D" shape can clean closer to edges and corners
SpinFlow Power Clean is exceptional for gathering pet hair, dander and dust
There is no remote control so everything must be done on bot
This model is significantly quieter than previous models, it is still loud compared to other brands
Gets stuck under and around furniture
---
ILIFE V5s – Best Robot Vacuum Cleaner for Hardwood Floors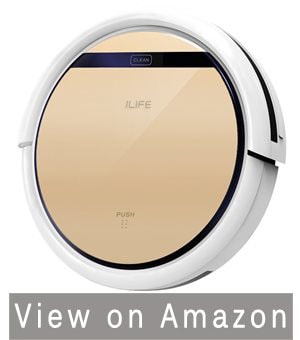 This white and tan robot vacuum cleaner, coming in at 3" high and 4.5 pounds heavy, will run you about $180. That's price for a vacuum and mop COMBINED, which is pretty great if you think about it. And don't think that this little robot vacuum lacks in vacuuming power, because it can still clean your carpets as well.
The cleaning power of this robot vacuum cleaner is great, especially for the price. While there is no Carpet Boost mode, it still does a great job at picking up hair, dirt and crumbs left behind on carpets, as well as hardwood floors. The mopping feature just adds one more element to the vacuum cleaner and it can do the equivalent of a wet Swiffer job on your hardwood, tile or laminate floors.
There are a few things that you will want to note with this little robot vacuum cleaner though.
First, don't fall under the assumption that the vacuum can switch from vacuum to mop on its own. It can't. If it is in mop mode and your living room is not blocked off, it will keep right on going and mop the carpet.  If you want to switch from vacuum to mop mode, or visa versa, you will need to physically fill up the water tank and add or remove the mop attachment. It can be inconvenient, but for under $200 you can't expect the world.
Another drawback is that many people reported it getting stuck under furniture and being unable to find its way out. With no navigation technology or mapping ability, the ILIFE V5s Robot Vacuum Cleaner can actually get wedged under furniture or spend time cleaning in a zig-zag pattern while missing certain areas of a room. But anyway, this vacuum does a great job without the costly added features.
Conclusion
Though there are a few flaws with the ILIFE V5s Robot Vacuum Cleaner with Water Tank, for less than $200 this is the best robot vacuum 2017 for hardwood floors.
It is able to vacuum and gently mop them, which saves you time. Without navigation, the vacuum cleaner can get hung up, but the same can be said for the pricier models out there as well.
All in all, for this price range and with over 2 hours of cleaning time, you won't find a better robot vacuum cleaner to keep your hardwood floors sparkling clean.
Pros

Cons

Can clean different floor types
Slimmest robot vacuum cleaner on our list, which allows it to get under furniture better
Many different cleaning modes
Easy for user to shift from vacuum to mopping mode
Long cleaning time with Lithium Ion battery (up to 2 hours)
HEPA filtration
The vacuum cleaner cannot switch from wet to dry mode on its own
Can get stuck under furniture
---
bObsweep Pet Hair – Another Good Robot Vacuum For Those With Kids and Pets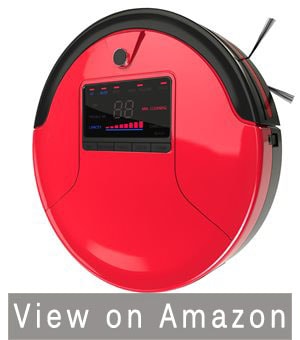 This guy is bright, and we mean smart and bright in color. A blazing red – or "rogue" color as bObsweep likes to call it – and black, this 3.9" tall robot vacuum cleaner is the thickest of the list. It also has the lowest clean time of only 45 to 60 minutes, but can still get the job done for you.
The cleaning power cannot be questioned much here as Bob can both vacuum and do a dust mop. Again like the model listed above, you will need to put Bob in a mop mode, but it's as easy as snapping the damp rag onto his belly. We use the term "mop" here lightly as it is just a damp rag that is dragged around. But sometimes that's all you need to pick up extra pet hair, crumbs or clean a light level of dirt.
This model is specifically designed for people with pets, as it has a larger dustbin and a special filter. With UV sterilization and HEPA filters, it is also good for people with kids to know that there's some extra cleaning being done.
As for the negatives, Bob can get stuck a lot. As with most of the lower priced robot vacuum cleaners, the navigation technology is not the best. Currently, Bob uses infrared sensors to locate and avoid objects in his path, but there is no memory and he might clean the same spot a few times.
Also, note that if you need to unplug the included charging station, you will lose any programming and scheduling that you had entered. This isn't too big of a deal, since you likely won't unplug it that often, but the interactive 5 by 3 inch LCD touch screen can take some getting used to. Bob can also get caught on cords sometimes. If you know that ahead of time you can make sure that none are in his path.
Conclusion
For a robot vacuum cleaner on the lower end of the price range, the bObsweep PetHair Robotic Vacuum Cleaner and Mop is one of the best. With UV sterilization and the damp mop feature, those with children or pets can rest assured that their floors are getting an extra level of cleaning. The navigation issues and short battery life can be a hassle, but with automatic charging, Bob can still get the job done, he will just need a few charges in between.
Pros

Cons

HEPA filtration
Can vacuum and mop
UV sterilization
Great for cleaning pet hair and paw prints
Has a remote
Short cleaning time under one hour
Thicker so it can fit under less furniture
Cannot clean corners
---
ECOVACS DEEBOT N78 – Best Cheap Robot Vacuum Cleaner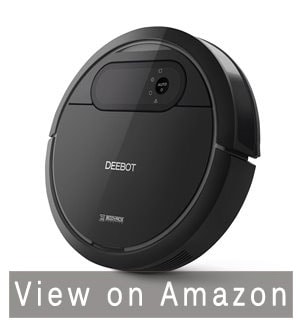 Like the Roomba, the ECOVACS Deebot N78 has a sleek, all black design. While it copies the Roomba in looks, it can also come very close to matching its cleaning capability with the addition of a mopping option. The mop feature is easy to attach, it is essentially a rag that wipes the water (or cleaning solution) that is dispersed from the vacuum cleaner.
In terms of navigation, this Deebot does fairly well. While there may be some initial "prep" that needs to be done. You will likely need to block off rooms that you don't want it to enter and remove any loose cords from the ground to keep them from getting tangled. Aside from that, the Deebot uses infrared sensors to help it avoid stairs and furniture. It also does a good job switching between floor types with its sensors, can do inclines and declines and can also cross over doorsills that are up to 16 mm tall.
One drawback with having the extra canister to put water or cleaning solution for the mop, is that the size of the dustbin suffers. It seems like the ILIFE V5s and bObsweep PetHair were able to work that without sacrificing the size of the dustbin. But this one is only 500ml and is half the size of the other models. For small houses or limited rooms, this might not be an issue. But it may not be able to do a large area without being emptied.
Another difference between this model and other robot vacuums is that is works on direct suction alone, with no spinning brushes. This helps avoid brushes getting clogged and the device entering an error mode. But it also won't give quite as deep of a clean.
That being said, there have been no complaints about the ability of this vacuum to do its cleaning job.
Conclusion
For the price, the Deebot is a great option. It is the cheapest on the list and offers both vacuuming and mopping capabilities. Although the dustbin is small, the device is quiet and can be programmed to clean your house every day at a set time.
What more could you ask for from a little robot vacuum cleaner priced at $180?
Pros

Cons

Good battery length and cleaning time
Has mopping feature
Quieter than other models
Can schedule it to run daily at a certain time
Smaller dustbin compared to other models
Will need to prep house to block rooms and remove cords
Will not clean corners or narrow passages less than 16" wide
---
The Result: Editor's Choice
After looking at how these vacuum cleaners stack up against each other, the results are in. With money as no object, the iRobot Roomba 980 is clearly the best robot vacuum 2017. With Carpet Boost, superior navigation, a lengthy cleaning time per charge and the ability to control it right from a Smart Phone, this vacuum is top of the line. This is clearly the top robot vacuum on the market, with a built in camera and ability to clean an entire level, but the price can be a deterrent to some.
So, for that reason, we will also feature another automatic vacuum cleaner, the ILIFE V5s Robot Vacuum Cleaner. At less than a quarter of the price of the Roomba 980, the iLife V5s offers not only a vacuum, but also a wet mopping function. This little vacuum cleaner has the same cleaning time as the Roomba, is thinner so it can fit under more furniture and has great cleaning power on both carpets and hardwood floors. Although the navigation is not as good and there is no ability to control it from a Smart Phone, the iLife V5s is still a great robot vacuum cleaner, for a fraction of the cost.
---
Robot Vacuums Buyer's Guide
When you are buying a robot vacuum cleaner, there are many things to consider, such as charge time, scheduling capabilities, whether or not it can connect to your smartphone and obviously, how powerful of a vacuum it is. Here is a list of things to consider when examining the best robot vacuums.
1) Scheduling Capabilities
Some people want to have their house vacuum every day, while others might want it once a week. Some people want their house to be vacuumed at night, while others want it during the day. A robot vacuum with the capability to have a specific time scheduled is definitely a must-have feature.
2) Multi-Room Navigation
You want to make sure that the vacuum you choose will not be confined to just one room. A robot vacuum cleaner should be able to navigate and clean an entire floor, unless there are steep drop-offs.
3) Self-Charging
When you release your robot vacuum to clean your house, chances are that it might not be able to do it on one charge. A self-charging robot vacuum is important to have. They are able to detect –on their own – when they are running low on battery and will actually go back to their docking station to recharge.
4) Charging Time
The length of time it takes a robot vacuum cleaner to charge is important. If you know how many charges it takes to clean your home and how long it takes to charge, you can estimate exactly how long your little vacuum needs to get the job done.
5) Cleaning Time per Charge
The length of time that your robot vacuum can run on one charge is key. The longer the cleaning time, the more of your house that gets cleaned before it heads back to its docking station.
6) Battery Type
The battery type will affect how long of a cleaning time the robot vacuum cleaner has. Lithium Ion batteries will give you a longer clean time, often close to 2 hours, while a Ni-Mh battery will give you closer to an hour of cleaning time per charge.
7) Suction Power
The capability to clean an area through suction is important to consider when purchasing a robot vacuum cleaner. You will want to make sure that they vacuum you choose is one of the best robot vacuums for what you need cleaned.
8) HEPA Filtration
HEPA filters are special filters that can take harmful elements out of the air. Not all robot vacuums have HEPA filters and they are a healthier, more efficient option.
9) Carpet Boost
Some vacuums can distinguish between hard floor surfaces and carpet and will actually increase their suction power when on carpet to ensure a deeper clean.
10) Mopping Capabilities
Some robot vacuum cleaners also have the capability to "mop floors". If you want a vacuum that can do both, then you should know that going into the buying process.
11) Smart Phone Control
A few robot vacuums can be controlled by your smart phone, which is a unique feature and can be helpful if you make plans to have guests over when you're already at work and hadn't scheduled your robot vacuum to clean before you left.
How it works