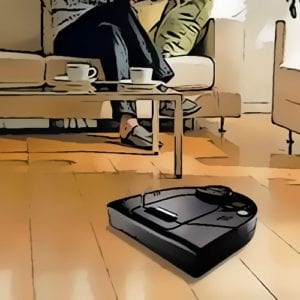 Does it always seem like your list of chores is never ending?
There's always something that needs to be done, whether it be cleaning the dishes, unloading the dishwasher, or doing countless loads of laundry. Somehow, vacuuming seems to get pushed behind other chores, understandably so. It's hard to look nice at work when you have no clean clothes. But the fact that you have pet hair on your carpets or sugar on your kitchen floor can be easily forgotten. That's where robot vacuum cleaners come into the picture. But before purchasing one, you will need to look at several of the best robot vacuums to determine which one will meet your specific cleaning needs.
To help you decide which robot vacuum cleaner is right for you, we compiled a list of the 5 best robot vacuums 2017.
Best Robot Vacuums 2017
Looking at many different features, including price, scheduling capability, suction power, cleaning time and wet mop accessibility, here is how these top 5 robot vacuums stack up against each other.


---
iRobot Roomba 980 – Best robot vacuum cleaner for carpets
At 3.6" inches high, the new iRobot Roomba 980 is a sleek black automatic vacuum cleaner that definitely looks expensive. This is good considering that it carries a high price tag and can certainly set your wallet back a bit.
The good news about this little robotic beast is the list of advanced features.
This is the first Roomba vacuum to boast Wi-Fi and Smart Phone capability, an app that allows you to control settings, and a built-in camera. So, you can see if your little vacuum gets stuck while you are away.
This model also has an advanced Lithium-Ion battery that lasts up to two hours. With Carpet Boost technology, you can be sure that the HEPA filters will give your carpets a deep clean that other vacuums simply cannot provide.
With iAdapt 2.0 Navigation and Visual Localization, the new Roomba can map out and clean the entire level of your home.
If you are looking for a flaw in this little vacuum, Roomba still hasn't mastered the ability of cleaning a pitch-black room or a room with black carpets due to sensor issues. Although this is a problem with other vacuums as well, some users report frustrations with that.
The Carpet Boost mode can also be loud, but that is certainly overshadowed when most users run the robot vacuum while out of the house.
| | |
| --- | --- |
| | For those looking to save a little money, the iRobot Roomba 880 vacuuming robot will give you about the same cleaning power. The older model also has HEPA filtration, scheduling capabilities, automatic recharge and runs about the same weight. However, the older model does not have the long lasting Lithium ion battery, no entire level option, no built in camera or Wi-Fi/smart phone capabilities. The 880 also needs to be restarted manually after a charge, and with shorter active cleaning time than the 980, it will limit how much of your house can actually be cleaned automatically. Still, reviewers raved about the iRobot Roomba 880 when it came out, and if budget is a concern that could save you money. |
Conclusion
Overall, this vacuum cleaner is one of the best on the market. With superior navigation and the advanced technical features, this robot vacuum is hard to beat. Though the price is lofty, its ability to clean carpets with the Carpet Boost sensor and lengthy clean time make this robot vacuum the best for carpets, and for cleaning an entire level. And we are sure that the Roomba 980 will remain on our best robot vacuums 2018 list.
Pros

Cons

Excellent cleaning power
Built in Camera
Smart Phone & Wi-Fi capability
Superior navigation skills allow it to clean faster
Two hours of cleaning time with new Lithium Ion battery
HEPA filtration
Won't clean black carpets due to cliff sensors unless you install "bumpers"
Most expensive on the list, by far
---
Neato Botvac Connected – Best high-end robot vacuum cleaner
The Neato Botvac Connected is a well-thought-out piece of technology that Neato has ever produced.
There's no question that this unit is one of the best robot vacuum cleaners out there on the market. Rather than cleaning a circular spot, the Neato goes out on a hunt for areas that are messy and hard to clean.
Gorgeous design
The first thing you will notice about this unit is the gorgeous design which sends a massive shout out. The D-shaped Neato Botvac Connected has two buttons on the front. The home button will clean your whole house while the spot clean button will direct the machine to clean a particular place.
Display screen
On top of the unit is the display screen that lets you set things up like your language, and also to schedule when you want it to clean your house if you're not using the app.
The unit also comes with a lot of cool accessories to make your cleaning more efficient. It comes with:
Ultra performance filter,
Brush and a filter cleaning tool,
Spiral blade brush.
Laser Smart mapping and navigation sensor
You don't have to worry about the unit bumping on objects because it offers a Laser Smart mapping and navigation sensor that prevent the device from clumsily knocking on objects. Using the laser guide navigation system placed on top of the vacuum, the Botvac Connected moves intelligently within mapped areas.
Instead of doing the cleaning randomly, the Laser Smart technology allows the machine to scan and methodologically clean your floor in a well-organized pattern.
Thanks to its Coner Clever technology, the device can skillfully clean and vacuum corners and dirt close to the wall.
Another thing that makes this brand different from other competitors is that it knows exactly where it's been, and will keep finding more rooms and keep mapping the rooms until they are thoroughly clean.
You will get up to 120-360mins of cleaning time using this device. And when it's done cleaning or out of battery, it systematically goes back to its dock for almost 180-360 mins of battery recharge.
Magnetic boundary marker
Another striking feature is the magnetic boundary marker that lets you program the machine not to vacuum a particular object in your apartment. You can just lay this out, and when it hits the object, it will turn around.
As expected from such a premium device, the Neato Botvac Connected can also sense stairs and wouldn't go off even without the magnetic strip.
Although this unit has all the good things, it's still plagued with the same drawback that mostly affects a good number of vacuum cleaners, and that is the size of the dust bin. The dust bin is quite small and gets filled up with dirt on time. So, this may require you to always empty the tank after every clean.

Conclusion
Overall, this is a premium robot vacuum cleaner with impressive features that helps to keep the day to day dirt off the floor.
The free Android and iOS app that basically allows you to set your cleaning schedules are a huge bonus. It allows you to control it no matter where or how far you are.
Although, we still think it would have been better if the dustbin was a little larger. Since the device offers a powerful suction, the tank ought to be sufficient to retain the enormous amount of dirt it collects.
Nevertheless, if you're having a hard time cleaning all the dirt in your house and want something that can help you clean it up, the Neato Botvac Robot Vacuum is the best option for you.
Pros

Cons

WiFi enabled for easy control from anywhere
Long lasting battery life
Well-organized pattern of cleaning
Powerful suction
Unique D-shaped design to fit under furniture
Small dust bin tank
---
ILIFE A4s – Best affordable robot vacuum cleaner
You'll be wonderstruck if you decide to use this high-end vacuum cleaner.
Everything about the ILIFE A4s screams perfection and works wonderfully well in picking up dirt, pet hair, and debris.
The ILIFE A4s vacuum cleaner is notable for cleaning hard and small carpet floors.
Minimalist design
The robot comes with a minimalist design, sturdy construction and weighs 4.9 pounds with 3 inches height. It's finished in black and has a carry handle that enables you to transport it with ease.
The A4s features two side brushes and motorized bristles brush for deep cleaning. Unlike its brother the ILIFE V7, this brand doesn't have a squeegee sweeper for more agitation. Nevertheless, when it comes to suction power and high performance, the ILIFE A4s seems to be the clear winner.
Filtration system
The bin is located at the back and features a HEPA filtration system. It has three layers of filtration, which includes the main mesh filter, the cover and the HEPA filter underneath. If you are someone suffering from allergies, this would be a better option for you.
Ease to use
The ILIFE A4s is very simple to use. The quality of this machine is incredible. You'd be amazed at the amount of debris this vac can pick while cleaning your floors. You can set it on a regular clean, spot clean or simply create your own schedule.
Also, because of its manageable size, the unit shouldn't be much of an issue going underneath the most chairs and furniture. Unlike other robot vacuums that don't fit under furniture, the ILIFE A4s can easily go under furniture both in the living room, bedroom and in your kitchen.
Long battery life
Another outstanding quality of the ILIFE A4s is that it doesn't only feature a powerful suction; it also comes with a longer battery life. You can get more than an hour of cleaning time out of the battery.
The vac can easily find its way back to the dock when the battery begins to fade and charges itself within a few minutes before resuming its operation.
The ILIFE A4s beats the competition by featuring side brushes in picking dust and pet hair on the edges of your wall. The battery can last you for 100-120mins before recharging again.
Different modes of operation
Another beautiful thing is that all the sensors on this vacuum works perfectly well, and keeps it from clumsily bumping into obstacles on the way. Even though it does get stuck on obstacles, the robot vacuum can easily free itself and resume its cleaning operation.
ILIFE A4s comes with a remote. You can set this vacuum cleaner to clean your house anytime of the day using the remote control. With the remote, you can set the time for it to spring into action.
One unique feature we love so much is the spot cleaning feature. Using this feature will enable the machine to give an extra clean to that particular grubby part of the floor.
Apart from setting it to spot clean, the ILIFE A4s can also edge clean. If you have some Rubia carpets and you want it to be thoroughly cleaned, you can do that by pressing the max button on the remote.
One major concern about this device is that you'd need to go through the hassle of clearing the floor to make sure the paths are free from obstacles that would hinder its smooth operation.
Another possible gripe is that this vacuum doesn't seem to follow a certain pattern of cleaning; rather, it cleans the whole floor randomly. But while testing this robot vacuum, we did not find any obvious drawbacks to the random compilation of a cleaning path.

Conclusion
Although ILIFE A4s lacks some few features like status screen and Wi-Fi connection, and constant cleaning of the dust tank, all that does not in any way affect its cleaning performance.
The inclusion of fantastic features such as a HEPA filter, side brushes, compact design and other high-end features, make the ILIFE A4s robot vacuum cleaner a top level vacuum for an amazing price.
If you're looking for the best affordable robot vacuum cleaner that works wonderfully well, then the ILIFE A4s might just be what you're looking for.
Pros

Cons

Powerful suction with impressive battery life
Side brushes for cleaning side-edges of your wall
The battery life is amazing
Fast cleaning on different floor types
3-steps cleaning filtration system for thorough cleaning
The dust bin isn't as large as other robot vacuum cleaner
It doesn't offer any Wi-Fi connectivity
Small canister size
---
---
INLife – Robot vacuum cleaner with a mopping system
The INLife robot vacuum cleaner is one of those smart home additions that will let you clean smarter and not harder. This home gadget cleans up well on both carpet and hard surfaces. INLife vacuum does not only vacuums, but it also mops your floor to give it thorough and spotless clean.
That means you have the option to choose between dry and wet cleaning system. So if your house is mostly on hardwood or tiles, this will certainly be a wise choice.
Design
The design of INLife vacuum is smart. It has a height of 3.3 inches and weighs 4.9 pounds. Stylistically, the INLife doesn't stray too far from ILIFE existing designs. It has the same rounded look in the same powered button in the middle. One would assume that this company wants to maintain ILIFE minimalist design with sturdy construction.
Program cleaning modes
In case you don't know, the unit offers five program cleaning modes that you can choose from to give your home a deep cleaning. It comes with dual side brushes, which are perfect for picking up hairs, and debris in your house.
One unique feature of this device is that it offers a dust sensor that detects and directs the machine to dirty spots for deep cleaning. As you would expect from a high-end device, the unit offers side brushes for better coverage on hard to reach corners and walls.
This vacuum is very easy to operate. As earlier said INLife robot vacuum cleaner features a vacuuming and mopping cleaning system that sweeps off small liquid spills, paw prints, and grime.
The first thing you will notice about this unit is how it moves about in the room. It moves around the parameter room methodologically before vacuuming the center of the room.
Safe cleaning
The fact that it provides a drop sensing and anti-bump technology that allow INLife vacuum to clean your home safely and efficiently makes it a vacuum to be reckoned with. You will also notice that it will approach objects like a couch, a table or a wall very slowly and rarely bump into these objects.
Just like other high-end vacuum cleaners, the INLife robot can effectively clean underneath sofas and furniture. You can decide to use the remote or touch the screen on the cleaner to stop, start, or change to any mode of your choice.
This robot runs for about two hours on a full charge, which is one of the longest you can find around.  There's also a spot cleaning function that allows it to concentrate on one particular area. And when the time is up, it will return to the dock before it runs out of power.
One intriguing thing about this Vac is that it is very quiet, and allows you to continue with other activities with a relatively little disturbance.
However, just like most other robots vacuum cleaners, the INLife robovac does lack a larger dustbin tank. So, you have to empty it often when it needs to be cleared of debris.
Conclusion
Overall, everything about the INLife robot vacuum cleaner requires very little efforts and interaction from you. The cliff scent keeps the unit from taking a tumble down the stairs and notes every time it's near an edge.
It comes with all the features you'd want in a robot vacuum cleaner. The fact that it offers a vacuuming and mopping system makes it a big win over other devices.
Pros

Cons

Excellent suction power
It's very simple to operate
Offers five different modes for efficient cleaning
Works perfectly on multiple floor surfaces
High-quality and robust construction
Superb at avoiding obstacles
Avoided obstacles typically send the vac into a different direction
Not too strong on carpeted floors
Sometimes get stuck on objects
---
---
ECOVACS DEEBOT M80 Pro – Perfect for Picking Up Pet Hair
If you're tired of cleaning the house all by yourself and you're looking for a vacuum cleaner that can perfectly handle all the dirt and pet hair, then the Ecovacs Deebot M80 Pro is your best bet. This little beast works brilliantly well on hardwood, carpet floors and tile floors.
The Ecovacs Deebot M80 Pro comes with a low-profile design that fits under furniture and does a solid job of cleaning carpet floors.  It offers advanced and premium features you can rarely see in other robot vacuum cleaners. The Deebot M80 is armed with a swifter main brush and two extra cleaning brushes for deeper and intensive cleaning.
You can also rely on the different cleaning modes and a five-stage cleaning system to help you clean your house more thoroughly than you could ever imagine.
The suction power of the Ecovacs Deebot M80 Pro is AWESOME! It can pick up dirt and pet hair just in one pass. The device is capable of avoiding furniture, stairs, cross door sills and climb inclines up to 15mm in height.
Another impressive thing about this machine is that it takes notes when it is at the edges of the stairs. So, it does avoid the stairs and find something else to vacuum. One of the unique features of this device is that it is so quiet. The suction power is reliable and can easily pick things off the floor.
Just like other high-end devices, the Deebot M80 can automatically dock and charge itself when the battery is down. The battery can last you for about two hours before it needs to be recharged.
Another outstanding feature of this device is that it is Wi-Fi enabled, which means you can easily set the time and monitor the process, using the Time Scheduling function. The app gives you 100 percent control over your robot.
The remote control is superb! The fact that it comes with a smartphone app makes this vacuum cleaner outstanding. The app is easy to install, and it will take you just 2 minutes to install and connect to the device.  It's intuitive and allows you to control your app from anywhere.
Conclusion
With a superb performance and support services, the Ecovacs Deebot M80 Pro Robot vacuum cleaner has plenty to offer anyone who wants an extra help keeping their house clean. This machine will be a great pick for anybody on a budget that still wants a powerful robot vacuum.
Pros

Cons

Offers a 5-stage cleaning system
Different cleaning modes to clean the most stubborn dirt
A Large dust tank that holds much debris
Side brushes and optional mopping system
Very quiet
Quite a long battery charging
---
The Result: Editor's Choice
After looking at how these vacuum cleaners stack up against each other, the results are in. With money as no object, the iRobot Roomba 980 is clearly the best robot vacuum 2017. With Carpet Boost, superior navigation, a lengthy cleaning time per charge and the ability to control it right from a Smart Phone, this vacuum is top of the line. This is clearly the top robot vacuum on the market, with a built-in camera and ability to clean an entire level, but the price can be a deterrent to some.
So, for that reason, we will also feature another automatic vacuum cleaner, the Ecovacs Deebot M80 Pro Robot Vacuum Cleaner. This little vacuum cleaner has the same cleaning time as the Roomba, is thinner so it can fit under more furniture and has great cleaning power on both carpets and hardwood floors. With perfect navigation and Wi-Fi connection, the Ecovacs Deebot M80 Pro is a great robot vacuum cleaner, for a fraction of the cost.
---
Robot Vacuum Cleaners Buyer's Guide
When you are buying a robot vacuum cleaner, there are many things to consider, such as charge time, scheduling capabilities, whether or not it can connect to your smartphone and obviously, how powerful of a vacuum it is. Here is a list of things to consider when examining the best robot vacuums.
1. Scheduling Capabilities
Some people want to have their house vacuum every day, while others might want it once a week. Some people want their house to be vacuumed at night, while others want it during the day. A robot vacuum with the capability to have a specific time scheduled is definitely a must-have feature.
2. Multi-Room Navigation
You want to make sure that the vacuum you choose will not be confined to just one room. A robot vacuum cleaner should be able to navigate and clean an entire floor, unless there are steep drop-offs.
3. Self-Charging
When you release your robot vacuum to clean your house, chances are that it might not be able to do it on one charge. A self-charging robot vacuum is important to have. They are able to detect –on their own – when they are running low on battery and will actually go back to their docking station to recharge.
4. Charging Time
The length of time it takes a robot vacuum cleaner to charge is important. If you know how many charges it takes to clean your home and how long it takes to charge, you can estimate exactly how long your little vacuum needs to get the job done.
5. Cleaning Time per Charge
The length of time that your robot vacuum can run on one charge is key. The longer the cleaning time, the more of your house that gets cleaned before it heads back to its docking station.
6. Battery Type
The battery type will affect how long of a cleaning time the robot vacuum cleaner has. Lithium Ion batteries will give you a longer clean time, often close to 2 hours, while a Ni-Mh battery will give you closer to an hour of cleaning time per charge.
7. Suction Power
The capability to clean an area through suction is important to consider when purchasing a robot vacuum cleaner. You will want to make sure that they vacuum you choose is one of the best robot vacuums for what you need cleaned.
8. HEPA Filtration
HEPA filters are special filters that can take harmful elements out of the air. Not all robot vacuums have HEPA filters and they are a healthier, more efficient option.
9. Carpet Boost
Some vacuums can distinguish between hard floor surfaces and carpet and will actually increase their suction power when on carpet to ensure a deeper clean.
10. Mopping Capabilities
Some robot vacuum cleaners also have the capability to "mop floors". If you want a vacuum that can do both, then you should know that going into the buying process.
11. Smart Phone Control
A few robot vacuums can be controlled by your smart phone, which is a unique feature and can be helpful if you make plans to have guests over when you're already at work and hadn't scheduled your robot vacuum to clean before you left.
How it works