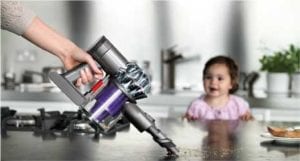 We've all been there. It's minutes before company comes over and the cats knock over a plant, spilling dirt. Or the kids spill a box of cheerios on the ground, sending them scattering everywhere. Or maybe you glance at the couch just before your guests arrive and see it covered with a layer of pet fur.
Thankfully, handheld vacuum cleaners are perfect for quick clean jobs and save you from the hassle of dragging out your full-size vacuum cleaner and dragging it throughout the house. We all need one, but the question is, what is the best handheld vacuum 2019 to meet your needs?
To help you decide which handheld vacuum cleaner to add to your home, we have compiled a list of the 10 best handheld vacuum cleaners.
Best Handheld Vacuum Reviews
Looking at four main features of the handheld vacuum cleaners, price, weight, if they are cordless, and if they are bagless, here is how these best handheld vacuums 2019 fare.


Lately, many new little-known brands have been appearing on the market, producing handheld vacuum cleaners, such as HoLife, Eloki, Deik, and others. We test them but do not hurry to include in our current list of the best handheld vacuum cleaners. Maybe some of them will be included in future updates.
---
Hoover Air 20V – The lightest handheld vacuum cleaner
Hoover is a trusted vacuum cleaner brand name, and true to the name, this little handheld vacuum cleaner does not disappoint!
At 2.1 pounds, you might think that this little handheld vacuum cleaner doesn't pack much of a punch, but you'd be wrong.
The Hoover Air 20V Lithium Handheld Vacuum is quite powerful, with users raving about its ability to pull pet hairs from carpets and couches, and dirt from car boot mats.
Design with a rotating brush to lift deeper messes, this vacuum cleaner has enough suction to get the job done, and then some.
Design & Performance
Although appearance is not what usually comes to mind with a vacuum, this Hoover has a sleek silver and blue design, with a curved handle that fits nicely in your palm. Alternatively, there have been some complaints with the engineering of the vacuum cleaner because fine dust particles often blow out of the air vent, which suggests the filter isn't catching the smaller particles. The filter is also smaller and needs to be washed every 4 to 6 uses, and you must let it air dry which can take a few hours. The product is also quiet, with consumers reporting that it is only slightly louder than a hairdryer, and much quieter than the average full-size vacuum.
Battery
The Lithium battery takes 9 to 12 hours to fully charge, which means if you leave it off the charger and need it in a pinch, it likely won't charge quick enough. Thankfully, the charge lasts a very long time and users have reported that they've never run out of a charge (when fully charged at the start) while they are vacuuming with this Hoover.
Attachments
This product comes with a Powered Turbo tool to give you a suction boost, as well as a Crevice tool to help you clean tight spots, like stairs and car interiors. It also fits into the Hoover Cordless 2 in 1 Stick Vacuum, which gives you more options.
Pros

Cons

Great battery life
Good suction quality
Not excessively loud
Comes with 2 attachments, Turbo Tool and Crevice Tool
Have to clean the filter every 4-6 uses
Long battery-charging time
Fine dust particles come out through air vent
Conclusion
If you can handle a moderate price for quality suction performance and are okay with a longer battery charge time, and cleaning the filter often, then this is the best handheld vacuum 2019 for you! For a middle-of-the-road price, this handheld Hoover packs a punch and can get the job done in tight spaces.
Buy Hoover Air 20V Lithium On Amazon
---
Black & Decker BDH2020FL 20V Max Lithium – Best handheld vacuum for hard to reach places
The Black & Decker BDH2020FL is a top-level handheld vacuum cleaner that features top-rated pivotal characteristics that enable you to reach and clean the deepest corners of your house.
This lightweight and ergonomic design vacuum cleaner comes with a powerful suction to clean tight spots and other hard to reach areas in your house.
The suction system offers a reliable suction that is two times stronger than any other Black and Decker series. With its high-end attachments, this model can efficiently take on any cleaning job, making the whole cleaning process much easier.
Design & Performance
The 20-Volt Max Lithium Flex Vac uses the lithium technology on its suction system and fitted with a high-performance motor to enhance its cleaning performance.
The Vac is lightweight, and measures about 16 inches long and weighs around 3.2 pounds, which makes it convenient to use.
Being small and lightweight ensures you can easily clean the stairs and other narrow places that would otherwise be a strenuous exercise.
The pivoting nozzle provides you with a high degree of motion for reaching areas with high altitude.
You can easily maneuver this Vacuum cleaner with less effort, using it to clean high areas like the tops of cupboards and other hanging objects.
The filter is very easy to empty. With just a press of a button on the side of the dust tank, it will come off. You can also wash the filter and reinstall it after making sure it's thoroughly dry.
Battery Performance
The Black & Decker offers a 20 volt of cleaning power from its lithium-ion battery that provides it with surreal suction and fade-free power. The battery can be fully charged in a few hours using the charging base station.
You are supposed to charge it for 24 hours when you get it out of the box. However, the intense power requires that there is a need for frequent charging.
There is also a charging light on the side of the Vac that will flash blue when it's charging.  When the light goes off, then it shows the Vac is fully charged.
Attachments
One of the most interesting features of the Black & Decker BDH2020FL is the plethora of top of the line accessories that come with this Vac. The tools are inbuilt, reducing the chances of loss and misplacing of parts.
The extras include pet hair tools, cleft device, and a two-in-one brush instrument. It also features three layers of filtration, cyclonic action, and a filter cleaning tool.
The Pet Hair Brush drives and makes pet hair disappear from your upholstery. The duster attachment is perfectly designed to remove dust particles from every nook and cranny of your house.
This handheld vacuum cleaner also features a 4-foot hose that is extremely flexible and also detachable. With the hose detached, you can get down into more detail work as well as clean tight and odd spaces. The crevice tool is just more than enough for cleaning tight corners, baseboards and other hard to reach places.
Pros

Cons

4-foot flexible hose makes this vacuum ideal for hard to reach places
Features a 3-stage filtration to capture dust and debris effectively
Washable and easy to empty filter
Larger dust capacity
Very solid unit with an amazing suction power
Relatively quiet but produces some amount of disturbing noise
Conclusion
The Black & Decker is the most efficient handheld vacuum cleaner on the market. With a brand name that has been in existence for almost a hundred years, Black & Decker lived up to expectations by ensuring that this particular model comes with extraordinary power that cleans much faster. Although this won't beat your upright vacuum cleaner, it's more than adequate for cleaning up dust and dirt in your house.
Buy Black & Decker BDH2020FL On Amazon
---
Black & Decker Dust Buster 16V is a great vacuum cleaner if you are looking for long-lasting battery power. This one is priced moderately and is ideal for a quick pick up.
Design & Performance
The blue, white and gray handheld vacuum cleaner has a curved handle for an easy grip.
At 3.4 pounds, this handheld vacuum cleaner is very light and compact, which makes it easy to use. The dirt cup is translucent so you won't have any difficulty telling when it is time to empty.
And when it comes to power, this Black & Decker has some cyclonic action that keeps strong suction. Although that strong suction does not come without issues, as the vacuum has been reported to be on the louder side.
Another great feature that users have reported is that the dust bowl and filter are both easy to remove and clean. The filter needs to be cleaned every couple of months, so this is a great feature.
Battery
The best feature of the Black & Decker 16V Handheld Vacuum is that battery charger and life. The Lithium-Ion battery can hold a charge for 18 months! That's right – 18 months without being charged. The only drawback here is that the battery cannot be mounted on the wall, but you can leave the battery on the charger and the smart charge technology uses 50% less energy than before.
Attachments
This is one of the best handheld vacuum with the crevice tool. It comes with a built-in crevice feature that is perfect for getting those hard to reach places. Although the nozzle isn't the longest of the bunch, it is slimmer and provides for 50% more reach. This vacuum doesn't have several attachments, so if you are looking for many different attachments and settings, then this is not the vacuum for you.

Pros

Cons

Battery Life, Battery Life, Battery Life
Great for quick clean jobs
Smart Charge Technology is more energy efficient
Loud when in use
Brush tip attachment is useless
Conclusion
If you are looking for long-lasting battery life and a small, compact handheld vacuum cleaner to get quick cleaning jobs done, then this is the perfect vacuum for you. With the Smart Charge technology, it is also a more energy efficient model.
Buy Black & Decker Dust Buster 16V On Amazon
---
This Blacks & Decker handheld vacuum cleaner is priced slightly higher than the previous one, but with this model, you are provided with the patented pivoting nozzle technology. This little guy runs longer and with much more power while being lighter and smaller than previous Black & Decker models.
Design & Performance
At 3.8 pounds, the Black & Decker Pivot Vac 20V has a sleek black and gray design with a curved handle.
The most noticeable feature here is the pivoting nozzle, which gets you more power in compact size and can help you hard to reach places like under cupboards and on top of fan blades.
The high-performance motor with cyclonic spic action and 3-stage filtration system also make this one of the best handheld vacuums 2019.
Users have reported that the filter flicker, designed to loosen embedded debris from the filter to improve suction, really does work and they see a more constant suction strength throughout their cleaning jobs.
One of the best features of this handheld vac is the ease with which you can clean it. Users have reported that popping the filter and dust bowl out and cleaning them is very simple and won't leave you feeling frustrated.
Battery Performance
The lithium technology battery, that this model has, provides for fade free power. There is a standing charging base, which is nice, but users have reported that this handheld vacuum cleaner can only run for about 15 minutes on a full charge. This is great for little cleanups but might not get you through an entire car cleaning in once charge.
Attachments
First off, for those looking for a handheld vacuum to remove pet hair specifically, this isn't the vacuum for you. There is no pet hairbrush, though you will find an onboard crevice tool, which extends the nozzle several inches. There is a brush, but it won't do you any good for removing pet hair from furniture, car seats or carpet.

Pros

Cons

Easy to clean
Pivoting nozzle is great for hard to reach spaces
Sleek, compact design
Very loud to operate
Not good for removing pet hair
Conclusion
Most handheld vacuum cleaners will need to have the filter and dust bowl cleaned regularly. If you are looking for a well-powered vacuum cleaner that isn't a hassle to clean or empty, then this is the one for you. The dust bowl and filter pop right out and make cleaning a breeze. This is great for those looking to clean quick messes, without all the hassle.
Buy Black & Decker Pivot Vac 20V On Amazon
---
Shark Rocket Corded Hand Vac (HV292) – Best corded handheld vacuum
If you are looking for a sturdy and yet lightweight vacuum cleaner that will provide efficient cleaning for all surfaces, then you can't go wrong with the Shark Rocket Corded Hand Vac.
The design of this unit is not only lovely but also hygienic and thorough in cleaning odd places.
Weighing less than 4 pounds, this handheld vacuum is ideal for quick pickups for cleaning small and hard to reach spaces, especially around the stairs.
Design & Performance
This portable Shark vacuum cleaner is one of the best corded vacuum cleaners available on the market today. The lightweight handheld vacuum cleaner is compact and engineered to clean smaller messes found around your stairs, furniture, and cars.
Shark Rocket combines efficiency and usability and offers a far superior suction that won't leave any dirt on your rug or carpet. It offers a twister cyclonic technology that provides consistent strong suction while cleaning.
The unit comes with an easy to empty dust cup. It also features two settings for both hard floors and carpet floors. So, if you got both hard and carpet floors this Vac is going to come in handy.
The Shark Rocket is more than adequate in tackling pet hair. As you may have known, some handheld vacuum cleaners are still yet to get their bearings right when it comes to removing and cleaning pet hair.
Perhaps, this may be because their suction power is less than a standard full size. In the end, pet hair just got tangled in those bristles. But I am happy to inform you that Shark Rocket exceeded our expectations by performing well in cleaning pet hair.
Battery Performance
The Shark Rocket is battery-free. The unit is powered by a 50-foot fade-free power cord, which can also be wrapped around for easy storage.
Although the cord may not be long enough to let you clean the whole room, it is better for deeper cleaning than other traditional Vacs that have their batteries go dead within some few minutes. So, that means you can clean as much as you want without thinking of recharging it.
Attachments
The Shark Rocket comes with a lot of options to customize this vacuum cleaner to do whatever you want with the machine.
The motorized pet hair brush is a real boon for pet owners. The motorized machine picks up embedded and stubborn pet hair and debris from all types of surfaces.
The dusting brush and crevice tool are very helpful in cleaning carpets, upholstery and tight places. With the crevice tool on the end of the hose, you can reach all kinds of tight places.
Pros

Cons

A motorized brush for picking pet hair
Excellent suction power for deep cleaning
Easy to use empty dust tank
Perfect for cleaning carpeted stairs and furniture
5 years warranty
The tip of the crevice tool isn't flat enough to vacuum most areas
The power cord may not be long enough to allow you clean the whole room
Conclusion
The Shark Rocket Corded Hand Vac (HV292) is an affordable and versatile handheld vacuum cleaner you can use to remove the largest amount of pet hair, dust, and small spills. If you like the idea of customizing your vacuum cleaner, then I would recommend considering the Shark Rocket handheld vacuum cleaner.
Buy Shark Rocket Corded Hand Vac On Amazon
---
Black & Decker Dust Buster 15V is the cheapest cordless vacuum cleaner on our list. It is lightweight and compact, but holds a long charge and is powerful for it's size.
Design & Performance
Like the other Black & Deckers, this handheld vacuum cleaner is white and blue with a translucent dirt cup.
The difference here is that this Black & Decker model has the largest dirt bowl at 31.8 ounces. The bowl and filter are also washable and easy to remove.
This cordless handheld vacuum cleaner comes in at 2.1 pounds, making it one of the lightest on our list. This is great for older consumers who might not have the arm strength to lift a heavier vacuum cleaner.
Also, just because it's light, doesn't mean that it isn't efficient. Though not a good wet vac, this one is excellent for hard surfaces and dry particulate.
Battery Performance
We got back to a Lithium battery here, which holds a long charge. That's good for anyone who is concerned about battery life. The unit can also be mounted on the wall and even though there isn't a charger indicator light, you can always leave it clicked into the charger due to the overcharge protection.
Attachments
While there is a push in Crevice tool and brush, there is no dedicated storage on the device or hanging accessory. That makes it difficult to keep track of and if you're like most consumers, simply putting them in a drawer or the back of a closet is a perfect way to lose them.

Pros

Cons

Extremely lightweight at 2.1 pounds
The cheapest cordless handheld vacuum cleaner on our list
You can leave it in the charger, which can be mounted on the wall
Large dustbowl (31.8 ounces)
No onboard attachments or storage for the attachments
Not good for wet particulate
No battery charge indicator light
Conclusion
Budget is a big thing to consider when purchasing a handheld vacuum cleaner. Chances are that you already have a full-size vacuum cleaner and this is just adding efficiency and ease of cleaning to your collection. That being said, if cost is a big player, then this is a quality handheld vacuum cleaner for the cheapest price.
Buy Black & Decker Dust Buster 15V On Amazon
---
Dirt Devil Scorpion Quick Flip – The most powerful and affordable corded handheld vacuum cleaner
We all know that cordless makes a vacuum cleaner easier to maneuver, but this corded handheld vacuum cleaner packs a suction filled punch! It's lightweight, but still able to suck up pebbles.
Design & Performance
For those looking for a vacuum cleaner that doesn't stand out, then this bright red handheld vacuum cleaner from Dirt Devil probably doesn't fit the bill. However, with its bagless, lightweight design and 7A motor, this bad boy has some strong suction.
The best thing about corded vacuums?
The power supply is continuous so there is no drop-off in suction power.
However, after 15 minutes of straight use, this Dirt Devil can get pretty hot so many people reported having to turn it off for a minute to let it cool. That probably won't be too much of an issue though, because there is a small dust bowl that will likely need to be emptied before you hit 15 minutes of use regardless.
no

Battery Performance
This is a corded handheld vacuum cleaner with a 16-foot cord. However, with the decreased mobility, comes increased suction power.
Attachments
The Quick Flip crevice tool allows you to clean in tight spaces very quickly, without hassle of attaching a different tool. It also keeps you from losing any parts. This Dirt Devil Scorpion Quick Flip Corded Handheld Vacuum also comes with a dusting brush, sliding brush and upholstery tool.

Pros

Cons

Continuous power
Strong suction
Very cheap price
The cord makes it slightly less efficient
Loud
No way to wrap cord
Smaller dust bowl
Conclusion
If you are looking for a cheap, corded vacuum cleaner that is affordable and lightweight, then you might want to consider this one – if you are okay with the small dust bowl, decreased maneuverability and heating up issues that are.
Buy Dirt Devil Scorpion Quick Flip On Amazon
---
Eureka Easy Clean – Best handheld vacuum cleaner for stairs
There's always that one chore that we put off, often going for months and months without completing – vacuuming the stairs. It's generally such a hassle, but the Eureka Easy Clean Handheld Vacuum is here to change that. This powerful and easy to use hand vac is designed perfectly to do just that.
Design & Performance
This vacuum cleaner is bright yellow and black with translucent dirt cup, which already crosses it off some people's list.
However, if you can get past the vibrant colors, the dual motors – one to power the revolving brush and the other for suction – will really amaze you.
The motorized brush roll also makes this the best corded handheld vacuum cleaner for carpet, as well as stairs.
Now onto the stairs cleaning portion. This model has a Riser Visor, which is a clear plastic cover that covers the brush roller. When in the normal position, the brush roll will clean flat areas. But when it is twisted down to expose the front, it is great to clean vertical surfaces, such as the carpet on stairs. For pet owners, we have to point out, that Eureka Easy Clean removes pet hair very effectively, according to Engadget test.
There is also no bag to change, and this vacuum has been reported as being quieter than a blender.
One thing to note is that at 6.8 pounds, it is a heavier unit.
Also, you cannot wash the filter with water while cleaning, which has some people irritated.
no

Battery Performance
This is a corded handheld vacuum cleaner with a 20-foot cord. You will note though, that with decreased mobility, comes increased suction power. This handheld vacuum cleaner has 5.5 amps of power, and the cord can easily wrap around for storage purposes.
Attachments
This vacuum has an onboard crevice tool and Riser Visor for carpeted stairs.

Pros

Cons

Fantastic for cleaning stairs
Cheaper
Cord is easily wrapped around to be put away
Quieter unit
You are constrained by the cord, which can be more of a hassle
Heavier unit at 6.8 pounds
Cannot wash the filter with water
Conclusion
If you are like most people who hate the idea of cleaning your stairs and put it off, this vacuum cleaner might be the answer to your prayers!
Buy Eureka Easy Clean On Amazon
---
Dyson V6 Mattress – Best handheld cordless vacuum for mattress cleaning
If you are in the market for a mattress cleaning vacuum cleaner, then the Dyson V6 Mattress Handheld Vacuum is one to consider. Although listed at the highest price on our list, this vacuum brings some unique aspects to the table.
Design & Performance
Dyson does not disappoint here when it comes to lightweight and compact design. At just 3.6 pounds, this vacuum falls into the middle of the pack and displays a nice white, blue and gray design.
One thing to note though is that some users reported that the vacuum is harder to hold due to its design, so that's something to keep in mind.
When it comes to power, Dyson is up to its usual quality. The digital motor v6 generates powerful suction to get deep into the mattress, and the two-tier radial cyclones help grab the microscopic dust and allergens.
This advanced vacuum cleaner has HEPA filtration, which captures 99.7% of particles as small as 0.3 microns, and the motorized mattress tool is designed to agitate the mattress to release dust and allergens. Thankfully, this unit doesn't just have to stay on the mattress, you can use it in other areas as well.
The suction on this unit cannot be beat! But at a high price point, you are certainly paying for that.
You will definitely want to take note that you should never suck up any liquids or wet particles with this unit, or you won't like the outcome.
Battery Performance
This battery-operated unit only takes 3.5 hours to charge and can get up to 20 minutes of powerful suction, with the option of Max Power Mode to produce 6 minutes of higher suction.
Attachments
None included.

Pros

Cons

Quieter than most vacuums
Fantastic suction
HEPA filtration
The cost may be a hindrance to some
Conclusion
For handheld mattress vacuums, this one simply cannot be beaten in terms of suction quality and HEPA filtration. However, there are endless benefits to this little vacuum that you can make use of if you are willing to pay a high price.
Buy Dyson V6 Mattress On Amazon
---
Bissell 1985 Multi Cordless – Best handheld vacuum for pet hair and versatile cleaning
The Bissell 1985 Multi Cordless Handheld Vacuum is specifically designed with pet owners in mind as the battle with pet hair can be quite frustrating and endless.
Design and Performance
The Bissell 1985 is an ergonomic and beautiful looking device that is lightweight and has an incredible suction power. Weighing just 3 Ibs, the Bissell offers you more cleaning control and flexibility.
It has a lithium-ion battery cell that goes on the bottom and a rubberized handle with a trigger switch on the back. At the top, it features two LED headlights that allow you to see everything you're vacuuming.
The built-in extension hose and wand allow for maximum cleaning and versatility. You can quickly pull out the extension Hose from the nozzle to give you the needed flexibility to clean hard to reach spaces.
The Bissell 1985 is a big relief when it comes to cleaning baseboards, window sill and other nooks and crannies of your house without being restricted by a cord.
Did I forget to tell you that it's cordless? That means you can use it in your car, ceiling fan and other tight corners in your house. When it comes to removing dirt from your car seat and carpet, you can always count on the Bissell 1985 Multi Cordless Handheld Car Vacuum.
Battery Performance
The Bissell 1985 Vac features 22 volts, 2000 milliamp lithium battery which gives the unit a fade-free power that can take you up to 15 minutes. However, the charging cord seems to be quite small, and you won't get more than 15 minutes from every charge.
Attachments
The Bissell 1985 Multi Cordless comes with lots of specialized tools that are securely stored to make your cleaning much easier and fun. Some of these specialized tools include a motorized brush roll for cleaning pet hair and dirt from carpet areas. You'll get a dusting brush that gently sucks up dust and debris in an easy to use trash bin for quick and hygienic emptying.
This handheld vacuum also features velvety pads that can be attached to the hose for cleaning carpeted floors. It also offers an extended arm that allows you to vacuum any hard to reach places like your curtains, ceiling fans and the corners of your steps.
Pros

Cons

Ideal for cleaning pet hair on carpet floors
High performance and suction power
It gives you unrestricted movement
Lightweight and compact design
Only 15 minutes usage on full battery
The charging cord is too small
Conclusion
The Bissell 1985 Multi Cordless Handheld Car Vacuum Cleaner does not only clean carpeted floors but can also clean your car, upholstery, cushions and even your ceiling fans. The fact that it isn't heavy makes it easy for you to clean odd spaces in your house.
Although the battery life isn't that impressive, the powerful suction and the lightweight design will enable you to finish the cleaning before the battery eventually goes down. If you're looking for the best handheld vacuum cleaner that will make all your cleaning jobs a lot faster and easier, then the Bissell 1985 is for you.
---
The Result: Editor's Choice
The market for handheld vacuum cleaners is extremely saturated, with products ranging in price, battery type, suction strength, cord type and even design and colors. Truthfully, there probably is no "perfect" vacuum cleaner for you, rather several quality options. When looking for a handheld vacuum cleaner from our list, first come up with a price range that you are looking to spend in. Then determine if you want corded or cordless and from there, begin to consider what types of batteries, attachments, and suction they possess.
Based on the research done here, we simply cannot recommend just one top-rated handheld vacuum cleaner. The Dyson v6 is by far the best handheld vacuum cleaner in terms of technical features and technology like the v6 motor and HEPA filtration, but it is obviously much pricier than all of the rest. If we're really taking budget into consideration, the Black & Decker Pivot Vac 20V Max looks the best when considering suction power, battery life, and weight. The Black & Decker Pivot Vac 20V Max is relatively light compared to the rest on the list, has great battery power and pivoting nozzle allows you to reach places that other vacuums cannot venture.
Handheld Vacuum Cleaner Buyer's Guide
When you are buying a handheld vacuum cleaner, there are many things to consider, such as battery type and life, suction power, corded vs cordless and attachments.  Here is a list of things to consider when selecting the best handheld vacuum cleaner for you.
1. Cleaning Power
When looking for a vacuum cleaner, it is necessary to define what exactly you need to clean, such as a car, pet hair, carpet, stairs, hard to reach places etc.
2. Corded vs Cordless
With a cordless vacuum cleaner, you have much more maneuverability, but you often lose some power and are limited by how long the battery lasts. A corded vacuum cleaner will run indefinitely and with continuous power, but you are limited by how far the cord reaches.
3. Types of batteries
The best choice is lithium ion battery because it holds a charge far longer and charges more quickly than Ni-Cd or Ni-Mh battery. Also, you can leave a vacuum with a lithium battery in the charger without fear that you will damage overall battery life. So, your little friend will always be ready to work. But don't do it with vacs that have Ni-Cd (Ni-Mh) battery!
4. Running time per charge (for cordless vacuums)
When you have a little, easy to clean mess, you can choose a vacuum with more power and less running time. However, if you are looking to vacuum an entire car or the stairs in one battery charge, you will want to choose a handheld vacuum with less power, but more running time per charge, which will save you time from waiting for it to recharge.
5. Higher Voltage Rating
For those that don't know about power, this is a biggie. The higher the voltage rating, the more powerful a handheld vacuum cleaner will be. You will want a voltage rating of at least 15.6 volts, while some go all the way up to 20 volts.
6. Strong filtration
You will want strong filtration to keep dust and debris from re-entering the air after you vacuum. If possible in your price range, a HEPA filter is a great feature!
7. Lightweight
You might not think 5 pounds is heavy, but when you're holding it in the air for 15 to 20 minutes, you might think again. The lighter the better!
8. Clear, Large & Bagless dirt bowl
When it comes to your dust canister, bagless is the best way to go. This makes them easy to empty and clean, which makes your cleaning job less of a hassle. Also, by having a clear canister, you will know exactly when it's time to empty.
9. Washable Filter
This might not seem like an important feature, and to you, it might not be, but having a washable filter allows you to avoid purchasing costly replacements every month or so.
10. Included Attachments
Most handheld vacuum cleaners come with an upholstery brush, crevice tool, and dust brush. But not all. These included attachments can also affect the price, so you have to decide how important it is to increase the vacuums versatility. Anyway, as a general rule, all manufacturers offer an additional tool kit for your vac.
11. Docking
Another thing to consider is where you will be storing the vacuum. If you are planning to hang it in a closet, be sure that the unit and charging station are wall mountable.
12. Design
Undoubtedly, with a vacuum in your hands, you will want to look stylish even during the home cleaning! 🙂