The Roomba is quickly becoming one of the most popular automated machines that are now becoming a common sight in American homes. A Roomba, for those that don't know, is an automated vacuum cleaner that cleans your house for you. It can be programmed to follow a certain set of instructions and, through them, you can completely automate the vacuuming of your house.
This vacuum cleaner is so popular in fact, that it has come out with multiple series of Roombas and each of those series has distinct features that are native to them. Today we will discuss two Roombas from the 800 series, and compare and contrast them to see how well they stack up against one another. Before we get into that, we'll first see what the 800 series has to offer in general.
iRobot Roomba 800 Series Features:
The 800 series is one of the most successful Roomba series because of all the features that they have and what they can offer in terms of an automated vacuum. Here are all the features that come with all the Roombas in the 800 line.
Low Battery Detection: With Roombas in the older lines such as the 600, the Roomba is able to detect when the battery is low and will start emitting a sound to let you know that it needs charging. That is not the case with the 800 series. All Roombas in this series come equipped with a smart battery to management which they can use to see when their power is running low. When they detect that their battery is getting low they will automatically rush to the charging station that you get with the Roomba. The Roomba knows where the charging station is and goes to it to charge itself up. This way you don't need to worry about ever having to recharge the Roomba as it will charge itself when it needs to. This feature allows you to set up the Roomba to a pattern that you like and thus you don't even have to be at home to make sure that it's working.
Programmable Scheduling: As mentioned before, the Roomba is programmable but what does that mean exactly? It means that it can be set to follow a certain schedule. That means that you can decide when it will clean and where it will clean. This way you can have it set up so that it cleans your home while you are away at work. This feature is not only native to the 800 series as any Roomba after the 650 can be programmed to follow a schedule.
Aeroforce Suctioning: The 800 series is particularly remarkable because it contains the Aeroforce suction that can suck at 5 times the power than previous suctions. This means that it is able to pick up more debris, all the while being faster. The Aeroforce suction is something that is only native to Roombas by iRobot and for good reason. This feature makes their Roombas, especially the 800 series, a force to be reckoned with. The Aeroforce suction works incredibly well on dust, hair, and dirt which makes the 800 series for inner-city living.
Brand New Cleaning Process: The 800 series was innovated for a number of reasons and the cleaning process is one of them. Unlike other automated cleaning vacuums, the 800 series features a 3 stage cleaning process. The 3 stage process is able to eliminate more debris than others because of the unique actions that it takes. The first stage is agitate. Through the brushes that this Roomba has, it is able to disturb any debris that is lying around and open it up to the second stage. The second stage is brush. Through the brushes, it then proceeds to brush the area where the debris was. This way it gets rid of any stains that the debris may have left behind meanwhile making sure that the dust that is embedded is freed. The last stage is that of the suction. It sucks all of the debris up in an instant so that none is left when the Roomba moves. These processes take place instantaneously and make sure that the Roomba cleans perfectly wherever it goes.
Debris Detector: The 800 series also comes with unique sensors. These audio and visual sensors allow the Roomba to detect any form of debris that is trapped anywhere. It then targets these clumps of debris to get rid of them especially. This feature allows the Roombas in this line to make sure that they don't miss any hidden areas such as corners and clean the area they are in exceptionally well.
Related Article: Best Robot Vacuums 2019 – Buyer's Guide
iRobot Roomba 805 vs 880 Comparison Chart:
| Features | iRobot ROOMBA 805 | iRobot ROOMBA 880 |
| --- | --- | --- |
| HEPA Filters | X | X |
| iAdapt Navigation | X | X |
| Wi-Fi | X | X |
| Battery Type | Lithium-Ion | Ni-Mh |
| Virtual Walls | 2 | 2 |
| Suction Type | Aeroforce | Aeroforce |
| Price | Click to Check Price | Click to Check Price |
The 805 is one of the most average Roombas in the 800 line. That doesn't mean that it is bad though, in fact, it means the exact opposite. The 805 is one of the first in the series which means that it doesn't come with a lot of features but the price that it comes with is one of the most attractive that you will find anywhere. The 805 does have all the features that are included in the 800 in the line but it doesn't come with any fancy bells and whistles.
It's a perfectly average Roomba which makes it perfect as a starter Roomba. The problem most people face with Roombas is that they don't know if it will be worth it or not. It is quite an investment because of the high price tag which can deter most people from ever purchasing one. That is where the 805 comes on. The 805 has enough features that it is still a really good automatic vacuum but enough is left out that it becomes affordable.
This Roomba is meant to last for a while so that first-timers can see why a Roomba might be worth the investment. Unlike some in the 800 line, this Roomba comes with a Lithium-Ion battery which is known to last for a while. That doesn't mean that it increases the run time, instead, it means that the batteries will last longer than others. You will have to change them less frequently and thus can save up on battery costs as well. This makes this Roomba great if you want to get a Roomba for the first time and you're not sure whether it will be worth it or not.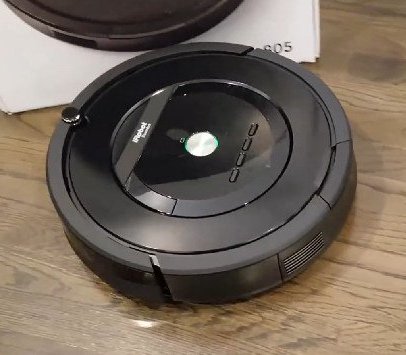 iRobot Roomba 805 Review:
As said before the 805 is an average Roomba but it's actually one of the best in the line. The rating for this one has to be an 8/10 because how accessible it makes Roombas for everyone and allows anyone to own a Roomba. The Roomba has a very decent battery life and allows you to clean your home very easily. The Roomba comes with all that you need which is a charger and the mount.
There is one thing though that might make this Roomba undesirable for a few people. This Roomba doesn't use HEPA filters. HEPA filters are able to catch particles that normal filters can't. These particles include dust mites, cigarette smoke, and pollen. These substances can be extremely harmful for people with allergies. These substances can potentially cause an allergic reaction and thus put the health of the person in peril. That is why this Roomba doesn't get a 9. The HEPA filters also make sure that you are able to clean the filters easily. If you clean the filters of this Roomba you are looking at a bunch of particles flying towards your face and potentially starting an allergic reaction.
That warrants that care be taken when handling the filters. It's not all bad though. This Roomba comes with a lot of great features and is one of the best starters out there. It can get the job done at an affordable price and that is the thing that matters with this particular Roomba.
Related Article: iRobot Roomba Comparison: Best Roomba Models to Buy
iRobot Roomba 805 Features:
The biggest feature that this Roomba has is the battery. You might think that that is weird but it's actually true. This is because this model comes with a Lithium-Ion battery whereas the 880 comes with a Nickel Metal Hydride battery. There is a huge difference between the two types of batteries and you would not believe the arguments that people get into which type of battery is the best. The basic premise of the argument is that the Lithium-Ion battery lasts for longer whereas the Nickel Metal Hydride doesn't last as long but is safer because it doesn't explode if it's overcharged, it just fizzes out.
The Lithium-Ion battery is also a feature because it lasts 3 times as long as Nickel Metal Hydride batteries. That means that you can save on the costs of batteries because you won't have to buy them as often, and they are cheaper than Nickel metal Hydride ones.
That feature may put you off of the 805 but it's nothing to worry about. Battery technology has come a long way and you won't have any problems with exploding batteries. The best feature though, is the price. This Roomba will cost you about $450 which is very decent for a Roomba. At that price, it's a steal because it has some pretty decent features that are in the 800 series. The reason why the price is listed as a feature is because it is hard to find a good Roomba at a low price.
This Roomba's price is the best feature that you could ask for because through this price you can experience all that a Roomba can do for you without having to get a higher end one. This price makes this Roomba perfect for people that have not owned one before and want to try the product out. This particular model is one that we would classify as a starter set and that is what sets it apart from the rest. The rest of the Roombas in this line are pretty heavy duty and they cost a lot to match so you're making a safe choice if you're getting this one. It's dependable and long lasting, what more could you ask for?
Even with the low price, this Roomba has some pretty good features. One of those good features is the virtual wall system. Now the 880 also has a virtual wall system and both are quite distinct from one another. In this Roomba the virtual wall system allows you to set a parameter to the Roomba so that it only cleans in the specific area. It will not leave that area and will keep cleaning that area until it is done. This is especially useful if you want to confine the Roomba to a specific area because it needs more cleaning or if you don't want it cleaning somewhere because your pet or kids are there then you have the option to do so.
The 880, in stark contrast to the 805, is one of the high-end Roombas in the series. That's why it comes with a load of features that you won't find in the other Roombas. Overall this is one of the more expensive Roombas and you could be looking at a price of over $600 but right now Amazon is offering a huge sale on these Roombas. It would cost a lot more than its current price but because of the sale, you can pick up this Roomba for only $330. That seems incredible but it is true. Just because of this sale price this Roomba gets a high rating as well, coming in at a solid 8/10. There are a few reasons why it didn't get a nine and we'll cover those in the review.
iRobot Roomba 880 Review:
This Roomba has a few negative features that will be included in the review. The first problem that we have with the 880 is the fact that it has a Nickel Metal Hydride battery. Now there's nothing wrong with the function of the battery. Its run time is the same as the 805's but the problem is the lifetime of the battery. Nickel metal Hydride batteries typically last two thirds less than a Lithium-Ion one. They also cost a bit more which makes sense because they are safer.
The fact does remain though that you will end up spending more on batteries with the 880. Other than the battery, the price is also worth mentioning. At its normal price, it would cost you upwards of $600 but because of the amazing sale that Amazon is running right now, you can get this Roomba for only $330. That is a bargain because it has some really cool features.
iRobot Roomba 880 Features:
There are a lot of cool features that this Roomba has. The first is the multi-room navigation feature that this Roomba has. Using this technology this Roomba can navigate in and out of rooms without any assistance. This is a great feature if you want a more autonomous cleaning machine. This Roomba also comes equipped with better navigation capabilities which allow it to move around corners better and make itself function better by not banging on furniture and walls.
Our Pick – iRobot Roomba 880:
Normally we would go with the 805 because we love the affordability of it. A Roomba like that at that price is a steal, but this time the winner has to be the 880. The 880 wins because of its sale price when comparing the Roomba 805 vs 880, and the fact that it has a bunch of cool features is even better. The fact that it is able to move from room to room easily is a no-brainer. This means it has better mobility and spatial awareness, which makes the 880 the Roomba to be considered over other options.