We believe that showing your love for Him shouldn't be limited to the weekly service; it should show in your day-to-day life. Therefore, these amazing Christian apparel items are here to make your wardrobe stylish and positive simultaneously.
You can get some superb Christian tees, hoodies, and other apparel items to relay positivity every day. Moreover, these nicely tailored shirts and hoodies ensure you carry your fashion statement regardless of the occasion. Whether you need a light tee to rock your summer look or a cozy hoodie to stay warm during the winter chills, check out the options down below and find your desired Christian apparel right away!
A V-neck black tee never goes wrong, no matter the day. You can wear this blessed black tee to work, school, or regular friends hangouts and feel comfortable all the while. It's made from 100% soft cotton, which is best for humid days. This stretchable tee comes in all standard women sizes, ensuring you find the perfect fit. The jet-black base and white printing create a beautiful contrast, proving to be your go-to t-shirt.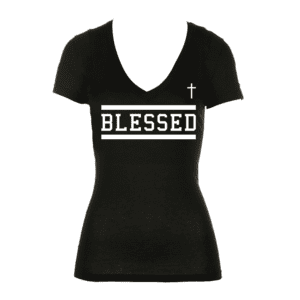 Features
100% cotton material means this tee doesn't feel stiff while you wear it. Instead, it offers good elasticity, making sure you feel comfy all the time.
The lightweight cotton is best for hot, humid days when heavier apparel items are a no-no. You'll feel light and comfortable in this blessed tee; try and see.
If summers give you rashes, resort to this soft tee-shirt that feels breezy even during scorching heat.
Finding the best Christian apparel for winters isn't difficult when you have this classy women hoodie to the rescue. Made from a blend of cotton and polyester, this blessed hoodie is the perfect choice for fashion lovers. You'll enjoy a tailored cut and soft ambiance with no compromise on the fineness, either. This pull-over women hoodie has banded cuffs that protect you from wind chills, ensuring your body is always wrapped. The light pink color is equally good for everyday and occasional wear.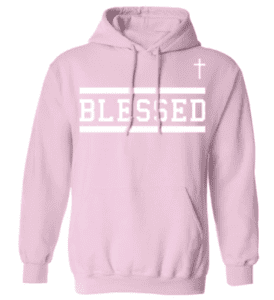 Features
This hoodie has banded cuffs that wrap your wrists, eventually blocking wind.
The easy-to-adjust cap makes this hoodie a good pick for winters, as it greatly protects your head from getting cold.
The beautiful girly pink color is this hoodie's highlight, making it a hot-favorite amongst Christian women.
If you want to remember God's promises during the dark times, there's nothing better than calling for the Holy Spirit to come and help you through. This black come holy spirit hoodie is explicitly designed for gym-goers and daily wearers. If you can't bother an apparel item's outlook after regular usage, get this durable black hoodie and forget worrying about shedding threads or fading colors. There's a 3D dove print at this hoodie's back, adding to its subtle beauty. Don't let yourself fall prey to pessimism, pull on this chick hoodie, and feel lifted.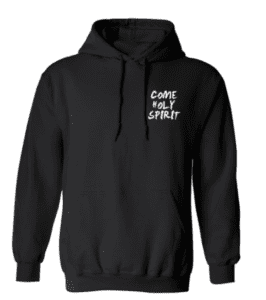 Features
This hoodie's front side says "come holy spirit" while there's a beautiful dove at its backside.
Come holy spirit hoodie is 100% cotton, proving to be good for all weathers.
You'll feel nicely embraced and warm in this classic cotton hoodie, thanks to its pull-over design.
Number 33 holds immense significance in every Christian's life; it reminds you of Jesus's sacrifices, struggles, and achievements. This classic believer tee says 33 on both sleeves and backside, constantly reminding you of Jesus's presence around. This crewneck jersey is 100% cotton, which doesn't shed threads or lose shine after regular usage.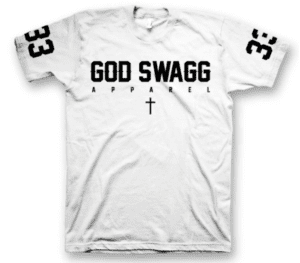 Features
If you avoid tight-fitted clothes, this exclusively tailored jersey ensures you feel comfortable and stylish simultaneously.
Thanks to its soft cotton material, this jersey is suitable for all weathers. You can wear it on blazing hot days or pair with your winter hoodies; the choice is yours.
If you need a jersey tee for regular wear, this one is the best bid. Its durable 3D printing and high-contrast colors present an amazing look!
Who said cool Christian apparel is limited to tees and hoodies? These black chosen shorts will dash some spark to your closet and become your statement style within no time. Whether you pair these classy chosen shorts with a sweatshirt or tee, you'll surely love the final look.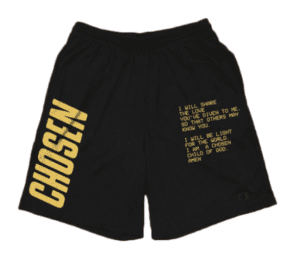 Features
If you prefer contrasting colors, these black and gold chosen shorts are here to the rescue. With some uplifting words and a shiny print, these shorts will compliment your fashion sense to the fullest.
These classy shorts are tailored to fit and compliment your attire nicely. You can wear them to the gym, jogging, or a pool party; these cool shorts never disappoint.
Soft cotton material is an excellent choice for everyday apparel because it's wearable in every weather.
If you love slim-fit clothes that also feel comfortable, this black tee will suffice your requirements. Its crewneck cut and lightweight material make the perfect combination for everyone. The high-contrast printing and washable cotton add to this shirt's durability, proving to be a long-term addition to your wardrobe.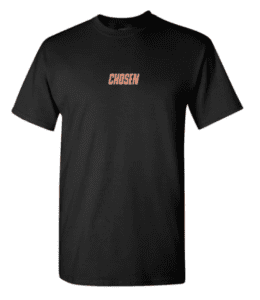 Features
The lightweight cotton construction doesn't make you feel suffocated and nicely wraps your body as you move around.
Want to flaunt your athletic body? This slim-fit tee should be your priority!
This tee's frontside says "chosen" while there's a big smiley on the backside, adding to its beauty.
If you're looking for a comfy and stylish tee-shirt that also goes easy on the pocket, check out this beauty. Its light cotton construction and high-quality printing make it a worthwhile addition to your wardrobe. Get this stylish crewneck shirt, and remember that you're blessed with God's love all the time.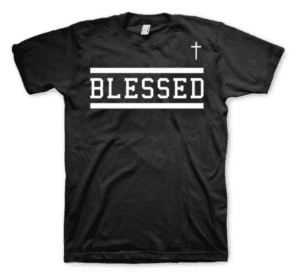 Features
Its standard crewneck cut makes it a dependable choice for daily wear, no matter the weather.
100% cotton will keep you breezy and comfortable simultaneously. Wear it to school or a pool party; you'll never feel suffocated in this blessed tee.
The Cross Sign and Blessed print won't fade with time, as this is a machine-safe tee.