? 5 Best Vacuums for Stairs 2019 – Buyer's Guide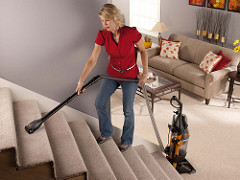 No one likes to vacuum their stairs.
When is the last time you vacuumed your stairs? Honestly, when is the last time?
It is an arduous task that often is swept under the rug or ignored completely. No one likes dragging out a vacuum cleaner and lugging it up and down the stairs. There is a better option though!
There are vacuum cleaners that are great for vacuuming stairs and make the job much easier. That is why throughout this article we detail what the best vacuum for stairs 2018 is.
Whether you like carpet cleaners, handheld vacuums, upright vacuums or canister vacuums, we have an option for you.
Which Vacuum for Stairs to Choose
You obviously want a vacuum cleaner that has strong suction when you are cleaning your stairs. These are some of the most worked over areas of carpet or rug in your home and you want to ensure that they get the best clean possible.
When looking for the best vacuum for stairs 2018, having a lightweight vacuum is key. At some point during your cleaning, you will usually have to move the vacuum from one floor to another, so having a light vacuum cleaner makes this job much easier.
Canister size doesn't matter much here because stairs have smaller surface area, but you will definitely want a vacuum cleaner with a long hose.
When not using a handheld vacuum, the longer the hose the better, because it means you won't have to lug the vacuum cleaner up and down the stairs as much.
You will also want to make sure that your vacuum cleaner has a variety of attachments. A crevice tool or turbo brush is a nice addition, but anything that increases the surface cleaning area of the hose is essential.
When you are going through your research and trying to determine what the best vacuum for stairs is, chances are that you come across the debate of what type of vacuum is the best for cleaning stairs.
Will an upright vacuum give you the best cleaning, or is it too heavy to lug around? A handheld vacuum is the easiest to use, but will it have enough battery power to get the whole job done? What about a canister vacuum?
With different types of vacuum, it might not be easy to figure out the best option.
While you can use any of the vacuums listed above, the absolutely best vacuum for stairs is a lightweight canister vacuum with a longer hose. This type of vacuum allows you easy maneuverability, but strong cleaning power than a handheld vacuum cleaner.
From the five awesome vacuum cleaners on our list, we choose the Shark Navigator 365E as the best vacuum suitable for cleaning stairs. Although this is listed as an upright vacuum, it has a lift away canister. This makes it extremely versatile.
But you can consider other types of vacuums for your needs.
Best Vacuums for Stairs in 2018
A canister vacuum will make for the easiest and most efficient stairs cleaning, but not everyone has the budget or space conducive to adding a canister vacuum to their cleaning machine arsenal. That is why we list the five best vacuums for stairs, regardless of vacuum cleaner type.
Shark Navigator NV356E – Best Upright Vacuum for Stairs
The Shark Navigator NV365E is just a great all around upright vacuum cleaner. It has anti-allergen technology and a HEPA filter that keeps your air cleaner.
What makes this upright vacuum so great on stairs is the lift away canister. This gives you the incredibly strong suction of an upright vacuum cleaner, in the body of a canister vacuum.
The 30-foot cord also ensures that you can do an entire flight of stairs without replugging the unit.
The wand tool is very powerful and this makes the Shark great for stairs. By attaching the crevice tool or upholstery brush to it, you can easily clean your stairs in a quick and efficient manner.
Check Lowest Price
Read review 
---
Hoover FH50220 –

Carpet Cleaner with Cleaning Stairs Function
When you think of the best vacuum for stairs, a carpet cleaner probably doesn't pop into your head. However, you need to hear us out on this one!
This vacuum cleaner is lightweight at only 22 pounds. It also has a cord that will reach up an entire flight of stairs.
The patented SpinScrub technology will also ensure that your stairs get impeccably clean. SpinScrub technology utilizes 60 rotating brushes that get deep into the carpet, and this is accompanied by strong suction.
Though it only has one attachment included, the Hoover FH50220 has a 9-foot hose so you might not even need to move the carpet cleaner up the stairs to get the whole job done.
Check Lowest Price
Read review 
---
Eureka Easy Clean 71B –

Best Handheld Vacuum for Stairs
At just 6.8 pounds, the Eureka Easy Clean 71B is hands down the best handheld vacuum for stairs.
It has dual brushes, one for suction and one to power the revolving brush. This alone makes it a valuable asset when it comes to cleaning steps.
The unit is also corded, but while some see this as a drawback, we see it as an asset.
When cleaning stairs, you want suction power that will last. With a 20-foot corded handheld vacuum, you get the lightweight maneuverability, with suction power that doesn't fade after 10 minutes. You get that with the Eureka Easy Clean 71B.
Check Lowest Price
Read review 
---
Hoover BH52160PC –

Another One Handheld Vacuum for Stairs
Hoover is a strong brand name and this Hoover handheld vacuum delivers.
At just 2.1 pounds, this little handheld vacuum is perfect to do a cursory clean of your steps.
It is also cordless, so as long as it is charged, you just need to grab it and go. With a 20-volt lithium battery, you will get about 10 to 15 minutes out of it when fully charged.
It has strong suction and the vacuum is quiet, which is a plus.
The Powered Turbo tool sets this handheld vacuum above others in its class. It provides an extra suction boost, and the crevice tool will let you get into the nooks and crannies of your stairs.
Check Lowest Price
Read review 
---
Bissell 4122 –

Best Canister Vacuum for Stairs
At 8 pounds, the Bissell 4122 is a canister vacuum that is fantastic for cleaning stairs. It is one of the lightest canister vacuums on the market, which is a plus when cleaning stairs.
The Bissell packs 10 amps of power and comes with a 17-foot power cord that allows you to maneuver a flight of stairs with ease.
With a large floor brush and smaller suction brush, you can easily clean the surface of your stairs.
It comes with a long hose as well, so you won't have to lug the canister vacuum up and down the stairs as much.
Check Lowest Price
Read review 
---
[adinserter block="1″]