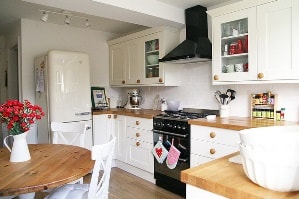 How to organize a kitchen is a thing women think of all the time. As a kitchen is an area that is used the most and a place that women love to organize and decorate. And a clean kitchen shows how much cleanliness lover you are. A clean and simple to use kitchen will make your life easier. In this article, we would give you few tips on how you can organize your kitchen.
How to Organize a Kitchen
1. Empty the cabinets
First of all, empty your cabinets.
If you recently shift in a new place, the cabinets would be empty, but yes, they need to be cleaned.
While it comes to the house, you are living for a long time and just got an idea on how to organize your kitchen then pull out everything out of our cabinets.  There must be some remaining, broken items and things you may forget discard all this stuff. Do the same with each cabinet and drawer.
Many of the kitchens have small storage, therefore, create an area for each group of an item.
On pulling things out of the cabinet does not mean to throw them here and there in kitchen place them in groups as well along with keeping the useless things on a side so that they do not mix up with the others.
2. Group items
Once your cabinets are an empty group the items that will be placed in the cabinets.
Group items regarding their use and type of daily use items are placed in one cabinet and baking items in the other. That will make it easier for you to look for anything and will not waste your time in finding anything. Group the daily use crockery and utensils in one cabinet and the occasionally utilized in the other.
3. Organize cabinets
Once you are done with a grouping of the items, put those items in the cabinets and organize the cabinets.
Daily use cooking and baking items must be placed close as you will need them time to time. Keep the utensils in the prepared or at least near to it. So, that you do not need to move back and forth for the different item you need. Keep the cups and mugs in the cabinet near to the coffee area.
Once you are done with the cabinets, half of your kitchen work is done.
4. Clean your sink and organize
After your cabinets are organized it is time to clean your sink and make use of the space around your sink.
Install sink drawers that tip out. You can put soap and sponge in those drawers so that they remain near the sink. You can also keep a towel or tissue papers in there that will help you to dry your wet hands. If there is some space beside your sink, place an over-the-sink cutting board. You can do your cutting work there. It will reduce the waste and keep your kitchen clean.
5. Refrigerator
After your sink and cabinets are organized, it is time for the refrigerator.
If your kitchen has some space, the best option is to place your refrigerator inside your kitchen as it will decrease your movement from side to side.
Clean your refrigerator every week and throw away the bad things. Do not stack each and every leftover in your fridge. Keep those that you will use or need.
As a refrigerator, cleaning is also an important part of organizing the kitchen. Like the food, you will cook will go in there.
6. Use bare sides of the cabinets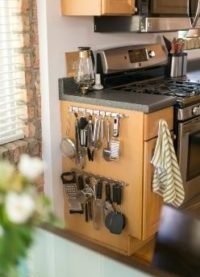 Place the remaining utensils like spoons or other hanging items in the open sides of the cabinets.
As some of the kitchens have small storage, therefore, utilize each space cleverly. But make sure to hang these beautifully and clean them time to time.
You can also hang rags and pot holders inside your cabinets.
7. Use containers
Use containers for grouping your items inside the cabinets.
Keep the packets of different spices and foods in a clear container that will avoid the scattering of them. As if any of the spices is strewed will result in cleaning the cabinet again.
8. Sort papers
Hand a magnetic sorter box on the side of your refrigerator.
Keep takeout menus, coupons, a notepad, and pen or other papers. Make the section for each type of the journal.
9. File rack
Use file rack for organizing the lighter items like baking sheets.
By keeping them in frames will make them look good and organized. It will also make it easy for you to find the desired baking sheet.
10. Place Pocket Hanger
Do not leave any space in your kitchen and use each space cleverly.
Place pocket hooks under your sink area. Keep the remaining brushes, gloves, and other stuff you will need for washing utensils.
11. Rotating trays
Use rotating trays for holding things like oil, vinegar, and other such ingredients.
You can also use those trays in your refrigerator for pickles, small jars, and other leftovers.
12. Hang pans and pots
If your kitchen has space, hang your pans and pots on one side.
A simple rail from the ceiling can be used for this purpose.
13. Pan Dividers
Use pan dividers inside your cabinets and between pans.
So, that you may not waste your time in finding the container of required size you need.
Pan dividers are available easily in different stores and are quite cheaper.
14. Cleanliness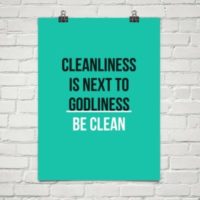 The most important thing is kitchen cleanliness as organizing kitchen may be done once in a year, but cleanliness is everyday chores.
You kept all your items organized, but do not clean them on a regular basis will make your kitchen look untidy. Clean every piece from time to time. And it will make your kitchen appear as a must-see part of your home.
Your personal style will, after all, determine where you will keep and store the things. Above mentioned are few ideas that will help you in getting answer of how organizing your kitchen and making use of every space. But the ultimate decision is up to you.
Invest some time and energy in organizing your kitchen and it will pay off happiness. After reading all the tips organizing your kitchen is a fun thing, we hope.