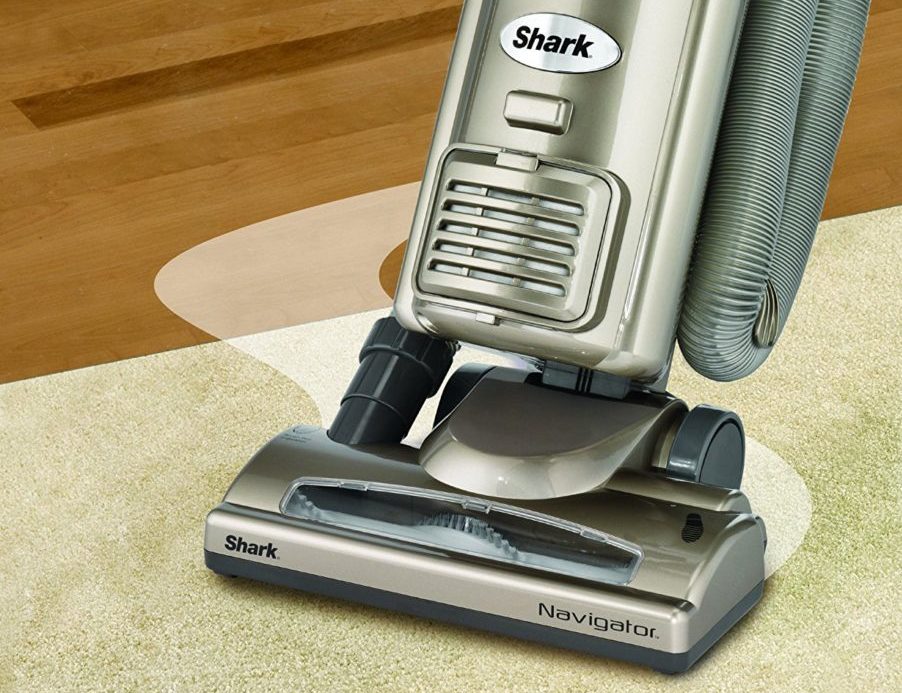 The best vacuums under $200 have more to offer than you might think! Do you really have to spend an arm and a leg to purchase a quality vacuum? While some big-named vacuums can set you back hundreds or even a thousand dollars, there are a plethora of what my grandma called "sweepers" available on Amazon for under $200. Each has its own design and comes with different attachments. Read on to discover a list of the best vacuums under $200.
Our Favorite Vacuums Under $200
It's not a surprise that several Shark products made the list for the best vacuums under 200 dollars. SharkNinja has been designing small household appliances and vacuums since the mid-1990s. This first Shark product that is featured costs well below the $200 limit and is the perfect vacuum for those with allergies[/vc_column_text][/vc_column][/vc_row][vc_row][vc_column][vc_column_text]

Buy Shark Navigator Professional

The Shark Navigator Professional is an upright vacuum that can be used for carpeting and hard floors. The collection canister and hose can be lifted away from the base unit. That way, you can vacuum stairs and other hard to reach areas. Click the collection canister and unit back into place, and you quickly have a traditional upright vacuum cleaner again.
As an upright, the Shark Navigator Professional offers swivel steering to make it easy to maneuver around pieces of furniture and your lazy Goldendoodle.
Those who suffer from allergies will appreciate that the Navigator Professional traps 99.9 percent of dust and allergens inside the vacuum. The anti-allergen complete seal technology and HEPA filter account for that. Even though allergens, dust, and debris go into the vacuum, only clean air leaves it. You won't have to stop vacuuming to empty your dust cup very often with this machine. The dust cup capacity is 1.2 dry quarts.
The brushes at the bottom of the unit can be switched off easily so you can move from vacuuming between carpet and bare floor.
The Shark Navigator Professional is blue and weighs only 13 pounds. The company offers a five-year limited warranty.
Shark also makes the next vacuum on the list, and this unit is even less expensive than the previous vacuum.
Top Related Article: Best Vacuum for Allergies[/vc_column_text][/vc_column][/vc_row][vc_row][vc_column][vc_column_text]
---
The Shark Navigator has many similarities to the Professional model discussed earlier. It, too, offers the lift away feature so users can remove the canister and hose to reach tricky places around the house. Even as a traditional upright, the vacuum is only 12.5 pounds, so imagine how light and easy it will be to use as a canister.
The Navigator can be used on carpeting as well as hard surface floors, but there is not a fingertip control to switch back and forth between the styles.
The Navigator also offers swivel steering that allows you to maneuver around your kitchen chairs and your sleeping German Shepherd.
Like the previous product, the dirt and debris are trapped in the collection container after being run through a HEPA filter. Those of you with allergies will enjoy a pollen and allergen-free home, or at least as close to it as you can get.
What is the difference between the Navigator Professional and the Navigator? There really seems to be only one difference, and it has to do with the tools that come with the unit. While the first listing on Amazon did not list the tools that came with the vacuum, this product's listing says that it does not include the pet power brush. It can be assumed that the Navigator Professional costs more than the regular Navigator because the pet power brush is included with that item. In general, pet power brushes rotate to dig your pet's hair out of the fibers of your carpeting and upholstery.
The Navigator also comes with the dusting brush, the 5.5-inch crevice tool, and the 24-inch bonus crevice tool. It also comes with the wide pet upholstery tool. It's not clear what one would do with this tool if one did not have a wide pet. Sorry. I couldn't resist.
The Navigator's hose length is five feet, and the cord length is 25 feet. The cleaning path width is 9.25 inches.
Related Article: Best Vacuum for Wood Floor[/vc_column_text][/vc_column][/vc_row][vc_row][vc_column][vc_column_text]
---
Bissell manufactures the next vacuum on our list. The 9595A Bissell is known as the CleanView Bagless Vacuum with One Pass, and it is one of the most affordable options on this list.
Why is this model called the One Pass? Apparently, the brush rotating at the bottom of this innovative vacuum digs down into the fibers of the carpet. As a result, dirt and debris are dislodged and able to be sucked up into collection canister with just one pass over the carpet.
The TurboBrush tool that comes with the One Pass can be used for stairs, furniture, and upholstery. The Bissell also comes with an extension wand, a dusting brush, and a crevice tool.
Forget about buying bags with this Bissell vacuum. Instead, the dirt and debris are filtered out of the air using a multi-level filtration system, and then the dirt is deposited in an easy-to-empty dirt tank. The dirt tank holds 2 L of dust and debris, so you won't have to stop vacuuming to empty the collection canister.
You also won't be purchasing new filters for this machine, as the foam tank filter is washable. The Bissell vacuum does not have a filtration system designed for allergy sufferers. You would have to buy a different Bissell model to have this feature.
The cord length measures 25 feet. The unit weighs 15 pounds.
The Bissell 9595A can be purchased in six different bundles on Amazon. The carpet deodorizer bundle comes with a container of Febreze. The carpet stain remover bundle comes with Woolite INSTAclean. The easy maintenance bundle comes with two replacement belts. The odor eliminator filter comes with a Febreze filter replacement. You can also purchase the Bissell in a bundle with a hand vac. Although it is not clear, it looks as if the cordless vacuum included with the bundle may be the Bissell Pet Hair Eraser. Of course, you can purchase the vacuum by itself as well.
Customers may purchase a two or three-year protection plan for the Bissell through Amazon.
Related Article: Lightweight Vacuum Cleaners[/vc_column_text][/vc_column][/vc_row][vc_row][vc_column][vc_column_text]
---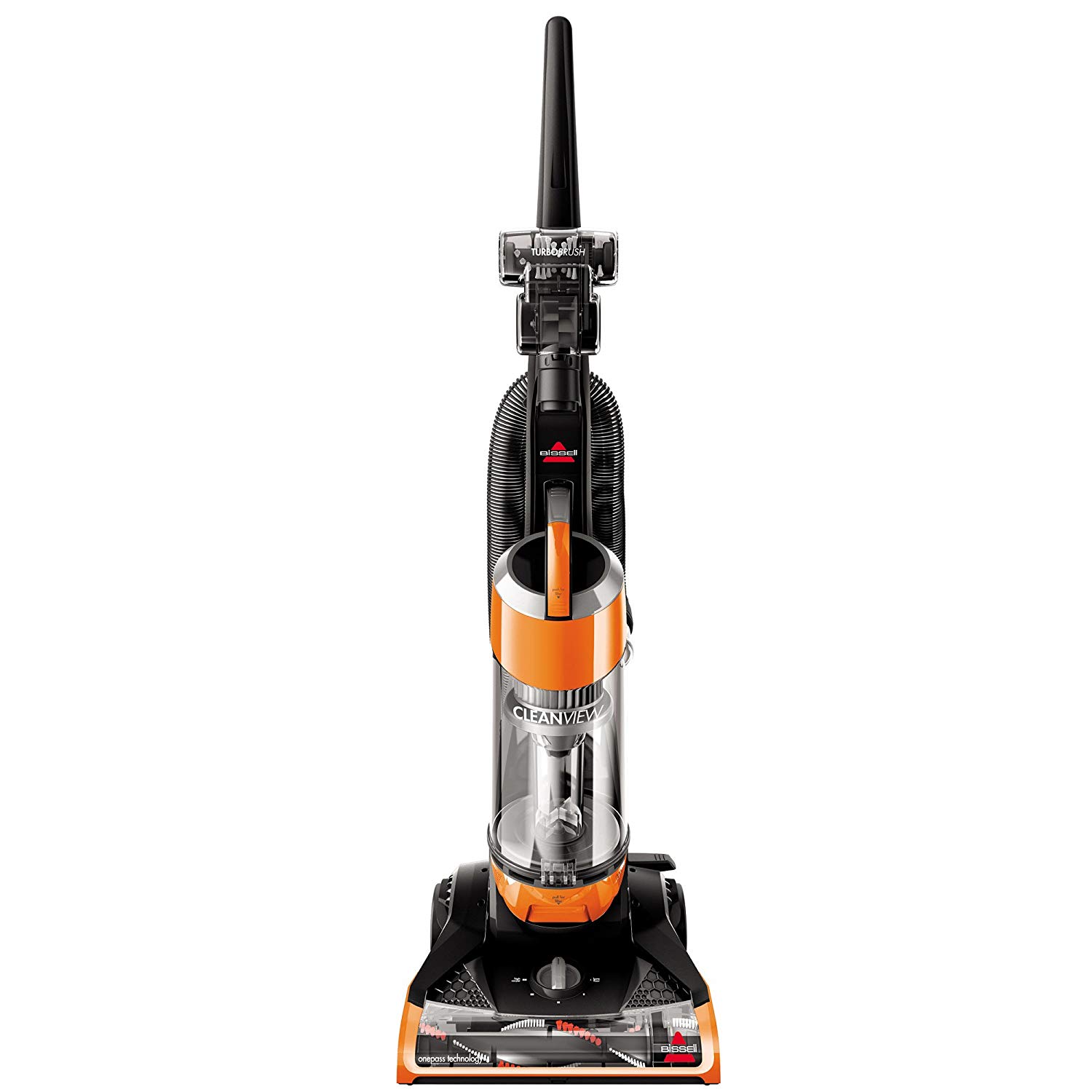 This orange vacuum also has the same innovative brush design as the previous vacuum and because of this boasts that it is able to clean on the initial pass. It is also in the same super affordable category as the last, making it one of the best vacuums under $200—wayy under $200!
Also, similar to the other Bissell product on the list, this vacuum uses the multi-cyclonic suction system. This may be trying to mimic another cyclonic vacuum on the market, but the Bissell has a filtration system at work as well to capture the dirt and debris. The filtration system has a washable filter. The collection tank capacity is 2 liters.
The unit weighs 15.4 pounds. It comes with a TurboBrush Tool, dusting brush, crevice tool, and extension wand. The hose length is six feet.
The cord measures 25 feet, and it does not automatically rewind like some other Bissell models.
The Cleanview comes with a two-year limited warranty from the company. You can purchase an additional two or three-year protection plan through Amazon.
Like the other Bissell, this product can also be purchased in a bundle of your choice. While you can always purchase the vacuum by itself, you can also buy the Fabreze filter Bundle. It is not clear which scent comes with this purchase.
Customers can also purchase the Filter Pack Bundle. This pack comes with one pre-motor and one post-motor filter. These filters act as replacements to the original ones that come with the vacuum.
The Convenience Bundle comes with two replacement belts and one Febreze filter.
You can also purchase the Cleanview with the Bissell Hand Vacuum as well. Again, it is not clear what hand vacuum comes with this bundle.
Finally, pet owners can purchase the Pet Hair Brush Bundle. This bundle comes with a painless grooming brush for your pet. It has rounded edged teeth and promises to remove the undercoat and at the same time rid your pet of stubborn mats and tangles. The brush is two-sided and comes with nine teeth on one side for snarls and 17 teeth on the other side to be used for de-shedding. Remember, if you brush your pet often, the less your animal will shed in your home.
Related: Best Canister Vacuums[/vc_column_text][/vc_column][/vc_row][vc_row][vc_column][vc_column_text]
---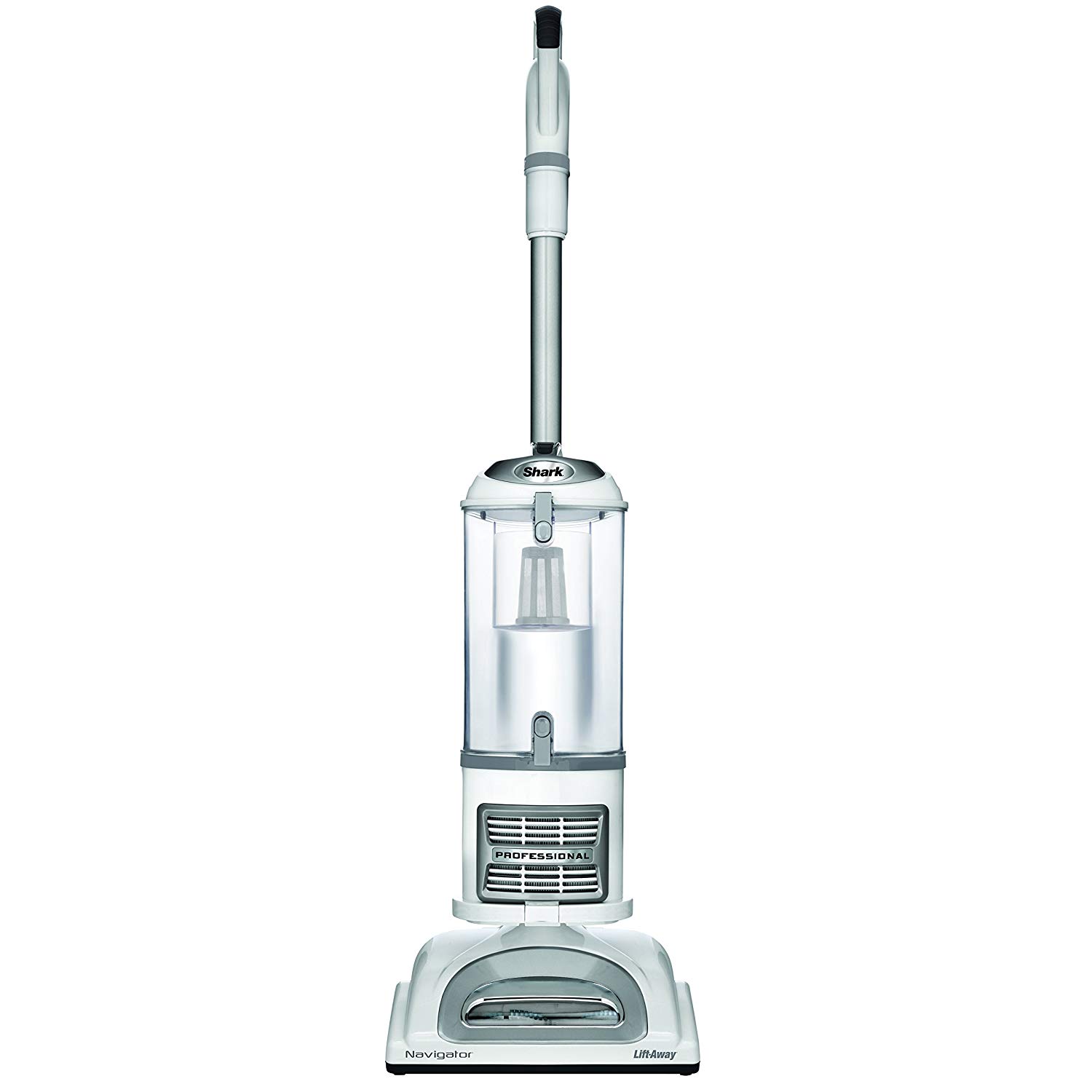 Buy Shark Navigator Professional

We will take a break from Bissell vacuums and return to a Shark product again. The Shark Navigator Lift-Away Professional is easily one of the best vacuums under $200.
Like the previous two Shark products, the Lift-Away Professional also allows the user to lift the canister and hose away from its base unit. While most vacuums have hoses that enable you to reach stairs and other difficult surfaces, being able to detach the canister gives you the flexibility to vacuum areas such as ceiling fans, the upper corners of your rooms, and the tops of cabinets. The lift-away definitely provides the user with more flexibility.
This Shark unit, unlike the lesser expensive Bissell vacuums, uses the Anti-Allergen Complete Seal Technology. It forces 99.9% of the dust and allergens that enter the vacuum to stay inside the vacuum.
Like all the vacuums discussed so far, the Shark Professional can be used on carpeting and bare floors. The collection canister holds 2.2 quarts of dust and debris.
The Shark Professional is 13. 7 pounds and is white and silver. The power cord measures 30 feet in length.
It is not clear what attachments come standard with this unit. While no comparisons are given between this unit and the previous two on Amazon, it seems as if the Shark Professional does not offer as many pet accessory attachments as the last two.
Customers purchasing this product through Amazon can buy a two or three-year warranty for the vacuum.
Related: Best Commercial Vacuum Cleaner[/vc_column_text][/vc_column][/vc_row][vc_row][vc_column][vc_column_text]
---

Buy Black and Decker Airswivel

Black and Decker makes several vacuums that are available under the same Amazon listing. The Airswivel Ultra Light Weight Upright Vacuum Cleaner is one of our favorite best vacuums under $100.
This vacuum is extremely inexpensive and surprisingly has many perks for such a low price. It weighs only 8.8 pounds and offers a 12-inch cleaning path.
One would think that an inexpensive vacuum with such a wide base would maneuver like a tank, but the Black and Decker model offers swivel steering and promises to be very maneuverable.
While the listing does not mention what type of filter the air flows through, the Black and Decker vacuum has a two-liter dust collection capacity. This is a lot of space for your dirt. The filters are described as "washable." No bags are necessary to use this vacuum.
The cord is 20 feet long, and the hose length on the Black and Decker Airswivel is 6.5 feet.
The product comes with a 2-in-1 crevice tool, a small brush, and a one-year limited warranty. An additional two or three-year protection plan is available for purchase.
This product comes in four different styles. Unfortunately, the listing makes it difficult to ascertain the differences among the four styles.
As one clicks between the lite and pet versions, you can see two different photos of two different vacuums. Unfortunately, the description does not change, so it is unclear how the machines differ.
The Powerswivel offers 170-degree swivel steering. The design allows you to reach under furniture easily and vacuum a wide variety of surfaces. The Powerswivel offers a HEPA filter that claims to trap 99.97 percent of dirt, dust, and pollen that measures down to 0.3 microns. The Powerswivel does not require the purchase of bags or filters. One wonders if the product description may not be functioning correctly because the Powerswivel description says that it comes with a pet vacuum tool along with the 3-in-1-crevice tool and a multi-function tool.
The Versatile version of this product weighs 9.1 pounds. It offers swivel steering and comes with an upholstery pet tool.
Black and Decker has been around since 1910 and has been designing power tools, accessories, outdoor yard care equipment, home cleaning products, automotive and lighting products, hardware, and other home improvement products since its beginning. It started as a small machine shop in Baltimore, Maryland.[/vc_column_text][/vc_column][/vc_row][vc_row][vc_column][vc_column_text]
---
The final vacuum we will be discussing is made by Shark, and this time the machine is champagne colored. The main difference between this model and the other vacuums offered by Shark is that this one does not offer the lift away technology. The collection receptacle and hose adhere to the machine.
The Shark Navigator Deluxe is another upright, bagless vacuum cleaner, but the listing contradicts itself on whether or not it includes the anti-allergen complete seal technology and a HEPA filter. The listing says it does, but the comparison chart says that this model does not include that feature.
The Navigator Deluxe weighs 15 pounds and promises never to lose suction. The brush roll can be shut off quickly, so you can move between carpet and bare floors without worry.
The Navigator Deluxe comes with a 5.5-inch crevice tool and a dusting brush. There's no need to empty the dust cap often. It holds one dry quart.
Customers of the Navigator Deluxe can purchase a two or three-year extended warranty.[/vc_column_text][/vc_column][/vc_row][vc_row][vc_column][vc_column_text]
---
Which is the best vacuum under $200 for you?
It depends upon your situation. If it is vital for you to be extremely versatile in your cleaning, a Shark Liftaway model may be the right choice for you. The Liftaway allows you to vacuum high surfaces and reach under furniture. Some of the maneuvers you are able to do with a Liftaway would be impossible with a traditional vacuum.
If you have a furry pet, consider purchasing the pet model of any of the vacuums. Usually, the model that has "pet" in the name means that the brush accessory, which can be attached to the end of the hose, usually rotates. This allows you to rub a rotating brush over your furniture to let you pick up dog hair that may otherwise cling to the upholstery.
If you have strength or mobility issues, you may consider purchasing one of the extremely lightweight vacuums offered by Black and Decker. Even a couple of pounds make a huge difference between vacuums if you have to lug the units up and down stairs.
Regardless, you are able to purchase a reliable vacuum for under $200. There is no guarantee that they will last as long as a more expensive unit, but we don't know that it won't last as long either.
Hopefully, you now have enough knowledge to feel comfortable to pick out an inexpensive vacuum cleaner. Now that you have one, do you know how to use a vacuum properly? Here are some general guidelines.
How to use a vacuum 
First, pick up your floor. Put away your stuff. Refold your throw blankets. Reshelf your books. Put your shoes back on the rack. Have your kids pick up their toys. Secure your electrical and drapery cords.
Once a month, you may consider moving small or light furniture in the room you are vacuuming. Move the furniture as you vacuum.
A couple of times a year move the large furniture and vacuum under it. Use the opportunity to vacuum or wipe off the wall behind the large piece of furniture as it is moved. Vacuum the vent covers also.
Use the crevice tool
Have you ever watched as new carpet has been installed in your home? Are you embarrassed by the amount of dirt that is discovered when the old carpet is removed? To keep your home as dirt-free as possible, it is important to first use the crevice tool around the outside edge of your room. The soil that makes its way under the carpet does so by working its way there where the carpeting meets the wall.
Use the hose extension tool
At least once a month, pull out the extension on your hose to vacuum your drapes and upholstery. If you have a furry pet, you may need to do this more often. A couple of times of year, you may consider vacuuming both sides of the sofa cushions and deep into the crevices of your couches and chairs. You may find hidden treasure or enough change to purchase a coffee later that day.
Once you have finished with the hose and attachments, select the correct vacuum setting for the surface you are cleaning. Most vacuums allow you to choose between a hard floor surface all the way up to shag or thick-ply carpet.
Vacuum your room in one direction back and forth. Go slowly enough to allow the brushes to do their work and dislodge the dirt and debris from your carpet's fibers. Make sure you overlap the strokes as you move throughout the room. Look for spots or stains on the carpet. Treat the stains as you encounter them with either a purchased carpet cleaner or a home remedy.
Vacuum the room perpendicular to the direction you went the first time. While vacuuming in two different directions may feel like overkill, this is an especially necessary tactic for those with pets and messy kids. The dirt and hair from your pet can become stuck to the fibers of your carpet. Moving the carpet across two different directions will help dislodge that dirt from the carpet's fibers.
If you enjoy seeing the lines that appear on the carpet right after vacuuming, work backward through your room so you can leave those lines intact. If you don't enjoy those lines, well, then you are a monster.
It's difficult to smell pets in your own home. We are used to the smells of our homes and may become immune to many foul odors. The next time your most honest friend visits your home, ask your friend if he or she smells any unpleasant odors. If your house does, in fact, stink, you may consider adding a weekly step to the process and deodorize your room.
There are three main ways to deodorize your space using a vacuum. First, consider using baking soda. Sprinkle baking soda liberally on your floor and upholstery before you begin the vacuum process. Let the baking soda sit as long as possible, even overnight. Suck the baking soda up with the vacuum. You may need to repeat the process on particularly stinky places.
The second way to remove odors is to use a commercial carpet deodorizer. There are tons of products on the market that come in a wide variety of scents. I'm sure pumpkin spice is one of them.
Another option is to sprinkle six or eight drops of essential oils on either your vacuum cleaner's bag or filter. Your room will smell amazing for at least a day.
Why do people make such a fuss regarding the purchase of a vacuum? Vacuums are the most critical and (sometimes) most expensive cleaning tool you will purchase. How do you keep your house tidy? Since we are on the subject of vacuums, let's first start with the floors.
How to keep your floors clean
Avoid wearing shoes in the house
Obviously, if you have mud, clumps of dirt, or grass clippings on the soles of your shoes you will leave them sitting on a mat by the door. But what are you bringing in on the soles of your shoes that you can't see with the naked eye?
Studies have shown that there are all sorts of crazy bacteria on the bottom of the average shoe. In fact, a University of Arizona study found on average 421,000 different bacteria on the surface of shoes.
It's not only bacteria that can be brought in on the bottom of shoes. Carcinogens such as coal tar can enter your home too. Another study showed that lawn chemicals enters your home on shoes also. And we haven't even talked about poo yet.
Eating at the table is another of those good habits that you won't regret instilling in your kids. Not only does it allow you to spend time together as a family, but it also keeps food particles from spreading throughout the house. Your dining room table will catch the crumbs before they hit the ground, and this will help keep your floor clean. And do you know what likes crumbs? Ants and mice.
Wash your dog (and your cat if it will let you)
We all love our four-legged friends, but we know that dogs and cats bring in a lot of debris, dirt, particles, and bacteria into our homes. Since we can't take their shoes off when they come inside, we need to do the next best thing. Consider keeping a wet towel at the door your dogs use and wipe off their paws as they enter the house. There are also devices (shaped like a tube) that you can use to clean off their paws for them. Brush your pets often. Some pet owners even use a low setting on the vacuum and a soft brush attachment to vacuum/massage their pets. Of course, only do this if your animal is not afraid of the vacuum. Regardless of how you do it, grooming your pet will reduce the amount of unwanted pet hair that is spread throughout your carpeting and on your furniture.
Although dogs do spread debris, dirt, particles, and bacteria throughout the house, do you know what is absent on the floor when you have a dog? Food! Dogs willingly act as your family's vacuum after a meal is served. 
Tips for a Cleaner House 
A good vacuum and following good practices will keep your floors clean, but what about the rest of your house? How do you keep a house tidy? Different people have different strategies, and you have to find one that works for you and your family. What follows are general cleaning tips on what to complete in your household every day.
Do a load of laundry every day
If you live in a household with multiple people, do a load of laundry every day. Chances are if you have four or five people living in your home, coming up with enough clothes for a load of laundry will not be difficult. If there happens to be a day when there aren't as many clothing items, strip the beds and wash the sheets. If your sheets have been cleaned within the week, wash throw blankets and pillows. On other days wash your fabric shower curtain or drapes. Keeping on top of the laundry and doing at least a load every day will help keep your house clean.
Vacuum at least one area of your house per day. Move the vacuum throughout your home throughout the week. While no one likes the task, vacuuming a little bit each day will do a lot in maintaining the cleanliness of your house. So go ahead and bust out your best vacuum under $200!
Unless you are immaculate, and you live with clean people, it is necessary to sweep your kitchen and dining room floors every day. Crumbs and food debris can quickly spread throughout your house if you don't stay on top of it.
Don't wait to run the dishwasher
While this may not be the most ecological advice, it is the best advice for keeping your house clean. Run your dishwasher regardless if it is packed full and put the dishes away as soon as you are able. If your dishwasher is always empty, your family can place their used plates into the unit immediately. There's no use or sense in stacking dishes in the sink or on the countertop when an empty dishwasher is available. This makes your kitchen look clean, even if all the dishes aren't.
Clean up messes as they happen
Unless your Mom still lives with you, chances are the mess you just created will not go away on its own. The towel you threw on the floor will be there tomorrow unless you pick it up and hang it on a rack. The crumbs you left on the kitchen counter will be there until wipe them away. Learn to pick up after yourself. No one enjoys it, but the sooner you take on responsibility for your own actions, the better off you will be.
Start from the top and work down
Clean your ceiling fans before cleaning your floors. Wipe the crumbs from the top shelf of your refrigerator before moving below. Clean the top of your mirrors or windows before wiping the bottom section. For almost every area that you clean, start from the top and work your way down.

At least one day a week, walk through your house with a container of Clorox wipes. Go from room to room and look at doorways and woodwork. Wipe away fingerprints or smudge marks. Check the wall around light switches. Wipe down all doorknobs. Wipe down handrails and railings. Clean the outside of your appliances and kitchen trashcans and recycling cans. Spot cleaning once a week makes a big difference in your home's appearance.

Everyone has a household task they dread more than others. To make sure that your shower actually gets cleaned or that your refrigerator gets sanitized periodically, make a schedule. Plug the dates into your smart phone's calendar. Designate Tuesdays as the day you clean your bathroom, and every other Friday as the day to clean out the fridge.

If you have multiple people living in your home, the household work should be shared. Everyone should have a hand in keeping your home clean and tidy, regardless how small the contribution. If you have children, make sure they have some household job as early as possible, even if they do a lousy job of it. Make sure they understand they are part of a team. They will be excited to help you at first, but then they become eighth graders, and no housework will ever excite them again.

Isn't keeping your home clean or not a personal preference? While this may be true, studies have shown that keeping your home neat and tidy could do much to boost your morale. Living in a neat space can boost your mood and reduce your anxiety. Don't live in constant fear of a friend or family member "stopping by" because your house is always a mess. Do a little work each day to keep your home looking fresh.[/vc_column_text][/vc_column][/vc_row]

[vc_row][vc_column][vc_column_text]