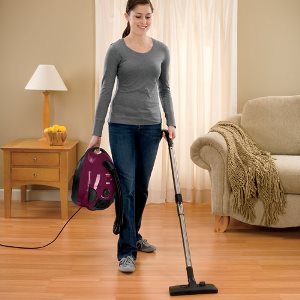 When it comes to cleaning your house, chances are that there are numerous nooks and crannies that you need to get into to vacuum. Are we right?
If that's the case then you need to consider purchasing a canister vacuum. These vacuums are large canisters with a lengthy hose and vacuuming attachment at the end. This allows you to forgo pushing and lugging around a large upright vacuum while cleaning your home. However, choosing the right canister vacuum is important. This is why we put together a list of the best canister vacuums of 2018
From Bissell and Eureka to Dyson, we thoroughly researched and compiled a list of the 6 best rated canister vacuum cleaners for you to review.
Best Canister Vacuum Reviews
There are so many factors to consider when buying a canister vacuum. It is important to look at the price, canister capacity, cord length, and weight. The chart below is included to show you how the six best canister vacuums match up against each other.
We constantly test new models of canister vacuum cleaners and try to regularly update our TOP list. Perhaps, in the future updates, you will see other brands among the leaders, such as Ovente and Severin. But at the moment, in our opinion, these are the best.


---
Bissell Zing Rewind – Best cheap canister vacuum
We want to start our canister vacuum reviews from a model that suits those who are looking for a budget vacuum cleaner.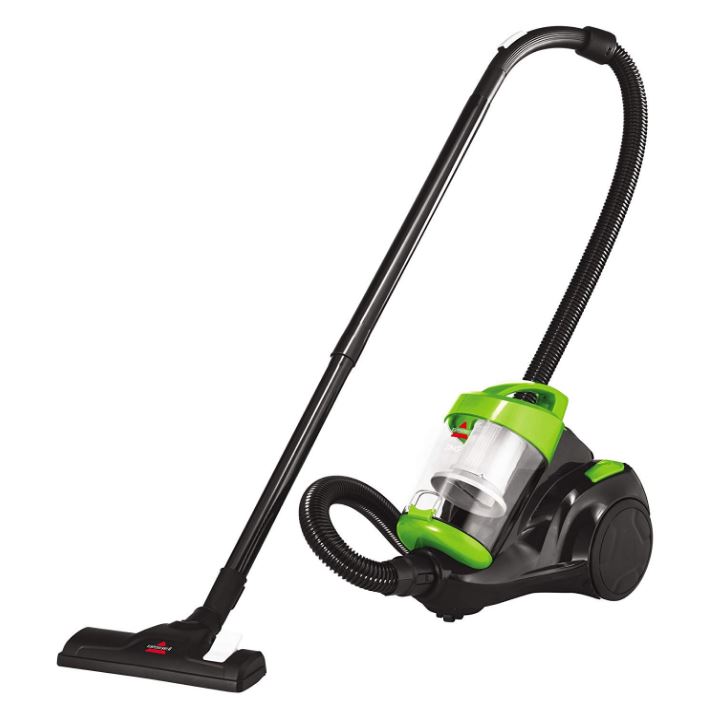 Compact and with a decent suction power, the Bissell Zing Rewind canister vacuum cleaner is a great choice for cleaning your home on a daily basis at the fraction of the cost.
Coming from well-known Bissell, this unit promises functionality and durability.
Lightweight and small
The first thing we liked about this vac was its compact design. Weighing only 7.5 pounds, and measuring 10.9 x 16.25 x 11.75 inches, this unit is easy to move from place to place as well as to store. Swivel steering adds up to the ease-of-use, so you'll clean hard-to-reach areas without any difficulty.
However, the cord is relatively short, measuring only 15 feet.
Good cleaning performance
The motor has only 9 amps, but that's still enough power for the Bissell Zing Rewind to get the job done.
In fact, there are other features besides the 9-amp motor that enhance the cleaning performance of this unit. The 3-stage filtration captures more debris, dust, and dirt; whereas the brush switch ensures the fast change when cleaning different surfaces so you'll clean the room faster.
This unit doesn't have a bag. So, no more bags to buy and change every few months. You need to wash the filter every once in a while though, but that won't take you much time.
The dirt cup is transparent. Hence, you'll know when you need to empty it. Just be sure to do that before the dirt gets to the "full" line, otherwise, the suction power might decrease.
Automatic cord rewind
Don't you just hate when you have to wrap the cord around the vacuum cleaner? Well, no need to worry about that with this vac as it has the automatic cord rewind. And this indeed is a nice bonus bearing in mind that this model is in the low price range.
Versatility
Finally, we appreciate the versatility of this vac. The Bissell Zing Rewind canister vacuum provides a great value for the money because it comes with the Air Flow regulator and handles many surfaces, including hardwood, linoleum, laminate, and tiles. It can also be used on low-pile carpets, but it doesn't come with a turning brush, so you'll have to put in much more effort to clean the carpet thoroughly. That being said, this unit isn't a good choice for medium and high-pile carpets.
There are additional accessories you get with the vac such as a telescopic wand and Combination Crevice Tool/Dusting Brush. Thanks to them, you can clean furniture and curtains.
Conclusion
All in all, the Bissell Zing Rewind is the best affordable canister vacuum in our opinion. It's compact, versatile and has good suction power, being an ideal choice for students, the elderly and a single person. Also, this canister vacuum can be useful to those who need to clean not heavily soiled hard floors.
Pros

Cons

Good suction power
Great for hard floors
Multi-level filtration
Low price range
Not for medium and high pile carpets
Not for pet hair
Short cord
Buy Bissell Zing Rewind On Amazon
---
Eureka Mighty Mite 3670G – Best canister vacuum for auto & garage cleaning
This lightweight canister vacuum weighs in at 9 pounds. Still, it packs some power with its 12 amp motor. It is designed to work on different types of floors, but does best on bare floors or automobiles.
There are two height settings for the vacuum. This makes it easy to switch between bare floors and rugs, and the controls for this are right at your fingertips.
A 20-foot power cord also gives you some maneuverability in smaller areas, like a garage.
The cleaning path width of 10 inches leaves a bit to be desired, though the Mighty Mite makes up for it with four different attachments – extension wand, bare floor brush, crevice tool and dusting brush.
Users reported that having these tools definitely made for a more successful cleaning experience. This is because you are able to get into the hard to reach places with them.
With the positives, come the negatives. This unit is not good on carpets since there is no motorized brush. There is also no rewind cord or shoulder strap, which are useful. Finally, you will need to be careful not to suck up anything that is too sharp. This can result in puncturing the dust bag, which is costly and messy to deal with.
Conclusion
Considered one of the best cheap canister vacuums in the market, the Eureka Might Mite has a price that is agreeable with the wallet, and the ability to provide good cleaning power. A long cord and lightweight design make the Mighty Mite perfect to keep your garage or car clean. Instead of lugging around a big shop vac or your upright vacuum from the house, this canister vacuum can become a staple in your garage.
| | |
| --- | --- |
| Pros | Cons |
| It is lightweight and easy to maneuver | There is no way to retract the cord, so it will need to be wound up every time |
| Has a three stage filtration system which is great for people with asthma and allergies | The dust bags aren't very sturdy and can be punctured by sharp debris that is taken in |
| The dust bag is easily removable and won't make a large mess | This unit is not very effective on carpets because it does not come with a motorized brush |
| This unit is great on all types of solid floors and the car | |
| It is a cheaply priced option that most wallets will agree with | |
Buy Eureka Might Mite 3670G On Amazon
---
Miele C1 Turbo Team – Best canister vacuum for large rooms
When it comes to cleaning power, the Miele C1 Turbo Team cannot be beaten.
This impressive canister vacuum is great for getting a deep clean without the heavy burden of pushing around an upright vacuum cleaner.
It comes with six different suction settings that can be controlled by your foot. The 1200-watt motor is quiet and packs a power cleaning punch.
The Turbo Comfort turbo brush feature is an air-driven brush that is great for cut-pile or low-pile carpet and rugs.
The unit also comes with a large canister – with change time indicator light – and AirClean Sealed System that actually keeps 9.9% of particles in the vacuum. This consequently keeps those particles from escaping back into the air.
If you want accessories, this unit has a dusting brush, crevice nozzle, and upholstery tool.
Worried about reaching far away places? Don't be. This unit also has a 38-foot cleaning radius.
As great as this sounds, there are drawbacks. First, the price tag it comes with already puts it out of most consumers' reach. To add to that, you will also need to buy replacement filters and dustbin bags. This can increase the price a bit. In addition, the HEPA filter does not come standard. The HEPA filter will need to be purchased, again driving up the already lofty price.
Conclusion
This unit has been known to last 10 to 15 years. If you consider it an investment, the price may not seem quite as steep. A higher quality vacuum at a high price that lasts for 15 years is better than a cheap vacuum that needs to be replaced every three or four years.
Truthfully, the suction and cleaning power of the Miele C1 really cannot be beaten. With six suction settings controlled by footswitch pedals, an ergonomic handle and a Vortex Motor System, the cleaning power this model provides simply cannot be matched.
| | |
| --- | --- |
| Pros | Cons |
| The compact and lightweight design makes it easily maneuverable and easy to use | The HEPA filter does not come standard, it is optional |
| There Turbo brush is great for loosening hair and dirt from deep down in carpets | It is the most expensive canister vacuum on the list |
| The unit has a 36-foot cleaning reach to make cleaning large rooms much easier | |
| It comes with three accessories – a crevice nozzle, upholstery tool and dusting brush | |
Buy Miele C1 Turbo Team On Amazon
---
---
Kenmore 81614 – Best canister vacuum for pet hair
I'm sure that your dogs are great pets and that they make your life better. And I'm also sure that their hair is probably all over your house and removing it isn't very exciting.
If to select only one advantage of Kenmore 81614, then this is definitely one of the best canister vacuums for dog owners. Why? We will talk about this further.
Still, there aren't many things to be said about this model because it pretty much has the same features as the other models on this list. So, here's a quick review of this one.
Handles all types of floors
This vac has a 2-motor system and features the Power Flow technology. Thanks to that, suction is very strong, no matter the floor type. Debris, dust, dirt, and pet hair will be removed easily.
In addition to that, Kenmore 81614 is designed to handle laminate, hardwood, tiles – any kind of a floor. With HEPA filtration, all the dust and dirt will stay trapped inside of the vacuum cleaner which we already know is a great plus.
Gets the job done
This unit comes with five attachments and a telescopic wand, so cleaning floors, tight spaces, and drapery will be straightforward.
Pet PowerMate is the motorized pet hair brush we loved most. During testing, we noticed that the pet hair brush worked terrific; as it lifted pet hair from the floor and furniture, eliminating dog hairs completely, not partially.
Of course, this is a great thing, especially if you have more than one pet and need a really efficient vacuum cleaner.
Functional
Kenmore really knows how to make a compact and functional canister vacuum.
We love the idea of the onboard storage since keeping all the tools at hand saves time. When you finish with cleaning floors, just attach a versatile cleaning tool and move on to drapery and furniture.
The vac has a sturdy handle so you can carry it from one room to another. Also, the cord is retractable and 28 inches long. Being as compact as it is, the Kenmore 81614 stores quickly, and won't take too much space.
Perhaps, for some users, the downside will be that it is a bagged model. But if replacing bags is not a problem for you, you will even save time on cleaning the dustbin.
Another issue is that this canister vacuum is loud, like, really loud.
Conclusion
The Kenmore 81614 is the best choice for removing pet hair from furniture and floors, as it comes with a 2-motor system, HEPA filtration, and motorized pet hair brush. So, it will clean pet hair completely and quickly, leaving your floors and furniture spotless.
Pros

Cons

Designed to clean all types of floors
Comes with 5 attachments
Ideal for cleaning pet hair
HEPA certified vacuum bags and filter
Easy to store
Loud
---
Dyson Big Ball Multifloor – Best canister vacuum for maneuverability & tight spaces
Dyson Big Ball canister vacuums are synonyms for innovation. Here we have one of them, called Big Ball Multifloor. As the name itself suggests, this unit works great on multiple kinds of floors. So, it's great for cleaning big houses.
But, let's see what else Dyson Big Ball Multifloor offers, shall we?
Effortless maneuverability
Dyson takes pride in its state-of-the-art Ball design and we understand why.
Thanks to the careful design of this vac, the heaviest parts are placed near the floor. This makes it well balanced and easy to maneuver. So, you can focus on the rooms you have to clean, instead of lifting the vacuum cleaner every time it topples. Besides, when that happens, the unit will immediately stand up straight, once again, thanks to its design.
Apart from the ball design, this unit also comes with the articulated handle, so you will have better control over it.
Also, you get stair and combination tools for cleaning hard-to-reach places, corners, and stairs.
Carbon fiber turbine tool
The cleaner head features 1 644 000 carbon fiber threads and 6 124 firm nylon bristles. This means that fine dust, ground-in dirt, and particles will be eliminated on any type of the floor, including carpets.
However, cleaning carpets requires more effort on your part, since the suction is really strong. So, at first, it will probably be challenging for you to control the vac, but with time you'll get accustomed to this unit.
Radial Root Cyclone™ technology
The powerful 14 compact cyclones produce centrifugal forces and trap the dirt and dust, while the HEPA filter ensures you don't breathe allergens you just picked up from the floor.
Because of that, Dyson Big Ball Multifloor canister vacuum is approved by the Asthma and Allergy Foundation of America. It is a great choice for those who suffer from asthma and those with allergies.
And one thing that you'll surely appreciate about this filter is that it's reusable and will last a lifetime. Just wash it and put it back in the vacuum cleaner.
The brush bar control on top
One of the features we really found useful was the trigger head floor tool. With most canister vacuums, the brush bar is placed at the bottom of the floor nozzle, so you have to bend every time you want to switch from cleaning carpets to hard floors.
This model has the brush bar installed on the handle, so cleaning different floors just got easier for you.
Retractable Cord
The cord is retractable, so you won't have to wrap it manually. In addition, it's long enough to give you the flexibility of movements.
The bin empties with one touch
When I had to empty the bin, I was a bit skeptical of its "one-touch emptying". So, I hold the bin just above the trash can in order to spare myself cleaning all around the place later (for the record, this is something you should always do).
But, when I pressed the button, I was thrilled! The dust and dirt were released from the bin quickly and effortlessly. Better yet, my hands didn't even come in touch with that awful dirt. Finally, one-touch bin emptying for real.
Conclusion
Overall, the Dyson Big Ball Multifloor is one of the best canister vacuums for collecting fine dust and keeping it in the bin. Its innovative features and parts ensure thorough and deep cleaning on all types of floors. You might need to put in more effort when cleaning carpets, but you'll love the end result. Coming from Dyson, this model has a higher price tag, but we believe it's a worthy investment.
Pros

Cons

Versatile
Dyson Ball technology easily makes this the most maneuverable canister vacuum on the list
One-touch bin emptying
Powerful
A bit expensive
Buy Dyson Big Ball Multifloor On Amazon
---
Electrolux EL4335B – Best canister vacuum for versatility
The Electrolux EL4335B is the combination of all the useful features a canister vacuum should have.
If you're ready to invest in a versatile canister vacuum for cleaning your home on a regular basis, this is your best bet.
Running ahead, we can say that during testing this vacuum cleaner left us with the best impressions.
So, let's take a look at this device in more detail.
Deeper and more precise cleaning
This canister vacuum features a motorized powerhead. Meaning, it has two electric motors – one that makes suction air flow and the other one that rotates the brush roll. This promises deeper cleaning, especially on carpets. So, this unit removes more dirt, dust, and grit compared to models that don't have a motorized powerhead.
In addition, this vac features Brushroll Clean Technology® so you won't have to stop and remove tangles from the brush roll. Instead, just press the button and the tangles will be gone. Pretty handy, huh?
The icing on the cake is the LED light placed on the powerhead. Thanks to this useful feature, you'll see dust and dirt from every angle, thus you will be able to eliminate it as well.
Super versatile
Now, we tested this unit on different surfaces, and it did a pretty good job on all of them. The suction power is great, so cleaning tiles, hardwood, and linoleum was easy. And since there are 4 attachments included, we also didn't have any problem cleaning furniture, stairs, corners, and dust.
The variable suction control allows cleaning the carpet without putting too much effort. Just adjust the suction and the cleaner is good to go.
Practical
The unit rotates easily and smoothly and has only 11.6 pounds so you won't have to carry it from one room to another. In addition, you'll surely love its lightweight design if you plan to use this vac regularly, or even daily.
The cord is 21 inches long, which isn't bad. However, this can be a bit frustrating if you have a big house since you'll have to plug and unplug the unit often.
This unit doesn't have any special features – it just has the essential ones. So, like any good canister vacuum on the market, this one also comes with HEPA filters, preventing dust and allergens to be sent back into the air. Similarly, this unit has a cord rewind feature.
Lastly, the dust cup is easy to empty, and won't create any mess.
Conclusion
To sum up, the Electrolux EL4335B is a versatile and lightweight canister vacuum that has all you need to clean your home meticulously. Though this unit is on the expensive end, it is a versatile canister vacuum. Electrolux EL4335B can accommodate to any type of floor and clean it well. Whether you have carpeted stairs, need help removing pet hair or simply need a lighter vacuum to push around, this vacuum is great. It is easy to use in every sense of the word, with features that are included simply to make your life easier.
Pros

Cons

Great for cleaning your home on a regular basis
Great suction
Works well on hardwood, tiles, and carpets
Comes with 4 attachments for cleaning dust, stairs, hard-to-reach areas, and furniture
Dust spotter LED light
Cord could be longer
Buy Electrolux EL4335B On Amazon
---
The Result: Editor's Choice
After going through specs and canister vacuum cleaner reviews from consumers, we determined that the best canister vacuum 2019 is the Electrolux EL4335B.
It's so powerful and versatile that you can use it to clean your whole home, which we know is not the case with other models.
This vacuum cleaner is a bit pricey, but its features are just too good to be overlooked. With 12 amps of motor power, motorized powerhead, and a self-detangling brush roll, this unit cleans all types of floors without hesitation. Not to mention 4 attachments for cleaning furniture, stairs, and dust.
And when you're done with all the cleaning, just press the button on the dust can to release dirt without making any mess.
The unit is lightweight at 11.6 pounds and easy to maneuver. On top of all, you get a 5-year warranty for the peace of mind.
---
Canister Vacuum Buyer's Guide
When you are trying to decide which of the best canister vacuums is right for you, there are so many features that you need to consider. These include canister capacity, cord length, and included attachments. Knowing the features to look for that are necessary or simply nice to have, will make your shopping experience much easier.
1. Type of Cleaning Job
As with any product, you need to determine what you will be using it for. Do you need a canister vacuum that is good for pet hair since you have a fur baby that sheds? Or maybe you just need something lightweight and easy to use. Determine what features are must-haves and go from there.
2. Cleaning/Suction Power
When it comes to any type of vacuum, it is important to know how strong the suction/cleaning power of the vacuum cleaner is. Some vacuums are only good for bare floors because they do not have the suction power to get deep into carpets. Other vacuums are excellent for pulling dirt and debris from deep within carpets because they have stronger suction.
3. Canister Capacity
The size of the dirt canister will dictate how often it will need to be emptied. The larger the canister is that collects the dirt and dust, the less often you will be forced to empty the canister.
4. Power Cord
The vacuums on this list are all corded. Therefore, you will want to explore how long the cords are. The longer the cord, the easier the vacuum is to maneuver. A short cord will have you constantly stopping to unplug and plug your vacuum in. This can be a time waster and frustrating.
5. Hose Length
Many vacuum attachments go at the end of the hose, so having a longer hose is especially valuable. This is definitely true for vacuuming stairs or automobiles.
6. Cleaning Path Width
The larger the cleaning path width, the fewer passes you will need to complete a room. Note that a bigger cleaning path width can also add more weight to a vacuum, so make sure you're not trading too much of one for the other.
7. Weight
Vacuums come in all shapes, sizes, and weights. One thing you want to consider is how heavy the machine is. Depending on how large of an area you are cleaning, this is important. Sure, it likely has wheels, but that doesn't mean that pushing around 30 pounds for an hour is necessarily easy.
8. Bagged vs. Bagless
There is a tradeoff between bagged and bagless canister vacuums. Bagged canisters have the on-going cost of purchasing replacement bags, but they often have a larger capacity. Bagless canisters are great if you don't want to keep buying bags. Bagless canisters generally need to be emptied more often and that can be messy.
9. Attachments
The more attachments that are included, the better. Attachments are a way to make your canister vacuum more versatile. Attachments such as upholstery tools, pet hair removers, and crevice tools are very valuable.
10. Bag/Canister Full Indicator
A light that lets you know when to change the bag or empty the canister may not seem like a big feature, but many vacuums experience a decrease in suction power when the canister or bag has reached capacity. If you are not aware of this, you could be wasting your time lugging the vacuum around when it is not even cleaning properly.