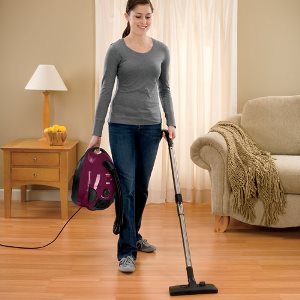 When it comes to cleaning your house, chances are that there are numerous nooks and crannies that you need to get into to vacuum. Are we right?
If that's the case then you need to consider purchasing a canister vacuum. These vacuums are large canisters with a lengthy hose and vacuuming attachment at the end. This allows you to forgo pushing and lugging around a large upright vacuum while cleaning your home. However, choosing the right canister vacuum is important. This is why we put together a list of the best canister vacuums 2018.
From Bissell and Eureka to Dyson, we thoroughly researched and compiled a list of the 6 best rated canister vacuum cleaners for you to review.
Best Canister Vacuum Reviews
There are so many factors to consider when buying a canister vacuum. It is important to look at the price, canister capacity, cord length, and weight. The chart below is included to show you how the six best canister vacuums match up against each other.
We constantly test new models of canister vacuum cleaners and try to regularly update our TOP list. Perhaps, in the future updates, you will see other brands among the leaders, such as Ovente and Severin. But at the moment, in our opinion, these are the best.


---
BISSELL 4122 – Best cheap canister vacuum
This purple canister vacuum is the best cheap canister vacuum on the market. For a low price, it is loaded with useful features that will make your life easier.
The Bissell 4122 comes with the large floor brush and two attachments. A smaller suction tool and brush tool is great for curtains, clothing, and furniture is included with this model. Though the attachments are helpful, they storage for them is poorly designed. The attachments clip onto the hose. One issue is that they get in the way and users have reported that they frequently fall off.
In terms of cleaning power, this Bissell does not have a motorized brush, so it really is not compatible with homes that have a lot of carpets. It does well on rugs and exceptional on hard floors though.
Aside from the suction, the unit also has wheels. However, the wheels are poorly made and can often "stick" to each other. This makes the unit hard to pull. Thankfully, at only 8 pounds this unit is easily carried around, so the sticky wheels don't present a huge problem.
Users also love the ease of use features that it comes with. There is a cord retractor button, easy grip handle and full bag indicator.
Though one thing to note is that what you gain in maneuverability, you can lose in storage. The canister on this unit is small and the cord is only 17 feet, so it isn't great if you have a large area to clean.
Conclusion
This low-priced canister vacuum is best for smaller to medium-sized homes that have mostly hard surfaced floors. The unit has great suction but can get caught up on rugs and doesn't provide a deep clean for plush carpets. While it has several attractive features such as a full bag indicator, 2 included attachments, and retractable cord, the cleaning power just isn't on par to tackle a large cleaning job.
| | |
| --- | --- |
| Pros | Cons |
| The price simply cannot be beat | This vacuum does not roll very well on carpet |
| Multi-surface floor nozzle lets you clean rugs, carpet and bare floors | The cord is very short |
| Assembly takes less than 5 minutes from box to being vacuum ready | The attachment holder clips to the hose, but is poorly designed and gets in the way |
| At 5 pounds, it is very lightweight and easy to maneuver | There is no motorized brush so it does not clean carpets well |
| There is adjustable suction depending on floor surface | |
---
Eureka Mighty Mite 3670G – Best canister vacuum for auto & garage cleaning
This lightweight canister vacuum weighs in at 9 pounds. Still, it packs some power with its 12 amp motor. It is designed to work on different types of floors, but does best on bare floors or automobiles.
There are two height settings for the vacuum. This makes it easy to switch between bare floors and rugs, and the controls for this are right at your fingertips.
A 20-foot power cord also gives you some maneuverability in smaller areas, like a garage.
The cleaning path width of 10 inches leaves a bit to be desired, though the Mighty Mite makes up for it with four different attachments – extension wand, bare floor brush, crevice tool and dusting brush.
Users reported that having these tools definitely made for a more successful cleaning experience. This is because you are able to get into the hard to reach places with them.
With the positives, come the negatives. This unit is not good on carpets since there is no motorized brush. There is also no rewind cord or shoulder strap, which are useful. Finally, you will need to be careful not to suck up anything that is too sharp. This can result in puncturing the dust bag, which is costly and messy to deal with.
Conclusion
Considered one of the best cheap canister vacuums in the market, the Eureka Might Mite has a price that is agreeable with the wallet, and the ability to provide good cleaning power. A long cord and lightweight design make the Mighty Mite perfect to keep your garage or car clean. Instead of lugging around a big shop vac or your upright vacuum from the house, this canister vacuum can become a staple in your garage.
| | |
| --- | --- |
| Pros | Cons |
| It is lightweight and easy to maneuver | There is no way to retract the cord, so it will need to be wound up every time |
| Has a three stage filtration system which is great for people with asthma and allergies | The dust bags aren't very sturdy and can be punctured by sharp debris that is taken in |
| The dust bag is easily removable and won't make a large mess | This unit is not very effective on carpets because it does not come with a motorized brush |
| This unit is great on all types of solid floors and the car | |
| It is a cheaply priced option that most wallets will agree with | |
---
Miele C1 Turbo Team – Best canister vacuum for large rooms
When it comes to cleaning power, the Miele C1 Turbo Team cannot be beaten.
This impressive canister vacuum is great for getting a deep clean without the heavy burden of pushing around an upright vacuum cleaner.
It comes with six different suction settings that can be controlled by your foot. The 1200-watt motor is quiet and packs a power cleaning punch.
The Turbo Comfort turbo brush feature is an air-driven brush that is great for cut-pile or low-pile carpet and rugs.
The unit also comes with a large canister – with change time indicator light – and AirClean Sealed System that actually keeps 9.9% of particles in the vacuum. This consequently keeps those particles from escaping back into the air.
If you want accessories, this unit has a dusting brush, crevice nozzle, and upholstery tool.
Worried about reaching far away places? Don't be. This unit also has a 38-foot cleaning radius.
As great as this sounds, there are drawbacks. First, the price tag it comes with already puts it out of most consumers' reach. To add to that, you will also need to buy replacement filters and dustbin bags. This can increase the price a bit. In addition, the HEPA filter does not come standard. The HEPA filter will need to be purchased, again driving up the already lofty price.
Conclusion
This unit has been known to last 10 to 15 years. If you consider it an investment, the price may not seem quite as steep. A higher quality vacuum at a high price that lasts for 15 years is better than a cheap vacuum that needs to be replaced every three or four years.
Truthfully, the suction and cleaning power of the Miele C1 really cannot be beaten. With six suction settings controlled by footswitch pedals, an ergonomic handle and a Vortex Motor System, the cleaning power this model provides simply cannot be matched.
| | |
| --- | --- |
| Pros | Cons |
| The compact and lightweight design makes it easily maneuverable and easy to use | The HEPA filter does not come standard, it is optional |
| There Turbo brush is great for loosening hair and dirt from deep down in carpets | It is the most expensive canister vacuum on the list |
| The unit has a 36-foot cleaning reach to make cleaning large rooms much easier | |
| It comes with three accessories – a crevice nozzle, upholstery tool and dusting brush | |
---
---
Panasonic MC-CG917 "OptiFlow" – Best canister vacuum cleaner for pet hair
This green and black canister vacuum cleaner just so happens to be the best canister vacuum cleaner for pet hair.
At 25 pounds, it is not particularly "lightweight," but compared to upright vacuums it is.
This bagged unit offers 12 amps of power, a massive 14-inch cleaning path width, and a 24-foot long cord. These features will keep you cleaning longer than the other models before unplugging.
It comes with OptiFlow technology, which is code for "excellent suction power." This unit also has a two-motor system that enhances its cleaning ability.
There are several power settings to help the vacuum cleaner adjust to your cleaning needs. The unit does well to suck up dirt, dust and pet hair and while it does a good job on carpets, it is great for cleaning bare floors.
In terms of drawbacks, there is only a 6-foot long wand, but at least it is sturdy. There is also no light to inform you that it is time to change the bags, and the replacement bags can add on to the vac's price.
Conclusion
At the middle of the pack in terms of price range, this canister vacuum cleaner is great for taking care of pet hair. The Air Turbine brush is great for pet hair and manages to remove it from carpets. The Panasonic "OptiFlow" Canister Vacuum Cleaner is not just meant for pet hair, it can also suck up other dirt and debris to give you a deep clean.
If you are looking for a quality vacuum with a midrange price, this Panasonic is a great option.
| | |
| --- | --- |
| Pros | Cons |
| The Air Turbine brush deals well with pet hair, especially on upholstery and even on carpets | The wand is sturdy, but not very long, which makes vacuuming those hard to reach crevices more difficult |
| The cleaning nozzle is very large (14 inches) and you can adjust the carpet height to four different positions | There is no indicator to tell you when the bag is full and needs to be replaced |
| The unit comes with six attachments, which makes the canister vacuum very versatile | |
| The hose is very durable and made of thick plastic | |
Buy Panasonic MC-CG917 "OptiFlow"
---
Dyson Ball Multi Floor – Best canister vacuum for maneuverability & tight spaces
The Dyson Ball Multi Floor unit is a closeout, which means that Dyson is no longer manufacturing it. That being said you can still get your hands on it for a reduced price. Still, this model is on the higher end of the list.
The great thing about Dyson is the patented "ball" technology. This allows you to turn the vacuum on a dime and have superior control over where you are cleaning.
The particular benefit here is that the maneuverability makes it easier to clean the nooks and crannies of your home.
The Dyson also performs exceptionally well in suction and cleaning power, so you can be sure that you are getting a deep clean.
It also comes with HEPA filtration on a turbine head that is controlled at the handle. This allows you to clean different types of floors without bending over to switch the mode.
One thing to note is that the three attachments can be difficult to change. They clean well, but you can lose a bit of cleaning time fussing with them. Another flaw is the "easy empty" canister can actually create a mess. It empties with such force that debris can be flung about. The price tag is also high for a closeout.
Conclusion
If you are a loyal Dyson-er, this canister vacuum will not disappoint. It is the cheapest priced Dyson canister vacuum for those of you on a budget. It also provides a deep clean while maintaining the maneuverability that Dyson prides itself on. Innovation does come at a cost.
| | |
| --- | --- |
| Pros | Cons |
| Great suction as is typical with Dyson models | It is on the more expensive end for canister vacuums, but it is a Dyson and they are generally more costly |
| Dyson Ball technology easily makes this the most maneuverable canister vacuum on the list | The tools can be difficult to change |
| The brush roll can be turned off from the handle to save you from bending over | It can be messy to empty the dust canister unless you hold it deep down in your garbage can |
| The cord is retractable | |
| Comes with HEPA filtration | |
---
Electrolux UltraFlex – Best canister vacuum for versatility
The sleek red and black Electrolux UltraFlex canister vacuum is great for cleaning your whole home.
It is lightweight at 11.6 pounds and has a large canister to keep you cleaning longer.
The unit comes with a washable HEPA filter and 12 amps of motor power. This vacuum can clean your entire home from bare floors to carpets.
If you want an easy-to-use vacuum, this is it. The bags are easy to change, the HEPA filter can be washed and the vacuum has a built-in technology to clean the brush roll itself.
Seriously, the Brushroll Clean Technology allows the brush to detangle itself with the push of a button. The vacuum also has an on/off brush roll switch on the handle.
It has a 33-foot reach, with a 21-foot power cord and is very light.
With three height adjustment settings and 4 included attachments, the Electrolux model is also very adaptable. This allows it to clean any surface of your home and makes it irreplaceable.
The price is a bit steep, but it is certainly worth it when you compare its cleaning capability. With the only drawbacks being no indicator light and a slightly louder noise level, this canister vacuum is well worth its price tag.
Conclusion
Though this unit is on the expensive end, it is a versatile canister vacuum. This canister vacuum can accommodate to any type of floor and clean it well. Whether you have carpeted stairs, need help removing pet hair or simply need a lighter vacuum to push around, this vacuum is great. It is easy to use in every sense of the word, with features that are included simply to make your life easier.
| | |
| --- | --- |
| Pros | Cons |
| This vacuum cleaner is great on all types of surfaces from carpet and rugs to bare floors | There is no indicator to tell you when it's time to empty the canister |
| This vacuum is quiet compared to the competitors, so you can clean anytime of the day or night | The price can act as a deterrent to some |
| You can switch between different settings that control suction power and surfaces | Can be louder than other canister vacuums |
| This unit comes with several attachments | |
---
The Result: Editor's Choice
After going through specs and canister vacuum cleaner reviews from consumers, we have determined that the best canister vacuum 2018 is the Electrolux UltraFlex Canister Vacuum.
This vacuum cleaner is on the higher end of the price range, but its features cannot be ignored. It has 12 amps of motor power, dual motors, and a self-detangling brush roll. It also has fingertip controls to save your back and easy-empty dust cans to save you time. It also has the superior suction that is great on bare floors and carpet and has great versatility as well. The unit is lightweight at 11.6 pounds and is easy to store. It is easy to clean, easy to store and easy to use. Add a 5-year product warranty to the mix and this vacuum is simply worth every penny of its price tag.
You can use the Electrolux UltraFlex Canister Vacuum throughout your whole home, which simply is not the case with other models.
---
Canister Vacuum Buyer's Guide
When you are trying to decide which of the best canister vacuums is right for you, there are so many features that you need to consider. These include canister capacity, cord length, and included attachments. Knowing the features to look for that are necessary or simply nice to have, will make your shopping experience much easier.
1. Type of Cleaning Job
As with any product, you need to determine what you will be using it for. Do you need a canister vacuum that is good for pet hair since you have a fur baby that sheds? Or maybe you just need something lightweight and easy to use. Determine what features are must-haves and go from there.
2. Cleaning/Suction Power
When it comes to any type of vacuum, it is important to know how strong the suction/cleaning power of the vacuum cleaner is. Some vacuums are only good for bare floors because they do not have the suction power to get deep into carpets. Other vacuums are excellent for pulling dirt and debris from deep within carpets because they have stronger suction.
3. Canister Capacity
The size of the dirt canister will dictate how often it will need to be emptied. The larger the canister is that collects the dirt and dust, the less often you will be forced to empty the canister.
4. Power Cord
The vacuums on this list are all corded. Therefore, you will want to explore how long the cords are. The longer the cord, the easier the vacuum is to maneuver. A short cord will have you constantly stopping to unplug and plug your vacuum in. This can be a time waster and frustrating.
5. Hose Length
Many vacuum attachments go at the end of the hose, so having a longer hose is especially valuable. This is definitely true for vacuuming stairs or automobiles.
6. Cleaning Path Width
The larger the cleaning path width, the fewer passes you will need to complete a room. Note that a bigger cleaning path width can also add more weight to a vacuum, so make sure you're not trading too much of one for the other.
7. Weight
Vacuums come in all shapes, sizes, and weights. One thing you want to consider is how heavy the machine is. Depending on how large of an area you are cleaning, this is important. Sure, it likely has wheels, but that doesn't mean that pushing around 30 pounds for an hour is necessarily easy.
8. Bagged vs. Bagless
There is a tradeoff between bagged and bagless canister vacuums. Bagged canisters have the on-going cost of purchasing replacement bags, but they often have a larger capacity. Bagless canisters are great if you don't want to keep buying bags. Bagless canisters generally need to be emptied more often and that can be messy.
9. Attachments
The more attachments that are included, the better. Attachments are a way to make your canister vacuum more versatile. Attachments such as upholstery tools, pet hair removers, and crevice tools are very valuable.
10. Bag/Canister Full Indicator
A light that lets you know when to change the bag or empty the canister may not seem like a big feature, but many vacuums experience a decrease in suction power when the canister or bag has reached capacity. If you are not aware of this, you could be wasting your time lugging the vacuum around when it is not even cleaning properly.