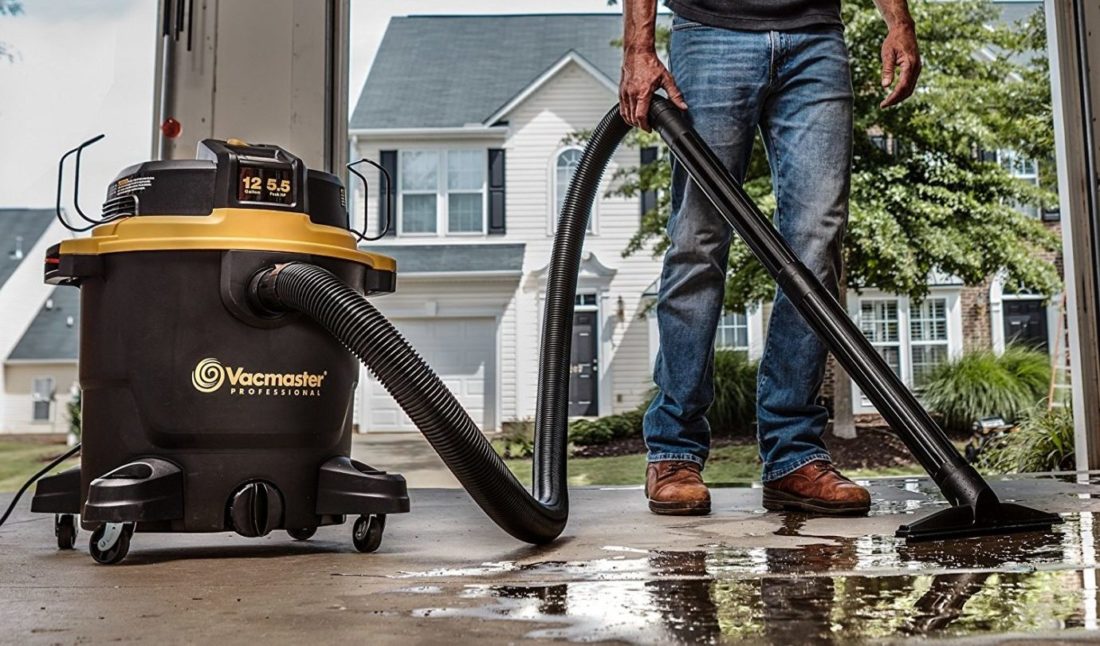 Shop vacuums are very powerful and very useful cleaning tools. The best shop vac will be able to clean your home, your jobsite, your garage, and your car. Simply put, it's a vacuum that's intended for heavy-duty use that normal vacuums can't handle. What is the best shop vac for dust collection, and the best wet dry shop vac? This explores the best options for you, as well as all the pros and cons that come with owning a shop vac over a typical vacuum.
While shop vacs are a special kind of vacuum that are most often used in construction and woodworking, they are also incredibly useful for your household, and may be employed in day-to-day, regular cleaning. These vacuums have a high-powered motor and suction unit that will suck up dirt and debris, as well as chunks of material from building sites and woodworking shops. They feature a big and tough hose, a large canister to hold a large amount of debris, and they work wonders for cleaning large and dirty spaces.
You may hear shop vacs referred to as bucket vacuums; they do look like a bucket with a hose sticking out of it. Typically, shop vacs will have wheels so they're not only easy to cart around, but also easy to navigate through spaces. Simply put, this is not the kind of vacuum you'd use to clean the small carpet in your living room; it's intended for big-time jobs and deep cleaning.
You can vacuum up water or other liquids with a shop vac, which is one of the most beneficial aspects to purchasing one. The ability will depend on the specific type of shop vac that you purchase. Many shop vacs were designed to be able to handle liquids and dry objects as wet dry vacs, and they can tackle anything.  Here's a quick list of our favorites:
What is A Shop Vac Typically Used For?
Traditionally, the places and situations shop vacs are used for include:
Construction sites

Woodworking shops

Garages

Car interiors

Sucking up nails, screws, and other small metal pieces

Sucking up chunks of wood as well as sawdust

Blowing away debris in garages, on patios, and within jobsites

Cleaning up wet messes that normal vacuums can't handle
All of these materials can be found on the ground of a shop or jobsite. Some shop vacs are also designed to also suck up water and other wet messes. These are wet/dry shop vacs, and they are very versatile. Sites that are outdoors especially can use a water-capable shop vac.
Related Article: Best Vacuums Under $200
While they are traditionally used for jobsites, a shop vac may be the one of the best purchases you can make for your home, especially if you have pets and kids who are continually making a mess. Since many shop vacs are adaptable to either wet or dry messes, they can pick up liquids, which makes cleaning spills a breeze. Most shop vacs should be adaptable when it comes to bringing them from the jobsite into your home.
Differences between Shop Vacs vs Regular Vacuum Cleaners
There are a few differences between conventional home vacuums and shop vacs that will help you easily make the distinction as you're shopping the best shop vac. These include:
Shop vacs are intended for heavy-duty jobs with larger pieces of debris

. Normal vacuums are only meant for dirt, dust, and other small particles. However, shop vacs will suck up metal objects such as nails and screws, hair, and wood chunks with no problem. All of these are things that a normal home vacuum wouldn't be able to handle, and which could actually break normal vacuums.

Shop vacs have bigger and tougher hoses

. These hoses are necessary when it comes to sucking up those big, chunky, and sometimes sharp pieces of debris. To handle these hoses, shop vacs are a lot bigger and clunkier than the average home vacuum, as they need to be big to handle shop cleanup.

They have powerful motors

. This provides the power behind the big clean up, and is necessary to suck up big and heavy objects. It also is a reason why shop vacs tend to be bigger and clunkier than normal vacuums; the body of a shop vac is usually a large round plastic or metal container that moves on wheels, rather than something slim that is manually carried.

They're more complicated to empty

. Shop vacs will need to be lifted up and moved around in order to empty them of all the chunks and debris you sucked up. This is very unlike a normal household vacuum, where you can simply remove a bag, dump a container, or change out a filter compartment.

The filters are different

. Regular vacuums are typically meant for the home, and shop vacs are typically meant for jobsites. Due to these general uses, many regular vacuums have quality air filters that ensure debris isn't released back into the air you breathe. These filters are designed to take in small particles. Shop vacs, however, are built for large pieces of debris and big jobs. The filters in shop vacs don't trap smaller particles, and so do not help with the air quality.

Most shop vacs convert into blowers

. This is an aspect unique to shop vacs—your regular vacuum won't help you blow away leaves or debris, but the powerful motor in a shop vac can. Shop vacs are often purchased for multiple uses, not just for cleaning or sucking up debris. A normal vacuum, on the other hand, simply cleans.

Shop vacs are better at cleaning both wet and dry messes

. Shop vacs were designed to be able to tackle anything. You can clean your garage and suck up sawdust, then immediately suck up water. Both will be picked up, and the floor will be completely clean. Normal vacuums do not have this capability, and if they are designed for wet and dry messes, you'll need to change settings or put on an accessory. Shop vacs handle it simply and efficiently.
If your house is very messy, you have a large amount of debris around or a large space to clean, or you work in the garage or yard, you may need to find the shop vac for your home. They'll come in handy for cleaning your car, driveway, veranda, garage, and porch.
Benefits to Getting a Shop Vac
Whether you're considering a shop vac for cleaning your home or your jobsite, there are many benefits to having a shop vac that make the purchase absolutely worth it. These benefits include that shop vacs:
Are more durable.

Made from tough plastic, these vacuums won't break if you drop them or accidentally step on them. Many regular vacuums are made from cheap plastic and are designed to be very light, which means that if you drop them down the stairs or even let them fall to the ground, they could snap or pieces may break off. You won't have to worry about this with your shop vacuum. Shop vacuums also tend to have circular bodies that sit on wheels and are close to the ground, so it's much more difficult to knock them over, and you won't be carrying it, so there's no worry of dropping it.
Can be cheaper than high-end vacuums.

Some regular, high-end vacuums clean very well, but are expensive. To get the same kind of power for a lesser price, you can purchase the best shop vac you can afford instead to get the job done.
Are much more powerful.

With shop vacs, you get a lot of bang for your buck. They can be extremely powerful, and are worth it for jobs that normal vacuums just can't handle.
Typically won't break.

Shop vacs are built to suck up anything, including chunks of wood. You can clean anything without worrying about clogging or breaking the hose. Normal vacuums easily break if you suck up metal, such as coins or paperclips. Shop vacs will handle these without a problem.
Won't become clogged by either pet or human hair.

Normal vacuums will get clogged up if you try to clean carpets or upholstery that your dog frequently lies on. Human hair can clog regular vacuums as well. While it's often not a problem to simply clean out the hose and keep vacuuming, a buildup of hair over time can lead to problems down the road. With shop vacs, you can clean all the pet or human hair in your home without any potential for clogging. This turns into a great investment over the long run, especially if you have multiple pets, long-haired animals, or live with people who also have long hair.
Have larger gallon sizes and capacity.

With shop vacs, you can vacuum all day at your jobsite, or vacuum entire houses if you clean for a living. Some shop vacs go up to 12 gallons and beyond.
Handle much bigger objects.

If you have pieces of wood or metal lying around, you don't need to worry about being able to suck these up if you have a shop vac. Rather than spending time going around and picking up large objects manually, a shop vac will just clean it all.
Can handle both wet and dry messes.

Shop vacs easily move from sucking up dust and debris to sucking up liquids. This is especially handy for cleaning job sites or garages; no matter what's on the floor, you don't have to worry about being able to clean it up. Some regular vacuums come with the capacity to clean wet and dry messes as well, but they require applications or settings to be changed. The best wet dry shop vac will take care of any mess, automatically.
Are ideal for jobsites and shops.

You wouldn't want a regular vacuum on the hard floor of your jobsite, and you can't depend on a normal household vac to suck up all the sawdust in your woodworking shop. Shop vacs are ideal for cleaning jobs outside of the home that involve materials you don't encounter as you vacuum your living room.
They'll suck up anything.

This includes

things that may break your regular vacuum such as a penny or a paper clip. Shop vacs perform just as well as regular vacuums when it comes to small debris, but one of their defining features is their ability to suck up large objects, including chunks of wood.
Due to their durability, versatility, and ability to suck up anything, shop vacs make a great investment in the long run. You can purchase one shop vac, knowing that it'll last a long time; you can stop buying normal vacuums every couple of years and simply invest in the best shop vac you can find. This will save you money over time.
Great Uses for a Shop Vac Around Your Home
While wet/dry shop vacs are traditionally used on job sites, they are also great cleaning tools for your home. While you'll want to hold on to your broom and mop and your regular, smaller vacuum for cleaning tile or carpet, there are some situations you'll want a shop vac for. These situations include:  
Cleaning your car.

Besides converting into blowers and picking up jobsite debris, shop vacs are perhaps best known for their ability to clean cars. Many shop vacs are designed to clean the interior of vehicles. Since they're more powerful than normal vacuums, they'll be able to suck up pieces of food, metal, and large chunks of dirt. If you have pets or children, shop vacs are great tools to have on hand to clean up the messes they leave behind in the car. With a shop vac, you don't have to worry about it potentially breaking from large pieces of debris. Shop vac hoses and accessory tools also make them perfect to get into small spaces.
Vacuuming up all the pet hair.

If you have a pet, you know it can be tough to clean your furniture and carpet, as pet hair can clog normal vacuums and even break them. A shop vac can handle a large volume of pet hair without a problem, whether it's from inside your home or the interior of your car.
Cleaning the garage.

Whether you use your garage as a makeshift workroom or for storage, the potential for messes is unending. Do you get sawdust everywhere? Do nails fall as you hammer something? Do you store extra foods and liquids that could spill? Shop vacs can handle all of these. Even if you don't use a shop vac anywhere else in your house, they are incredibly handy in your garage for any mess.
Cleaning up liquid spills. The best wet dry shop vac is

incredible at cleaning up liquid messes. If you spill juice or coffee onto your floor, whether carpet or tile, before you reach for a towel or a mop, take out your shop vac; it will be able to pull liquid from the carpet and clean up liquid quickly and easily from hard flooring. This is especially handy if you have children who spill things often.
Unique Uses for Shop Vacs
Beyond the typical cleaning and sucking up large objects, there are many unique uses for your shop vac that people often don't think of. These great uses include:  
Blowing up mattresses and pools.

You can use the blower to do this and blow up many different items very quickly. Most shop vacs are able to convert into blowers, and are very powerful. By attaching your shop vac to an air mattress, you can have it blown up in no time.
Retrieving items.

If you dropped something down the drain, such as a ring or coins, you can use a shop vac to get it out. Some hoses are small enough to go down drains, and you can turn the shop vac on, suck debris out of the drain, then open the shop vac to see if you retrieved your item. Even if the item is metal, it won't break or harm your shop vac.
Blowing away leaves and other unwanted debris.

A defining feature of the best shop vac is that many of them easily convert into blowers. This can help you clear away leaves, dirt, and other objects from pathways, patios, or garages. This is a great feature to help clear away the top layer of debris, before you clean thoroughly. This is not something a regular vacuum can perform.
Drying out wet basements.

If your basement is filled with water due to flooding or you're experiencing any kind of excessive dampness, shop vacs can help. The best wet dry vacs are excellent at cleaning wet messes, and you can use yours to help suck up all of the water. If your basement is flooded with several inches of water, a shop vac can only do so much, but it's ideal for sopping-wet carpets and for cleaning away all the debris that's left behind. By using a shop vac, you can ensure that your carpet is completely clean and dry, and that your basement goes back to the way it was before.
Cleaning out gutters.

Shop vacs come in handy for tedious seasonal chores. With extension wands and other accessories, it becomes easy to reach up high, put a nozzle into your gutters, and let your vac suck up all the leaves. With this, you don't need to bother with ladders, gloves, and extra messes—a shop vac will take care of it all, even if the leaves are soaking wet.
Cleaning out drains.

With small hoses and a long reach, shop vacs are great for getting out the gunk that clogs up your drains. Since they're able to handle both wet and dry messes, it doesn't matter if the blockage in your drain is due to a large item that doesn't belong there, or to buildup. Shop vacs are especially useful to clean out drains if blockage is caused by hair, as they'll suck up either pet or human hair without a problem.
Using it as a way to cool out a workshop, barn, or garage.

Since your shop vac easily converts into a blower, you can set your vac in the corner of a room and let it merely blow out air. This can help cool down a heated workshop or garage, and is a unique use to a shop vac that many people don't consider.
Drying wet car seats.

It's easy to think of cleaning spills that happen in your home or garage, but shop vacs can handle the spills that happen in your car, too. Shop vacs are great at not only cleaning the debris on top of car seats, but also at ensuring a deep clean that will pull all of the liquid out as well.
Sealing freezer bags.

Many people purchase special tools that will suck out the air from bags, but your shop vac will do the trick perfectly fine. This is especially handy for sealing meats and other foods that you want to put in the freezer for a long time. You can also seal bags that contain clothes, for storage or for packing, and it will save you a lot of space.
Getting rid of wasps, spiders, and other bugs.

Instead of spraying down your whole house or jobsite, you can just use your shop vac to vacuum up unwanted bugs that are infesting your space. While this doesn't tackle the issue of where they're coming from or how they got there, you can quickly take care of bugs and not have to worry about them coming back.
Making a white noise machine.

For people who have trouble falling asleep, a shop vac can come in handy. If you can't sleep without the noise of a fan or other type of blower, you can plug in your shop vac and leave it running to help you fall asleep. Of course, many shop vacs are very noisy due to their high power, so you may have to muffle the vacuum with a blanket.
Creating a ponytail.

Have you seen those fun videos on YouTube where someone puts a rubber band on the end of a vacuum hose, sucks up their daughter's or friend's hair, and releases it all into a ponytail? Shop vacs are the tool that makes this possible.
Shop vacs are incredibly versatile and have many uses. Even if you don't have a garage or don't need to clean your jobsite, you may want to consider having looking for the best shop vac to blow up an air mattress, clean your gutters, get rid of bugs, and for any other of these unique uses.
How to Use Your Shop Vac to Clean Out Drains and Gutters
Being able to clean hard-to-reach places is one of the most beneficial aspects to owning a wet dry shop vac. These places include gutters and drains; whether you're reaching up or reaching down, shop vacs can clean your entire house from top to bottom.
Surprisingly, you can use a wet/dry vac to clean out your gutters in the fall, when they become clogged with leaves. This is a task many homeowners dread, but shop vacs make this job easy. Simply put the nozzle of your shop vac into the gutters, turn the vac on, and let it go to work as it sucks up leaves, water, dirt, and other debris from your gutters. Extension wands and other accessories make it possible for your shop vac to reach high up and work efficiently. If the leaves are wet or you're encountering liquids, there's no need to worry, as your wet/dry shop vac will take care of it all.
Related: Best Canister Vacuums
This is especially beneficial to homeowners, as it eliminates the need for gutter cleaning tools, gloves, and ladders. It works quickly and efficiently, which saves you time, and you don't need to worry about paying for a professional gutter cleaning service ever again.
When it comes to cleaning drains, using a shop vac is simple and easy. Before you clean, make sure that your vac is a wet/dry shop vac that was specifically designed to be able to handle both liquid and solid messes, as this won't work if it's a dry-only vac. Simply put your shop vac to the "wet" setting, insert the nozzle down the drain as far as you possibly can, and switch the vac on so it suctions out whatever is clogging your drain. It won't matter whether the blocking object is a clump of hair, a large object, or regular buildup; a shop vac can handle it all.
How to Use a Shop Vac to Cool Out a Space
Since your shop vac easily converts to a blower, you can use it to help cool down a room. Just set up your vacuum in a corner and set it to blow out air. To use a shop vac as a blower, remove the shop vac motor from its base. Take the hose out of the vacuum port, and insert the hose into the exhaust port. These exhaust ports are typically located on the rear of the vacuum.  Then turn the shop vac on, and use the hose as a blower. You can direct the air in any direction as needed.
Accessories for Your Shop Vac
Keep in mind that not all vacuums are the same, and depending on the type of cleaning you are anticipating on doing, you should consider the accessories that come with your vac before purchasing the best shop vac you can find. Many shop vacs have on-board accessory storage so that nozzles and extension wands will be at your fingertips as you clean. Think of the particular task you need your shop vac for as you browse potential accessories.
You should also know that accessories will vary according to the size of the objects you are cleaning up. 2.5-inch accessories are necessary to fit hoses whose openings are the size of a baseball. These will suck up large chunks of wood and probably anything and everything that is lying around. If you want to be more selective in what your shop vac sucks up, 1.25-inch accessories fit hoses whose openings are the size of a golf ball, and 1.5-inch accessories are great as a system of heavy-duty accessories that are best fit for industrial and commercial purposes.
Common accessories include:
Multi-purpose floor nozzle

Extension wands

Foam sleeves

Cartridge filters

Reusable dry filters

Collection filter bags

Fine dust and dry wall filters

Specialty filters

Hoses

Adapters

Tool storage

Specialty accessories

Sawdust collection components

Motor replacement

Replacement parts

Replacement caster wheels
Depending on the manufacturer and the specific product, many of the best shop vacs come with accessories, such as tool storage, foam sleeves, and extension wands. Certain other accessories however, such as hoses, adapters, and replacement parts, will need to be purchased separately. Before you get a shop vac, you should consider all the things you will be using it for and try to find one whose accessories match your intentions.
Filters You Should Consider for Your Shop Vac
One of the biggest accessories that should be considered for shop vacs are filters. Since shop vacs aren't designed for the same purposes as regular household cleaners, they do not have as high quality air filters and other filters. If a high-quality filter is important to you, and you want to have the best shop vac for dust collection, or if you or someone you live or work with has asthma, a filter is especially something you should look into getting. Filters for shop vacs include:
Cartridge filters.

Cartridge filters

will help with the air quality as you clean, and help ensure that you are not releasing a lot of dirt back into the air. Quality cartridge filters should resist clogging, and they typically are 99% efficient when it comes to filtering particles down to 0.1 microns.
Reusable dry filters.

Dry filters

are often used in combination with foam sleeves. These filters are economical and save you money, as you don't have to worry about stocking up with replacements; they're made of cloth material and are perfectly washable, so you can use them over and over again. Dry filters come with mounting rings and make it easier to pick up larger debris and dry material.
Fine dust and dry wall filters.

Fine dust filters and dry wall filters

are especially important for people who use shop vacs to suck up sawdust or other small, fine material in their garages or at their jobsites. These filters will stop and hold ultra-fine dust. They're designed to trap the smallest particles, so nothing is released back into the air you breathe. Typically, these filters will come in bags that you can put in your vacuum and which are tear-resistant, so there's no risk of the bag breaking open and releasing fine particles.
Specialty filters.

Depending on your specific intentions with your shop vac,

specialty filters

may be the way to go. Some shop vac specialty filters are made for car cleaning and even specific types of cars, such as filters for Honda Odysseys. Other filters provide heightened super performance, or can hold up to four gallons of debris to ensure that you are able to clean for a long time. Many of them are made of cloth, which means that all you have to do is wash them in order to use them again and again.
No matter what you use your shop vac for, there is a filter designed for the purpose. If air quality is important to you, also make sure that the filter you buy is HEPA rated; these filters have been tested and certified. They will trap all particles up to 0.1 microns and will ensure the air you breathe is free of dust. A filter will help make your vac the best shop vac for dust collection.
The Downsides to Shop Vacs
Just like with anything in life, using a shop vac as your regular vacuum does come with some disadvantages.
Noise.

The first big disadvantage is that shop vacuums tend to create a lot of noise. There's a reason they work so well; they have a lot of power, and that power comes with noise. Some shop vacs come with noise diffusers to help alleviate this problem, and they do tend to be quieter now than ever before.

You will need attachments and accessories.

To get the correct gear for your cleaning jobs, you may have to purchase accessories that aren't included. Many shop vacs come with accessories already, so you'll need to check out the list and consider whether you'll have to make purchases separately. However, most shop vacs do not include accessories for carpets, drapes, and other fabrics. Generally, a shop vac will have a big tube that has a wide opening, but that is it.

They're bigger.

If having a clunky, large vacuum is an issue, you'll want to look into shop vacs that have smaller gallon sizes and smaller horsepower, or HP, range. These smaller vacuums will tend to be about the same size as a regular vacuum cleaner.

They're often much heavier.

The large power behind shop vacs requires a bigger size. Due to this, shop vacs can be much more difficult to maneuver, harder to store, and tougher to transport around. Be aware that if you purchase a shop vac, you'll need to consider how you'll carry it. Luckily many of them have wheels so they can easily be wheeled from cleanup job to cleanup job.

They're really powerful.

If you're not careful as you're cleaning, you might suck up some things you didn't intend to. Socks, jewelry, and even carpet can be torn apart and pulled into a shop vac. If you want a heavy-duty clean without harming your carpet or other objects, it's recommended to stick to 4-5 HP and to not purchase anything above that. In comparison, lawn mowers often have 5 HP engines. 4 HP is plenty of power for vacuuming.

They generally do not do a good job at filtering air.

Normal household vacuums have very good filters that will improve air quality in your home, and which will stop small particles from re-entering the air as you clean. However, many shop vacs do not come with any kind of filter, as their main purpose is to clean deeply and suck up large objects. Some shop vacs do come with HEPA rated filters, and if clean air is a concern for you, it's an aspect you should look into as you browse shop vacs.
As with any cleaning tool, there are both advantages and disadvantages to getting a shop vac. You will have to weigh your personal pros and cons and consider your situation to determine whether getting a shop vac is right for you. Do you need to clean your car, but live in a quiet neighborhood? You will need to look for a shop vac that includes a noise diffuser. Do you truly need something with so much power? A small or mini shop vac might be best. Are air filters important to you because you have allergies? You may need to purchase a quality air filter separately. Weighing all the aspects will help you not only find a great shop vac, but one that's best fit to your situation.
The Best Shop Vacuums of 2018
Now that you understand the differences between a normal household vacuum and a shop vac, and are familiar with all of the unique uses for a shop vac, you can explore the following ten products to learn about the best shop vac of 2018.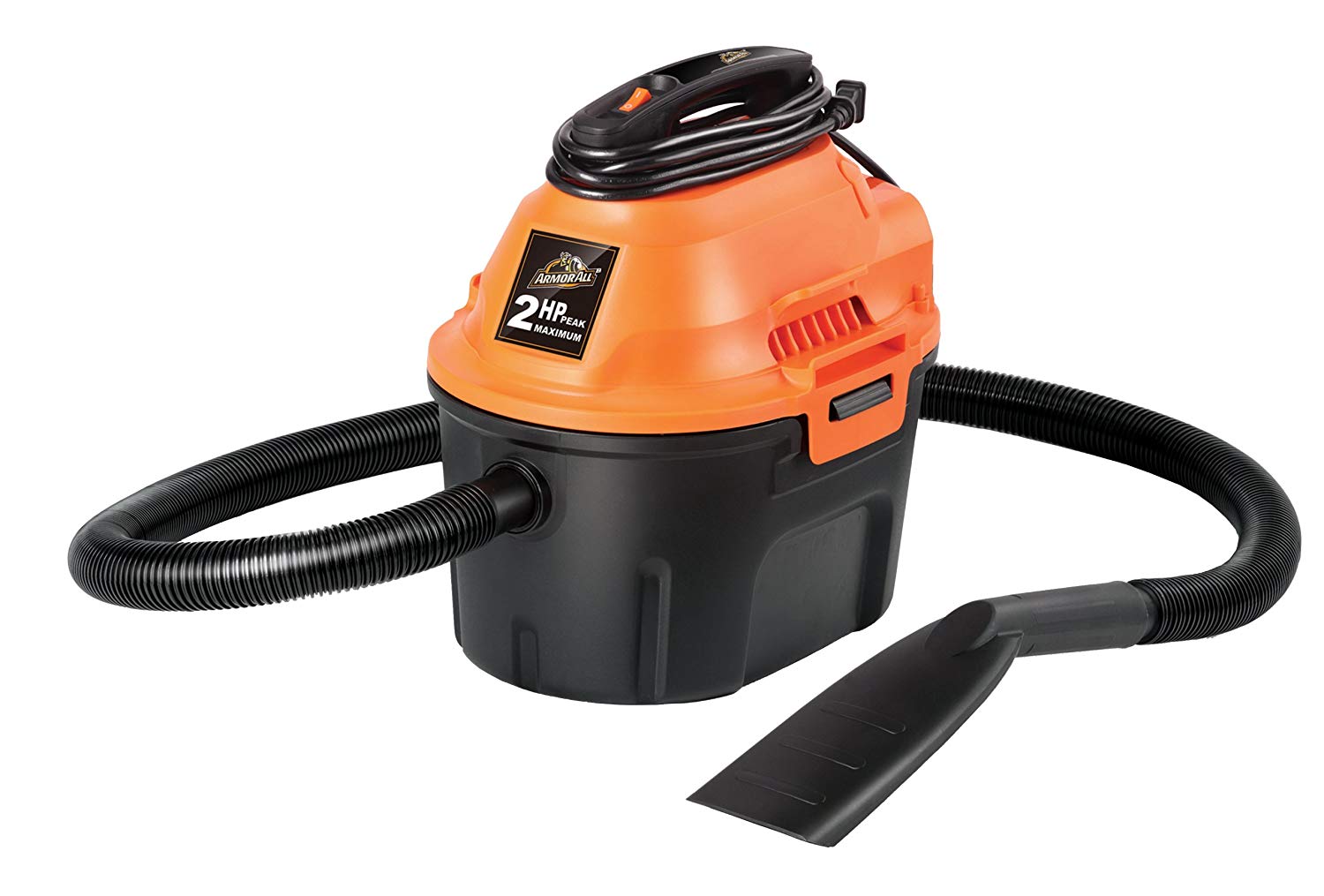 Buy Armor All 2 Peak HP, Utility Wet/Dry Vacuum

Features:
Picks up wet and dry debris

Polypropylene tank holds 2.5 gallons

2.0-peak HP motor

Easy conversion to blower function

Auto shut-off to detect fill limit and prevent overflow

Includes 6-foot hose and 10-foot cord
Armor All's Utility Vac is designed to clean all of your interiors, whether home or auto. It has the ability to clean up both solids and liquids, which means that it can tackle anything. All the accessories you could need are included for complete interior cleaning, and it easily converts to a blower. An automatic shut off detects when the bag is filled and helps prevent overflow.
Armor All's vacuum was also designed for efficient and quiet operation, with a built-in air and noise diffuser. A top handle and onboard accessory storage creates easy carrying. Features include a ten-foot cord, six-foot hose, reusable foam sleeve, reusable cloth filter, 2-in-1 utility nozzle, car nozzle, blower nozzle, crevice tool, and detail brush. The 2.5-gallon tank is small enough to easily carry around, but large enough for most cleanup jobs, making it a good contender for the best shop vac.
---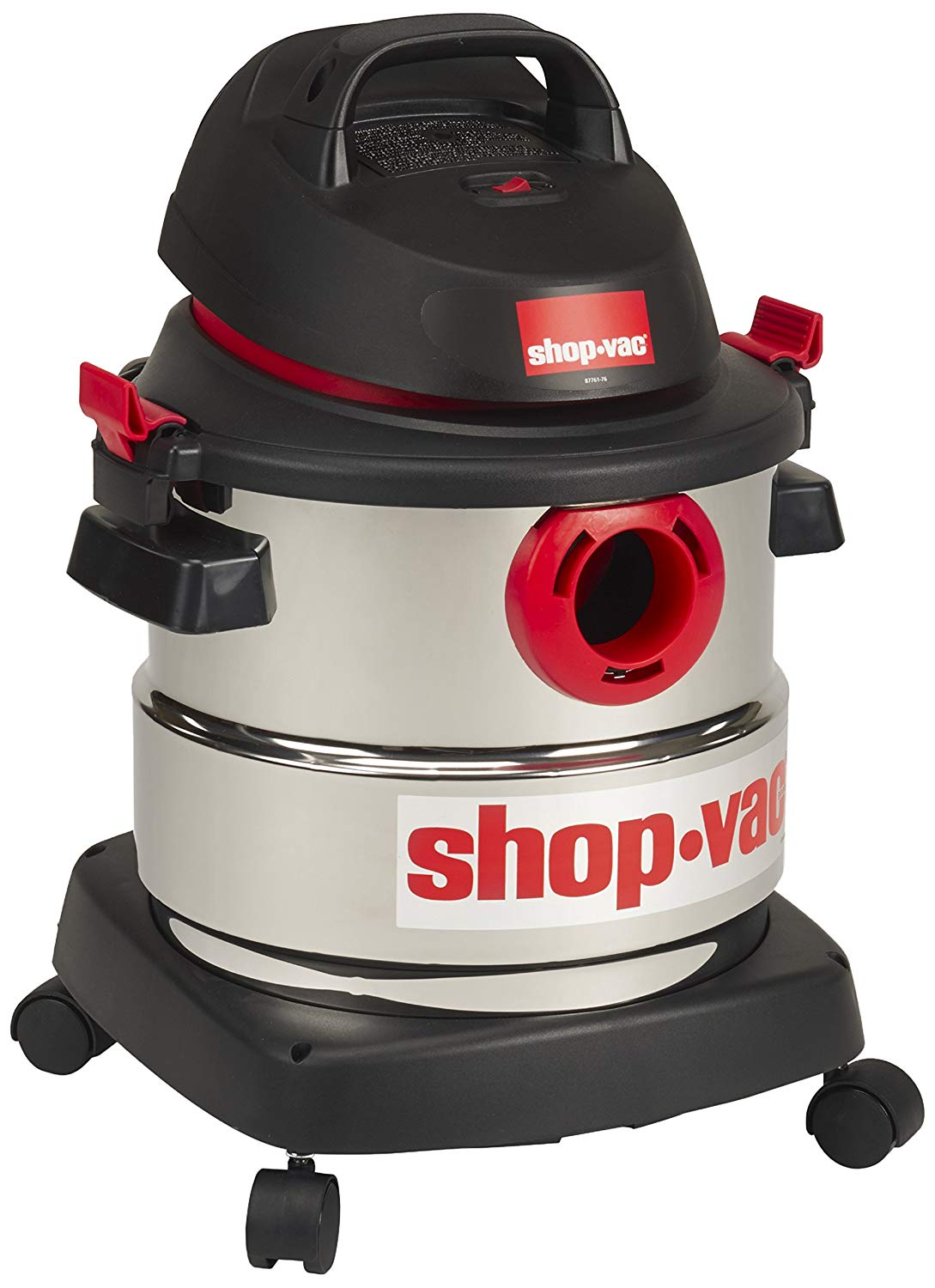 Buy Shop-Vac 4.5 Peak HP Stainless Steel Wet/Dry Vacuum

Features:
5-gallon tank

4.5 peak horsepower motor

Full circumference dolly

Easily converts into a powerful blower

7-foot hose

Crevice tool

Onboard cord and accessory storage

Top and side carry handles
Shop-Vac's wet/dry vacuum provides heavy duty cleaning and was created for efficiency, power, and convenience. Its full circumference dolly makes it maneuverable so you can clean anywhere, and onboard cord and accessory storage, as well as top and side carry handles, enhance its portability. Accessories include a positive lid latch and rear blower port, seven-foot hose, crevice tool, floor nozzle, gulper nozzle, three extension wands, a cartridge filter, foam sleeve, and filter bag.
Shop Vac's vaccums are designed to be powerful and adaptable so they're your all-in-one-solution to anything, from simple household messes to heavy-duty workshop cleanup. With a wide selection of filters, adapters, and accessories, these vacuums are a versatile tool for any task and should be considered one of the best wet dry vacs. Purchase this vacuum to perform at your home, workshop, or jobsite; it even works wonders with your car.
---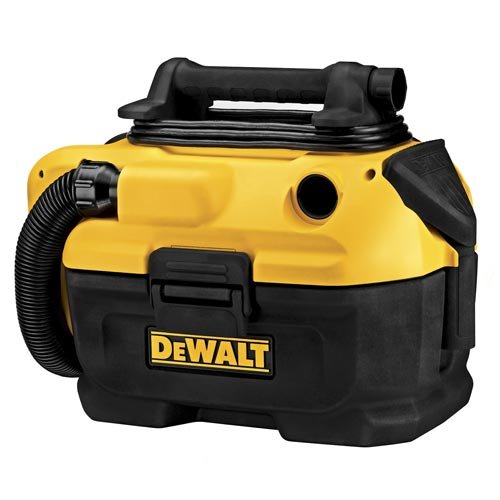 Buy Dewalt Cordless/Corded Wet/Dry Vacuum

Features:
Operates either corded or cordless; 18v-20v MAX battery included

HEPA-rated filter

2-gallon tank capacity

Washable and reusable filter

On board storage

Crush-resistant 5-foot hose
Dewalt's versatile vacuum works on both wet and dry messes and is easily portable. If there's no outlet, no problem: a battery is included and the vacuum operates cordless. Its HEPA rated filter can trap up to 99.97% of particles up to 1 micron, ensuring that what your vacuum sucks up won't be blown back into the air you breathe, which makes this among the best shop vac for dust collection. With onboard storage, all of your accessories will be right there with you, and a washable filter will save you money.
This unit has a unique heavy-duty and crush-resistant five-foot hose that provides ease of use, flexibility, and durability. The vacuum is easy to carry and transport, and comes with a wide variety of accessories including a crevice tool and nozzle tool so you can reach and clean anything that you need to.
---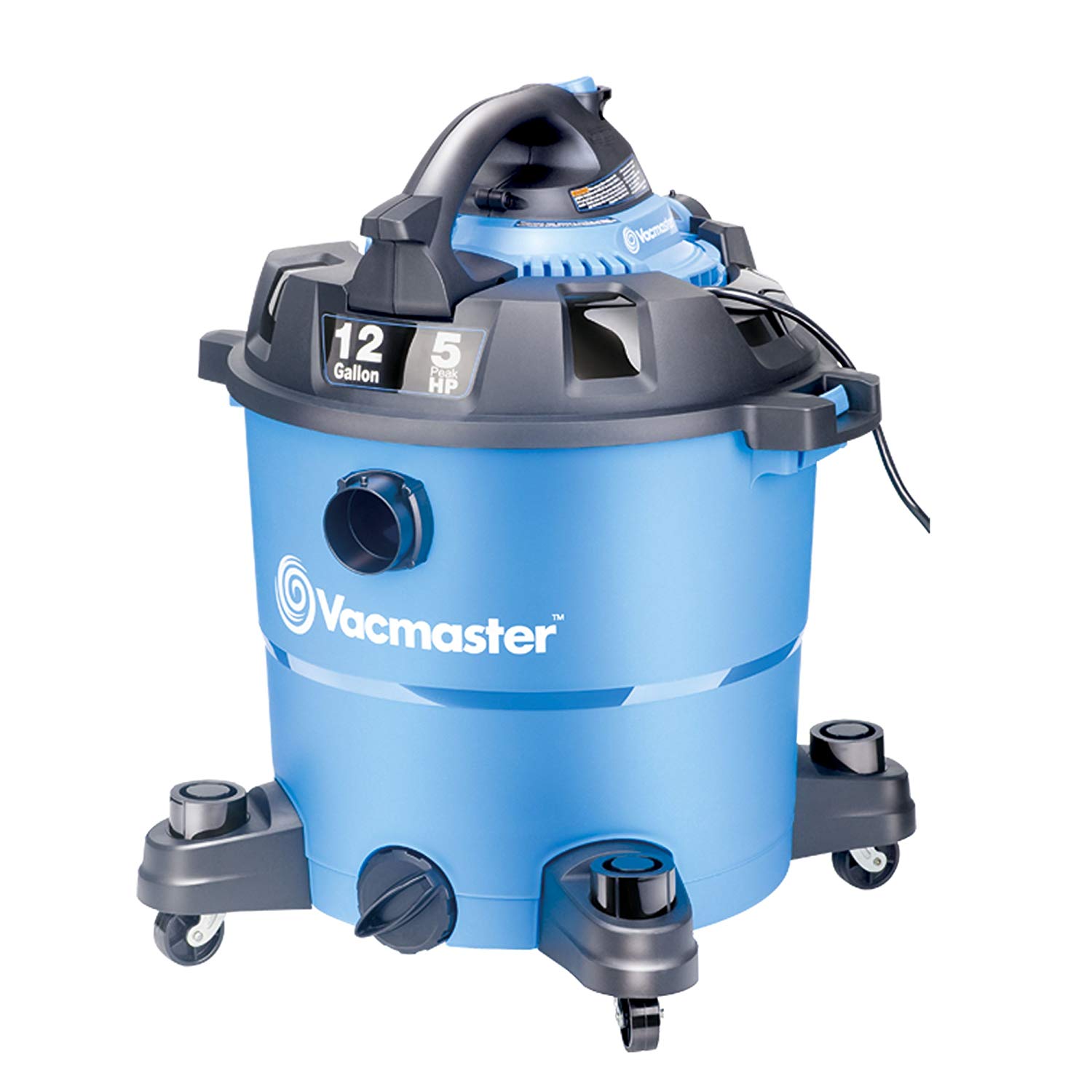 Buy Vacmaster 12 Gallon 5 Peak HP Wet/Dry Vacuum with Detachable Blower

Features:
7-foot hose

12-gallon tank

12-foot cord with cord wrap

quick release detachable blower

Extra-large drain port

Balanced top handle design

5 peak HP
Vacmaster's powerful wet/dry vacuum gives you powerful performance anywhere you need it. This vacuum also easily converts into a powerful blower with its detachable blower tool that provides 210 MPH blowing speed. A balanced top handle design makes it easy to carry and transport everywhere with you, so you can use it both at home and at work. Accessories include a seven-foot hose, twelve-foot cord with cord wrap, crevice tool, car nozzle, utility nozzle, two extension wands, blower nozzle, air/noise diffuser, reusable foam filter sleeve, and cartridge filter.
The vacuum comes with a detachable blower function that'll allow you to move easily and efficient from vacuuming to blowing with the push of a button. Its extra-large drain port and on board accessory storage provides you with tools close at hand so you can tackle any mess, whether at home or at work.
---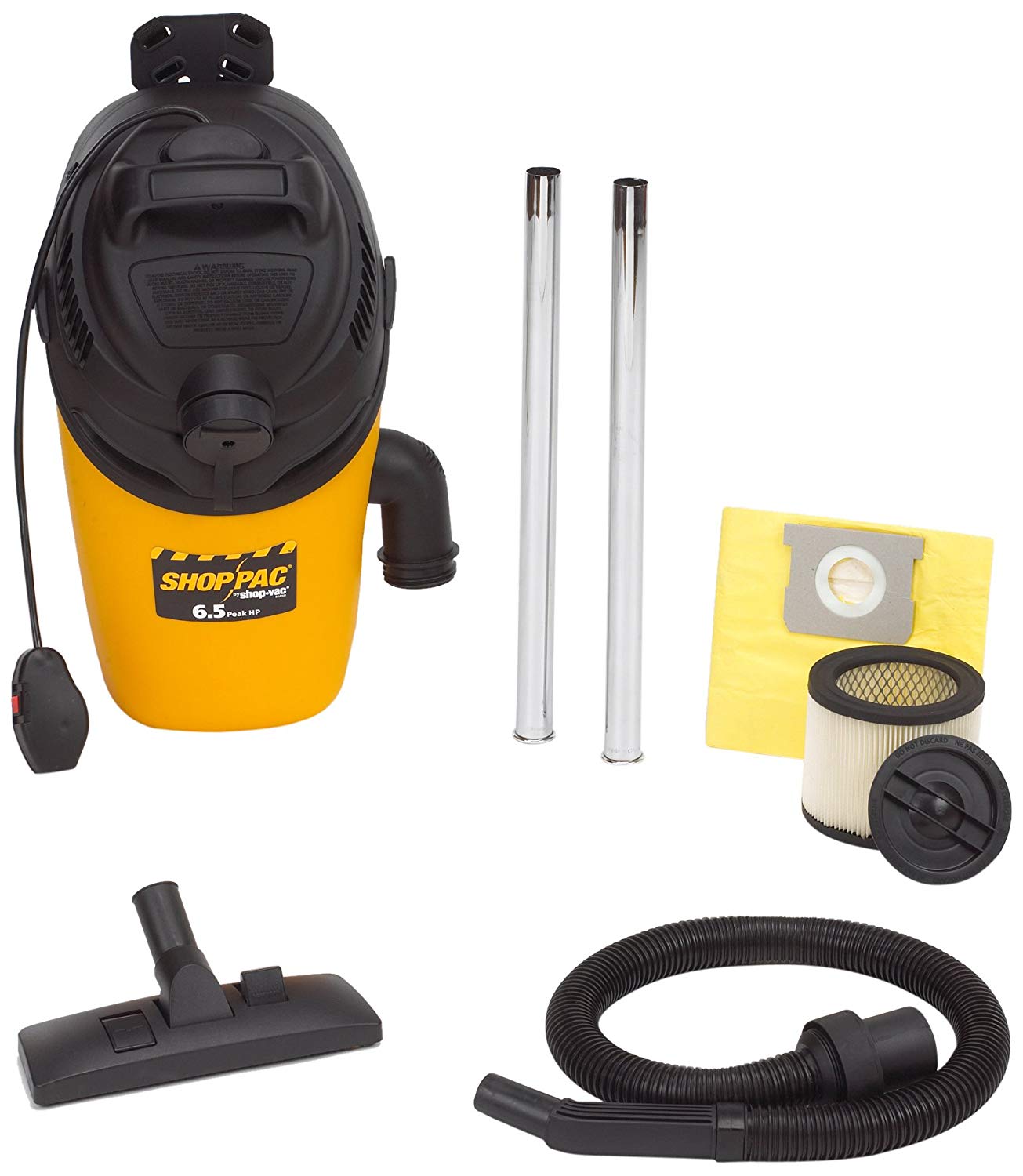 Buy Shop-Vac 6.5 Peak HP Industrial BackPack Vacuum

Features:
25-foot power cord

Easy reach on/off switch

Convenient tool storage belt

LockOn Hose

Metal extension wands with Positive-Lock

Dual surface nozzle

Backpack harness system
Shop-Vac's Shop-Pac vacuum packs the power with mobility as it helps you tackle large areas with minimal effort. With a dual surface nozzle, you can tackle both wet and dry messes, anywhere you need to, even in the toughest and hard to reach spots. 6.5 HP provides powerful suction. Accessories include LockOn Hose, two metal extension wands with Positive-Lock, dual surface nozzle, disposable fine dust collection bag, and cartridge filter.
The unique thing about this vacuum is that it's a backpack vacuum; it comes with a backpack harness system. While using Shop-Pac, you don't have to worry about dragging around a mobile vacuum with you as you clean. The whole system mounts on your back, providing easy and efficient work.
---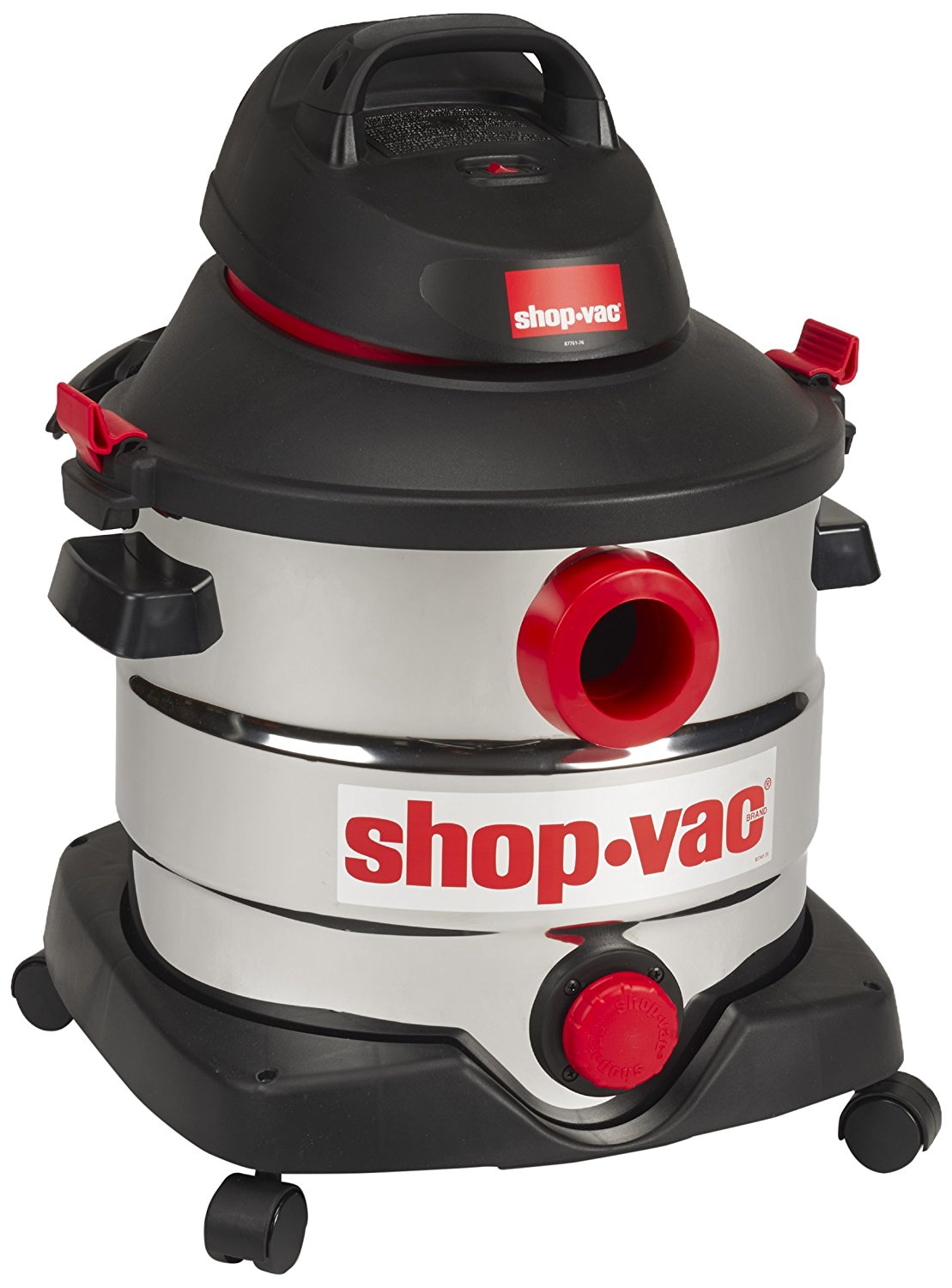 Buy Shop-Vac 6.0 Peak HP Stainless Steel Wet/Dry Vacuum

Features:
Stainless steel tank

On board cord and accessory storage

Lid latch system

Rear blower port

6 peak HP

Top and side carry handles

Full circumference dolly

Floor nozzle

Extension wands

Crevice tool
Shop-Vac's wet/dry vacuum is designed to enable you to tackle all of your messes, no matter where they're at or how they form. The rear blower port easily converts your vacuum into a powerful blower, and the tank drain means that you won't have to lift heavy tanks in order to dump the contents—all you need to do is take the vacuum outside or to a drain and remove the cap. The secure latch system ensures that the tank and lid are always held together. Top and side handles provide excellent portability.
With a full circumference dolly, you can bring the vacuum anywhere and don't have to worry about it ever tipping over. On-board accessory storage will also put the tools you need right at your fingertips. Accessories include a seven-foot hose, gulper nozzle, floor nozzle, two extension wands, a crevice tool, cartridge filter, filter bag, and foam sleeve.
---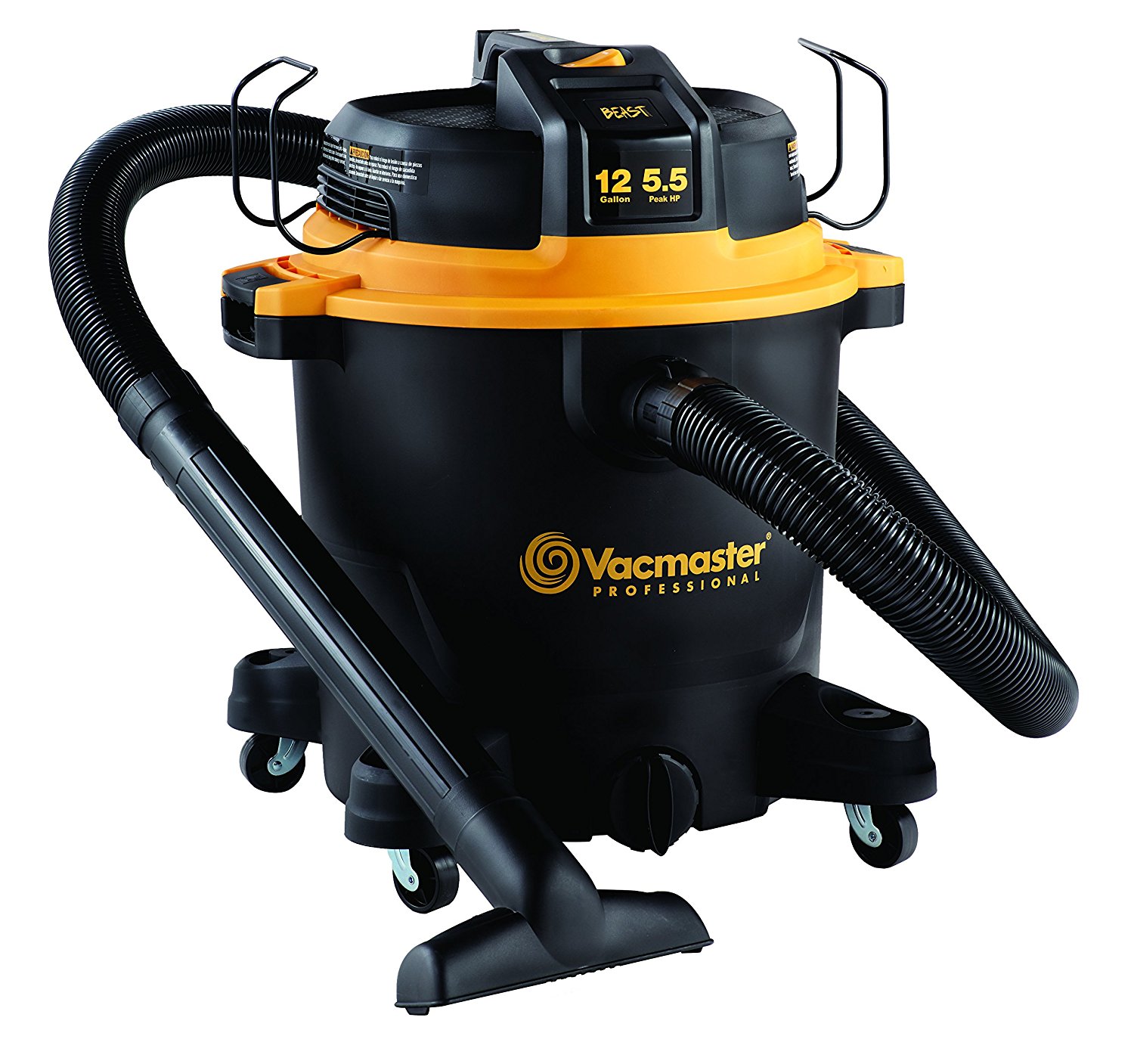 Buy Vacmaster Beast Professional Series Wet/Dry Vacuum

Features:
7-foot kink resistant hose

5.5 Peak HP

Utility nozzle

Accessory and power cord organization

Floor nozzle with squeegee and brush

Fine dust filter

Air and noise diffuser

20-foot power cord

12-gallon collection tank

Quickly converts to blower

Heavy duty 360-degree swivel casters
Vacmaster's beast professional series provides the best suction power and air flow to help you tackle tough jobs around the garage, shop, home, or jobsite. This vacuum is a high-performance vac that's designed to clean well while ensuring efficiency and taking up little storage space, making it a good contender for the best shop vac. A unique flat power head design allows you to store tools on top of the vacuum instead of on the side, so your accessories are always at your fingertips.
Accessories include a seven-foot kink resistant hose, crevice tool, two extension wands, utility nozzle, floor nozzle with squeegee and brush, air and noise diffuser, fine dust cartridge filter, and foam filter. An integrated hose, accessory, and power cord organization creates convenient and hassle-free storage. All together, these provide over twenty-seven feet of cleaning reach, and the twelve-gallon collection tank with an extra-large quick empty drain means that you can reach everything and clean everything without hassle.
---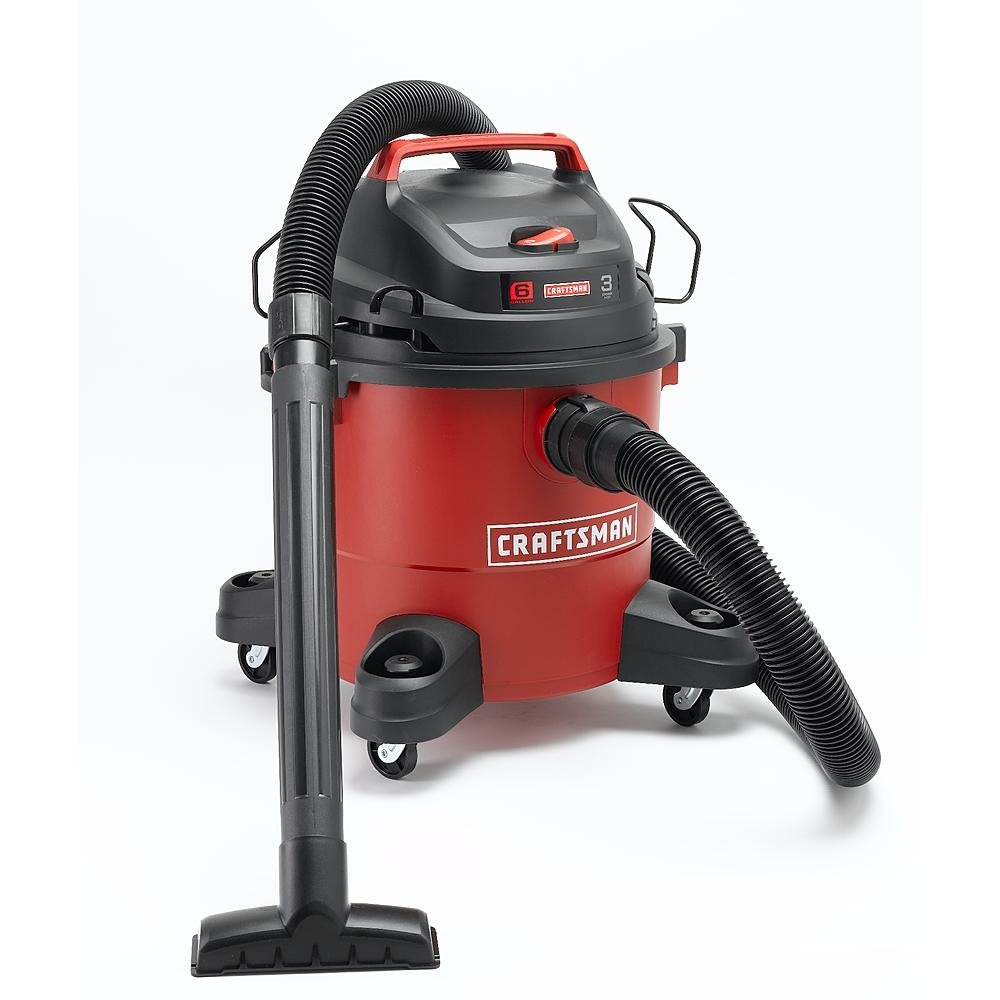 Buy Craftsman 6-Gallon 3 Peak HP Wet/Dry Vac

Features:
6-gallon polypropylene collection tank

3 peak HP motor

Quickly converts to blower

Top carry handle for balance

10-foot cord

Extension wands
Craftsman believes that everyone should have a vacuum that performs well both indoors and outdoors. This vacuum also has a blower combo unit, and its powerful motor makes short work of jobs. You can clean for a long time with a six-gallon collection tank. Use this excellent vac for your yard, patio, or shop, as it easily and quickly converts to a blower. A large dust sealed on/off switch provides easy control, and the top carry handle was designed for balance.
The eight-piece accessory set is perfect for any cleaning occasion. Accessories include a seven-foot secure fit hose, ten-foot cord, two extension wands, and nozzles. Although this is a smaller vac, it performs well and has just as much power as many other bigger vacuums and is perfect for cleaning carpet or getting into your car.
---
Buy Vacmaster 4-Gallon, 5 Peak HP with 2-Stage Industrial Motor Wet/Dry Floor Vacuum

Features:
5 HP motor

4-gallon tank

On-board storage for all accessories

2-stage industrial motor

15-foot cord

Large on/off dust sealed switch

Automatic cord rewind

Triple filtration

HEPA filter

Extension wand

Crevice tool

Utility nozzle

Dust brush
Vacmaster's powerful floor vacuum gives you the tool you need to achieve an excellent clean. The secure-fit hose ensures that no dust escapes from the motor cover, and you can breathe easy as you clean, making this one of the best shop vacs for dust collection. Triple filtration also helps to keep your air safe and breathable. A two-stage industrial motor gives this vacuum its unique qualities by making it quieter, last longer, and providing greater suction. It's easy to use, portable, and lightweight with features like automatic cord rewind and on-board accessory storage.
You can clean quickly and quietly thanks to the 4-gallon polypropylene tank and the powerful and quiet two-stage motor. The on-board storage includes accessories such as three extension wands, dust brush, floor nozzle, crevice tool, and 2-in-1 utility nozzle. A cartridge filter, dust bag, HEPA filter, rear caddy, foam sleeve, double insulated motor, and large rear wheels for mobility are also included.
---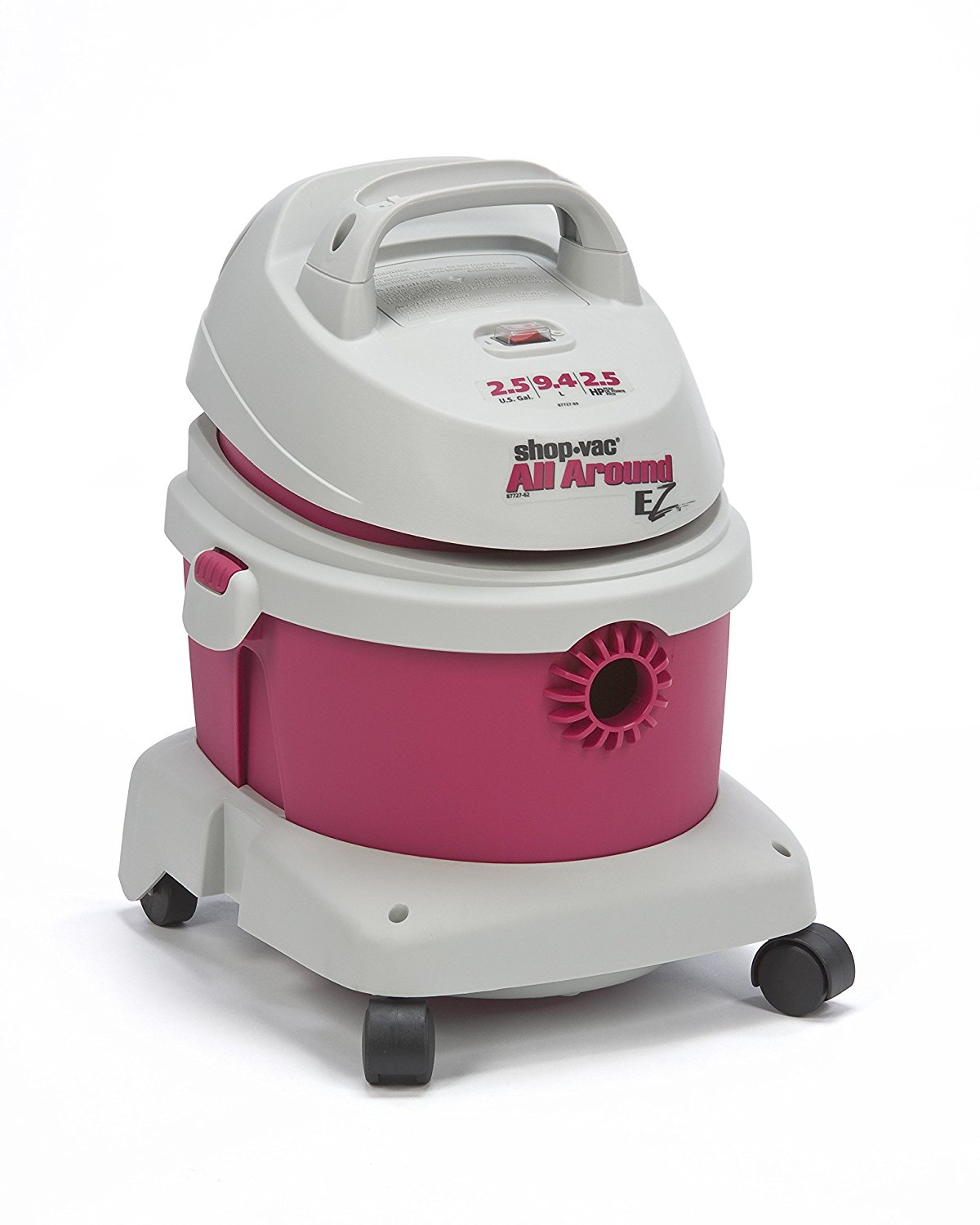 Buy Shop-Vac 2.5 Peak HP AllAround EZ Series Wet/Dry Vacuum

Features:
2.5-gallon tank

2.5 Peak HP

Extension wands

Tool storage

Wall mount bracket

Type B filter bag

Compact portable blower

Dolly with easy roll casters

Top and side carry handles

7-foot hose

Dual surface nozzle and gulper nozzle

Crevice tool
Shop-Vac's small wet/dry vacuum is a versatile tool that packs the power of a full-sized vacuum into a hand-held model so you can achieve your best clean with convenience. Its handles are designed to make it easy to carry, and it is powerful and adaptable with a compact portable blower included. Overall, the vacuum provides power, efficiency, and convenience.
These wet/dry vacs are created to be your all-in-one solution to all messes, from household to heavy-duty workshop cleanup with a wide selection of adapters, filters, and accessories. Accessories include a seven-foot hose, two extension wands, gulper nozzle, dual surface nozzle, crevice tool, round brush, foam sleeve, filter bags, and rear blower port. On-board tool storage keeps tools organized and at your fingertips.
What makes this vacuum most unique is the fact it's wall mountable. If you need to free up floor space in your closet, laundry room, hallway, or garage, the AllAround EZ Series vacs are wall-mountable, so you can keep the vacuum safely up and out of your way. The vacuum is also so lightweight and portable, you can take it to wherever the mess is to tackle it with this small yet powerful tool.
---
Conclusion
Shop vacs are incredibly useful and versatile cleaning tools. If you work on a construction site or in a woodworking shop, or you'd like a way to efficiently clean your car or garage, they're especially handy. With high power and the ability to suck up practically anything, they're ideal for anyone who needs to tackle heavy-duty cleanup jobs.
Shop vacs come in handy for unique cleaning tasks, as well. Since many of them convert into blowers, they're perfect for blowing debris from your garage, leaves from your driveway, or blowing up an air mattress. If you have a pet that leaves a ton of hair behind, shop vacs won't get clogged as they efficiently suck all the hair up. And if you need to thoroughly clean the inside of your car, shop vacs are perfect for the job.
As with anything, there are certain downsides to shop vacs. Their power may be a liability, and their air filters aren't as efficient as the ones that come with normal household vacuums. Before you purchase one for yourself, consider all of the aspects to a shop vac, what you want to get out of using one, and your unique situation.
The products described above are among the best wet/dry shop vacs and the best shop vacs for dust collection. With differing accessories and power, there's something for everyone. Bottom line, shop vacs can help you tackle any cleanup job you'll ever come across. There are many great shop vacs on the market, and by conducting research and considering your own situation, you can find the best one for you.