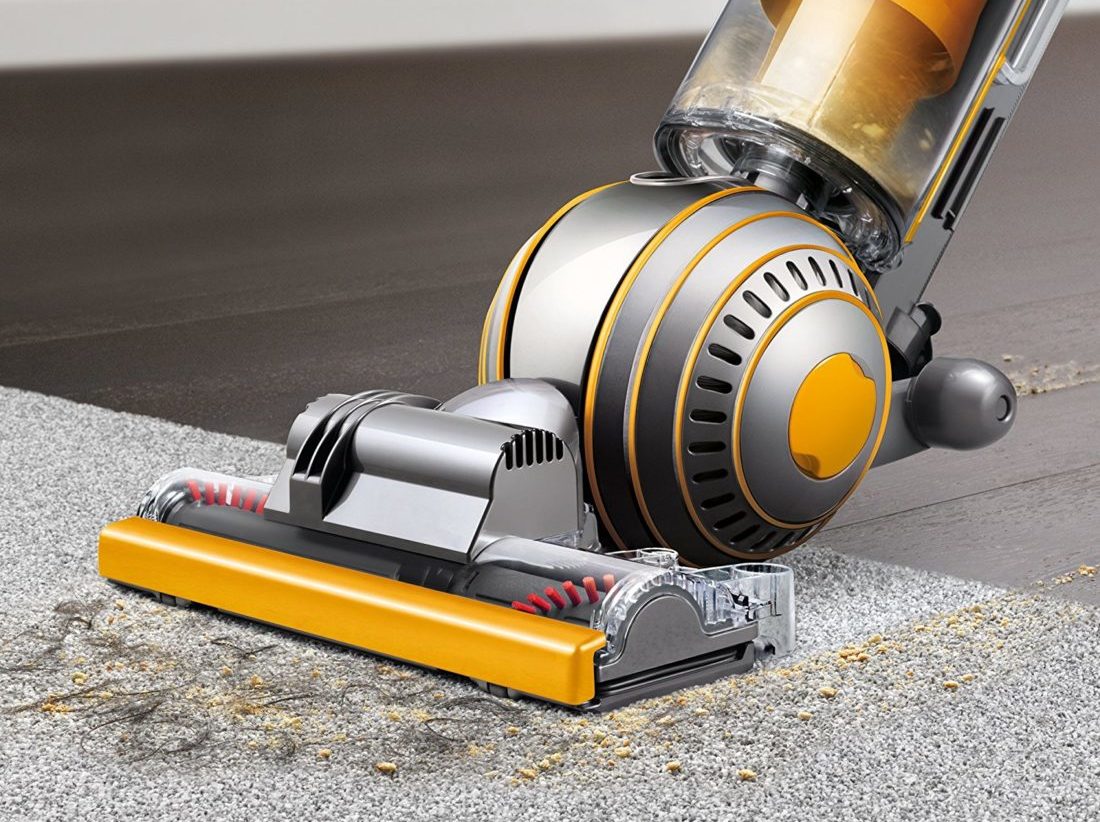 There are a lot of vacuums out in the market, and sometimes it can be confusing on what to buy. It is even harder to find a vacuum for a specific material, like the best vacuum for shag carpet or long pile carpet. Ideally, you want a great long pile vacuum that can also be used on other surfaces.
There are thousands of styles and models, and each has a targeted surface area that it is compatible with. One targeted surface material is high pile carpet. There are a lot of options for high pile carpet, but here is a breakdown of what we think are the best vacuums for shag carpet.  
Each of these vacuums has similar features and bases, but they do in fact vary. Some of the vacuums have long wands, crevice cleaners, bags, cups, automatic buttons, manual buttons, and 360-degree turning radius'. They are all efficient and great for cleaning thoroughly. All of these models can be used on all forms of carpet and hard floors but are especially great for shag carpets.
What to Keep in Mind When Shopping for a Long Pile Vacuum
There are a few things that are important to keep in mind while looking for the best vacuum for shag carpet. The first priority, of course, is the use of these on pile/shag carpeting. Pile and shag carpeting can be a very tricky surface material to clean. Most pile or shag carpets have long, wispy fibers; think of a fur coat or blanket. Because they don't have short fibers, the long fibers make it a lot more difficult to clean, even with some vacuums that have the capacity to clean this style of carpet. Some models can still cause damage to the fibers by tearing or fraying them. There are also other issues, such as if the proper vacuum isn't used, the long fibers will get caught in the vacuum's suction tool or around the motor. These models here are all able to fight these issues, but it's important to whittle these choices down by determining what else is important in a vacuum. There are a lot of important features that could come second on your priority list.
One of the top features should be power. The level of power that the vacuum offers is very important, because that determines how powerful the suction is and whether it can vacuum what the consumer wants to use it for specifically.
Related Article: Best Vacuums Under $200
The weight is another important factor. If the use that is intended for the vacuum involves moving or traveling with the vacuum, it would be a lot more convenient if it was very light and had less parts to lug around. The height is also important, because it determines how the vacuum is used and where it can be stored.
It's also important to determine what sort of material the vacuum is made of which can be important for the intended use. What each vacuum is made of varies. There are a lot of add on options too, so make sure to check all of the vacuum's additional options. There may be something that wasn't considered to be important previously that would really make a difference, such as various types of attachable tools.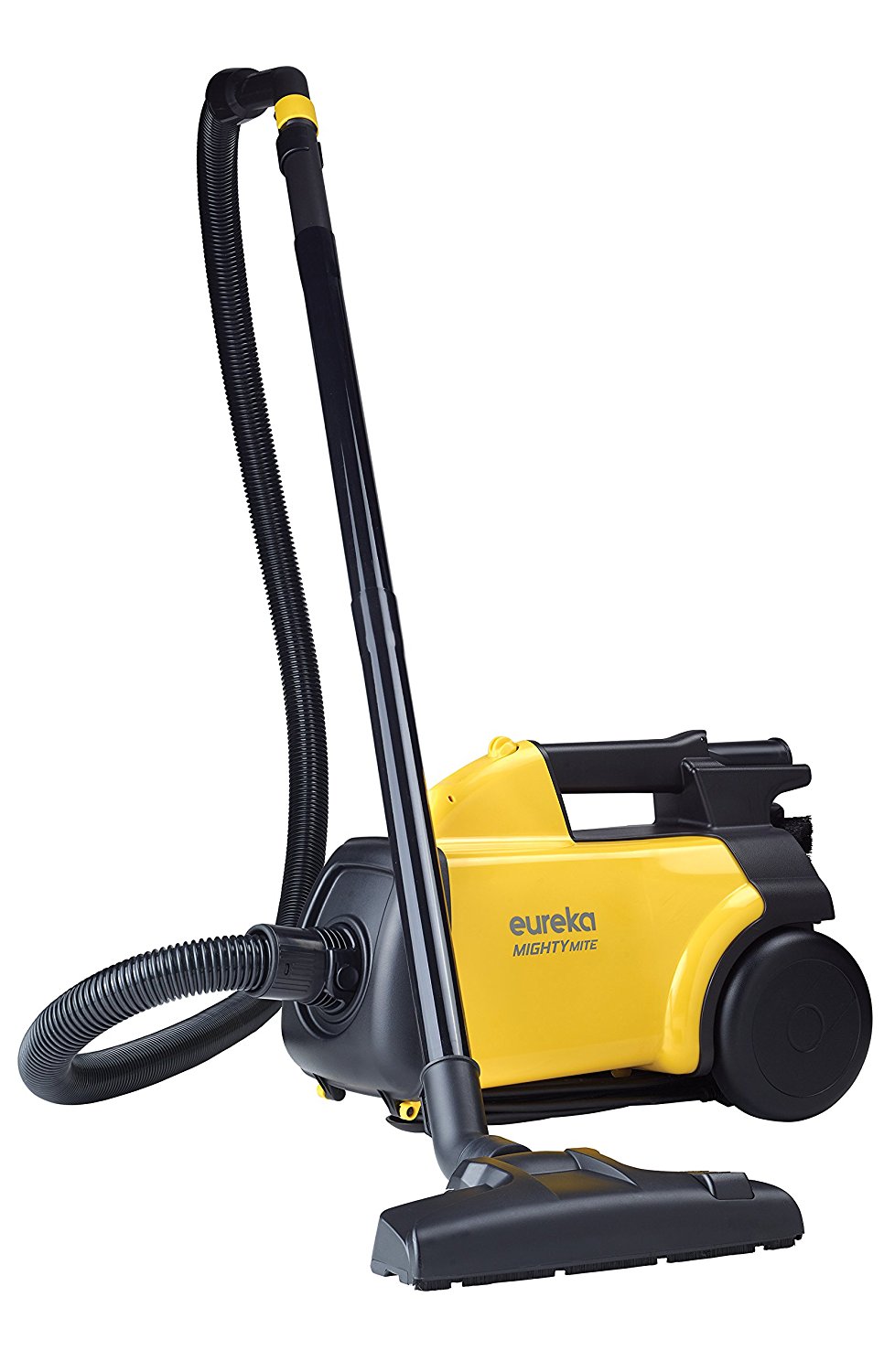 Buy Eureka FBA 3670G, Bagged Vacuum – Yellow

The Eureka FBA 3670G, Bagged Vacuum – Yellow is the number one pick for a high pile carpet vacuum. This vacuum is the best for fast and efficient cleaning, and it is also great for use in both the home and in the car. The Eureka FBA can easily clean short carpet, hardwood floors, long pile carpet, and high pile carpet – which can be a very difficult task. As previously mentioned, long carpeting can easily get stuck in rollers and around motors so having a powerful bagged vacuum like this Eureka FBA is a good way to start. Having a bag allows the fibers to be trapped and stored rather than allowing them to fly around with the air flow.
This lightweight model can easily be carried and includes a blower port that is really great for usage in workshop spaces or garages. The Eureka FBA 3670G, Bagged Vacuum – Yellow not only has a great regular vacuum, but it comes with an extension wand that allows for an extra-long reach range. Even with the extra extension, the whole unit itself is still very light.
This vessel also has a great dust bag that is easy to remove and can cut down the hassle of dealing with lost dust particles. This allows for quick removal of unwanted dirt and any mess that can come from just simply trying to clean up the debris that has already been collected.
Related: Best Canister Vacuums
This long pile vacuum is a small floor unit; it is not a vacuum that stands up tall. It has a yellow dirt housing body and black outline and hose along with two enormous wheels at the back and a handle at the top. This is a small durable vacuum and is about the size of a regular purse. The Eureka FBA 3670G, Bagged Vacuum – Yellow is available in other colors, including orange, blue, and black.
The Eureka FBA 3670G, Bagged Vacuum – Yellow is defined as a canister vacuum, and though it was specifically made to service bare floors, it is spectacular with carpet too. There not only is an extra-long wand but an extra-long cord that extends twenty feet. Even with all of its features, it still remains compact and light, weighing in at only 11.9 pounds.
Aptly nicknamed the Mighty Mite canister vacuum, it has a strong, powerful brush roll that allows the deep cleaning of carpets and crevices. There is also a dusting brush and crevice brush.
When opening the package, the dusting brush is on the top and the crevice tool is in the handle.
Because this vacuum is so small and powerful, it is perfect for cleaning a car. The bag canister vacuum holds a triple filtration bag system. This model is known to last an average of 14 years.
Pros
Easy to use and efficient

Easy to remove dust bags

Auto shut off feature – This allows the prevention of motor damage from tangles and clogs. Whenever there is an issue, the vacuum shuts off, so it is easier to solve the issue.

Includes blower port, powerful brush rolls, and 2 extension wands (upholstery/dusting 

brush and crevice brush)

Lightweight (11.9 pounds), compact 10-amp canister vacuum

Power-touch handle and fingertip controls

Can be used on high pile carpet

Deluxe floor brush and bare-floor nozzle

20-foot cord and automatic cord winding

Triple filtration bag system

Limited 1-year warranty
Usage and assemblage tips
It is important to make sure when receiving a product that it is properly put together, especially if it is electronic and has a motor. Without proper assembly, the vacuum could perform less than its average potential or could even present a fire risk.
The first step is to remove the vacuum and all its pieces from the box. Typically, the extra add on tools are on the top.
Set all the pieces gently on the floor so they are all visible. Make sure all the wrappings are removed and then find the hose and the main canister. Next, attach the hose to the front of the canister and then attach the wand to the handle of the hose.
In order to activate the wand, just press the unlock button and pull it out until it reaches the desired length. To reach peak suction, just simply close the slip ring which is located on the hose handle.
The next step is completed by attaching the combination tool, crevice, or turbo tool to the end of the hose. To use the blower port, the hose must be detached from the front of the canister and attached to the blower port that is located on the back side of the canister.
The best universal tip for this vacuum, in order to keep it functioning properly and efficiently, is to make sure the motor filter stays clean and everything is pieced together properly.
---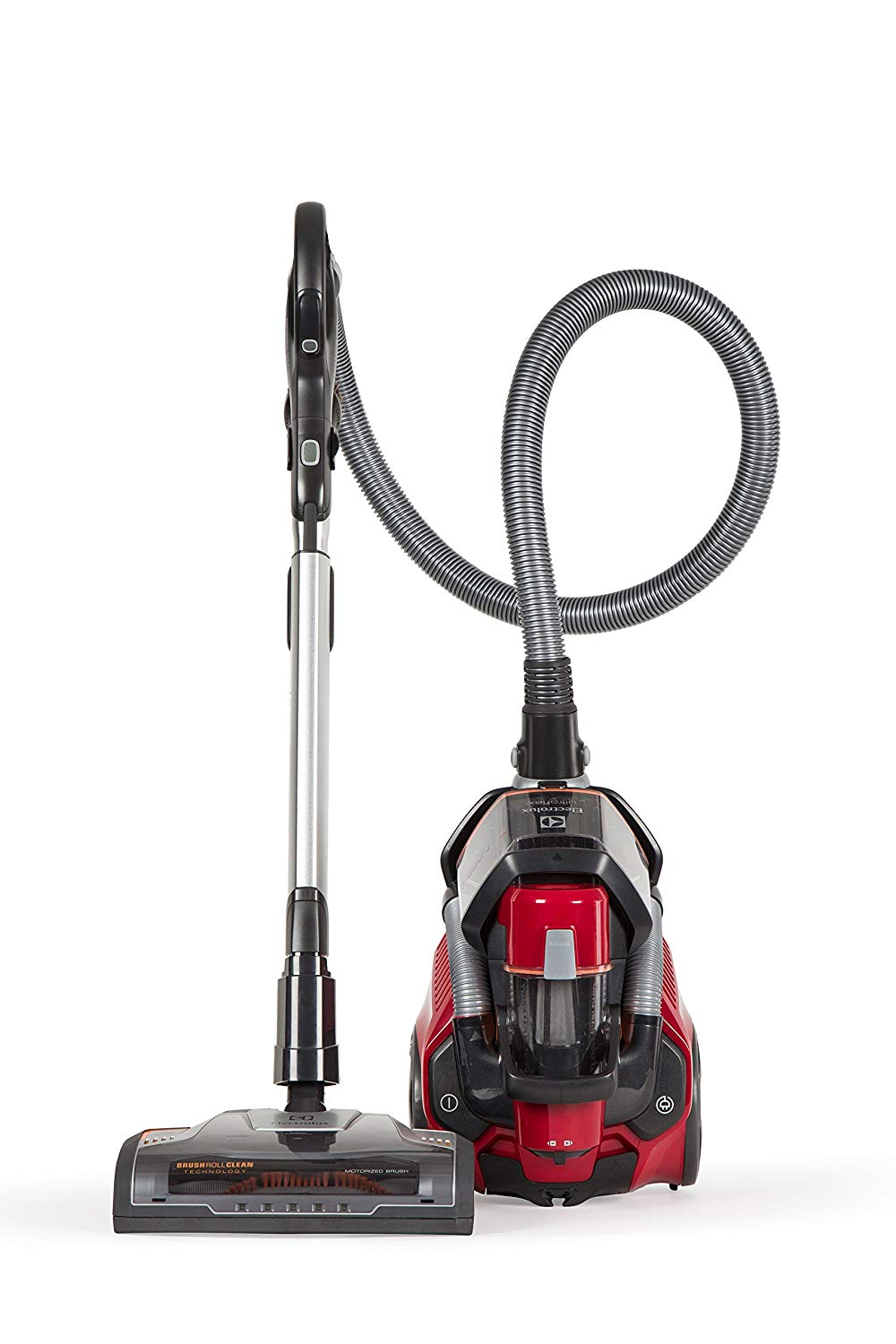 Buy Electrolux EL4335B Corded Ultra Flex Canister Vacuum

The Electrolux EL4335B Corded Ultra Flex Canister Vacuum in Watermelon Red is one of the best vacuums for shag carpet. Though it is great for high pile and shag carpeting, this model can also be used on hard floors, like cement, wood floors, bamboo, tile, and Linoleum.
This long pile vacuum has a brush roll switch that allows for seamless turning and waving around table and chair legs. It is also great for reaching on top of shelves and corners of the ceiling. The Electrolux EL4335B also has a 3-level height adjustment which helps with versatile cleaning, and, despite its small weight, it is powerful.
You can adjust this high pile vacuum in many ways and it can adapt to any surface. It's a great feature to be able to seamlessly go from sweeping the long carpet in the living room to the tile in the kitchen.  This is not a self-adjusting mechanism either, instead, the vacuum itself has sensors that determine when it should change its rollers or height etc.
Related: Best Commercial Vacuum Cleaner
This model has a motion control system and a 12-amp motor. The Electrolux EL4335B Corded Ultra Flex Canister Vacuum has power suction that's adjustable. This vacuum has a cleaning range of 33 feet with a cord range of 21 feet and holds a capacity of 1.4 quarts.
The Electrolux EL4335B Corded Ultra Flex Canister Vacuum has a premium HEPA Filter which is a high-end filter that is even used in hospitals. This filter captures a lot more than the average filter with a capture rate of 99.97 percent of all the dust that comes through it. This decreases a lot of allergens and airborne illnesses.
It also comes with some tools that are versatile and can be used in more than one way. There are two that are stored on the vacuums handle – the crevice tool and the dusting brush. These tools make cleaning crevices and stairs easy.  This vacuum is great for taking out to the car and using the hand-held tools to clean upholstery, car seats, car mats and underneath the seats, and in the side crevices. Clearly, this long pile vacuum covers many surfaces.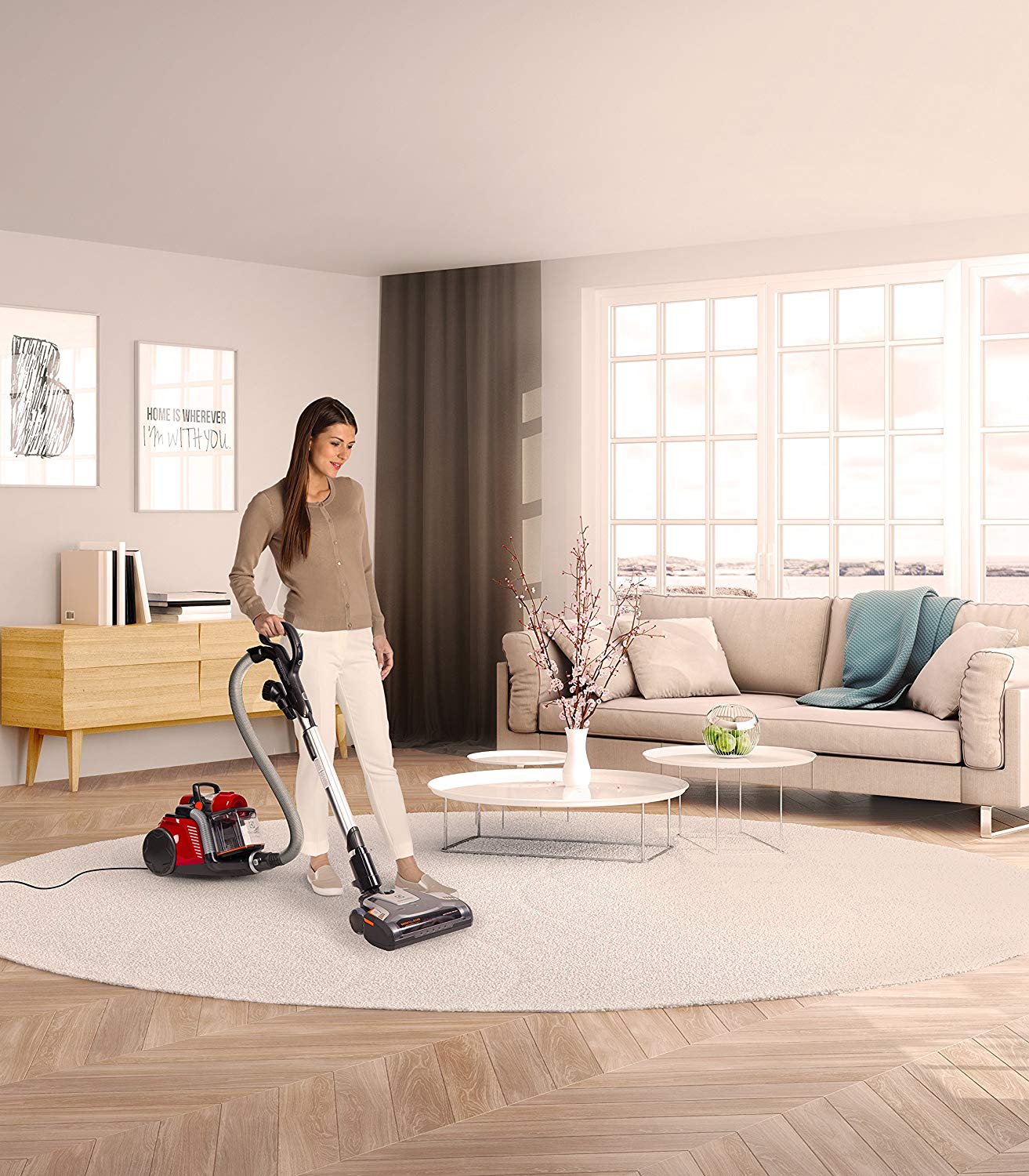 This vacuum was designed to show great performance on every surface, but it was specifically specialized for plush carpet. There is a 3-level height option that adjusts to the kind of surface that's being cleaned. There are changeable options for the veracity of the suction power, so the vacuum can be used on tough and delicate fabrics/surfaces.
The Electrolux EL4335B Corded Ultra Flex Canister Vacuum has self-cleaning brush rolls in order to prevent clogging or hair tangles. The more self-adjusting features, the easier it is to maintain the new quality and effectiveness of your vacuum. Preventive measures, like clog prevention, keeps the rolls safer and motor in perfect condition longer.
A great modern feature involves the dust cup. The dust cup is a replacement for the typical bags whether they are disposable or permanent. The dust cup stores all of the dust and debris collected by the vacuum and houses it in a nice compact cup. It is also removable like disposable bags, but it saves a lot of money because it is reusable. The cup can be removed and washed in the dishwasher or sink and placed back into the vacuum. This is even better than the non-removable vacuum bag, because it is not a soft fabric or material, allowing it to shed dirt easily. It also doesn't breed bacteria or mold this way. Cleaning the dust cup gets even easier, because, if the user is in a hurry, there is a button that opens the bottom of the cup without removing it, so it can be emptied over a garbage can, this is also great if there is something important accidently sucked up into the vacuum.
Similar to the first vacuum, this is a floor level model. Rather than something that stands tall and is used like a standard upright vacuum, this one has a small compact body and a long hose.
This model can also be carried easily. It is mostly black, but there are several details that are red. On the back, there is any easy trap door that the filter can slip in and out of like a cassette.
The Electrolux EL4335B Corded Ultra Flex Canister Vacuum has an on/off brush roll switch to adjust it for different surfaces. It has controls on the handle and can be stored horizontally or vertically.
Pros
On/off brush roll switch with easy access for quick use

3-level height adjustment for various surfaces

Motion control system that makes turning around furniture easy

12-amp motor

Adjustable suction power

Exhaust Filter Type – HEPA

33-foot cleaning range with 21-foot cord range

1.4-liter dust capacity

Has a plastic reusable canister rather than a bag

A cyclone system to give the vacuum more power and suction

Large rear wheels and a low center of gravity

Great long pile vacuum

8-foot hose to make tall items more accessible

Automatic brush roll cleaning technology

Easy-empty technology

Premium HEPA Filter that captures 99.97% of allergens
---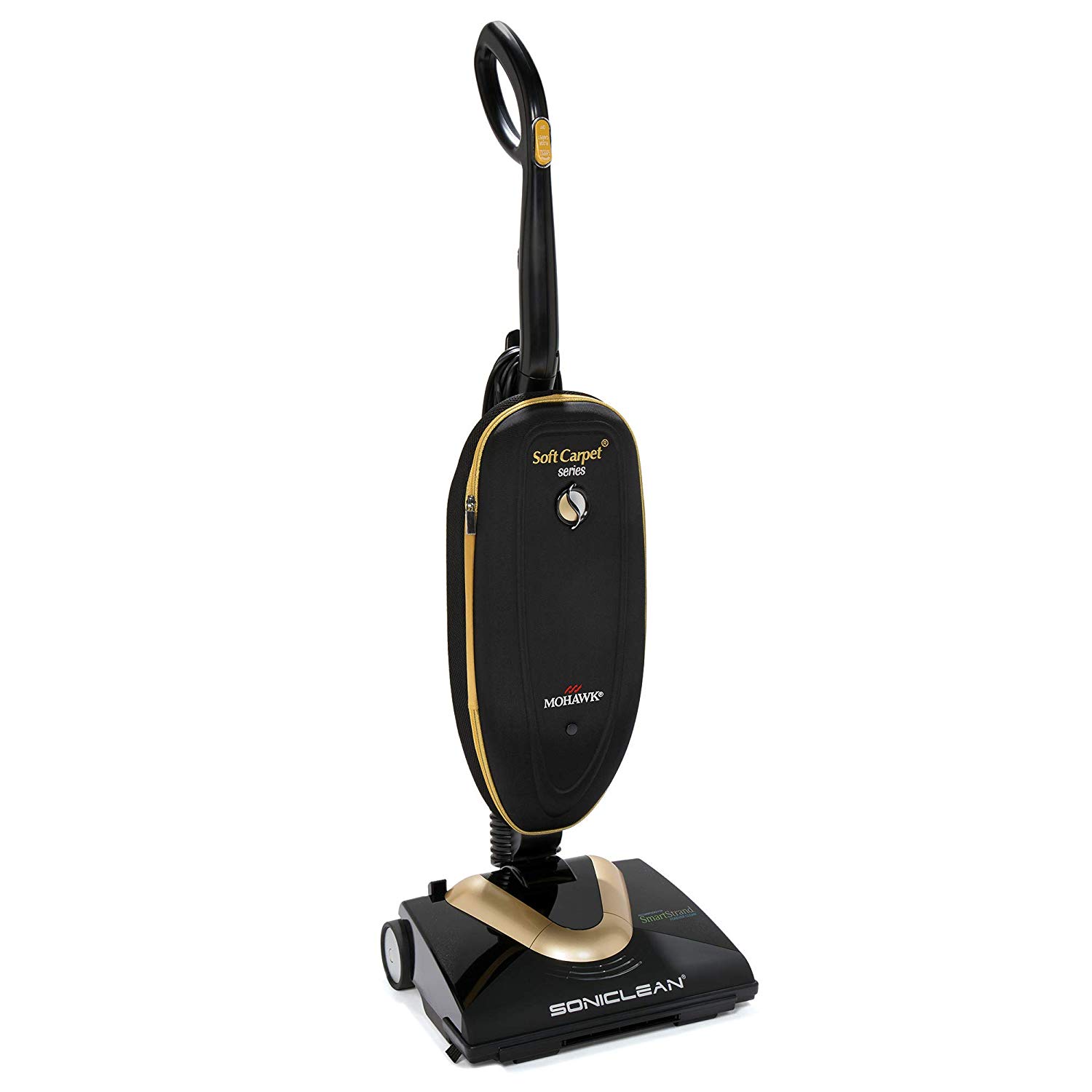 Buy Soniclean Soft Carpet Upright Vacuum Cleaner

The Soniclean Soft Carpet Upright Vacuum Cleaner is another best vacuum for shag carpeting. This vacuum has an adjustable vent system that allows it to move easily through any style of carpeting or flooring. It has special soft brush rolls that claw through carpet with ease. This long pile vacuum specializes in long carpet. It actively prevents tearing of rug follicles and the frizzing of carpet and cuts down on fraying and wearing of the carpet. It also has very large front wheels that allow the vessel to navigate any length of carpet effortlessly.
The Soniclean Soft Carpet Upright Vacuum Cleaner offers an adjustable mode system that is controlled digitally. There is a quiet mode, which is typically used for regular vacuuming of hard floors and carpets, including shag carpeting and fur.  Also, there is a deep cleansing mode for very dirty areas and high traffic areas like the floor near the front door and main hallways.
This particular model is very powerful but not hard on the environment. It uses around fifty percent less electricity than the average vacuum of the same power.
The most unique feature of this particular cleaner is the sonic fresh fragrance system. Though it is an optional feature, it is a great one to add on. The sonic fresh fragrance system allows the release of a soft but powerful linen fragrance while vacuuming. The smell of stirred up dirt can be a repulsive smell, leaving the house smelling unclean even though it was just thoroughly cleaned. The fragrance system lets everyone know the vacuum was used and masks the smell of dirt. This is a great refreshing signal of a good job. This system also eliminates the need for buying air fresheners and sprays.
The Soniclean Soft Carpet Upright Vacuum Cleaner is an upright vacuum that is almost all black with an orange trim and a light gold V on the bottom. The vacuum face that contains the rolls is very large and leads up to a narrower chamber for the dirt. The dirt chamber is a unique chest that is made out of a dense fabric rather than plastic. It has a zipper that surrounds the upper half that can be unzipped to reveal the dirt contents.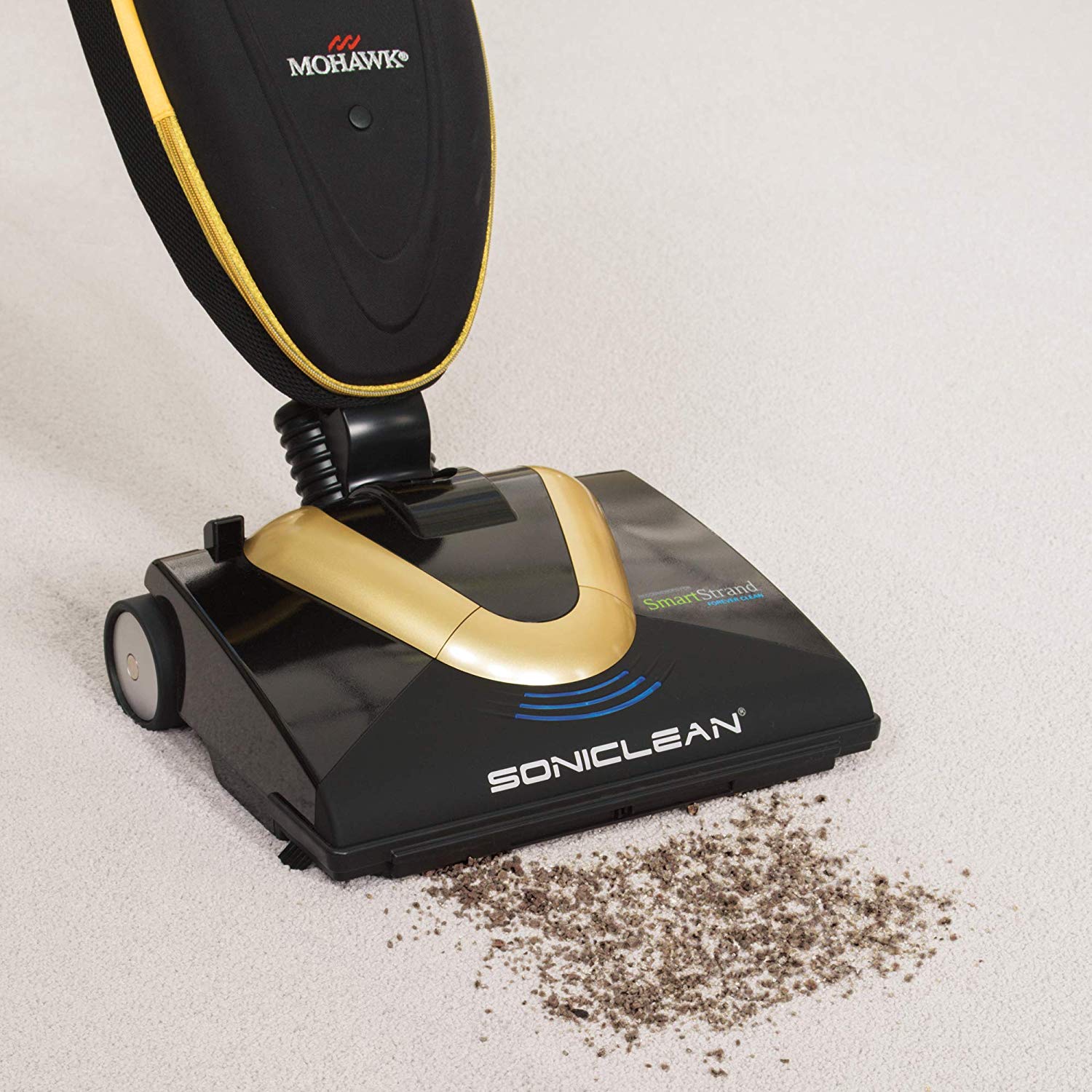 The Soniclean Soft Carpet Upright Vacuum Cleaner offers custom specialized sonic cleaning technology. This is the only vacuum that features this technology. The Soniclean Soft Carpet Upright Vacuum sonic cleaning technology features a bar at the bottom of the vacuum called the sonic bar and vibrates 200 times every second to keep the particles and dirt constantly moving to prevent the lodging of dirt and stagnant tangles. The purpose of this technology is to improve cleaning power and make everything work better. This tool means that there are fewer clogs and less time spent taking apart the vacuum to clean it.
There is also a special soft bristle brush roll. The special soft-bristle roll is a unique take on the vacuum roll. Most vacuums go with a more aggressive method of tearing through the carpet with hard bristles, but this best vacuum for shag carpet uses soft bristles on its vacuum roll in order to gently, but thoroughly, clean the carpet. This method is a way to get the deep clean without causing the carpet to fray or tear.
The Soniclean Soft Carpet Upright Vacuum Cleaner is paired with various features in order to make it more efficient. The adjustable vent system allows the friction to be decreased through wind patterns. The vents remain open to vacuum thicker carpet with less airflow and close for short carpet or hard floors.
The Soniclean has special jam protection that causes the vacuum to shut down as soon as it detects a clog or jam. It also features Soniclean's patented Seal-Tech hospital-grade HEPA filter bags to capture particles down to 0.3 microns with 99.97% efficiency. This patented filtration system makes dust disposal easy and hygienic.
The Soniclean Soft Carpet Upright Vacuum Cleaner has an adjustable vent and a direct air paramagnetic motor design that maximizes suction potential. This long pile vacuum uses Soniclean Upright HEPA Filter Bags and the Sonicfresh Fragrance Pods. This model is very technology-oriented with its sensors and digital multi-speed motor, bag light indicator, and the patented Sonicfresh fragrance dispensing system.
Pros
Adjustable vent system that allows the vacuum to adapt to its surroundings like a 

camera focuses to its target

Great high pile carpet vacuum

Soft nylon brush roll bristles that are softer on carpet and other materials, maintaining 

their youthful constitution longer

Large front wheels

200 sonic vibrations per second

Direct-air paramagnetic motor design for superior suction

Patented EZ-Push technology that makes it easier to push when vacuuming long pile 

carpeting

Digitally controlled multi-speed motor that includes quiet mode and deep cleaning mode

Hospital-grade HEPA filtration to filter out more dust and allergens

Long 35-foot power cord

Patented jam protection to prevent clogs and tangles

Full bag indicator light

Lays flat to the floor to more easily get under furniture

Patented Sonicfresh fragrance dispensing system and sonic cleaning technology
---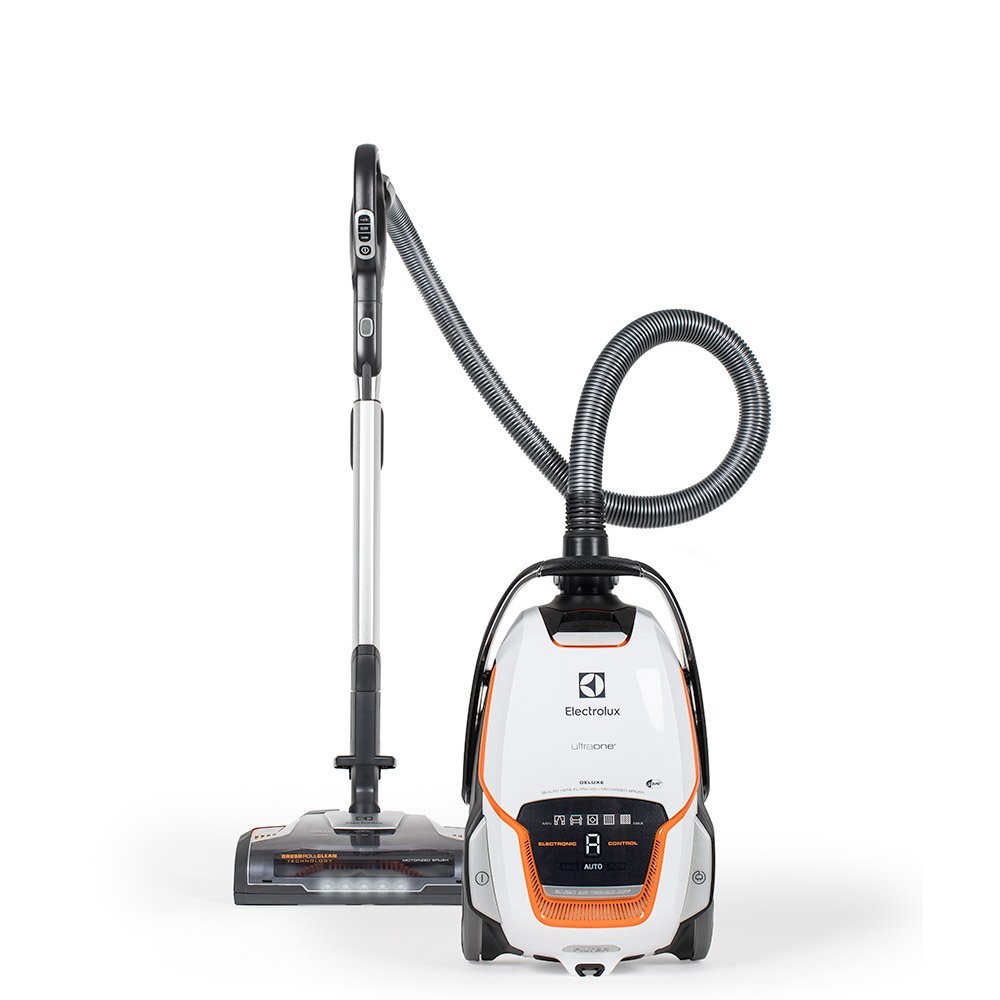 Buy Electrolux EL7085B Ultraone Deluxe Canister Vacuum

The Electrolux EL7085B Ultraone Deluxe Canister Vacuum is another one of the best vacuums for shag carpet. It's also great for other surfaces too. It has a functional motorized head with a self-cleaning brush roll. There are tools for hard floors and fabric/upholstery. The cord allows for a range of 21 feet, it has three different height adjustment settings, and comes with three cleaning tools.
Though it only has one canister, the Electrolux EL7085B Ultraone Deluxe Canister Vacuum uses a special method by clearing particles with intuitive regulation. Intuitive air flow regulation allows optimal suction power by automatically detecting the surface it comes into contact with.
Also, any clogs or tangles from dirt, fur, or thread is automatically detected and can be removed by pressing one single button. This makes every problem that comes across while vacuuming a lot simpler.
This model is not just a regular vacuum for shag carpet. It comes with several specialized attachments – the all bristle floor nozzle that is strictly made for cleaning hardwood, as well as a tool that is great for couches, chairs, drapes, and car seats, and a small target tool that features a crevice tool and a dusting brush.
This long pile vacuum is a small floor-level vacuum. The vessel looks robotic and futuristic with a rigid hose and long wand with a digital screen and several buttons on the hilt. On the face of the dirt collector, there is another screen that displays the mode the vacuum is in. There is a thin metal handle across the top. The vacuum is bright white with orange and black trim.
This high pile vacuum has intuitive all surface suction, a self-cleaning brush roll, 3 height adjustment settings, and uses the genuine Electrolux S-Bag Classic Vacuum Bag and the Electrolux EL012B Electro H12 HEPA Filter. In addition, this vacuum has sensors that allow the vessel to adapt properly to the targeted area by detecting its contents.
Pros
Intuitive electronic all-surface suction

Motorized powerhead with self-cleaning brush roll

12-amp motor

21-foot cord length

HEPA allergen filtration system

3-level height adjustment system for different surfaces

Deluxe 3-in-1 cleaning tool that includes a hard floor nozzle, upholstery tool, and crevice 

tool

One of the best vacuums for shag carpet

Silent Pro System

Ergo Shock bumper

Bagged system

Automatic cord winding
---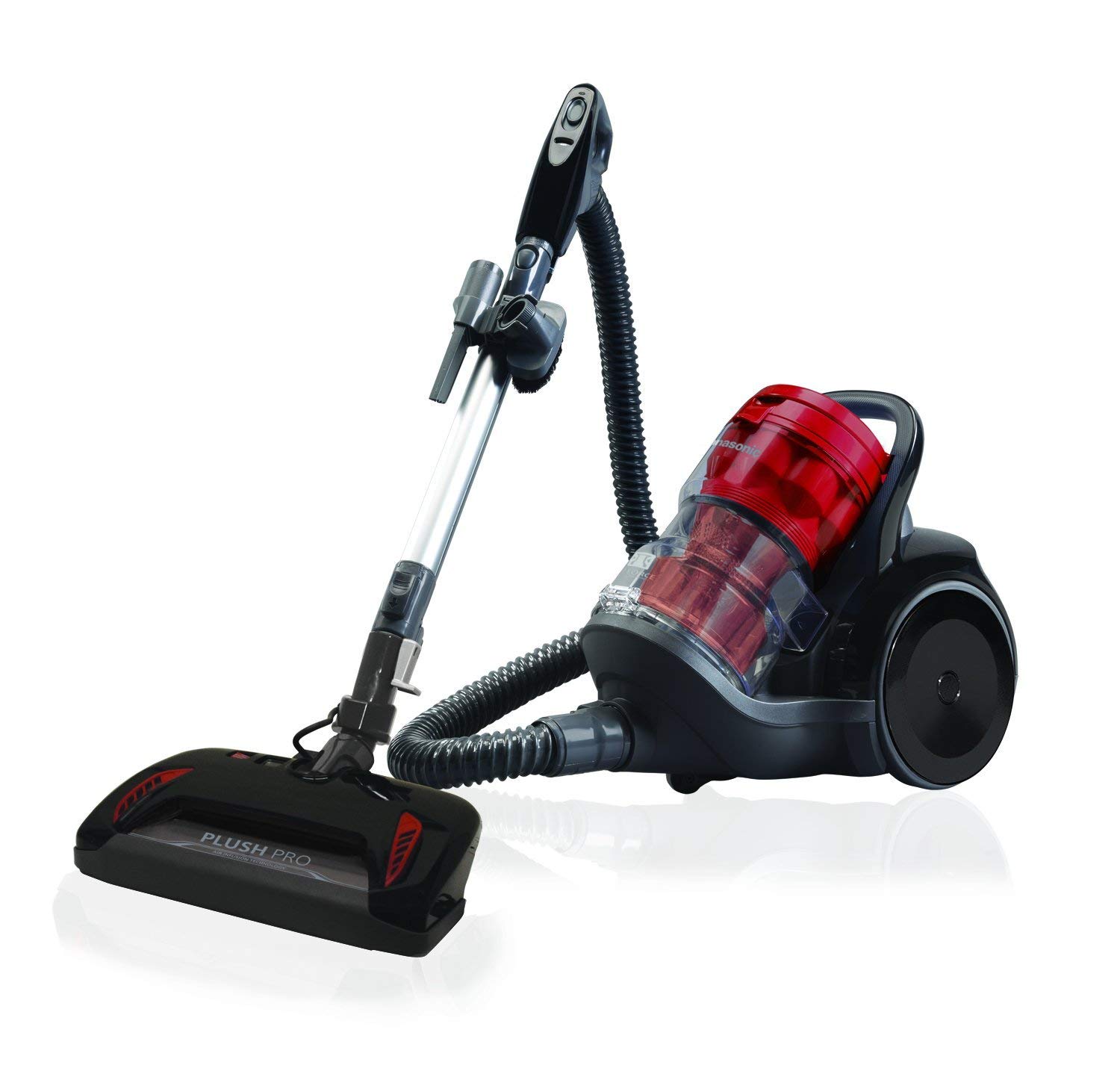 Buy Panasonic MC-CL945 Plush Pro Bagless Canister Vacuum Cleaner

The Panasonic MC-CL945 Plush Pro Bagless Canister Vacuum Cleaner – Corded is a great vacuum that can be used to clean thick shag carpeting. This particular model is lightweight and easy to move. It is quiet yet powerful. As one of the best vacuums for shag carpet, this was specifically designed to work on each style of flooring. It features a powerful 12-amp motor and twin vents sitting on the nozzle that open and close on their own when extra airflow is needed. This long pile vacuum is also great on stubborn pet hair with its special gliding pet brush.
The Panasonic MC-CL945 Plush Pro Bagless Canister Vacuum Cleaner – Corded has a 12-amp motor that separates different types of dirt with airflow styles. This allows the dirt to hit the bottom of the dust cup which allows a faster cleaning method with less clogging. The dust cup is a replacement for the dust bag, rather than having to change a disposable bag or have particles linger on a fabric one. The cup is plastic and can be removed and washed easily. Though it doesn't always have to be removed when emptying, there is a special button that opens up the bottom of the cup and allows the dirt to fall out fast.
The Panasonic MC-CL945 Plush Pro Bagless Canister Vacuum Cleaner – Corded is a small but impressive looking vacuum that is easily held in one hand. There is a base that holds a small wheel and two large back wheels. The base station houses a cylindrical vessel that has a spinning motor inside to collect and stir up dirt. The main hose connects at the bottom front and on the other end connects to a high-tech wand with an electronic screen and buttons. The handle then connects to the rest of the wand and the main vacuum head. The whole vacuum is mostly black with a bit of red.
The HEPA filter is a special filter that allows less particles to pass through than a regular filter. It is used in medical facilities and keeps the air cleaner.
The jet turn radius is the set up underneath the vacuum. It is a base with short front wheels and large back wheels. This allows the vacuum to turn around and left and right with ease. This feature allows the use of the main vacuum function to be more versatile around small spaces and turning corners.
This Panasonic's telescope wand is a great tool for getting into small places and quickly cleaning up random messes. It allows the corners of walls and bookshelves to be cleaned properly. The high pile vacuum also comes with a soft dusting brush that is specifically made to gently clean delicate fabric surfaces like blinds, curtains, and lampshades. This feature is adjustable in height to work on various surfaces. It makes cleaning from one surface to another seamless.
The max air stream allows for a smoother journey on carpet and tough surfaces. This reduces friction with jet force air flow. The jet force technology sucks the dirt found on the floor into the vacuum dust cup and uses suction and pressure to hold the dirt as low in the cup as possible.
The Panasonic MC-CL945 Plush Pro Bagless Canister Vacuum Cleaner – Corded also comes with a gliding pet brush that specializes in removing pet hair and fur. This specialized brush was made specifically for the purpose of cleaning up what a pet sheds, so the vacuum shouldn't get clogged when using this attachment.
Pros
Air infusion technology and jet force technology

Powerful 12-amp motor

Quiet operation

Compact and lightweight

Twin vents on the top of the nozzle

A smart zero turning radius design

Gliding pet brush to better clean up pet fur

Great long pile vacuum

Reusable dust cup that makes for easy clean-up

Simple push button controls

HEPA filter that cleans more dust and allergens

Quick-draw tools
---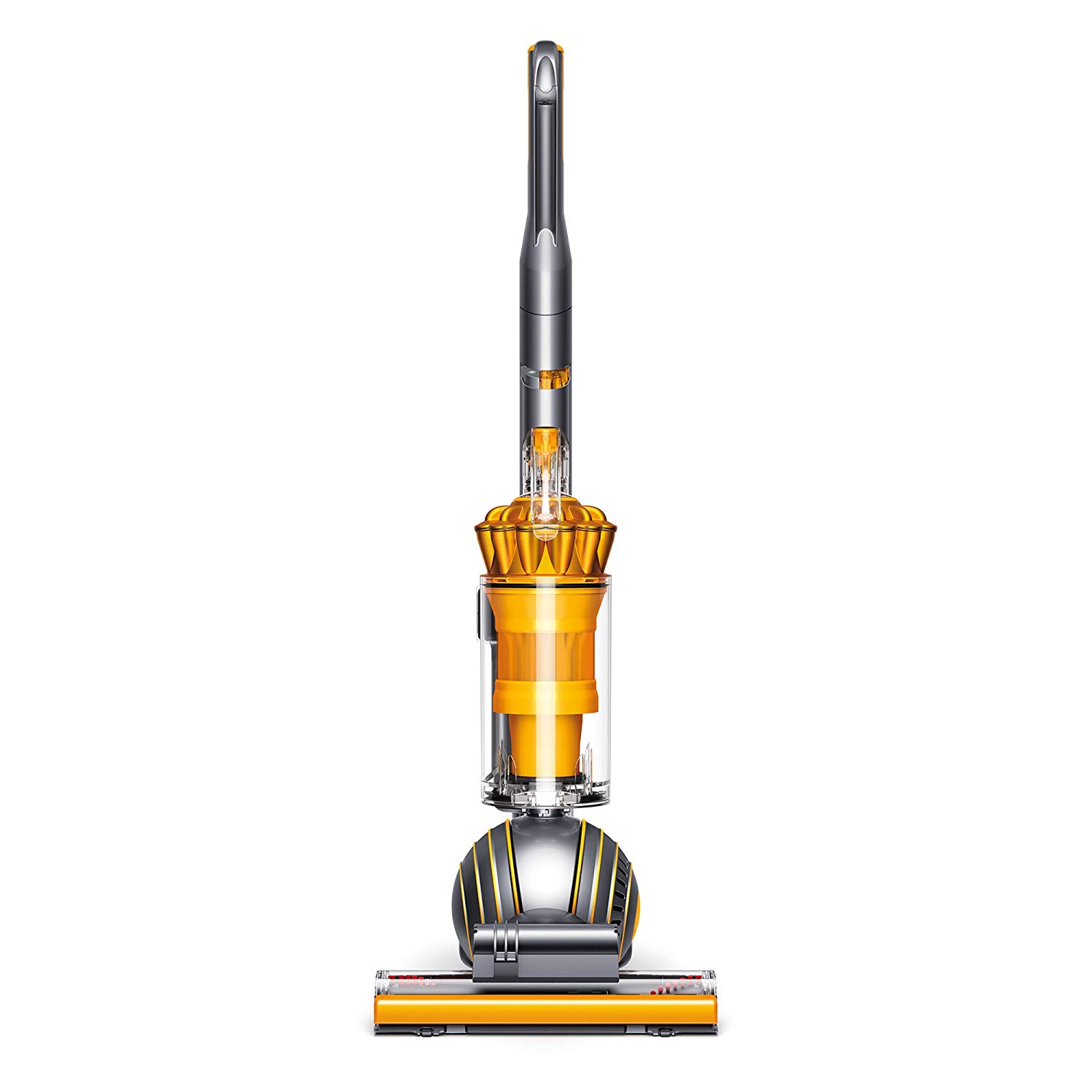 Buy Dyson Ball Multi Floor 2 Upright Vacuum Cleaner

The Dyson Ball Multi Floor 2 Upright Vacuum Cleaner, Yellow is light and has a head that seals itself to the surface it's cleaning to create more suction. This vacuum for shag carpet can be used on carpet, wood, vinyl, and tile floors and has a 40-foot cleaning range. Its most unique feature is the radial root cyclone technology that is able to suck up the most microscopic particles. The bin also expels all of the dirt with a push of a button meaning there is no need to remove any bags. Not only is it easy to dispose of the dirt, but it is easier to collect it. This model has a special ball that allows you to maneuver through all angles.
The Dyson Ball Multi Floor 2 Upright Vacuum Cleaner, Yellow is a full-sized standing vacuum. At the base, there is the standard flat face used for suction. The flat portion is connected to a large ball joint that allows all around swiveling that makes it easy to maneuver around furniture. The ball is connected by a tube and leads to a canister that has a spinning portion surrounded by plastic. The canister is then connected to the changeable wand at the top. Around half of the vacuum is gray and the other half is yellow. This model has a detachable section that can be used to get under or above items.
The Dyson Ball Multi Floor 2 Upright Vacuum Cleaner offers the unique Dyson cyclone technology and can be paired with the Dyson Genuine Handheld Tool Kit and the Dyson Articulating Hard Floor Tool. This model comes with a stair and combination tool that makes it convenient for cars.
Pros
Unrivaled suction

Light to maneuver

Self-adjusting cleaner head

40-foot cleaning range with a 31-foot long cord

Radial root cyclone technology

Instant-release wand for quick access

Hygienically empty the bin with the push of a button

Seals in suction across all floors

Flexible floor to ceiling cleaning

Ball technology for easy maneuvering

Cleans carpets, wood floors, vinyl and tile

Great high pile vacuum
Best Vacuum for Shag Carpet: Comparing All Six Options
All six long pile vacuums have similarities: they all have extension wands, are fast and efficient when covering large and small spaces, all decently lightweight, and are perfect and specialized for high pile/shag carpeting.
However, there are differences between a few regarding how they collect dirt. The Eureka FBA 3670G, Bagged Vacuum-Yellow is the only one that uses a disposable bag for debris, while the other five use canisters/dirt cups. The Dyson Ball Multi Floor 2 Upright Vacuum Cleaner, Yellow also uses a special technology that forms a self-adjusting cleaner head and a powerful root cyclone technology that is not used in any of the other vacuums.
All six models run off of 12-amp motors. The lightest of the six models – the Soniclean Soft Carpet Upright Vacuum Cleaner – weighs in at 10.5 pounds, while the heaviest of the six models – the Panasonic MC-CL945 Plush Pro Bagless Canister Vacuum Cleaner – weighs in at 27.2 pounds with the other models ranging from 11.6 – 15.6 pounds. They all have the same amperage, but there is an obvious difference in several regarding weight, so it's important to consider if the weight is something that is reasonable for what the purchaser's intended use is. A 27-pound vacuum is not something that is convenient for cleaning cars and lugging back and forth or up and down multiple flights to stairs. The most important factors would be weight and motor power.
The Best Vacuum for Shag Carpet and Best Options For High Pile Carpeting
When looking for a vacuum for shag carpeting, the six aforementioned options are some of the best, including:
Eureka FBA 3670G, Bagged Vacuum – Yellow

Electrolux EL4335B Corded Ultra Flex Canister Vacuum, Watermelon Red

Soniclean Soft Carpet Upright Vacuum Cleaner

Electrolux EL7085B Ultraone Deluxe Canister Vacuum

Panasonic MC-CL945 Plush Pro Bagless Canister Vacuum Cleaner – Corded

Dyson Ball Multi Floor 2 Upright Vacuum Cleaner, Yellow.
Each of these vacuums are somewhat similar, especially that they are all made of exceptional quality, but they each have their own special features that really single one out over the other. They all can be used to target shag carpet and high pile carpeting, but they can also be used on a multitude of other surfaces, from tile to curtains.
These top six best vacuums for shag carpet are really worth the purchase and are very durable and are known to last many years. When shopping around for the best long pile vacuum, you are bound to be happy if you choose any one of these models.