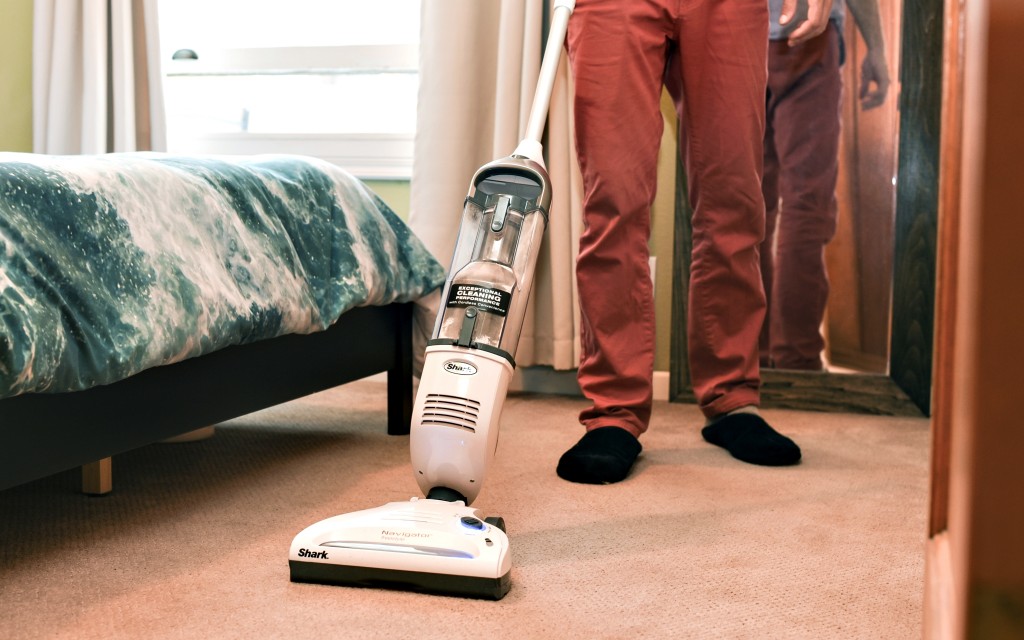 The best vacuum under $100 can help keep your house nice and clean without breaking the bank. After all, vacuums are a very useful appliance that every homeowner should have on hand. A good vacuum will clean your floor in minutes and make cleaning much less stressful. However, many of the most popular vacuum cleaners are very expensive—we're talking $400+. Thankfully, there are many great budget vacuum cleaners out there for under $100, but it's important to know what you are looking for before making a purchase. In this article, we will be ranking the best vacuum cleaners under $100, as well as providing a comprehensive guide to shopping for vacuum cleaners.
The Best Vacuums Under $100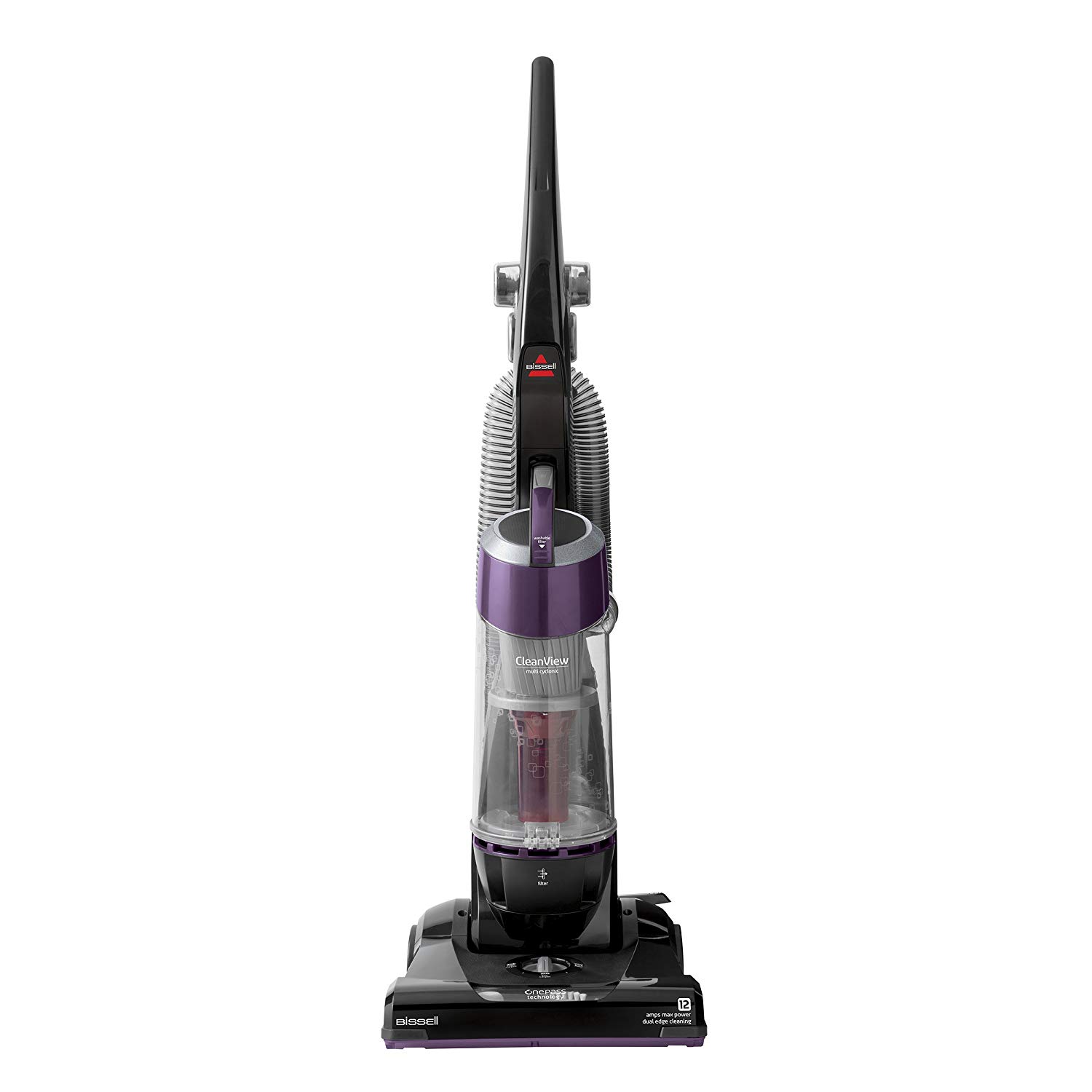 Buy Bissel CleanView Bagless Vacuum with OnePass

Bissel is one of the most popular brands on the market for vacuum cleaners at all price points. The Bissel CleanView provides many of the features that Bissel is well known for, but at a very budget friendly cost. Instead of a bag, this vacuum comes with a dirt tank that is very easy to empty. This makes it much easier to maintain the vacuum and keep it running well for a long time. The tank also has a very large capacity, so you don't need to empty it out as often as other vacuums. Also, this vacuum has a multi-level filtration system to ensure that everything that enters the vacuum is processed appropriately, and that nothing sticks and damages the device. It also comes with a washable foam tank filter, which you can take out and clean very easily.
In addition to being very easy to clean and maintain, the Bissel CleanView provides solid vacuuming power that will get your floor looking great in minutes. It works on several different types of surfaces but is very effective for carpeted floors. It has a unique brush design that actually rotates into the carpet to pull out any debris that might have gotten lodged inside. This ensures that you get a deeper clean and helps keep your carpets in great condition too.
The cyclonic system on this vacuum cleaner provides very strong suction power, which is what helps it work very quickly and effectively. Since the suction is so strong, it grabs small particles that less powerful vacuums might miss. As the name suggests, it cleans carpets with one pass of the vacuum, so you don't have to go back and forth over the same spot multiple times.
Related Article: Best Vacuums Under $200
This vacuum also comes with a TurboBrush tool, which you can use to clean smaller surfaces like stairs and furniture. This is very handy because it means you don't have to maneuver a very large vacuum onto a small surface, but instead can really get into detailed surfaces and crevices to remove things that have gotten lodged inside. In addition, the whole vacuum itself is very lightweight, which makes it easy to maneuver around the house without too much strain on your arms and back. The handle is easy to grip and carry so you have control over exactly where you are pushing the vacuum.
It also comes with a 25-foot extension cord, which you can use to stretch the vacuum into hard to reach corners. There's an extension wand available as well, which you can use to clean ceilings, baseboards, and other small nooks and crannies without having to bend over.
Overall, the Bissell CleanView with OnePass is a true standout in the market of budget vacuum cleaners. It is easily one of the best vacuum cleaners under $100. It provides the power of a larger, more expensive vacuum and comes with all the attachments you need to clean your entire house. It's also easy to assemble and easy to maneuver, so you don't need to be particularly electronic savvy to use it.
---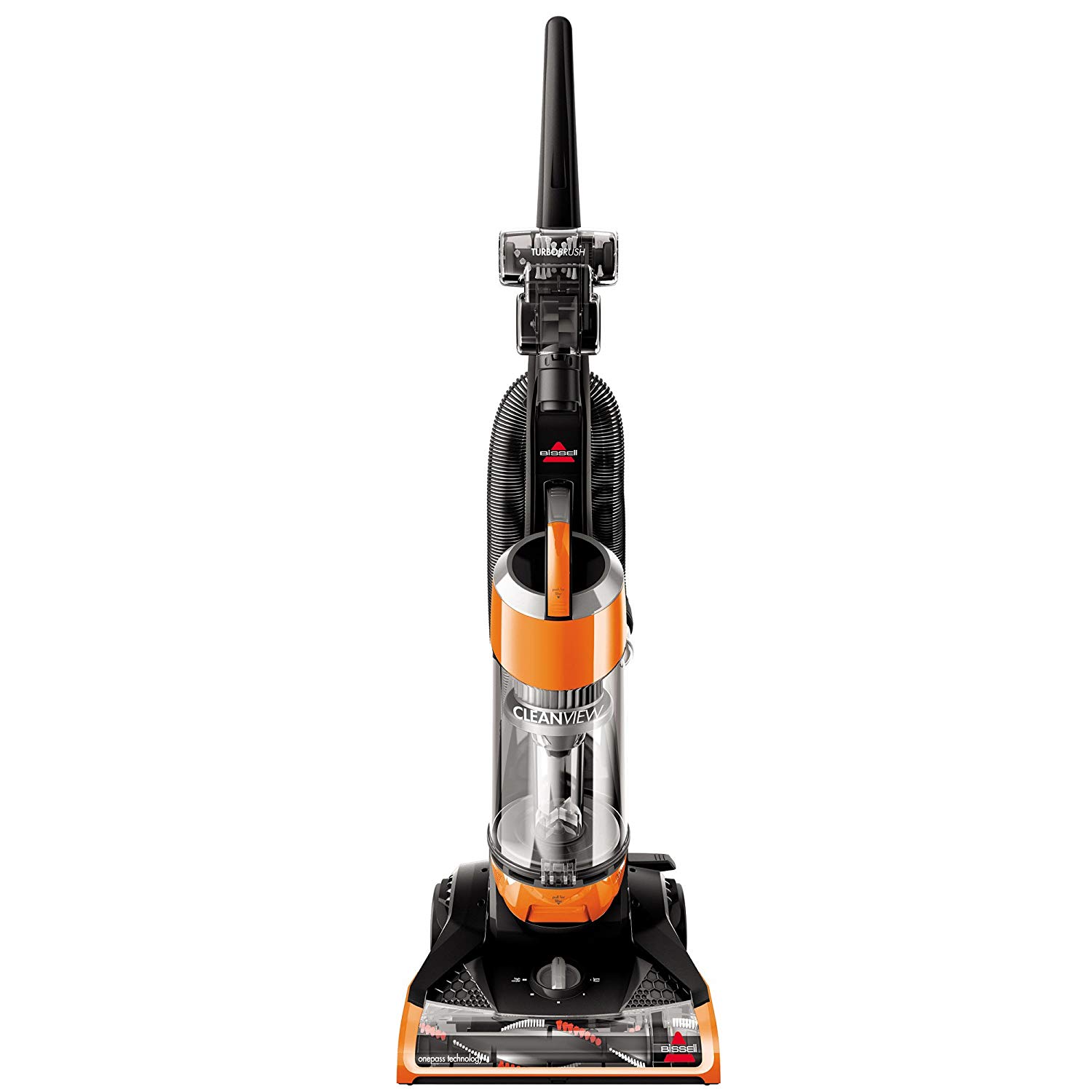 Buy Bissell CleanView Upright Vacuum

This is another vacuum that is from the Bissell CleanView range, and it is very similar to the previous one. However, this is a fully upright vacuum and does not come with the OnePass technology. Despite the fact that it is a slightly different model, this vacuum is still far and away one of the best vacuums under $100. It is durable, powerful, and easy to use, and will get your floors looking great in no time. It also comes in a variety of unique and stylish colors.
One of the best features of all the Bissell vacuums is the powerful multi-cyclonic suction system. This is why these vacuums are able to produce such a dramatically clean result in a very short period of time. The vacuum sucks up the dirt and debris in its path in one fell swoop and is powerful enough to handle even the dirtiest carpets. This vacuum works on many different types of carpets and bare floors, and can even be used on furniture, so it is appropriate for all of the surfaces in your home. There's a switch at the base of the vacuum that you can use to switch between surface modes. The vacuum has eight amps of power and works with many different types of outlets.
Related Article: Best Vacuum for Allergies
This vacuum also has a large dirt cup capacity of two liters. It can be easily removed, dumped out, and washed, unlike older vacuum bags that are very difficult to clean. It has a filtration system that keeps your vacuum running smoothly and even prevents allergens from building up in your house. You can even pull the filter out of the vacuum and clean that as well to keep everything running as well as it possibly can.
This vacuum is designed to extend into all the different nooks and crannies of your home very easily. It's lightweight and won't put too much stress on your body while you are moving it around. It has a broad 13.5-inch cleaning path that means you won't have to go back over your carpet too many times to get it clean. The cord also extends to 25 feet and there's a six-foot hose attachment you can use to get into crevices and other difficult places. You can rewind the cord by pressing a button, so there's no awkward tangling.
Overall, this vacuum cleaner makes a great choice for anyone on a budget. The Bissell brand is consistently one of the most reliable out there, and you will get great bang for your buck with this best vacuum under $100.
---

Buy Black and Decker AIRSWIVEL Ultra-Light Weight Upright Vacuum Cleaner

The Black and Decker AIRSWIVEL is an affordable vacuum that's very lightweight and easy to maneuver around the house. If you typically struggle to move your vacuum around your house and get into the nooks and crannies that you need to clean, this vacuum is a good choice for you. Every piece of the vacuum is designed with ease of movement in mind, so it makes getting your home clean very easy and simple. The handle is completely ergonomic as well, so steering is comfortable and easy.
This vacuum weighs only 8.8 pounds – light enough to be picked up with one hand, and easy to carry up and down stairs. It also uses swivel steering, which gives you more control over where you are vacuuming and allows you to reach under furniture and into corners with ease. With swivel steering, you don't have to waste time and energy turning the vacuum around when you can quickly rotate it with one movement.
In addition, it comes with a 6.5-foot hose attachment and 20-foot cord as well. These attachments are very helpful because they prevent you from having to bend over and strain your body when cleaning tough to reach places like baseboards. The hose attachment has a two-in-one crevice brush that allows you to clean even the deepest nooks and crannies.
Although this vacuum is very light, it's still very powerful. It has a 12-inch cleaning path that is suitable for both carpet and hardwood floors. It's very easy to clean, with a 2-liter dust cup that is easy to remove, empty, and wash. There's also a washable filter, which keeps your home clean and free of allergens. The clear view nozzle window gives you a look at how much dust and debris has accumulated, so you know exactly when you need to clean the vacuum.
This lightweight vacuum has power that belies its small size, and it really is the perfect choice for anyone who wants to make cleaning easier. Since this vacuum is really created with the consumer's needs it mind, it makes cleaning satisfying and enjoyable, instead of being stressful and overwhelming. Hence, how it made our list of the best vacuums under $100.
---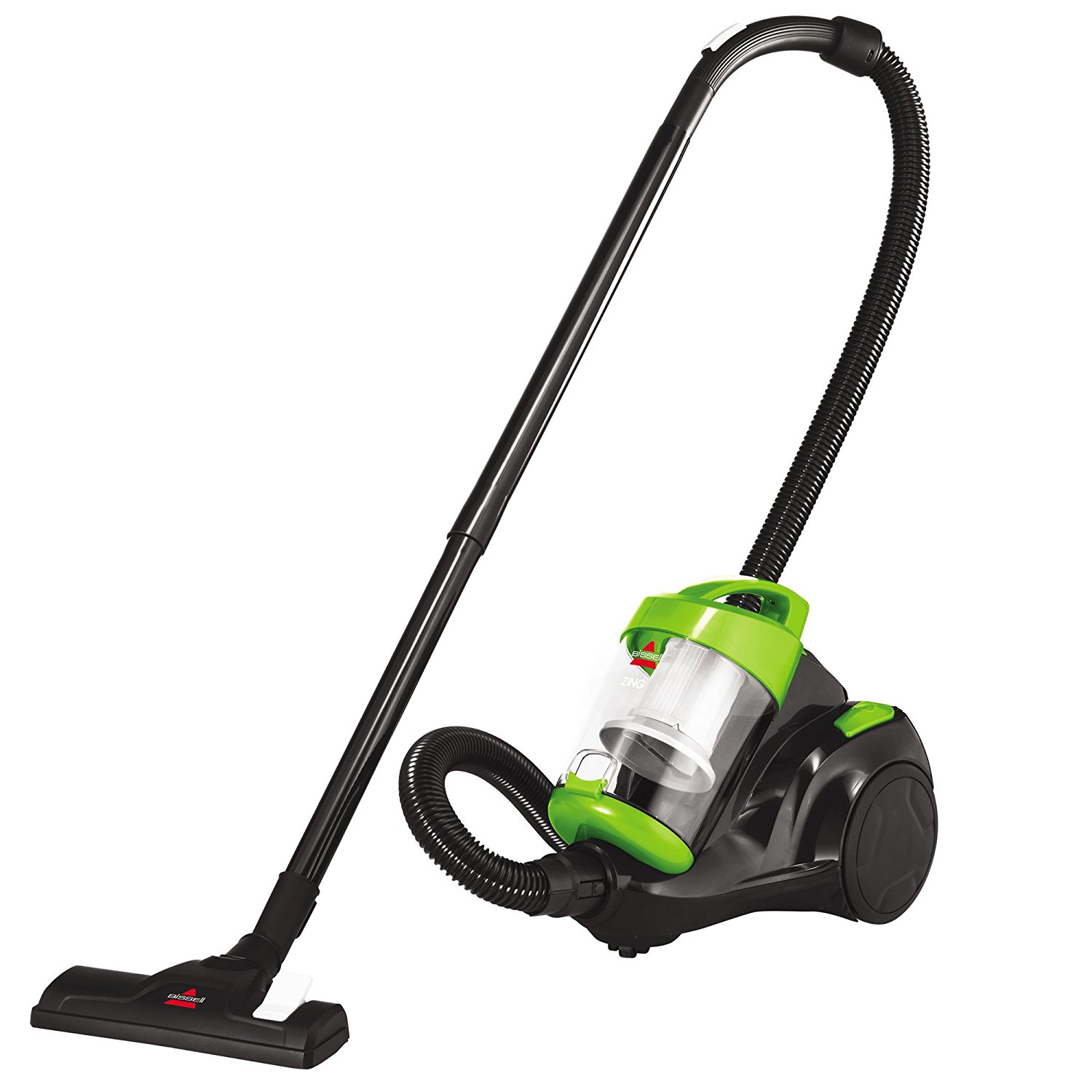 The Bissell Zing Canister is a perfect first vacuum for a new homeowner or even a college student. While it doesn't have all the bells and whistles of a larger vacuum, it works well, is easy to use, and is lightweight. It's also very affordably priced, so you won't break the bank purchasing it.
This vacuum is bagless, with an efficient, intuitive design that requires minimal assembly. You can purchase this vacuum and start using it right away. Plus, you can choose from a few different bright stylish colors, like green, maroon, or purple.
The cyclonic suction on this vacuum works continuously to pull up dirt and debris from the floor. It works on both carpeted and hard surfaces, and you can switch between modes easily by pushing a switch. This vacuum has nine amps of power to suck everything into the dirt cup right away, moving efficiently through the tube and filters without getting stuck. The dirt cup can be easily emptied into the trash can by just pushing a button, so you don't have to get your hands dirty. It's also very easy to clean with soap and water if you choose. There are multiple filters that catch all the dust and debris and prevent allergens from getting into your household. The filters also keep the vacuum running smoothly, so you don't have to worry about it breaking down. There's an air flow regulator that keeps it working efficiently, ensuring that you always get the same amount of power.
Plus, the Bissell Zing canister is very lightweight and easy to maneuver. The slim design fits into small storage spaces, so it's perfect for apartments and smaller houses. It weighs less than eight pounds, so you can easily carry it up and down stairs. It also has a built-in handle, so you get more control while carrying and vacuuming. The attachment swivels and has a long, thin handle, which gives you a greater range of motion without any extra strain on your body. It comes with a crevice tool and a dusting brush, so you can get into the corners and baseboards of your home for a deeper clean. The dusting brush allows you to really remove dust from the various surfaces in your home instead of just pushing it around.
The Bissell Zing comes with a 15-foot long cord for extra reach around the apartment. One of the most unique features about this vacuum is that you can rewind the cord by stepping on a foot pedal. This makes the vacuum much easier to store, because you don't need to worry about winding the cord up each time you put it away—even some of the most expensive vacuums lack this feature.
This best vacuum under $100 also gives you total bang for your buck – the dirt cups and filters are washable and reusable, so you never have to worry about purchasing new bags and filters. The Bissell Zing Canister vacuum is the perfect no-fuss floor cleaner for everyone from the twenty-something in their first apartment to the meticulous homeowner.
---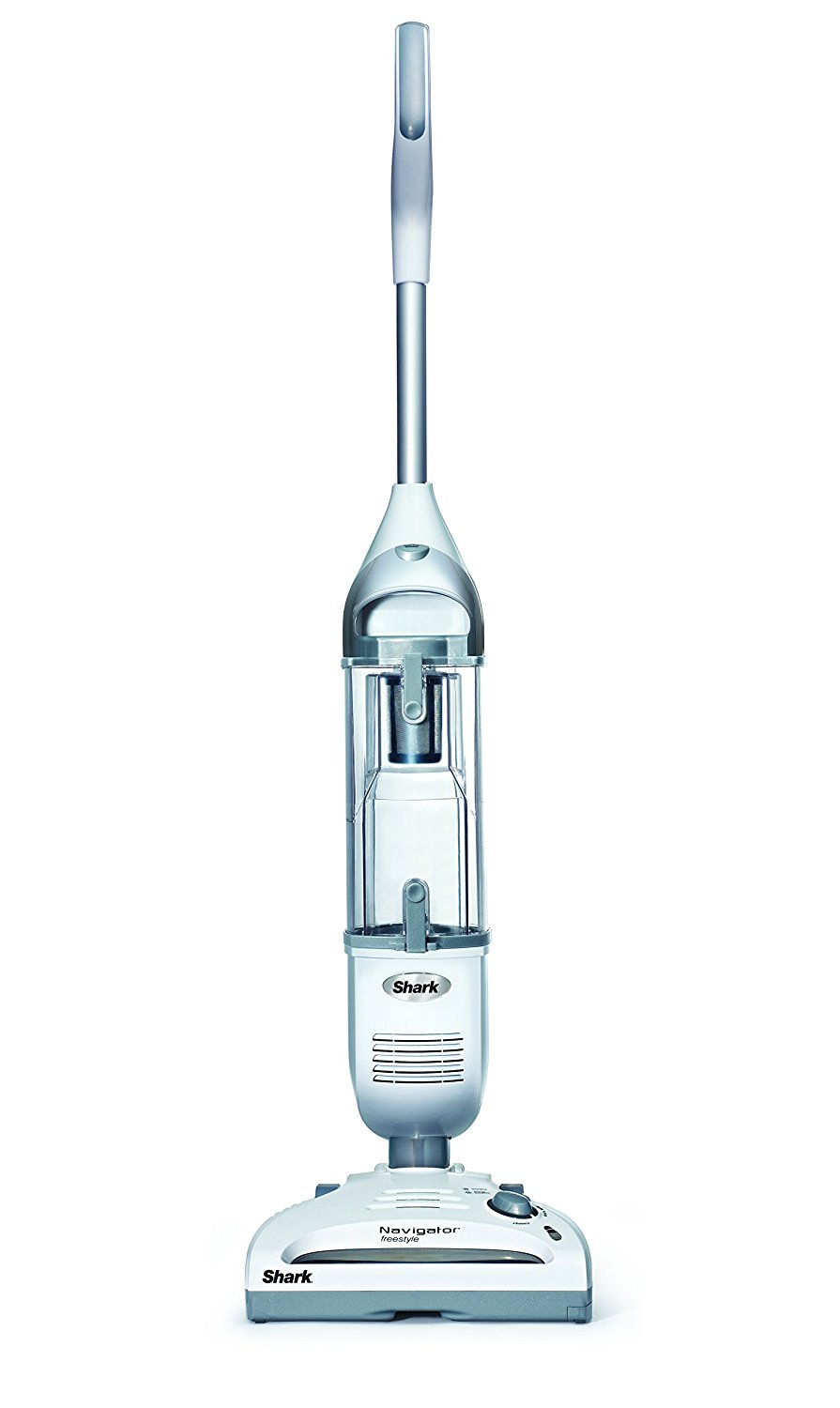 Buy Shark Navigator Freestyle Vacuum

This best vacuum under $100 may look very high tech, but it actually comes at a very reasonable, affordable price point. It has a very sleek look and is actually completely cordless. The lightweight design is easy to carry around the house, and it's small enough that you can store it in the tiniest of closets. Although it's small, it's still very powerful, and is specifically designed to pick up pet hair.
The Shark Navigator comes with a charging dock, and it completely recharges in four hours. The dock will also keep your vacuum stored upright when you aren't using it, so you won't have to worry about damage. Also, it has a very long run time, so it's unlikely you will run the battery all the way down in one use – you can keep using it over and over again between charges. This vacuum is very powerful, and comes with two different speeds, depending on what type of debris you are trying to suck up. You can use it equally well on both carpet and bare floor of all types, and it moves smoothly across both surfaces. The motorized brush is particularly good at pulling hair and dirt out of carpets, even if they've been lodged deep into the fibers. It also can handle larger food particles or pebbles that may have found their way into your house.
The Shark Navigator vacuum only weighs 7.5 pounds, and since it's a completely upright vacuum, it's very easy to carry and maneuver. The sleek design means you don't have to fuss with cords or deal with outlets while you are cleaning – you can just focus on the task at hand. It has a swivel steering mechanism, which will give you more control when vacuuming under furniture or getting into tight corners.
This vacuum doesn't have a bag, but instead has an extra-large dust cup. The clear body of the vacuum means you can actually see into the device while you are using it, which makes it much easier to know when the cup needs to be emptied. Since the dust cup is so large, you can use the vacuum many times before you need to empty and clean the dust cup. You can empty it from either the top or the bottom of the vacuum by just pushing a button. That way, you can dump it straight into the trash can without having to get your hands dirty.
---
Buy Eureka NEU182A PowerSpeed Lightweight Bagless Vacuum

The Eureka PowerSpeed vacuum has all of the features you would expect from a much larger vacuum packed into a small, lightweight device. Although it has a sleek design, it is built to be very powerful and works well on multiple surfaces. There are many adjustments and settings you can change, so you get a very customized experience that suits your needs. This is truly one of the best vacuums under $100.
This vacuum features five height adjustment settings, which makes it really stand out from other vacuums under $100. You can use it on carpet, area rugs, tile, hardwood floors, and many other surfaces. Instead of trying to make it work with just two settings, you get an option for every surface you might need to clean. To switch between modes, simply flip the yellow switch on the bottom of the vacuum. It has very strong suction and a powerful motor as well, so it can pull up dirt and debris from even the tightest crevices. It has a 12.6-inch cleaning path to get everything cleaned in just a few passes.
The Eureka vacuum weighs just 10 pounds, so it's not a burden to carry around the home. It has a large ergonomic handle that you can use to carry it up and down stairs. The entire design of the vacuum is very user friendly, and it comes in a cute blue color as well. It's very easy to assemble – all you need to do is snap a few parts together and you are all set to start cleaning. It doesn't have replaceable bags or filters, and instead uses a large dust cup to collect everything.
The dust cup on this vacuum is very large at four liters total, so you don't need to empty it often and can go up to several cleanings before having to address it. The exterior of the vacuum is clear, so you can see when it needs to be emptied. Cleaning the vacuum takes just a few minutes – all you need to do is pop out the dust cup and empty it into the trash, and then give the reusable filter a quick scrub. There's no fussing with tons of complex parts.
The Eureka PowerSpeed comes with a few different accessories to help you give your home the deep clean you are looking for. It comes with a crevice tool, an upholstery tool, and a dusting brush. There's an extended reach hose that stretches out from the top of the vacuum, so you don't have to do any bending or reaching to get into those tough-to-reach areas. These tools make it easier to get into those tough areas like baseboards, the backs of cabinets, or under furniture. The upholstery tool also makes it easy to clean delicate materials. The cord itself is also 25 feet long, so you can migrate away from your outlets without too much strain.
If you are looking for power in your vacuum, the Eureka PowerSpeed really provides you with great results. Although it isn't the lightest best vacuum under $100, it is still easy to maneuver and designed to be very easy to use. The height adjustments and extra tools provided make this vacuum one of the best choices for getting your whole house clean.
---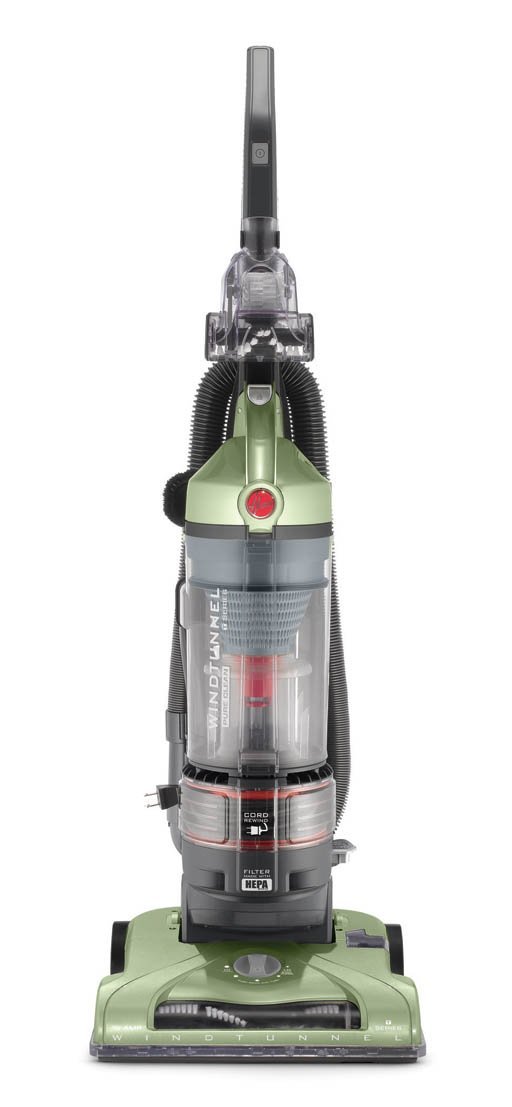 Buy Hoover T-Series WindTunnel Rewind

The Hoover T-Series is a durable, powerful vacuum that packs some serious cleaning power. If you want a vacuum that packs all the bells and whistles without spending too much money, this one is a good investment for you. That's why we've included it on our list of the best vacuums under $100. While it's probably the priciest on this list, it's going to last you a long time and has the settings you need to keep your entire house clean.
The WindTunnel technology on this vacuum means that it is providing constant suction and can even suck up larger particles. It doesn't just pull up dirt and debris from the surface of the floor, but it actually lifts it up from the crevices in the carpet or wood. It has both a rinseable filter and a HEPA filter that keep your vacuum running efficiently and keep your house clean and free of allergens. The HEPA filter actually can trap some of the smallest particles of pollen and dirt out there, resulting in a very clean and healthy home. There's a light on the vacuum that indicates when the filter needs to be checked and cleaned, which gets rid of any guesswork.
The Hoover T-Series WindTunnel Rewind has five different height adjustment settings that you can switch depending on what type of surface you are cleaning. This vacuum can be used on any surface from hardwood to tile to thick carpets and more. There's a bumper on the front of the vacuum that will prevent damage to your furniture or walls as you are vacuuming, so you don't have to worry about being too careful.
In addition, there's a 25-foot cord, so you can move away from your outlets without contorting the cord around corners. There's also an automatic cord rewind button, which is very convenient at the end of a cleaning session. It also means that you don't need to fuss with wrapping the cord around the outside of the vacuum to store it.
This best vacuum under $100 comes with a variety of helpful tools that you can use to get the entire house clean. It has a stretch hose that is eight feet long, which gives you more control over where you are cleaning. This hose has an 'air powered turbo tool' on the end, which sucks away debris from stairs and furniture with the same power as the main hose. The vacuum also comes with a dusting brush and a crevice tool, which allows you to get into the baseboards and the ceilings to remove every trace of dirt.
The Hoover T-Series WindTunnel Rewind is one of the toughest, most durable vacuums you can get for under $100. Although it has many of the same features you would expect from some of the most expensive vacuums out there, it won't break the bank and provides better bang for your buck in the long run. Although this vacuum is heavier than some of the others on this list, it still weighs only 17 pounds, so it's not too uncomfortable to maneuver around the house. This vacuum is one of the best for serious homeowners that want a truly high-quality vacuum under $100.
---
What To Look For When Shopping For The Best Vacuum Under $100
Even when you're shopping for a budget vacuum, you still want to make sure that the option you purchase is something that will last you for years to come. You don't want to waste your money on a vacuum that isn't going to work effectively to get your house clean. There are many things you should look for when shopping for a vacuum to make sure you're getting the best value for your money. Even if it's not expensive, it still needs to provide a good fit for you and your home. Here's what you should keep in mind when choosing the best vacuum under $100 for your home.
A good vacuum is one that can clean all the surfaces in your house. Ideally, your vacuum should have at least two different settings for hard floors and carpet. Many vacuums have more settings than this for different types of floors like wood, tile, long rugs, and more. The more specific these settings are, the more likely you are to get a deep clean. Different settings for your various different surfaces also ensure that you don't damage your floors.
One of the most important features of the vacuum is the level of suction that it provides. The stronger the suction, the more efficient it will be at cleaning your floors. Each brand of vacuum has its own technology for sucking up dirt and debris. Ideally, the vacuum should reach down into the carpet, pulling out things like hair, pet fur, and other debris that are stuck in the base of the carpet. Look at the amps of power the vacuum offers to get an idea of how strong it is.
Since you will be carrying your vacuum throughout the house, the size and weight of the device is something that's very important to look at. This is particularly important if you have stairs in your home, because it's difficult to carry a heavy vacuum up and down a large staircase. The lighter the vacuum is, the easier it will be to maneuver, particularly if you have issues with strength or mobility. A sleek design is also something that's important, because a bulky vacuum is difficult to move into tight corners and hallways. A smaller vacuum is also easier to store in a closet or other hidden storage area.
Upright vs. Canister Vacuum
There are two major types of vacuums – upright vacuums, which are entirely self-contained, and canister vacuums, which have a long hose and then a separate canister that you need to wheel around. Both works equally well for cleaning, so the one you choose is mainly a matter of personal preference. Most of the best vacuums under $100 are upright vacuums. Upright vacuums are typically easier to move around the house and take up less space in storage, which is a plus for many customers.
Many vacuums nowadays don't have bags, but instead have convenient dust cups. Dust cups are reusable, so you don't need to buy new ones every few months the way you would with a vacuum bag. Also, they are much easier to empty – usually all you need to do is press a button to take it out, and then you can dump it into the trash without having to get your hands dirty.
When shopping for the best vacuum under $100, you will want to look for one with a very large dust cup. A large dust cup means that you won't have to empty it as often, so you'll get more cleaning done with minimal hassle. You should also look for a vacuum that has a clear body, so you can see inside and determine when it needs to be emptied. This eliminates a lot of the guesswork from maintaining your vacuum.
Most vacuums have at least one filter that catches the smaller dust and debris particles before they get to the dust cup. Filters keep your vacuum running smoothly after multiple cleanings, regardless of what the filters suck up. Look for a high-quality filter that will catch small particles of pollen and other allergens – this will keep your home as clean as possible. A good filter also helps reduce allergy irritation for those in your home. You should also ensure that your filter is reusable. In many cases, you can just remove the filter from the vacuum, wash it with soap and water, and place it back in the vacuum. Reusable filters provide much better value for money and make using your vacuum much more convenient.
When you get a new vacuum, the last thing you want to do is spend hours trying to figure out how to set it up. This is particularly true if you are seeking the best vacuum under $100. When shopping for your vacuum, see if you can find assembly instructions online to determine how long it will take to put it together. Many lightweight vacuums only contain a few pieces that you can snap together with just a few clicks. The easier the vacuum is to assemble, the more likely you will be to actually use it. You should also look at the overall construction and quality of the vacuum to make sure it is durable and can resist a bit of wear and tear. When vacuums are made of thick, durable materials, they'll be able to resist impact and won't break down over time.
A constant gripe that many vacuum users have is the cord. Many vacuums have short cords that tangle easily and don't reach around corners and through doorways in a way that works for homeowners. If you have a large home that doesn't have too many outlets, then the cord length of the vacuum is something that's going to be crucial when shopping. Generally, a cord length of at least 25 feet will be enough to reach several different rooms without any adjustments. You should also consider the storage options for the cord. Many modern vacuums come with retractable cords, which make storage much easier. A retractable cord means you don't have to fuss with winding the cord around the vacuum every time you want to store it, and you don't have to worry about it getting tangled either.
Most vacuums come with accessories to make the process of cleaning your house easier. Although these accessories are not necessarily essential, they are very helpful to have. One of the best accessories to have is an extendable stretch hose and smaller vacuum attachment. A stretch hose allows you to reach ceilings and floors comfortably without bending over or having to stand on chairs.
Another helpful accessory to look for is a duster, which is a much smaller attachment that's perfect for furniture, baseboards, cabinets, and ceilings. While dusters still provide good suction, they are gentler than the large vacuum attachment and won't damage sensitive fabrics. Some vacuums also come with separate upholstery tools, which are even softer and gentler on fabrics.
If you want to get even more specific with your cleaning, look for a crevice attachment. This is a very small angled accessory that is specifically designed to fit into tight corners. If you are a neat freak, this attachment is a must-have for you.
A good vacuum is one that's easy to maneuver and carry all around the house without any strain or stress. You don't want to spend your money on a clunky vacuum that is awkward and difficult to maneuver. Many vacuums now use a swiveling mechanism, which means that you can easily turn the vacuum 360 degrees at any time. You should also make sure that the vacuum has wheels that slide easily and don't get caught on anything on the floor.
For the best control while you are using your vacuum, you will want to look for a vacuum that contains an ergonomic handle. A large ergonomic handle ensures that your hand won't slip while you are vacuuming, and it will also keep your hand in a good position while you are cleaning. If you can, test out the vacuum in store to determine how comfortable it feels while you are using it, and use this to make your decision.
Virtually all vacuums make at least a little bit of noise, but you probably want to avoid a vacuum that's very loud, particularly if you are in an apartment complex where you have close neighbors. A quiet vacuum means that you can clean at any time of the day without worrying about waking others up. When making your purchase, consider the noise level of the vacuum. Again, this is a feature you may need to check out in store. Compare each vacuum side by side to determine which noise you are most comfortable with and wouldn't mind having around the house.
Tips for Getting Your House Clean with the Best Vacuum Under $100
Getting your carpets and floors clean is a matter of more than just having the best vacuum under $100. Here are some tips for how to keep your house clean and free of dirt and debris.
Don't wear shoes in the house.
This is the number one rule if you want to keep your carpets clean. Institute a rule that no one is allowed to wear shoes in the house, and then they can't track in any dirt they may have picked up outside. Have a mat or shoe rack right inside the door where visitors can securely place their shoes. This is a very simple solution that can eliminate many of your cleaning problems.
Clean out your dust cup and filters outside.
Your vacuum is going to pick up not only dirt and debris, but also allergens, pollen, and dander that can be very irritating to your nose, particularly for people with allergies. When you have these particles floating around your house, it's harder to maintain a healthy environment, and residents may be more prone to mild illnesses. To prevent this from becoming a problem, try emptying your dust cup and cleaning out your filters in your outdoor trash can. This means that the small particles will stay outside of your house and you can maintain better air quality.
Vacuum furniture and floor rugs in addition to carpets and tile.
Many people don't realize that to keep your home truly clean, you need to vacuum every surface, not just your carpet. This is where a vacuum with multiple modes and attachments comes into play. Use your upholstery or dusting attachment to vacuum your couches, beds, and other large pieces of furniture that can collect dust. You should also vacuum your floor rugs and the floor under them. Use the extendable hose to get into all the nooks and crannies of your home as well. When vacuuming different parts of your home, make sure you adjust the settings on your vacuum accordingly. Using the appropriate setting for each surface will ensure that your vacuum works efficiently and that you don't damage the floors.
Be thorough and systematic when vacuuming.
To really get all the dirt and hair up from your carpets, you should go over the same areas a few times, moving the vacuum in different directions. By approaching the carpet in different ways, it's easier for the vacuum to pull up anything that may have gotten lodged in the bottom of the carpet. The most efficient way to do this is to be very systematic. Start by going through the entire room moving in one direction, and then go through the entire room again moving in the opposite direction. Move furniture and clutter off the floor so you can get a deep, thorough clean without having to maneuver around it.
How to Maintain Your Vacuum
If you are purchasing a vacuum under $100, it's important to take good care of it to ensure that you get many years of use out of it. Most vacuums don't require too much maintenance, but there are a few things you should do to ensure that your vacuum stays in the condition you bought it in. Here are tips for maintaining your vacuum.
Store it in a clean, safe place.
When you aren't using your vacuum, store it in a clean closet where it is unlikely to incur any damage. Keep it stored securely upright so it won't fall over. In addition, be sure to keep it in a place where it won't be exposed to any water. Many vacuums now come with stands, which are great for keeping your vacuum stationary when it isn't in use. Be sure to keep the cord safely secured as well and keep it out of reach of any children or pets.
Empty and clean the filters every few uses.
Even if your vacuum has a very large dust cup, you should still take precautions to make sure nothing gets jammed inside. Every few times you vacuum, take out the dust cup and empty it in a trash can outside to get rid of all the small particles of dust and debris that have collected there. Then, make sure you remove your filters and wash them thoroughly. This will keep your vacuum running as efficiently as possible and prevent dirt and debris from building up. Most vacuums nowadays come with reusable filters. However, if your vacuum does not come with a reusable filter, make sure to replace the filter periodically. This is also applicable if your vacuum uses a bag instead of a dust cup.
Do a preliminary sweep before vacuuming.
One of the biggest things that can jam a vacuum is when it tries to pick up objects on the floor that are too large. It's important not to take chances with this, as items like bobby pins and small toys can seriously damage your vacuum. Do a quick sweep and pick everything up off the floor before you vacuum, and the whole process will go much more smoothly. You should also move any furniture that the vacuum might bump into and keep kids and pets out of the room while you are vacuuming.
Check the brush roll and belt of the vacuum.
These are the parts of the vacuum that keep it moving while you are using it. Over time, they can get bogged down with hair and other items, making it hard for them to move smoothly. Prevent this from happening by checking the interior of your vacuum every so often and removing any stray items that have found their way there.
Call the company if you have any serious issues.
Many companies that sell household goods like vacuums offer warranties on their products, which are definitely worth taking advantage of if you notice any serious defects. The company may be able to send you a replacement vacuum or provide you with a service to repair it. If you aren't sure how to use it or why you are having problems with your vacuum, customer service may also be able to provide you with some assistance.
Although a vacuum cleaner is a household necessity, you really don't need to spend too much money to get a great one. There are so many best vacuum cleaners under $100 that provide great value without costing a fortune. To make sure you're getting good value for money, evaluate your potential vacuum purchase using the features we discussed here. If you can, try testing the vacuum out in store before making your final purchase. If you are unsure of where to start, try looking at our seven top budget vacuum cleaners, which have been proven to provide great performance.