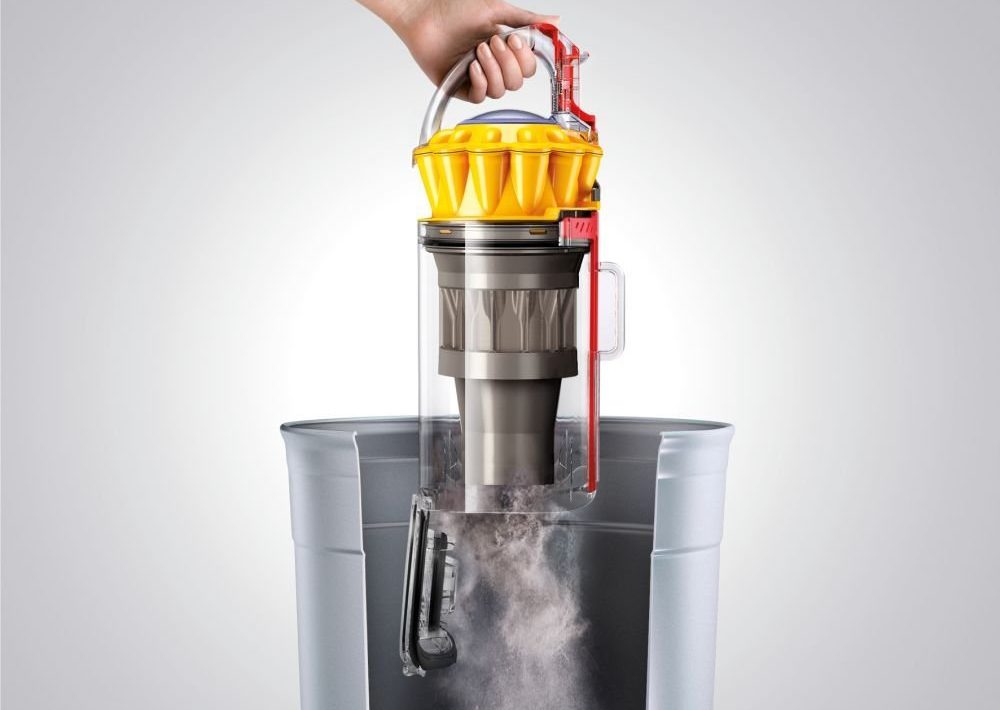 Cleaning your house with the best HEPA vacuum is essential to ward off allergens, mold, or even pet dander. These allergens are invisible to the human eye and can adversely affect your health. Many people develop itchiness and start sneezing, and their allergic reaction can become severe if they do not get rid of allergens.
Moreover, if you have children, you should vacuum your entire home at least twice a week to keep it clean and bacteria-free. You can even attach the best HEPA filter to your vacuum for extra benefit. For pet owners, a vacuum is incredibly important. We suggest investing in the best HEPA vacuum so that it removes pet dander completely.
Take note that using the wrong vacuum can cause more damage, especially if you have a dust allergy. It might stir up dust in your house which contributes to an allergic reaction. In this case, the best HEPA filter comes in handy. HEPA, or high-efficiency particulate air filters, eliminate allergens from your home environment and refresh the air. You can even eliminate particles that are only 0.3 microns in size. The best HEPA filter vacuum is ideal for people who have asthma and they can use it without giving it a second thought.  Here is a quick list of our top 8:
Related Article: Best Vacuums Under $200
Why Do You Need a HEPA Vacuum Cleaner?
According to research, the presence of bacteria in your house environment is one of the leading causes of various allergies and even asthma. Therefore, health experts recommend a thorough cleaning of the house at least once a week. That is where the best HEPA vacuum cleaners come into play. It is true that not everyone has a lifestyle that allows them to clean each part of their house.
These parts can become safe havens for contaminants that later put your health at risk. In this case, the best HEPA vacuum can do the job for you. If you or anyone in your house has an allergy, a HEPA vacuum can become the right choice.
The technology in HEPA vacuum cleaners keeps dust, dust mites, and germs at bay. Non-HEPA vacuums do not have this technology. And hence, they are not effective against allergies, since those particles just end up back in the air again, and you keep breathing them in.
Top Related Article: Best Vacuum for Allergies
There is no question that keeping your house contaminants-free and clean requires a series of steps. For instance, it includes proper cleaning, germ removal, and air purification. If you want to keep your home environment clean and safe, you need to use HEPA vacuum cleaners. They are the best vacuum cleaners available on the market that ward off allergens and other harmful contaminants as well.
If you are wondering about vacuum cleaners with the best HEPA filter, here are some useful options for you.[/vc_column_text][/vc_column][/vc_row][vc_row][vc_column][vc_column_text]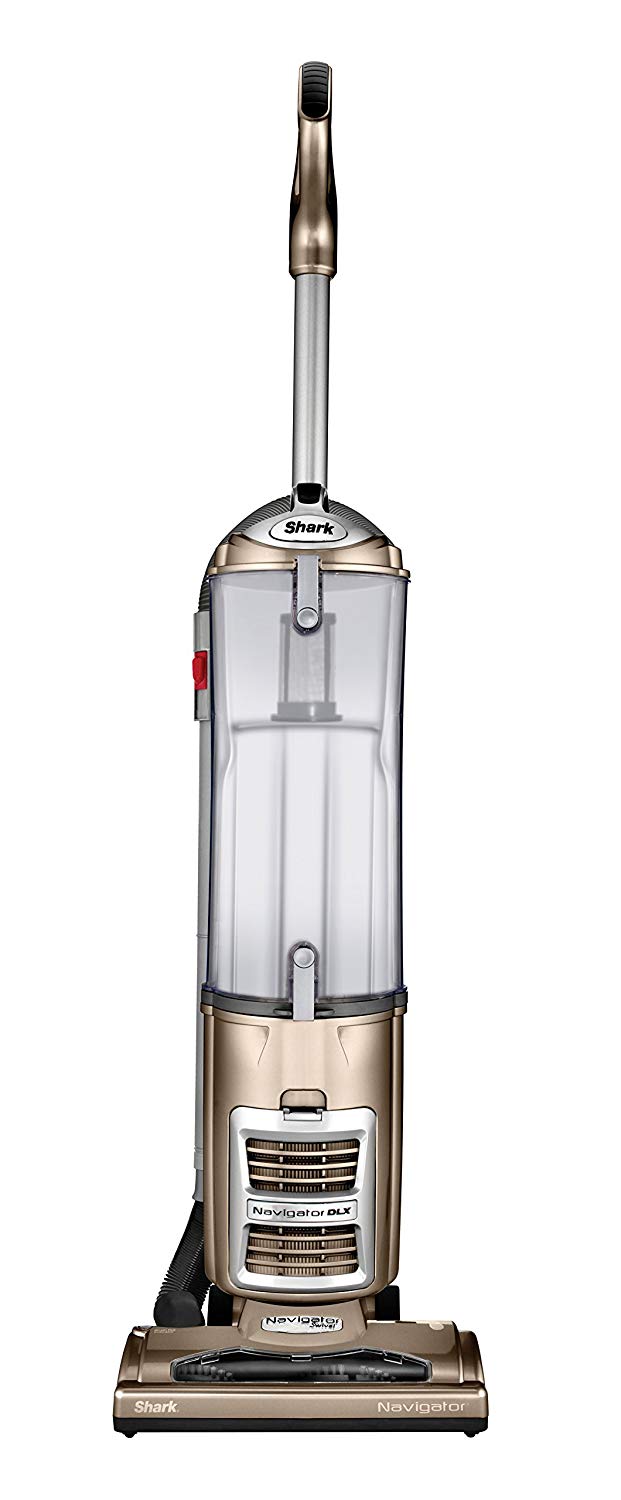 Buy Shark Navigator Professional Upright Vacuum

This vacuum comes with anti-seal and is great for households with children and pets. Apart from this, the Shark Navigator is easy to use. You only need to press a button to lift the canister to clean hard-to-reach areas. These areas are often full of harmful bacteria that affect your health.

Shark Navigator features an anti-allergens complete seal technology along with the best HEPA filter. It is crucial to look for the HEPA filter when investing in a vacuum. When you use Shark Navigator, it traps around 99% of dust mites and allergens in the vacuum. Isn't it great?

Available with Swivel steering, it helps you maneuver the vacuum around the furniture in your house. If you are wondering, Shark Navigator has the dust capacity up to 1.2 dry quarts.

With a Shark Navigator vacuum cleaner, you can clean hardwood floors or carpeted floors in a short time. This quality makes it ideal for every household.

Not only this, the dust cups that come with Shark Navigator are easy to clean, which is not the case with every vacuum available on the market. Plus, it has a large capacity and powerful motor which allow extended cleaning sessions without any interruption.

You will get a 5.5-inch crevice tool, pet power brush, and dusting brush. The Shark Navigator is  definitely one of the best HEPA vacuums, and it's available in a stunning blue color.
[/vc_column_text][/vc_column][/vc_row][vc_row][vc_column][vc_column_text]
---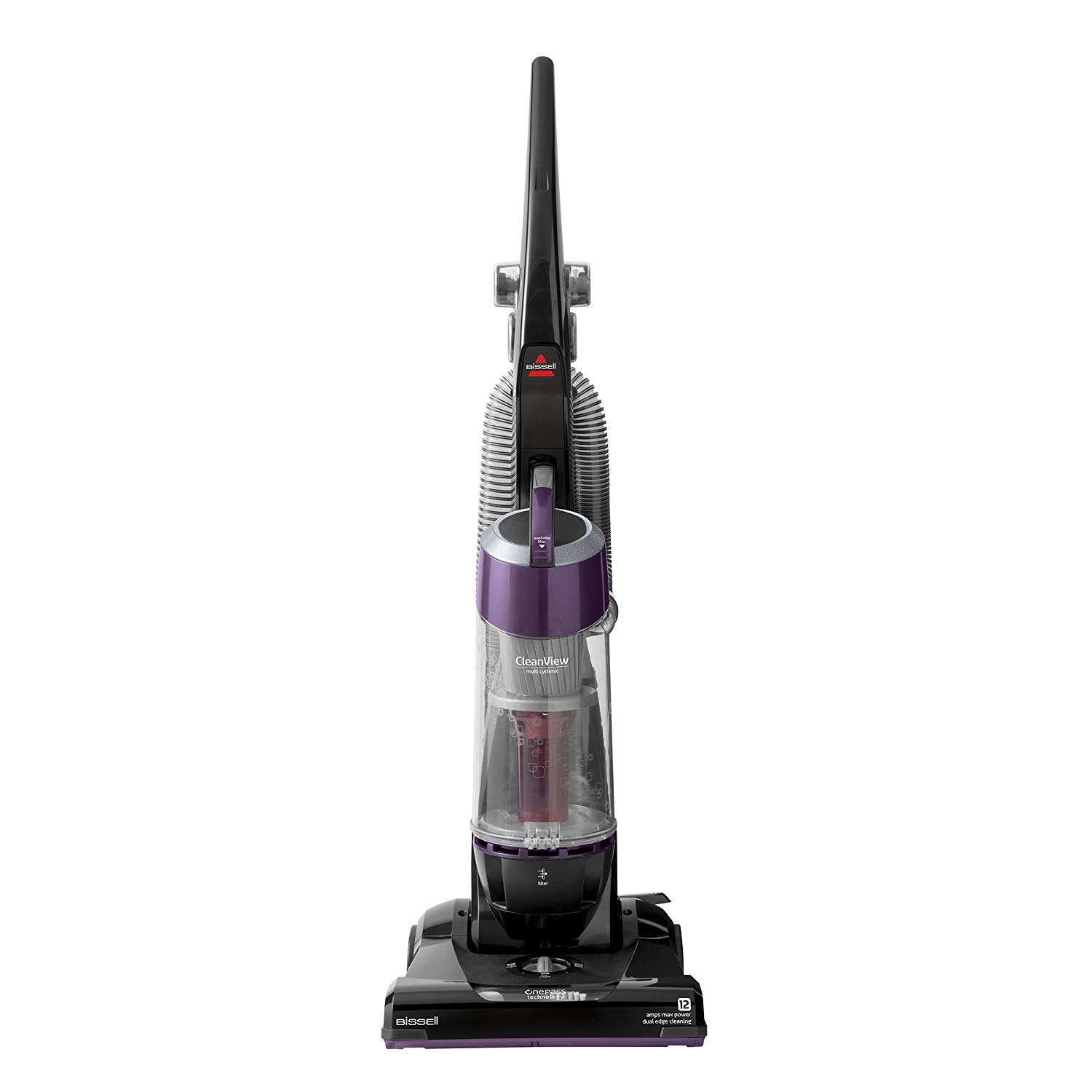 Buy Bissell 9595A CleanView Bagless Vacuum with OnePass

If you are looking for a vacuum cleaner that does the job in just a few minutes, you should consider the Bissell 9595A. This is not only a fast vacuum cleaner, but it is easy to use as well.

Many vacuum cleaners are heavy, which makes them difficult to handle. However, the Bissell 9595A is one of the lightweight vacuums that sport a powerful suction and an innovative brush design. It cleans more areas in minimal time.

Plus, the developers have created an innovative brush design that rotates down into the carpet. Keeping your carpet clean and germ-free will be much easier and can be done in less time.

Bissell 9595A features a Cyclonic system that supports prolonged and powerful suction.

It is worth noting that this vacuum comes with a Turbo-brush tool which comes in handy when you need to clean stairs, upholstery, and even furniture.

Moreover, the washable foam tank filter, multi-level filtration, and easy to empty dirt tank are some of the great features that will make your experience with the Bissell 9595A, another of the best HEPA filter vacuums, hassle-free.

You'll also receive a user-friendly manual to help you learn more about troubleshooting steps and installation.
[/vc_column_text][/vc_column][/vc_row][vc_row][vc_column][vc_column_text]
---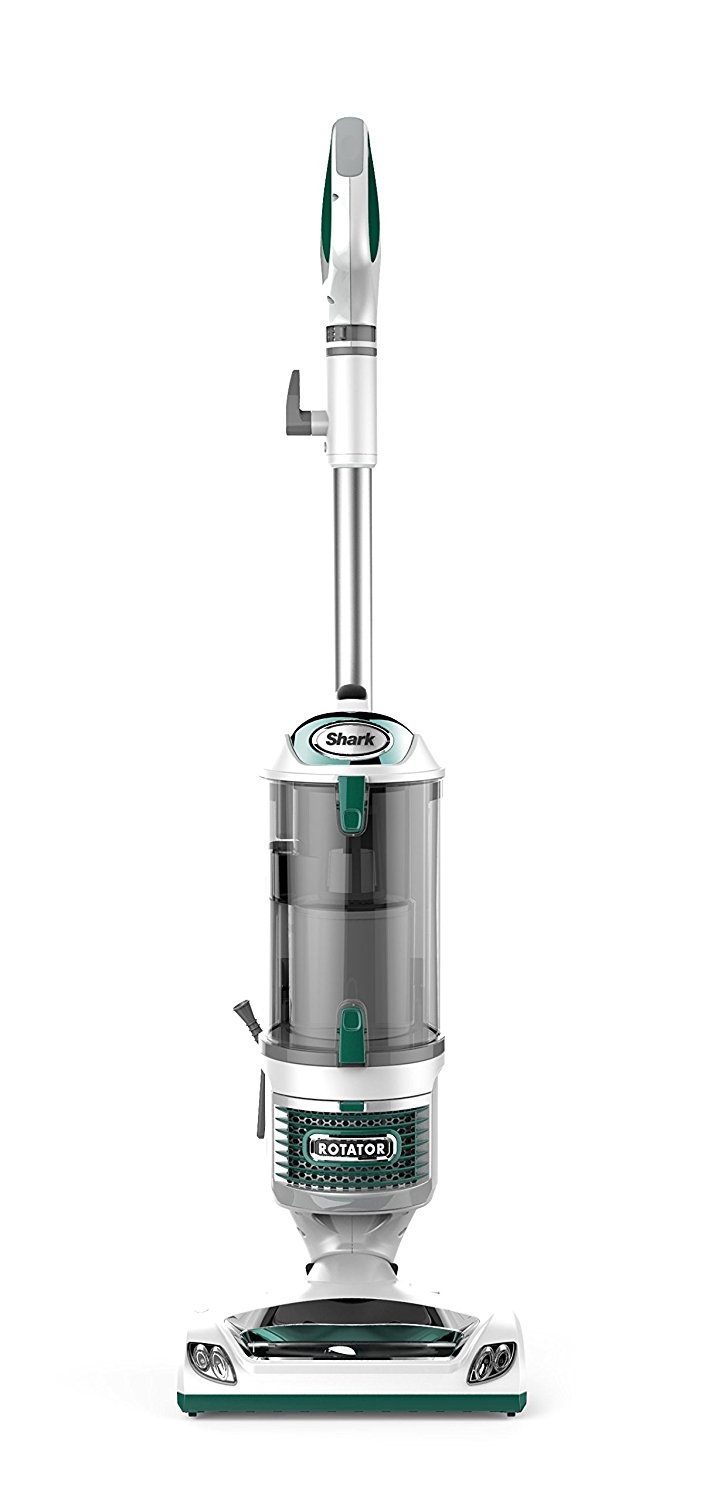 Buy Shark Rotator Professional Upright Corded Bagless Vacuum

Sometimes it gets difficult for pet owners to keep their house clean and spotless. Seeing pet hair and debris is not only unpleasant but dangerous for your health as well. Therefore, keeping this factor in mind, Shark Rotator has an integrated premium pet power brush. This brush does not only remove pet hair and debris, but thoroughly cleans dander as well. Pet dander often accumulates in hard-to-reach areas which you can clean with the pet power brush.

This vacuum cleaner is super easy to use as well. All you need to do is press a button and it will lift the canister so you clean hard-to-reach surfaces in no time.

Investing in a Shark Rotator vacuum cleaner will save you from the hassle of purchasing different cleaning tools. It comes with the best HEPA filter that will keep your carpet or hardwood floor clean and bacteria-free.

Take note that it has anti-allergen complete seal technology and a HEPA filter that wards off pollutants and allergens. This factor makes it a must-have vacuum cleaner for people who have allergies or asthma.

You will get the best control to clean hard-to-reach spaces, especially between furniture. Dust on the furniture does not only look unattractive, but it also increases the risk of dust mites.

Shark Rotator has advanced Swivel Steering with LED headlights, which look cool and helps you see and get into those hard-to-reach places to make it that much easier to thoroughly clean your house.

Not to mention, Shark Rotator ensures extended cleaning that allows you to collect dirt and dust from the entire house in one go. And if you are wondering, the vacuum comes with an extra large dust cup to store maximum dust. This quality will save you from emptying dust cups after cleaning each room, making this one of the best HEPA filter vacuums available on the market.
[/vc_column_text][/vc_column][/vc_row][vc_row][vc_column][vc_column_text]
---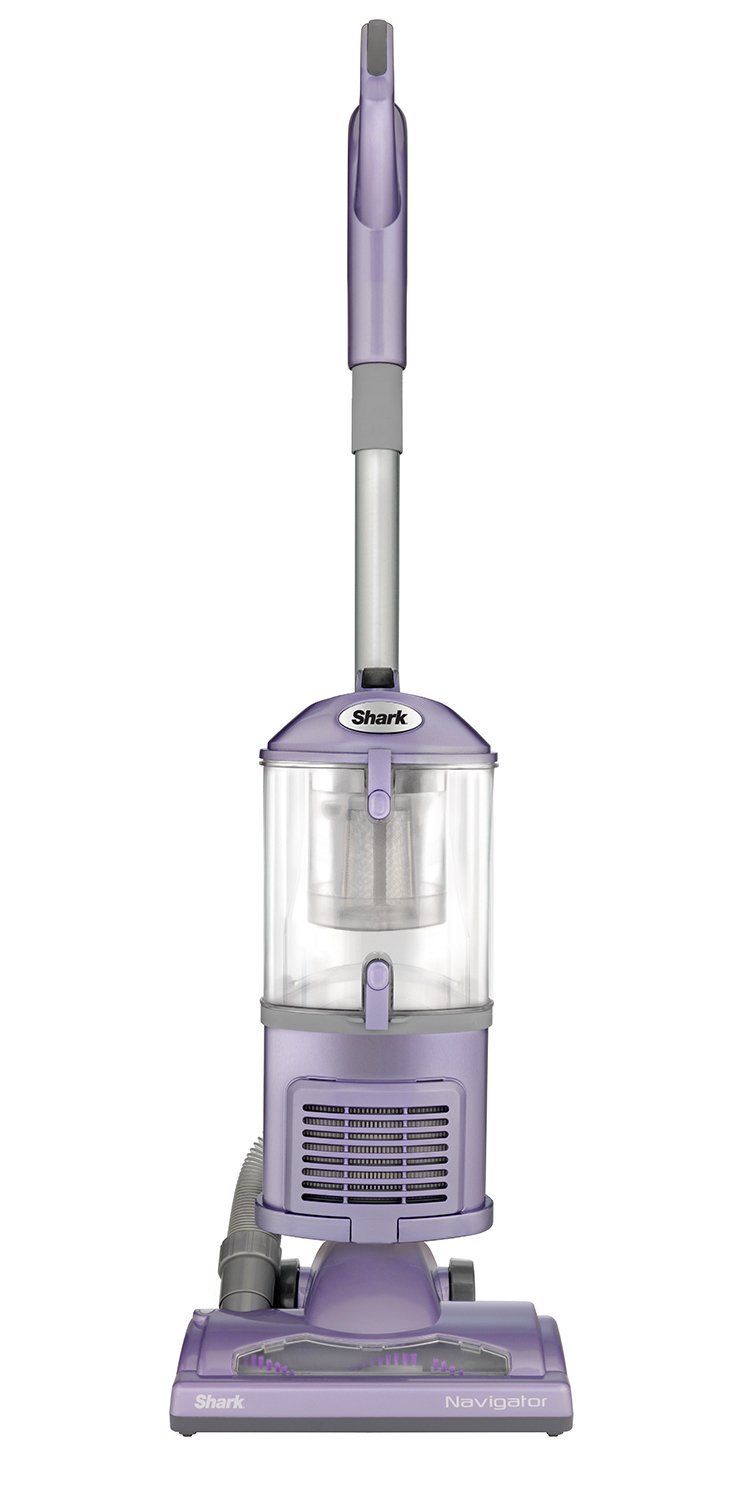 Buy Shark Navigator Upright Vacuum for Carpet and Hard Floor with Lift-Away Hand Vacuum

With its lift-away hand vacuum, anti-allergy seal, HEPA filter, and pet tool, the Shark Navigator has introduced a top-notch vacuum cleaner. It has all the features that make it an ideal product, especially for a busy household with one or more pets.

Shark Navigator has kept cleaning easy. You just need to lift the canister when you need to clean hard-to-reach surfaces in your house.

Vacuum cleaners are often heavy and uncomfortable to use. This is mainly because of the system incorporated in them for thorough cleaning. However, it is difficult to clean your space with a heavy machine. Therefore, Shark Navigator has decided to keep the vacuum powerful yet lightweight. It is portable as well. And this versatile HEPA vacuum cleaner weighs only 12.5 lbs.

Moreover, it is best to keep your home bacteria-free when you have children. Investing in the Shark Navigator NV352 provides you with their trademark anti-allergen complete seal technology so that germs and contaminants stay away.

It features Brushroll Shutoff which allows you to deep clean your carpet. Although carpets enhance the visual appeal of your room, they accumulate germs and bacteria as well. Shark Navigator lets you keep your carpet clean, germ-free, and safe for children and pets.

Apart from the HEPA filter, look for Swivel Steering in vacuum cleaners. Like other versions, NV352 comes with Swivel Steering as well so you can remove dust from your furniture in one go.

Pet owners will get a wide pet upholstery tool, which is definitely a must-have tool.

Available in lavender color, Shark Navigator NV352 has a sleek design that fits well in your store-room.
[/vc_column_text][/vc_column][/vc_row][vc_row][vc_column][vc_column_text]
---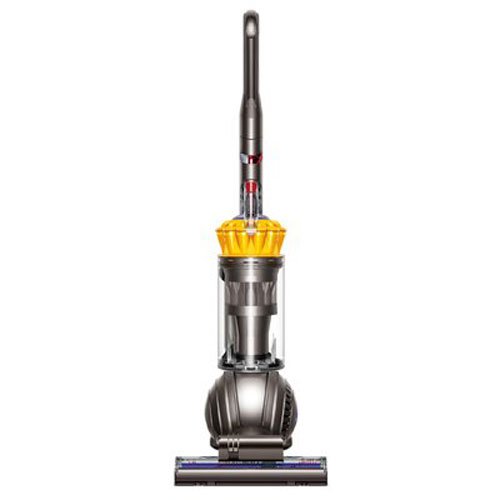 Buy Dyson Ball Multi Floor Upright Vacuum Corded

When it comes to purchasing an easy-to-use vacuum cleaner, you can consider the Dyson Ball Multi Floor Upright vacuum cleaner.

Getting a self-adjusting cleaner head is a rare feature in a vacuum cleaner. This feature in the Dyson Ball seals in suction so you can easily use it on carpets and hard floors.

After floors, cleaning furniture is a tough task. You can make it a lot easier with the Dyson Ball vacuum cleaner. Its wand and hose go in single action smoothly. This way, you can clean above or under the surfaces of your furniture.

The best thing about the Dyson Ball is the whole-machine HEPA filtration. It traps bacteria, allergens, and dust and purifies the air in a short time.

Moreover, the ball technology is ideal to get into difficult spaces in your house. With the Dyson Ball vacuum cleaner, you do not need to put extra effort into cleaning these spaces. This factor may appeal to housewives, students, professionals, or anyone who stresses over hard to reach surfaces.

When you deep clean your space, bacteria and germs accumulate in the bin. That is why it is necessary to discard the bin or dust cup carefully. In the Dyson Ball, you will find a hygienic bin emptying option. It requires pushing the button to release the dirt. Plus, this means you don't have to use your hands so they stay clean and germ-free as well.

Available in stunning iron and yellow color combination, the Dyson Ball is a sleek vacuum cleaner that does not need extra space.
[/vc_column_text][/vc_column][/vc_row][vc_row][vc_column][vc_column_text]
---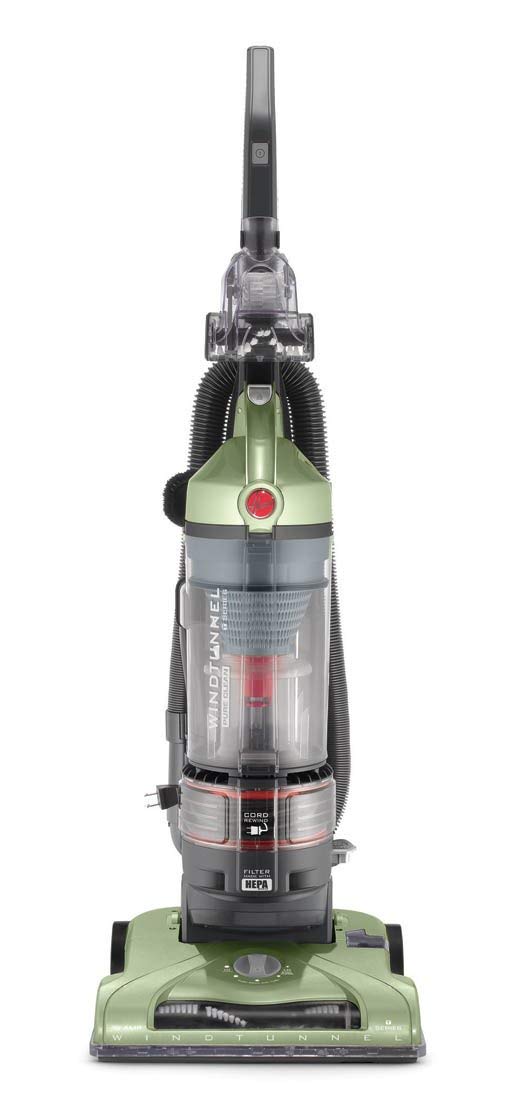 Buy Hoover T-series WindTunnel Rewind Plus Bagless Corded Upright Vacuum UH70120

A vacuum cleaner is a crucial cleaning tool for every household. So, Hoover T-series has introduced a vacuum cleaner that caters to your needs and cleans in a short time.

The UH70120 model is a lightweight upright vacuum cleaner that comes with WideTunnel technology. This technology ensures quick and consistent suction. Moreover, WideTunnel technology is great to lift and remove debris from the surface. It comes in handy to eliminate dirt as well.

To keep your home environment clean and to purify the air inside your house, the developers have opted to include a high-quality HEPA filter, which is easy to clean. When your filter is clean, it is likely to do the best cleaning job as well.

You can even rinse the filter after cleaning your house. It features a permanent HEPA media filter that traps dust, dirt, pollen, and allergens that pollute the environment in your house. It is easy to install and you can adjust the setting whether you're cleaning the carpet or the floor.

With the UH70120, you are sure to get the best cleaning experience. This is because of the fantastic features it has. For instance, it allows a wand extension to clean under the furniture. You will get a dusting or upholstery brush to keep dust mites at bay. It also comes with a powered hand tool, crevice tool, and 8-inch stretch hose to make cleaning hassle-free and quick.

It is common to notice scratches on furniture if you use a vacuum to clean them. They look unattractive and can ruin your favorite couch. Investing in the UH70120 will prevent your furniture from damage as it comes with a no-scuff bumper. So, you can clean the edges without stressing over scratches.

Plus, the Hoover T-Series UH70120 is available in a beautiful green color.
[/vc_column_text][/vc_column][/vc_row][vc_row][vc_column][vc_column_text]
---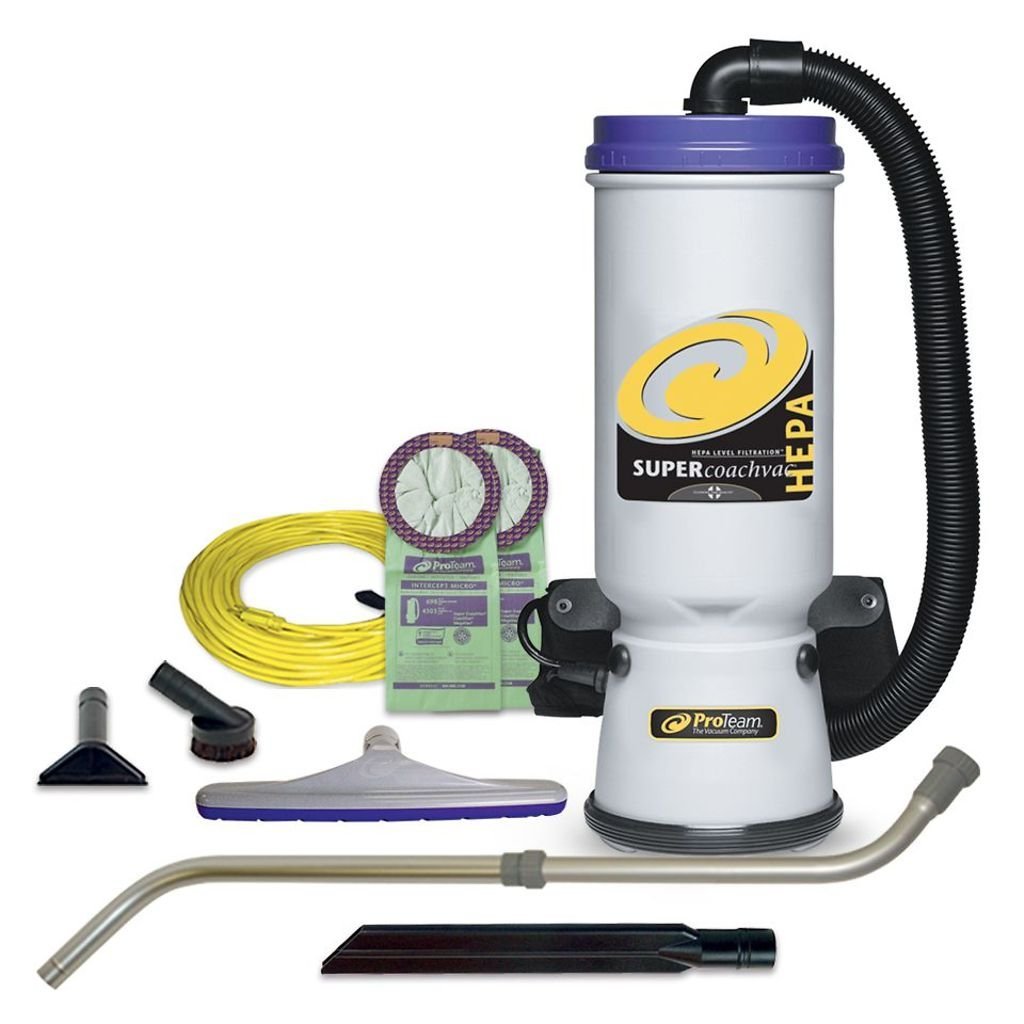 Buy ProTeam Backpack Vacuums, Super CoachVac Commercial Backpack Vacuum Cleaner

Proteam backpack, a super CoachVac vacuum cleaner, is truly a treat for you if you love a clean and safe living space. This commercial backpack vacuum cleaner has a telescoping wand toolkit and HEPA filtration.

With 120 voltage capacity, the powerful machine in this versatile vacuum cleaner is perfect if you have carpeted floors and stairs. Cleaning hardwood floors is hard, but Super CoachVac can do the job for you. You can also rely on this vacuum cleaner to clean areas close to desks and chairs.

It is designed with a large capacity. Therefore, its 10-quart filter can handle maximum cleaning for an extended period. It is the best HEPA vacuum for big houses.

Moreover, certified for its air purification quality by the Carpet and Rug Institute, the Super CoachVac comes with a HEPA media filter. It lets you breathe in a germ-free environment.

It does not make noise, which makes this vacuum cleaner ideal not only for households, but for school and universities as well. Super CoachVac has 66 dBA, which makes it the quietest vacuum cleaner on the market.

Many vacuum cleaners do not come with convenient power cords. However, the 50-foot long power cord in Super CoachVac lets you clean the space without unplugging. VonHaus has a two-in-one Corded Lightweight Stick Vacuum Cleaner and Handheld Vacuum.

The VonHaus vacuum cleaner with HEPA filtration, brush accessories, and crevice tool is best for your hardwood floors. It comes with a 2-in-1 stick vacuum cleaner; 5.5 Amps along with a suction power of 14 KPA. Therefore, if you want, you can use it at full length. It works fine without installing an extension tube if you prefer handheld cleaning.

Emptying the dust cup after cleaning can be difficult because of dust and bacteria. VonHaus features 1.3-liter dust capacity. The dust container is easy to remove and requires simple detachment.

Moreover, sponge and HEPA filtration are noteworthy features. VonHaus comes with a washable HEPA filtration system that locks small particles inside it. Other vacuum cleaners do not have this system, which is why bacteria re-circulate back into your environment and pollute it. This is a leading cause of illness and allergies.

Because of its top-notch suction, VonHaus easily glides over different surfaces. So, feel free to use it on stairs, carpets, hardwood floors, or rugs. You can even give your furniture a nice clean using the VonHaus vacuum cleaner.

VonHaus sports 19.5ft power cord. It comes with a crevice tool, hose adaptor, small brush attachment for hand use, and shoulder strap to make your cleaning session even easier.

You can purchase the VonHaus vacuum with best HEPA filter in a vibrant orange color.
[/vc_column_text][/vc_column][/vc_row][vc_row][vc_column][vc_column_text]
---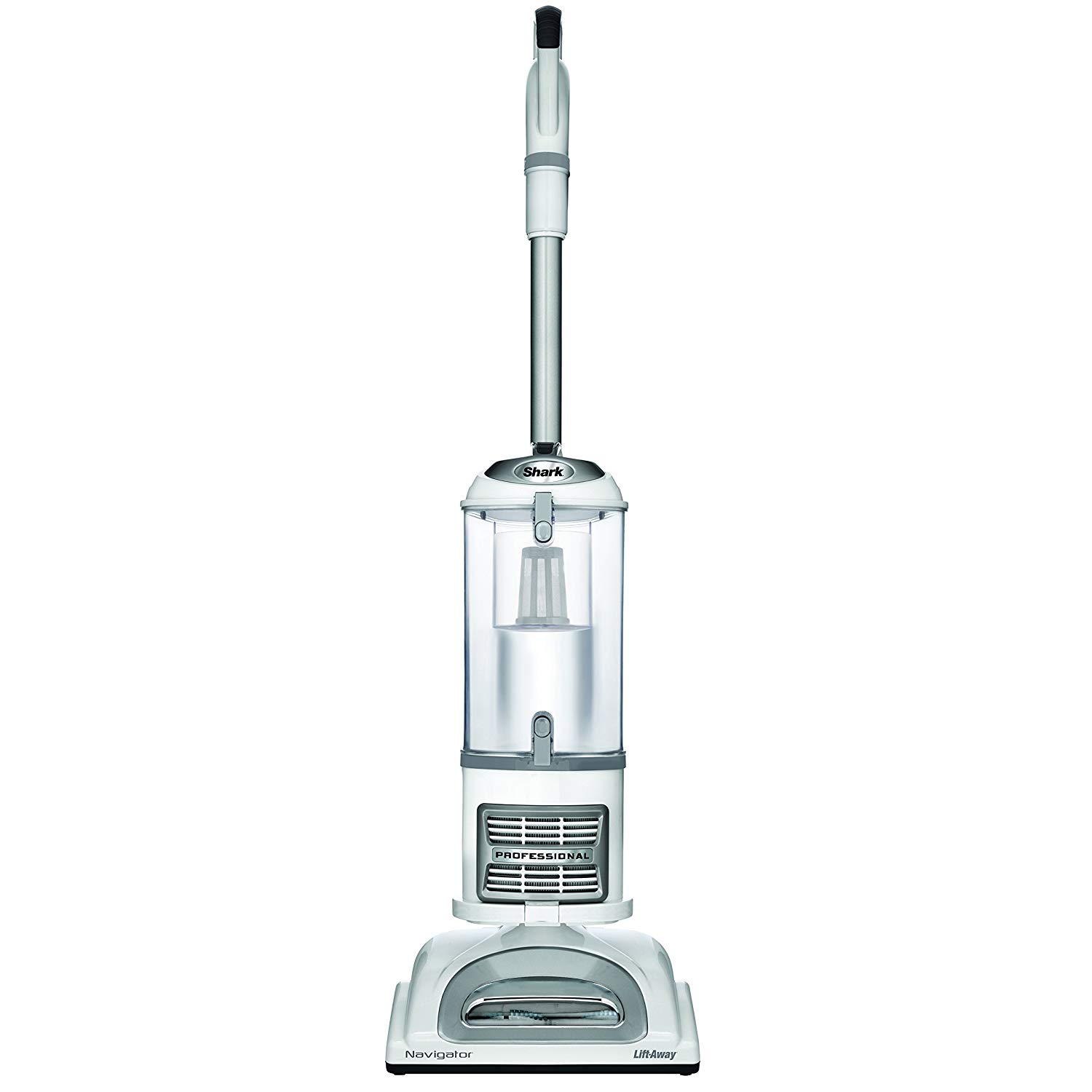 Buy Shark Navigator Lift-Away Professional NV356E

Featuring an easy-to-lift canister, the Shark Navigator NV356E makes cleaning hard-to-reach areas quite convenient.

For people who develop allergic reactions, the NV356E offers anti-allergen complete seal technology, making this one of the best HEPA filter vacuums, helping you purify the air in your home and ward off bacteria.

It has a sturdy machine, but is lightweight so you can move it around your house without much effort at all. The integrated brush roll shutoff technology deep cleans your carpet and floor in no time. This portable vacuum cleaner weighs only 13.7 lbs.
[/vc_column_text][/vc_column][/vc_row]

[vc_row][vc_column][vc_column_text]