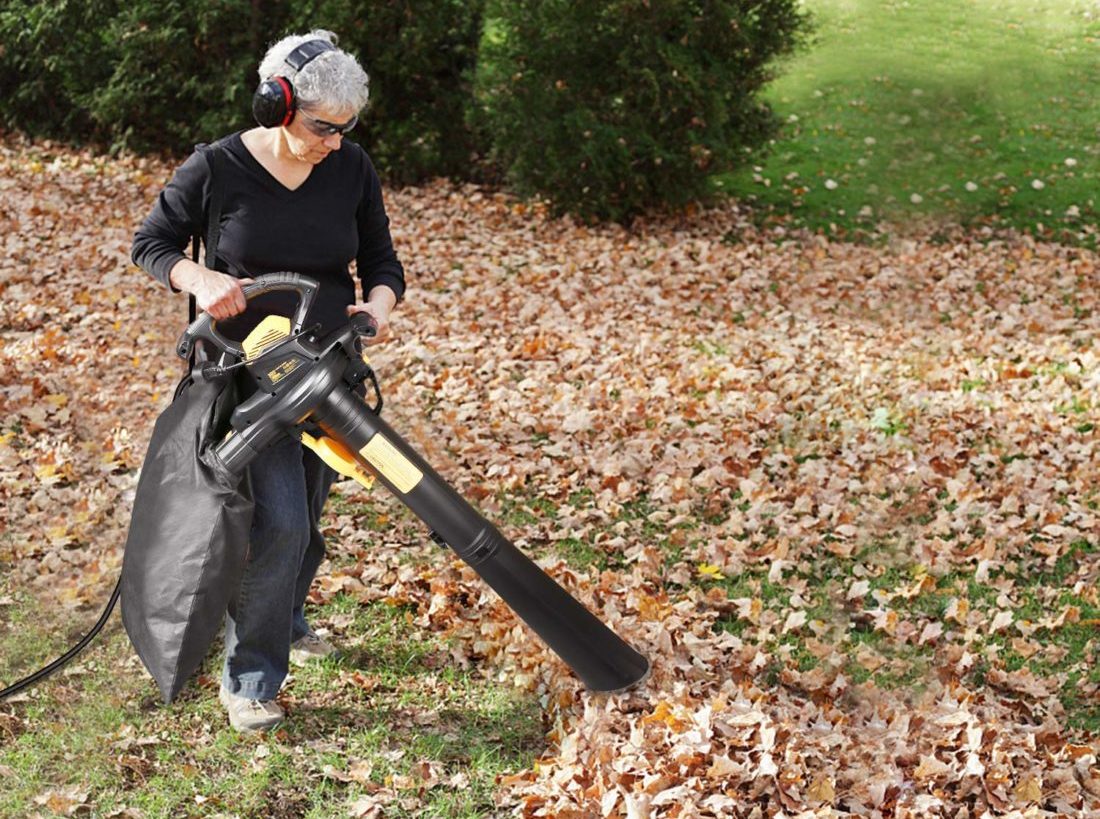 If you have a good size yard that has a good number of mature trees, it only makes sense to purchase one of the best leaf vacuum mulcher options on the market. A leaf vacuum mulcher helps you suck up leaves that have recently fallen from nearby trees. It has an internal blade system that will mulch the leaves into tiny pieces.  Here is a quick list of our top 7:
This leaf mulch can then be used around your yard as natural fertilizer, covering your plants for winter or even for composting. A whopping 50 to 80 percent of nutrients a tree gathers from air, water and soil are stored in leaves. Think about how much that will affect your plants and flowers, and it's natural!
Converting your fallen leaves into mulch is a great way to save money. Instead of buying expensive packaged mulch at a gardening store, you can use the mulch created from your leaf vacuum mulcher to keep your yard and garden looking great.
The mulch you collect can be used in plant and flower beds to help retain moisture and keep out pesky weeds. It can also help prevent your soil from cracking by creating a barrier between the soil and rain water. Mulch makes your yard look more aesthetically pleasing and can enhance the nutrients in the soil.
The best leaf vacuum will be able to switch to a leaf blower while in use to do two jobs in one. If this option is appealing to you, be sure to look in the unit's features to see if it includes this option.
You will also need to decide whether you want a leaf vacuum that is powered by gas, electric or battery. Gas-powered units are very powerful for large jobs but can be very noisy. They can also be heavy, release toxic fumes into the atmosphere and damage flower beds and gardens.
Electric models are lightweight, have different speed options and have unlimited power. However, electric models are for smaller jobs since a cord has to be plugged in whenever the unit is in use.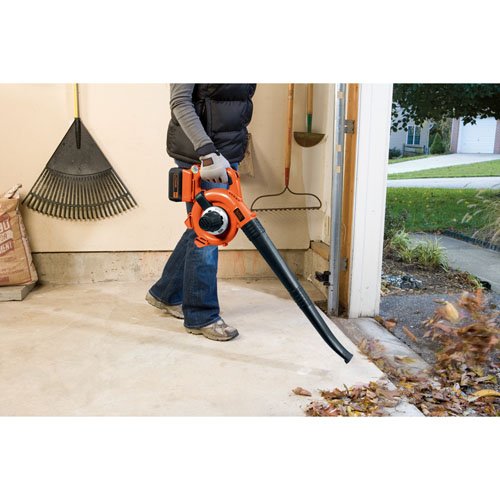 Battery powered leaf vacuums are great for the environment, easy to carry and are great for jobs that require gentle power for flower beds and gardens. The con to battery powered models is that the battery runs on a charge and once that charge has been depleted, you have to wait until the unit charges to complete the job. In this case it is recommended that you purchase a back up battery or find a leaf vacuum that can charge while the unit is in use.
All leaf vacuum mulchers are not made equally. Some have plastic parts that can wear out easily. If you need power and longevity, choose a mulcher that has metal blades that will last and can be sharpened.
The weight of the unit is also a factor, especially if you cannot lift a lot of weight or already have physical issues that prevent you from long bouts of physical labor. The lighter the unit is, the longer you will be able to use it and the easier it will be to complete the job in one swoop.
Also look for a unit that has switching capacity. Some mulchers can easily switch to a blower at the click of a button. This is particularly useful if you have an odd shaped yard or a lawn that has plants, gardens or sculptures that make the leaves hard to get to. Switch to the blower to get the leaves out of narrow or hard to reach areas, then switch back to the vacuum to mulch the leaves. This will keep your yard nice and tidy.
These features all play into the budget you will use to purchase the best leaf vacuum mulcher for your yard. Spending a little more money on the mulcher might save you even more time when you need to clean up the leaves in the fall. If you are doing all of your own yard maintenance, you will want to take that into consideration when you think about your budget for this all-in-one tool. Any time and frustration that is saved when doing a mundane task like raking your leaves can leave you time for more important things on your honey-do list.
Related Article: Best Vacuums Under $200
The Best Leaf Vacuum Mulcher: Different Types to Choose From
There are three main types of leaf vacuum mulchers. Each type has its own pros and cons. They also have different price points and different effects on the environment.
Gas
Gas mulchers are appealing to a lot of people because you do not need a power cord or have to worry about charging batteries. They are easy to move around and require little maintenance to use.
Gas mulchers are perfect for larger yards. They are also great for commercial applications and for open areas such as orchards. However, they can weigh more than their electric counterparts and do not work well in the heat of summer. In addition, gas pollutes the air and gas-powered mulchers are harder on the ears.
Electric
Electric Mulchers require the user to have an electric plug nearby. They are best for smaller yards in which a decent sized extension cord will do.
However, electric mulchers are better for the environment as they do not cause air pollution. They are generally lighter than gas-powered mulchers. Since electric mulchers do not require gas, they can be easily stored since there is no risk of leaking.
Cordless
Battery powered mulchers are best for medium sized yards that require more mulching than an electric mulcher can handle but less than a gas-powered model as the battery will eventually run out of juice.
Battery powered mulchers are the most expensive of the three. If you are into eco-friendly products this is still a better option than traditional gas-powered models. It is also less frustrating than an electric mulcher since you do not have to worry about carrying around an electrical cord. While some mulchers can run even when the battery is being charged, if you have a larger yard, you might consider a second battery so you can finish the job in one pass.
Choosing the Best Leaf Vacuum for You
Whether you are purchasing a leaf vacuum mulcher for the first time or replacing an existing model, there are several features to consider.
Budget
Do you have a small or large budget? While eco-friendly battery powered models have the most upfront investment, gas-powered models require an added cost of gas to run.
Along with the budget you have for your new mulcher, you will want to consider your yard size and purchase the appropriate kind of mulcher that will work best for you.
The more money you spend, the more features your mulcher will have. You might also want to invest more money to get a newer model that is more lightweight and has more power to get the job done quicker.
Motor/Power
Mulcher motors are measured in Amps. You will want to at least purchase a mulcher that has 12-14 amps for ease of use and longevity of the unit. Lower amperage units do not mulch as well and can leave your yard looking subpar. You should not buy a unit that is lower than the acceptable 10 amps.
Speed
Speed options are very important when purchasing a new mulcher. You will want to look for a unit that has at least two speed options to increase the applications you can use your leaf vacuum mulcher for. Using a slower speed will help with any clogging issues and can prevent damage to your plants or flower beds.
Blade Quality
The best leaf vacuums have metal blades. Some units have plastic blades. Although plastic blade models are generally more affordable, the plastic blades tend to break down faster than the metal costing more money in the long run.
Reduction Ratio
The reduction ratio refers to the original leaf volume that you mulch compared with the finished leaf mulch. This is important because you do not want to little or too big of mulch pieces. You will want to look for models that have 16:1 or 18:1 ratio.
Weight
The weight of the unit is very important if you have difficulty lifting or carrying the mulcher for a long period of time. Generally gas-powered units weigh the most and harder to store since there is a chance of leaks.
Electric and cordless models are usually lightweight and easier to handle. Be wary of going too lightweight though as these models might not have enough power to get the job done in a reasonable amount of time.
Nozzle Design
The best leaf vacuum mulcher is great for keeping areas tidy around your yard including decks, patios and porches. Some models have the ability to expand their reach by using curved nozzles and aftermarket attachments. The nozzle should be able to fit into a small space without creating a dust vortex and residue. Also look for a wide tube to prevent frequent clogging. These attachments are great for reaching and cleaning out your gutters. The more attachments that come with the unit, the more applications you can use the all-in-one tool for.
Switching Capacity
If you also want your mulcher to blow the leaves or dry grass in a pile first, look for the unit's switching capacity. Some models have an easy mode that will allow you to quickly and easily switch from blower to vacuum even while the unit is in use.
Top Related Article: Best Vacuum for Allergies
The Best Leaf Vacuums
Once you have a chance to decide on the features that will work best for you, we have included our top favorites below. We have narrowed down the list of the best leaf vacuums to our top seven. Leaf vacuum mulchers differ in features, but are customized to your exact needs. Do you have a small or large yard? Do you need more power or less? Each of the leaf vacuums below offer the basic features you need to take proper care of your yard. Get rid of that manual rake and take a look at our favorite replacement options below.
Buy Greenworks 40V 185 MPH Variable Speed Cordless Blower Vacuum

Greenworks 40V 185 MPH Variable Speed Cordless Blower Vacuum is a great battery powered solution to gas-powered options. Without the need for gas, you will save money on operating costs. No more inconvenient trips to the gas station or inhaling hazardous fumes. This is a great zero emissions options and environmentally friendly.
Enjoy the benefits of less noise and vibration and a brushless motor that provides a whopping 80% longer life and 30% more torque. Comfortable, lightweight and easy to use, this leaf vacuum features an up to 185 mph wind speed and 340 CFM. The variable speed dial allows you to regulate your wind speed for the best directional control and is combined with a turbo button to offer up to 185 mph wind speed.
No longer worry about gas leaks and storing your unit. Just snap in the battery and go. Fully compatible with Greenworks G-MAX system, clear up to 4.5 bags of debris on a single battery charge. G-MAX 40V ah battery sold separately. Only compatible with Greenworks G-MAX 40V Batteries Models 29462, 29472 and Charger Model 29482.
The bottom of the blower includes a safety cover (gate) that prevents the user from getting close to the spinning impeller. To change the blower to a vac, the gate opens and a collection tube attaches to the unit for quick leaf removal. If the safety switch triggers, the unit will not run. Make sure the unit is assembled correctly and try using the unit again.
No need to worry about dealing with a long extension cord, mixing oil and gas or lugging around heavy tools. The G-MAX system is compatible with an impressive 14 lawn tools. This system will service just about all of your yard care needs.
---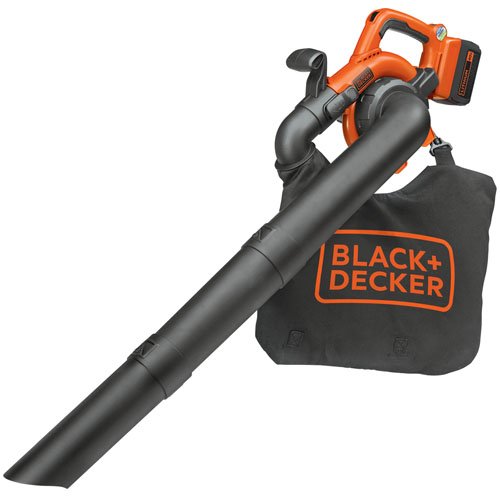 Buy BLACK+DECKER LSWV36 40-Volt Lithium Cordless Sweeper and Vac

The BLACK+DECKER LSWV36 Cordless Sweeper and Vac has a 40-volt 1.5Ah rechargeable battery that will keep your unit running maintenance free year after year. The lithium battery has a superior life cycle and charges in just one hour. It is perfect for keeping your yard clean and tidy including surrounding driveways, decks, sidewalks and garages. Great for reducing the amount of grass clippings and miscellaneous yard debris. Power Command controls speed for maximum run-time or maximum power.
Plus, it is super lightweight at just over 5 pounds. Switches easily from blower to vacuum mode to clear patios, decks, garage floors and walkways with a 120-mph air speed (not recommended for use in the grass or flower beds). Collection bag is a half-bushel size, meaning you will be making less trips to the compost pile. Low noise (65 dba) is easy on the ears and a built-in scraper is great for wet leaves and hard to remove debris. Ergonomic soft grip handle offers a comfortable grip, so you can use the unit for a long period of time. You can even use gloves and have enough room to use the unit comfortably. Includes an energy star qualified charger. Plus, easily share batteries with other tools in the BLACK+DECKER compatible tool line.
---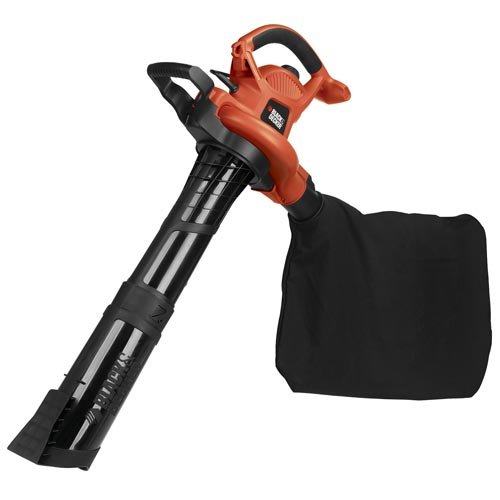 Buy BLACK+DECKER BV6000 High Performance Blower/Vac/Mulcher

BLACK+DECKER's BV6000 High Performance 12 Amp motor 3-in-1 Blower, Vacuum & Mulcher is super powerful at blowing leaves and debris with 250 mph air velocity making the job quick and easy. It also provides 50% less noise (tested by BLACK+DECKER), which is helpful for long jobs.
The Blower/Vac/Mulcher is great for general lawn debris, leaves, grass, pine needles and composting. No more worrying about clogging. The high impact metal fan mulches up to 16 bags of leaves into a single bag. Save time by using easy empty disposable leaf bags that compost with your lawn debris. Each bag conveniently attaches to the main unit.
Need your multi-unit for more than just high-power jobs? The BLACK+DECKER BV6000's variable speed is powerful enough to pick up wet leaves yet gentle enough to use near flower beds and backyard gardens.
Easily change between vacuum and blower by utilizing the built-in cord retainer for keeping the extension in place when switching while in use.
---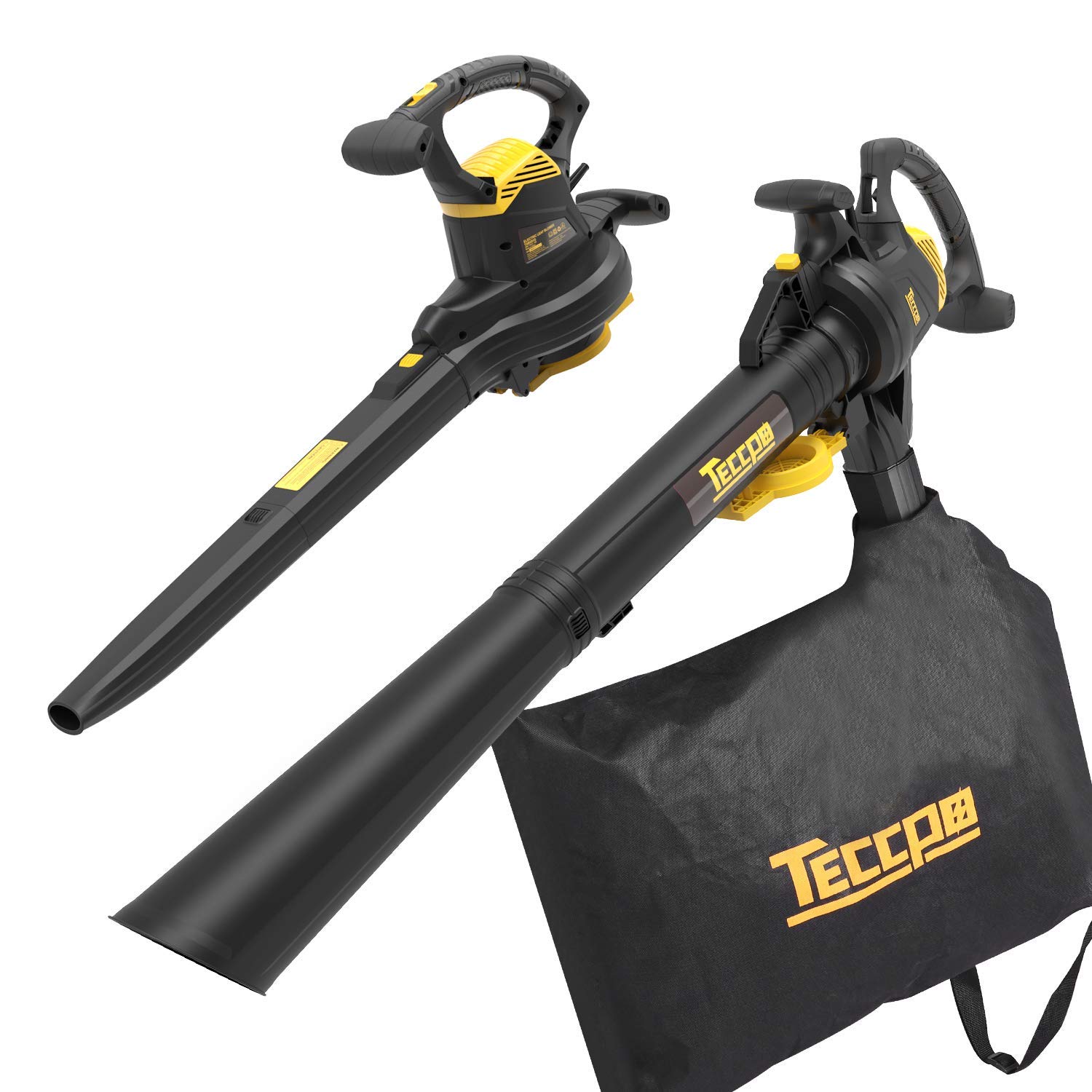 Buy TECCPO 12-Amp 250MPH 410CFM 3 in 1 Corded Electric Two-Speed Sweeper/Vac/Mulcher

TECCPO is a trusted brand in the landscape industry. The 410CFM model has a 3 in 1 corded electric two-speed sweeper/vac/mulcher. It features a quick release latch to switch between blower and vacuum. (Please note the air duct buckle for vacuum suction is a fragile part. Do not use too much force when disassembling and installing it, otherwise it will easily cause damage to the buckle)
The unit has 2-speed selections with an air speed of up to 250 MPH and an air volume of 410 CFM. This makes any job more efficient. Plus, it features a plastic impeller and metal blade for superior mulching.
The TECCPO uses a 12-Amp high power two-speed motor which enables it to accomplish tough jobs with ease. The mulching ratio can reach 16:1, an ideal ratio for regular use.
The ergonomic handle is ideal for longer use and a 10.6-gallon large capacity bag. The large capacity bag greatly reduces work time.
---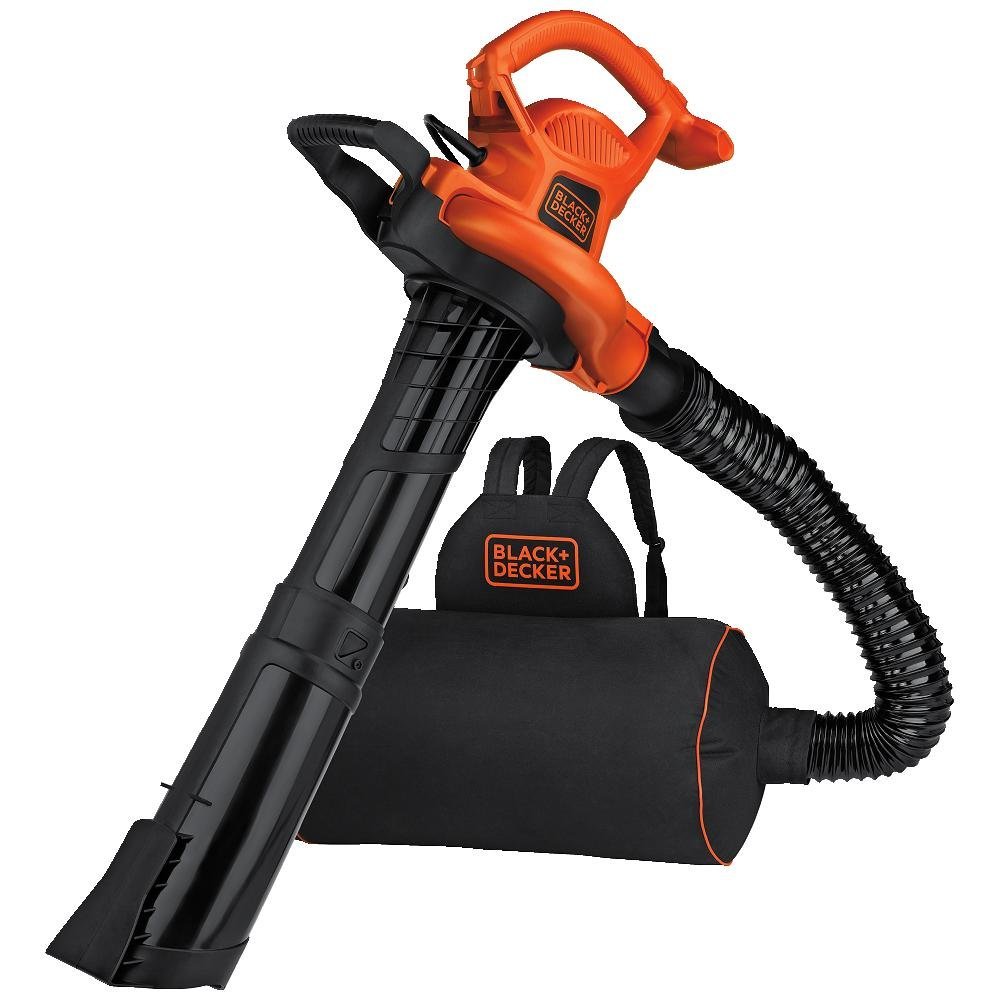 Buy BLACK+DECKER BEBL7000 Back Pack Leaf Blower Vacuum & Mulcher

The BLACK+DECKER BEBL7000 3-in-1 VACPACK 12 Amp Leaf Blower, Vacuum, & Mulcher is a great option for regular yard work and the landscaper that needs a portable unit. Back pack is easy to tote and allows for 2x the bag capacity of similar units.
No need to worry about power, this unit boasts a 250 mph and 400 cfm for picking up leaves, lawn clippings and more.
This unit also provides a unique flexi-tube that improves the ability to get into nooks and crannies. It even features a POWERBOOST button when you need an additional burst of power. No zippers! Empty the zipper free bag quickly and easily. Works in both landscaping and leaf and yard debris applications. Perfect for sidewalks, driveways, and more.
---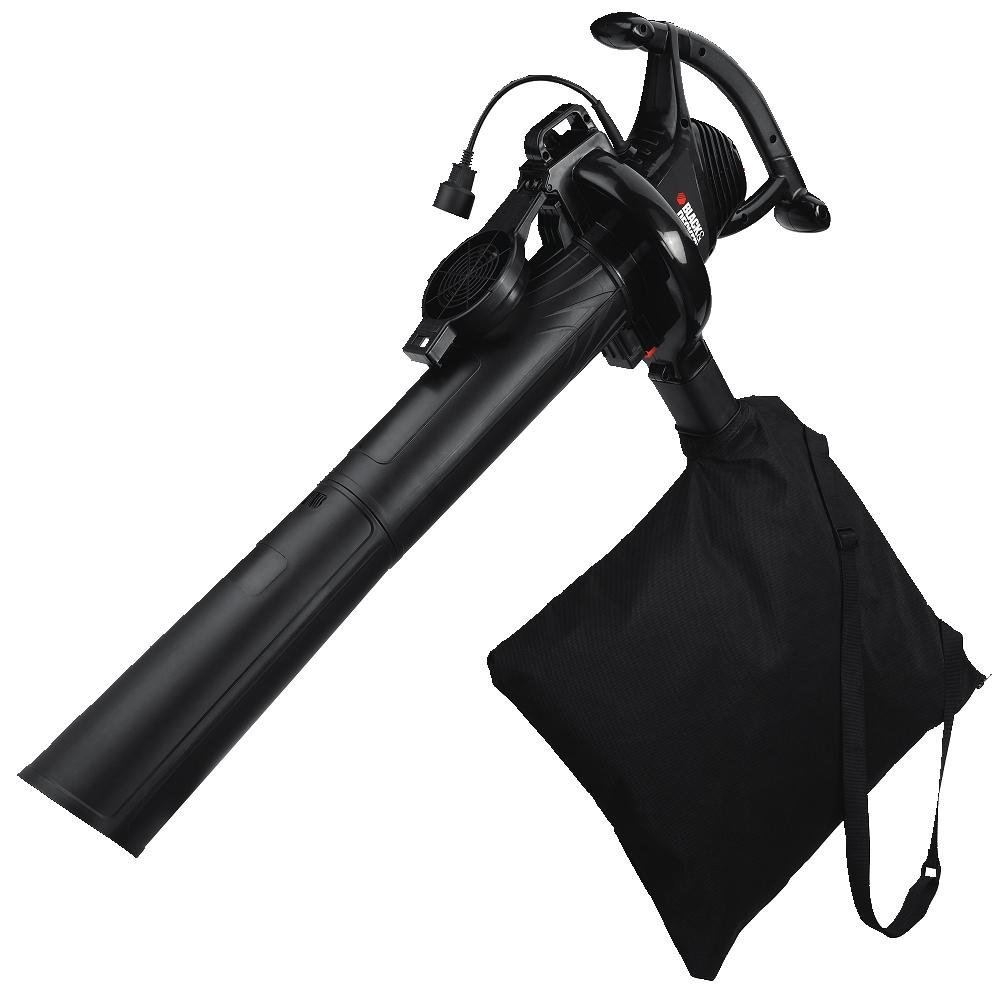 Buy Black & Decker BV3100 12-Amp Blower/Vacuum/Mulcher

BLACK + DECKER 12 Amp Blower/Vacuum/Mulcher has an impressive 230 mph blowing power, crushing any leaves and debris in its path. Features an anti-clog vortex impeller to prevent clogging while vacuuming and mulching. The unit is able to mulch 10 bags of leaves down to one. Great for keeping your driveway, sidewalk and garage free of debris. Perfect for fall leaves, grass clipping and small twigs.
Choose from a low speed for flower beds and a high speed for stuck on debris. No need for extra tools, switch between a vacuum and blower with ease. The built in cord allows for easy to switch modes and stress-free use.
---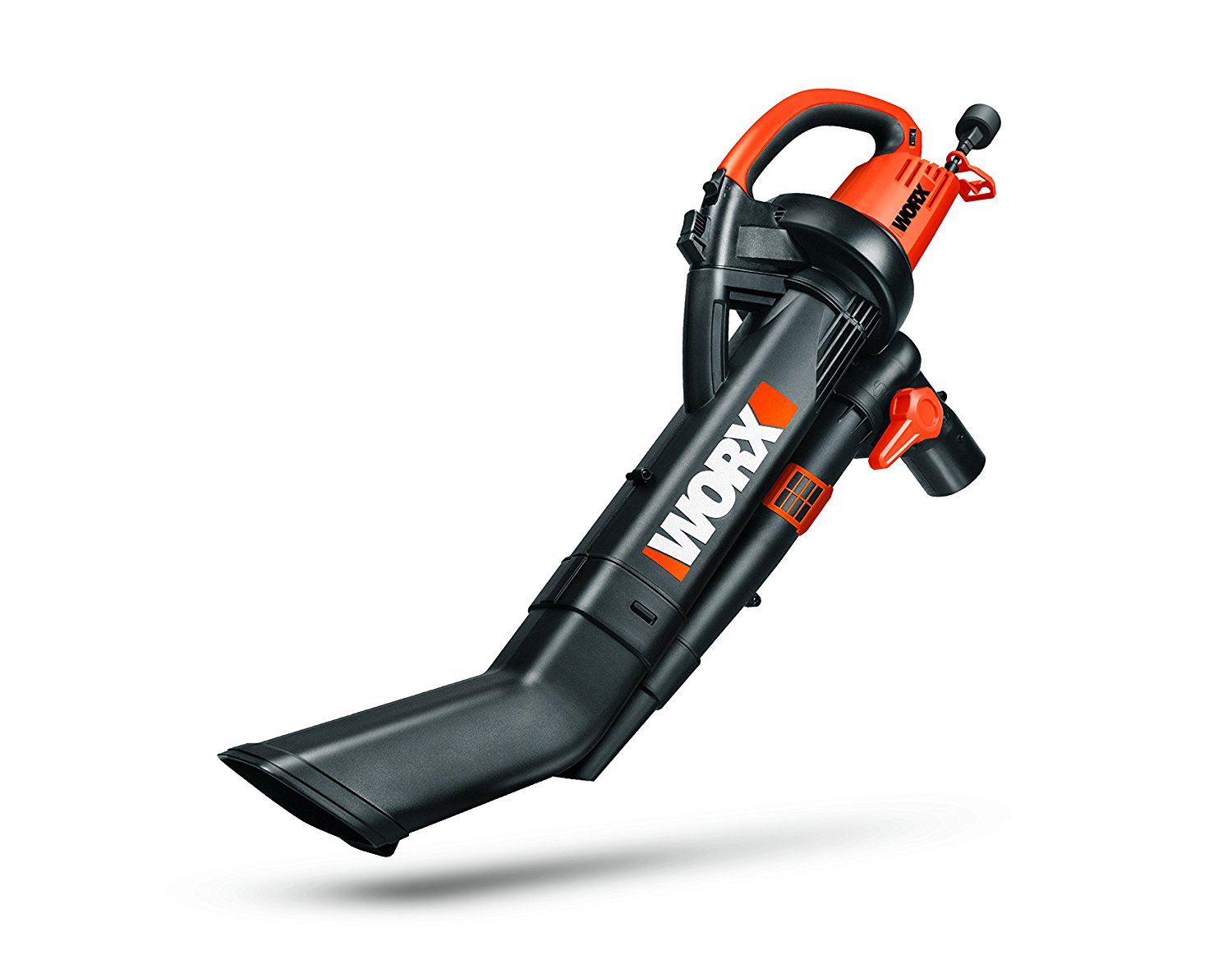 Buy Worx WG509 TRIVAC 12 Amp 3-In-1 Electric Blower/Mulcher/Vacuum

The Worx WG509 TRIVAC 12 Amp 3-in-1 Electric Blower/Mulcher/Vacuum includes a variable speed throttle control that adjusts the machine's air flow from 75 to 210 mph. That is strong enough for the toughest wet leaves and debris.

An impressive all-metal mulching system utilizes a shredder blade to mulch debris up to 1/18th the original size. The included collection bag can hold up to 1 bushel of mulched debris.
Innovate vacuum tube design allows for maximum reach under decks and patio furniture. The quick release tube makes it easy to switch from blower to mulcher, saving you time and frustration.
Its balanced design makes it easy to maneuver for long periods of time using just one hand. Electronically adjust the air speed from 75mph to 210mph when using the unit as a blower. The powerful 12-amp motor, the unit is comparable in strength to gas-powered units.
---
Advantages of Leaf Vacuum Mulchers
When you have a yard with a lot of mature trees, raking the leaves in the fall can be a full-time job. While it is not absolutely necessary to own a leaf vacuum mulcher, it is a purchase you should consider. A leaf vacuum mulcher can save you a considerable amount of time. Time that you can better spend with family, working on other things or watching your favorite football game.
A leaf vacuum mulcher is an investment that you will thank yourself for year after year. No more buying leaf bags or trying to figure out how to dispose of them. Even if you are an avid composter, dealing with large piles of leaves can be cumbersome. That is why mulchers are so desirable. They can take multiple bags of leaves (such as ten) and turn them into one easy to dispose of bag.
The mulchers break down the leaves into very tiny pieces, great for your established compost pile. The tiny pieces of leaves allow beneficial bacteria and insects to digest the mulch faster, giving you nutrient rich mulch that you can add to your garden.
Not to mention that you will no longer have to use that rake every fall. No longer will you have to worry about a sore back or blisters on your hands. Your yard can look well maintained using only just one tool.
How to Maintain Your Yard Using a Leaf Vacuum Mulcher
Starting at the far left-hand corner of your yard, use the leaf vacuum mulcher to blow the leaves onto a large tarp (you will need a vacuum that has a switch capacity to blow the leaves).
Once you have a pile of leaves on the tarp, fold the tarp so the leaves will not escape. Then drag the tarp to a compost bin or a part of your yard where the leaves can be contained.
Do not worry about getting every leaf. You may still need to hand rake a bit to finish the job, but the leaf blower should save you a lot of time and stress.
Once the leaves have been contained, you can use the leaf vacuum mulcher to shred the leaves. Use the natural mulch to protect your grass, plants and flowers or for speeding up the composting process.
Using the mulcher is also great if you plan on putting the mulch into leaf bags. The amount of leaf bags you will have to purchase will be greatly reduced saving you time and money.
Leaf vacuum mulchers are especially effective in hard to reach areas such as between large rocks, the base of a fence, decks, etc. It is very easy to use the leaf blowing feature in these areas and then the vacuum feature. There is no bending or raking and it leaves your yard looking clean and professionally maintained.
Conclusion
While most of us are comfortable using a vacuum to clean up the dirt and debris inside our home, taking care of our lawn in the fall is a different story. Even though technology has advanced to create leaf blower and leaf vacuums to make our lives easier, most of us still reach for the manual rake that is stored in the garage.
There are several options for leaf vacuums and even units that are all-in-one and will switch from a blower to a vacuum so that you do not have to find a place to store two or three units in our garages. Let's face it, we already store way too many things in our garage and the thought of another two or three pieces of machinery is not that enticing. But what if you could purchase one tool that would do all of your fall cleaning and even fit in the garage where your manual rake is stored? And what if you could have your fall weekends back for enjoying the season instead of being a slave to the rake and dealing with shifting winds and countless leaf bags?
Purchasing a leaf vacuum is not only an investment for this fall, but an investment for years to come. Leaf vacuum mulchers are very handy if you have a yard with a lot of mature trees or deal with a lot of fallen leaves. Keep your yard, deck and porch tidy by using the blower and vacuum feature on your unit. Use the unit to mulch the leaves into tiny pieces to cover your plants and garden with natural mulch that will protect your plants and nurture your soil.
The best part about your new tool is that it is not only for the fall season. Use your new leaf vacuum to blow stray grass out of your yard and create mulch from your grass in the spring. You can even use your leaf vacuum mulcher in the winter by cleaning off your driveway and porch when there is a light snow. There are so many uses for this tool that you might even get creative and find a new use to enhance your landscaping.
While some products are cut and dry of which one to buy, the best leaf vacuum mulcher is more of a personal choice.
You will need to consider the size of your yard and how many leaves you will need to mulch. Plus, if you would like to use the unit in multiple seasons, for example for blowing grass off your lawn after you mow or for getting rid of a thin layer of snow.
A more powerful unit can be great for getting rid of leaves quickly, but if it does not switch to a less powerful mode, you will only be able to pick up the leaves in your yard and not those on your delicate flower beds and gardens. It may also be hard to use the unit for grass in the spring or snow in the early winter.
If you need a unit that does both, you will want to make sure the unit has the advanced features or you will be buying multiple tools. Buying multiple tools will not save you any time if you have to switch back and forth or search for bulky attachments. Plus, you will have to store more tools which can get cluttered in the garage. Being able to find the tools when you need them will keep you organized and allow you to enjoy regular lawn maintenance.
The best leaf vacuum mulcher will help you save time, save money and add a tool to your garage that is useful year-round.