The Best Shark Vacuum Options of 2019 Reviewed | Best 4 Your Home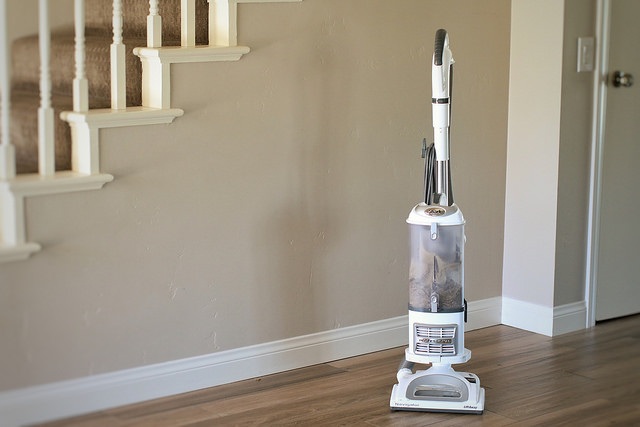 You know you want to purchase a Shark vacuum cleaner as soon as your old crappy vacuum goes kaput. But, what is the best Shark vacuum cleaner on the market? How do you pick from all the options the company has to offer? This article will walk you through the seemingly tricky decision. It will help you to determine which is the best Shark vacuum for your household and budget. But first here's a quick run down of our top picks:
5 of The Best Shark Vacuums
Find out what is the best Shark vacuum for you out of these 5 winning options.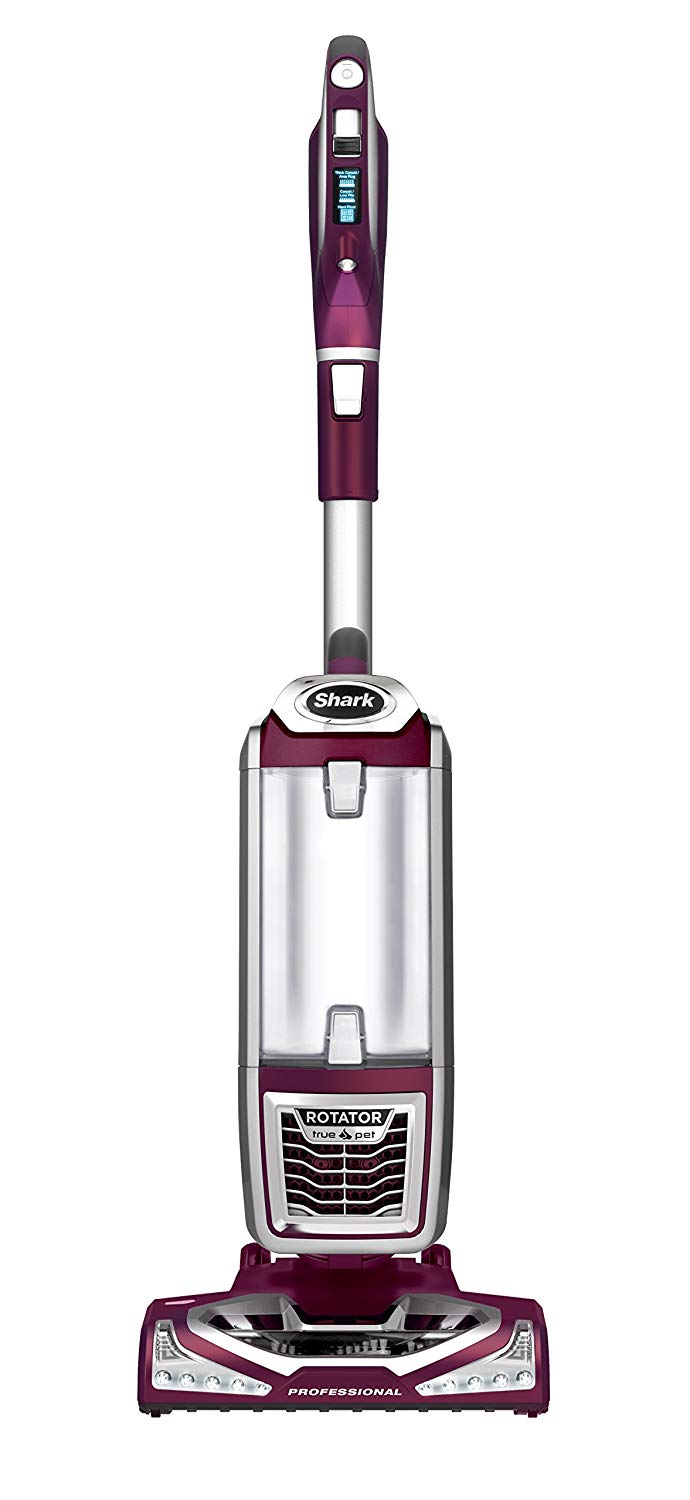 Buy The Shark Rotator Powered Lift-Away
The Powered Lift-Away is a bagless vacuum designed to work for carpet and hardwood floors. The machine is extremely versatile. It looks like a regular upright vacuum, but users can remove the collections canister. What's the benefit of this? Once the collection canister is removed, the hose, still attached to the powerful brushes, can reach in areas where a traditional upright can't. The hose can reach underneath tables, couches, and beds. You won't have to move the furniture, but you can reach the tufts of dog hair that accumulate so quickly in our houses.
The hose and canister can also be removed to easily clean stairs, ceiling fans, surfaces of furniture, and tops of cabinets.
Other features of this product include swivel steering that allows you to maneuver around tight corners.
The hard floor setting picks up stuck-on debris, and it is easy to switch from bare floor cleaning to carpet cleaning. The machine is designed to make that switch with fingertip controls, instead of stomping on a lever at the base of the device and crossing your fingers that it engages the brush.
Related: Best Canister Vacuums
The TruePet Motorized Brush and Pet-Multi Tool work on upholstery and stairs. It offers a spinning brush that works to remove hair and debris that embed deep into fabric and carpet.
Bright LED lights are on the nozzle and handle so you can make sure you are getting all the debris and hair from your surface.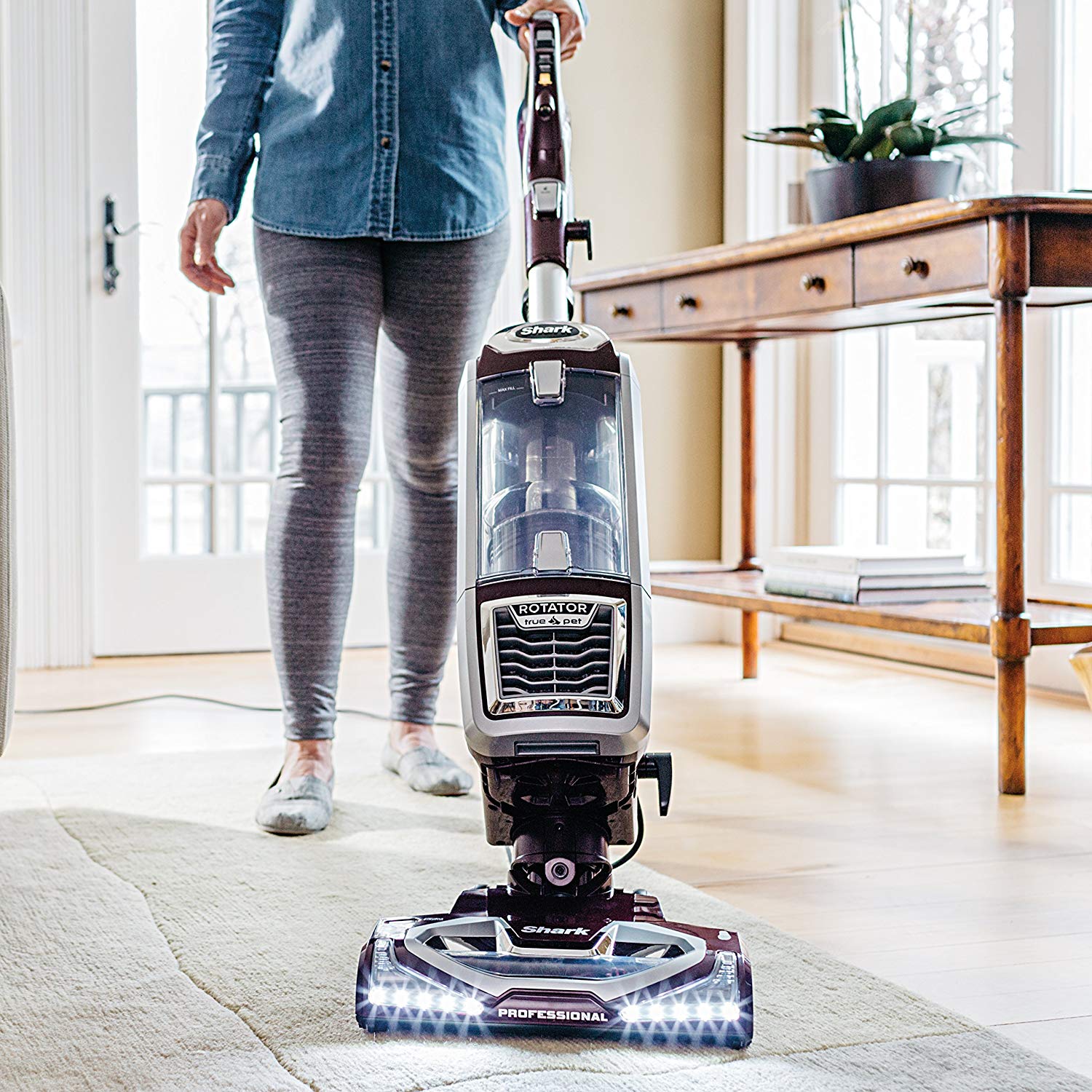 Another feature of this Shark vacuum is that it offers a sealed-in canister to trap the dust and debris that you gathered in the process of vacuuming. This canister is equipped with an anti-allergen complete seal technology that keeps the dust in the vacuum's canister instead of out into the air you are breathing. Shark claims that it traps 99.99% of dust and allergens in the vacuum. Allergy sufferers can rest easy knowing that cleaning won't result in a sneezing fit. The HEPA filter requires cleaning once a year.
The Powered Lift-Away comes with many attachments. Customers will receive a Hard Floor Hero attachment and a TruePet Motorized Brush.  It seems like it comes with a crevice tool, a pet multi-tool, and a dusting brush. Note, that the pet tool is motorized. I have had other machines where the brush turns from the suction, but not a motor. Store your attachments in the bag that comes with the tool. A few of the accessories are supposed to store on the vacuum, but you know how well that usually works.
The Lift-Away weighs 15.4 pounds. The power cord is 30 feet long. It comes in two colors, Bordeaux and Cinnamon.
The Shark seems to do as it promises, but there are a few concerns. First, the cord and accessories attachments do not seem sturdy. Items keep falling off while the vacuum is in use.
Make sure you understand your warranty. Extended warranties are available through Amazon if you are interested.
---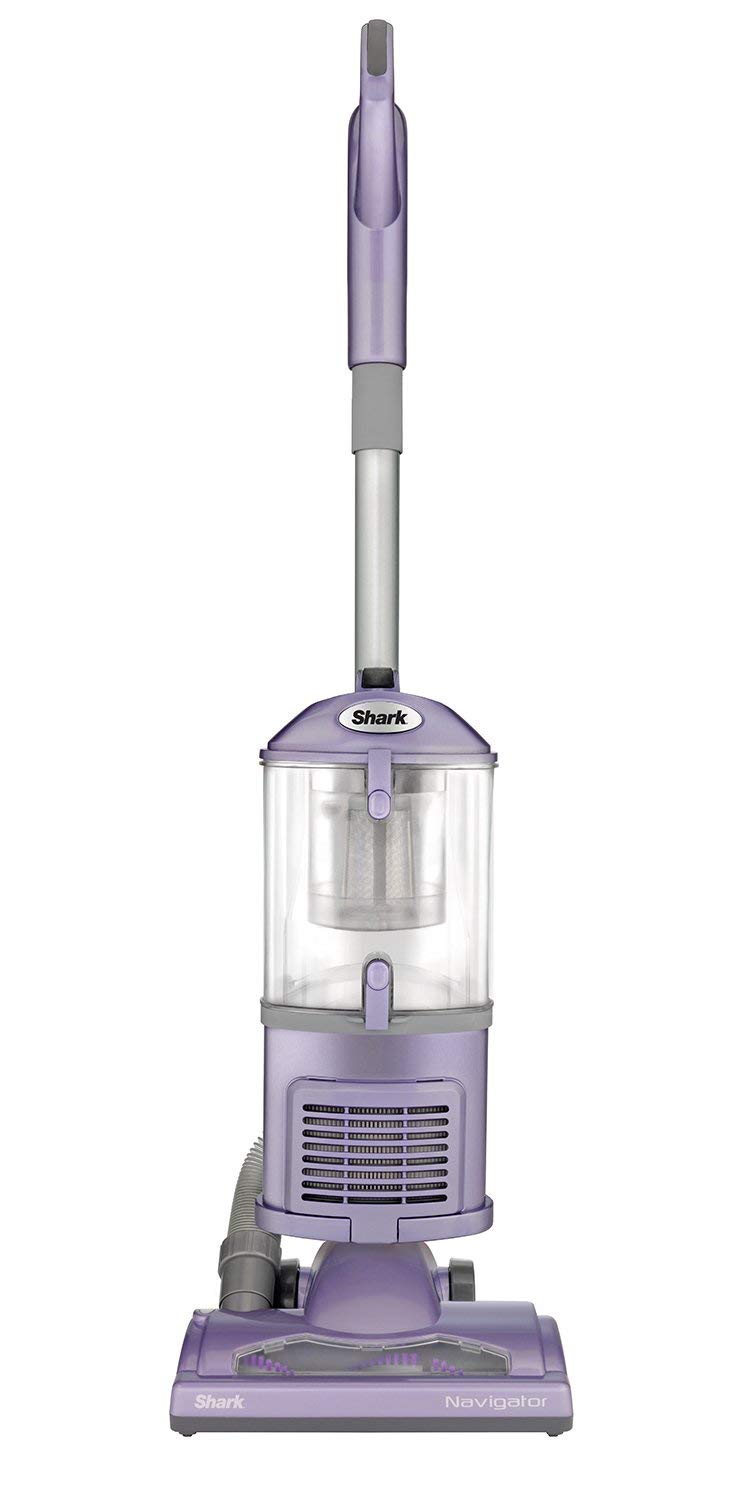 The next best Shark vacuum we will be discussing is the Shark Navigator Lift-Away. The Navigator is a bagless vacuum designed to work for thick carpet but is gentle enough to clean hardwood floors. It does not include finger-tip controls to switch between vacuuming styles. Like the previous vacuum, this machine is extremely versatile. It looks like a traditional upright vacuum, but once the collection canister is removed it can reach in areas where a conventional upright can't. Never move your furniture while vacuuming again because the hose will easily reach underneath tight spaces.
Like the previous vacuum, this Shark machine features swivel steering that allows you to maneuver around tight corners.
It comes with the wide pet upholstery tool, but it does not include the Pet Power Brush that the previous system offered. Think about the type of carpet you have in your home and your pet's hair type. It may not be necessary to have a powered-rotation brush for your stairway and upholstery.
Related: Central Home Vacuum System
This device does not seem to come with any lights. I never found lights on my vacuums particularly useful anyway, and the lights make my German Shepherd crazy.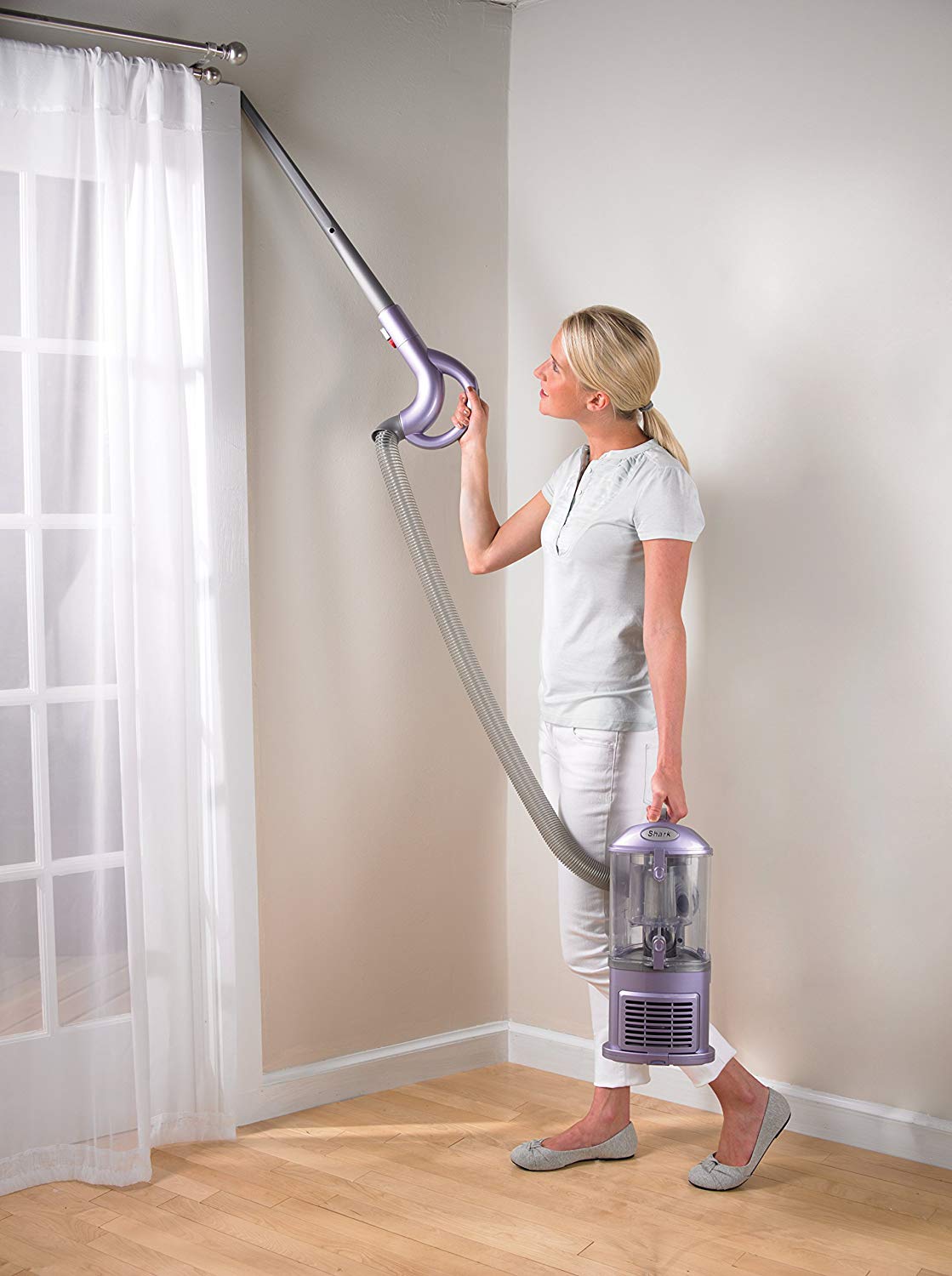 Another feature of this Shark device is that it offers the sealed-in canister to trap the dust and debris. Just like the previous machine, this canister is equipped with an anti-allergen complete seal technology that keeps the dust in the vacuum's canister instead of out into the air you are breathing. Don't forget to clean your HEPA filter at least once a year (depending upon use.)
The Navigator comes with a crevice tool, a "bonus" crevice tool, and a dusting brush. I'm dying to know how the bonus crevice tool is different than the everyday, old regular crevice tool. Maybe the bonus one is Bedazzled?
The Navigator weighs 12.5 pounds. The power cord is 25 feet long. It comes in one color, Lavender.
The Navigator offers good suction and is able to be navigated easily throughout the house.
It does seem to fall over a lot as the design is somewhat top-heavy. If your vacuum falls on a hard surface, such as a tile floor, it may cause the plastic parts of the vacuum to break.
The power cord is only 25 feet long, so users have to spend more time finding a free outlet while vacuuming. The extension hose doesn't seem long enough either.
---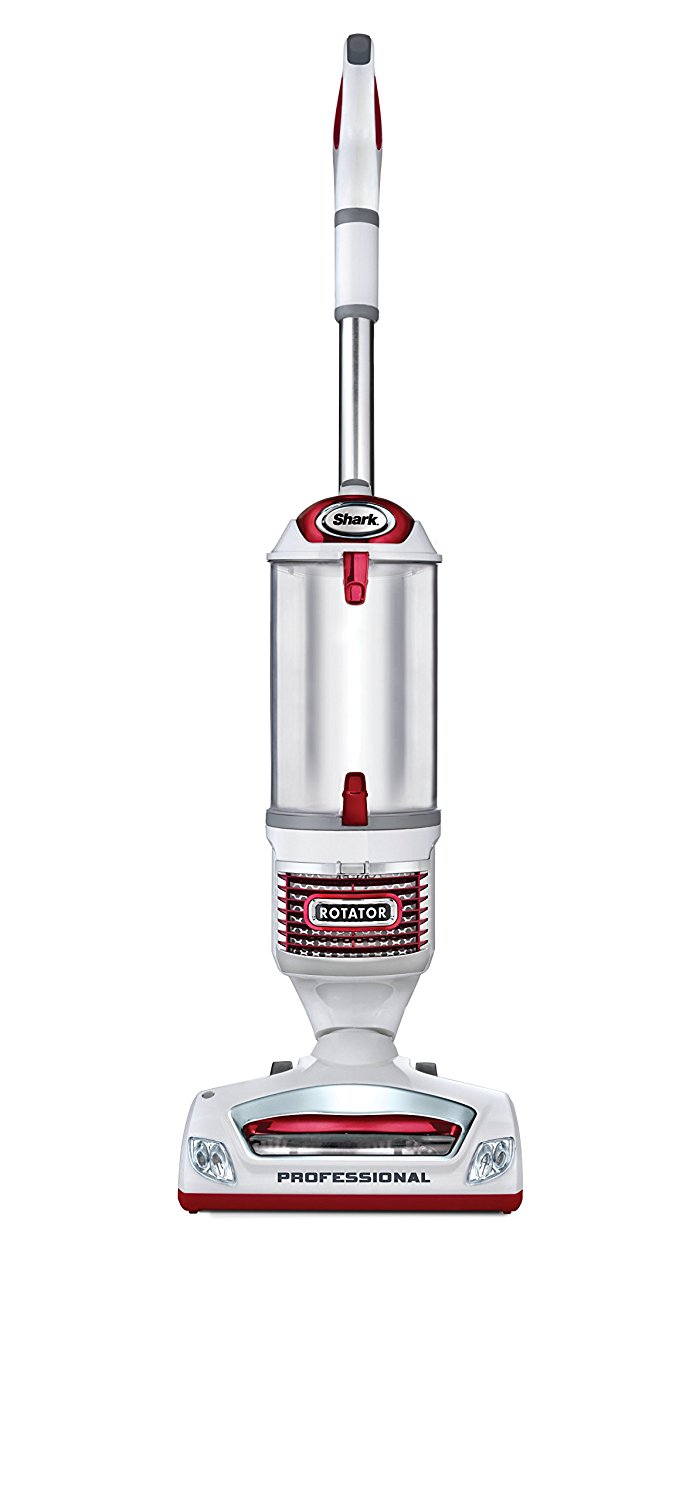 Buy The Shark Rotator Professional Lift-Away Upright Vacuum
The next best Shark vacuum on our list is the Rotator Professional Lift-Away, model number NV501. This product seems very similar to the first Lift-Away model discussed above. Just like many other Shark vacuums, you can lift the canister off its base and with the long-hose attachment you are able to take your vacuuming to the next level. Clean the tops of high surfaces and reach those spider webs lurking in the corners of each room.
The product description says this model includes a Premium Pet Power Brush, but this is not to be confused with the first Lift-Away model that included the TruePet Motorized Brush. While the first model's brush ran with its own motor, this brush rotates from the suction of the machine.
Related: Best Commercial Vacuum Cleaner
Just like the other best Shark vacuums, this model includes anti-allergen HEPA filters. It promises to trap 99.9% of dust and allergens inside the vacuum. Like the other machines, this vacuum is also bagless.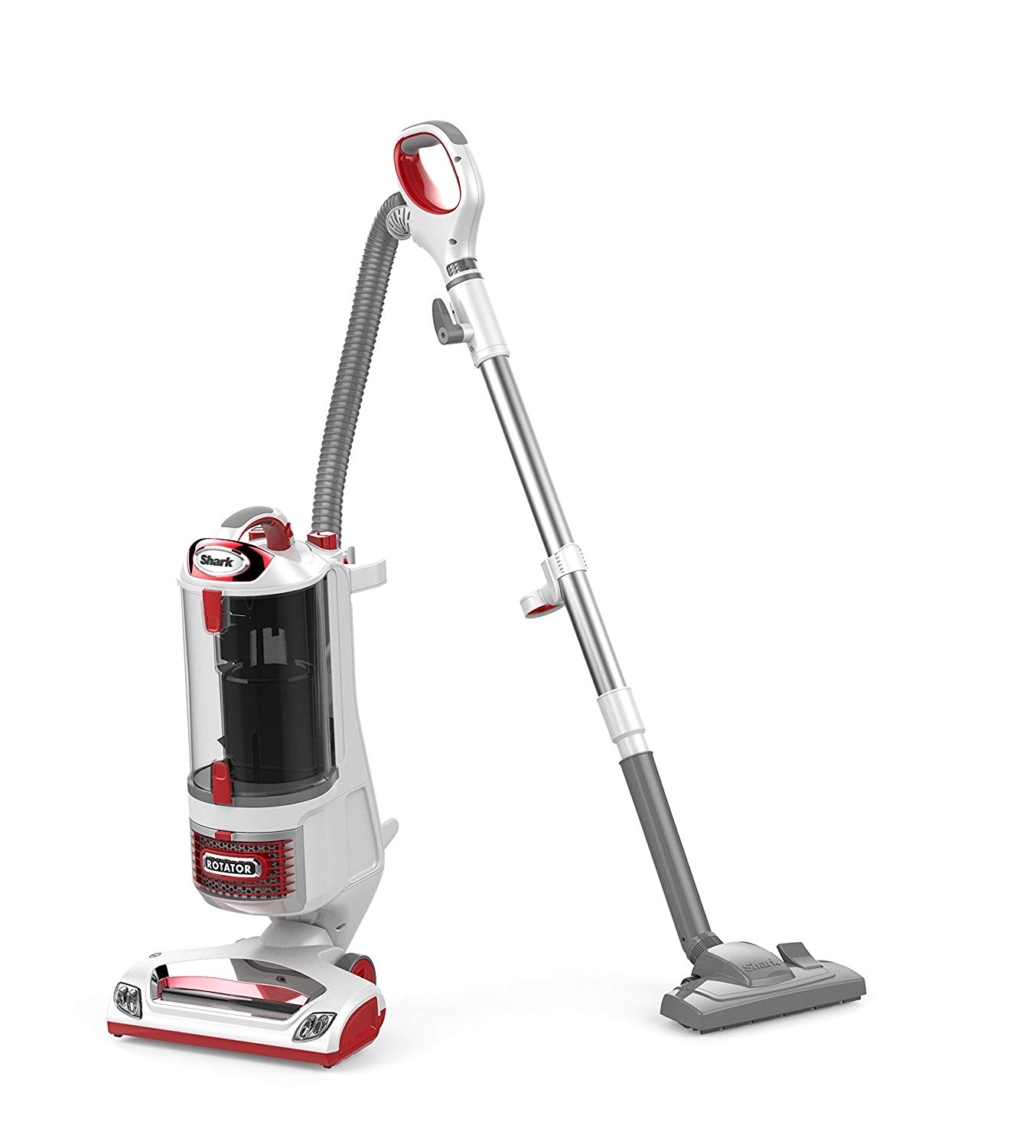 The Rotator Lift-Away also includes swivel steering and LED headlights.
If this product description sounds familiar to the previous ones listed, well, it is. It seems that this product, the Rotator Lift Away has a wider cleaning path than the Navigator. Its path is 9.5 inches. Because it is larger, it also seems to be a bit heavier.
The Rotator Lift-Away weighs 15.5 pounds. The power cord is 30 feet long. The hose length is 8.4 feet. It comes in one color, red.
The Rotator comes with a Pet Power Brush, a Wide Pet Upholstery Tool, a Straight Suction Nozzle, a Dusting Brush, and a 12-inch Crevice Tool.
This product really sucks, and since we are talking about a vacuum, that is a good thing. If you empty the canister and clean the filters regularly, the suction is impressive for years.
---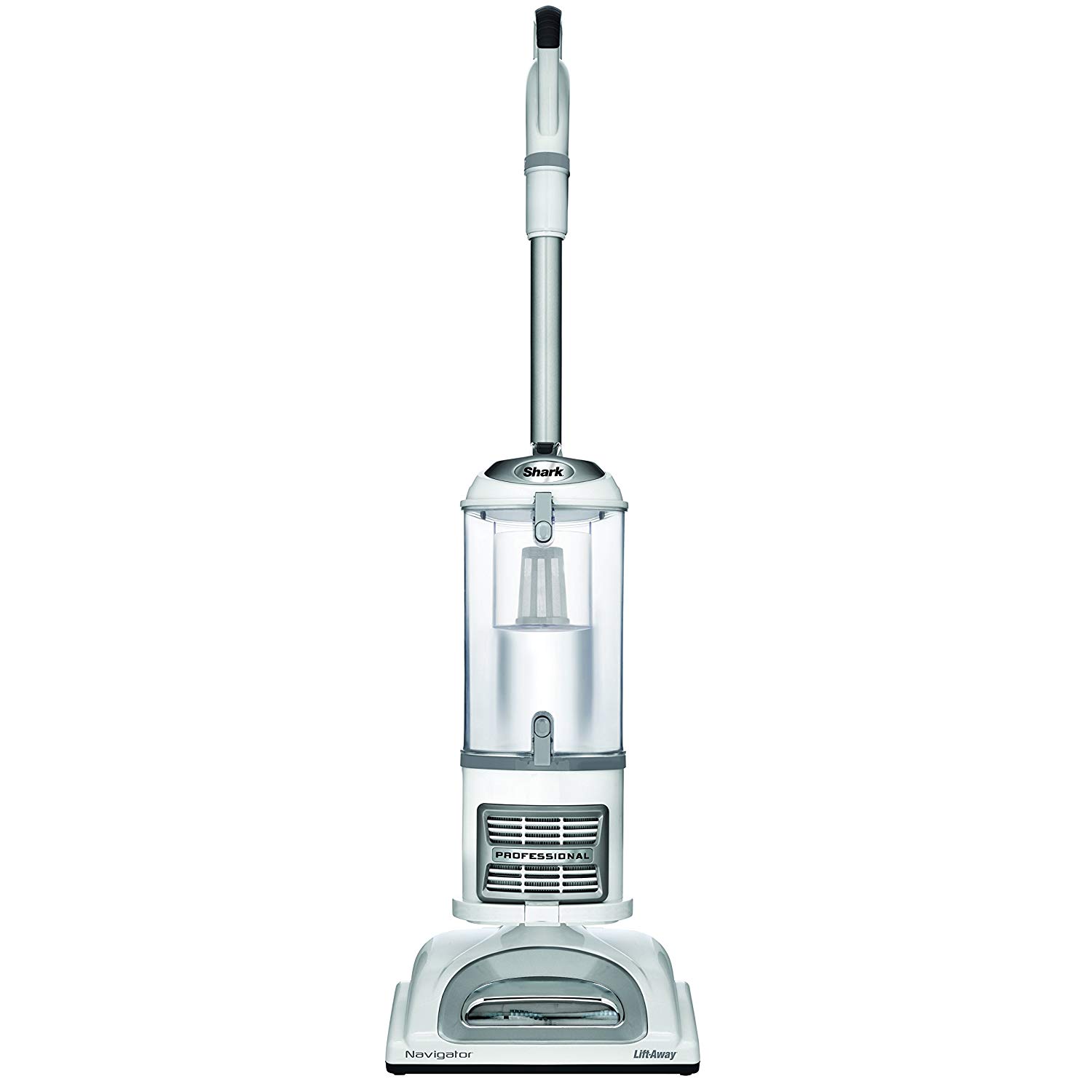 Buy Shark Navigator Lift-Away Professional
The Navigator Lift-Away Professional, model number NV356E, is similar to the best Shark vacuums on this list. It 'lifts away' so that the user can use the canister and hose in hard-to-reach areas.
Also, it has the anti-allergen dust collection canister equipped with a HEPA filter.
It comes with a Pet Power Brush, a dusting brush, and an 8-inch crevice tool.
The Navigator Lift-Away Professional weighs 13.7 pounds. The hose length is five feet, and the cord length is 30 feet. The cleaning path width is 9.5 inches.
Related: Best Vacuum for Stairs
Like the other best Shark vacuums, users can maneuver between hardwood floors and thick carpet easily. The amount of dirt that is suctioned from these vacuums is impressive.
Like most of the other Shark uprights, they are slightly top heavy and fall over a lot when using certain tools. The attachments do not store conveniently on the sides of the vacuum. The accessories could be the best ones ever designed, but if they are in a closet in the basement, and I am vacuuming upstairs, I never go down and up two flights to use them.
---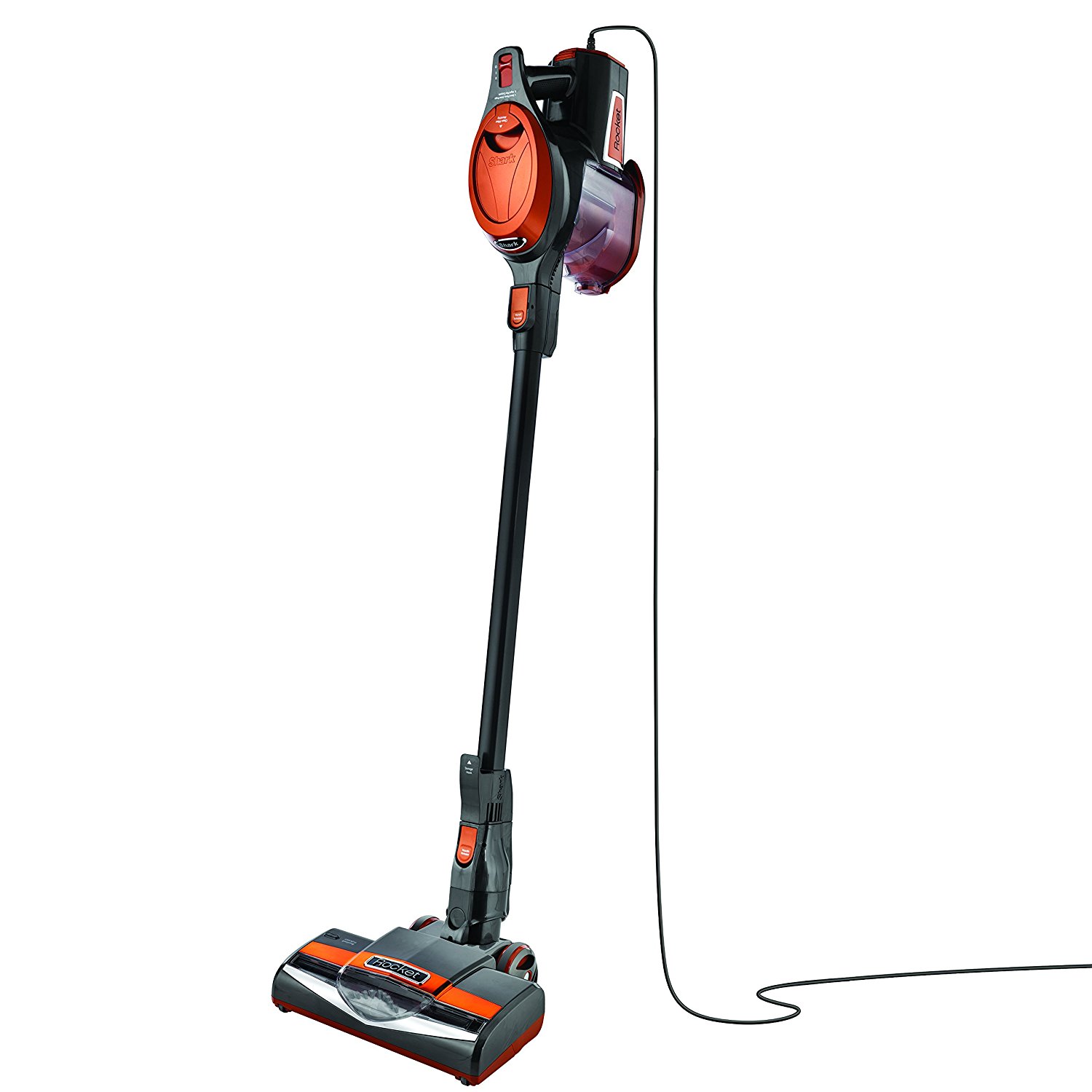 Buy Shark Rocket Ultra-Light Corded Bagless Vacuum
The next best Shark vacuum has an entirely different feel and look. Thank goodness. I felt like I was living in the movie Groundhog Day for a while. This product, the Shark Rocket Ultra-Light Corded Bagless Vacuum is a light-weight vacuum that gives the user plenty of cleaning options.
The Shark Rocket is a very odd looking machine because the collection canister is located at the top of the handle. In fact, I'm not even sure it can stand up like a regular vacuum, even though there is a photo on Amazon showing it doing so.
Use the Rocket as a regular vacuum. The machine features fingertip controls so the user can quickly switch from hard floor to carpet. The Rocket can also convert to a handvac. As a handvac, the machine looks like a miniature standup vacuum. It seems like a regular vacuum base with a little bitty handle.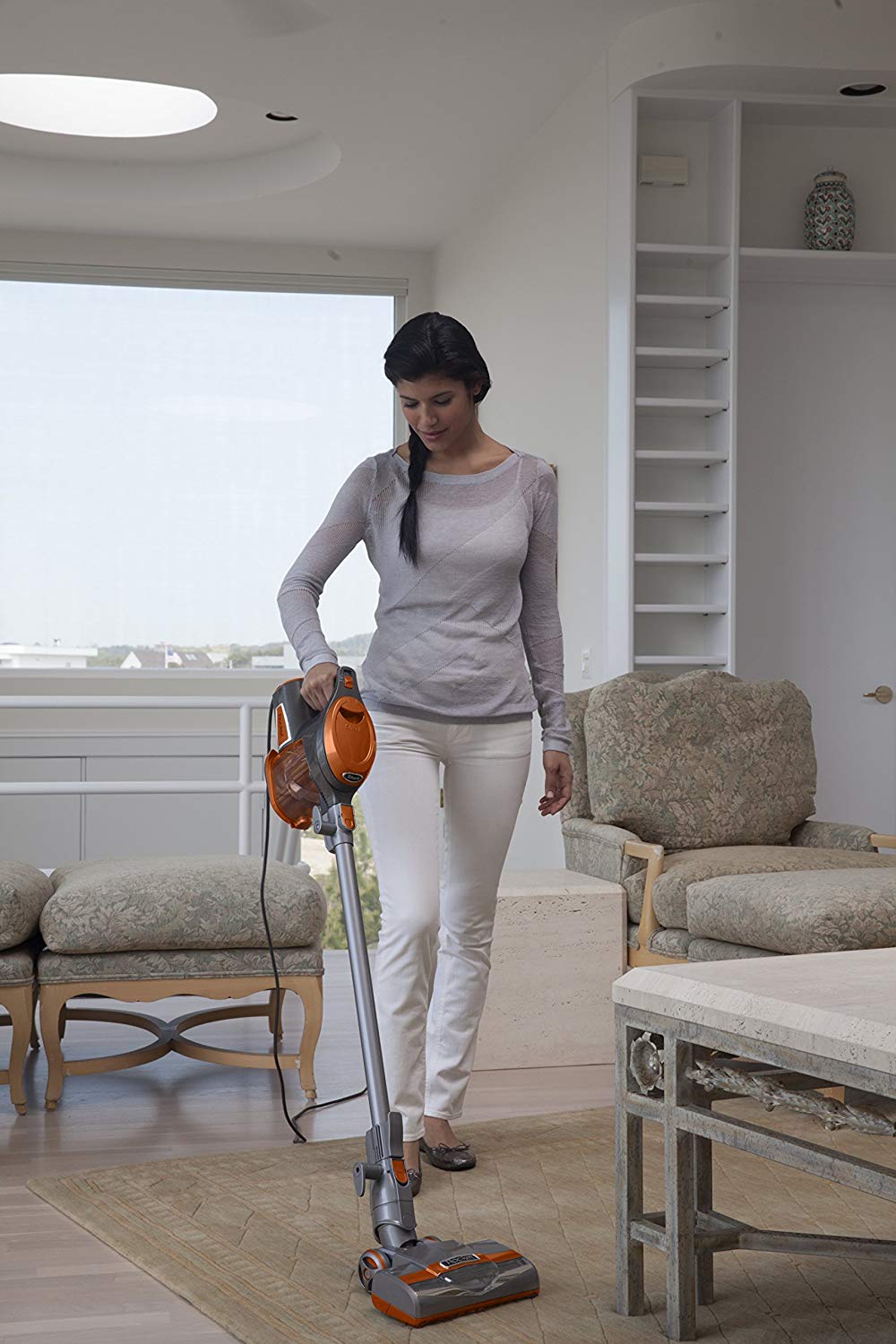 Related: Best Vacuum for Pet Hair
Like the other best Shark vacuums featured here, this vacuum has swivel steering, which allows users to maneuver easily around furniture and corners.
The Rocket is stored on a mounting unit that attaches to the wall. It does not stand on its own.
One of the best uses for this vacuum that hasn't been mentioned regarding the other products so far is that it can be used to clean your car. Plus, it comes with micro tools that fit into the tiniest of places.
Another difference between this product and the other Shark vacuums is that it weighs under eight pounds. In fact, the exact weight is 7.6 pounds, and the cord is 25 feet long.
Don't underestimate the power of this small vacuum. Even though it weighs less than eight pounds and can't stand up on its own, it has excellent sucking power. The micro attachments cannot only be used to detail your car, but also, they can clean keyboards and other small spots inside your home.
---
This is a different version of the Navigator, model number SV1106. This version is cordless. This is one of the best Shark vacuums. It charges in just four hours. Plus, the charger doubles as a storage dock. The Shark company has included the 10.8 V battery with the purchase of your vacuum.
Related: Best Robot Vacuum
Just like many other best Shark vacuums, it can be used for carpet or smooth floors. The product description says it comes with a two-speed brush roll. What is unclear is whether or not one of those speeds is "off."
Like the Rocket, this model of The Navigator is exceptionally lightweight.
Unlike the other Shark products, the cordless Navigator is not very versatile. The collection container does not detach. The unit does not convert into a hand-held vacuum. The fact that it is cordless does offer more flexibility in some ways than the other Shark products.
The cordless Navigator weighs 7.5 pounds. It has no cord. It comes in white.
---
Recap: An Overview of the 5 Best Shark Vacuums
I don't know about you, but I have a hard time keeping all these best Shark vacuums separate in my mind. The following is a summary of what we have learned so far. I have organized this list by the date they came on the market.
The Shark Navigator Lift-Away Upright (NV352) is the first vacuum on this list to use the Lift-Away canister to help you deep clean hard-to-reach areas while still getting the power of a vacuum. It's an excellent all-around vacuum with a 25-foot cord.
The Shark Navigator Lift-Away Professional (NV356E) uses the same lift-away technology to help clean hard to reach areas. It has twice the dust cup capacity than the NV352 and a 30-foot cord. It is an excellent all-around vacuum, especially useful for pets and hardwood floors.
The Shark Rotator Professional Lift-Away Upright (NV501) is an excellent all-around vacuum with the same lift-away feature. It holds less in the dustbin than the previous model, but it offers swivel steering and an LED light.
The Shark Rotator Powered Lift-Away True-Pet Upright (NV752) is a three-in-one style vacuum and also has the lift-away feature. It offers the True-Pet Motorized Brush, which is a nice feature if dog hair sticks to your surfaces.
Finally, the cordless Shark vacuum is the Shark Navigator Freestyle Cordless Stick. This Navigator Freestyle is suitable for floors and carpets. The charger doubles as a storage dock.
How do you pick which Shark vacuum is best for you? Here are things to consider
Do you want an upright vacuum? The Shark Navigator and Rotator can both be used as a traditional upright vacuum.
Do you want a canister vacuum, which would allow you to get under furniture without having to move it? The Navigator and the Rotator can turn into a canister vacuum as well.
Do you want a lightweight vacuum? The Rocket is lightweight. Lightweight vacuums are great for the elderly.
Do you want a hand vacuum? The Rocket can be transferred to a hand vacuum.
Do you plan to clean your hardwood floors and carpets only? Any of the Shark vacuums would be fine.
If you have a lot of stairs or above-ground areas to clean, buy a Shark with the lift-away feature.
Power
How dirty is your family? If you live on your own, are relatively neat, and have no pets, consider purchasing a Shark Rocket. It has lesser cleaning power than an upright vacuum, but it has increased maneuverability.
Size of dirt collection cup
If you have children or pets, pay attention to the size of the dusting cup that comes with each model. It gets annoying having to empty your cup every time you finish with a room.
Corded or cordless
If you are purchasing a vacuum for an elderly person, consider buying a cordless machine. It is safer because your loved one will not trip over a cord, and they are usually lighter as well.
Weight of vacuum
Again, if you are purchasing a vacuum for an elderly person or someone with a health issue, pay attention to the weight of the machines. The Rocket is the lightest, coming in at between seven and nine pounds. The Shark Navigator and Rotator are much heavier – some even double the weight as the Rocket.
Budget
Do not feel you need to purchase the most expensive Shark vacuum to get the most sucking power. All their vacuums work well. Why pay for features that you will not use or mean little to you? When in doubt, save the money.
Attachments
Not every model comes with every accessory. Pay close attention to see what comes with your particular model. Keep in mind that the same model may come with different accessories depending on where you purchase the item.
If you have pets, and your pet's hair sticks to surfaces, you will enjoy the Pet Power Brush. This motorized brush digs the hair out of the surfaces. If you need to clean under appliances, use the appliance wand. For cleaning your car, consider getting the models with the micro detail accessory kit.
Still confused on which Shark to purchase? Here are other things to consider.
The Shark Navigator was the flagship vacuum cleaner. Some say the best Navigator is the 356E.
The Shark Rotator offers all the benefits of the Navigator, but it is an upgraded version. For example, the Rotator offers LED lighting. The Rotator also allows you to put the lift-away pod into a canister caddy. The Rotator is also easier to switch from vacuuming on the carpet to vacuuming on hardwood floors. The switch is at your fingertip. The Rotator does not tip as over as quickly as the Navigator, and it is easier to drive.
The Rocket series offers less power, but they are easier to "drive" and lightweight than the Rotator and Navigator series.
Why buy one of the best Shark vacuum cleaners?
This article, so far, covers Shark products. Why is that? Shark vacuums are the top brand in the U.S. It has even surpassed Dyson in popularity. Some would look at this as an indicator that Shark seems to be producing a quality product. Others may look at this statistic and think that most people are idiots and would avoid what the masses recommend.
Keep in mind that some experts who have tested vacuums say that 11 percent of Shark vacuum users will experience a breakdown within the first three years of ownership. This rate is less than half the breakage rates of Hoover and Eureka. The third-year breakage rate for Dyson? Twenty-two percent.
Experts also asked users about their satisfaction with their vacuum cleaners. Fifty-three percent of Shark owners were satisfied.
Shark Vacuum Warranty
Things break, and at some point, your Shark vacuum will too. Be aware of the warranty coverage that Shark offers. There are eleven different warranties listed on the Shark website. Know which warranty your product falls under, so you don't experience any disappointments when you are ready to get your product fixed.
The one-year limited warranty
This warranty only applies to purchases made from authorized retailers of Shark Products. This may not include Amazon. Check before purchasing the product. The warranty is for the original owner and for the original product.
This warranty promises that the product shall be free from defects of material and workmanship for a period of one year from the date of purchase. It can only be used under normal household conditions to receive coverage from the warranty. You also have to show that you maintained the product appropriately.
What is covered under your warranty?
The original vacuum and non-wearable components are covered. It is up to Shark on whether they will repair or replace the product.
If Shark issues a replacement product, the warranty ends six months following the receipt date of the replacement unit or the remainder of the existing warranty, whichever is greater.  If the unit is replaced, Shark will replace your vacuum with one of equal or greater value.
What isn't covered in your warranty?
Wearable parts are not covered under the warranty. Wearable pieces include foam filters, HEPA filters, pads, batteries, etc.
If you have altered or tampered with the product, your device will not be covered under the warranty.
If you have used the vacuum for professional or commercial purposes, you will void the warranty.
Shark will cover the cost for you to send in the unit to be repaired, but you may have to pay $19.95 for return shipping costs.
If your product is damaged during shipment or negligent handling, you will need to discuss this with your carrier. Shark is not responsible for those damages.
Shark is not held responsible for "consequential or incidental damages" either. I'm not sure exactly what the Shark company lawyers meant by this, but I'm assuming they can use this statement to deny a claim for small complaints.
Be careful who you have work on your product? If Shark does not authorize the repair person, you will have voided your warranty and will be unable to make any claim on the company for the rest of your warranty period.
The product must be used inside North America to get covered under the warranty.
How to get service on your Shark product
Visit sharkclean.com/support to read about product care and self-help. There may be an easy fix for your issue that you can learn about on their customer service page.
If you are unable to fix the problem on your own, call 877-581-7375. The Shark customer service reps will help you with product support and warranty options. You will receive the return and packing instructions from the customer care rep at the time of your call.
If you need to purchase parts, visit sharkaccessories.com.
Shark also offers a two-year limited warranty, a two-year limited battery warranty, a two-year VIP battery warranty, a three-year limited warranty, a five-year limited warranty, a five-year VIP warranty, and seven-year limited warranty, and a lifetime VIP warranty. They also offer warranties on refurbished units – either a 90-day or 180-day warranty. I assume that the different warranties are provided depending on where you purchase your product. Do your research and take that into consideration before making your purchase.
Warranties Offered for Each of the Best Shark Vacuums on this List
The Shark Rotator, model number NV752, comes with a lifetime VIP warranty if your purchase from the link provided.
The Navigator with model number NV352 comes with a five-year limited warranty.
The second Rotator, (NV501), also comes with a five-year limited warranty.
The Navigator Professional, (NV356E) comes with a one-year limited warranty.
The Rocket comes with a five-year limited warranty.
The Freestyle comes with a one-year limited warranty.
Please keep in mind that these are the warranties for the products associated with those particular links on Amazon. Other suppliers who sell on Amazon may offer a different warranty for their products.
How do you keep a Shark vacuum healthy and robust?
Feed your Shark plankton every day and make sure it gets plenty of rest. Never mind, that's for the wrong kind of shark. Hmmm . . . Do sharks even eat plankton?
Just like any machine, your Shark vacuum will need maintenance. Making sure you go through a thorough cleaning will not only keep your vacuum from breaking down, but it will also make sure it is cleaning as well as it possibly can.
First step? Clean the rotating brush.
Your first step when doing maintenance on your vacuum will always be to unplug the machine. Lay an old towel on the floor, and let your vacuum's head rest on its side over the towel. Do you see the strings and hair wrapped around the brush? Perhaps this is keeping your vacuum from turning. Use a pair of scissors to cut through the wad of hair, making sure not to scratch or cut the rotating brush. Pull off the bundle of material and throw it away.
Next, it's time to clean the canister.
You have been emptying the canister regularly, haven't you? If not, empty it now! (I once heard of someone who never emptied her dryer vent. I bet you know how that turned out in the end.)
Of course, you are probably emptying your canister with each use, but now it is time to deep clean the receptacle. Wash it with soap and water. Use a long-brush to get all the dirt out of the crevices. Open both ends of the canister and allow it to air dry.
Clean the filters
Filters are the most crucial part of vacuum maintenance. It doesn't matter how shiny and perfect the outside of your machine is, if your vacuums are filled with gunk, your vacuum will not suck.
Each of the Shark products has different filters, so this discussion will be over filters in general. Be aware that as you clean the filters, you need to factor in drying time. Do not think you are going to clean your filters and then use your machine later that afternoon. The filters have to be dry. Some of your filters will be made of foam rubber, and some will be made of felt. Before removing the filters, pay attention to the order in which they were placed. This isn't difficult, but you need to pay attention to which part goes first when returning the clean filter to your vacuum.
Some say that both types of filters can be washed in warm soapy water. Others say that felt filters are too delicate for this type of treatment. Let your conscience be your guide and do what you think is right for the situation. Gently clean the filters, making sure to spray out the crevices. The most important part of this process is the drying time. Do not replace wet filters back into your machine. Mold and mildew will grow in your filter, and that is not the place where you would like for it to grow. Make sure filters dry for at least 24 hours.
Depending on use, some of your filters will need replacement periodically. There is not a formula to determine when this is necessary. Make sure you are purchasing the correct filters for your Shark. I tend to buy an extra set of filters immediately when purchasing a new vacuum just to make sure I have them on hand if an emergency situation comes up. Say for instance my white-gloved mother-in-law is coming for the weekend.
Finally, clean the outside of your device. Wipe down the machine with a damp rag. Check the accessories for dirt, especially the rotator pet brush that comes with some models. Be careful what you submerge in water, but you can at least clean the outside of the accessories. Remove the hair from the pet brush. Look in awe at all the hair and think about how it looks as if you could form another animal from the amount you pulled out of your machine.
How do you know when it is time for some general maintenance on your Shark product?
Complete this process at least once a year. Also consider cleaning your Shark if you experience a loss of suction, if dirt is being left behind, if the machine is making strange sounds, or if your machine has an unpleasant odor. Is any odor pleasant? Hmmm
And don't forget to unplug your machine before starting this process. This is very important.
It never fails to amaze me what you can find on YouTube. Search for your particular Shark model, and I promise there will be a video on YouTube on someone doing maintenance or cleaning their vacuum. I need to remember to make a video next time I do something equally as fascinating. Maybe the next time I wash my mirrors or take out the trash, I'll bring my selfie stick along to make a movie. Think of all the hits I will get!
More About Shark… aka SharkNinja
Shark is one of several home-care products that is developed by SharkNinja Operating LLC. SharkNinja is one of the leading companies in the cleaning sector. Besides making vacuums, they also make coffee systems.
SharkNinja started in Montreal, Canada in 1998. It is now located outside of Boston, Massachusetts. The company's CEO, Mark Rosenzweig, has appeared in many ads featuring SharkNinja products.
SharkNinja products can be purchased in big-box retailers and specialty stores, and of course, through Amazon and other online retailers. You can follow the company on Facebook, YouTube, Instagram, Twitter, and Pinterest. You can receive help from customer care through Facebook.
Why such a fuss over the best Shark vacuums?
Vacuuming removes dust, germs, and creepy crawlies that cover the surfaces of our home. Think of it. We go for a walk in the neighborhood. We step on the residue of a German Shephard's poo that the owner thoughtfully bagged. Even though the mess was bagged, there is no way the pet owner picked up every bit of the residue. It is now on the bottom of our shoe. Lovely.
We walk inside the house and immediately head for the couch, where you take off your shoes and socks so as to not dirty your home. It's too late to worry about such things because, in the act of walking across the living room to your couch, the German Shepherd poo has already found its way to the carpet in front of your furniture. Later, you watch as your baby crawls across that space, not realizing that their little hands are picking up the trace amounts of dog poo on the floor. We all know that babies put their hands in their mouths. Yuck.
This is why it is essential to maintain a clean home.
Tips For Keeping a Clean Home
First and foremost, get one of the best Shark vacuums.
Next, make your family and guests take off their shoes at the entrance of the house.
I wouldn't recommend being a jerk about this. Friendships and family are more important than germs any day, but if your guests see a mat at the front door with other family members' shoes resting on it, they will be more than likely happy to follow suit.
Vacuum again and again
Don't assume that going over an area once with a vacuum will remove all the dirt and hair from your carpet. At least that's what I keep telling my 13-year-old daughter. She goes downstairs to vacuum the entire basement, and I hear the device stop after three minutes. She always says she "got it all," and now she needs to watch the next episode of New Girl.
Vacuuming doesn't work this way. Even the best Shark vacuum works better if you go over the same area multiple times and from different directions. It's fun making crisscross patterns in your carpet as you vacuum! Don't pretend you don't enjoy it.
Someone told me once, I think it was my mother-in-law, that you need to vacuum once a week per household member in your home, including pets. For this example, I live with my husband and have three kids and a dog. This means I need to vacuum six times a week. Did I mention my dog is particularly hairy? He really should count as three household residents, but that means I would be vacuuming multiple times a day. Ain't nobody got time for that!
This all depends on personal preference, but if I go more than a week between vacuuming, our house looks terrible. There are tumbleweeds of hair floating across the hardwood floors and crumbs and bits of paper from my kids and husband. I, like most women, do not claim to add to any of the household mess.
Spot treat stains while vacuuming.
This means if you see a stain, shut off the vacuum, get your carpet cleaner, and take care of the spot immediately. If you wait until after you are finished vacuuming you will become distracted by the hundred other things you need to do and forget about the stain until the next time you vacuum. Stains are easier to remove when treated quickly.
Before you clean, have your kids pick all their stuff up off the floor.
Don't even try to vacuum with Legos or Barbie clothes on the floor. They will get sucked up, and your kids will start screaming. You will start screaming when the Lego becomes trapped in the hose of your vacuum, and the machine starts making a whistling noise like it can't breathe.
Depending on the cleanliness of the people you live with, move the furniture every so often to clean underneath the pieces. If you purchase one of the best Shark vacuums with a lift-away canister, you could clean underneath those pieces without moving a stick of furniture. How awesome is that?
Pay attention to the settings on your vacuum.
If your vacuum does not seem to be sucking up the dirt and debris, lower the vacuum. If you are cleaning hardwood floors, turn off the brush.
Use the tools that come with your vacuum.
I have to admit, I'm horrible about this. I have a closet-full of vacuum accessories that are supposed to be stored on the unit itself. The accessories end up falling off, and I throw them in my hall closet. Don't be like me. Instead, use the crevice tools to get the dirt out of the corner. Use the upholstery brush to get the popcorn from between the couch cushions.
Some of the Shark products come with a HEPA filter. This means that if you keep your Shark running for an extra few moments after you have vacuumed, you will remove some of the dirt and particles from the air. You may consider running an air cleaner after vacuuming to grab any other particles that vacuuming threw up into the air.
Should you dust before or after vacuuming?
I now dare to bring up the age-old-debate on whether or not to dust before or after vacuuming. Some say that dusting after is ridiculous because the act of vacuuming displaces dirt from the surface of the floor into the air. That dirt then settles on your furniture. My thought is that if you enjoy a quality Shark vacuum, you won't have this issue. I would instead run through the room before vacuuming, dusting the furniture and ceiling fans. After, your Shark vacuum will collect all the dirt and debris leaving a beautifully clean room. Don't send death threats to me if you dust after you vacuum though.
Be careful when vacuuming rugs.
We all have had that moment of panic when the vacuum cleaner starts sucking up the ends of the rugs. We have all smelled the burning rubber as the machine sucks the bottom of the rug into the brush of the vacuum. This isn't good for the rug, and it isn't good for the vacuum. As part of my routine, I usually grab the mats before I vacuum and hang them on the railing of my deck outside. I vacuum the house and then return outside to grab my rugs. I beat the rugs against the side of the deck to knock out any hair and particles before bringing them back into the house. Sometimes this rug beating session lasts longer than usual.
Beating rugs is free therapy, and if you are raising teenagers, I would recommend that this is an excellent strategy to use to get rid of any hostilities you may be feeling. Plus, you will have dust-free rugs, so it really is a win-win.
Another tip to keep in mind while vacuuming is that it is not a race. Going at a slow pace across the floor will enable your vacuum to pick up all the dirt and debris easier. Your carpets will be cleaner. Don't forget to vacuum from different directions as well.
Don't wait until your carpet looks dirty to bust out your best Shark vacuum.
You can't see microscopic dirt. The longer it sits on the surface of your carpet, the more likely it is to get pushed into the carpet's fibers. Have you ever bought new carpet and been around when it was installed. How embarrassed were you when your old carpeting was pulled up, and the installer could see the dirt that was left behind. Did you sputter around and say that you just moved in, and the dirt MUST be from the dirty occupants before you, and your vacuum hasn't worked well in a very long time, and you couldn't vacuum before that because you sprained your ankle from sliding on that piece of ham that was left on the kitchen floor? Not that that scenario has ever happened to me.
Stick to a cleaning schedule.
Regardless of how you vacuum or whether or not you dust before or after, just make sure you stick to a cleaning schedule. This will make your house look and feel tidier, but you won't have to live in constant fear of the drop-in visitors that enter your home. Keeping your home tidy and picked up will make your kids feel more comfortable bringing people to hang out to your home. Maybe this isn't what you want, but if you do find yourself with a household full of teenagers in your house, you can always go outside for an extra session of rug beating.