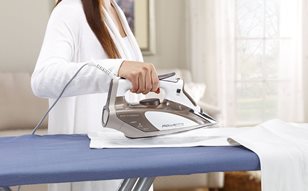 Do you love going out in public with your friends, wearing wrinkly clothes? How about at work? Isn't it astoundingly professional to show up to a meeting with a creased shirt and wrinkled pants? If you answered no to the questions above, chances are that you appreciate a good steam iron. Steam irons can work magic on rumpled, wrinkled garments and leave you looking fresh and polished. While the value of a steam iron is evident, what is the best steam iron 2019 on the market?
The question is often widely debated, which is why we prepared a list of the 5 Best Steam Irons 2019 for your consideration. Never be embarrassed by wrinkly clothes again with the help of one of these easy-to-use, trusty steam irons!
Best Steam Iron Reviews
Many features need to be considered when you are looking for the best steam iron out there. Obviously, the price is something to keep in consideration, but what other important features are there for a steam iron to have? The answer to that question is not always simple. That is why we have compiled a chart to show you just how the five best irons stack up against each other in regards to 10 significant features.


---
Rowenta DW5080 – Best Steam Iron Performance
This Rowenta steam iron is brown and white, but the best part about its structure is the 400 micro holes that line the stainless steel soleplate. The 1700-watt steam iron heats up quickly and its stainless steel soleplate glides smoothly over wrinkled fabrics, instantly flattening them. The 400-hole design is what sets this steam iron above the competition. It assures that there is even steam distribution across the entire soleplate. This makes the steam iron function better while also decreasing the amount of effort and strength that you need to put into ironing.
It works with tap water so you will not need to go out and purchase distilled water to use it. However, the water reservoir is angled a bit and can be difficult to refill. Thankfully, you won't have to refill it that often because it has a large water tank reservoir that holds up to 14 ounces.
The controls are easy to use, with a thermostat knob that is very clearly marked. The know has low to high-temperature settings, as well as specified settings for cotton, nylon, silk, linen, and wool. With auto steam, burst of steam, and vertical steam features, this steam iron is very versatile. It is also safe, with a 3-way automatic shut-off, and easy-to-maintain, with a self-clean and anti-calcium system.
One drawback on this steam iron is no indicator to tell you that the iron has reached its desired temperature and is ready for use. With the plethora of advanced and ease-of-use features, it seems off that this steam iron wouldn't have one. Still, besides the increasing energy drain from having such a high-powered iron, this Rowenta steam iron can tackle pretty much any ironing job.
| | |
| --- | --- |
| Pros | Cons |
| Heats up very quickly | There is no indicator to tell you iron has reached specified temperature |
| The nearly 400 holes in the sole plate create a lot of steam and its consistent | Water reservoir can be awkward to fill |
| The precision tip is great at getting into the nooks and crannies | Draws the most electricity out of any model |
Conclusion
While the Rowenta has an awkward water reservoir to fill and no indicator light to let you know that a specified temperature has been reached, it is still a great steam iron. It heats up very quickly and has 400 holes to provide plenty of consistent steam. The temperature and steam settings vary appropriately by fabric type and the precision tip allows you to iron in any nook. The Rowenta steam iron has the best performance out of any steam iron on the list, and as certainly worth the slightly higher price tag.
---
BLACK & DECKER D2030 – Best Steam Iron Display
The BLACK & DECKER Auto-Off Digital Advantage Iron is packed with a variety of great features. This model heats up very quickly, but still takes a few seconds longer than the Rowenta steam iron. Its water reservoir can hold almost as much as the Rowenta, but it is much easier to fill. This is because the tube aims the water straight down into the steam iron.
Like the Rowenta, the BLACK & DECKER comes with vertical steaming, variable steam, and auto-shut off features. However, where this iron really stands out is its digital display. No other model on the list has a digital display, so this is by far the most sophisticated of the lot. When you are choosing a temperature, you simply push a small button on the handle until the correct setting is displayed. It always defaults to the lowest setting, so if you are constantly ironing with a high temperature, you will need to push the button several times to get it started each time. The neat thing about the display is that it will display "Ready" when the appropriate temperature has been reached.
With the easy-to-use LCD display, also comes good performance. The plate can heat up to a maximum temperature of 390F on the linen setting, which is more than hot enough to get the job done. Although it performs well, there are a few issues with the design. The "easy grip" handle has gotten rave reviews, but it seems that more effort went into that than stopping the iron from leaking. Especially when the iron is sitting on the soleplate, it leaks after it has been turned off. This can be problematic, but if you drain it between uses, it shouldn't be too problematic.
| | |
| --- | --- |
| Pros | Cons |
| Has a digital LCD display is top of its class and will inform you when iron is ready | The steam iron will leak if the reservoir is full while it is placed flat on the soleplate |
| The grip is very comfortable | You have to click the button several times to get a higher temperature |
| Performs vary well across different types of fabrics | It is necessary to drain the water reservoir after every use |
| Produces a good cloud of steam | |
Conclusion
While the Black & Decker comes in second place to the Rowenta steam iron in categories, such as reservoir capacity, temperature and heat up time, it beats the Rowenta with its stunning display. The digital display is very sophisticated and informs you when the temperature has been reached. The display and other features like the Comfort Grip make this steam iron a joy to use. With only a few drawbacks, this steam iron is a great value.
---
Steamfast SF-717 – Best Travel Iron
This steam iron makes the list, simply for its travel ability. This steam iron weighs less than 1 pound and has a dual voltage setting that makes it ideal for traveling internationally. Measuring approximately 5.2 x 3 x 3.1 inches, it fits easily in a suitcase without taking up much space or cutting into the strict weight requirement.
As great as that sounds, can such a little steam iron actually perform well enough to make it worthwhile? The answer is yes! While it is not ideal for large tasks or frequent ironing, the Steamfast Home-and-Away Mini Steam Iron is great for small jobs and for taking on the road with you.
It is fairly simple and easy to use with a dial on the handle that controls the three temperature settings. On its highest setting, the steam iron reaches 325F, but this is only at the tip. The heel of the iron is much cooler and this means that you will have to work a bit harder to iron very wrinkly garments. It works great on cotton fabrics, but for deep wrinkles, it won't do a very good job. There is also no "spritz" button for the steam and it can be a bit cumbersome to maneuver. However, it heats up in 15 seconds and for a quick job, while traveling, you don't need much more than that.
The water reservoir is tiny in this model, just over 1 ounce, so if you plan to do a lot of ironing it will need to be filled multiple times. There is also no auto-shutoff, so you will want to make sure that you unplug the steam iron as soon as you are done the ironing. It can leak after you are done using it, so it also wise to empty the water reservoir to avoid any unnecessary spills.
| | |
| --- | --- |
| Pros | Cons |
| Very small and easily portable | There is an uneven soleplate temperature |
| The dual voltage setting makes this iron ideal for traveling internationally | The iron is slow at producing steam due to a tiny reservoir |
| Has a heat indicator light to let you know when it is ready | Can be unstable when placed back on its heel |
| | Does not get as hot, which means you'll need more "elbow grease" |
Conclusion
This miniature steam iron is perfect for travel, but not much else. At less than one pound, it is easy to use, but a low-temperature setting and water reservoir that holds a little over an ounce, it really isn't conducive to regular ironing loads. However, the dual voltage setting is a huge bonus that makes this little steam iron great for international travelers.
---
---
Panasonic NI-W810CS – Best Steam Iron for Linen
The Panasonic Multi-Directional Steam/Dry Iron has some unique features that you won't find anywhere else. Let's start with the ceramic plates that allow the steam iron to glide smoothly over fabric without sticking. It also has a phenomenal spritz button that can help tackle deeper wrinkles. These features are great, but the shape of the soleplate is what garners all the attention. The ceramic soleplate is pointed on both ends, making the iron "multi-directional." This intriguing shape isn't just for show; it actually does cut down on the amount of time that it takes to iron garments.
This steam iron also performs very well. It has the highest maximum-recorded temperature of all of the steam irons on the list. This makes it ideal for ironing linens since they require hotter temperatures. At 430F, you should have an easy time ironing a pile of linens. However, the reservoir is on the smaller side at 6.75 ounces, so you might need to fill up the reservoir a couple times if you plan to do a lot of ironing.
Even still, the Panasonic steam iron will make quick work of your ironing duties. The spray button also shoots an even spray of water, instead of just large drops. This makes it easier to get finicky wrinkles out of fabrics. The ceramic soleplate doesn't stick, so you won't waste time with the iron being caught up.
There are a few small design flaws in the Panasonic, which keep it from being the best of the list. It is difficult to see the water level due to the low transparency of the water reservoir material. It also takes the longest to heat up, which isn't too much of an issue unless you are in a hurry. The most frustrating part of the steam iron is the temperature dial. While there are five fabric settings and four steam options, the dial is small and difficult to use. Some won't mind, but others find this flaw very frustrating, especially when working with a hot iron.
| | |
| --- | --- |
| Pros | Cons |
| There is an even temperature across the plate | Can be difficult to see how much water is left in reservoir |
| The ceramic plate is smooth and performs superbly | Takes the longest to heat up |
| This iron gets the highest temperature of any on the list | The small temperature-setting dial can be difficult to use |
| Pointed at both ends to make it multi-directional | |
Conclusion
This Panasonic steam iron has many unique features that put it above the competition. The dual-pointed soleplates decrease the work you need to put in because you can iron both ways. It also has an even temperature across the plates and heats up very quickly, to the highest temperature on our list. While it lags behind in some features that the similarly priced BLACK + DECKER has, it is still a good value. This is a great iron for anyone in a hurry, or facing an uphill battle against thick creases and wrinkles.
---
Sunbeam GCSBSP-201-000 – Best Cheap Steam Iron
The Sunbeam Steam Master Iron is a great option for anyone on a budget. It doesn't have features and all the bells and whistles that wow you, but it irons well and is a low-cost option. The blue and white steam iron comes with stainless steel soleplates that are non-stick and anti-drip. The 1400-watt iron also boasts an 8-foot retractable cord that makes putting it away and storing it easier than a wrap-around cord.
While there are only 15 steam holes in this model, they can still get the job done. There is a feature that allows a "shot of steam" to help you get out tough wrinkles, and four levels of variable steam depending on your garment type. Some models advertise a "no-drip" feature, but Sunbeam actually backs it up. This feature ensures that water will not leak while the iron is heating up and not quite producing steam yet. The model is easy-to-use and maneuvers well to make your ironing job easier.
One drawback is that you will need to clean this iron at least once a month. There is a self-clean option above the water reservoir, but sometimes it doesn't get the job done. It's not too much of a hassle, but can still be frustrating if you don't have the time for it.
The Sunbeam is powerful enough for vertical steaming, which makes it useful for ironing drapes or hanging garments. Its lightweight, 1.4-pound design makes it easy to hold. With an 8-foot power cord, you can also reach a good distance if you are interested in cleaning drapes.
| | |
| --- | --- |
| Pros | Cons |
| Retractable cord to make clean up and storage easier | Only has 15 soleplate holes, as opposed to Rowenta's 400 micro holes |
| Vertical steaming for hanging drapes or garments | Cannot see water level very easily due to color of reservoir tank |
| Low price that is agreeable to any budget | Does not get as hot as other steam irons |
| Very light-weight and easy to handle | Only four variable steam settings |
Conclusion
This Sunbeam Steam Master Iron is the second cheapest on the list but packs a much bigger punch than the travel sized Steamfast Home-and-Away. If you are looking for a steam iron on a budget, then grab a Sunbeam Steam Master. It has easy-to-use features and even the ability for vertical steaming.
---
The Result: Editor's Choice
After thorough research of steam iron reviews and specs, along with careful consideration, the results are in! With a price disparity of only around $60, price does not become much of a factor in our decision. Appearance does not matter much either, as even the best steam iron is stored in a closet and never seen by company. What we really considered was ease-of-use, safety features and performance. Based on this, we determine that the best steam iron 2019 is the Rowenta Focus 1700-Watt Micro Steam Iron. While the most costly on the list, the Rowenta gives you everything you will need in a steam iron. It heats up quickly and evenly, produces consistent steam and has a water reservoir size that does not require it to be refilled repeatedly. With auto shut-off, variable steam settings and high ease-of-use, you can't do better than the Rowenta Focus 1700-Watt Micro Steam Iron.
---
Steam Iron Buyer's Guide
When you are looking to purchase a steam iron, there are different factors that need to be considered. Steam irons features vary slightly, but there are certain features that you will want to focus on. It is important to have a light steam iron, especially if you are planning to iron many garments. An automatic shut-off and steam gauge feature is also a plus. The best steam iron will have a variety of specific features, which are detailed below:
1) Temperature
The temperature that a steam iron reaches can denote how well it will actually remove wrinkles and creases.
2) Soleplates
Soleplates are the plates on the bottom of the iron that make contact with the fabric that is being ironed. There are many different types of soleplates, including stainless steel, ceramic, non-stick, and anodized aluminum. Ceramic and stainless steel tend to be there best and non-stick soleplates do not glide as well.
3) Water Reservoir
This is where the water that creates steam is stored. Normally this is filled with tap water. While it is easier to have a steam iron with a removable water reservoir, it is not a necessity.
4) Self-Cleaning
This mode flushes mineral deposits that build up on the vents from the use of tap water. It is helpful, but not always effective.
5) Weight
The lighter a steam iron is, the easier it will be to maneuver. If you have a lot of clothes to iron, you will be glad to have a lighter iron.
6) Iron Settings & Controls
The best steam iron will adjust to different types of fabrics. These controls should be easy to use and the list of fabrics should be easily legible.
7) Power Cord Length
Most irons are corded. It is important to consider the length of the power cord. You likely won't break out an extension cord to iron clothes, so make sure that you know where you normally iron clothes and how far that spot is from an outlet.
8) Retractable Cord
Some steam irons have a feature that retracts the cord back so that it is easier to store. This certainly makes putting away and storing your iron easier too.
9) Vertical Steaming
Vertical steaming feature allows you to use the iron in an upright position. This is helpful to remove creases and wrinkles from drapes or hanging garments.
10) Steam Gauge
The steam gauge will allow you to either adjust the amount of steam or turn it off completely. A steam iron with a burst-of-steam option is also a plus.
11) Auto Shut-Off
An auto shut-off feature is almost a necessity. This feature will turn your iron off after a certain amount of time. Rest assured that your house will not burn down if you forget to turn your steam iron off.