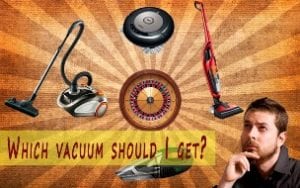 There is no home without a vacuum cleaner. Especially, if we're talking about your lovely home. Is there?
Therefore, we can say that every owner of a house or apartment at least once in his life faced or will face 2 questions:
Which vacuum cleaner should I buy? And what is the best vacuum cleaner on the market?
What to Look For When Choosing a Vacuum Cleaner
The market of vacuum cleaners is very diverse indeed and new models are quick to come. How to choose a vacuum cleaner? And which vacuum cleaner will fully satisfy your needs?
We recommend that you learn about the main criteria that are important to consider when buying a vacuum cleaner.
Types of Vacuum Cleaners
| | | |
| --- | --- | --- |
| | Canister vacuums | Best for cleaning floors, rugs, bookcases, stairs. |
| | Handheld vacuums | Great for cleaning vertical surfaces. Some models have a long mounting rib with a slot brush. Brushes for liquids, removing stains from furniture, fabrics and carpets are included. |
| | Upright vacuums | Good at cleaning dirt, easy to use, eliminate allergens. Quite noisy and bulky. |
| | Stick vacuums | Best for daily cleaning of rooms with hard floors, stairs and mats. |
| | Commercial vacuums | More efficient air filtration reduces amount of dust at their operation. The powerful engine quickly sucks in industrial dust with a brush. Equipped with a long cord. |
| | Steam vacuums | Designed for a thorough cleaning of carpets (carpet cleaners) and furniture upholstery with steam. |
| | Robot vacuums | Their main distinctive feature is cleaning floors without participation of a man. Less effective than other types of vacuum cleaners, but of great help for maintaining a certain level of cleanliness, if you have no time for a thorough cleaning. |
Wet or Dry Cleaning?
If you need to choose a vacuum for dry cleaning, balloon vacuums are a great choice. They are also the most popular – at reasonable price, easy to use, plenty to choose from. The compact device of this type weighs 5-7 kg.
Advanced wet vacuums have a more complicated mechanism. A special compartment is filled with water and detergent, then water moves by a vacuum hose and under pressure is evenly sprayed on the entire surface for cleaning. Dirty water is sucked back with a nozzle and goes to its tank. The amount of liquid can be regulated.
They are best for cleaning carpets with a thin latex basis, as well as tiled or paved floors and walls.
Wet cleaning is not recommended for parquet, natural jute carpets, foam-based carpets, as well as, certainly, furniture that can't be moisturized.
A wet vacuum cleaner is much more effective than a similar device for dry cleaning. If dry cleaning should be done in a day, you can wet clean once in 2 weeks.
Why choose a wet vacuum cleaner:
it can also do dry cleaning
wet carpet cleaning
washing the floor
cleaning a clogged sink or bath
cleaning up liquid spills
deodorizing rooms
washing windows
cleaning large litter (debris, fallen leaves)
Disadvantages of wet vacuum cleaners:
large, heavy, bulky
should be disassembled, washed and dried after the use
residual moisture in the carpets
detergent is not sucked back completely – 60% of it is left on the carpet
purchasing special detergent
slightly higher energy consumption comparing to canister vacuums
relatively high price.
Despite some operational difficulties, many costumers decide to choose a wet vacuum cleaner.
Vacuum Cleaner Power
One of the main indicators of the vacuum cleaner efficiency is its power.
There are two types of them: power consumption of a vacuum cleaner and its dust suction power.
Power consumption of a vacuum cleaner
Power consumption of a vacuum cleaner usually varies from 1000 to 2000 watts. The maximum power consumption is active for a few minutes after switching on a vacuum cleaner.
There is a wrong assumption that the higher power consumption means better cleaning properties. Cleaning efficiency does not directly depend on the power consumption. It depends on other factors. Therefore, a few vacuum cleaners with the same power consumption may have different suction powers.
Suction power of a vacuum cleaner
When choosing a vacuum cleaner, choose the optimal ratio of the power consumption and suction power to suit you in the suction power and energy consumption economy.
Cleaning efficiency depends on the suction power.
There are average effective and maximum suction powers.
Average effective suction power is the ability of a vacuum cleaner to suck in dust for a long time at a certain capacity. It is determined after the first 5 minutes of the vacuum cleaner operation.
Maximum suction power is the power of sucking dust for the first few minutes. It is by 15-30% higher than the average effective suction power. This is the highest indicator of suction power.
Average suction power decreases as the dust collector gets filled with dust.
When choosing a vacuum cleaner, consider its average suction power, as vacuuming usually takes longer than first 5 minutes. You can adjust the suction power of vacuum cleaner using the switch, depending on how dirty the space is. Buy a vacuum cleaner with more power capacity and increase or decrease suction power using the switch according to how dirty the surface is.
The best option for smaller apartments is a vacuum cleaner with 250 W suction power.
For larger areas, you may consider models with a power of 300 watts and higher. This power is enough to clean linoleum, wood floors, and low pile carpets.
For dirty (pet hair) and hard to clean areas (Persian carpets), as well as the use of turbo-brushes, we recommend suction power of up to 450 watts.
Dust Collectors
Most of the dirt and dust is collected in a vacuum cleaner bag, and the rest accumulates in filters. Therefore, the efficiency of dust collection and vacuum cleaner usability directly depends on the type of this bag.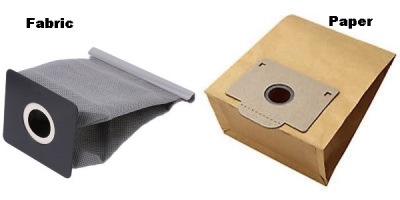 In canister vacuum cleaners, the dust sucked from carpets goes to special bags. Bags can be disposable (made of paper) and permanent (made of fabric).
Paper bags are more efficient for fine dust, but they should be disposed after about a month of cleaning. Fabric bags are recommended to use only if there are no disposable bags, as fabric pores are larger, so fabric bags are not effective enough. This also may cause fast clogging of additional filters.
Thus, paper bags are easier to use and are better at filtering dust, but they have one drawback: they end sometime.
The solution to this problem is choosing a vacuum cleaner, that can work with both types of bags – luckily, there are plenty of such models today.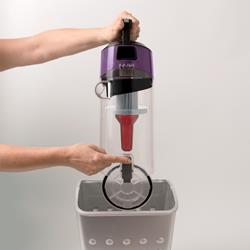 In larger models, the dust may be collected in a special tank. There, dust sticks together into a very dense clump that is easy to throw out.
Of course, no need to replace and empty bags is a big plus for choosing a cyclone vacuum cleaner, but there are some "cons" too. The tank resonates and increases noise. Furthermore, it also increases the size of a vacuum cleaner.
Filters
Perhaps, the most important equipment of a vacuum cleaner is the number and type of its filters. After all, when sucking in dirt and dust, a vacuum cleaner blows out air with tiny particles of dust, negatively affecting the health of people living in the room. This is especially important for people with allergies. It is filters that reduce the number of dust particles to the maximum.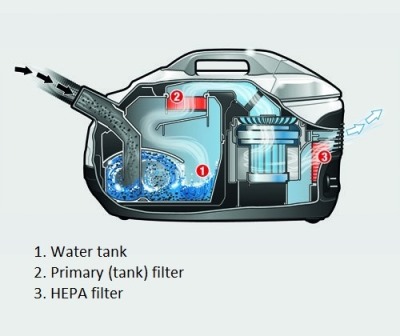 In modern vacuum cleaners filters are made of paper, fabric, coal, water or synthetic materials (e.g., HEPA filters). The combination of water and mechanical cleaning captures 99.998% of dust particles larger than 0.3 microns.
Of course, the number of filters almost always affects the price of a vacuum cleaner. 2-3 additional filters will cost you $50 – 60. A water filter better removes fine dust by wetting and weighting dust particles. A vacuum cleaner with such filter also allows flavoring a room as you like.
The most fashionable thing in the vacuum construction today is probably a cyclone delivered to household needs. No disposable bags: due to a swirling air flow, all the dust accumulates in the plastic tank, which is made transparent for more effect.
But, theoretically, a cyclone can stop no more than 96% of dirt particles. Therefore, advanced vacuum cleaners have additional coal or HEPA filters. The last have come to household appliances from the health care and are made of special porous material based on fiberglass.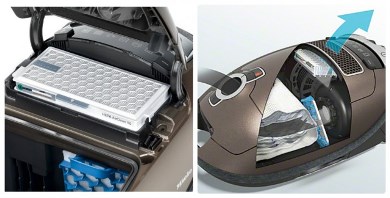 Thanks to an extensive network of tiny pores, they effectively stop particles down to 0.3 microns, that easily slip through other filters and contain the most harmful to the human body substances. The cons of HEPA filters are their high price and no recovery.
Besides cyclone, there is another advanced technology – a steam generator. It can disinfect any surface, eliminate mold, insects and mites. A vacuum cleaner sucks them in with allergens and dust into the water tank. A steam generator in a vacuum cleaner also allows disinfecting and cleaning carpets, glasses, upholstery, curtains, removing odors and stains, cleaning the inner and outer surface of the stove and oven, steel and enamel sinks, sinks, toilets, showers, baths, taps (decalcification), blowing off dust from lamps, lampshades, refreshing the air in the room with flavors. Cleaning carpets with steam is more effective than using a wet vacuum cleaner.
Electrostatic filters of fine cleaning stop from 80 to 99.9% of dust particles as small as 0.3 microns.
If you can allow it, you can also choose a vacuum cleaner with additional bactericidal filters.
Generally, replacement filters are good for not decreasing suction power as the dust clogs in. Permanent filters cannot be cleaned completely.
Tools
Tools are important not only regarding the ease of use but also the complexity of the cleaning process. Telescopic tubes with adjustable length are easier to use. Metal tubes are stronger and more durable than plastic ones.
Another convenient detail is a power button located on the tube handle or lever of the foot switch. Electronic power control and displaying the degree of filling the bag or tank are also of great help.
In most cases, a standard set includes nozzles for smooth surfaces, carpets and crevice tools. We should especially mention a turbo brush, that is a nozzle with a roller, rotated by the air flow and collecting lint and pet hair from different surfaces.
Price
The price does not always reflect quality of the product. It depends on the brand, technical and economic characteristics and handiness. The price of products of the same brand may differ according to their characteristics, design and release date.
Of course, "brand new" vacuums are usually more expensive than well-known and proven models.
Choose a vacuum cleaner of a company, which quality has been tested by time.
We hope now you know how to choose a vacuum cleaner, that will become your reliable helper in the house cleaning.
What Else?
Mobile and light-weight mini vacuum cleaners are great for owners of small apartments.
A mini vacuum cleaner is easier to store, but a water filter or a dust tank can hardly fit in. And that's not to mention the power: it is difficult to put a powerful engine in a small vacuum cleaner and ensure the reliability of full-size models.
Every housewife knows how important the cord length is. The best length is 6 meters or more.
When choosing a vacuum cleaner, you should also consider the noise level.
The indicators of safety and quality of vacuum cleaner include automatic shutdown in case of overheating, the dust bag full indicator, automatic motorized retractable cord, rubber bumper to protect your furniture from bumps.
The warranty period for vacuum cleaners is from 1 to 3 years. Some manufacturers provide only free maintenance for 3 years, while the customer should pay the cost of spare parts.
Infographic
For a visual understanding of the purpose of each type of vacuum cleaner, we have prepared this infographic.

To embed this infographic into your website please use the code below:

<a href="https://best4yourhome.com/wp-content/uploads/2017/01/inf-final.png" target="_blank"><img class="aligncenter wp-image-2166 size-full" src="https://best4yourhome.com/wp-content/uploads/2017/01/inf-final.png" alt="which vacuum cleaner should i buy" width="1000" height="2777" /></a>

Source: <a href="https://best4yourhome.com/best-vacuum-cleaners/">Best For Your Home</a>