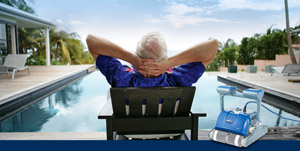 The advancement of technology has made everything easy and that includes cleaning your pool. Gone were the days when you had to spend a lot of time and effort just to clean your pool because you can just go ahead and buy the best robotic pool cleaner in the market to do the job.
If you are a big fan of multitasking and efficiency, then this robotic cleaner should be the one you are looking for. If you are like everyone who doesn't like to spend a lot of your time and effort cleaning your pool, then you have come to the right place.
This review aims to give you all the information and details about these robotic pool cleaners and why this is the best tool that should be added to your cleaning arsenal. Stick around, because we believe you will find this interesting, useful and yes, definitely cool!
Best Robotic Pool Cleaner Reviews
Let's dig a little deeper and take a closer look at each one of them.
Dolphin Premier Robotic In-Ground Pool Cleaner – Editor's Choice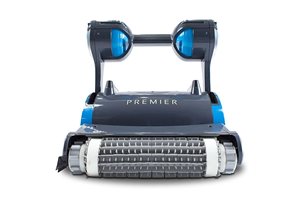 Dolphin Premier Robotic In-Ground Pool Cleaner has set the bar for the best robotic pool cleaner available in the market.
It introduces a Multi-Media filtration system that guarantees efficiency and a high-quality motor that makes cleaning, not just effective and productive but also easy-breezy and convenient. It is designed with several components for optimal power and competency when cleaning that will allow you to save time, effort and power.
You have to, however, bear the instruction manual as it tends to be vague and difficult to understand to get the optimal and best use of this robotic pool cleaner. This prompts others to check on tutorial first to get properly acquainted with the uses of its different features.
The cleaning bag would give you a signal when it is already full. Thus you have to check on it especially when it has a massive cleaning to do. Sometimes it already gives off the warning even before it is filled.
Four Media Types
The new and improved Multi-Media filtration system of this Dolphin pool cleaner is designed with not just one type but four filtration systems that will provide you several options right for the job without making any compromise. This is a huge leap from the other robotic pool cleaners, which is normally equipped with just one media type. So with this, you can be sure to get the best result as you can choose which to use to suit for the job.
Wide Coverage
This is designed with a SmartNav Pool Surface Scanning, which allows it to maximize the time for efficient cleaning for optimized coverage. Its microprocessor control makes sure that it covers the whole area for wider coverage. This feature guarantees that there will be no area left dirty as it scans through the perimeters and creates a thorough cleaning pattern.
Efficient
This Dolphin Premier Robotic Pool Cleaner with its high-quality composition and advanced settings cleans quickly and thoroughly, hence works productively allowing you to save not just time and effort but also power but with the best results.
360-Degree Anti-Tangle Swivel
For best results and increased productivity and convenience, this pool vacuum is designed with a 360-degree rotation feature for a tangle-free operation. This patented 360-degree Anti-tangle swivel will keep and maintain the cable from tangling and intertwining, which can hamper and affect this pool vacuum's cleaning performance.
From customers' feedbacks about this product, many have guaranteed its good performance that it is effective in cleaning algae, oak pollen, leaves, dust, and all other kinds of debris not just on the bottom of the pool but brushing through the sides and walls. They also noted the fast and thorough cleaning of this robotic pool cleaner as it claims to be.

Pros

Cons

Silent when used
Climbs the walls when cleaning
It comes with four media type options
It is designed with a 360-degree Anti Tangle swivel
It covers a wider optimal coverage
Cleaning bag alarms quickly even though it is not filled
The instruction manual is difficult to understand
It can't climb the pool stairs
Buy Dolphin Premier Pool Cleaner
---
Dolphin Nautilus Plus Robotic Pool Cleaner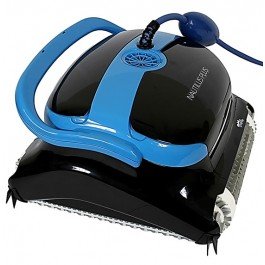 This Dolphin Nautilus Plus Robotic Pool Cleaner with Clever Clean is easy to use yet offers advanced technology features and outstanding performance.
What makes it one of the best is because it is designed with the Clever Clean technology that allows it to clean up to 50-ft in length. Two sets of filter cartridges – the pleated polyester fiber and the mesh screen are built for this tool that will enable you to filter both the large and small debris.
It has other features as well such as the Easy Fix modular components, 360-degree suction, swivel cables and pool scanning.
Though its 3-hour or even less standardized cleaning gave you amazing results, it is however limited to cleaning the stairs and angled areas.
And since it is relatively small in size, this robotic pool cleaner may require frequent cleaning as it fills up with debris quickly.
Clever Clean Technology
This is a patented feature of Dolphin Company that ensures the entire pool, walls, and up to the water line is immaculately clean. An extra-large top access filter is designed for easier and convenient filter cleaning. Its Easy-fix modular components will ensure you the easy and economical replacements, should there be any repairs needed on the long run.
360-Degree Swivel Settings
This Dolphin Nautilus Plus Robotic Pool Cleaner with Clever Clean is designed with a 360-degree suction that filters the water while it is cleaning and collecting debris and dust in its self-contained filter thus saving you time, money, efforts, and energy. It comes with an all-surface PVC bristle brushes and climbing rings so it can cover the walls and the sides of the pool.
Like all Dolphin pool cleaners, this model is also designed with a patented anti-tangle swivel cables that ensure the cables stay clear from the cleaner for an efficient and hassle-free cleaning.
Full Pool Scanning
Because this is engineered with advanced technology and settings, it is equipped with built-in software that cleans the entire pool regardless of shape or surface systematically and thoroughly. And just like a vehicle GPS, it scans your pool to know its shape, dimensions, and size so it can assess the most effective route for an efficient and maximize coverage.
Customers who have used this were pretty happy and satisfied with the performance and feature of this product. The full pool scan system is a useful component for a wider coverage and thorough cleaning. Some also pointed out that this robotic pool cleaner is easy to use and at the same time easy to store.

Pros

Cons

Wide coverage
It comes with a full pool scanning system
It is designed with a 360-degree suction and swivel cables
It comes with two sets of filter cartridges
The filters are easy to remove and clean
It cannot clean the stairs
It has difficulty in cleaning angles
Buy Dolphin Nautilus Plus Robotic Pool Cleaner
---
Polaris Sport Robotic In-Ground Pool Cleaner F9550
Designed with a four-wheeled drive robotic cleaner, Polaris Sport Robotic In-Ground Pool Cleaner F9550 has combined style and advanced inventive engineering into one best for your needs. It guarantees to give you best results in cleaning your pool from all kinds of dirt, dust, and debris with all its built-in and advanced-technology features.
The cord of this robotic pool cleaner is, however, a bit short and gets tangled easily. You have to be patient with the remote as well as it can be stiff and hard to maneuver especially on the first tries but will get the hang of it as you go on.
Advanced settings
To top the innovative look and design of this Polaris F9550 Sport Robotic Pool Cleaner, it is equipped with an ActivMotion Sensor Technology for unmatched navigation on different sizes and shapes of pools to assure wider coverage. A Proprietary Vortex Vacuum technology is built with this pool cleaner to enable it to pick up large debris efficiently while maintaining maximum suction.
Other features of Polaris Sport Robotic Pool Cleaner are its 7-day programmable timer, pre-programmed cleaning patterns, and motion sensing handheld remote that adds to its effectiveness and efficiency and makes it a good option for you.
Efficient Cleaning System
This robotic pool cleaner features an oscillating brush that effectively removes all stubborn dirt and stains from the pool. A rear water propulsion system is built with this cleaner that allows it to reach and clean debris under the stairs and even on tight corners, while its improved power assures the job gets done fast and efficiently. It also comes with a lid and large capacity filter canister that easily removes the debris on the top of the pool cleaner.
This pool cleaner has received lots of positive and good reviews from the customers who have already tried and tested this product and even considers it a great investment. It works well leaving all their pool sparkling clean after using this cleaner that it saved them time, effort and energy. Some users even saved money from paying for a pool cleaner, as this robot already does the job effectively. It is easy to use and operate as well that it is sure to remove all dirt and debris from your in-ground pool.

Pros

Cons

Easy and tool-free assembly
It has wide-capacity cleaning power
Its advanced technology system is convenient to use
4-wheel drive
The robot can flip itself back when turned upside down
The power cord is short
The remote control may be sluggish on initial use
Buy Dolphin Nautilus Plus Robotic Pool Cleaner
---
Hayward SharkVac Robotic Pool Cleaner
With high-quality components and proven technology, Hayward SharkVac Robotic Pool Cleaner offers you reliable, outstanding results while maximizing energy efficiency in cleaning the pool floor, walls, and waterline. It features a robust design and top-access filters that add to its effectiveness and productivity that is a perfect cleaning aid and best option for your needs.
Though the pool vacuum cleans very well, you have to be careful and spend time cleaning the machine itself as it can be tricky to open the lid and clean the filters where the larger debris could get stuck.
Convenient to Use
This pool cleaner is designed for your ease and convenience as it requires no hose, extra pumps or any other hookups when used. You just let it clean and do its thing and provide you with the best clean result after. It also runs independently from the pool's filtration system, thus reduces water usage and consumption. It comes with a caddy cart as well for easy handling and ease of use.
Easy Debris Removal
Hayward RC9740CUB SharkVac Robotic Pool Cleaner is designed with a top access debris container that allows you easy and quick removal of the cartridge filters and at the same time for easy debris cleanup. This feature does not only help increase the efficiency of this robotic pool cleaner but also adds to its easy-to-operate component that users will greatly appreciate.
Smart Technology
Most robotic pool cleaners come with the advanced technology feature that makes them the best alternative and aid for cleaning pools. This robotic cleaner is designed with an out-of-water and beach-entry sensors that keep it from running the water while cleaning the waterline thus keep the motor in top-notched condition and extended cleaner life. It also uses a smart steering technology that provides you efficient cleaning pattern and scouring pool floors promptly.
With its excellent performance, it is no wonder too that many of its users love this product as this SharkVac cleans every corner of the pool and even works best in cleaning the stairs and the tough angles. Customers who have tried and used this also like the fact that it comes with two-stage filters that never miss a dirt or debris when cleaning.

Pros

Cons

Easy handling
It cleans better in the stairs than most models
Convenient to use and operate
The two-stage filters catch everything
It climbs to the walls and cleans even on the angles
Can be difficult to clean the filters
Large debris can get trapped in the filter
Buy Hayward SharkVac Robotic Pool Cleaner
---
Pentair Kreepy Krauly Prowler 830 Robotic In-Ground Pool Cleaner
Designed to provide superior quality and eco-friendly cleaning, Pentair Kreepy Krauly Prowler 830 Robotic In-Ground Pool Cleaner comes with advanced designs and features for a clean and crystal clear pool in a matter of only two hours and thirty minutes of cleaning cycle. This 45-pound pool vacuum comes with a wireless remote, auto-reverse feature, integrated filter and a full cartridge indicator among other things that makes it a great option for you. All components are certified to UL standards for safety by ETL.
However, you have to be quick with getting this out from the pool as like few other customers mentioned, some debris would fall back to the pool when lifted out. Be mindful of the dust canister as well as it is relatively small in size, hence fills up rather quickly.
Advanced Settings
This robotic pool cleaner is built with a wireless remote for easy control and allows you to schedule regular cleanings. This smart feature adds to the convenience of using this pool cleaner as is eases your worry about not being always at home for the cleaning as, by proper settings, this cleaner will take care of that job for you.
Efficient Features
You can trust Kreepy Krauly Prowler 830 Robotic In-Ground Pool Cleaner to clean your pool from all types of debris, algae, dirt, shavings and other dust. It is designed with an auto-reverse feature to avoid hang-ups and uninterrupted performance especially while cleaning the steps and ladders. It also comes with an integrated filter that will allow you to save on pump energy cost by reducing the run time of the primary filtration system. In this way, you are not only saving energy but also money.
Easy to use and maintain
It is designed with a full cartridge indicator that prompts and warns you if this pool cleaner already needs attending and cleaning. The filter cartridge is also easy to clean and maintain, which is a convenient feature for added productivity and efficiency. This pool cleaner comes with a plug-in convenience that requires no installation, hose and booster pump. A caddy is also attached for easy handling and storage.
And as one user would say, it is an "awesome cleaner," as it works excellently in keeping their pool clean and crystal clear. What makes it even awesome too is how easy it is to use and maintain that most of its users appreciate. It cleans every section of the entire pool for two hours or so, then cleaning its filters for only about 5 minutes which allowed them to save a lot of time and energy.

Pros

Cons

Easy to control
Easy to maintain
It comes with an advanced design
It has an auto-reverse feature
It includes a caddy for easy handling
It cannot get into some corners
It has a relatively small debris compartment
Buy Pentair Kreepy Krauly Prowler 830 Robotic In-Ground Pool Cleaner
---
Dolphin Escape Robotic Above-Ground Pool Cleaner – Best Above the Ground Pool Cleaner
Dolphin Escape Robotic Above-Ground Pool Cleaner is designed with an innovative HyperBrush™ technology and other features that make it the best choice for an above ground robotic pool cleaner as it can clean efficiently in a short amount of time. It is built with a 24-volt DC motor that runs this above ground pool cleaner effectively without needing any additional power supply.
It comes with a filter basket that runs through all kinds and sizes of debris. Though it cannot entirely remove 100% of the algae, it can, however, filter a huge amount of it, unless you scrub it manually to loosen the algae before running it. Upgrading the filter by buying a much finer particle filter bag will sweep off all tiny specks and all these algae leaving your pool crystal clear.
Ease of Use
This above-ground robotic pool cleaner weighs only about 9.9 pounds, which makes it lightweight and portable as it can be easily carried and lifted for your convenience. It is also built with an ergonomic frame and a forty-foot lengthy floating tangle-free cord for an efficient use of this pool cleaner. It is considered to be a "plug-and-go" unit as you will not need any power supply or any other attachments. It runs on a timer as well that automatically turns on and off by itself depending on the settings you choose.
SmartNav 2.0 Robotic Scanning
The SmartNav Robotic Scanning system is one trademark feature of Dolphin pool cleaners, which allows it to deliver highly optimized coverage and not just wander aimlessly around the area. It calculates a pattern for a fast and efficient cleaning making sure that entire area is covered and cleaned thoroughly.
Efficient Filter
It comes with a filter basket that is made of a mesh material that can sweep and filter both large and small debris. It also does a great job scrubbing algae on the floor and walls of your pool as thoroughly as possible. With this feature, it sure to leave your pool clean and clear in a short period as this pool cleaner has a cleaning cycle of only an hour and thirty minutes.
It is no surprise that this pool cleaner is getting positive reviews from those who have tried and used this product. The easy set-up is a huge hit and advantage to many customers as it allows them to get this pool cleaner to work in a matter of five minutes after unboxing. It cleans thoroughly through the walls and bottom edges of the pool. What makes its users rave about it is its easy to clean and maintain a feature that needs only rinsing after clearing it from the debris.
Pros

Cons

Easy to maintain
It doesn't need any extra power supply when used
It cleans thoroughly climbing walls and on bottom edges
It works even on vinyl surfaces and fiberglass
It can also be used on in-ground pool
It does not come with a remote control
Buy Dolphin Escape Robotic Above-Ground Pool Cleaner
---
Dolphin Triton Plus – Robotic Pool Cleaner with PowerStream
This unit is more powerful, faster, and lighter than its ancestors, leaving pool owners (and us) awe-struck. Let's see why the Dolphin Triton Plus is such a great choice for anyone who is ready to spend a fortune in order to have a pristine clean pool.
Cleans the entire pool
Most robotic pool cleaners don't have the ability to climb the walls and STAY there. They either fall down or fail to complete the task. But, Dolphin figured it out how to create a robotic pool cleaner that will clean the walls without any problem. Meet the Dolphin Triton Plus.
The selling point of this unit is exactly its climbing ability. This is achieved by the PowerStream Technology. Thanks to multiple water jets, the cleaner has a good grip on vertical surfaces and doesn't fall down.
Since the cleaner has a good grip, cleaning walls will be a piece of cake but it will also be spotless.
Apart from cleaning the walls, this unit also does a spectacular job cleaning the rest of the pool, including the stairs. With this pool cleaner, you will save energy, time and money.
An extra-large filter basket ensures all debris and leaves are collected in one go. And with 4 Fine and 4 Ultra-fine filters, you can choose what to clean. The fine filters are suitable for leaves and larger debris, while the second ones are perfect for small algae. But, for best results, put 2 fine filters and 2 ultra-fine filters. Don't worry, changing filters is fast and easy.
The large active scrubbing brush only adds to the cleaning performance. It's 2x faster than the speed of the robot, so it will catch debris and leaves before you know it. Moreover, the brush is great for stubborn grime.
What you will certainly appreciate about this unit are 2 Cleaning Modes. Yup, you heard that right. When you want to clean your pool perfectly, pick a normal cleaning cycle that lasts 2 hours. But, when you're in a rush or your pool isn't very dirty, it can be cleaned in just one hour, with a Quick Clean mode. But keep in mind that this option doesn't include cleaning the walls.
On the downside, the Dolphin Triton Plus can't reach the edges of the pool, so you'll have to do that on your own.
CleverClean navigation system
This is another feature that advances the performance of this unit. Namely, the navigation system uses sensors to scan your pool during the very first session.
During that time, the cleaner will map out the pool – corners, curves, size, and shape. Thanks to this system, the Dolphin Triton Plus will clean every inch of your pool.
Bluetooth remote control
Here we have another unique feature of this pool cleaner – Bluetooth remote control. Controlling your robotic buddy has just become much easier.
Compared to other robotic pool cleaners that are controlled by a hand-held remote control, this one gives you the convenience at your fingertips. Simply connect the robotic pool cleaner to your smartphone by downloading the MyDolphin app.
From there, you can play with this cleaner, telling it where to go. Who would tell that cleaning a pool can be fun so much fun?
Automatic weekly timer
Wouldn't it be great that your robotic pool cleaner takes care of your pool even when you forget or aren't at home? Well, that's just one more advantage you get with the MyDolphin app.
Anti-tangle algorithms
Most robotic pool cleaners have a swivel cable to prevent tangling. But, Dolphin incorporates an innovative feature that uses anti-tangle algorithms. In other words, this feature works better than a swivel cable. Plus, it's kinda cool.
All in all, the Dolphin Triton Plus is one of the best robotic pool cleaners that money can buy. Capable of cleaning the entire pool in one go, 50% lighter than other Dolphin robotic pool cleaners and featuring Bluetooth, this unit will take your breath away. The best part: we don't exaggerate.
Pros

Cons

Cleans the entire pool – the walls, nooks and crannies, stairs
No cable tangling
Large active scrubbing brush
2 cleaning modes
Excellent navigation system
Connects to the smartphone
Extra-large filter basket
Can't get into corners
---
The Result: Editor's Choice
Finding for the best robotic pool cleaner 2018 is not an easy task. Going through research of each of the features and reading different reviews and feedback can be a long, tedious process. It is, however, essential to make sure that you buy only the best pool vacuum that is efficient, with excellent performance, and produce clean and outstanding results.
From among these options available in the market, this Dolphin Premier Robotic In-Ground Pool Cleaner stood out for us because of its advanced features and components that provide optimal performance leaving our pool immaculately clean and crystal clear. The four media type settings that it offers is absolutely a great feature as it allowed us options to how this pool vacuum can best clean any dirt or debris.  And with the Smart-Nav software, you can be assured that it will be able to cover the entire pool and area with optimum result.
Dolphin Escape is our best above ground robotic pool cleaner 2018. It is especially recommended because it has this Hyper-Brush feature that picks up all debris quickly and efficiently than most of the pool cleaner in its category. Its lightweight and ergonomic design also make it easy and convenient to use. And it has the Smart-Nav software feature as well that guarantees efficient performance and result.
Advantages of using a robotic pool cleaner
Though having a pool is definitely great and fun, cleaning it is a huge, tedious and hard task that demands a lot of time and effort. But with the evolution of cleaning tools comes this technologically advanced robotic pool cleaner that can efficiently clean your pool from all kinds and sizes of debris, dust, dirt and even algae and other forms of bacteria that grow on the floor, walls, and corners of the pool through time. Though some may still prefer the manual cleaning, a lot of pool owners have opted for this robotic pool cleaner because of several reasons and benefits. It may be expensive for a one-time purchase, but it is a great investment and may prove to be economical in the long run. Aside from the fact that it is totally awesome to have a robot pool cleaner, it has these following advantages:
Convenient to use
Designed for ease and comfort, robotic pool cleaners are easy to use and operate. By just switching it on, you can leave it in the pool doing its thing and after an estimated time leaves your pool clean and debris-free. Some models are even built with advanced and innovative features where you can easily set it in advance and worry not if you will not be at home as it can just take care of the job for you.
Saves time, energy and money
Manually cleaning the pool may take time and needs a whole effort to finish the job because you need to attend to it personally. A robotic pool cleaner is an effective substitute, and in the process, you could save time and do other chores and other stuff. In this way, you can be both productive and maximize your time.  It doesn't consume a lot of power when used as well as it efficiently cleans the pool promptly. So though it can be expensive, it is a good investment as you will be getting your money's worth in the long run.
Efficient
These robotic pool cleaners as designed and built with different features that allow it to do its job efficiently. It comes with a filtration system that does the work in removing all sizes of debris, shavings, dust and other kinds of dirt and bacteria in the pool. Some advanced models have a built-in scanning system that assesses the pool area by itself for optimal coverage. It runs through the entire surface including angled areas and climbing the walls to make sure everything is covered.
Eco-friendly
This is one good feature and advantage of using a robotic pool cleaner as it makes it safe to use for both users and the environment. It doesn't emit any form of chemicals and may be mixed in the water causing hazards and risk to one's health or harm the environment. It is clean to use and filters the water when running in the pool.
Labor-saving
Most pool owners normally hire someone to clean their pool as it can be a time-consuming process getting out large and small debris and scrubbing through the floor and walls to remove algae and other forms of dirt and bacteria. By using these pool vacuums, you may not need the help as it can already do the job for you and can thoroughly clean your pool leaving it crystal clear again. Hence, allowing you to save money as well.
Easy to Use and Maintain
What makes using a robotic pool cleaner great to use is because it is easy to operate and maintain. You just have to drop it in the pool, with not much of a set up necessary, and then pull it up after use. Cleaning and maintaining the machine is hassle-free and easy to do. You need only to remove the filter bag or basket, then clean and rinse it without any fuss and it's good to go.
Whichever you chose, you already have the best pool cleaner that will suit your needs. You can now bid goodbye to the manual cleaning and say hello to hassle-free, stress-free, efficient, and yes, awesome cleaning experience.