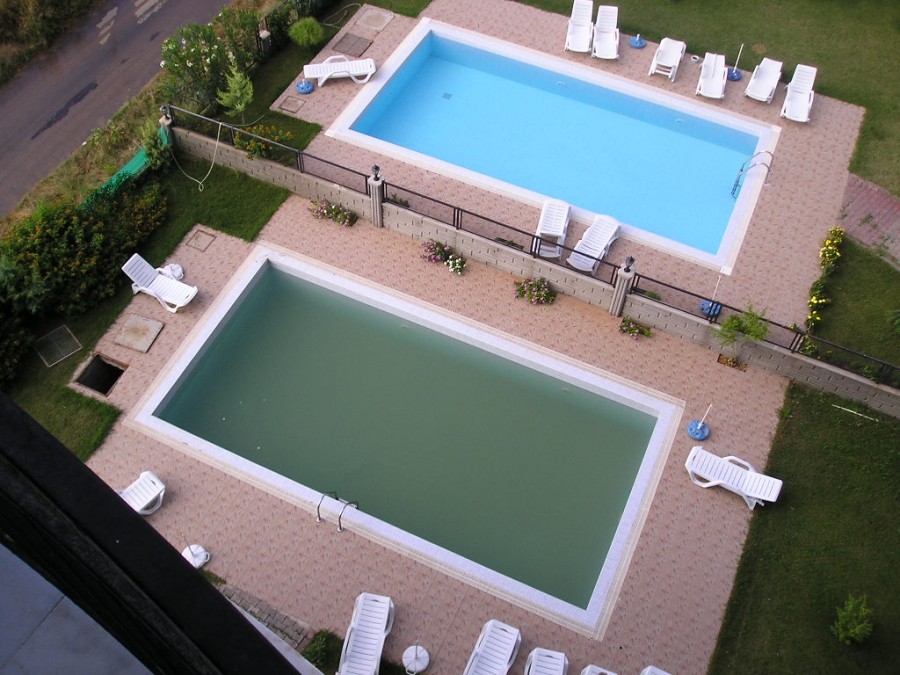 The best pool filter doesn't just filter out debris. It also keeps your backyard oasis clean, clear and sparkling with the kind of water that makes backyard pools so inviting. To do that means more than just vacuuming out leaves and dirt and adding chemicals. There is a science to the complicated systems of pool filters, but it's not rocket science – it's more along the lines of common sense and following the owner's manual. If you don't want your family and friends getting sick from swimming in your pool, you're going to need a good pump and one of the best pool filter systems to properly clean and sanitize the water.  Here's a quick list of the best pool filters on the market today:
The best pool filter keeps debris out of your pool, but there's a lot more that goes into the care of an above ground pool. Follow these tips and you can keep your filters working longer and better, and keep your maintenance costs down.
The Best Pool Filter: Why is it Important?
When you are in a pool, your body absorbs large amounts of water through the skin. That's right. Our skin is permeable. Permeability refers to our skin's ability to allow chemicals, toxins, light, oil, and whatever else we encounter on a day-to-day basis, to pass through it. Skin is first and foremost designed as a barrier against potentially harmful substances, but it does, by design, allow things to pass through and into our blood system. Things like sunlight, air, water, and things that our body needs, come through the skin – and that's a good thing!
However, the skin can't tell the difference between water with toxins (bacteria, viruses etc.) and clean water with no toxins. That's why it's up to pool owners to ensure the water in their pools is clean. Visibly, our skin shields our internal organs, bones and muscles from outside threats. It also contains its own immune system to prevent foreign attacks from bacteria and other microbes, but if someone's immune system is compromised, or weak, it's easier for them to get sick.
Related: Best Pool Test Kit
The very young (babies and toddlers, and the elderly) tend to have weakened immune systems. People with some diseases, people recovering from cancer, people with open wounds or sores on their skin, etc., are also at risk from pathogens, viruses, and bacteria in pool water.
While our skin is naturally permeable, it's a fairly low permeability. However, there are things that can increase that permeability. Most of us have our above ground pools set up outside, in the sun. That's why the water feels so good on a hot day! Ultraviolet rays from that full sun can cause our skin to be more permeable!
If you, like millions of Americans, have an autoimmune disease, allergies, or are concerned about the wide variety of pathogens and bacteria that can come to live in your pool water, you might want to pay close attention to the best pool filter you can buy to ensure your pool water doesn't pose an additional threat to you.
The most common complaints and reports health officials get that are associated with water quality issues from swimming pools are typically related to diarrhea, dysentery, traveler's disease, and other gastrointestinal issues. Those are no fun to contract, but it could worse. There are approximately 80 suspected or known autoimmune disorders that may be related to water quality issues. If you have autoimmune issues or concerns, get your water tested, install water treatment systems in addition to a filter on your pool (if needed), and seek advice from medical experts.
The most common water quality problems in pools are related to the presence of bacteria, total coliform, iron, manganese, elevated hardness, corrosive water, nitrates, elevated copper or lead, discolored water, odor, and regionally elevated levels of select metals.  Depending on the water source, the salinity, chloride, sodium, sulfate, and fluoride content of the water could be a concern.  In rare cases, there are problems associated with cysts, oocysts, or viruses.
Do you live near an industrial area, farms, ranches, or rural areas? Are you near construction, or a business park? Depending on the surrounding land-use and land-use activities, petrochemicals, solvents, surfactants, and industrial chemicals may be an issue as well.
Related: Best Solar Pool Heater
That's why it's extremely important to reduce the amount of dirt and other harmful substances in our pool as much as possible with one of the best pool filter options. After all, the key piece of equipment for cleaning your pool is the filtration system.
To find out what kind of hazards may exist in your area, learn more about your neighborhood water hazards for free by visiting: http://carbonwaters.org/2015/04/neighborhood-environmental-report-your-home-health-status/

The Best Pool Filter for Above Ground Pools
Above ground pools aren't that much different than inground pools, except for a few things – like the equipment is usually easier to reach and to operate. All pools need regular cleaning, daily filtering, and a constant chlorine level.
An above ground pool is a lot of work and can cost a lot of money, but it more than pays for itself in the pleasure you'll get from it if you protect your investment. This means ensuring there's no damage to the pool walls, pool liner or the pool equipment through proper maintenance, and the right filters and chemicals. Take regular care of your above ground pool and it can last for 10-15 years.
Picking the Best Above Ground Pool Filter System
First, you must find the correct size pool filters and pumps. The size and capabilities of an above ground pool filter system will affect the way your pool performs, how clean the water stays, and how difficult or easy it is to keep clean. Picking the right size pump for your pool is something your salesperson should be able to help you with, but in general, it's good to know:
Above ground pool pumps range from 1/2-1½ HP.
Use a 1 HP pump for round above ground pools up to 24 ft. and pools with less than 15,300 gallons of water.
Use a 1.5 HP pump for round above ground pools over 24 ft. and pools with more than 15.300 gallons.
The maximum gallons per minute (GPM) the best pool filter can handle is an important number to know. Your pump's GPM should never exceed your filter's GPM.
Bigger isn't necessarily better – unless you get a larger filter. A pump with too much horsepower will create excess water movement. If you have a smaller pool, this could be a safety hazard, creating unpredictable water flow. Buying a slightly larger filter (as long as it fits your pump) is a good thing.
An undersized pump lacks the power needed to circulate your water properly to prevent algal blooms.
A pump that is too large for your pool will completely bypass your filter altogether, creating a dirty pool.
Understanding The Best Above Ground Pool Filters
Whether you have an above ground or in-ground pool, there are three types of pool filters
Sand
Cartridge
And diatomaceous earth (DE) filters.
Each is designed to filter out debris as well as the bacteria and other things that could create problems, disease, and illness. Each type of filter has its pros and cons – including the cost of the system, and how many microns of debris and bacteria they can remove. Along with varying degrees of difficulty in changing or cleaning the filters. The best pool filter for you generally depends on your budget, pool size, and how frequently the pool is used, along with how clean you want your water.
Sand Filters 
Sand filters are one of the oldest filters around. Before there were swimming pools people used sand to filter drinking water and for other uses. Today's sand models haven't changed much in terms of how they work, but they have improved the kind of sand used as well as a few tweaks to the older and larger sand and gravel filters once used. They are more convenient and cost effective, but they also require 40% more water because they must be backwashed – meaning "cleaned more often." Sand filters can filter down to 20 microns – not the stellar 3 microns of a Diatomaceous Earth (DE) filter, but still, clean enough for most families and users.
Unlike other filter systems, sand filters catch both large and small dirt particles. All pool filters catch large particle debris like insects, hair, and leaves. The real swimming pool polluters are algae and phosphates. A sand filter is the only way to remove these tiny, invisible contaminants from your swimming pool.
Pros of sand filters include:
They remove both large and small contaminants from water
They only need to be replaced every five years (maybe sooner depending on how dirty your pool is over time).
Cons of sand filters include:
You need to have a good pump for it to work – and those can be expensive
Sand must be backwashed once a week (more often if very dirty)
Cartridge Filters 
Cartridge filters are the most popular pool filters. They do not require backwashing to be cleaned, but they do require periodic cleaning to remove loose debris from the filter media. Depending on how often a pool is used, the media has to be cleaned either: once a month, once a week, or more often. Some people clean the filters daily, spraying them down with a hose to rinse off all debris. Others clean them daily, weekly or monthly. Obviously the higher the quality, and the more frequently they're cleaned, the longer they'll last.
Once or twice each swimming season, cartridges will have to be soaked in a filter cleaning solution to remove more stubborn and stuck debris and oils. Or, you can simply replace the filter with a new cartridge.
 Pros of cartridge filters include:
These are the most environmentally friendly option.
They require a lot less water to clean.
They take up less room
Easier to install; less plumbing because no backwash piping is required
Cons of cartridge filters include:
The filter must be disassembled every time the cartridge requires cleaning because they lack a backwash cycle like the other filter types.
Can get dirty fairly quickly
Diatomaceous Earth (DE) filters
DE is a sedimentary rock composed of chemically inert, fossilized (or skeletal) remains of billions of microscopic algae-like organisms, called diatoms. DE filters have the advantage of filtering the pool water to smallest microns and will keep the water cleaner than a sand filter or a cartridge filter. The disadvantage of this type of filter is that it requires the most amount of maintenance. DE powder is needed after backwashing. If your immune system is weak or compromised, or if you're elderly, or have young children, a DE filter may be the best way to go.
These are considered the most effective of all best pool filter types, offering the clearest and most sanitized pool water possible. They can trap particles as low as 3 to 5 microns. This is well below what we can see with the naked eye – about 35 microns.
There are two different types of DE filters. There's the vertical grid filter and the regenerative filters, also known as bump filters. In both cases, the DE powder coats the elements inside, and traps the dirt as the water flows through the powder. You only have to take the filter apart about twice a year to clean the filter grids, but it can be a messy job.
Diatomaceous earth (sometimes referred to by trademarked brand names such as Celite) is used in chemistry as a filtration aid, to filter very fine particles that would otherwise pass through or clog filter paper. It is also used to filter water, particularly in the drinking water treatment process and in fish tanks, and other liquids, such as beer and wine. It can also filter syrups, sugar, and honey without removing or altering their color, taste, or nutritional properties.
Pros of DE Filters include:
These are, hands down, according to every expert, the very best pool filter you can have. The worst DE filter will filter water better than the best sand and/or cartridge filters available.
A DE filter will filter the water to the smallest micron size, around 2-3 microns.
Cons of DE filters include:
DE filters are a pain to clean – even for the pros
Every time you backwash a DE filter you need to add more DE powder through your skimmer.
DE Filters are very high maintenance.
Best Five Above Ground Pool Filters
Compatible with 59900E and 29000E.
Intex Pool filters are one of the most popular and readily available above ground pool filters. Dacron is the best fabric for pool filters because of its high tensile strength, high resistance to stretching, both wet and dry, and good resistance to degradation by chemical bleaches and to abrasion. Dacron, unlike natural fibers, is hypoallergenic, non-absorbent, and mildew-resistant. This makes it an excellent pool filter for people with allergies.
All polyesters and other manufactured fibers are not alike. The composition of each fiber is distinct and has its own set of physical characteristics depending on who made it. The United States Federal Trade Commission has defined and generically named man-made fibers, for instance, polyester, nylon, rayon, and spandex. Yet, each fiber in a category may be different as producers chemically and physically modify the basic composition of the generic fiber.
Related: Best Pool Pump
Variations may provide benefits such as softer feel, brighter color, or greater warmth retention. Improved fibers are owned and trademarked by the company that produces them. Dacron is a registered trade name for a polyester fiber made by DuPont. Dacron is especially known for its durability, consistency, and quality.[1]
The Intex Type A and C Filter Cartridges are made from Dacron material. They are easy to clean, or to replace when necessary, usually after about two weeks. Look for the large A on the package to make sure you are getting the right size for your filter.
For smaller pumps: 530 gallon per hour – 1,500 gallons per hour
Fits pumps with both Type A and Type C filters
For filter pump item numbers: 58603, 58604, 56637, 56638, 56635, 56636
Replace filter cartridge with a new one every two weeks for best results
[su_button url="https://www.amazon.com/dp/B008CCJ9GO/ref=as_li_ss_tl?ie=UTF8&linkCode=ll1&tag=best4home00-20&linkId=7e8632103f5ee54f03a0b7ae5f96df63″ target="self" style="flat" background="#fb8746″ color="#ffffff" size="10″ wide="no" center="no" radius="8″ icon="icon:shopping-cart" rel="nofollow" class="bestvacbutton"]Buy Intex 29000E/59900E Easy Set Pool Replacement Type A or C Filter Cartridge[/su_button]
---
The Intex Type A Filter Cartridge is now available in a convenient twin pack for pool owners who don't want to risk running out of clean filters. Dacron is a registered trade name for a polyester fiber made by DuPont. Dacron is especially known for its durability, consistency, and quality.
Buying filters two-to-a-pack ensures you'll always have a filter ready when the one in use is ready to be tossed out. Order enough packs to ensure you have plenty of filters for pool season in your area of the country. Filters should be changed every two weeks, more frequently if the pool is used daily.
Easy to clean Dacron fiber material
Filter cartridge should be replaced every two weeks
[su_button url="https://www.amazon.com/dp/B00GSPHTMI/ref=as_li_ss_tl?ie=UTF8&linkCode=ll1&tag=best4home00-20&linkId=90763822dd752516476557a3556043b5″ target="self" style="flat" background="#fb8746″ color="#ffffff" size="10″ wide="no" center="no" radius="8″ icon="icon:shopping-cart" rel="nofollow" class="bestvacbutton"]Buy Intex Type A Filter Cartridge for Pools, Twin Pack[/su_button]
---
When cleaning these filters, the fabric may look clean (white) but don't let that fool you. It is indeed doing its job. It's just that most of the sediment is trapped in the inside folds of the filter where you can't see it. Just spray off the filter no matter how clean it looks.  You'll see the dirt and debris come out – dirt you would never see by just looking at the filter.
Related: Best Above Ground Pool
Dacron is a registered trade name for a polyester fiber made by DuPont. Dacron is especially known for its durability, consistency, and quality.
Easy to use – simply replace the old cartridge with a new one every two weeks
Double insulated pump
Air release valve for air trapped inside filter chamber
Easy to clean Dacron fiber material
The cartridge only needs to be replaced every two weeks
[su_button url="https://www.amazon.com/dp/B005QIYL7E/ref=as_li_ss_tl?ie=UTF8&th=1&linkCode=ll1&tag=best4home00-20&linkId=31628b3b6c1b443afc1eeb9f12452ca1″ target="self" style="flat" background="#fb8746″ color="#ffffff" size="10″ wide="no" center="no" radius="8″ icon="icon:shopping-cart" rel="nofollow" class="bestvacbutton"]Buy Intex Krystal Clear Cartridge Filter Pump for Above Ground Pools[/su_button]
---
These filters are made so you can put your chlorine tabs inside. They hold one tablet and make cleaning your pool extra efficient. It you find your pool isn't as clean as you'd like, consider investing in a larger pump and make sure you're using the right filter. Even the best filters won't work if the pump is undersized for the pool.
Made of high quality easy to clean pleated Dacron fiber material
Pool filter cartridge helps keep your pool sanitary clean and fresh for outdoor fun.
Features patented "build in chlorine dispenser" in cartridge filter; can hold 1 chlorine tablet.
For maximum efficiency clean every week and replace cartridge filter every 2 weeks.
Filter size in inches; 3.75″ H with a 4.12″ diameter
[su_button url="https://www.amazon.com/dp/B07DGJY78R/ref=as_li_ss_tl?ie=UTF8&linkCode=ll1&tag=best4home00-20&linkId=fb9dc1dd5b10af5e8571934d5db5ef29″ target="self" style="flat" background="#fb8746″ color="#ffffff" size="10″ wide="no" center="no" radius="8″ icon="icon:shopping-cart" rel="nofollow" class="bestvacbutton"]Buy Greenco Type D Replacement Pool filter Cartridges with Built-in Chlorinator-Set of 4[/su_button]
---
For best results, occasionally remove filters from pump and spray with a hose or compressed air every week, or after special events – pool parties, lots of heavy usage, storms, etc. – to clean out the dirt and debris. Replace the entire filter every 2-3 weeks during heavy summer usage.
These filters can suspend a 1-inch chlorine tablet inside so there's no need to chlorinate your pool separately. Filter inner opening measures 1.5 inches in diameter.
Type D Pool Filter Cartridge – 4.13-inch Diameter X 3.75 inch Height
Long Lasting, High-Quality Filters – lasts up to 1 month before replacing
Conveniently sold in 2-pack, 4-pack, and 6-pack variations
Comparable to summer waves, summer escapes, and Intex D type filters
For best results, clean cartridges each week and replace at least once a month.
[su_button url="https://www.amazon.com/dp/B07BTNCGDG/ref=as_li_ss_tl?ie=UTF8&linkCode=ll1&tag=best4home00-20&linkId=ada1cda8fa6028e5bfe3d8872742e239″ target="self" style="flat" background="#fb8746″ color="#ffffff" size="10″ wide="no" center="no" radius="8″ icon="icon:shopping-cart" rel="nofollow" class="bestvacbutton"]Buy Type D Pool Filter Cartridge (4-pack)[/su_button]
---
Care of Your Above Ground Pool and Filter
After investing a lot of money in an above ground pool, you naturally want to make sure it lasts as long as possible. If properly cared for and maintained, most above ground pools can last 10-15 years without major repairs. Proper maintenance means taking care of your filter and other equipment.
Related: Best Pool Heater
Pool Filter and Equipment
The pool equipment – pump, filter, heater; is made to work outdoors and made to run around the clock; pretty sturdy stuff. It can be damaged by falling limbs or flooding, but rain and snow won't normally cause damage. Pool equipment can also be dangerous. Depending on your pool you may have pressurized filters, electric pumps and maybe even a gas heater. All of that equipment can hurt you if you're not careful or don't understand how to use, clean, or replace filters properly.
Pool Walls
Anything bumping into the outside walls of an above ground pool can dent or crimp the steel wall panel easier and faster than you realize. This not only looks bad, but it can weaken the pool and shorten its life. If you have children, keep them away from the pool unless they're actually in it, using it to play/swim in. Kids on bicycles or even smaller toys, can damage the walls. Don't use the pool as a backdrop for baseball, football, or other games as that can damage the walls. Don't stand or sit on the top rail of the pool wall. Keep your pool away from under a tree as even small branches or tree limbs can crush a pool wall.
Pool Liner
High chlorine levels can make the vinyl walls of your above ground pool brittle. Protect your pool liner by keeping a good water balance in the pool. Unlike fiberglass, or concrete in-ground pools, your above ground pool and liner are far more susceptible to holes or punctures especially from pets, and non-pool toys and even from street clothes.
Clean Your Feet
Use devices like the Inex Foot Bath for Pool Ladders that attach to pool ladders so swimmers can rinse their feet off and remove any grass, leaves, or other debris as they're climbing the ladder to get into the pool. This is preventive cleaning – what doesn't go into the pool doesn't have to be removed from the pool!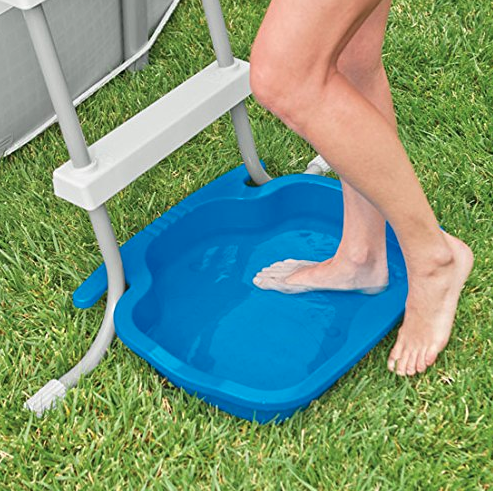 The Best Pool Filter: Cleaning Your Above Ground Pool
Keeping an above ground pool clean takes about the same amount of time, tools and effort as an inground pool. The tools and techniques are the same. You'll need to skim, brush, and/or vacuum your pool If you have trees and a breeze, or grass around the area that gets tracked into the pool by the pool's users. Even the best pool filters, while incredibly effective, aren't meant to get all the debris out of your pool, just the smaller stuff that gets past your rake, skimmer, or vacuum. However, by keeping the water as clean as possible before it enters your filter, you can make sure your filters last longer and do their job better.
Skimmers and skimming
Every pool has a skimmer. Some pools, even above ground pools, have more than one skimmer. If you're not sure what a skimmer is, look for the thing that looks like a small mouth in the side of your pool, near the top of the water, or that hangs over the side of the water – looking like a big bucket.
Related: Best Robotic Pool Cleaner
The pool skimmer's job is to filter out debris like dead insects, leaves, grass, hair, and stuff that gets into your pool – but isn't supposed to be there. It does this by being connected to the pool's pump. The pump creates suction that pulls water into the skimmer's mouth. Larger debris such as leaves, twigs, bugs, or even clumps of dog hair will then travel over the weir and be captured by the basket that is nestled within the skimmer.
An above ground pool skimmer in action
A wall skimmer will get some floating debris, but large dumps of debris – like from a wind storm that dumps a lot of leaves in the pool, or a birthday party of kids with grass clippings on their feet, or an invasion of Mayflies, will probably be too much for it to handle. That's where you, or your kids, or whomever you hire to maintain your pool comes in handy.
Related: Best Pool Cleaner
By attaching a manual leaf skimmer or leaf rake to the pool pole and pulling it across the surface you can capture and eliminate the majority of pool debris before it hits the skimmer. A bag-type leaf rake works best when you have lots of leaves. With the right kind of rake you can use it to scoop leaves and debris from the pool floor, too. Use a flat skimmer net if you just have a few leaves or debris, or need to pluck a frog, snake, or other creature out of the water.
Once you use this leaf skimmer, net, or rake to get the leaves out of the water you simply dump the leaves or debris into a pile on the ground. Place it in a trash bag to dispose of as you would any lawn clippings.
Baskets
Your pool should have a skimmer basket and a pump basket. The skimmer basket will need more frequent cleaning, but don't forget to empty the pump basket after vacuuming, or about once a week. When replacing the pump basket, be sure that it's positioned properly and the pump lid is screwed on tightly.
Vacuuming Your Pool
The novelty of cleaning your pool wears off quickly. Many people set-up an automatic pool vacuum by connecting suction type cleaners into the skimmer, or by dropping in a robotic pool cleaner. Automatic cleaners work well on a day-to-day basis, but when leaves are really deep, or if you see an algae bloom, it's best to vacuum your pool the old-fashioned way to make sure the bloom or debris isn't missed.
To vacuum an above ground pool, put the vacuum head on the pole, and connect the vac hose. Put it in the pool and then hold the other end of the hose over the return fitting to fill the hose with water. Push it into the hole below the skimmer basket. It's that simple!
Brushing Your Pool
Before brushing your pool walls, make sure your pool brush is in good condition. Worn bristles mean rough edges and rough edges can damage your pool liner. Even if your water looks clean, clear, and pristine, it still needs to be brushed. Brushing helps water circulation, but more importantly it removes invisible films and the small beginnings of algae blooms. Getting rid of that film and the tiny, almost invisible algae blooms prolongs the life of your pool filter.
Filtering Your Pool
Run your pool pump every day for at least 8-12 hours. Missing even a single day, especially on hot, sunny days, can mean the water can turn cloudy and green. Yes, it can happen that fast! That doesn't mean it will, but why tempt fate or Mother Nature? For best filtering results, use a pool pump timer, backwash the system when the pressure gauge tells you to, and clean the baskets often.
Pump Timer
If your above ground pool has a pump that plugs into an outlet, consider using a plug-in pool pump timer so you don't have to remember to turn it on and off. Plug-in pump timers are inexpensive, and easy to install. Set the timer to run about 10 hours daily, or longer for hot periods, or when the water looks like it needs more filtering.
Backwashing
Both sand filters and DE pool filters have a valve that is turned to reverse the water flow through the filter. This is called "backwashing the filter." This backwashing flushes out all of the dirt trapped in the filter. Backwash your filter when the pressure gauge is 8-10 pounds higher than the clean, starting pressure.
Cartridge filters do not require backwashing. To clean a cartridge filter shut off the pump, remove the cartridge, and hose it clean, then replace it. Depending on the filter, and how well you clean it, it may last a week to a month. You'll know to clean it when the pressure gauge has risen 5-10 lbs, or if the water flow drops off noticeably. Getting in the habit of cleaning the filter weekly, whether the pressure builds or not, is a good habit to get into.
Chemicals For Your Best Pool Filter
The best pool filter can do an amazing job at keeping your pool water clean, but they need to be clean of debris, and they need to be running chemically balanced water through the filter. To extend the life of your pool filter, you need to test the water a few times per week to make sure your water's chlorine level is constant and consistent. It only takes a few minutes to test your water and this test will let you know if you need to adjust your pool water balance.
Proper chlorine levels not only keep the water clear, but they ensure your water is sanitized and less likely to make anyone using the pool sick. Regardless of how frequently or what system you use to add chlorine to the water, the chlorine level should stay between 1.0 and 3.0 parts per million (ppm) to maintain a healthy pool. Any higher and you start to run the risk of red eyes and swimmers itch
Testing Water
There are a variety of water testing kits available. Either test strips or a test kit can be used. Liquid kits are more accurate than test strips.
Chlorine Levels
What is chlorine and why do you need to keep consistent levels of it in your pool? Chlorine is a disinfectant. It's regularly fed into the pool water (usually through the use of chlorine tabs, or through measured liquid or powder) and it should be tested daily—at a minimum—for proper disinfection. It doesn't hurt to test it first thing in the morning, and again after people have used the pool.
Routine chlorination kills harmful microorganisms that can cause health-related problems, such as gastroenteritis, Legionnaires disease, ear infections and athlete's foot. Learning how to properly test your water will allow you to identify the chlorine residual and demand in pool water. If your pool gets a lot of use, it will need more frequent testing.
Use chlorine tablets in a floater to keep a constant level of chlorine in the pool. You'll need at least 1.0 ppm – around the clock, to prevent anything green from growing and to ensure your pool doesn't turn into a green lagoon of algae and bacteria. Algae and bacteria are always waiting for you to drop your guard, take a day off from cleaning, or blow off testing your water and they can take over. If you do forget to test your water, and then find it's near zero when you do, or if you spot algae, use a granular shock (powdered chlorine) to boost your chlorine quickly.
Water Balance
You'll need to test your pool's chlorine levels daily. You'll also need to check the pH levels, and the total alkalinity once or twice per week. Add pool pH or alkalinity when levels are too low or too high. Once a month check the calcium hardness and cyanuric acid levels. These are slower to change than your chlorine or other levels, but they're very important to your overall water balance.
The Best Above Ground Pool Pump: How to find the right size
Some pool owners report their filters aren't keeping their above ground pool clean enough – only to find it's not the filter – it's the pump! Even the best pool filter won't keep your pool clean if it isn't used with the right sized pump.
So, how do you determine what size and type pump you need? While the salesperson who sold you the pool may have recommended what they thought was the best size pump, it never hurts to check their recommendation against the manufacturer's recommendation.
Most above ground pools are similar in size and shape, so there aren't a lot of complex variables to figure out. However, the one critical thing you do need to know is what the maximum gallons per minute (GPM) your pool filter can handle. Your pump's GPM should never exceed your filter's GPM.
If you already have a pool pump, verify the GPM of the pump – it should be printed on the outside of the pump housing. If you can't find it, or it's so badly weathered you can't read it, look for the information in the user manual. You could also call the dealer where you bought the pump or pool. If you don't have a user manual, find one online and then print it, or download it for future reference.
The user manual will also include things like the filter specs for your pump. These specs typically include the flow rating, filtration area, port size, and turnover rates. The flow rating is essential because it dictates the maximum gallons per minute your filter can handle. In other words, do not go over this number. If your GPMs on the pump exceed the GPMs on your filter, figure out whether it's the pump or the filter, or both that need to be larger.
Look at the turnover rate listed on the filter. Your pool size should fit within those parameters. If they do not, you should consider purchasing a bigger filter. It's better to have a larger than needed filter, than the exact size or one that's too small. The experts will tell you, a properly sized filter is always larger than the gallon size of the pool. A little wriggle room in your filtration area is good if you forget, or just don't backwash or clean your cartridges every week. That way, you won't destroy your pump, and your pool will stay clean in spite of your forgetfulness. Unlike your pool pump, any pool expert will always recommend oversizing your filter.
For round above ground pools up to 24 ft. ( pools with less than 15,300 gallons) use a 1 HP pump.
For round above ground pools over 24 ft. (pools with more than 15.300 gallons) use a 1.5 HP pump.
Pool sizes can vary from 3,500 gallons of water to 30,000 gallons of water depending on the height and diameter of the pool. Some of the best above ground pool pumps don't have, or need, a lot of bells and whistles. They just need to get the job done. First, the pool must be the right size.  Then the filter must not only fit, but be a little larger than what you anticipate you'll need. If in doubt, refer to the owner's manual for both.
In general, these charts from InyoPools are helpful for determining the number of gallons your pool will hold. This should help you decide what kind of pump and filter sizes you'll need.
[1] https://www.microscopyu.com/gallery-images/dacron-polyester-fibers
[2] https://www.inyopools.com/Blog/sizing-your-above-ground-pool-pump/