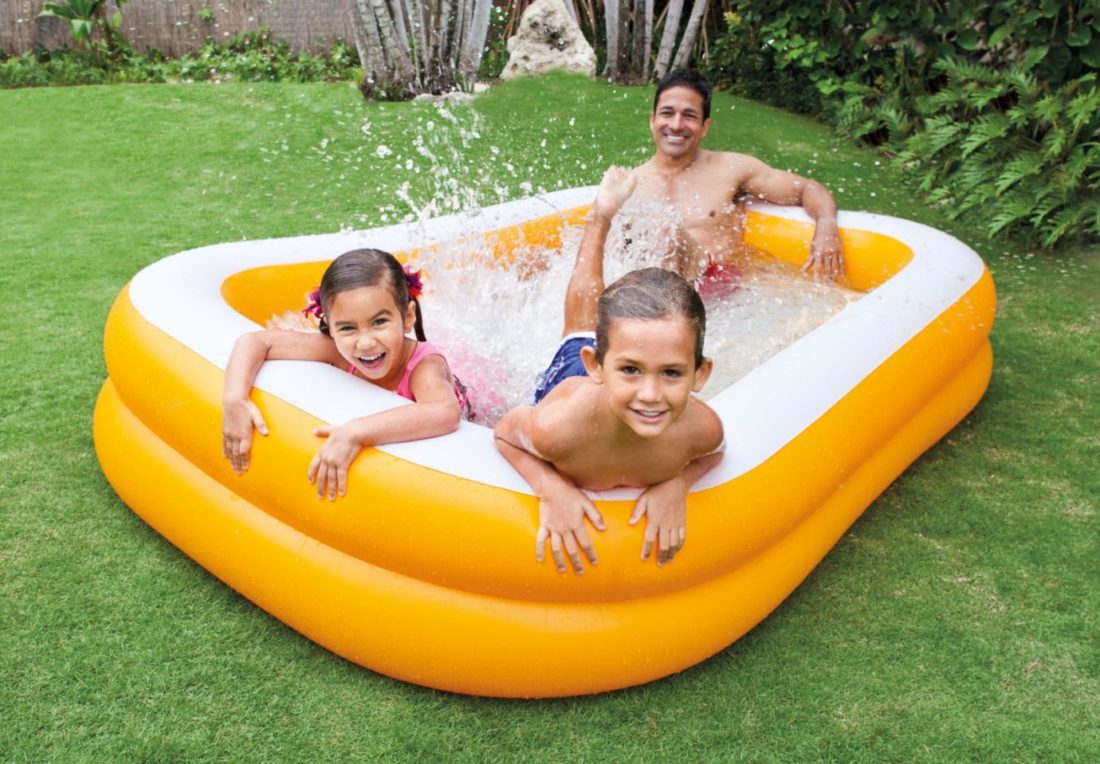 Looking for the best inflatable pool options? Inflatable pools are becoming more common in residential back yards. However, too many adult inflatable pools are going unmaintained. It is important to note that inflatable pools need to be cleaned just as often as permanent, larger in-ground or above ground pools. Proactively cleaning your inflatable pool will extend the life of your pool and keep everyone swimming in your pool safe. We will provide with our best inflatable pool options and inform you on how to inflate, clean and maintain your pool.
As you can see above, there are several options to choose from when choosing an adult inflatable pool. Budget may be a factor in your decision. You should consider the size of pool you would like for the amount of people that will be swimming or lounging. Also note the size of the pool when placing in your yard. Make sure you have space on all sides of your pool to properly get in and out of the pool and to frequently maintain it. Level ground is also important so that the pool will maintain its water level.
Some pools come with filters and can be cleaned easily, while others will need to be cleaned manually. Thus, they'll take more time to maintain. Check to see if your pool comes with any accessories such as a cover, or if you will need to purchase separately. If you live in a climate in which you cannot use your pool year-round, you will also need to think about how to deflate your pool and the space you will need to store the inflatable pool so that you can use it year after year.
Related: Best Pool Floats
We will inform you on how to inflate, maintain and store your inflatable pool. By spending time learning how to properly use and care for your pool, you will have more time to enjoy relaxing in your new adult inflatable pool.
Inflating the Best Inflatable Pool 
When purchasing an inflatable pool you will need to think about how you are going to inflate it. While some pools come with a pump, some do not. There are a few ways you can inflate your pool.
The best way to inflate your pool is using an electric or battery-operated pump. They are fairly inexpensive, quick to setup and easy to store. Plus, they inflate your pool very quickly so you can enjoy a nice swim or soak. Electric or battery-operated pumps often come with different nozzles so you can use the pump for other items in your home or garage that occasionally need air such as pool toys and various balls for sports.
If you already own a shop vac, you can use this device to inflate your pool and save yourself the purchase of an electric or battery-operated pump. A shop vac can also inflate additional household items. A shop vac will inflate slower than a pump but it still a viable option if you already have one on hand. A pump is also more affordable than a shop vac so if you only need a device for inflation, choose the electric or battery-operated pump.
If you do not have the budget or resources for an electric pump or shop vac, the third option is a manual hand or foot pump. If you have a large pool, this option will not work. You will tire before you will be able to properly inflate your pool. However, this might still work for smaller inflatable pools.
Related: Best Pool Toys
The last option is to use a hair dryer that has a cool setting. The benefit is that you probably already own this type of hair dryer so there is no money out of pocket to inflate your pool. However, there are a few drawbacks. You will need a power source near to where you plan to place your adult inflatable pool. You may also need an additional person or set of hands to help you inflate your pool since a hair dryer does not have the proper nozzle to inflate. You will need to hold the hair dryer as close to the air entry point of the pool as possible. The better you are able to accomplish this, the faster your pool will inflate.
Once your pool is inflated for the first time, you will need to fill your pool with water. Most inflatable pools are large enough that they will require an outdoor garden hose to fill. There are several garden hose options. Choosing a hose that is long enough to reach your inflatable pool is critical. Adding a sprayer to increase water pressure will help you save time, especially when completely filling your pool for the first time. 
Filling Your Pool
It is important to maintain the recommended level of water in your inflatable pool. Maintaining water levels helps you have a better experience when using and swimming in the pool. You will also be able to easily calculate the amount of chemicals needed to keep the pool water clean. Make sure you have an adequate water source to fill your pool such as an outdoor spout and garden hose. Filling a large adult inflatable pool with buckets of water is not ideal.
If the level of water in your pool is too high, drain the water by using a bucket or gently pressing down on one area of the inflatable pool to release small amounts of water at a time. If the water level is too low, fill the pool with a standard garden hose. You can also add hot water from a bathtub or kitchen sink if the pool water is too cool. If you do not have a bathtub or kitchen sink close to your inflatable pool, simply fill the inflatable pool with a garden hose and allow the sun to warm the water. This process takes longer but is just as effective as using heated water.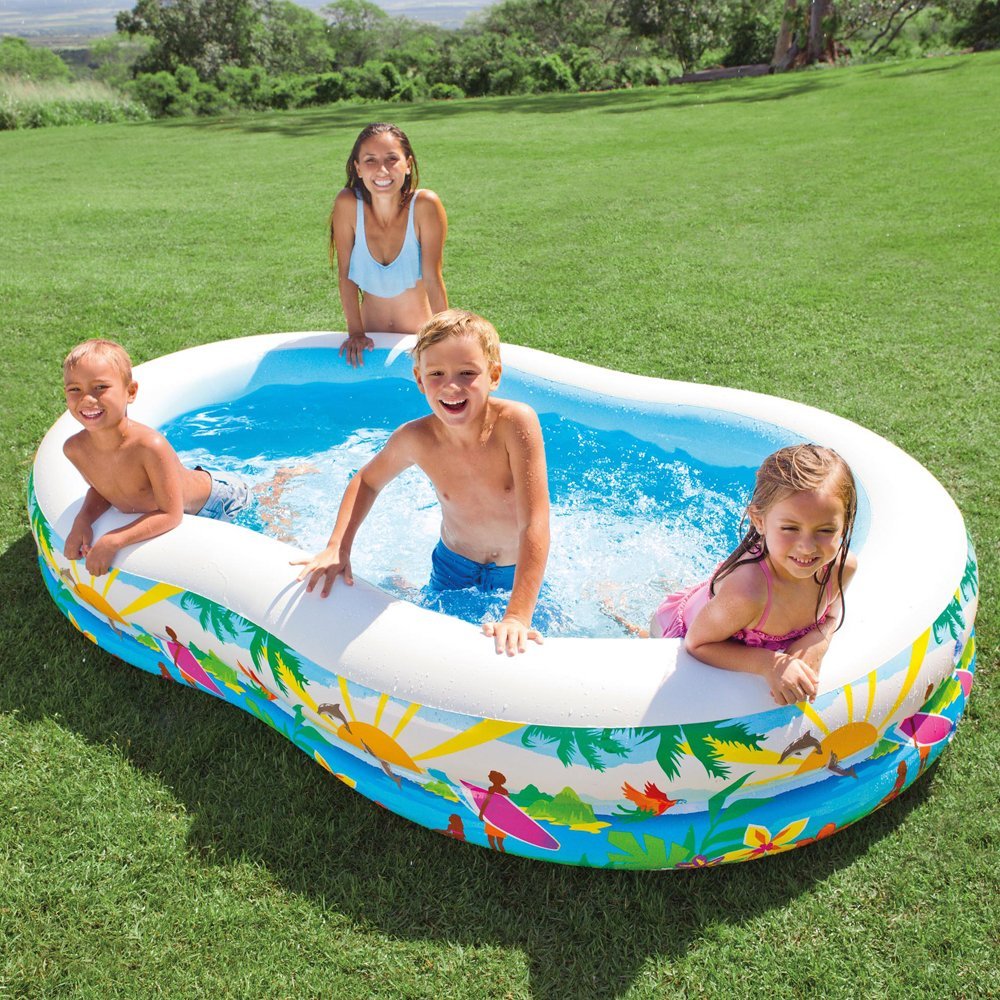 Occasionally heat from the sun will evaporate water from your pool. This is a natural process. You will need to occasionally add water to your pool to compensate for evaporation. Sometimes rain water will refill your pool water that was lost to evaporation. If your pool is overfilled from rain water, remove the excess water to prevent too much stress on your inflatable pool.
If the water level in your pool is constantly too low to use your pool properly, you will need to check and see if your pool has a leak. Unfortunately, with the materials used to make inflatable pools, punctures or defects in the seals can happen.
Related: Best Above Ground Pool
If the leak is not easy to see, use soap and water to find the leak in your pool. The area that produces bubbles is likely where you will find the leak. The air that is escaping from the pool produces excess soap bubbles. Thoroughly drain your pool and allow it to dry. Once dry, use a repair kit (should be included with your pool) to patch the tear in your inflatable pool. After following the repair kit instructions, fill your pool. Your pool should now hold water and only lose small amounts to evaporation or small spills when getting in and out of the pool.
Our Best Inflatable Pool Picks
Choosing a high-quality pool can save you time and money. There are many options when choosing the best inflatable pool. Purchase a pool that fits the number of people who plan to use the inflatable pool at once. As well as one that corresponds to the size of your yard. Budget may also be a concern as inflatable pools can vary greatly in price.
The following inflatable pools are all easy to maintain and fairly simple to store. Some of the pools have built-in-benches and slides while others offer more space and water capacity. The inflatable pools below offer different drain solutions and most have multiple chambers for inflating or deflating.
All pools will need to be installed on level ground. If you do not have a yard with level ground, you will need to use a shovel or some other tool to level the ground under your inflatable pool before you can spread out the pool and inflate it for the first time. If you are unsure of how to check to see if your ground is level, it is best to ask a professional to look at your yard before you set up and fill your large inflatable pool. Level ground is critical for the longevity of your pool. It will help your pool maintain its water capacity and keep it from developing a leak.
All of the inflatable pools listed below are priced at less than one-hundred dollars. There is an inflatable pool for every budget. Check out the specs of the below pools and choose the one that is right for you.
The Intex Easy Set 12' x 30" inflatable pool is super easy to assemble. Installation DVD included. The Intex is the perfect pool that the whole family can enjoy. This inflatable pool includes a 110-120 volt filter pump for easy maintenance and cleaning. The pump is easy to install, simply hook up the included hoses and enjoy clean water swim after swim.
Pool must be installed on level ground. After spreading out the pool evenly, simply inflate the top ring and fill the pool with water (whole process takes approximately ten minutes).
The pool is manufactured with super-tough laminated PVC sidewalls for durability. The included filter pump allows over five hundred gallons of water to cycle per hour. The Intex Easy Set includes a drain plug that connects easily to your garden hose in order for water to be drained away from your pool or house. This pool holds over fourteen hundred gallons of water or eighty percent capacity.
Price
$81.99
Product Dimensions
144 x 144 x 30 inches
Item Weight
28.8 pounds
Shipping Weight
33.5 pounds (View shipping rates and policies)
Manufacturer
Intex Recreation Corp L&G – Imports
ASIN
B00OX5BB6A
Item model number
28131EH
Buy Intex 12ft X 30in Easy Set Pool Set with Filter Pump
---
Need to add a little relaxation to your backyard this summer? Purchase the Intex Swim Center Family Lounge Pool for your whole family to cool off in. Adults or parents can sit on the built-in-bench while kids enjoy playing in the rest of the pool area. This adult inflatable pool is manufactured with two separate air chambers. Each has a combo valve to easily inflate and deflate each section. A drain plug is also included for quick water removal. Includes repair patch kit. The pool is thirty inches high and holds 169 gallons. Easy to manage and store. Intex Swim Center Family Lounge Pool is recommended for ages three plus.
Price
$49.89
Product Dimensions
88 x 85 x 30 inches
Item Weight
15 pounds
Shipping Weight
15.79 pounds
ASIN
B00OTJ5HZQ
Item model number
57190EP
Buy Intex Swim Center Family Lounge Pool
---
The Intex Swim Center Family Inflatable Pool is twenty-two inches deep and has a water capacity of 198 gallons. The rectangle size makes this pool comfortable to sit or just relax in. The best inflatable pool is designed with two air chambers that both have a double valve intake and free-flow exhaust valve. Recommended for ages six plus.
Price
$25.59
Product Dimensions
103 x 69 x 22 inches
Item Weight
6.6 pounds
Shipping Weight
11.07 pounds (View shipping rates and policies)
Manufacturer
Intex
ASIN
B000L8EEPS
Item model number
56483EP
Buy Intex Swim Center Family Inflatable Pool
---
The Intex Swim Center Family Inflatable Pool has a large area for sitting and lounging. It is easily one of the best inflatable pools. The 15-gauge vinyl walls of the pool have three air chambers for easy inflation and deflation. Each chamber has a double intake and free flow exhaust valve.
The pool holds 246 gallons of water. The side walls are extra wide allowing you to comfortably lounge in the pool longer. Plus, it makes the inside of the pool feel more spacious. The drain plug is included with this pool. Please note that this pool does not include a pump. Recommended for ages six plus.
Price
$29.99
Product Dimensions
120.1 x 72 x 22.1 inches
Item Weight
15 pounds
Shipping Weight
18.9 pounds (View shipping rates and policies)
ASIN
B000058TJ3
Item model number
58484NP
Buy Intex Swim Center Family Inflatable Pool
---
The Intex Swim Center Paradise Inflatable Pool is a large inflatable pool suitable for family use. The height of the pool is eighteen inches with a water capacity of 151 gallons. The inflatable pool has two air chambers with double valve intake and free-flow exhaust valve. Family friendly summer fun beach pattern printed on the sides of the pool. Includes repair patch.  Recommended for ages three plus.
Price
$27.95
Product Dimensions
103 x 63 x 18 inches
Item Weight
9.6 pounds
Shipping Weight
10 pounds
ASIN
B00003008E
Item model number
56490EP
Buy Intex Swim Center Paradise Inflatable Pool
---
The Giant Inflatable Kiddie Pool is a rectangular pool that is ten feet long and twenty inches high. This pool can hold up to 328 gallons of water. The wide side walls help the pool feel more spacious. The inflatable pool has three separate air chambers, each with a combo valve for easy inflation and deflation. This is a great adult inflatable pool, but it can also accommodate the whole family.
Recommended for ages six +
Drain plug included
Price
$49.95
Product Dimensions
120 x 72 x 20 inches
Item Weight
6 pounds
Shipping Weight
11.68 pounds (View shipping rates and policies)
ASIN
B009HUAHAM
Item model number
10291-2
Manufacturer recommended age
6 – 12 years
Buy Giant Inflatable Kiddie Pool
---
The H2OGO!™ Family Pool is perfect for home or a day at the beach. It includes an adult area with built-in-bench that is separated from the kid's area with a built-in-slide. Watch the kids play while you relax on your cozy padded seat.
The adult side also includes two cup holders. Now you can enjoy your adult inflatable pool as much as the kids do. The H2OGO!™ Family Pool is a functional, two-in-one pool with lots of room for summer fun. The inflatable pool is manufactured with sturdy pre-tested vinyl for longevity. An easy to release drain valve makes draining the water to maintain and store the pool a breeze. Two interlocking quick release valves are built in to deflate the pool with ease. Includes a heavy-duty repair patch.
Price
$62.99
Package Dimensions
16.5 x 15.5 x 9 inches
Item Weight
22.2 pounds
Shipping Weight
22.2 pounds (View shipping rates and policies)
Manufacturer
Unknown
ASIN
B07B7MFVD8
Buy Bestway H2OGO! Two-In-One Wide Inflatable Family Outdoor Pool
---
The Best Inflatable Pool is Clean: how to clean your adult inflatable pool
 Cleaning your inflatable pool will help improve longevity and general hygiene. There are several steps to keeping your pool clean. The steps are simple but all essential in maintaining a safe environment for swimming.
 Wash Off Before Swimming
 To prevent any germs including bodily fluids from entering the pool, it is essential to wash off before swimming in your inflatable pool. Simply hopping in the shower for a few minutes or washing off with an outdoor shower or garden hose will do. If illness is present it is best to stay out of the pool to prevent the spread of cold and flu. Any small children that are invited to swim should always have a fresh swim diaper on hand.
If you place your inflatable pool in a grassy area where grass clippings are present, place a small foot bath next to your pool. Before entering the pool, wash off any grass or debris off of your feet and legs. This will help keep your pool cleaner and reduce the amount of time you spend cleaning your pool.
However, simply washing off your body before entering the pool is not enough. You will need to use chemicals such as chlorine to keep the water clear and free of bacteria. The heat and humidity can cause algae to grow on your inflatable pool. Keeping the pool free of bacteria is a must for keeping out disease and for the overall longevity of your pool.
Chlorine Dispenser for Best Inflatable Pool
 A chlorine dispenser is a must for keeping your inflatable pool clean and sanitized. The dispenser is usually a basket that has a closable lid and tiny holes on the sides and/or bottom of the basket.
Simply fill the basket with a chlorine tablet (or more depending on the size of your pool) and float the basket in the pool. The holes in the basket distribute the chlorine tablets evenly in the pool using the pool's own water. Once the basket is empty, add more bleach tablets to continue sanitizing the inflatable pool.
When you are ready to swim, remove the basket from the pool so that you will not come in direct contact with the bleach tablets. When you are done swimming, you can put the chlorine dispenser basket back in the water to continue distributing the chlorine. The pool will be sanitized when you are ready to take the next relaxing swim.
If you pool is hazy, you will need to add more chlorine to clear it up. A proper concentration of chlorine is 1.5 to 3.5 parts per million. The odor of chlorine that you frequently smell when you get near a pool is actually gas as the chlorine kills organisms that can cause pool water issues and the spread of disease. You will need 2 lbs. of chlorine for every 10,000 to 12,000 gallons of pool water.
If you are still having water issues, you may need to take more aggressive measures. You may need to look into filters that would help your pool circulate the chlorine. If you still experience cloudiness or algae buildup you will need to drain your pool and clean and sanitize before refilling your pool with fresh water.
PH Test for Best Inflatable Pool
 A pH test kit can be purchased at your favorite pool supply store. Using the water from your pool, you can quickly see if the water is the correct ph. It is important that your pool water is pH balanced to keep your water clear and clean.
It is important to test a sample of your pool water once a week. Several factors can change the acidity of pool water including chemicals, weather and how often you use your inflatable pool. There are several things you can test your pool water for but the main factors to focus on are pH, alkalinity and free chlorine.
To test the water in your pool, you will need to use a small, clean cup. Dip the cup elbow-deep in your pool water open side down, then invert the cup and bring to the surface. It is best to collect the water from the middle of your pool for the most accurate results. If your pool is too large to properly collect the water this way, just make sure you are not close to any filters or skimmers when collecting your water sample.
Once you have your water sample, you will need to purchase either test strips or a liquid test kit. Using test strips is the best way to check your pool water. It eliminates human error and only takes fifteen seconds to see results. Simply dip the test strip into your water sample (make sure your hands are clean and dry) and match up the colors on the test strips to see if you need to add additional chemicals. Only purchase enough test strips to get you through one season to maintain accurate results. Expired test strips can alter the results of your testing and may lead you to buy chemicals you do not need.
When using a liquid test kit, you will need to add your water sample to the test kit cylinders. Using the included drops, follow the test kit instructions to test for pH and chlorine levels. The liquid test kit should have the color levels right next to the water sample cylinders so you can easily see what your pH and chlorine levels are. Be careful that you add exactly the amount of chemical drops your kit instructs or your results could be off.
If you have issues seeing shades of colors or prefer to have a number reading when testing your pool water, consider purchasing an electric pH test kit. Keep the electric tester out of sun and heat and occasionally recalibrate the unit to keep it accurate. The downside to the electric tester is that it runs on batteries but it is a great option if you have problems reading test strips or just prefer the digital accuracy.
If you have any questions or prefer not to purchase test strips, liquid or electric test kit, you can also take your pool sample in a container with a lid to a local pool store. It is recommended to take a sample to your local store at least once a month to maintain a well-balanced pool. You will want to take a sample when opening and closing your pool as well to save money on maintenance and to make sure you purchase the right chemicals.
Skimmer Net for Best Inflatable Pool
 A skimmer net is a great tool for removing leaves, insects and debris from your pool. Attaching the skimmer net to a telescoping pole allows you to use the net outside of your pool or reach areas that may be difficult to get to using only the reach of your arms. Depending on what trees, plants and grasses you have around your pool, the wind and rain can cause pieces of these various forms of nature to enter your inflatable pool.
There are two types of skimmer nets, a flat skimmer net and a bag skimmer net. A flat skimmer net is recommended since it is easier to empty when wet. A bag skimmer net collects more debris than the flat skimmer net but can be difficult to clean thoroughly when wet. It is important to purchase a heavy-duty skimmer net. Cheap plastic skimmer nets can break easily and you will be constantly replacing this tool. Stick with a slightly more expensive heavy-duty option that will last you year after year.
Before getting in the pool, check the pool for debris. Remove large debris with your hands. Use the skimmer net to remove smaller debris that is floating on the surface of the pool water. Simply tap the skimmer handle on the edge of the pool, the ground near the pool or a nearby deck to remove debris. Then place the skimmer net back in the pool to remove additional debris. Allow the skimmer net to thoroughly dry after each use to completely remove all debris from the net.
You should skim the pool daily to remove surface debris so it does not sink to the bottom. Taking the time to skim will save you time vacuuming the pool floor.
Pool Vacuum for Best Inflatable Pool
 A pool vacuum can be handy for clearing the debris from the bottom of the pool, or debris that is too difficult to reach with a skimmer net. A pool vacuum can catch very small dirt and debris similar to a vacuum for carpet.
A pool vacuum consists of your telescoping pole and pool brush. Using the right pool brush for your inflatable pool is critical. When cleaning a vinyl pool, you must use a pool brush that has nylon bristles only. If you use a pool brush that has stainless steel bristles, you will puncture the inflatable pool and it will no longer be usable. Choose a heavy-duty pool brush that has well attached bristles. Over time the pool brush will break down from the elements and chemicals that you use to keep your pool clean. Purchasing a heavy-duty brush will ensure that you can properly clean your pool and you won't leave broken nylon bristles everywhere.
Related: Best Pool Cleaner
It is recommended that you brush your pool at least twice a week. Brushing removes large debris while small debris is whisked into the water and can be sanitized by pool chemicals, filters and drains.
Brushing your pool takes time but it is worth the effort. Brushing the top, sides and bottom of the pool keep your inflatable pool from growing dangerous bacteria that can cause illness and require additional chemicals to maintain. It is important to brush all areas of the pool, even hard to reach areas to kill all the algae that forms from body oils and humidity. To cut down on the time it takes to brush, consider investing in a quality pool cover.
Pool Cover for Best Inflatable Pool
Keep your pool from being attacked by the elements with a sturdy pool cover. Your inflatable pool is susceptible to becoming a haven for mosquitoes and other insects. A pool cover can also help keep large debris out of your inflatable pool. Pool covers can break down easily in the hot summer sun. Purchase a quality pool cover that will last you through several seasons.
Related: Best Solar Pool Cover
Summer heat can cause your pool water to start to disappear. A pool cover slows down or stops evaporation. The water in your pool will naturally evaporate due to the sun and heat. Using a pool cover can also help decrease the need for lots of chemicals to keep it clean. Using a pool cover can reduce a pool's chemical consumption by 35 to 60 percent.
Who wants to swim in a chilly pool? A cover for your inflatable pool can also help maintain pool temperature. Even in the summer the temperature drops significantly at night. Covering a pool in the evening before bed with a solar cover or vinyl tarp will kept the heat until you are ready to lounge or swim the next day. The cover does not have to be expensive or specifically made for your pool. As long as the cover is big enough to spread over the entire top surface of the pool it will help the inflatable pool maintain its temperature. Diligently covering your pool when not in use will save you money in time (cleaning), chemicals and energy costs.
Safety is a growing concern with backyard pools. Children can easily fall or crawl into pools and face dire consequences. By covering your pool, you can detract children and non-swimmers from entering the pool while you are not present. Keep in mind that if you cover is not anchored down it will not keep someone from falling through the cover into the pool. However, simply covering the top of the pool can keep curious children from wandering in the pool unattended.
If your inflatable pool did not come with a cover, you can use a thick tarp to cover the pool. Weights such as gallon water bottles or bricks can be added to keep your tarp in place. If the tarp is large enough, simply tuck the tarp edges underneath the pool so it will stay in place when wind is present or any storms may arise. If large debris or a lot of leaves are gathering on your cover or tarp, wait until the debris is dry and use a leaf blower to remove the built-up debris. The cover will stay cleaner and easier to lift from the top of the pool with large debris removed.
Now that you have learned how to properly inflate and care for your inflatable pool, you can spend more time outside enjoying your investment.
Conclusion
Choosing the best inflatable pool is all about preference. Do you need a pool with a built-in filter or pump? Do you need an adult inflatable pool or is it more for the kids. Even the shape of your yard can dictate the size of pool you purchase.
Keep in mind the larger the pool you purchase the more time and money it will take to maintain it. A large pool is more expensive, takes longer to inflate or deflate and requires more water to fill. A larger pool will also gather more debris and require more chemicals to maintain. However a large inflatable pool is great for families that need the extra space to spread out. Large inflatable pools are also good for people who have a decent size back yard and an area away from the pool and house to drain the pool when it needs cleaned or put away for the season. You will need a decent size area to store your large inflatable pool if you live in a climate that the pool cannot be left outside year round.
If you choose a smaller pool, the cost will be significantly less. It will take less water, less time to inflate or deflate and be easier to clean and maintain. However, if you are a tall person or have a large family, a small inflatable pool is not a good option. Choose a small inflatable pool if you only have a few people who will be using the pool on a regular basis. It is also good for small yards and for those who do not have access to an outside water supply. Small inflatable pools are easy to store and if properly cared for are more likely to last multiple seasons. Small pools still need to be maintained and cleaned for proper usage.
Buying one of the best inflatable pools on this list offers a great retreat from the summer heat. Choose an inflatable pool that meets your needs and budget. Take care of your investment and you will be lounging in style and comfort for years to come.