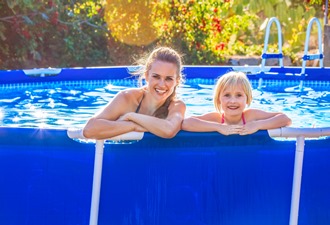 Well, the summer is just around the corner so you'd better start thinking about what you're going to do on those unbearable hot days and nights.
Going to the seaside on a vacation is great, but not all people want that or can afford. Besides, that's only a short-term solution.
A long-term solution would be not to let the heat spoil your summer spirit and buy the best above ground pool in 2018.
Now, that's a sure way to turning this summer into one of the bests. Especially if you have kids and many friends who would gladly try your new above ground pool.
We know that you already like this idea of cooling off whenever you want and best of all, AT THE COMFORT OF YOUR HOME.
But, wait 'til you read our above ground pool reviews and buyer's guide. Because, after all, preparation is the key to happy shopping (and in this case, swimming).
Best above ground pool reviews
We present you 10 best above ground pools 2018, so be our guest and take a look.
Intex 15′ x 48″ Metal Frame Pool Set
Here it is the best above ground pool in our opinion. The Intex Metal Frame Pool is a real deal, as it comes with a filter pump, ground cloth, ladder and pool cover. Besides, it's inexpensive.
Laminated sidewalls are strong thanks to a special band and metal frame legs. With such a sturdy design, this pool is sure to stay in place and keep its shape throughout the summer.
Measuring 15 ft x 48 inches, the pool is great for the whole family! Your kids will be in every day, and we're sure that you won't resist this pool as well. And why would you – it's made for fun! So, jump in and play with your kiddos. This summer is going to be memorable!
The setup is a breeze, and you can do it by yourself in a few hours (or in 45 minutes if you're very handy). However, keep in mind that this pool requires leveling the ground first.
As for the setup, you get a DVD with the instructions, so don't forget to watch it first.
The accessories are of a good quality and just what your pool needs.
The filter pump has a Krystal clear cartridge and will help keep the pool clean and safe for swimming.
And when the season is over, you will be thankful for a drain plug that attaches to a garden hose so as to safely drain the water from the pool.
Bottom Line
The Intex 15 ft X 48 in Metal Frame Pool Set is a great choice for having a memorable summer with your loved ones at the fraction of a cost.
Pros

Cons

Cheap
Sturdy
Reliable
Strong walls
Easy setup
You get a ladder, filter pump, ground cloth and a pool cover
The ground needs to be leveled out first
Buy Intex 15′ x 48″ Metal Frame Pool Set
---
Intex 18′ x 48″ Metal Frame Pool Set

– Best rated above ground pool
Here we have a slightly bigger model than the Intex we've just reviewed.
18 feet and 48 inches make this pool spacious and great for inviting your friends and colleagues over to your place. You can have a fun time together, and cool off in the pool whenever you want.
This model is designed in the same way as the number one, with tough sidewalls and band. The robust frame ensures the pool stays in place.
The installation is also simple though it takes minimum an hour. To speed up the setup and make sure everything is installed properly, simply follow the tips on instructional DVD.
You get the Krystal clear cartridge filter pump, ladder, and drain plug making the pool reasonably priced.
However, the pump is weak and you might want to buy a more powerful one.
Bottom Line
This model is slightly bigger than the Intex 15ft X 48in Metal Frame Pool Set. But, other than that, this pool offers same features as the first one. With a robust frame, tough sidewalls, and additional items, this pool is a good buy.
Pros

Cons

Accommodates 8 or more people
Sturdy
Easy to install
The pump cannot filter the water properly
Buy Intex 18′ x 48″ Metal Frame Pool Set
---
Intex 24′ x 12′ x 52″ Ultra Frame – Best rectangular above ground pool
The Intex Ultra Frame Pool is among the best rectangular above ground pools in our opinion. It's because this model is as good as it's advertised.
Firstly, you'll appreciate the high-quality of the frame, as you will know that the pool is strong enough to support you and your family throughout the summer. Thanks to the innovative frame design, the frame is durable, reliable, rust resistant, and beautiful. On top of all, the Easy lock system makes installation a breeze. The frame parts will snap together in second, and no additional tools are needed.
Because of that, the installation is very straightforward and will take you about 1 – 1 and half hours.
The next thing you'll love about the pool is its shape. The rectangular shape is great for playing games with your family.
You even get a volleyball set with this pool, so you can have a fun time with your loved ones as soon as you set up the pool.
In addition, a water pump, ladder, debris cover, ground cloth, and deluxe pool maintenance kit are included.
Finally, the pool comes with new dual suction outlet fittings to enhance the water quality and keep the hygiene on a high level.
However, the major "problem" with this pool is the sand filter. You have to backwash it often, and constantly test the water quality since the pool has a saltwater system.
Bottom Line
The Intex Rectangular Pool is the best above ground pool for those looking for a high-quality pool construction, plenty of space and simple installation.
Pros

Cons

Rectangular shape gives you more space for playing
Saltwater system
Strong and durable construction
Pump, ladder, debris cover, volleyball set, deluxe pool maintenance kit and ground cloth are included
The sand filter is a bit more complicated than a regular one and you need to take care of it regularly
Buy Intex 24′ x 12′ x 52″ Rectangular Pool
---
Intex 18′ x 48″ Easy Set Pool Set
It's hard to please everyone. However, it seems that Intex is succeeding in that.
Here we have the last Intex model on our list – the Intex Easy Set Pool Set. As the name says, this pool has all you need for a piece of heaven in your backyard and is simple to install.
Just like other Intex above ground pools, this one is also created with simplicity in mind. It comes with a filter pump, ladder, debris cover and ground cloth, being a great choice for those looking for a pool set.
The pool has to be installed on a level ground, so preparation is necessary. Other than that, the installation is fairly simple and takes about 30 minutes. Though having some help could make the setup easier.
The pool has strong sidewalls, and a top ring, making it reliable. Thanks to its dimensions, the pool is great for kids and adults.
It comes with new dual suction outlet fittings so the water circulation is improved, and the pool will stay clean for longer.
Bottom Line
The Intex Easy Set Pool Set is the best above ground pool when it comes to fast installation, cheap price, and good quality. If you want a fun for the whole family, this is the way to go.
Pros

Cons

The setup takes about 30 minutes
Perfect for adults and kids
Comes with a filter pump, ladder, debris cover and ground cloth
Cheap
Has to be installed on a level ground
You have to clean the water pump regularly
Buy Intex 18′ x 48″ Easy Set Pool Set
---
SUMMER WAVES Elite 16′ x 48″ Frame Pool
The SUMMER WAVES Elite Frame Pool is another option for having a blast with your friends and family. Or to just relax on your own and appreciate life. Here are the features of this pool.
Firstly, we love the metal frame. It's rust resistant and will stand the threats of time.
Then, the walls are made of heavy gauge PVC material and triple layer polyester mesh.
The next great thing is the spaciousness of the pool. The Elite pool can comfortably accommodate about 10 people, which means you're going to have a crazy time this summer!
Moreover, the pool looks beautiful with neutral colors and mosaic tiles.
The last thing we find impressive about this model is the complete accessory kit.
As the name implies, the kit contains all you need for a clean and healthy pool. A filter pump, skimmer, pool cover, ground cloth, ladder and deluxe maintenance kit.
A slight concern is that you should call 1-2 people to help you with the installation. Otherwise, you might spend your whole day trying to set up the pool.
Bottom Line
The SUMMER WAVES Elite is the best above ground pool for those looking for a pool that can accommodate a bunch of people. The pool has a very strong frame and looks cool thanks to its eye-catching design.
Pros

Cons

The metal frame is sturdy and rust resistant
Walls are made from heavy-duty materials ensuring reliability and resistance
You get a complete accessory kit
Beautiful design matches any environment
You should call friends to help you with the setup
Buy SUMMER WAVES Elite 16′ x 48″ Frame Pool
---
Summer Waves Elite Wicker Print 22′ x 52″ Above Ground Frame Pool Set
We admit that there aren't many above ground pools that look gorgeous and modern. However, SUMMER WAVES pools look just like that.
This model is one-of-a-kind! Without a doubt, it will upgrade the look of your backyard.
Just like the previous model, this one is made to resist the elements and the water pressure while providing you with a high-level safety.
The metal frame set leaves nothing to chance so no need to wonder about its durability. The pool is also strengthened with the band for additional safety. Thanks to the tough frame, the pool won't bend over time.
While this pool has similar design and features as the one we've just talked about, it's much larger. Of course, this means it's more expensive.
However, its stylish look and good quality won't let you down.
Speaking of letting you down, there are two things that you probably won't like about it.
First, the pump should be more powerful since the pool is pretty big. Second, you won't like the ladder. It is too narrow, which makes it awkward to use.
Bottom Line
All in all, this is one beautifully designed and unique pool that also offers durability, safety, and a great time!
Pros

Cons

Looks amazing
Great quality
Comes with additional accessories
Durable
Stands up to the elements
The pump isn't as powerful
The ladder is narrow
Buy Summer Waves Elite 22′ x 52″ Pool Set
---
SUMMER WAVES 12′ x 36″ Quick Set Pool
If you love the fresh look of the Summer Waves pool we just went over but want something smaller, this is it.
With 12′ x 36″ dimensions, this pool is perfect for quick cooling off on hot summer days and nights.
This is a quick set pool which means that everything about it is simple. The pool features a top ring, and that's actually the only thing that requires effort on your part. You need to inflate the top ring and fill the pool.
Connect the filter pump (included) and add essential chemicals and you're good to go.
The triple layer PVC and polyester inner mesh sidewalls are durable and are also easy on the eyes.
The pool is available in two colors and is also affordable.
However, note that this pool will last only for two-three seasons.
Bottom Line
This model by SUMMER WAVES will give you the luxury of cooling off whenever you want, at a very low price. The modern design looks great and the setup is a piece of cake. This is the best cheap pool for those looking for a decent above ground pool.
Pros

Cons

Cheap
Smaller
Great for cooling off on your own
Quick set pool – easy to install
Available in two colors
The design is easy on the eyes
Lasts 2-3 seasons
Buy SUMMER WAVES 12′ x 36″ Quick Set Pool
---
Heritage 30′ x 15′ x 52″ Taos Complete Above Ground Pool
The Heritage TA 301552GP-DXP Taos is the best versatile above ground pool on our list. It's spacious enough for swimming if you want a pool for that.
On the other hand, if you have a big family, this pool could be just what you need for turning every day into adventure and fun!
Then again, the pool is also great if you love making parties. You can turn up the music and show your dance skills to your friends.
Apart from its versatility, the Heritage pool is made of strong galvanized steel ledge. The frame is reinforced and extremely durable, giving you safety. With a 25-year warranty on pool frame, you'll also won't have to worry about durability.
The thing we like about this pool is that it doesn't have to be removed in the winter. Instead, just winterize it and it will be fine.
Moreover, the pool looks nice due to a swirl print bottom and vinyl overlap liner. It comes with a sand filter and motor with twist lock plug.
You also get a ladder but note that it feels weak so you might want to buy a new ladder.
As for the installation, it requires much time, effort and many people, due to its size.
Bottom Line
All in all, this is the best above ground pool when it comes to versatility. Whether you want to swim, throw a party, or just play with your kids, this pool can give you all.
Pros

Cons

Versatile
Spacious
Sturdy
Durable
25-year warranty on the frame
Can be left outside during winter
Ladder feels weak
The installation is a real hassle due to the size of the pool
Buy Heritage 30′ x 15′ x 52″ Taos Complete Pool
---
Bestway 118″ x 79″ x 26″ Deluxe Kids Pool – Best kiddie pool
Is there anything better for a kid than going to grandparents and swimming in their pool?
We don't think so! No one can make our childhood more interesting and fun than grandpa and grandma.
If your grandchildren are old enough to have a pool, surprise them with the best above ground pool for kids – the Bestway Deluxe.
The Bestway Pool has all a kid needs to play and swim while being perfectly safe.
The pool holds only 872 gallons of water and it isn't high. Moreover, there's no top ring which is great for kids.
Your grandchildren will have a load of fun in this pool and will love coming over to your place even more.
The pool sets up quickly and is easy to take down.
However, you get what you pay for. While the walls are of a decent quality, don't expect this pool to be very durable, especially if the kids are too young.
Bottom Line
The Bestway Deluxe Kids Pool is the best choice for letting your grandchildren have a fun while staying completely safe. The pool is affordable but doesn't last long.
Pros

Cons

Great for kids
Safe
Easy to set up and take down
No top ring
It isn't high
Affordable
Usually lasts for one season only
Buy Bestway 118″ x 79″ x 26″ Deluxe Kids Pool
---
Blue Wave NB2615 Martinique 27′ x 52″ Steel Pool
The Martinique Steel Pool speaks top-notch quality. The pool is designed in a special way, making it one of the most durable above ground pool on the market.
The rugged construction consists of 7 inches uprights and posts to ensure a strong frame. Resin seat caps add to that sturdiness and they also look attractive. The wall is coated so it will stand the elements and won't rust.
What makes this model stand out from its competitions is precision.
Namely, each piece of the frame is tailored to this particular pool. So, there aren't universal parts that can cause troubles during installation because they don't fit the pool's construction.
This precision also contributes to durability and strength of the pool, since nothing is left to chance.
There are holes for a skimmer, seam, and outlet to help you with assembly.
And on top of all, Martinique looks very charming. Thanks to its rich yet simple design and swirl pattern, the pool brings a modern look to any backyard.
The downsides are that the pool is expensive and the installation is complicated. Consider inviting friends to help you out, or even better, call a professional.
Bottom Line
Our last product is the most durable on our list. However, its hefty price tag may be too much for most people. Still, if you opt for this one, you'll enjoy swimming in it for years to come.
Pros

Cons

Rugged and durable construction
Every piece is precision engineered
No sharp edges
Designed to perfection
The wall is coated so it won't rust
Resin seat covers and swirl pattern gives the pool a modern and simple look
Expensive
Installation is complicated
Buy Blue Wave 27′ x 52″ Martinique Steel Pool
---
To wrap it up
Isn't choosing the best above ground pool fun? For serious now, we hope that this article answered all of your questions regarding the purchase of an above ground pool.
And if you now know what you want, our 10 options will help you out for sure.
Happy summer!
Above ground pool buying guide
While an above ground pool is much cheaper than an in-ground pool that doesn't mean it's actually cheap. Investing in a good above ground pool is big.
Accordingly, you need to learn what matters most when choosing an above ground pool.
Otherwise, you may buy a wrong pool and completely ruin your whole summer because you will neither have money to buy another one nor will you have the place to cool off.
Here are the things you want to consider when choosing the best above ground pool.
1. Size
How big or small your above ground pool should be?
To answer this question, it's good to think about how many people will be using it. You alone? You and your family? Or you, your family, and your friends?
Whatever the answer may be, make sure to buy the pool that will fit your (and your loved ones) needs.
2. Shape
Another thing related to the size is the shape of a pool. There are round, oval, rectangular and square pools.
If you plan to swim for fun, do some aerobic or play with your kiddos, you can choose any shape as long as it fits the location.
However, if you want to dedicate to lap swimming, choose a rectangular above ground pool.
3. Location
You also need to determine where you will install the pool before you decide on its size and shape?
When you find the area, measure it, and include at least three feet between the swimming pool and other items, and fencing.
The area where the pool will be has to be relatively flat (don't worry, you can level it out).
NOTE: You don't want your pool anywhere close to potentially dangerous areas such as dry wells, gas lines, power lines, etc.
4. Convenience
Do you want a pool that can withstand the freezing temperatures and stay installed during the winter? This is surely very convenient because you won't have to set up the pool every summer.
However, perhaps you just want a pool in your yard in the summer and after that, you want to keep it out of your sight?
That's just one more thing to think about.
5. Types of above ground pools
There are many types of these pools, and deciding which one to buy has got to do a lot with your budget.
Here are the different types of above ground pools.
Inflatable
We all have heard about Intex or Bestway Pools. That's because these are the best inflatable above ground pools in terms of quality and price.
Inflatable pools cost less than other types, yet they offer a good quality and, of cruse, are reliable. These pools can last for a few seasons if taken good care of.
Also, installation is a breeze because, in most cases, you don't need to prepare the ground.
However, they have to be removed at the end of the summer season as they aren't designed for low temperatures.
Aluminum or stainless steel
Aluminum or stainless steel above ground pools have sturdy walls and are very durable. They can last for 15-20 years and they shouldn't rust or collapse.
In addition, these pools are worth every penny and will give you peace of mind for summers to come.
However, they are much more expensive than inflatable pools.
Resin
If you're looking for the best above ground pool, a resin pool is just what you need.
The resin is sturdy and non-corroding material that is covered with the UV protection coating.
This type of a pool offers exceptional weather resistance and is the most durable above ground pool. This one also isn't cheap.
6. Brand
Now that we've talked about different types, you should know this.
Whichever one you choose, make sure to go with a branded model. Sure, it will cost more but it will pay off in the long run, especially if you encounter some problem with the pool.
7. Sturdiness
The next thing is to buy a strong pool. The walls need to be solid enough to bear the pressure when the pool is filled with water.
The pool shouldn't sag or lose its shape.
You also don't want to buy some cheap above ground pool that will leak every now and then.
Because if you do, you'll spend way too much money on patching up those holes and refilling the pool all over again. Not to mention that this isn't the best way to "have an exciting and fun summer".
8. Safety
Your pool needs to be safe – end of the story. This means that the ladder and the construction of the pool should be sturdy.
This is even more important if you have kids. In that case, look for the one that is specifically designed for kids.
Other than that, always check how high or low the water level can be and for how old kids the pool is made for.
9. What do you get?
A long time ago, buying an above ground pool was very expensive, as you had to buy essential parts separately.
But, today, things have changed for better. You can now buy a pool set that includes a water pump, and ladder – at a reasonable price.
However, the best-value-for-the-money above ground pools also come with additional items you will need. For example, a skimmer, and initial chemicals for setup.
Some pools include a cover as well. If your pool doesn't include it, then it might not be a bad idea to get one right away. You will need it for rainy days anyway.
10. Installation
Unfortunately, many people overlook this part. But, the truth is, you want to know what you're dealing with from the start. Don't forget to check how complicated or easy installation of your pool would be.
For example, an inflatable pool is simple to install and you can it that on your own.
On the other hand, some above ground pools are very complicated and time-consuming to install, hence you might need to call a professional.
11. Budget
How much you want to spend on an above ground pool?
Cheap above ground pools cost as little as $150, while high-end models can go up to $3000.
There are many options, but it's important that you make a smart decision and buy the best above ground pool for your needs.