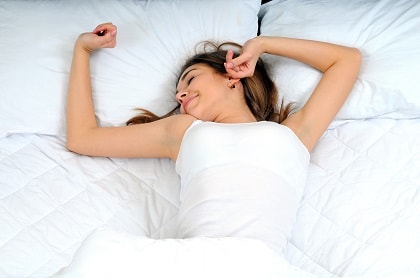 Is it time to say a goodbye to that mattress of yours?
Well, if it has lost its shape, is older than 8 years, or you cannot recognize it anymore because it looks that bad – the answer is a thousand times YES.
Even though we sleep on our mattresses every night that doesn't mean we know much about them.
What about you?
Do you know what types of mattresses there are?
Which one is the most comfortable mattress?
We know – you've never thought about that before. But, that's why we're here.
If you're going to buy a new mattress, you should do it right.
Of course, choosing a mattress is a personal task. What may work for you, may feel uncomfortable for others.
Therefore, learning about all the types of mattresses you can come across is the foundation for a better sleep. In this article, we have listed different types of mattresses to help you extend your knowledge on this so personal topic.
The Types of Mattresses
1. Innerspring Mattresses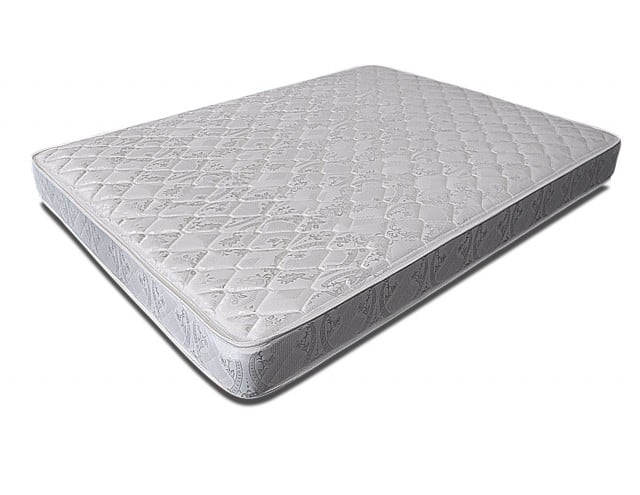 While some of us think about this mattress as uncomfortable, and out-of-date, we assure you that a high-quality innerspring mattress is on a par with more modern mattresses. In fact, the innerspring mattress was and still is the most popular choice due to constant improvements in its construction and design (and its price).
This mattress is firmer than a memory foam one and doesn't conform to our body. However, it does provide nice support and comfort. Well, at least it does in the first 5-7 years of using.
After years of use, the coils in the mattress start to bend which means less comfort and less even support for you. This is the biggest con of this mattress.
But, the next advantage of this mattress is its affordability. Thanks to a low price, this mattress is still the most popular choice for families around the world.
Then, again, you'll probably spend more than you would if you opted for a more expensive mattress in the first place.
We understand that buying mattresses for the whole family is a big investment. But, if you can afford it, go with a better mattress.
Now, there are different innerspring mattresses, and each type is actually defined by the type of coils. So, we have four types of coils – continuous, bonnell, offset, and pocketed coil. Check this article to learn the differences between these types.
What We Like:
Affordable
Somewhat comfy and supportive
Firm but bouncy
What We Didn't Like:
The coils bend over time creating unequal support for your body
Becomes less comfy in time
2. Memory Foam Mattresses (or Visco Elastic foam)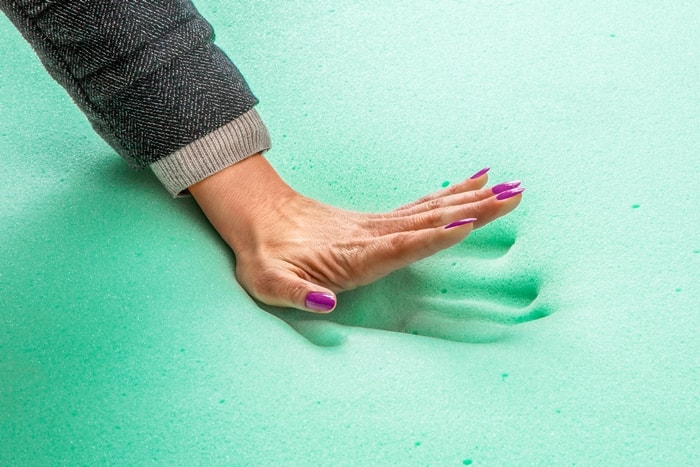 We all have heard about this mattress, whether from a friend who bought it or on the commercial. It seems like everybody's talking about this type of a mattress, swearing that they will never switch to some other type. But the question is: Why is a memory foam mattress so popular?
It's so popular because it greatly reduces pressure on our body. It keeps our body in a neutral position, following its curves. Plus, a memory foam mattress hugs our body like no other mattress can. Thanks to its unique design, the mattress gives support and comfort our body longs for.
In addition, this mattress is known for reducing dust mites, allergens and other irritants, being great for sensitive kids and adults. And it's also great for couples since memory foam eliminates motion transfer. This means that your partner will sleep like a baby, even if you toss and turn all night (or if it's the other way around).
However, no mattress is ideal. The biggest disadvantage of this mattress is that it traps the heat from our body. That's why some manufacturers came up with an idea to infuse cool gel into memory foam and minimize this problem.
Some manufacturers also went one step further and designed a plant-based memory foam mattress.
To stop confusing you, there are four types of memory foam mattresses – traditional, plant-based, gel, and open-cell memory foam mattress. Some offer better features but are more expensive. As always, it's up to you to set your priorities and choose what you need. Read our memory foam mattress reviews to learn more about these types of mattresses.
What We Like:
Relieves pressure points
Provides great support
Extremely comfortable
Keeps body in a neutral position
Reduces neck and back pain
Reduces irritants, allergens and dust mites
Eliminates motion transfer
Sinking sensation
What We Didn't Like:
Some models are expensive
Traps body heat
Hard to move
3. Gel Mattresses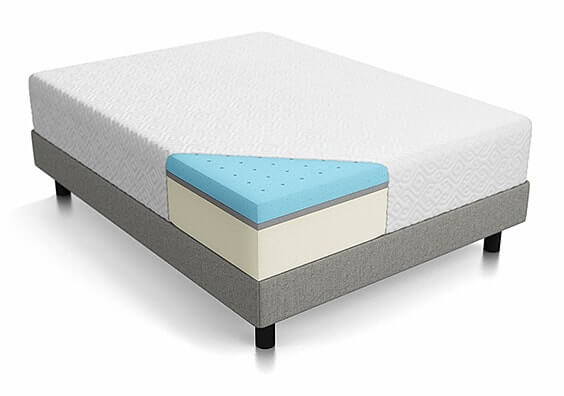 When we say a gel mattress, the first thing that comes to our mind is memory foam infused with gel caps. But, obviously, not all gel mattresses are the same.
Some memory foam mattresses have gel only in the top layer, so as to regulate the body temperature. And some mattresses are completely infused with gel to regulate the temperature of your body and keep the cool feel throughout the night.
Either way, gel mattresses are comfortable and supportive as they are made of different layers of foam. They also eliminate pressure points.
But, naturally, these are more expensive than those made of memory foam.
What We Like:
Comfortable
Supportive
Regulates the body's temperature
Some models stay cool for the whole night
What We Didn't Like:
More expensive than memory foam mattresses
4. Latex Mattresses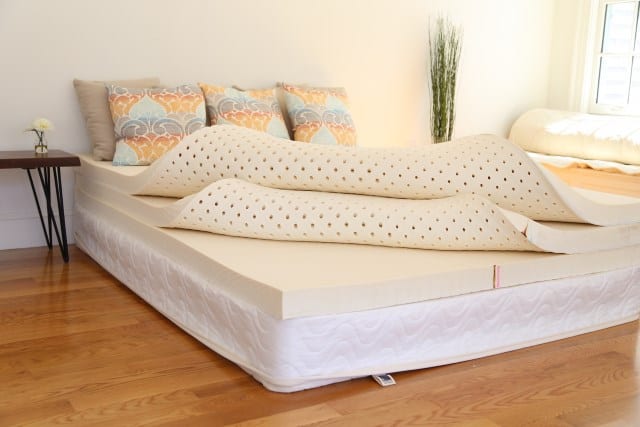 A latex mattress outperforms a memory foam mattress, being the most comfortable mattress on the market (at least that's what statistics say).
A latex mattress is made from the sap of the rubber tree and is all-natural. Of course, this means no allergens, dust mites, and irritants. The mattress also has minimum off-gassing and is a great choice for those worried about their mattress containing harmful ingredients.
Compared to other mattresses (excluding natural fibers mattresses), this one offers much more breathability. Because of that, it's great at dispersing heat.
Latex mattress offers a great support, and relieves pressure on shoulders, back, hips, and feet, just like memory foam. But, unlike memory foam, a latex mattress is more resilient. So, if you like a firmer support, this is the way to go.
Some mattresses can also rotate to further adjust the comfort to your needs.
This mattress is much more expensive than innerspring and memory foam mattresses.
What We Like:
Resilient support
Firmer than a memory foam mattress
Comfortable
Breathable
Great at dispersing heat
Eco-friendly
Minimum off-gassing
No allergens and irritants
Durable
5. Natural Fiber Mattresses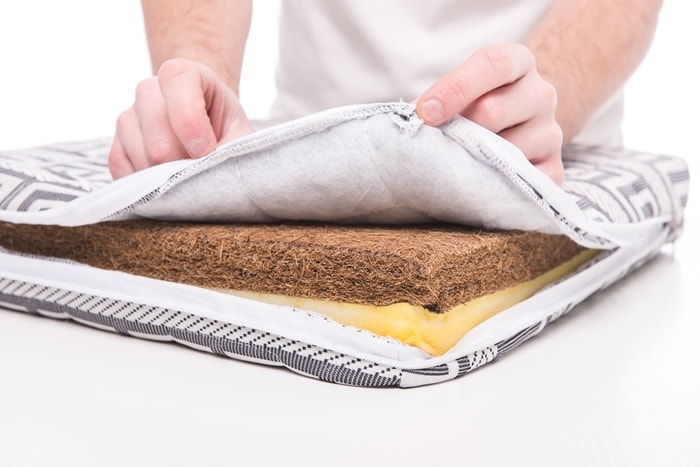 Here's one more option for those who actually do something when it comes to taking care of our planet (rather than just talk about it).
This is actually, the best option for an eco-friendly mattress. The mattress made of natural fibers offers the unparalleled quality and performance. It's responsive, comfortable, breathable, and durable. And of course, it's very expensive.
Natural fibers can practically be divided into two categories – plant and animal fibers. Horsehair, horsetail, cattle hair, bamboo, silk, cashmere, wool, and cotton are materials used in making these mattresses.
These materials can be combined in a number of ways in order to fulfill customers' needs and desires. For example, if you want a soft mattress, look for the one that blends wool and cotton.
But, any mattress made of natural fibers is a great choice as long as you choose the one that carries the Greenguard certification mark.
Naturally, this type of a mattress doesn't contain harmful chemicals and is also free of synthetic materials. This makes it great for kids and adults prone to allergies.
What We Like:
Free of synthetic materials and harmful chemicals
Breathable
Responsive
Comfortable
Durable
Made from natural fibers
Eco-friendly
What We Didn't Like:
Expensive
Has a strange (also known as natural) smell in the first two-three weeks of buying
6. Hybrid Mattresses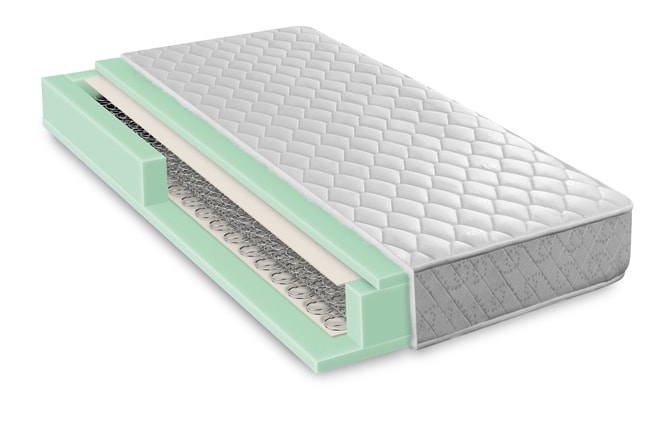 As the name itself implies, a hybrid mattress is created when two types of mattresses are combined. Usually, a hybrid mattress uses the innerspring technology and combines it with latex, gel, memory foam, or polyfoam.
These mattresses allow you to have a good night's sleep at the more affordable price.
What We Like:
A hybrid mattress is more affordable than a memory foam or latex mattress, yet offers more support and comfort than an innerspring mattress.
What We Didn't Like:
Not for those who don't like innerspring technology
7. Pillow-top Mattresses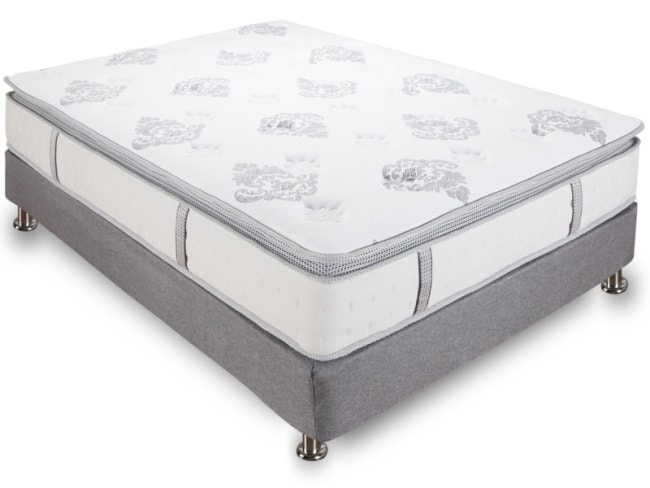 Who would think there are all these possibilities, huh? A man can't even buy a mattress without doing homework anymore.
A pillow-top mattress is one more option for a good night's sleep.
This kind of a mattress has an extra layer of padding on top. This increases softness and comfort while giving a mattress that plush look.
Pillow-top mattresses can use different technologies such as air, innerspring, or foam. They come in various designs, so you can choose what you want at the price that best suits you.
The best mattress brands for pillow-top mattresses are Classic Brands, Zinus, and Serta.
What We Like:
Offers additional layer of comfort and softness
Has a plush look
You'll have a plenty of options when it comes to choosing this type of a mattress
It's possible to find both affordable and high-end mattresses
Due to many options, first, you should read an informative article to know which mattress to buy
8. Waterbeds
Created by Neil Arnott – a Scottish physician, a waterbed was in use since 1800's. This type of a bed was invented as a response to patients who experienced back pain. At that time, the users were thrilled with a waterbed.
But, today, a waterbed isn't a favorite among beds. In fact, it's quite debatable. Some experts say this type of a bed isn't good for back pain, while others say it actually alleviate back pain. Then again, here's the research that shows that this type of a bed is similar to foam mattresses.
Whether this mattress be a good choice for you or not? Well, we cannot answer that. This will depend on many factors and isn't true for everyone. If you don't have back and neck pain, this mattress will probably work great for you.
In addition, some models have special features (wave motion, can be heated, etc.) to give you a good night's sleep.
However, if you experience spine pain, sleeping on this mattress probably won't be very comfortable. That's why we suggest you visit a spine specialist who can help you with this matter and point you in the right direction.
What We Like:
Some people love comfort and adjustability of this bed
Some models produce wave motion, giving you a gentle massage
Heated waterbeds are therapeutic
What We Didn't Like:
Not a good choice for people with spine pain
Doesn't provide enough support for back
Can leak if designed poorly
Impossible to move when filled with water
9. Airbeds
Most commonly, airbeds are used for guest rooms, camping, or as a temporary solution. But that doesn't mean that this type of a mattress cannot work as a permanent bed.
Personalized firmness (or softness), alleviating back pain, no odor, and no sagging are just some of the pros of this bed. If you're sharing your bed with someone, both of you can adjust the firmness thanks to divided inner chambers.
Apart from all that, an airbed can be installed in less than 10 minutes, depending on its size.
Intex and Coleman are best brands for airbeds, and you'll surely find the one that matches your budget.
But, there are also a few drawbacks to an airbed. For example, you'll probably have to buy a new pump after some time. And you'd better be careful when around this mattress, as you don't want to make a hole in it.
What We Like:
Affordable
You can adjust it how you like
Great when sharing a bed
No odor
No sagging
Fast setup
What We Didn't Like:
You'll have to inflate it from time to time
You have to be careful not to bring sharp objects around this bed
Final Thoughts
With all the options on the market, finding the best mattress for you can be pretty stressful. But, we hope that our summary of different types of mattresses will make your search at least a bit easier. Just take some time to further research the types you are interested in, so as to pick the mattress that will have it all. In the meantime, don't give up on your dreams!