iRobot continues to stand out as the best company in the world in terms of manufacturing robot vacuum cleaners. Up till now, they have created scores of intelligent and effective robots that provide considerable help to property owners in cleaning their houses efficiently without them having to be too involved in the process. In this blog, we are going to give you a brief side by side comparison and review of two Roomba robots. The Roomba 650 vs 980. Let's begin with a comparison chart:
Comparison Chart between the Roomba 650 vs 980
This brief chart-based comparison allows you to easily compare the two devices with regard to certain necessary features.
| Features | Roomba 650 | Roomba 980 |
| --- | --- | --- |
| Dimensions | 13.4 x 13.4 x 3.6" | 13.9 x 13.9 x 3.6" |
| Wireless Control Feature | X | X |
| Navigation System | laser sensors | multi-room/lasers/sensors |
| Advanced Scheduling | X | X |
| Battery Time | 1 Hour 15 minutes | 2 Hours |
| Auto-Recharge Facility | X | X |
| HEPA filter | | X |
| Warranty | One Year | One Year |
| Price | Check Price Link | Check Price Link |
As can be seen through the chart, each of these robots has some unique features to offer. There are some features that are commonly found between the two robots, and there are certain things that are exclusive to each device.
The iRobot Roomba 650 and 980 are magnificent in their own unique manner. Naturally, it should be understood that an older version of an electronic device cannot compete with a more modern and advanced version. In the same way, the Roomba 650 cannot really be a good match to the later 980 Roomba in terms of providing better cleaning service.
It is important to understand that both the Roombas happen to be two distinctively different machines for all intents and purposes. Each of these vacuums is a cutting edge representation of how far the robot vacuum technology has progressed to date.
Before we even start to comment on each machine separately, let's just understand a few basic facts. The 900 series has made considerable progress since the 600 series was introduced into the market, which was back in 2012. From the navigation system to the addition of a Wi-Fi-enabled system, almost every aspect of these machines has improved with the 900 iRobot Roomba series.
We will mention below the similarities between the two robots, followed by the differences between them. From there, we will also review each robot independently to assess their capabilities in their own right.
Similarities between the Roomba 650 and the Roomba 980
Access to Settings
Both Roomba 650 and 980 are accessible from the top of their respective units. The users are allowed to program them for a 7-day cleaning routine for definable time intervals. The clean button will also help you start the cleaning process.
Suitable For Different Surfaces
One of the amazing features of these devices is that they are both capable of cleaning virtually any type of floor surface. Whether you have carpet, tile, laminate, rugs, hardwood, or any other type of flooring, both Roomba 650 and 980 will do a great job.
Each of these robots has a self-adjusting capability as they transfer from one type of flooring to another.
3-Stage Cleaning Formula
The Roomba 650 and 980 are both equipped with what is arguably iRobot's best feature: the 3-stage cleaning system.
This system comprises conducting cleaning operations in 3 stages: agitating, brushing, and sucking dirt, and debris off the floor.
Spinning Brush
Each vacuum cleaner comes with a spinning side brush. The benefit of this brush is that it can effectively clean all dirt and debris in all such areas that usually remain untouched owing to these Roombas' circular shape. This brush offers cleaning in those aspects as well.
Acoustic Sensors
In order to locate dirtier areas inside the building, both the Roomba 650 and 980 employ what is called acoustic sensors.
Consequently, the bots pay more time and attention to these areas so that they are also thoroughly cleaned without leaving behind any particles of dirt or dust.
Auto Charge Facility
One of the best things about these devices is that you don't have to worry about their battery. They can automatically detect when their batteries are running low. As soon as it happens, they return to the charging station. Once charged, they will resume their vacuuming operation!
As can be seen in the above, both devices have an incredible set of features common among them. Let's now move on to the next section, where we talk about where these machines differ from each other.
Differences between Roomba 650 vs 980
Optical Sensor
Though they are present in both machines, the optical sensors in the Roomba 980 have been upgraded to support the robot in detecting dirty areas around the house. The optical sensor in 980 is now coupled with an acoustic sensor, which enhances its ability to find and clean the debris from your home.
Debris Extractors
Unlike the Roomba 650, which uses a brush, the 980 comes with an extra set of rubberized debris extractors. The benefit of these rubber extractors is that they can transfer the debris into the trash bin far more easily than the brush. Another benefit of these extractors is that they don't require much manual intervention because the frequency of tangled hair with it is now greatly reduced.
Carpet Boost
This is a rather unique feature installed into the Roomba 980. The carpet boos enhance the suction power of the vacuum up to ten times. Thanks to such high intensity, the battery of the device is preserved for an even greater and more efficient use when it is performing a cleaning session.
Upgraded Motors
With the Roomba 980, the iRobot has finally decided to upgrade its power by adding a third generation motor. The key benefit of using this motor is that it is equipped with greater power and efficiency as compared to the older version of the Roomba devices. So far, this is the most powerful of the motors to ever come installed into the Roomba machines.
Having had a brief review of their similar features, let us now proceed to discuss each robot individually.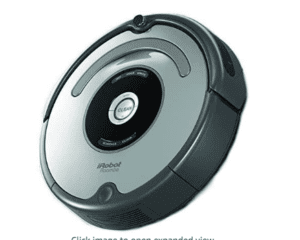 [su_button url="https://amzn.to/2JbuImL" target="blank" style="flat" background="#32CC32″ color="#ffffff" size="10″ wide="no" center="no" radius="8″ icon="icon:shopping-cart" rel="nofollow" class="bestvacbutton"]Check Best Price of Roomba 650 [/su_button]
In terms of price, the Roomba 650 is for sure the lowest-priced vacuum cleaner by iRobot available out there. The Roomba 650 has been on the market for a couple of years now, and its demand doesn't really seem to be diminishing. 
One shouldn't be surprised at this. There is a good reason as to why Roomba 650 has managed to stay relevant despite multiple generations of Roomba robots having been launched. The key factor being that the Roomba 650 is a highly trusted and reliable model that has zero frills, and it just works perfectly.
Despite lacking in several advanced features such as a refined design or a command center, the Roomba 650 efficiently makes up for this deficiency with its simple yet effective raw power. This makes it an ideal device to be had in one's home.
This machine has a highly powerful and effective design. There is a brush in it that is capable of removing dirt from every nook and corner of the building. The brush is an important reason why it has been so successful in retaining its best-selling position. The 650 is regarded among the most desirable Roomba device, owing to its incredible features. Another reason that contributes to the popularity of this device is its features coupled with an affordable price.
Despite the fact that Roomba 650 lacks the latest iAdapt navigation technology with which 980 is equipped, it can still provide you a thorough cleaning of the area using its advanced software and sensors. These sensors allow the device to pick from scores of robotic behaviors at the pace of 60 times a second! This is how the Roomba 650 is able to clean a lot of room, ensuring better quality by making multiple passes over every major section of the floor. This deep cleaning facility is definitely a great feature the Roomba 650 has to boast about!
In every household, there are areas that are the toughest to clean. Accessing them is a real challenge, thereby discouraging manual cleaning. With the Roomba 650, this difficulty of yours is fully dealt with. The machine has what is called a low-profile design, which makes it convenient to a slider under sofas and chairs to effectively vacuum up all types of dirt and dust. It is worth mentioning that the robot is only 3.6-inches in height! The same as 980.
However, it is important to bear in mind that the device is not without its issues. There are some important downsides to the Roomba 650 as well, and you should be considerate about them before making a purchase decision. A fundamental problem with the Roomba 650 is its filtration system. For surfaces that gather allergens routinely, the 650 is not an ideal vacuum cleaner. It has an average capacity to filter out the allergens from the floor. Households with pets running around, the Roomba 880 might be a better choice as compared to the 650.
The brushes are another element to consider when buying this machine. That's because brushes are long out of fashion now. In the subsequent models of the iRobot Roombas, they have been replaced with better and more sophisticated technology. The newer model Roomba devices such as the 980 are brushless, and they don't really rely on these features.
This brief review of the Roomba 650 should sufficiently tell you some great features about this device. Now, let's look at the other vacuum cleaner that is subject of this blog.
[su_button url="https://amzn.to/2JazSzk" target="blank" style="flat" background="#32CC32″ color="#ffffff" size="10″ wide="no" center="no" radius="8″ icon="icon:shopping-cart" rel="nofollow" class="bestvacbutton"]Check Best Price of Roomba 980 [/su_button]
No one can contest the view that the Roomba 980 is by far the most advanced and sophisticated iRobot vacuum cleaner manufactured. This is the device that is equipped with the latest sensors and uses AI to guarantee you the proper cleaning of the premises.
The device comes with a built-in camera which it uses to create a map of your home. This mapping facilitates the Roomba in cleaning your floors with greater efficiency and better results. The Roomba 980 also has a great battery performance. The life of the batter is fairly long as compared to the 650, and it definitely performs better in this regard.
It is a highly efficient cleaner that is profoundly focused on ensuring the best results. This is the reason why the Roomba 980 will keep doing the cleaning until it is totally run out of battery. Once its battery is drained, the device goes back to the charging dock, recharges itself, and then resumes its function. The robot doesn't stop until the cleaning is fully done. This is what sharply distinguishes the Roomba 980 from the Roomba 650! The latter robot lacks the auto-recharge feature, meaning you have to intervene manually so that it doesn't stop in the middle of the cleaning job.
The list of features of the Roomba 980 doesn't end here. There's more to mention. One of the many important qualities of this device is that as soon as it comes into contact with the thicker carpet, the Roomba 980 will automatically increase its power. This is made possible by a built-in feature called carpet boost. Another feature of the Roomba 980 is its ability to be used with a smartphone app. Through this application, you can definitely schedule the cleaning at your convenience. The benefit of this app is that you are allowed to control and manage the cleaning even when you are away from home. This means that when you are running on a tight schedule, this feature is going to be your support in ensuring that your home is fully cleaned and protected from all types of dirt and debris.
Generally speaking, the Roomba 980 blesses you with numerous great features that you can make use of to derive benefits. These advantages are certainly unique to this machine as this happens to be the most advanced and reliable of all other Roomba models. Because the 980 is one of the latest vacuum cleaners to come out in the market, you are not likely to find another robotic machine that serves you as well as this one. You can also not find something that gives you awesome features as the Roomba 980!
However, the price is a great downside. Since it is equipped with such amazing features, it should be expected to have a high price tag. As of now, the Roomba 980 is the most expensive and costliest robot vacuum cleaner available out there. The features it blesses you with are definitely worth the cost, only if one could afford it!
There should be no doubt that as of now, the Roomba 980 is the best and the most advanced Roomba device in the market. It is made with the best technology, and it can help you clean multiple rooms with varying floor types. As you use it, you have full control over its functions, and you can deploy it in as per your personal convenience.
Our Pick
Despite the fact that both the Roomba 650 and 980 have outstanding features to offer, we are confronted with a difficult choice. Each of these robots has the capability to clean your home while you are away, and they can both help you manage your time. Whether you are using the Roomba 650 or the 980, you are liberated from the need of having to count on a traditional vacuum cleaner. In terms of technology, each device has amazing benefits to offer, thereby earning them the high customer satisfaction ratings they have. As a matter of fact, you can't go wrong by picking either of the two robots.
Based on our comparison chart and reviews, we declare the Roomba 980 as the winner. That's because it happens to be superior in many aspects. There are more features to it as compared to the Roomba 650, and it effectively gives you cleaning in multiple rooms.
You are allowed to schedule the cleaning on this device, even if you are away from home. This is made possible by the fact that you can use the device through a smartphone application. There are additional sensors, Wi-Fi capability, a more reliable motor, and an advanced navigation system in the Roomba 980, giving it a clear edge over the Roomba 650.