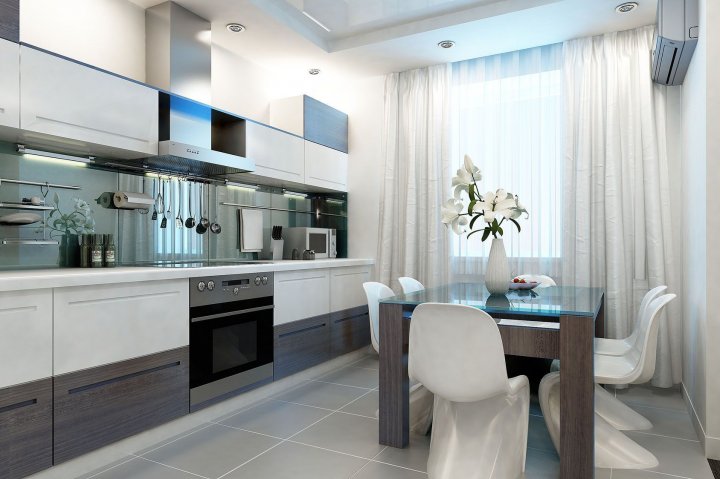 A kitchen is one of the central rooms in every home. Any housewife spends a lot of time here preparing food and all family members gather at the table at least once, two or even three times a day. Therefore, everything in the kitchen should be perfectly organized.
How to arrange kitchen appliances in a convenient way to use space wisely and not "run" extra miles while cooking?
Zoning your kitchen
Everything was much simpler in earlier days: placing household appliances was in a simple triangle (or a line of three points) "refrigerator – sink – stove".
Today, the situation has become more complicated due to a variety of additional kitchen appliances such as multicookers, bread makers, food processors that must be placed somewhere as well.
There is still the main principle of dividing a kitchen into two main zones – the so-called water and hot zones, as well as two additional zones – the food storage area and food processing area. This is where we shall start from.
The "water" zone is a sink zone. If there used to be only a sink here before, today you can place a dishwasher and /or a washing machine here as well. You can not play around with the location of this zone a lot, as it depends on the water supply and drainage. If you plan to do repairs in your kitchen and move the water zone to another place, you should consult a specialist. Otherwise, there is a risk of permanent clogging of drainage taps if they are too far from a riser or reducing the pressure of water in the tap if the water is laid around the kitchen perimeter. By the way, when deciding on the location of kitchen furniture and appliances, you must first decide on the "water" zone location. Thus, it will be an easier to place other household appliances then.
A "hot" zone is a cooking zone, an area around a stove.
All kitchen appliances that we use to cook food are located here, such as a hob, extractor hood, oven, microwave oven. In this zone, next to the stove, you can also place a multicooker or a bread maker, if you use them often and a bit further – a place for a coffee maker and an electric kettle.
Built-in kitchen appliances are considered to be much more convenient than those standing separately. A hob, built in into the kitchen countertop, will ensure easy and simple cleaning: food will not fall into the gap between the furniture and the stove. And if you use a stove often, it is much more convenient to place it not under the cooking surface, but above it, at the chest level. Location of a microwave oven depends purely on your preferences.
A food processing area is a free space "for moving" between the hot and water zones.
This is where we put food after washing it in the sink, clean and cut them and then put on the stove. It is great if there is a large free countertop between the water and hot zones to place everything, including appliances. You can put here a food processor, for example. A mixer and blender are often stored in cabinets, so try to hide them somewhere in the food processing area.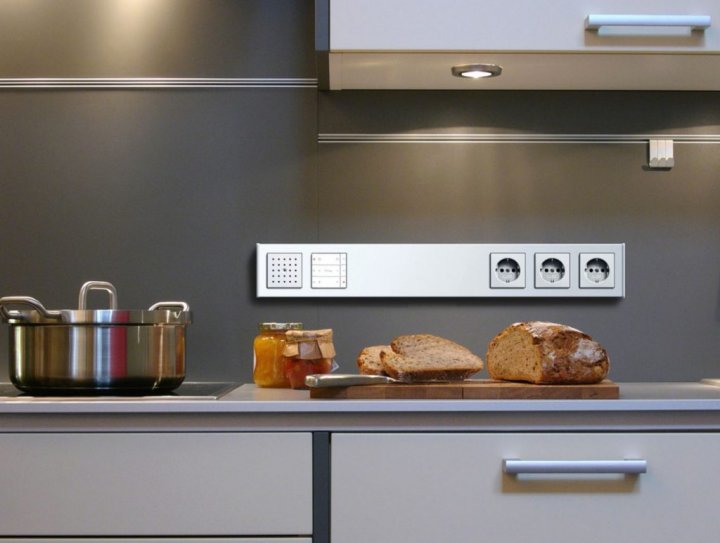 We recommend deciding on a food storage zone first, before the water zone, since it is from here that we get food from in the first place.
This area includes a refrigerator and a freezer if you have one. We also recommend placing a cabinet for storing cereals, canned food and other necessities here.
It is great if there is an outlet from the kitchen to the pantry – then a refrigerator is better to be located next to it. A refrigerator usually takes up a lot of space, so it is more convenient to put it somewhere in the corner or near the kitchen wall.
Before redesigning a kitchen or planning the location of furniture and appliances, you must decide on the location of each kitchen zone. Do not forget that you will have to move in a circle: from the product storage area to the water zone, then to the food processing area, from there – to the hot zone of cooking and finally to the dinner table.
Kitchen layout options
When deciding on the location of household appliances in the kitchen, it is very important to start with the layout of the working area. If your kitchen is long and narrow, it is best to place the working surface on one line. If your kitchen is small and has a square shape, use the L-shaped layout. In large spacious kitchens, a U-shaped layout or an island-type layout can be applied. Now let's see how to place household appliances in each layout type.
Linear
In most kitchens, a hob is located in the center with a refrigerator and a sink on its sides. But ergonomics experts say that this is not the most convenient option.  It is better to place a sink with a dishwasher (if you can bring water and sewerage here) in the center with a refrigerator on one side of it (preferably on the left) and a stove on the other. There should be enough free space between these three points to place all kitchen appliances on the kitchen countertop. If a kitchen is big enough, install an oven higher, but if you need to save space, place it below, under the hob.
L-shaped
As we said before, this is a perfect layout for small kitchens, square or rectangular ones. Here you can place kitchen equipment according to the main principle of the "working triangle" (by the way, this principle is more than 70 years old, but designers are still successfully using it). Put a refrigerator at one end of the letter L formed with kitchen furniture and a stove – in the other end. A sink with a dishwasher can be placed in the corner. The kitchen end with a stove can be completed with a pencil cabinet with a built-in oven and a microwave on top of it. Thus, you will have enough surface for kitchen appliances.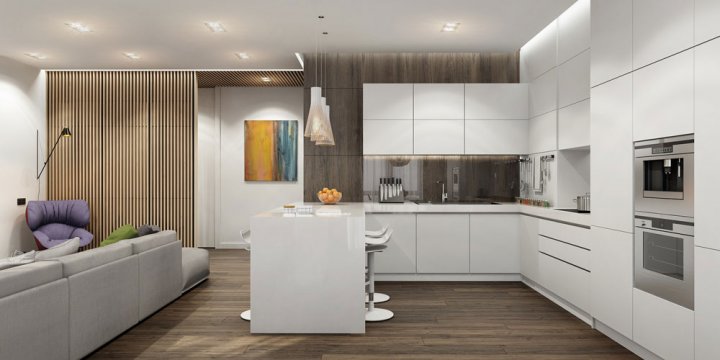 U-shaped
The main advantage of this layout is plenty of free space on the cooking surface. The main kitchen appliances of the three zones can be placed here not at the corners, but along the U lines. While in the corners, there are two of them here, and they will be not used, you can put a multicooker, a bread maker, an electric kettle, a coffee maker and other household appliances.
Island-shaped
This is a very popular modern layout for large kitchens. The working space here is located along the wall (one or two, or even three) with a so-called "island" in front of it.
Such island can be used both as a food processing and dining area. You can also build in the hob into it (just make sure that you can also build in a hood) or a dishwasher and washing machine (think over the water supply and sewerage layout). If there is not enough space on the main working surface, other household appliances can be placed on the "island".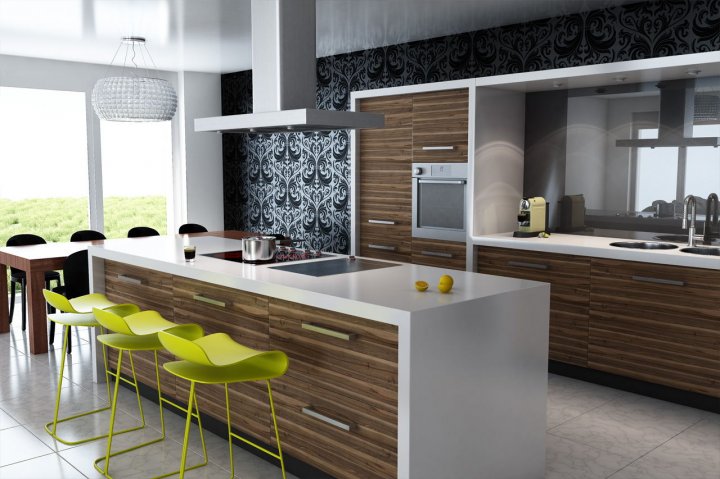 [su_quote]
Important
Keep in mind that any household appliance must be connected to an outlet. Think about the location of outlets at the redesigning stage, so that you do not have to pull extension cords or shutter walls after building in the furniture. Therefore it is very important to plan all zones and location of equipment in them in advance – we recommend drawing a detailed visual plan.
[/su_quote]
[su_frame align="left" class="relatedposts"]
Read also:
[/su_frame]