Get rid of those old school brooms and handheld vacuum cleaners! We're going to continue with our Roomba evaluations by pitting two of the most affordable Roombas against each other to see which one comes out on top. First, let's discuss what features you get when you purchase a Roomba from the 800 series.
Roombas are divided into series and each series has unique features that make it stand out from the rest. Currently, one of the best series is the 800 because of all the amazing features that all Roombas in that series come with. These unique features are:
Sentient Charging: The Roombas in this line are able to detect when their batteries are running low. This prompts them to send out an audio clip to let you know that the batteries are low. That's not all though, because this self-cleaning robot is able to detect where the charging dock is and return to that dock when it needs charging. It then hooks itself up, charges, and then gets back to work. This means that you never have to worry about charging the robot because it will do it automatically.
Scheduling: In any model past the 650, you can set up a cleaning schedule with the Roomba. This way the Roomba will only clean when you want it to. You can even set up a daily schedule so that it can clean while you are at work.
Better Suction: Roombas in the 800 series come equipped with the Aeroforce suction. The Aeroforce 3-stage cleaning system was introduced in the 800 series and is a big part of why this series is so popular. The Aeroforce suction allows for 5 times better suction abilities when compared to the older models. That means that it can clean more quickly and much better than older models.
Focus Vacuuming Feature: Models in the 800 series come equipped with special optical and audio sensors that can detect hidden debris. These sensors can pick up on where there is a buildup of debris. It then uses its Focus Vacuuming feature to perform even better on such places. It disturbs the debris so that it comes loose and then suctions it up so that no trace is left behind.
3 Stage Cleaning: Roombas in the 800 series have a unique cleaning method in the sense that they utilize a 3 stage system that is used to make sure no debris is left behind. The first stage agitates the debris, shaking it loose and making sure that it can be picked up easily. It then brushes the area to completely rid it of debris. This stage is incredibly important in the case of dust or hair. The Roomba then uses its Aeroforce suction to suck up all the loosened debris and returning the area to its spotless self.
Roomba 805 vs 860 Comparison Chart:
| Features | iRobot ROOMBA 805 | iRobot ROOMBA 860 |
| --- | --- | --- |
| HEPA Filters | X | X |
| iAdapt Navigation | X | X |
| Wi-Fi | X | X |
| Battery Type | Lithium-Ion | Lithium-Ion |
| Virtual Walls | 2 | 1 |
| Suction Type | Aeroforce | Aeroforce |
| Price | Click to Check Price | Click to Check Price |
Related Article: iRobot Roomba Comparison: Best Roomba Models to Buy
The way that iRobot introduces models you can tell which one will be cheap and which one will cost a lot of bucks. The ones on the higher levels will always be more expensive and will have more features, than ones that are low down in the series. That is also the case with the 805. The 805 has some features that are great but also lacks some features that are found in the higher tiers of the 800 series.
The first thing that sets this Roomba apart is a feature called the Two Dual Mode Virtual Wall Barriers. This feature is the most amazing part about the cleaning machine because it lets you program the robot to have it believe that walls exist where none do. This feature works using the audio and visual sensors that can be found on the Roomba. These sensors can make the Roomba think that there are certain places where it cannot go past from. This feature comes in handy when you want to limit the Roomba or want to have it clean a specific area.
This particular Roomba is attractive for most people just based on the price. Even though most Roombas cost a lot this one comes in at $450. The price may be a little high still but it does make sense if you take a look at all the features that are offered. The Roomba itself is nothing special when compared to the others that are in the 800 series. The features are commonly shared by others in the series, the power system is nothing of note, and it being the first in the series means that it is a thoroughly average Roomba but a good product nonetheless.
iRobot Roomba 805 Review:
Without sounding too harsh, the 805 is a completely average Roomba in every facet of its being. From the features to the price, it is average which is actually a good thing. This Roomba is not for the people that have used Roombas in the past and are looking to upgrade. This Roomba is perfect for people that have never had a Roomba before. Let's suppose you've never had a Roomba and want to try it out. You won't try it out with a top of the line model because it will cost way too much. That's where this model comes in. This model allows you to experience all that Roomba has to offer without spending too much money. Just because of that fact this Roomba gets an 8/10 because even though it may not have the best features, its price is unmatched and makes the product completely worth it.
Furthermore, don't let this trick you into thinking that what you're getting is completely bare. This Roomba has a lot of features that would be impossible to find in the other series, particularly the 600. The lack of features only comes into play when you compare this Roomba to the others in the 800 series. Compared to them this one lacks a few features which affect the Roomba. The things that it doesn't have include:
Increased Battery Life
Superior Suction
Improved Sensing Abilities
These three things don't exist in their current state on the 850 but do exist in a lesser capacity. The 850 does have a decent battery life, a better suction than most, and capable sensing abilities. The one thing that it doesn't have is HEPA filters. This is a unique point because for some people HEPA filters aren't that big of a deal whereas for some HEPA filters can make or break a product. For those that don't know HEPA filters are High-Efficiency Particulate Air filters. These filters are necessary for people with allergies because they are able to catch harmful particles such as pollen, pet dander, dust mites, and tobacco smoke.
These filters aren't only good for people with allergies though. They are also healthier to use and can severely improve the quality of life of people that use them. This is one feature that is not available in the 805 which makes it unsuitable for people with allergies.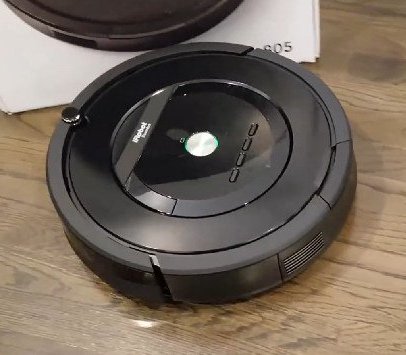 iRobot Roomba 805 Features:
The first feature that you should know about the 805 is the Dual Mode Virtual Wall Barrier. This feature exists in some capacity through all of the Roombas in the 800 series but is actually really great in this one. The feature works as advertised in the sense that you are able to put up virtual walls so that the Roomba doesn't cross those walls. This feature is really useful because it allows you to set boundaries for your Roomba and have it specifically clean certain areas and leave other areas spotless.
Another feature that this Roomba has is iAdapt Navigation Technology. If you were talking about breakthroughs in the Roomba industry then this would definitely qualify as one. Using this technology the Roomba is able to navigate better on all sorts of floors. The technology makes it so that this Roomba slows around corners or when it's about to hit something. It also allows the Roomba to soften the blows to your furniture as it will slow down if it senses that there is something in the way. This navigation technology is so good that it was carried on to the other Roombas that came after this one.
Also, the price isn't something that technically falls into the features but in this case, an exception needs to be made. In this Roomba, the low price is definitely a feature because it allows so many more people to enjoy a Roomba without having to pay that much. That's why this Roomba is one of the better ones.
Related Article: Best Robot Vacuums 2019 – Buyer's Guide
The 860 returns again as our favorite and this time with exciting news. Before we get into the news, let's first discuss the Roomba. The Roomba is excellent. It makes the perfect compromise between price and features even though it is a lot more expensive than the 805. The 805 comes in around $450 for a brand new model whereas the 860 carries a price tag of around $600. This heavy duty price tag shouldn't deter you because of the exciting news.
Amazon recently held a sale on the Roomba which brought down its price by about $350. Well, it turns out that that wasn't enough for Amazon. They have brought down the price even more and have labeled the 860 with a $275 price tag. That in and of itself is insane. That price tag makes this Roomba a must have because it is arguably one of the best ones in the 800 series. It has a huge battery life, improved movement, and better sensors than the 805. As always, Amazon is continually changing prices, so you'll have to check back to find out the current price.
The battery life is actually one thing that needs to be stressed on because it is just huge. The battery of both the 805 and 860 is a Lithium-Ion which shouldn't give this much of a difference but it turns out that the 860 has a special power management feature that allows you to use the Roomba for 3 times as long. That is immense.
iRobot Roomba 860 Review:
The 860 has always been one of our favorites. It is a perfect mix of feature and price which really makes it stand out. We have already given the 860 an 8/10 and we think that needs to stay. The fact that there is a sale on it currently shouldn't factor in into the rating because it's not the Roomba's fault that it's so cheap right now. That's why it doesn't get a 10/10 but if it was available at that price throughout the year it would get that without any problem.
Let's review what's good is about it and what's not so good. The first thing that comes to mind is the battery life. The battery is huge and really makes it worth the purchase. It can cover larger areas without needing to recharge less. One thing that isn't in the favor of the 860 is the fact that it doesn't have 2 virtual walls. It only has one which can really hinder you if you want it to clean certain corners only. It isn't a deal breaker but it does factor in because the 805 has two walls and so should this.
Other than that, its price is also really high when not on sale. It's a whopping $600 which is quite a pretty sum for an automatic vacuum. Granted that it saves a lot of time and energy, but it is still a lot. Other than these two complaints we don't think that there is anything else that the 860 could do better which is why it keeps its 8.
Check Best Price and Reviews
iRobot Roomba 860 Features:
The 860 is chockful of great features that the 805 doesn't have. The HEPA filter is one such feature. HEPA filters are quickly becoming a necessity rather than a luxury and it seems strange that the 805 cannot use them. The filters allow for cleaner air which is immensely important for people with allergies as well as infants and children. HEPA filters are becoming increasingly common and it is rare that vacuum cleaners come without them.
The 860 also comes equipped with better sensors which allow it to detect debris better than the 805 which means that it can clean better. It also comes with 5 times more power than the 805. This increased power affects both the suction and the brushes. The increased power allows this Roomba clean more thoroughly without using more power. That's because of the battery. This Roomba hosts a battery life that is three times better than the 805. That really factors in if you don't want the Roomba returning to the charging dock repeatedly. It also factors in the amount of batteries that you will have to buy for the Roomba. As you know, the recharge on batteries eventually runs down. That, in turn, means that you'll have to buy replacement batteries. With the 860 you'll have to wait 3 times as long as the 805 to buy new batteries.
Our pick this time has to be the 860 yet again. At the price that it is now, it would be a grave mistake to go for a different Roomba. The features that this Roomba has are beyond compare and at only $270 it's definitely a steal. The 805 is not a bad Roomba either. If not for the sale the 805 would have been our pick. It is the perfect Roomba for starters because it is not too complicated to set up, it doesn't cost as much as the rest in the 800 series, and is perfect for both large and small living spaces.
The reason why we are choosing the 860 is not only because of the price though. The battery of the 860 allows it to save you money in the long run. The batteries of the 860 are of Lithium-Ion which makes each recharge last longer than most but that's not all. The 860's batteries are also unique in the sense that their lifetime is 3 times the ones found in the 805. That alone saves so much money in terms of upkeep costs that it makes the 860 worth it. That is why the 860 wins this round.