Keeping the floors clean in a home is a challenging task. However, the job has been made easier with the advent of iRobot. There are numerous types of robots available in the market that will effectively vacuum clean the floor for you. If that's what you have been looking for, then getting an iRobot Roomba is the best option. These iRobot Roomba 690 vs 890 are very popular choice by consumers all over the world.
Ever since their introduction, the iRobot is available in countless versions and models. As a consumer when you happen to glance at the choices that are available with you, picking one out of so many versions could be a challenge in its own right. This review compares two of the best and most popular robotic vacuum cleaners. It points 13 key differences between the Roomba 690 and Roomba 890. You should keep in mind that both robots happen to be the top of the line of their respective series namely 600s and 800s.
It goes without saying that each of these robots has its own pros and cons, advantages and disadvantages. This blog helps you see through all of them so that you are able to get a practical rundown of both the robots individually and separately. In case you are planning a decision to buy one for your home, it might be critical for you to continue reading this article.
To help the reader make an informed decision, we will be following a straight and simplified pattern of explanation. We will pick one aspect and then go on to describe how each robot differs from the other. We think it is important for you as a consumer to understand these differences because they can definitely empower you enough to make the best decision based on your needs, affordability, and type of floors.
We'll begin with a comparison chart followed by a category-based comparison between the two devices. Let's now proceed to the chart comparing the two machines:
Features
iRobot ROOMBA 690
iRobot ROOMBA 890
iAdapt
X
X
iRobot Home App
X
X
IR Remote Control

Recharge & Resume Capability

Run Time
Up to 60 minutes
Up To 120 minutes
On-Board Camera
Brushless Mechanism
X
Edge-Sweeping Brush
X
X
3-Stage Cleaning System
5x Suction
10x Suction
Carpet Boost Mode
Virtual Wall Barrier
Comes with 1
Comes with 1
Virtual Wall Lighthouses
Stairs Avoidance
X
X
Cleaning Schedules
X
X
Coverage Maps
X
Voice Control
X
(Alexa, Google Assistant)
X
(Alexa, Google Assistant)
Diameter
13.0-inches
13.9-inches
Height
3.7-inches
3.6-inches
Weight
7.8lbs
8.4lbs
Having drawn a succinct comparison chart between Roomba 690 and Roomba 890, let's now proceed to discussing the both machines on category-basis.
Category-Based Comparison
It is pertinent to mention that both 690 and 890 Roomba have a lot more in common than the variants. However, it is the differences between them that actually make the choice difficult for a consumer. You are about to read how the two robots differ from each other so that your final decision is one you adore for years to come.
1.
Run Time
Let's begin our comparisons from the difference between the run times of both machines. The run time refers to the number of minutes or hours a machine can perform continuously.
Being the older version, the Roomba 690 has a run time of up to 60-minutes, meaning the device can continuously vacuum clean the floor for almost one hour.
With a run time of up to 120-minutes, Roomba 890 is at sharp advantage over 690.
2. The Extractors
The extractors also go by the name of beater bars. These are essentially the small bars under the vacuum which will loosen, lift, and break down the debris so that it could be collected easily. Both Roomba 690 and Roomba 890 come with different types of extractors.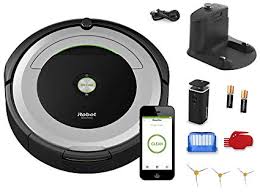 [su_button url="https://www.amazon.com/iRobot-Roomba-Vacuum-Connectivity-Carpets/dp/B06XRT2B3P/ref=as_li_ss_tl?ie=UTF8&linkCode=ll1&tag=roomba690vs890-20&linkId=6754ab06e26e9f9487727705071b08a9&language=en_US" target="blank" style="flat" background="#32CC32″ color="#ffffff" size="10″ wide="no" center="no" radius="8″ icon="icon:shopping-cart" rel="nofollow" class="bestvacbutton"]Check Best Price and Reviews[/su_button]
The Roomba 690 contains bristle brush bars which will rotate in opposite direction to collect the dirt. These bristle bars have a rotating movement. This enables the bars to comfortably pick the dirt particles that come in its way.
The 890 model, on the contrary, has brush-less extractor bars. Being brush-less, these bars are capable of doing a slightly better job at picking dirt and debris. The absence of brushes in 890 prevents you from the maintenance hassles. It doesn't get tangled around the debris extractor because of less hair.
Since Roomba 890 does not have any brush-less extractors, it happens to enjoy a sharp edge over bristle brush extractors that come with Roomba 690.
3.
Scheduling
This would be a tie between Roomba 890 and Roomba 690 as each of these robots have the ability called 'scheduling'. With the help of an app called iHome, you can set up a cleaning schedule depending on your needs.
Typically, consumers tend to schedule cleaning when they are away from home. This has the benefit of returning home to a cleaner floor as well as no disturbance as they enjoy TV. Both Roomba 690 and 890 allow you fix a date and time for scheduling up to once per day for a week.
In both robots, you are allowed to setup a schedule either manually or through the iHome app. If, after setting up a schedule, you have a change of mind, you can delete it as simply as you created it. While scheduling is an excellent feature, both Roomba 690 and 890 are unable to detect unwanted items on their own. So, if you don't want your robot to pick deadly items, make sure that all your floors are clean.
A virtual wall barrier will prevent the robot from going into any room you don't want. In terms of scheduling, there is very little difference between Roomba 690 and Roomba 890.
4.
Vacuuming Technology
Both Roomba 690 and 890 are different in vacuuming technologies. Here is the detail
The Roomba 690 is built-in with a AeroVac technology. This is the original technology that had supported iRobot's three stage cleaning system. Its first stage helps in detection of corners, edges, and stairs in addition to detecting debris. At second stage, motor and airflow channel comes to play that choose dust and dirt. The final stage has brushes and extractors. In Roomba 690, all of these factors have a very critical role to play to remove all debris and dust from the floors, ensuring a quality deep clean.
The vacuum cleaning technology was changed with the introduction of iRobot's 800s series. Instead of relying on AeroVac, they upgraded to AeroForce. It may be perfectly understood why this technology is far better and more capable than the one used in the 600s series. The AeroForce is a more advanced cleaning system which renders better job as compared to other and older models of Roomba.  
It goes without saying that the later AeroForce technology is a far better and more sophisticated vacuum cleaning technology than the previous AeroVac. This would give Roomba 890 a sharp edge over the 650!
5.
Different Filtration
There is a difference between vacuuming and filtering. The process of vacuuming ensures that your floors remain tidy whereas the filtration will ensure that there are no harmful pollutants in the air. Therefore, it is essential to have a good filtering system in place so that those sensitive dust and dirt don't get caught by allergies. Both Roomba robots have filtration systems yet they differ in the type of technology.
The 690 uses AeroVac system that will clean the floor of all dust, pet hair, and dirt. This AeroVac filter found in Roomba 690 increases its functionality as the robot effectively clears the floor of all harmful pollens and allergens by removing dust and dirt particles.
On the other hand, Roomba 890 is far more advanced. This device takes the cleaning a step further and uses a highly advanced HEPA anti-allergen filter. This filter is a very sophisticated device that has been introduced relatively recently. This HEPA anti-allergen filter serves dual purposes. In addition to collecting dust, debris, dirt, and hair, it also takes care of even the smallest pollens and allergens. The Roomba 890 is obviously more technologically advanced than the 690.
In case you or any member of your family has allergy problems, then the HEPA filter in iRobot 890 will give you the best health benefit other than offering quality cleaning.
As Roomba 890 comes equipped with more advanced filtration system, it gives it an advantage over 650!
6.
Full Bin Indicator
Another important difference between Roomba 890 and 690 is the ease of telling when the bin is beginning to fill. Despite the fact that both robots provide a hands-free experience to the users enabling you to rest worry free on a regular basis, the users will always have to empty the bin so that their Roomba keeps running smoothly.
The full bin indicator may be a minor yet a significant advantage that Roomba 890 gives you over Roomba 690. The Roomba 890 has a unique alert sound feature which informs the users when its dustbin needs a change. The 690 leaves you with wild guesses as to when its bit will need to be cleared.
If you are habitual of checking your device after every few rounds of cleanings, there will be little need for you to be concerned about its dustbin getting full. In this sense, the bin indicator is most certainly a useful utility.
7.
Memory Mapping
In addition to having an enhanced cleaning technology, the Roomba 890 also steals a march over 690 as it includes an amazing memory-mapping feature.
The Roomba 690 has exclusive reliance on dirt detection and infrared sensors that facilitate the device in navigating your home. The device can spend effectively more time in dirtier parts before going to other parts. However, it tends to pick the path randomly every time you use it.
On the other hand, Roomba 890 device is fairly intelligent enough to read its infrared light to read the space and remember all the obstacles and layouts for future. This means that unlike 690, once you feed information into 890, it will not be keep bumping into the same couch over and over again. It is a smart device capable of detecting its errors and not repeating it in the future.
This means that with Roomba 890, users will receive a cleaner and more efficient cleaning path that could offer great benefit in terms of comfort and usability.
8.
Accessories Requirement
It sounds counterintuitive to even think about adding an accessories when all you need is a good vacuum cleaning device. However, adding a few accessories to your Roomba 690 or 890 can actually enhance it's performance. They can definitely make the use of these devices a lot easier and convenient.
These accessories are needed for both Roomba 690 and Roomba 890. The only difference is in the nature and type of accessories.
If you use Roomba 690, you should get a sidebrush 3-pack. This sidebrush will replace the worn out the older cleaning brushes. If you are looking to enhance the docking options for your Roomba, a compact home base will help you. Also, there are additional filters for 600 and 600 series that you can use once the pre-installed filter starts to wear out.
Roomba 890, on the contrary, also gives you certain maintenance options. You can, for instance, get a replenishment kit that comes with 3 filters, 2 side-brushes, and an extractor-that might be used as a replacement for the older one. Moreover, you can also get such accessories for your Roomba 890 as will increase Roomba's runtime. iRobot XLife extended life battery is one such accessory. It can double your stock battery capacity. This will give you much longer cleaning sessions on a single charge.
[su_button url="https://www.amazon.com/iRobot-Roomba-Vacuum-Extra-Virtual/dp/B0789YLRJH/ref=as_li_ss_tl?ie=UTF8&linkCode=ll1&tag=roomba690vs890-20&linkId=c3c5900b5d5be6615a14eaf886ef00f0&language=en_US" target="blank" style="flat" background="#32CC32″ color="#ffffff" size="10″ wide="no" center="no" radius="8″ icon="icon:shopping-cart" rel="nofollow" class="bestvacbutton"]Check Best Price and Reviews[/su_button]
9.  iHome Application
Both Roomba 690 and 890 are very sophisticated and advanced iRobot vacuum cleaning devices.  You can even use them from with a wireless connection. They both come with an iHome app that is available on your cell phone-for both android and iPhone users.
Through this app, you are allowed to connect your device to a Wi-Fi enabled vacuum. This app also lets you set cleaning schedules, start and off a cleaning cycle, and even give your robot a unique name. iHome app ensures your complete control over every aspect of the unit regardless of your location. You can get incredible benefit from this app as long as your Wi-Fi system in home is running and the Roomba is connected to the network.
Despite the fact that both Roomba 690 and Roomba 890 have Wi-Fi connectivity and iHome app feature enabled, it is hardly a tie between the two devices. With its added features (some of which have been described in the above), the iHome app puts Roomba 890 at shard advantage overs 650!
10.
3- Stage Cleaning System Power
There is no doubt that Roomba's happen to be some of the most effective and powerful vacuum cleaners. They both offer unique and incredibly amazing features that ensure to help your floors clean and tidy.
Roomba 690 and Roomba 890 are two of the most popular types of Roomba vacuum cleaning machines available. They both have a 3-stage cleaning mechanism which helps them render the best cleaning job. This cleaning system uses the following
     

Dual multi-surface brushes

     

A particularly invented edge-sweeping brush

     

A powerful vacuum suction to attack and suck all dust and grime particles
However, the difference lies in the suction power of the two devices. Roomba 690, being an older device, has 5x suction power.
On the contrary, Roomba 890 is a relatively modern and advanced machine with a 10x suction power. When it comes to cleaning the floor of all unwanted dust and grime, Roomba 890 is capable of providing a better and faster job.
11.
Diameter
Looking at the diameter of both machines, you can clearly notice that Roomba 690 is fairly smaller than Roomba 890. The latter device is a large diameter when compared to the former. Large diameter allows Roomba 890 to suck and collect more dirt and dust in the same time as collected by Roomba 650!
12.
Weight
That's probably the only thing where the older Roomba 690 is at an advantage as compared to  the newer and more advanced Roomba 890. The weight of 650 is only 780lbs whereas Roomba 890 can weight up to 8.4lbs. This would makes 890 a heavier and difficult-to-move  device.
13.
Height
When it comes to height, there is fortunately very minimal difference between the two. With 3.7 inches in height, Roomba 890 is only 0.1-inches taller than 3.6-inches Roomba 690!
Our Final Pick
[su_button url="https://www.amazon.com/iRobot-Roomba-Vacuum-Extra-Virtual/dp/B0789YLRJH/ref=as_li_ss_tl?ie=UTF8&linkCode=ll1&tag=roomba690vs890-20&linkId=c3c5900b5d5be6615a14eaf886ef00f0&language=en_US" target="blank" style="flat" background="#32CC32″ color="#ffffff" size="10″ wide="no" center="no" radius="8″ icon="icon:shopping-cart" rel="nofollow" class="bestvacbutton"]Check Best Price and Reviews[/su_button]
Up till now, we have discussed and thrown light on at least 13 differences that may be found between Roomba 690 and 890. It's time to pick our favorite.
With better memory-mapping and full bin indicator facilities, Roomba 890 is clearly better suited for individuals with busier lives who are constantly on tighter schedules. Moreover, Roomba 890's better vacuuming technology makes it vastly better than Roomba 690.
If you are looking for something latest with more sophisticated cleaning options, then Roomba 890 is the thing!