[vc_row][vc_column][vc_column_text]All of us know that awful feeling. The cluttered gutter finally has reached that point that neglecting its staggering debris only can end in complete chaos. The tricky part, of course, is finding the inspiration to brave the possible vertigo of an old ladder and spend some precious weekend time taking care of gutter maintenance. That's where the benefits of buying a gutter guard from Gutter Helmet comes into play.
Why, precisely, should you guard the system?
From avoiding the outcome of clogged-up gutters to reducing the dangers of repairing this predicament, the benefits of adding guards to the house are plentiful. Let us take a closer look into how gutter guards assist in keeping your mind away from gutters and toward your more relaxing activities.[/vc_column_text][/vc_column][/vc_row][vc_row][vc_column][vc_column_text]
Preserving Gutters
If a homeowner sees the gutters of a home as nothing more than just inconveniences whenever they suffer clogged gutters, it is time to know their advantageous purpose. To start with, a gutter is a critical accessory for making sure water never enters your house whenever it is raining outside. As water accumulates upon the roof, a multitude of negative consequences might come up, which includes the following:
Ice damming in the winter

Pest and mosquito infiltration

Development of wood root

Mold or moss buildup

Flooding or leaks
How do guards work?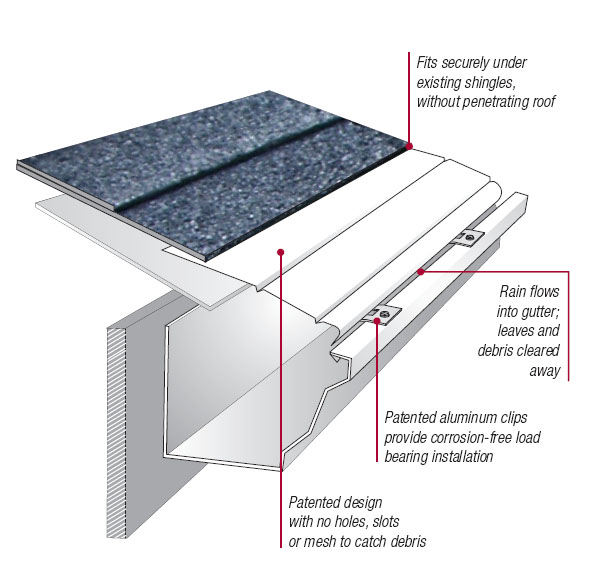 Not correctly guarding the gutter system may cause more unfortunate outcomes which do not even relate to a roof. As water isn't correctly channeled from the property, you might suffer several setbacks, which range from landscape erosion to exterior damage, basement leaks, and driveway cracks. Put plainly, guarding the gutters with Gutter Helmet will not only efficiently monitor your maintenance of your gutters, but possibly save you from spending a lot of money in repairs in the long-term.
As you have Gutter Helmet installed onto the gutters, get prepared to sit, relax, as well as keep your maintenance tools and ladder in your shed. Guards from Gutter Helmet are made of a micro mesh screen of stainless steel that is supported by its vinyl body. Gutter Helmet is placed onto your property's current gutters, and it doesn't disturb your shingles or roof.
To really consider the benefits of installing a Gutter Helmet guard onto the roof, you must start to look at the larger picture.
The Gutter Helmet gutter guard's mesh material is woven so finely that it'll eliminate any type of debris which will build up inside the gutter's rail. A grain of sand cannot even fit between the mesh screen's holes; therefore, it is guaranteed that only water flows through the gutter's system. The vinyl, rigid frame supporting the filter also is made to be fade, sun, and temperature-resistant; therefore, it is up for whichever challenges the unforeseen weather will bring to your house. Lastly, Gutter Helmet features a subtle drip-edge which assists in keeping the front of your gutter clean. Pine needles, leaves, and additional debris are diverted over the drip corner as water is pulled through the mesh screen inside the gutters.
Additional Benefits
To really consider the benefits of having Gutter Helmet gutter guards placed onto your house, you should start to consider the larger picture. In addition to being guaranteed that you never will need to endure clogged gutters ever again, you also can rest assured that the purchase is going to be accompanied by a transferable, lifetime warranty.
They typically are installed in less than one day and are going to work with your current gutters, which means you never will need to break the ladder out nor be concerned with a day spent sorting through algae and buildup again. Those are merely some of the ways guarding the gutter will improve and continuously preserve your residence.
With that being said, let's go over a couple of products today:
1.) Gutter Helmet System
When we state that Gutter Helmet is the permanent option to your gutter protection needs, we really mean it. There is a reason why this brand has been number one among America's top gutter systems for over 35 years, and it is this: their product works.
How Does Gutter Helmet Work?
The science behind their best-selling systems is easy. Within the 1960s, their scientists discovered that surface tension passively can draw rainwater around the corner of a gutter cover and inside the gutter channel while permitting debris to harmlessly fall to the floor. Gutter Helmet accomplishes that through the action of its patented nose-forward design and ribbed surface.
Gutter Helmet Benefits and Features
The brand is the sole gutter protection system in the marketplace which provides all the following:
Heavy-duty mounting brackets

PermaLife™ finish

Ribbed and textured surface

Patented nose-forward design

Triple Lifetime Warranty
And if you ever have needed to muck out your clogged gutter, you already have knowledge of one of the main real-world advantages of having the Helmet installed- you never will need to do the job on your own!
Installation of the Gutter Helmet
Gutter Helmet only can be installed by and purchased through certified and factory-trained dealers. Each installation involves a careful evaluation of your gutters, roof, and fascia boards for gutter realignment and tune-up.
Gutter Helmet Cost
The condition of your current gutter systems, size of your home, and need for specialized equipment for installation all will have an effect on how much cash you will have to pay to have the Helmet installed.[/vc_column_text][/vc_column][/vc_row][vc_row][vc_column][vc_column_text]
2.)
Helmet Heat Ice Reduction System: The Proven Ice Dam Solution
Gutter Helmet's Helmet Heat is a self-regulating, exclusive heating cable made to keep snow and ice from building up around the roof's edges.
How Does it Work?
Helmet Heat decreases ice dams by melting snow before it has the opportunity to accumulate at the roof eaves and impact water flow through the downspouts and gutters. In that way, damage is averted.
Benefits and Features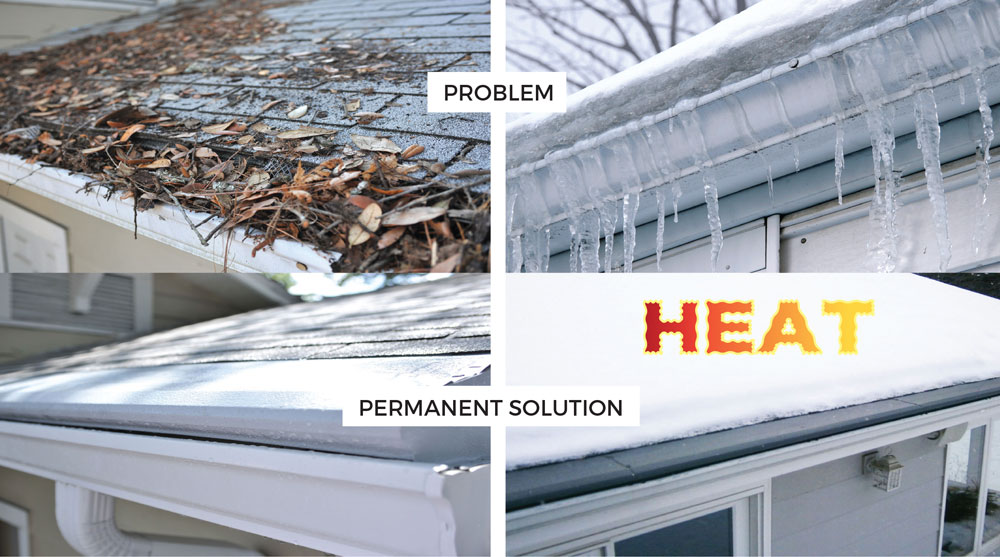 Advantages of having a Helmet Heat installed onto your house include:
Full compatibility with Gutter Helmet system

Material efficiency

Clean installation

Safety

Self-regulation

Energy efficiency
Helmet Heat and Gutter Helmet together generate an unbeatable one-two punch against frozen gutters and ice dams.
Installation
Helmet Heat is directly installed underneath the gutter covers of the Gutter Helmet, without exposed wire or visible roof clips. It may be mounted on any house which uses Gutter Helmet's gutter protection system. The dealer in your area may simultaneously set up both systems.
Operating Directions
As the Helmet Heat gets installed onto your house, all you have to do is switch it off or on at the suggested times through a heat cable breaker or with a light switch. Any buildup which already has formed might be manually knocked off to expedite thawing.
Gutter Helmet Reviews
Leaf Guard vs Gutter Helmet (Product B)
Background of Product B:
Product B can be marketed by The Englert Corporation of Perth Amboy, NJ. The main Englert Corporation, as listed on the site (www.englertinc.com), sells gutters, metal roofing, portable roll-form equipment, and coil coating. Englert doesn't list Product B as a main business, doesn't make Product B products, and doesn't control the quality of the installation or product. Englert markets the brand name of Product B and manufacturing equipment to independent dealers who buy gutter coil stock, as well as pay a per-foot fee to Englert. Product B's products are field-manufactured upon the job site. The product's quality and all machine maintenance and adjustment are dependent on the level and capability of training of every operator.
Gutter Helmet® Comparative Details:
Gutter Helmet® is marketed and manufactured by a Gibraltar Industries Company referred to as SEMCO Southeastern Metals. Every Gutter Helmet® product is made at the company factory inside Jacksonville, FL. This center features cutting-edge equipment, a fully equipped test lab, and a dedicated team of Gutter Helmet® specialists, which includes manufacturing, engineering, customer service, quality control, as well as warehouse logistics. Gutter Helmet® quality and production are monitored and controlled from the first specification of raw materials to the end installation and delivery by expert dealers.
Market Data
The sales strategy of Product B includes marketing the product as a "Gutter That Never Clogs." Dealers of Product B are franchised, with huge up-front fees utilized to launch big promo campaigns. Product B possesses a two-tiered price structure which markets to new home builders at significantly discounted wholesale prices, as well as to homeowners at significantly greater retail prices. High equipment prices oftentimes result in one dealer serving a multitude of marketplaces, scheduling installation routes ahead of time.
Product B Product Claims/ Marketing
1
st
Claim: Product B is the Number One Guaranteed Clog-free Gutter.
Facts
Product B is a one-piece gutter cover/gutter combination; therefore, it's a factual, yet misleading claim. For each Product B system installed, five Gutter Helmets are expertly installed over full-size, existing gutters. That easily positions Gutter Helmet® as the number one protection system for gutters.

Product B doesn't claim to keep debris out of your gutters. Dealers make a promise that gutters are going to be cleaned free of charge if they're correctly maintained and installed and if the initial Product B dealer still is in business!

Product B's dealers regularly price their systems to prepay for cleanout calls according to the kind of trees that are present in a home's area. In heavy pine/ leaf areas, gutters are priced to be more expensive because higher service levels are needed for cleanout services.

Product B's design offers a continuous 5/8-inch vertical opening. A vertical opening won't prevent falling debris and leaves from getting into your gutter. On the Gutter Helmet®, its 'nose-forward' position is going to protect a continuous 3/8-inch water opening, which means there isn't any vertical opening to permit debris and leaves to enter.
2
nd
Claim: Product B is the sole seamless available gutter protection system.
Facts
That's not a factual statement. Product B and some smaller businesses all roll-form seamless covers from common gutter coil stock on the jobsite. As there definitely are benefits to seamless gutters, there's absolutely no functional benefit to seamless gutter covers. As a matter of fact, there are several definite downsides to seamless covers.
Downsides involve:
Ladder placement and falling branches cause damage and dents to all gutter protection systems, which include Product B and additional competitors. Repair of a two-foot segment of damaged Product B will require full replacement of the whole gutter run at high cost. Repair of the Gutter Helmet® requires the inexpensive, simple replacement of a five-foot section.

Seamless one-piece covers can't be opened for cleaning (point #2 on 1

st

claim).

Field-manufactured product quality depends on consistent machine maintenance, as well as adjustment in all types of weather, and on the operator's training and ability.
The panels of the Gutter Helmet® are made with an overlap 'step' in order for the installations to look seamless as they are installed over full-sized gutters, but have the convenience and functionality of five-foot panels.
3
rd
Claim: Installation of the Gutter Helmet® is going to de-laminate shingles, as well as void roof warranties.
Because Product B installs upon the fascia, the roof warranty is protected.
Facts
It's a false statement. Gutter Helmet® instructions and samples recently were sent to the major roof manufacturers. Letters that were received from the Technical Service Directors of those businesses state,
"Our limited warranty against manufacturing defects stays in full effect and force as the product is installed with our shingles…. Gutter Helmet® products, as installed according to the manufacturer's directions, don't void the Celotex™ Limited Warranties."
Certainteed offered verbal approval yet wouldn't give out a reference letter.
While it's a fact that Product B doesn't void roof warranties or de-laminate shingles, it also is a fact that Gutter Helmet® doesn't void warranties or de-laminate shingles either. Most houses have multiple roof penetrations for vents, air conditioning equipment, skylights, and so on and so forth. And shingles are put in with more than 5,000 roof-penetrating nails. Those roof penetrations and additions don't void warranties. Gutter Helmet® under-shingle installations of 120' only require 26 fasteners, all of which get sealed using a poly-butyl sealant that permanently protects a roof's integrity. Those sealed fasteners don't de-laminate shingles and won't void the roof warranty.

Product B installs right onto the fascia, yet fascia mounting oftentimes creates serious issues that aren't there with full-size gutters. The bottom corner of a roof has an applied drip-edge made to install in conjunction with full-sized gutters. Rainwater will flow over the shingles and then backward towards the fascia (through water surface tension). This drip-edge will protect a house by channeling the rainwater away from the fascia and inside the gutter. However, on Product B's system, damaging rainwater often is trapped between the fascia and the gutter. Installers apply a caulk seam alongside the top backside of the gutter to attempt to prevent water damage, yet water which finds its way behind the gutter through missing or cracked caulk leads to fascia damage and rot.
4
th
Claim: Product B is able to deal with up to 21" of rainfall/ hour (in calculated laboratory tests).
Facts:
It's an outrageous claim. About 21" of rainwater that falls on an 1,800 square foot house in an hour equates to over 25,000 gallons of rainwater. In order to deal with 25,000 gallons of rainwater, gutters have to drain around 420 gallons each minute. The capacity of Product B's gutter upon an 1,800 square foot house is just 66 gallons, and that's just if the house has continuous gutters on all sides! For that claim to be a fact, downspouts must fully drain 100 percent of the maximum capacity of Product B's gutters every 9.4 seconds.

Product B says that their gutters won't prevent runoff within corners, heavy-flow, and low spaces. Within roof valleys in which there's a heavy water concentration or at the lowest spot of the gutter run like the corners, some of that water might overshoot Englert's Product B gutter.
Facts Which Product B Dealers Don't Want Consumers to Know:
The gutters of Product B are undersized and don't meet the building code rain ability requirements of most cities. The capacity of one foot of Product B is 0.39 gallons of rainwater, whereas the capacity of one foot of standard five-inch gutter is 1.2 gallons. That means one gallon of rainwater will require a minimum of 31" of Product B's gutter, yet just 10" of a five-inch gutter. Product B's under-sized capacity is even higher in spaces in which six-inch gutters are common.

The capacity of one foot of standard six-inch gutters is 1.80 gallons, or a gallon of rain will require 6.7" of gutter (versus 31" of Product B). Stated plainly, a five-inch gutter deals with over three times the maximum capacity of Product B's gutter, whereas a six-inch gutter deals with over 4.5 times the maximum capacity of Product B's gutter!
*** UPDATE*** Within a couple of the newer marketplaces, Product B's dealer's field-manufacture gutters upon a 'large-capacity' new machine made to assist in overcoming the multiple shortcomings of the initial undersized gutters. The all-new profile boosts the rain trough size to 4.5-inches in width by 2.5-inches in height. This 'large-capacity' new profile still is 31.84 percent smaller than a standard five-inch gutter!
Product B's system requires at least 50 percent more downspouts than a standard gutter. In order to compensate for an undersized gutter, more downspouts must be installed, and every downspout must be oversized to assist in accelerating drainage.


Product B's installation prices are misleading. The majority of homeowners don't understand or know the overall length of gutters necessary for their house. Gutter Helmet® installs over current gutters with a measurable, known length. Product B's dealers take off the initial gutters and re-measure, which adds the length of all new downspouts to the overall footage requirement. 10 feet on average are added for every downspout, and because Product B's system possesses a capacity of just 1/3 – 1/4 that of full-sized gutters, at least 50 percent more downspouts are needed.
That means Product B might quote a lower PER-FOOT cost than a Gutter Helmet® system, yet 60 – 80 extra feet of downspouts usually are needed for Product B's installation. Most Product B dealers will charge the same per foot price for downspouts as for a gutter itself, significantly inflating the total price of installation.
Product B's dealers remove (then destroy) the homeowner's current full-sized gutter system and then replace it with under-capacity gutters, even if current gutters don't need to be replaced. This replacement/ removal forces the homeowner into a permanent situation with Product B's system and dealer dependency, even if a homeowner isn't satisfied.
Conclusion

Each Gutter Helmet® dealer has the job of understanding and sharing the superior product features offered by the professional installation of the Gutter Helmet® system.
The Helmet has the patented and exclusive PermaLife™ coating which resists fading, corrosion, and chalking. Product B refers to its coating as Castleclad™, yet it's a polyester coating.

Gutter Helmet® has a textured surface which performs 60 percent better than the smooth surface of Product B.

The Helmet features a special nose-forward position without any vertical openings. Product B features a vertical opening which permits debris and leaves to get inside.

Gutter Helmet® has the strength of patented 50-gauge brackets, which adds support and strength to the gutter and system.

The system is a full-size cover which can handle the heaviest of rainfalls and fasten to full-size, existing gutters that carry even the heaviest of rains away from a home's landscaping and foundation.

A full-sized gutter may be pitched to offer maximum drainage within the smallest possible gutter run. Product B's gutters are formed using a continuous, single run which must be pitched high to low and appears crooked upon the consumer's home. They also require more downspouts.

Gutter Helmet® offers the best warranty within the industry – a transferrable, lifetime warranty on performance and material.
[/vc_column_text][/vc_column][/vc_row]