Everybody is after the perfectly bright, pearly white smile, but environmental factors can stain your teeth, causing them to appear splotchy or yellow. Yellow teeth are, unfortunately, associated with poor health, whether it be the impact of smoking, a poor diet, or a lack of personal hygiene. A nice, bright smile is also one of the first things people look for in a potential partner. According to a People Magazine survey, more than 90% of people agree that a bright white smile is the number one most desired physical trait in a partner!
But let's be real… you're not going to give up your beloved morning and evening beverages. But brushing your teeth isn't always enough to keep your teeth looking their best. What you can do, however, is whiten your teeth from the comfort of your own home. That said, there are no two methods of whitening that are the same, but with so many on the market, it can be hard to figure out which ones will actually deliver quality results. Ditch the whitening strips and charcoal paste, and check out this revolutionary technology called Snow Teeth Whitening. It'll soon become your new go-to when you need to brighten your smile.
What is Snow Teeth Whitening?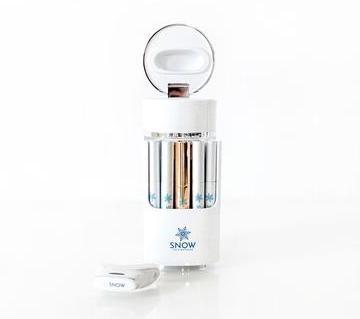 Snow's New Teeth Whitening Wireless Kit
Snow Teeth Whitening is an at-home teeth whitening system that is FDA approved and doesn't require a prescription from your doctor. According to Snow, their system is award-winning, and it has been featured in publications like Marie Claire, People, and Elle Magazine.
Snow is a brand that's different from the other whitening products on the market – they promise full teeth whitening without many of the downsides of other products out there. Similar to other whiteners, Snow involves the application of a serum to your teeth. However, Snow is unique as their process also involves a mouthguard that blasts your teeth with LED light. This method whitens more effectively, making it one of the best products for quick teeth whitening.
The whitening system comes with 12 months of Snow's advanced, proprietary teeth whitening serum plus the LED whitening accelerating technology. Snow claims to remove all stains, leaving you with a pearly white smile!
About Snow Teeth Whitening
Snow Labs, the Harvard science research company based in Scottsdale, Arizona, serves over 100,000 customers. They're always trying to improve their technology and are consistently releasing more helpful products.
Plus, Snow gives back! Did you know that there are over 17 million American children that don't have access to dental care? With every sale, Snow donates a portion of their proceeds to help provide necessary dental care to children who cannot afford it.
Does Snow Teeth Whitening Work?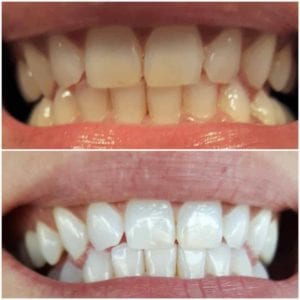 Countless happy customers and reviewers have called Snow ground-breaking and revolutionary. Snow's method of whitening has been proven to perform better then whitening trays and strips. Some have even compared Snow to the expensive whitening procedures performed by dentists. Snow delivers professional results at a fraction of the cost and in the comfort of your own home. Plus, tens of thousands of reviews (yes, really) and a 5-year warranty on the product can help you feel sure that Snow whitening is no joke!
Click here to read our full review of Snow.
One of the biggest pros to Snow is that you only have to have their product on your teeth for 30 minutes. Another big plus? People who use Snow typically see great results within only three 30-minute sessions!
Snow also offers customers a 100% results guarantee. Essentially, this means that if you're not satisfied with your results, Snow will replace the whitening serum to ensure that you do find your sought-after smile.
How To Use Snow Teeth Whitening Kit
Snow Teeth Whitening Kit Instructions 
With every Snow Teeth Whitening Kit order comes clear and simple step-by-step instructions for using Snow to ensure you get the best results.
Essentially, the first step is to apply the Snow whitening serum using the small brush in the applicator. This serum is similar to a gel that you paint onto your teeth. Next, you place the Snow LED light device into your mouth for 10-30 minutes a day. This device fits like a bulky mouth guard, but it's perfectly comfortable. After the whitening time has passed, rinse your mouth with water and apply the remineralization desensitizing gel to help lessen the sensitivity side effects, if necessary. Snow recommends you use the remineralization gel, especially if you have sensitive teeth. This can help cut down on sensitivity, while strengthening your tooth enamel and returning essential vitamins and minerals to your teeth.
Snow suggests using the whitening system for about 10 to 30 minutes per day for 21 to 30 days in a row. However, if you have sensitive teeth, you may choose to take breaks of one to three days during a treatment period.
Although Snow consistently delivers dramatic smile transformations, results may vary depending on your teeth and how stained they are. Some teeth will whiten dramatically in a matter of days, while others can take several treatments.
It's recommended that, for at least the first week of your treatment, you avoid drinking any liquids and eating any foods that are notorious for staining teeth. This includes fruits, candy, red wine, coffee, and certain juices. If you must have these, make sure to rinse your mouth well after you enjoy them.
[su_button url="https://www.trysnow.com/collections/all-products?afmc=3y5&utm_campaign=3y5&utm_source=leaddyno&utm_medium=affiliate" target="blank" style="flat" background="#fb8746″ color="#ffffff" size="10″ wide="no" center="no" radius="8″ icon="icon:shopping-cart" rel="nofollow" class="bestvacbutton"]Click Here To Shop Snow's Online Store[/su_button]
Snow Teeth Whitening and Sensitive Teeth
Many people have experienced discomfort or pain while whitening their teeth. This may be due to teeth whitening sensitivity. A beautiful, white smile can help boost your self-confidence but whitening your teeth may cause you to question whether it's worth the pain. But don't write-off white teeth altogether just yet!
Thankfully, having a pearly white smile doesn't have to be painful. Thanks to Snow's unique, proprietary serum, it does not cause any of the sensitivity of other whitening kits or solutions. This is why Snow is rated number one by customers with sensitive teeth.
The secret is that most over-the-counter whitening products use hydrogen peroxide as their active ingredient, yet many people have teeth that are sensitive to the chemical. This can cause your teeth to ache during the whitening procedure. You may also notice some discomfort when eating or drinking hot or cold foods.
Snow also offers a desensitizing serum, which is an optional post-whitening treatment for customers. This serum is especially helpful for those with extra-sensitive teeth. This serum reduces sensitivity while strengthening tooth enamel and returning minerals and vitamins to the teeth.
However, if you have sensitive teeth and notice discomfort, be sure to consult your dental professional.
Is Snow Whitening Safe?
Snow has gone above and beyond to make sure their product is effective, yet safe. Snow is FDA approved for your peace of mind. As long as you follow the plan, Snow will deliver a celebrity-grade white smile without any dangerous or uncomfortable side effects. The kit uses ultra-safe LED wavelengths to help whiten your teeth.
These do not cause any harm to your mouth or body and are completely safe! Snow also doesn't use any dangerous chemicals and never tests on animals, so you can feel good about using their products. It's even safe to use your Snow whitening kit while breastfeeding.
Purchasing your Snow Whitening Kit is very straightforward and easy. You can visit Snow's online store and purchase it with just a couple of clicks. Snow delivers your order quickly and for free within the United States! For international orders, there is a small shipping fee.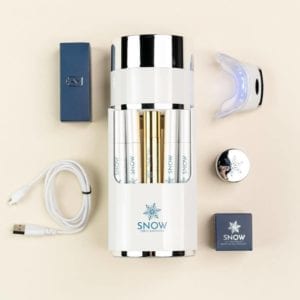 [su_button url="https://www.trysnow.com/collections/all-products/products/all-in-one-teeth-whitening-system?afmc=3y5&utm_campaign=3y5&utm_source=leaddyno&utm_medium=affiliate" target="blank" style="flat" background="#fb8746″ color="#ffffff" size="10″ wide="no" center="no" radius="8″ icon="icon:shopping-cart" rel="nofollow" class="bestvacbutton"]Click Here to Check Best Price and Reviews of Snow's Teeth Whitening WIRELESS Kit[/su_button]
Understanding Tooth Discoloration
Your teeth may become discolored for a number of reasons. It's important to understand what's happening to your teeth so you know the best course of action to take.
Plaque and Tartar
Your mouth is a breeding ground for bacteria – we know, gross! The mouth provides the perfect warm, wet environment for the production of dental plaque, which is a super-sticky bacterial deposit. Plaque is so sticky that it clings to the teeth while it attacks your enamel and gums.
When left untreated, plaque bacteria can grow by feeding off the foods you eat – not unlike a parasite – and do continual damage to your oral health. Plaque can weaken your enamel, leading to cavities and tooth loss, and can also create calculus or tartar, which is basically deeply ingrained plaque.
Plaque can change the appearance and color of your teeth. Plaque can range from off-white to yellow, but more severe cases of tartar often look like a brownish build-up. As rare as this may seem, it's often cited that 60% of Americans have some degree of tartar build-up, often in harder to reach areas of the mouth.
Unfortunately, it's impossible to completely prevent plaque from forming on your teeth, but if you practice proper oral hygiene, you can minimize the amount and impede it from doing any further damage to your teeth. Flossing, brushing, and rinsing will also prevent the formation of tartar. In addition to a healthy oral hygiene routine, you may also want to whiten your teeth to improve the appearance of your smile. However, if the plaque has been left untreated for quite some time, consider a trip to the dentist for professional removal and cleaning.
If you're a smoker, have dry mouth, or wear braces, you are more at risk for developing tartar. The risk of tartar build-up also increases as you age.
Food stains
You may have noticed that over time your teeth have become stained as a result of drinking coffee or red wine. The color pigments in foods and drinks can quickly turn your pearly whites into dingy yellows. Certain foods and drinks contain acids which erode your teeth and weaken your enamel.
Acidic drinks like coffee, wine, and soda are among the worst offenders because they contain tannins and powerful pigments which can penetrate the porous enamel. Drinks like these will stain both the outer and inner tooth and the more that you consume them, the greater the risk that you will end up seeing them on your teeth. Acidic foods like fruit and candy can also damage your teeth in the same way.
Whitening Stained Teeth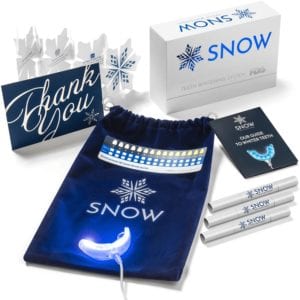 [su_button url="https://www.trysnow.com/collections/all-products/products/teeth-whitening-kit?afmc=3y5&utm_campaign=3y5&utm_source=leaddyno&utm_medium=affiliate" target="blank" style="flat" background="#fb8746″ color="#ffffff" size="10″ wide="no" center="no" radius="8″ icon="icon:shopping-cart" rel="nofollow" class="bestvacbutton"]Click Here to Check Best Price and Reviews of Snow's Teeth Whitening WIRED Kit[/su_button]
Wine and Coffee Stains on Teeth
Americans like wine. On average, 950 million gallons of wine are consumed every year in the United States, with the average American drinking close to 3 gallons each. In addition, wine makes up between 15% and 20% of all alcohol sales in the U.S. A large portion of this is red wine, which offers drinkers a myriad of health benefits due to its high concentration of resveratrol and flavanols.
When consumed in moderation, red wine can be quite good for you; it helps alleviate stress, boosts levels of omega-3's, and may help protect the brain from stroke damage. However, red wine is also known to stain your teeth. This is especially concerning if you have spent a pretty penny on dental work, or if you just care about your oral hygiene and the appearance of your smile.
Thankfully, there are ways to lift wine stains from your teeth to reveal a pearly-white shine. In fact, Snow is scientifically formulated to erase tough stains from years of red-wine drinking.
How Do Foods and Drinks Stain Teeth?
When you feel your teeth, you may think of them as a flat, impenetrable surface. This actually isn't the case. Tooth enamel is porous, meaning that if you were to pull out a microscope, you would see lots of little holes, as well as a few small cracks that have formed over time.
Drinks like red wine and coffee contain color pigments so powerful that they can stain anything they come into contact with. This may sound familiar if you've ever spilled a glass of wine on carpet! Every time you sip red wine in the evening or a nice warm coffee in the morning, the pigment from the drink can seep into your enamel causing the teeth to look stained. Red wine is also quite acidic. Over time, this acidity can erode the enamel on the surface of your teeth, which will create more cracks and holes.
How to Get Rid of Food and Drink Stains
Wine and coffee drinkers, rejoice! You don't have to sacrifice your glass of wine or cup of coffee for a pearly white smile. On the contrary, there are several ways you can reduce damage to your teeth caused by food and drink. That said, there are a number of factors at play and not all methods will be effective for every case.
The only tried and true method for wine stain removal is the Snow Teeth Whitening Kit. If you have food or drink stains on your teeth and tried to brush them away using whitening toothpaste, you'll know that no matter how much toothpaste you use, the results aren't there. This is because the most noticeable stains aren't on the surface of your teeth, but are actually underneath the enamel where toothbrushes can't reach.
The Snow Teeth Whitening method gently bleaches both the dentin, the inner surface of the tooth, and the enamel for the best results. This means that the results will stay with you longer, and their special serum will protect against future stains. Snow's unique, proprietary formula is specially designed to provide a total whitening solution for all types of teeth. It will make your smile whiter and brighter, even if you've been enjoying wine all your life and have some deeply ingrained discoloration. Snow can also help you restore lost luster after you've enjoyed a few glasses!
The Effects of a White Smile
A smile can have an impact. In fact, the majority of people are turned off by bad teeth. This is due to an innate, primal reaction that indicates that the person is unhealthy or has poor hygiene. Of course, this isn't always the case, but it's fair to say that the teeth are an outward reflection of inner health and can have a big impact on first impressions.
Having bad teeth can also affect your self-confidence. Many people try to hide their teeth and avoid smiling in pictures due to an insecurity related to the appearance of their teeth. Having a white smile can really boost your confidence and open up more opportunities. Snow lets you take your confidence into your own hands – at an affordable price and from the comfort of your own home.
On the road and don't have time to stop in at the dentist for a whitening treatment? The Snow kit is conveniently sized for easy transportation and a white smile on the go, no matter where you're traveling to. This means you can whiten anywhere, any time. Make sure to check out the brand new wireless version!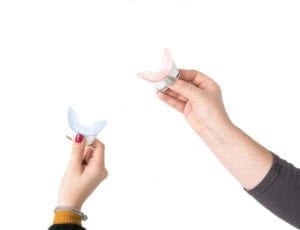 [su_button url="https://www.trysnow.com/collections/all-products/products/all-in-one-teeth-whitening-system?afmc=3y5&utm_campaign=3y5&utm_source=leaddyno&utm_medium=affiliate" target="blank" style="flat" background="#fb8746″ color="#ffffff" size="10″ wide="no" center="no" radius="8″ icon="icon:shopping-cart" rel="nofollow" class="bestvacbutton"]Click Here to Check Best Price and Reviews of Snow's Teeth Whitening WIRELESS Kit[/su_button]