Have you ever been frustrated while trying to grill something that keeps wanting to slip through the grates of the grill? Or maybe you just love grilling fruits and vegetables, but you haven't figured out the best way to make this work. A grill basket may be your answer.
What is a Grill Basket?
A grill basket is a metal basket used for barbecues and during grilling. Grill baskets come in handy for all types of grilling, although they're especially helpful when the food you're grilling tries to slip through the grill grates. Of course, you can use a grill basket to grill anything, including meats, but they're really beneficial for grilling fish, fruit, and vegetables.
There are many size and shape options for grill baskets, including both round and square, depending on your preference. Small holes in the grill basket let the juice and oil run out of the food you are cooking, making for a healthier meal overall. This type of grill basket comes in handy when one has to cook a vegetable or anything that has been cut into small pieces. The other benefit of such a grill basket is that hot dogs can be cooked on them without having to worry about them slipping through the cracks of the grill.  Such grill baskets can be easily washed as well, which is a big advantage.
Another type of grill basket includes those that enclose food inside of them. This type of grill basket has long bars rather than small holes and they are useful when you are cooking food that needs to be turned frequently. Such baskets are good for the cooking hot dogs or corn dogs, but cooking small pieced vegetables and meat will not work as well with this type.
Many people think that enclosed grill baskets are the best option, as they come with safety handles which make the turning of food easier without squeezing out the juice from food. In such grill baskets, food won't stick to the grill and food does not even slip through. If you are going to make a juicy steak or something similar, a good enclosed grill basket is the perfect option for you as they preserve all the juice in your food.
No matter what grill basket you choose, they normally vary from $20 to $30 depending upon various factors. Below, we'll cover the best grill baskets for you, and you can decide which type fits your situation the best.
11 Best Grill Baskets
In case you are searching for the grill basket perfect for your grilling needs, we've got them all here in one place. Let's get to the baskets!
Nothing says a good day, like grilling with a beer in your hand, tunes playing, and bringing your friends and family together to enjoy a real American meal. This stainless steel grilling basket is the perfect option for people who are looking for a grill basket that lasts.  The basket has been manufactured using heavy duty stainless steel, which ensures the long life of this basket, no matter how often you hit the grill.
The basket has been equipped with curved handles to make sure that your grilling experience is safe and fun. A true Grillaholic knows that that smokey delicious flavor makes any meal. Grill what you otherwise couldn't with this stainless steel grill basket, and get that coveted smokey flavor. This will not only make your mouth water but you will also be looking for more!
One thing that makes this basket a hit is that it always delivers the efficient and delicious grilling that you and your family and friends expect. This grill basket can be used to grill meat, fish, seafood, fruit, and vegetables, and it's compatible with every type of grill.
Other important features of this basket are as follows;
The product dimensions are 11.5 x 13.5 x 2.5 inches and it weighs around 1.9 pounds

The curved handles ensure a safe grilling experience

Heavy-duty stainless steel is used, which promises a long life for this basket

This product will provide an ideal American meal so you can chill out with your friends and family and make the most out of the day

The tools that come with it are easy to use so that you can have a little party even after work when you are tired

This basket works well with most grills, including Traeger, Weber, and the Big Green Egg

This basket comes with a lifetime money back guarantee, which we love
2.     Weber Deluxe Grilling Basket
This deluxe grilling basket is high on the list because it has tons of features that grillers love.
This grill basket is a perfect option for those who want to cook vegetables on a grill, but they're afraid of losing them to the grill.

It's manufactured with stainless steel for great durability

This basket works best in line with all Weber grills

This grill basket can also be used as a grill wok pan for cooking diced meat, a two in one option!
3.     Traeger BAC273 Stainless Steel Grill Basket
Traeger is a big name when it comes to grill baskets and grills, as they have secured a good reputation by always providing the best products. They have done the same thing this time by introducing this grill basket. Here are some of the great features of this basket:
It allows the cooking of everything, ranging from small to larger pieces which will ensure that nothing falls off and gets burned in your grill

Durable and heavy duty stainless steel has been used, which means you'll have this for years

The basket is extremely easy to carry, with both front and side handles

The edges of this basket have been raised to ensure that food does not roll away, even with the smallest pieces

The dimensions of this basket are 15.74 x 11.5 inches
4.     Schmidt Brothers – BBQ Ash Grab & Grill Flat Tray, Large Non-Stick Coated Stainless Steel with Removable Wood Handles, Dishwasher Safe
This masterpiece has been made by Schmidt Brothers, and it's  favorite on our list. The features of this grill basket have made it a perfect choice for people who want to cook food that is small and has chances of slipping through the grill grates.  
Have a look at these features!
The side handles of this grill basket are made up of wood, which promises that you can take it off the grill without having to wear gloves

The grill basket has square holes in it, which ensures a smokey taste but will not let the food fall through them

It is very easy to wash as you just have to remove the handles and put it in a dishwasher just like other plates and voila, you're done!

It's manufactured with stainless steel, so you know it'll be durable enough for your grilling needs

The non-stick coating ensures that food does not stick to the base
5.     WolfWise Portable BBQ Grilling Basket 430 Stainless Steel Removable Wooden Handle
WolfWise has been manufacturing grill baskets for a long time, and they have done a great job this time as well. This grill basket is a bit different than those listed above because it's enclosed, yet not necessarily great for small pieces of food. We have listed down the features which make this grill basket a top choice:
FDA approved 430 grade stainless steel

Non-stick coating ensures the elimination of food sticking to the base, and is easy to wash as well

The side handles are made up of wood so that you can grip them easily without burning your hands

The side handles can be folded and adjusted which makes this grill basket an easy to carry option

The grilling gates can be locked at a place so that nothing falls off or gets out of the basket

The grid gaps have been designed very accurately to ensure equal heat distribution throughout the basket
6. BBQ Dragon Rolling Grill Basket for Vegetables, the ONLY Vegetable Grilling Basket That Rolls to Turn Kabobs, Veggies and Shrimp on Your BBQ Grill
As the name suggests, this grill basket is perfect for grilling vegetables and can also be used to grill shrimp or kabobs. This is a neat basket because it can actually be rolled on your grill without losing the contents of the basket.
The features of this grill basket are explained in detail here:
Grid gaps are perfect to make sure that heat is equally distributed and no food falls through

The stainless steel manufacturing ensures easy cleaning in the dishwasher

The basket can also be used as grill wok or smoker

This basket is ideal for cooking vegetables due to its small holes. Other than the vegetables, people can also stir-fry scallops, pork, chopped chicken, and shrimp

Grill basket is extremely easy to use, no matter what you are cooking
7.     Bobby Flay™ Nonstick Grill Basket
With this grill basket, your overall grilling experience of vegetables, chicken, and shrimp will be revolutionary. You can now ditch those brats and burgers (if you want!). Have a look at the awesome features of this grill basket:
Carbon steel is used to manufacture this product, which ensures its long life

The non-stick coating ensures that food doesn't stick to the surface and is easily flipped. Also, washing becomes easier

The handles are precisely integrated so that lifting is easy and can be done in a breeze

It is 12 inches in diameter
8.     The Pampered Chef BBQ Grill Basket
This grill basket is bound to be a favorite accessory in your kitchen. With fine mesh, it's lightweight and easy to use, giving you freedom to create the most intriguing recipes. Here are a few of the features and benefits: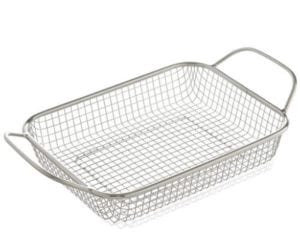 The mesh basket is made up of stainless steel, ensuring long life and durability

It makes grilling vegetables, fruits, and small pieces of meat super easy

The handles are well-built which ensures that the basket is easy to move and carry

The basket can be washed in the dishwasher, so you do not need to put your hands in any soap
9.     Cuisinart CNW-328 Non-Stick Grill Wok, 11 by 11-Inch
The Cuisinart Steel Wok is a perforated steel pan that's ideal for cooking bite sized wok-style foods without having them fall through the grate. It's excellent for grilling veggies, fish, cubed meats, or for any small foods that you want to grill. Read below for more perks of this product.
Non-stick coating is present, which ensures that food does not stick to the surface and means that cleaning up is a breeze

The sides have been raised to make sure the food does not fall out

It is made up of perforated metal, which promises a real grilling experience and smoky flavor
10.  Yukon Glory Professional Barbecue Grilling Basket Set of 3 – Heavy Duty Stainless Steel BBQ Baskets
This grilling basket set makes a great gift for barbeque lovers, cooking enthusiast friends, and family members. The baskets are high quality and work to ensure an easy but delicious grilling experience for the entire family.
The set comes with three baskets, and all pieces are made up of heavy duty stainless steel

The small perforations ensure equal heat distribution and even cooking

The dimensions of the baskets are 8.5 x 3 inches, 10 x 7 inches, and 9 x 9 inches

The design is very lightweight so it can be carried around very easily

Dishwasher safe for easy clean up

Can be used with any type of grill be it charcoal, gas, electric portable, infrared, or propane

The set has three pieces which makes it a perfect choice for people who have an interest in cooking, who have a lot of friends, or a big family

Three-year warranty, so you can buy it without thinking twice
11.  Cave Tools Vegetable Grill Basket – Dishwasher Safe Stainless Steel – Large Non-Stick BBQ Grid Pan for Veggies Meat Fish Shrimp & Fruit – Best Barbecue Wok Topper Accessories Gift for Dad
No more pan frying your sides in the kitchen while cooking your entrée out on the grill or smoker. Your veggie tray takes up less space on the barbeque so you can cook everything at once, and this basket is a great choice for those reasons.
Here are a few more of the important features:
This basket is a perfect option when you want to cook small sized food such as veggies, shrimp, or anything that has the chance of falling out into the grill

The tray takes up minimal space so people can use it to cook everything they need to at one time

The curved handles make sure that food transfer is not a hassle

It can be easily washed with simple soap and water, or you can put it in the dishwasher
How to Use a Grill Basket
Have you ever wanted to grill asparagus on your grill basket but were afraid of ruining the entire meal? Or have you wanted to grill salmon but you did not because you thought you might accidentally turn the fish into charred remains?
If any of these have crossed your mind, you have got to buy a grill basket. There are two types of grill baskets available in the market:
Hinged baskets, also known as flexible baskets

Perforated baskets that have open tops and raised sides, also known as grill woks
Use Grill Baskets for Grilling Fish
As we said earlier, if you've been afraid of grilling salmon, chicken wings, or even whole fish into ashes, it is time to buy yourself a grill basket. When you use a hinged grill basket to cook the food, the food does not come in contact with the base and it is well-kept between two sides of the basket. The grip is firm enough to keep the food grounded in the basket. We recommend using nonstick cooking spray or oil to eliminate any sticking onto the basket.
2. Use Grill Baskets to Cook Side Dishes and Vegetables
Are you someone who loves cooking an entire meal on the grill? Well, welcome to the world of grill baskets. You can cook nearly everything on the grill, and they even come in handy when you want to roast potatoes or green beans on a hot summer day. Hinged baskets and grill woks are both good for cooking vegetables, especially the small or thin ones which may include mushrooms, scallions, sliced onions, and broccoli florets.
However, before cooking, make sure that you have cut the vegetables, or whatever you are cooking, into the same size to ensure that they are cooked at the same time and you do not have to check every piece. It is advised to fill up the basket when you are cooking vegetables as the steam can help cook through.
3. Use Grill Baskets to Lose the Skewers
We all know the struggle of threading food onto skewers as they take a lot of time and some food items are very difficult to pierce.  So, if you are in a mood for some grilled prawns or shrimp, marinate them with buttery and spicy sauce and toss them in a grill wok or hinged basket. The baskets help in making the turning process easier and hassle-free. With the wok, you can easily keep the food moving just as you sauté it in a skillet. Try to keep seafood into one layer, as this will help it cook through correctly.
4. Use Grill Baskets to Cook All At Once
When you are cooking chops or burgers in a large quantity, a hinged basket can ease the process as it allows the one-time flipping of everything on the grill. It is recommended to make sure that all the items are of the same thickness so they can be cooked well at the same time.
Now that you have all of the information you need to make an informed buying decision, get out there are buy a grill basket that meets your needs!
Do you have a favorite grill basket? What's your favorite food to grill? Let us know in the comments below!