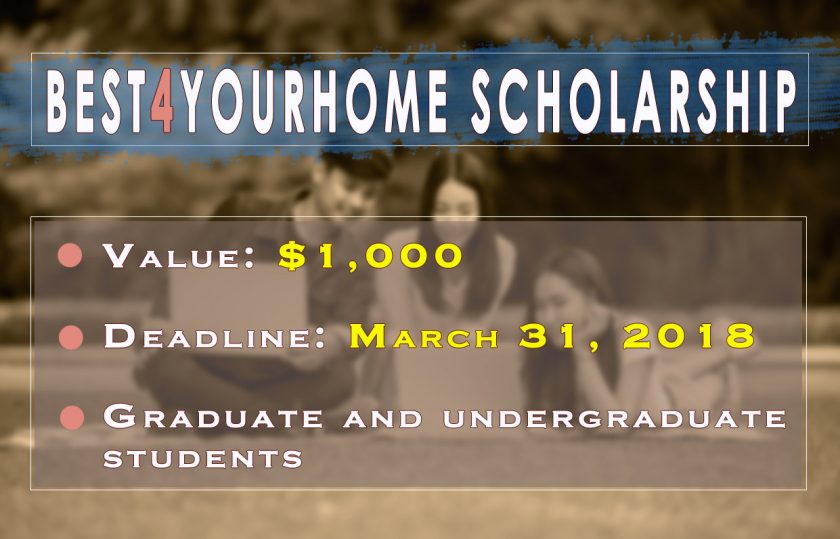 Best4YourHome is a website for homeowners and dedicated to all matters of housekeeping. Our experts give useful tips on housecleaning, organizing rooms as well as usage and maintenance of home appliances. From handheld vacuums and robot vacuum cleaners to steam irons and dishwashers, we also make reviews of the best household appliances available in the market.
We understand the importance of education for young people and are aware of the fact that education isn't accessible to everyone. To support students, Best4YourHome has launched an annual $1000 Scholarship Program. The Scholarship Program is available to graduate and undergraduate students. International students are also welcome to apply for the program.
Scholarship 2017 Winners
Thanks to everyone who took part in applying for our Scholarship 2017. We have received 116 applications, and here is the TOP 5:
| # | Name | Institute |
| --- | --- | --- |
| WINNER | Bryce Church | Roseman University College of Dental Medicine |
| 2 | Amy Dell | Unity College |
| 3 | Audrey Hartnett | Columbia College |
| 4 | Shannon Fitzpatrick | DePaul University |
| 5 | John Wilson | Truckee Meadows Community College |
Scholarship 2018 will be announced in coming days
How to Apply
Applicants need to write an essay of 500-1000 words on one of the following topics:
Organization and principles of housekeeping
What should be included in housekeeping to create coziness and comfort in the house? Propose your strategy for effective housekeeping.
Imagine what kind of housekeeping can be in the future. For example, you can describe household appliances that do not exist now but can help in housekeeping in the future, how homework will be organized in the future, the role of smart houses in housekeeping, etc.
Your keys to winning a scholarship
Creativity
Originality
Interesting writing style
Important
Send an essay to an email scholarship@best4yourhome.com. You should provide following personal information in the letter:
Full Name
Age
Email
The name of your University/College, Department/Course
Year of Graduation
GPA
Terms and conditions for Best4YourHome Scholarship Program
Graduate and undergraduate students of universities/colleges are eligible to apply;


---

The essay must be provided in the Word format. Include your personal information on the first page;


---

The essay should be in English;


---

Final date for submission is March 31, 2018. We will choose the winner by April 15, 2018;


---

The prize will be paid to the university directly;


---

Winner will be notified by email and on this page;


---

We will run Best4YourHome Scholarship Program annually;


---

Best4YourHome reserves the exclusive rights to publish the articles received. Personal information of applicants will not be published;


---

Best4YourHome will not charge or ask for any fees from any student who wishes to join the program.
If you have any questions about Scholarship program please feel free to contact Best4YourHome at scholarship@best4yourhome.com