Tea and coffee addiction is real! It is a habit that develops slowly and unintentionally. But if you suffer from caffeine intolerance or you're trying to withdraw from caffeine, you may want to try out a caffeine-free tea. These drinks are super healthy, organic, and don't have any side effects. Also, the best thing about them is that they have minimal calories and taste delicious.
5 Best Caffeine Free Drinks for Caffeine Intolerance
Caffeine intolerance and caffeine sensitivity are common problems, but people tend to ignore them. But no more! You don't have to force yourself to have caffeinated drinks and beverages because you feel like you can't live without them. Caffeine-free drinks exist for a reason!
Here we have a list of the 5 best caffeine-free drinks along with their features for caffeine intolerant people.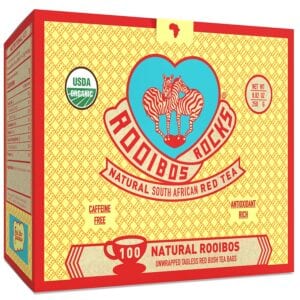 Rooibos immune support tea is the best South African herbal tea you could choose. It consists of all the ingredients you need to live a healthy life and boost your immunity. It also helps you enhance your digestive system and mental state. This tea bag box contains 100 2.5 gram tea bags, each wrapped properly in separate foil. Each teabag's freshness is ensured! You can have a cup of rooibos immune support tea every night to enjoy a good night sleep and let the antioxidants work on your immunity while you are sound asleep. Rooibos tea is also a great substitute for your favorite morning beverage. 
Features of Rooibos Tea Immune Support Tea Bags
   

Rooibos immune support tea is organic and contains no caffeine. Caffeine sensitive people can enjoy it without worrying about any side effects.

   

It is full of antioxidants, which are beneficial for boosting immunity and detoxifying the body.

     This tea

 does not contain any artificial flavor, bitter taste, or added sweeteners and preservatives.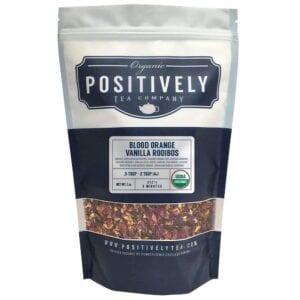 Organic blood orange-vanilla rooibos tea from Positively Tea Company is delicious. The best thing about this tea is that it comes in an airtight pouch, containing loose tea leaves. You don't have to worry about the grams of tea in each cup because you can decide for yourself. It is ideal for people who love to have flavoured decaffeinated beverages. It contains sweet vanilla and citrus notes. You can serve it by adding a few leaves in hot water. If you prefer, another way is to mix these loose leaves with milk, vanilla and cream for a latte! 
Features of Organic Blood Orange Vanilla Rooibos Tea
Organic vanilla rooibos tea is 100% organic, caffeine-free, and calorie-free.

It does not have any artificial flavour and contains organic herbs.

This tea is herbal heaven, full of antioxidants and vitamins beneficial for human health.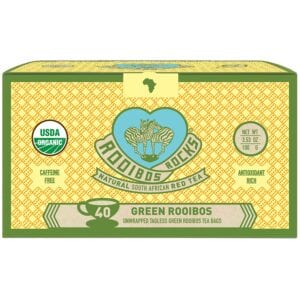 Green rooibos immune support tea bags can be a fantastic addition to your diet. They contain antioxidants, vitamins, and calcium, and all of these are ideal for boosting immunity, strengthening bones, muscles and the cardiovascular system. These tea bag boxes contain 40 herbal, organic caffeine-free tea bags. These tea bags are oxygen bleached, unwrapped and tagless. Also, they are USDA certified and safe for everyone, including pregnant women. Serve it as hot or iced tea and cherish the relaxing effect.
 Features of Green Rooibos Tea Immune Support Tea Bags
Green rooibos immune support tea is sugar and calorie free. It can be a great addition to your routine if you are searching for drinks and beverages that can help you in weight loss.

This tea has a high number of antioxidants, which means it targets your immune system and boosts its ability.

It contains detoxifying properties and is beneficial for the skin. It helps enhance skin texture and reduces wrinkles.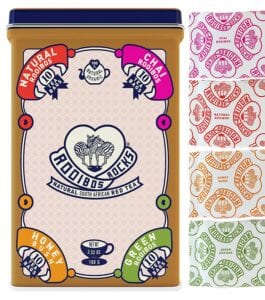 Rooibos immune support tea is a great gift for any tea lover in your life, even a caffeine-sensitive person. These tea bags come in a beautiful high-quality tin containing 40 tea bags in 4 color-coded boxes. Each of these pouches has a different flavor; Natural Rooibox, Rooibos Chai, Green Rooibos and Honeybush. They smell and taste delicious! This South African tea is caffeine-free, sugar-free and doesn't have artificial flavor or taste. Have one cup every night and sleep like a baby!
Features of Rooibos Tea Immune Support Variety Tin
Rooibos immune support variety tin has four different flavors! It is perfect for people who don't like to have flavorless beverages.

The natural rooibos tea is decaffeinated and doesn't contain any calories. It has a naturally sweet taste and doesn't have any artificial sweeteners.

The rooibos chai tea has a bold smell and tastes like cinnamon, cardamom, ginger, and pepper. It is perfect during winter for people with allergies and a sore throat.

The green rooibos tea is super light and has a natural taste and flavor. If you aren't the one who likes experimenting with flavors, it is a perfect fit for you!

Honeybush tea is a classic African drink! Its name is derived from the yellow flowers that smell like honey; it is incredibly soothing. Have a cup of Honeybush Rooibos tea before you sleep and feel the difference.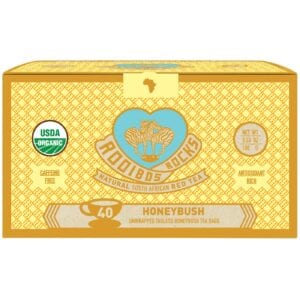 The honeybush immune support tea is calming, nerve relaxing and it has a soft smell and countless health benefits. These tea bags are USDA certified and non-GMO. The best thing about these tea bags is that they are caffeine, sugar, and calorie-free. Also, they are rich in antioxidants and vitamins. This is a must-have if you have weak immunity to allergies or other ailments. 
Features of Honeybush Tea Immune Support Tea Bags
Honeybush immune support tea is naturally sweet, soothing, and has a floral finish.

It does not have any secret ingredients, additives, preservatives, or artificial flavors.

It is rich in minerals, vitamins, and antioxidants.

All the tea bags are unwrapped, tagless and oxygen bleached.
Caffeine-free teas are ideal for people who want to withdraw from caffeine for any reason. It is also suitable for people who like to have a cup of tea to relax and calm down the nerves instead of having tea for getting active and alert. Pick yourself one of the above-recommended decaffeinated teas according to your taste and indulge in healthy self-care habits.