Who doesn't love having a soothing cup of tea and a good read before going to bed or even during some free quiet time? The majority of people are looking for calming herbal teas filled with health benefits and no side effects. For the people who love to enjoy their self-care time by having herbal, non-caffeinated beverages, rooibos tea is a perfect option.
Rooibos tea was not so famous in the past because people barely knew about its origin and health benefits. However, it was still one of the most famous teas of south Africa, unlike black and green tea. South Africans have a higher intake of rooibos tea as compared to all other drinks and beverages because it is proven beneficial for the heart, diabetes, bones, digestive system, and many other medical diseases. Along with the direct health benefits, this tea also calms down the nerves and creates a relaxing impact on the human body.
3 Best Organic Rooibos Tea Brands
Gone are the days when the rest of the world wasn't aware of this wonder-product. It is a famous drink worldwide, and the demand for it is almost unmatchable. Suppose you are a beginner to rooibos tea or still haven't found the best brand to buy. In that case, we are here to help you out by providing you some suggestions and introducing you to the three best organic rooibos tea brands.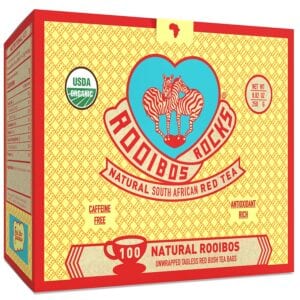 This Rooibos Rocks tea aims to provide you with calming moments in this busy world full of chaos. It is the representation of the true African spirit. This tea comes in a box consisting of 100 tea bags wrapped in 5 foil sheets. Each of the tea bags contains non-GMO herbal tea, which is gluten and calorie-free. The tea bags are oxygen bleached and sealed in airtight foil pouches, ensuring the tea's freshness for an extended period.
Pros of  Rooibos Tea Immune Support Tea Bags
It is unfermented and contains no sugar, so no extra calories.

This tea is organic and does not have artificial flavor, additives, or preservatives.

It contains a high level of antioxidants and no bitter tannins.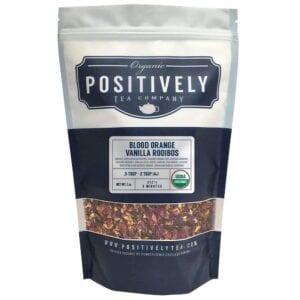 The blood orange vanilla rooibos tea from Positively Tea Company comes in a 1-pound bag containing rooibos tea leaves. It features sweet notes, and it has zero caffeine. The best thing about this tea is that it is free of harsh chemicals and flavors. This bag can efficiently serve 140-240 cups, depending on the size of your mug.
Pros of Organic Blood Orange Vanilla Rooibos Tea
It is a flavored tea that has a calming aroma of citrus, florals, and sweet vanilla.

This option is a caffeine-free tea with sweet notes packed with antioxidants and minerals.

It does not feature any artificial colors or preservatives

.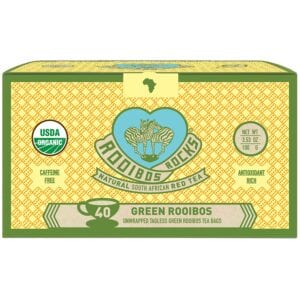 Check Price and Purchase
The green rooibos tea from Rooibos Rocks comes in the form of 40 tea bags in each box. All these tea bags are unbleached, tagless, and wrapless. The packaging is simple, and the tea is a natural mood booster loaded with numerous health benefits. It is 100% organic, USDA certified, and perfect for chilled or hot tea.
 Pros of Green Rooibos Tea Immune Support Tea Bags
It is organic, caffeine-free, and rich in oxidants.

This tea is naturally sugar free and has no added flavor, color or preservatives.

It has zero calories, is mildly sweet, and does not have a bitter taste.
7 Rooibos Tea Benefits
Rooibos tea isn't just a tea; it's a lifestyle for many people. There are plenty of ways of adding it to your everyday routine, depending upon how you like your tea. Do you love to have hot drinks in winter? Worry not; make yourself rooibos tea the way you make green tea; add loose rooibos leaves or a tea bag to boiling water, and your relaxing tea is ready. Or are hot drinks not your taste? In that case, add milk, cream, and vanilla to it, and enjoy it like a chilled latte. The options are endless, especially if you have the best organic rooibos tea in your kitchen.
The health benefits of rooibos tea have to be mentioned, and they're the reason I love this tea so much.
Listed below are the top 7 rooibos tea benefits:
1. Weight Loss
Organic rooibos tea is a fantastic product for people searching for tea to lose weight without side effects. It contains 0(zero) calories, which is nothing as compared to other teas and beverages. However, make sure to avoid adding sugar if you're worried about calories! Trust me, it will taste amazing even without sugar.
2. Skin Benefits
Having flawless skin is everyone's dream. Organic rooibos tea also works as a beauty product and enhances the skin's overall appearance and texture, and it may help reduce wrinkles and fine lines within a few months. It also has anti-aging properties in general.
3. Pain Relief
Organic rooibos tea consists of vitamin C, and it also activates potassium in the human body. These are fundamental for pain relief; hence a cup of rooibos tea can help you with abdominal pain, cramps, and even arthritis.
4. Allergy Relief
There is nothing worse than allergies with all of the sneezing, wheezing, and coughing. Also, taking medicine for this is expensive and has side effects. But you no longer need them or need to suffer from the painful and troublesome symptoms of allergies because rooibos tea is one of the best natural anti-allergy remedies. It works as an antihistamine and clears the nasal cavities and sinuses.
5. Bone Health
Rooibos tea is also known to have benefits for your bone health, as it increases and enhances osteoblast cells' activity and increases bone mass. It does so because it contains calcium, magnesium and trace amounts of flouride.
6. Digestion and Immunity
Rooibos tea also strengthens the immune system and fixes digestive problems as it has vitamins and minerals to support the digestive tract.
7. Other Benefits
Besides these benefits, rooibos tea is also beneficial for heart patients, arthritis patients, and people with asthma, allergies, diabetes, mental distress, and sleeping disorders.
Rooibos tea is an African asset and a complete package, providing users with the best of relaxation and health benefits. The above-recommended rooibos tea brands are authentic, reliable, and only produce the most natural and original tea. Get your hands on your favorite one and enjoy this relaxing herbal tea every night. Let it be a part of your self-care ritual and boost your physical and mental health.
Our Choice